Website sitemaps are a critical element of your website. While they aren't as flashy as your website's home page, they are helpful for directing Google bots to examine your website's content, relevance, and more.
Indexing your site helps you rank highly on Google SERPs. Without a sitemap, Google's bots will be lost, along with your chances of ranking in the top spot.
What are Sitemaps?
A sitemap is a type of file that provides information about the pages on your site. It helps Google bots crawl your website faster and more efficiently. Sitemaps tell Google which pages you think are essential. 
Here is an example of an XML sitemap: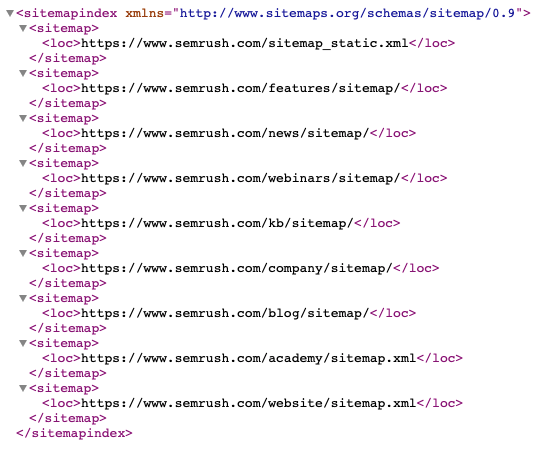 There are two types of sitemaps: 
XML: XML sitemaps are designed for Google bots to navigate.
HTML: HTML sitemaps help users navigate the website.
Different Types of Sitemaps
While the two formats of sitemaps have similar functions, there are some major differences between the two. Let's have a look.
XML Sitemaps
XML sitemaps list all your web pages, so Google can crawl and index. This file format is for Google only and isn't meant for any user experience purposes.
If some pages on your website are not linked, then sitemaps can speed up the process of finding these links and fixing the problem.
XML sitemaps can indicate when a file or webpage is updated. Google loves it when you update and refresh content, so having this data available is helpful. You can see older content and choose to take it off the sitemap or refresh it.
A single XML sitemap is limited to 50,000 URLs. If you have a large website, you may need multiple XML files to cover it.
However, it helps to keep the number of URLs under 1,000 to help speed up the crawling process.
Google says that sitemaps are suitable for large websites, websites with extensive archives, new websites with not too many links, and websites with rich media content websites.
Check out our guide to creating an XML sitemap to get started with creating your own.
What is 'noindex'?
If you don't want a page included in your XML sitemap, you can use the 'noindex' tag. Google can still find the page if there are links pointing to it, but it will be a slower process.
You'd also use the 'noindex' tag if you were building a page and didn't want to launch it yet, or you were writing a blog post you aren't ready to publish. 
What are some common issues with XML Sitemaps?
Despite our best intentions, things can go wrong when setting up our sitemaps. Here are a few common issues:
Empty sitemap
An empty sitemap error may indicate that:
You have uploaded an empty file.
You could have used an improper HTML tag, and the bots can't find your site.
You may have saved the file in the wrong format, so the bots aren't able to locate it.
You can fix this site map issue by checking the file name or the file extension, or the file itself to see if there is content included.
HTTP Error
404 HTTP errors are especially serious. They can indicate that the page the bot is looking for isn't there or that there's a server issue. 
Locate where the XML file is and redirect it to the robots.txt file so Google can find it. Also, check with your host to see if they are having any I.T. issues.
Incorrect Namespace
A namespace is a class of elements (like file locations or addresses) in where each element has a unique name.
If you receive this error, you may have incorrectly labeled a namespace or doubled up on them. Additionally, double check that haven't misspelled a namespace.
Check your labels and spelling for your namespaces.
HTML Sitemaps
HTML sitemaps are similar to XML sitemaps. The key difference is that HTML sitemaps are meant to be navigated by web users. 
Google reads XML files quicker than HTML files, but an HTML sitemap shows you have considered the user's experience in your website construction, which can help your website rank on Google.
Why would you have an HTML Sitemap?
Humans can read this sitemap for a "high view" of your website. You can also use the sitemap to find opportunities for internal linking and building content pillars.
Your sitemap helps you plan out a logical structure for your website, benefitting the Google bots and people exploring it. 
Here is an example of a sitemap for The Good Guys, an enterprise-level business: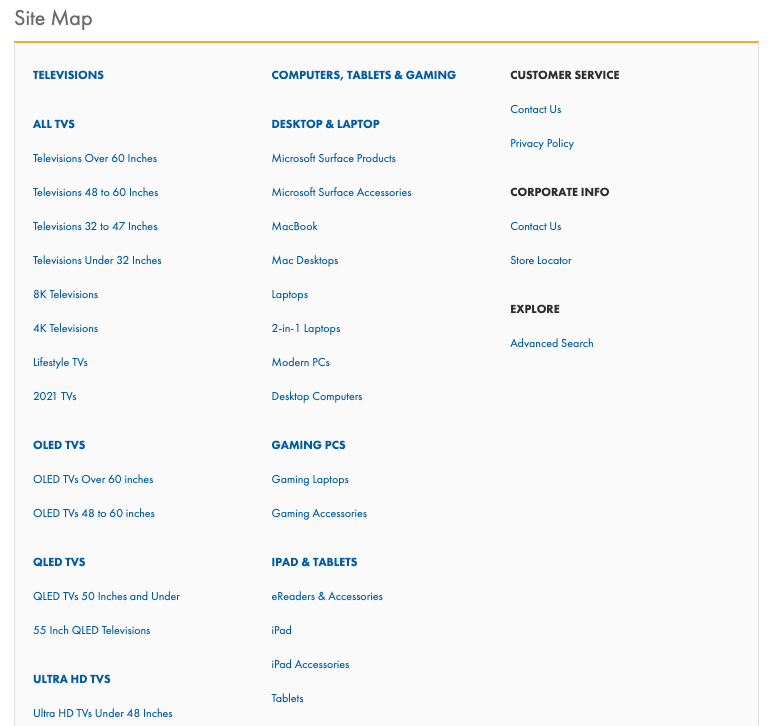 Why are Sitemaps Important?
Sitemaps help Google crawl all the pages present on your website. They include your website's internal links, the logical structure of your website, and how each link relates to each webpages.
Google tends to reward sites with sitemaps with a boost in rankings.
Sitemaps are important when:
Your website does not have great internal linking: Sitemaps help you get started building internal links. Google crawls your website using the sitemap as a guide rather than the links you don't have.
Your website is extensive and has a high number of pages: The bigger the website, the longer it takes Google to crawl and index. A sitemap greatly speeds this process up.
Your website is new or has no external links: It might be harder to find your website. A sitemap shows Google what is on your site without relying on external links bringing traffic from elsewhere.
How to Find Your Sitemap
Your website's root directory would be a great first stop when on the search for your sitemap. You can try pointing to it by pointing to the file in your web browser using this URL structure: https://www.websitedomain.com/sitemap.xml. 
Replace "websitedomain.com" above with your website's domain. Your browser will likely return your sitemap, as it's available to the public domain.
If you're still struggling to find the file, then check your CMS. If your file is saved incorrectly, the CMS should be able to find it for you.
Some people like to keep their sitemaps in another location. If you choose to keep your sitemap located in another folder, update your robots.txt file to point the Google bots in the right direction.
You can name your sitemap file anything you want as long as it has an XML file extension.
Using Semrush Site Audit for Sitemap Issues
The Site Audit Tool allows you to audit any website and check for up to 6 specific issues related to XML sitemaps.
Setting up the Site Audit Tool
Select the Site Audit tool from your project's dashboard. If you don't have a project set up in Semrush, you'll need to set it up before using the tool. 
You can add a project by selecting the "Add new project" button on the upper-right of the screen.


You'll be able to configure the tool before running the audit. Use the panel to tell the tool how to crawl your site, its page crawl limit, and more.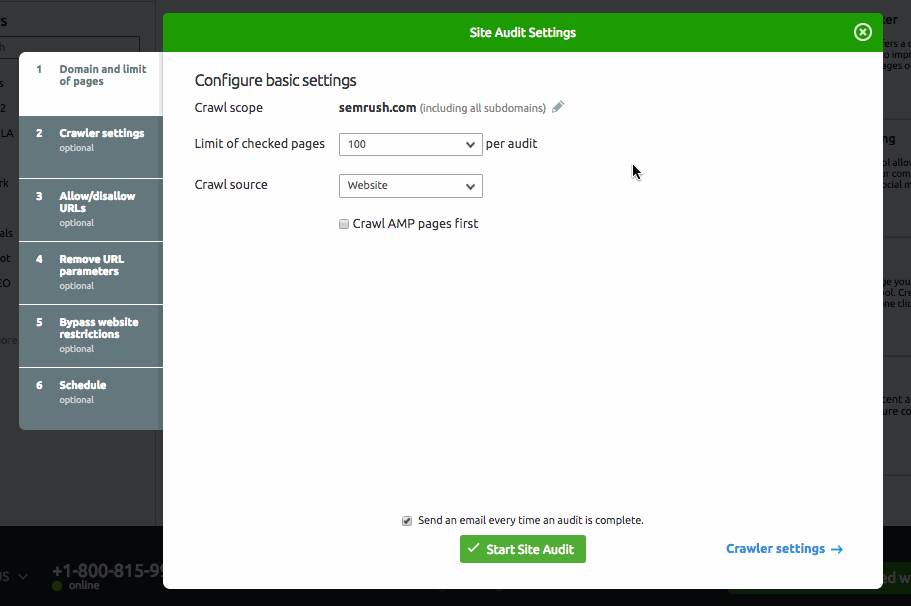 The tool will return a list of errors, which you can then begin to tackle with your SEO team or webmaster.
How to Submit a Sitemap
Submitting a sitemap to Google is simple:
Sign in to your Google Search Console.
In the sidebar, select your website.
Click on 'Sitemaps.' The 'Sitemaps' menu is under the 'Index' section.
Remove outdated or invalid sitemaps (if any.)

To add a new sitemap, enter the web address for your sitemap.xml file
Click Submit.
Final Thoughts
Sitemaps are essential so Google can index your site, first and foremost. However, they also benefit you and your users. You can use your sitemap to better understand the content on your website and help your users better navigate the site. 
Use our Site Audit tool to ensure your sitemaps are configured correctly.