Content marketing is the process of creating and sharing content to support your business goals. 
But content isn't just blog posts.
Different types of content marketing include:
Blog posts
Infographics
Videos
Podcasts
Social media
Ebooks
Case studies
Memes 
User-generated content
Newsletters
Free tools
Courses
And many more. 
The types you use will depend on your target audience and business goals.
Do You Need Different Types of Content Marketing?
Relying on just one type of content marketing means you'll reach only those who consume that type of content.
If you write a weekly blog post, for example, only people who prefer blog posts will see them and engage with your brand.
But people consume content in many ways.
Some prefer watching videos rather than reading articles.
Others prefer to listen to podcasts while doing chores or commuting. 
Diversifying your content marketing strategy helps you reach your target audience, no matter their preferences.
Reach a broader audience. And create multiple touchpoints for your business. 
More potential customers will see your content.
More often. And in more places.
Which can lead to more business in the long run.
But first, identify the best content types for your business.
12 Most Effective Content Marketing Types
Below are the most effective forms of content marketing for businesses with an online presence.
1. Blog Posts
Blog posts are still one of the most effective ways to connect with your target audience.
They can provide valuable information, build brand awareness, and improve search engine rankings.
They can also educate and help solve problems for your target audience. 
Which fosters trust and loyalty. 
This trust and loyalty can easily translate to business growth.
In fact, 55% of content marketers reported that short-form articles or long-form blog posts were among the top performers of all content types, according to Semrush's State of Content Marketing 2023 Report.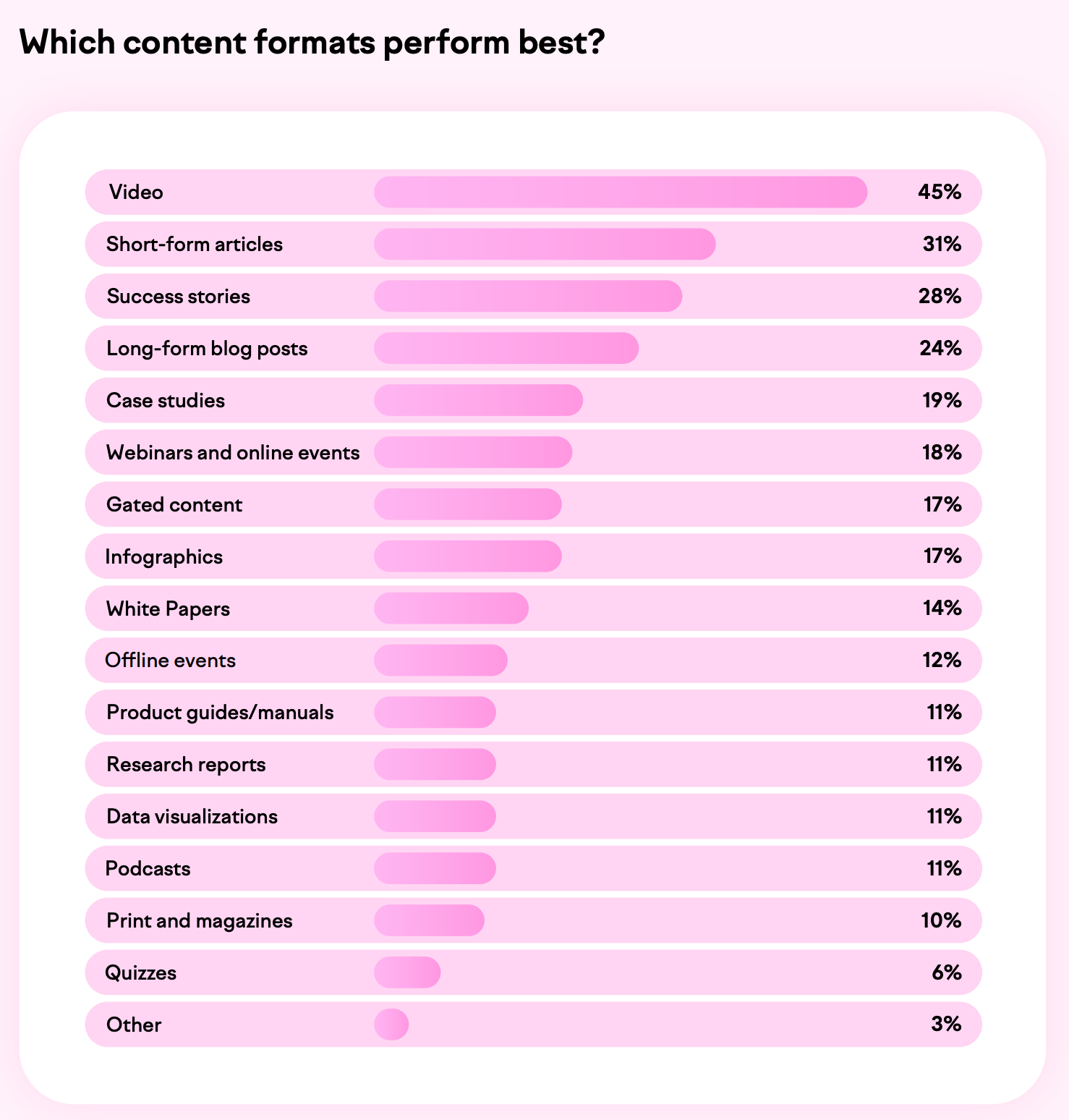 Blog posts are most effective when used to educate and help the reader.
Identify what the user is looking for (known as search intent), and write to satisfy that goal.
Rather than blogging about how your newest product will change lives, focus on blog ideas related to your business.
Establish your company as a leading industry expert.
Add genuine impact by offering new and valuable information.
Leverage short- and long-form articles, how-to guides, checklists, and listicles (such as this one).
Avoid focusing exclusively on keywords.
Instead, provide users with high-quality content that addresses their needs.
This is what drives value—for SEO and for business.
2. Infographics
Infographics are an effective type of content marketing because they present complex information in a simplified, visually appealing format.
Instead of wading through a dense wall of text on a complex topic, users can quickly digest information with the aid of graphics, charts and simplified definitions. 
Infographics can capture audience attention and facilitate user understanding.
And cater to different audiences and learning styles. 
Like this example, which breaks down the in-depth topic of SEO copywriting.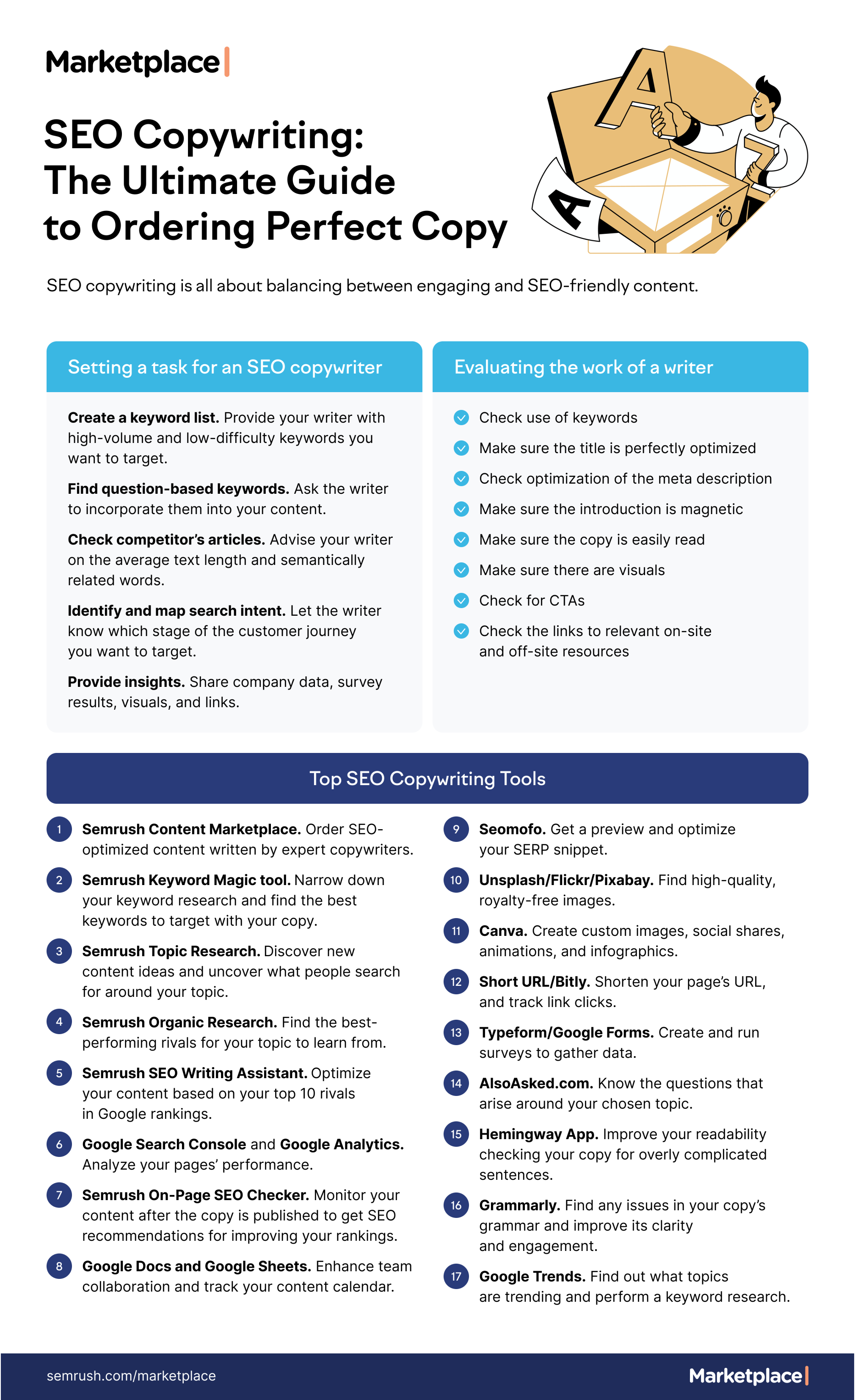 Infographics can be used in place of or in addition to blog posts. 
And they encourage social sharing and inbound backlinks. 
Of course, you can't use an infographic for everything. Nor should you.
Simple, impactful, and meaningful infographics can elevate your content. 
When used strategically. 
The idea is to take complicated information from a study or survey and break it down into the most important points.
Here is an example of a small infographic in a social post.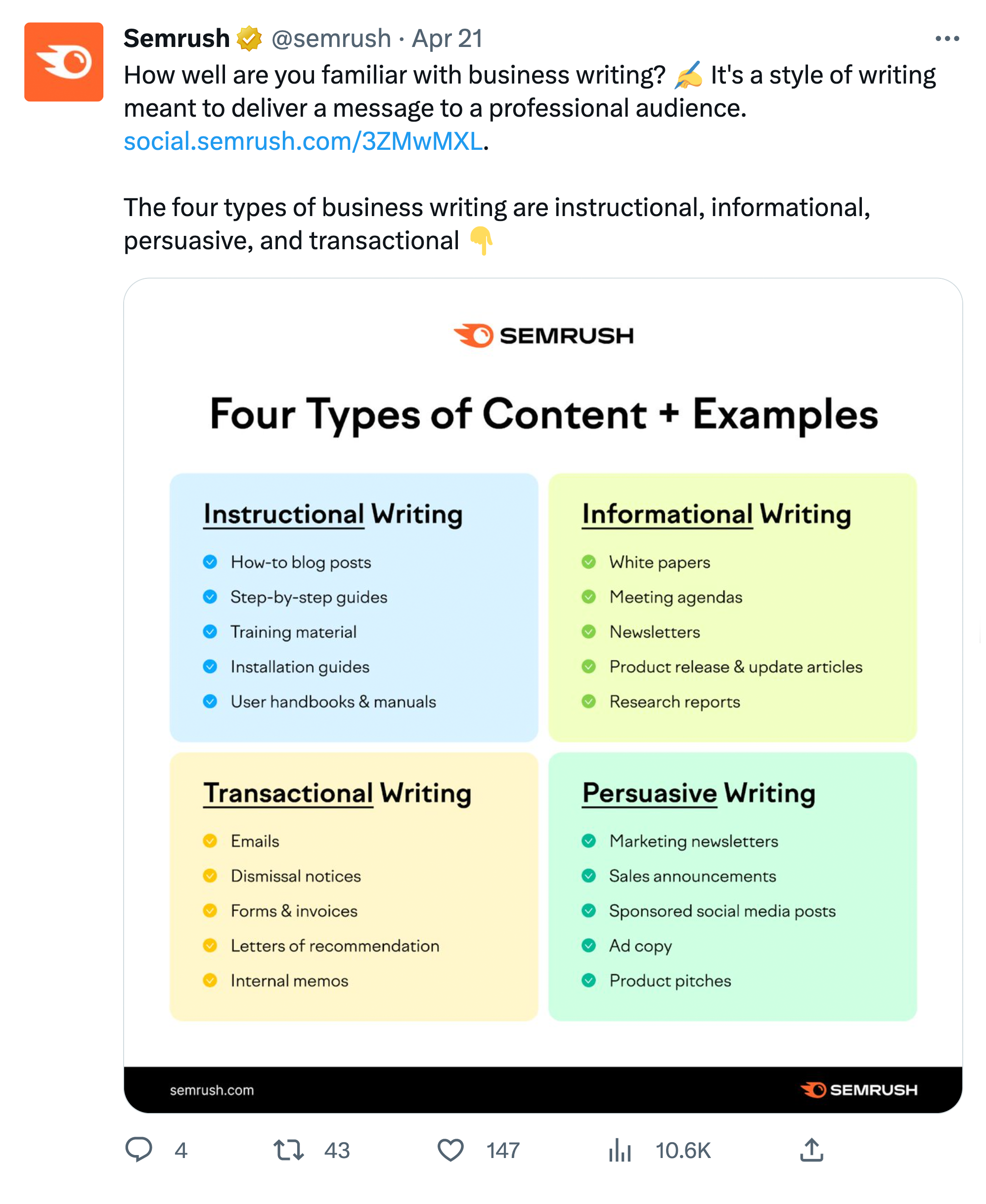 Create engaging, high-quality infographics with Semrush's Infographic Creation Services.
3. Videos
Video content is increasingly popular because it connects with an entirely different audience than traditional content marketing types. 
Although people still seek out written content for information, many look for videos because of their convenient and engaging format.
In fact, more than 2.6 billion people use YouTube every month.
Videos engage users through dynamic storytelling and compelling visuals. 
In some niches and industries, such as home cooking, sports, and traveling, videos are integral.
A well-produced video can make your business more dynamic.
It can also provide a better way to demonstrate how to do something or how something works.
But video content is often expensive and time-consuming to produce.
Consider repurposing some of your written content into compelling videos. 
You can embed these videos into your blog content, while also creating a dedicated YouTube channel.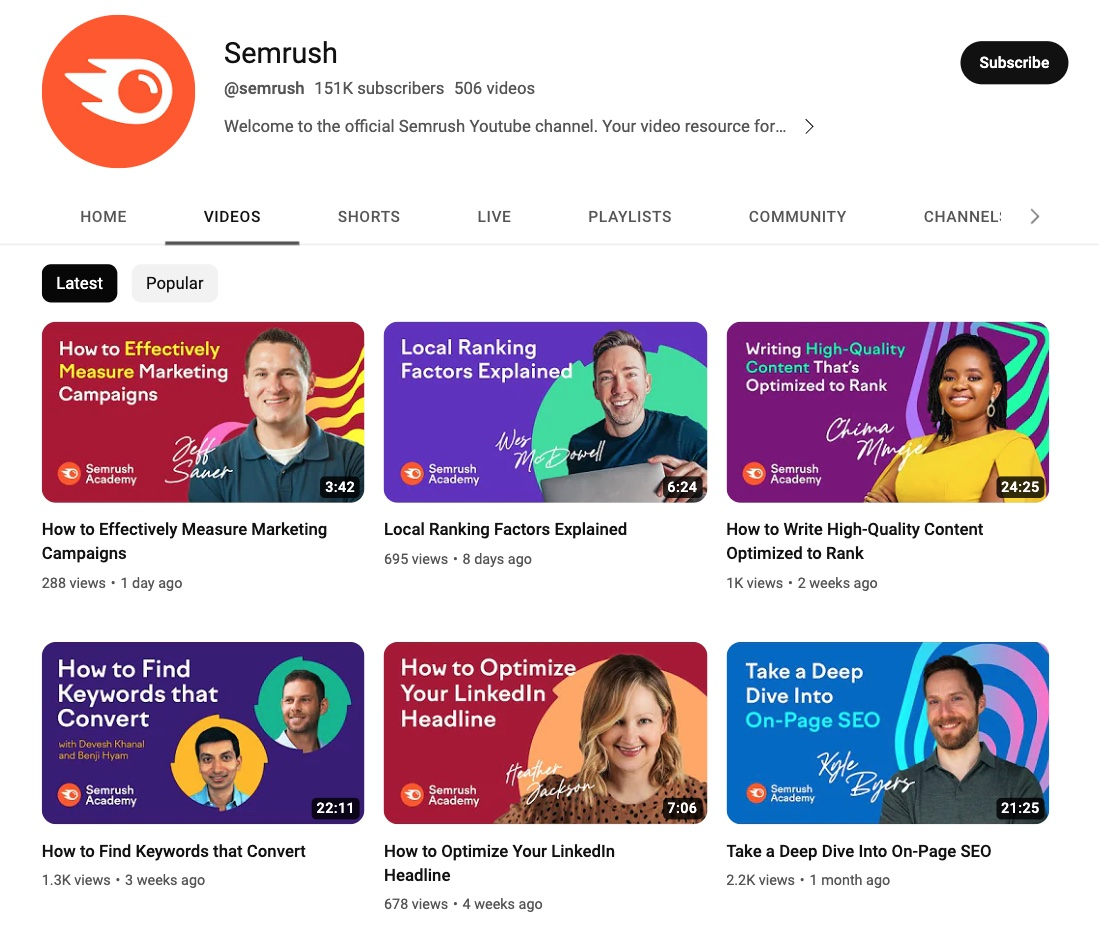 Don't forget to create relevant and informative captions and text introductions to help humans (and search engines) better find your content. 
Use and promote this content almost anywhere, from your main website to your blog, your social media platforms, or even in email campaigns.
4. Podcasts
Podcasts are an effective form of content marketing because they provide easily accessible content for on-the-go audiences. 
They can foster strong connections with listeners by demonstrating empathy, expertise, and authenticity. 
Podcasts can also demonstrate thought leadership.
Once you have the right equipment, podcasts can be simple to produce.
And if distributed through a podcast network, they can have massive reach.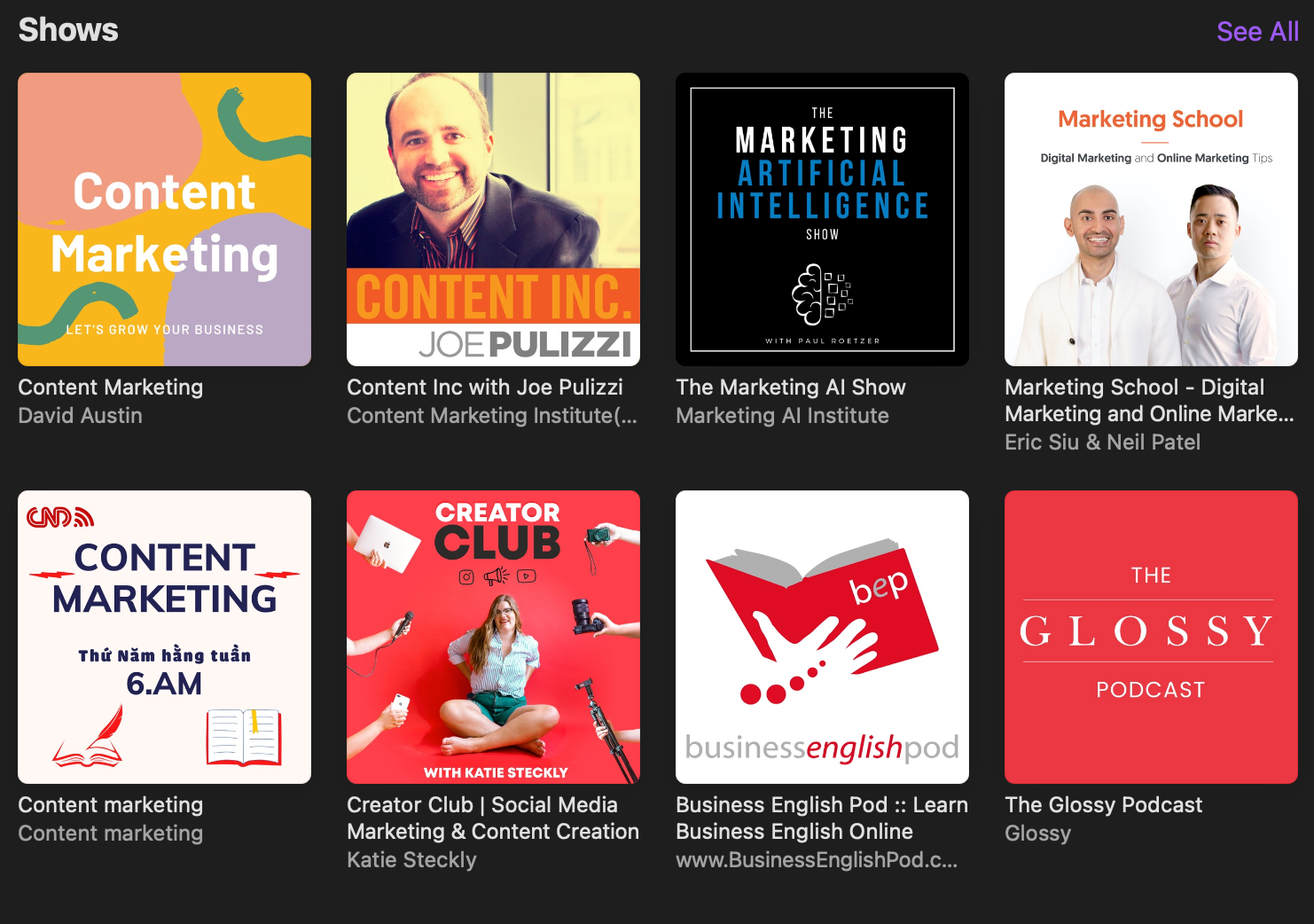 But it's important to plan your podcast ahead of time and not start unprepared.
Your listeners will know.
And may lose trust in your brand.
Use your podcast to bring brand awareness to difficult-to-penetrate audiences and markets.
And as a way to showcase your brand's personality.
If you're using a podcast network, you can still incorporate your podcasts into your website and social media efforts.
This allows you to reach the podcast-listening demographic and those who typically consume more traditional forms of digital marketing.
As with video content, you can repurpose written content into podcast material (and vice versa).
5. Social Media
Social media is a unique form of content marketing because it enables direct interaction and engagement with a wide audience.
It also allows for content creation as well as promotion. 
You can write original tweets and posts, but also share content such as blog posts or videos from other channels.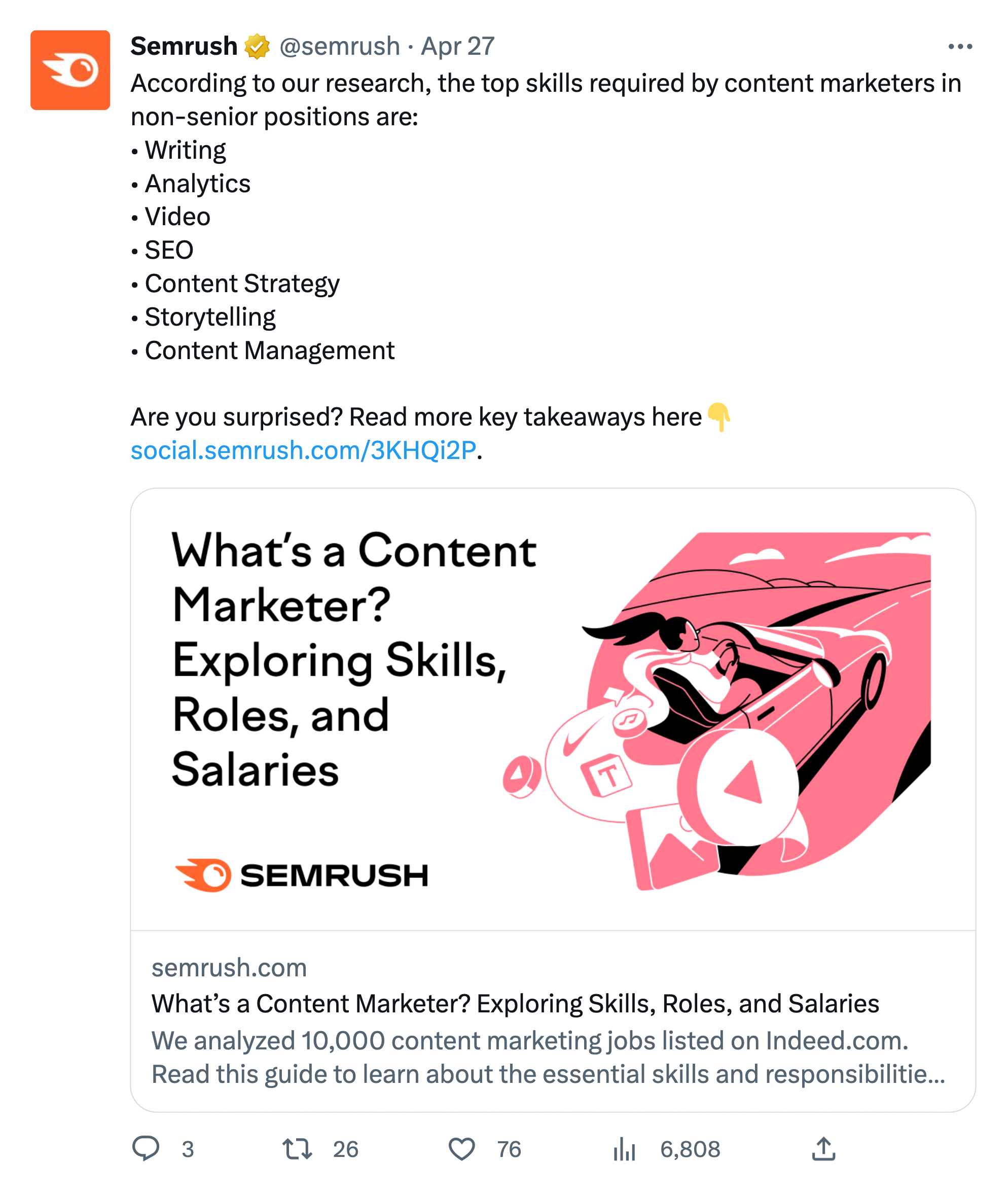 Because it allows you to post, promote, and interact with users, social media is a must-have for any content marketing strategy.
But it can take some effort to find the type of content and medium that resonate with your audience.
Test different types of content and promotion to see what results in the most audience engagement.
By monitoring your social media analytics, you can determine whether your audience prefers videos or blogs, serious posts from your CEO, or funny posts and memes.
And if you're already producing other types of content, you can easily repurpose them for social media.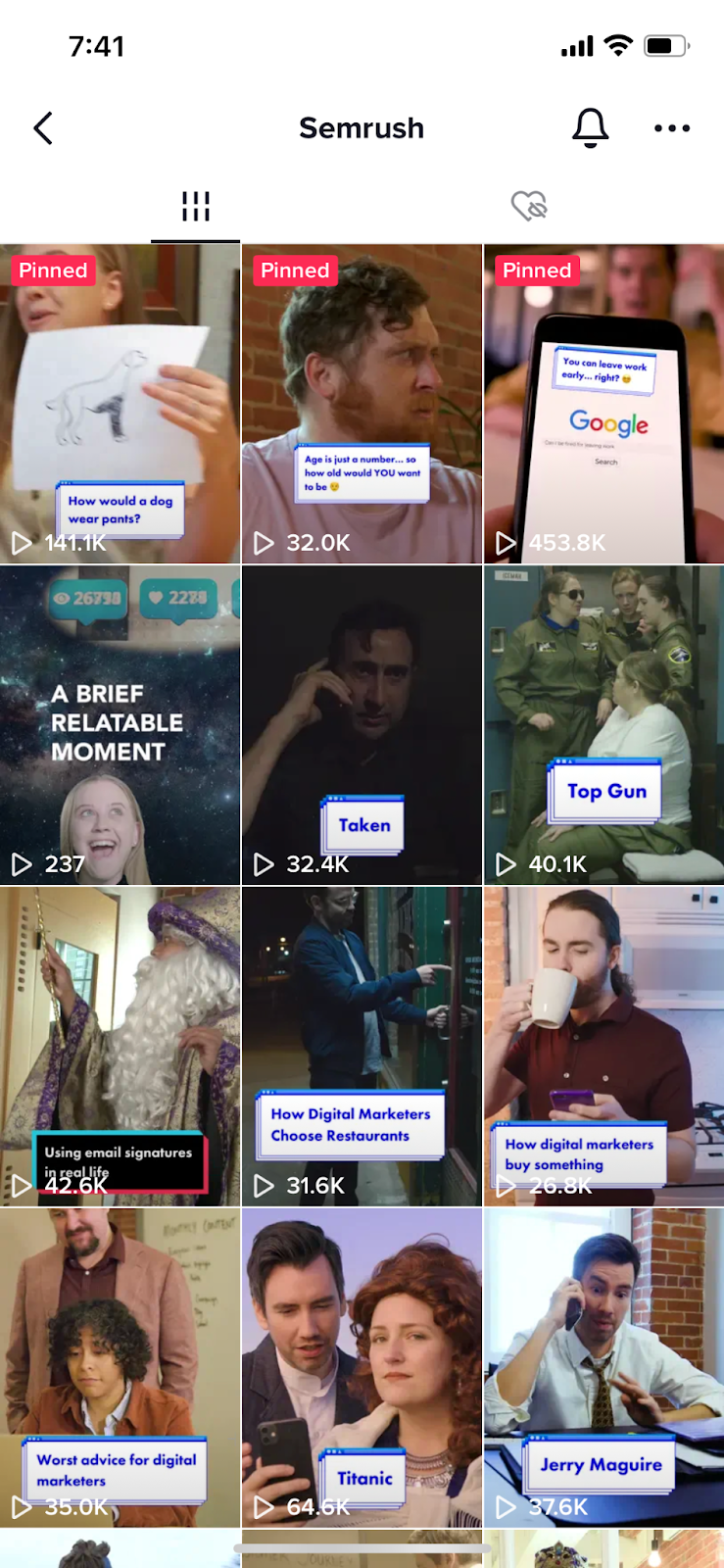 Plus, you can gauge how much traffic social media generates to your website. 
Track your (and your competitors') social performance with Semrush's Social Media Toolkit for free today.
6. Ebooks
Ebooks are long-form, digital books typically offered as gated content.
Ebooks provide in-depth, comprehensive information on a topic in exchange for personal information, such as an email address. 
This information is considered a lead. 
And for some businesses, leads are everything. Which makes ebooks incredibly valuable.
But they can also be costly and time-consuming to create. 
A good ebook should be comprehensive and demonstrate authority, which takes time and expertise.
But they also have the benefit of not being published on your website.
Which means you don't have to worry about keywords, SEO, or duplicate content. 
Consider repurposing and compiling content from your website to create an ebook.
Alternatively, if you've written an ebook, repurpose it into several articles or even videos.
Ebooks alone should never make up your entire content marketing strategy.
But they can be effective for lead generation.
7. Case Studies
Case studies are great tools for content marketing because they provide real-life examples of how your business has solved client problems.
They build trust by demonstrating tangible results.
This is called social proof.
And it's a powerful tool for converting potential customers.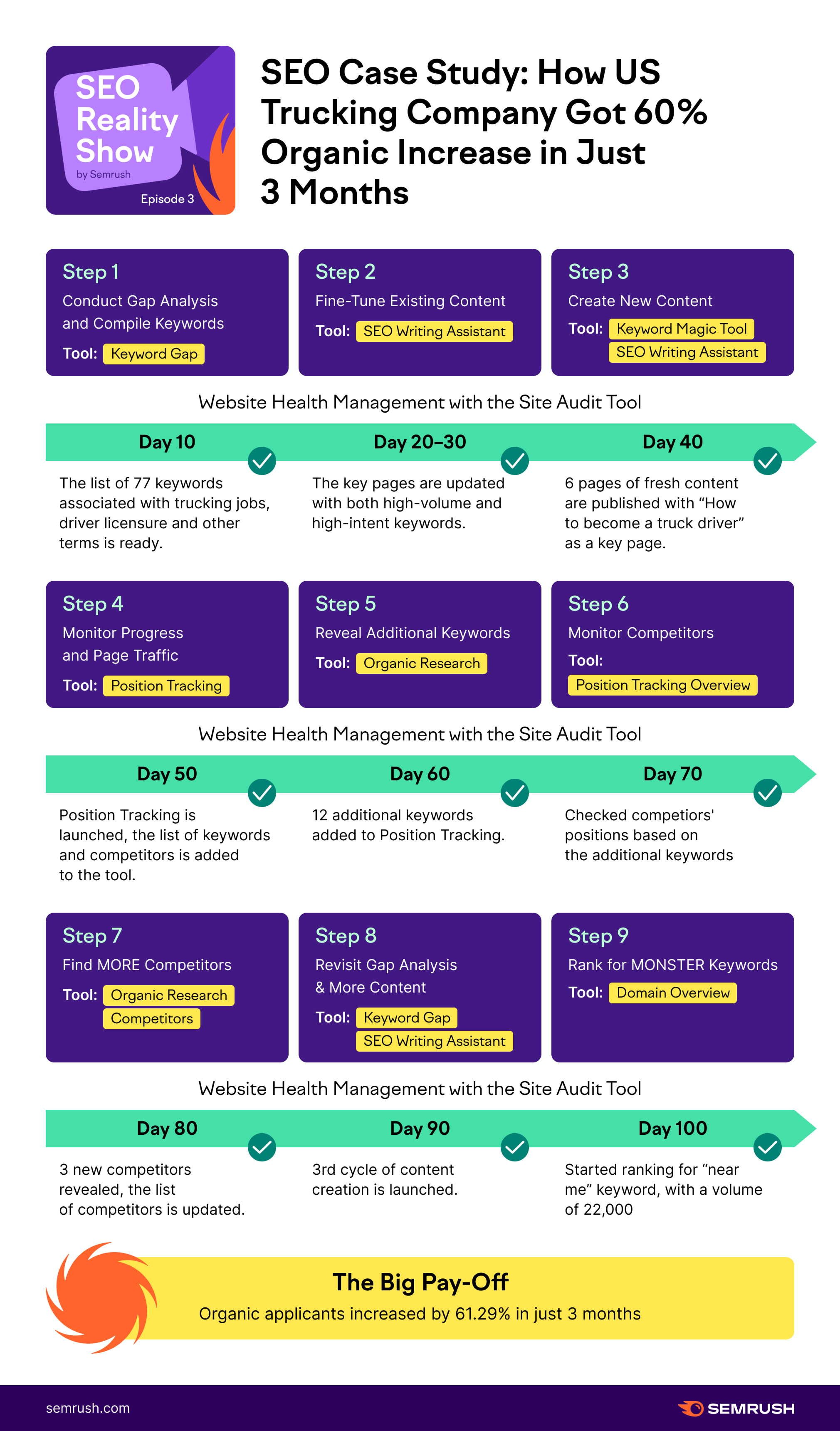 Case studies appeal to the emotions through engaging storytelling and relatable customer experiences. 
Work with satisfied customers to create case studies you can publish on your website.
To get an effective conversion tool and a quality piece of content.
8. Memes
Memes are images, videos, or text that convey humor on culturally relevant events or ideas.
They've emerged as a highly effective form of content marketing because they're simple, relatable, and easily shareable.
They're also great for developing brand personality, identity, and awareness. 
Memes play a major role in shaping online culture and social interactions. 
If memes align with your brand voice and aesthetic, incorporate them into your content marketing efforts.
You'll strengthen your connection to your target audience and humanize your business.
And improve your content marketing efforts. 
You can add memes to written content or share them through social channels. 
Just make sure they hit the right notes at the right time.
Nothing falls flat like an irrelevant or unfunny meme. 
9. User-Generated Content
User-generated content (UGC) is content created and shared by customers or fans. 
In other words, content you don't create.
But it can be incredibly effective in driving brand awareness by leveraging authentic social proof.
UGC reflects the thoughts and experiences of real customers.
Which fosters trust and credibility.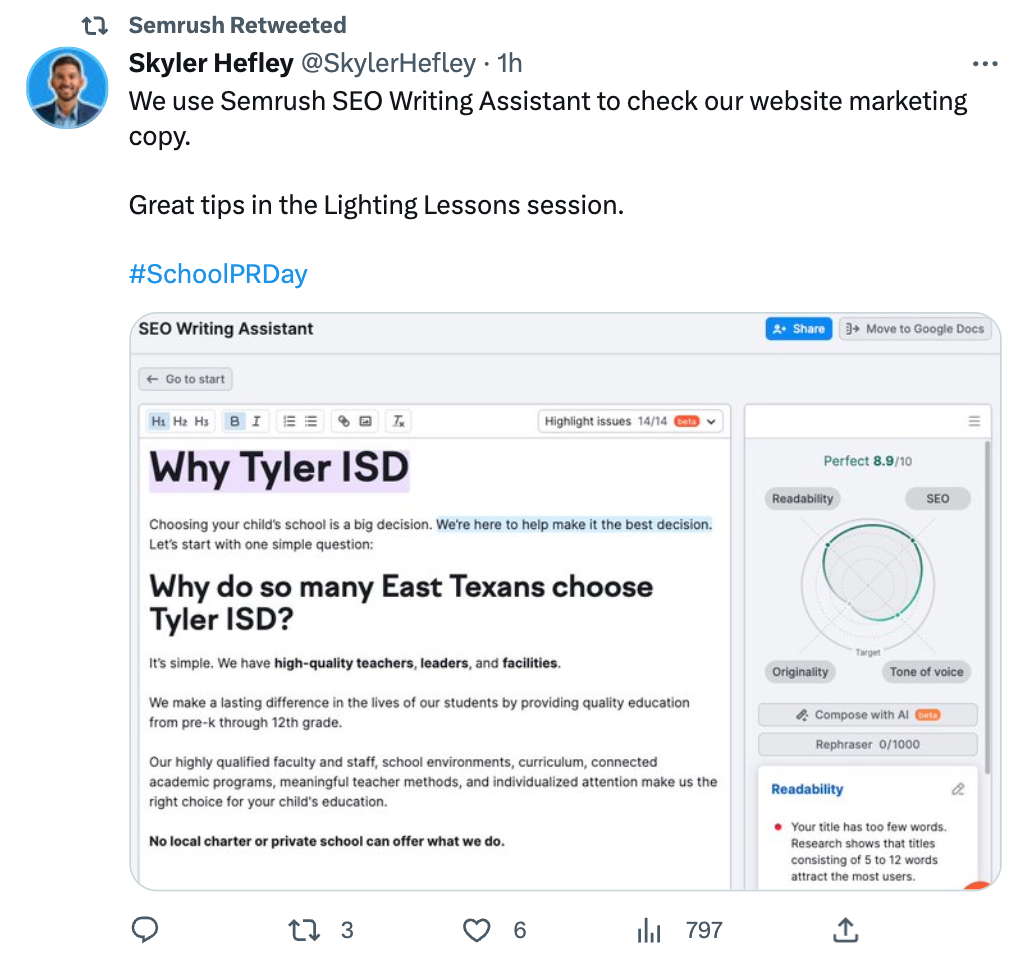 So how do you incorporate UGC into your content marketing strategy if you don't control its creation?
By encouraging and guiding users to create it.
A commonly leveraged form of UGC is testimonials. 
Testimonials are positive statements provided by satisfied customers. They are UGC because they are created by customers, not the business.
However, you can encourage satisfied customers to provide testimonials.
If they're satisfied and happy with your business, customers typically feel comfortable providing a brief testimonial.
Other forms of user-generated content include:
Reviews
Comments
Blog posts about your business
Forum discussions
Social media posts
Social media hashtags
Unboxing videos
UGC influences potential customers' buying decisions. Take advantage of that and guide it as much as you can.
Encourage customers to create and share content related to your business.
For example, create branded hashtags and encourage your customers to use them on social media.
Repost their UGC on your channels and give the user a shoutout while doubling down on social proof. 
When used properly, user-generated content can be one of the most important types of content marketing.
Track UGC and mentions of your brand across the web with the Media Monitoring app.
10. Newsletters
Newsletters are regular email communications sent by businesses to subscribers.
They typically provide updates, news, or valuable content related to the business. 
Newsletters are effective because they enable direct communication between you and the customers that want to hear from you.
(Otherwise, they wouldn't have subscribed to your newsletter.)
Newsletters help you maintain relationships with customers by providing valuable information and keeping your business top of mind.
Engaged and loyal subscribers are more likely to become paying customers. 
Include calls to action (CTAs) or links to other valuable content to drive conversions.
This can improve traffic to your website and other marketing channels.
It can also increase your revenue if those subscribers become customers.
You can even leverage ads in your newsletters to increase revenue. 
And as with most of the other forms of content marketing, you can repurpose blog content into newsletter content (and vice versa). 
Start small and refine as you go.
Monitor open rates and engagement, and adjust your newsletters strategy as you determine what your subscribers want to see.
11. Free Tools
Free tools include checklists, templates, calculators, digital assets, and anything else you provide to visitors to use.
They can drive traffic and foster trust and loyalty in your business.
Because they bring immediate value to your users.
Tools demonstrate your business's expertise and authority by offering practical solutions to customer problems.
Like this free content calendar template:

Use free tools for lead generation as you would with ebooks. 
Or shareable content for social media. 
They can even attract valuable backlinks for SEO. 
You can couple free tools and templates with blog posts. Or make them standalone pages.
Just make sure you are providing something of value to your users.
And focus on areas in which you have expertise. Inaccurate or irrelevant tools will hurt your brand.
12. Courses
Courses can be effective for content marketing because they offer in-depth learning experiences.
And teach users valuable skills.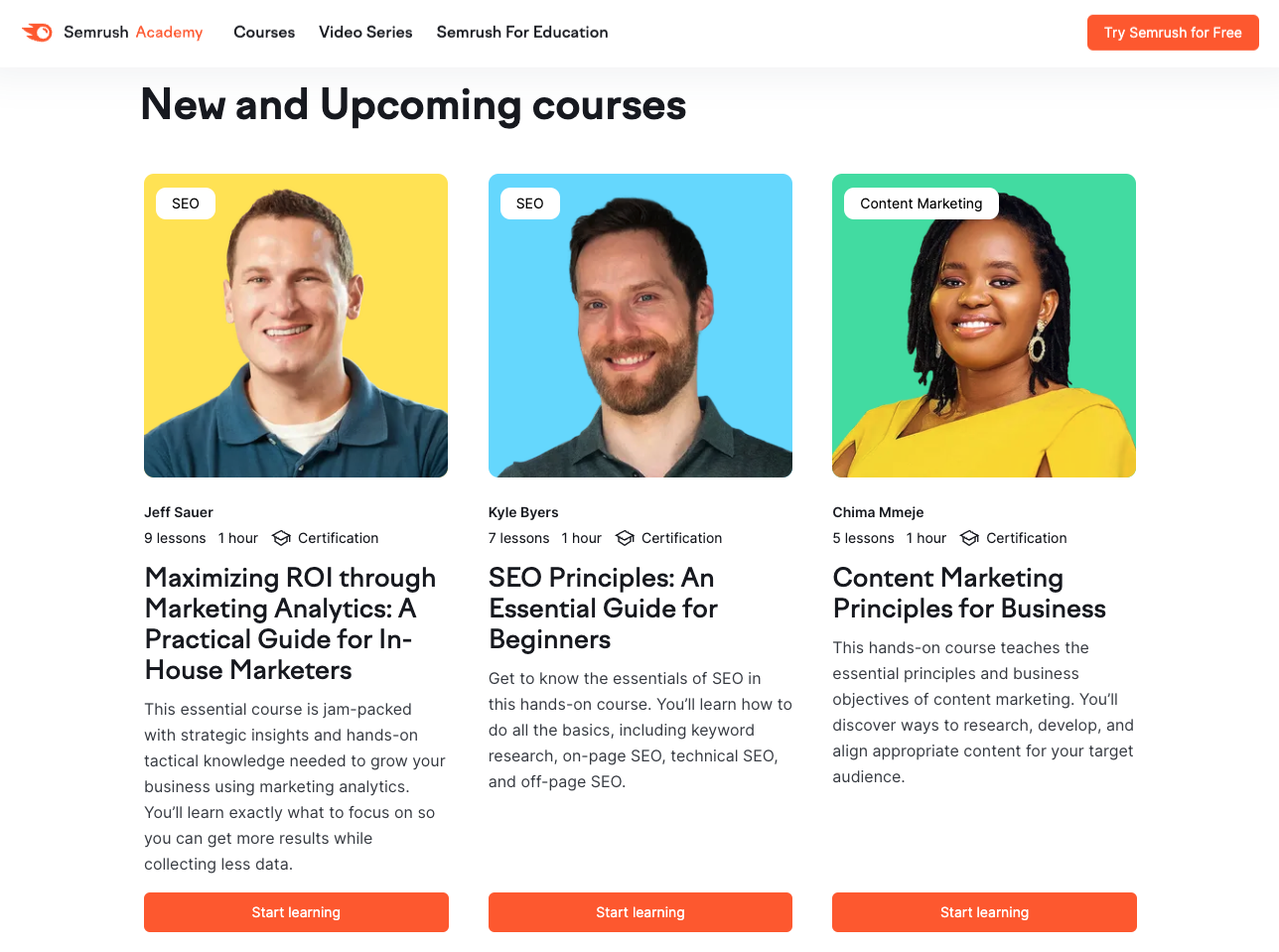 This builds trust, credibility, and loyalty for your business. 
Courses also demonstrate your expertise and authority in a given topic.
You have to be an expert to teach something well, right?
Courses can have the added benefit of serving as lead generators or even revenue generators. 
Users who are satisfied with your course are more likely to spread the word. Maybe even on social media or with a backlink.
This promotes your brand and helps you reach a broader audience.
Diversify Your Digital Marketing Content
Content marketing is an essential part of any broader marketing strategy.
Diversify your content and channels to maximize your reach.
And connect with your target audience and potential customers wherever they consume content.
Determine the most appropriate content types for your business and start small.
Semrush's Content Marketing Platform plan can help you find the kind of engaging content your users want to see.
Then, create a marketing plan around that content.
Execute on a more robust, diversified content marketing plan. To reach more customers and grow your business.
Further content marketing resources: