8 Marketing Trends Tools You Should Use for Research
Trend research involves tracking the phrases, products, and content that generate the most interest among your target demographic. Trend research takes the guesswork out of understanding your audience so you can spend more time promoting your products or services.
There are plenty of trend tools on the current market that can provide helpful trending data. Some tools provide real-time data; others track trends over time. Here are a few trending data tools to add to your toolbox: 
1. Semrush Market Explorer (.Trends)
The Market Explorer tool creates a visual overview of the current market in your selected country. Use the tool to review your market's audience demographics, highlight any key competitors, estimate your current market share, and much more. 
You can generate two types of reports with the Market Explorer. If you already know of your competitors, select Create List. To find your competitors, select Find Competitors. 
Name your list and select your target country: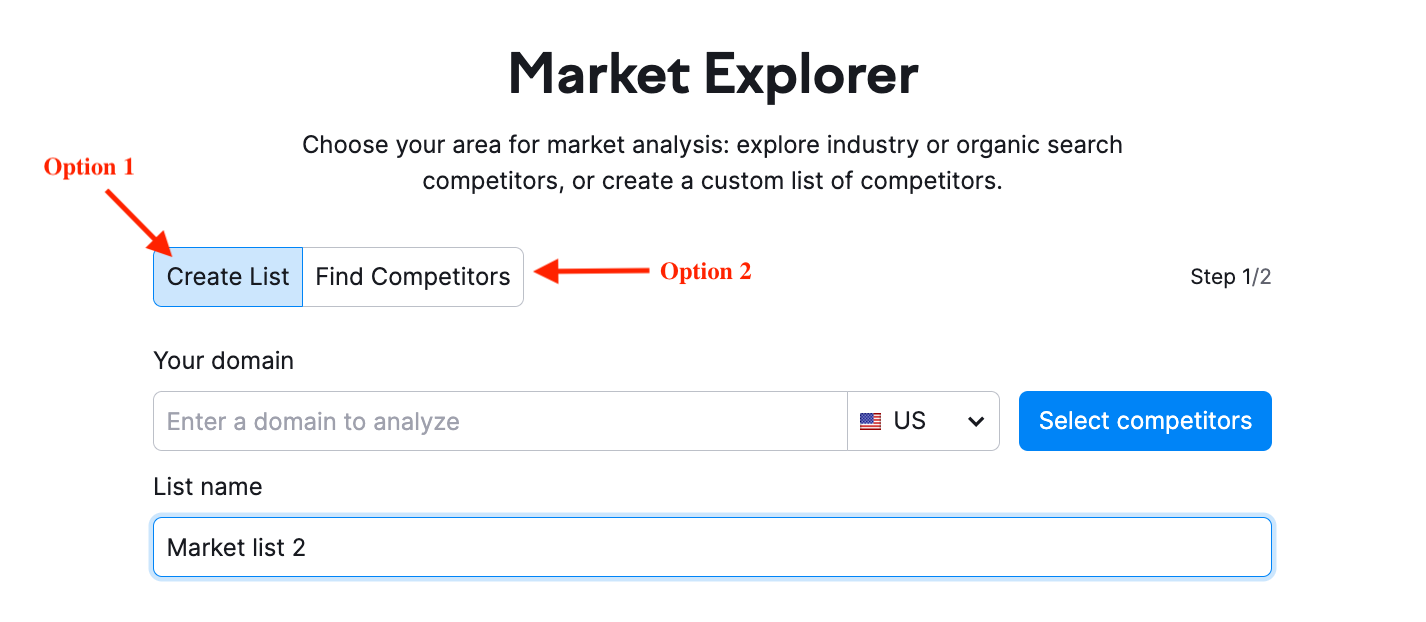 The tool's Overview report provides a high-level overview of your current market, including the size of the market, any key players, and their market share:

The report's Growth Quadrant widget displays the competitive landscape in an easy-to-follow chart. Refer back to the quadrant over time to track how market share changes among your competitors: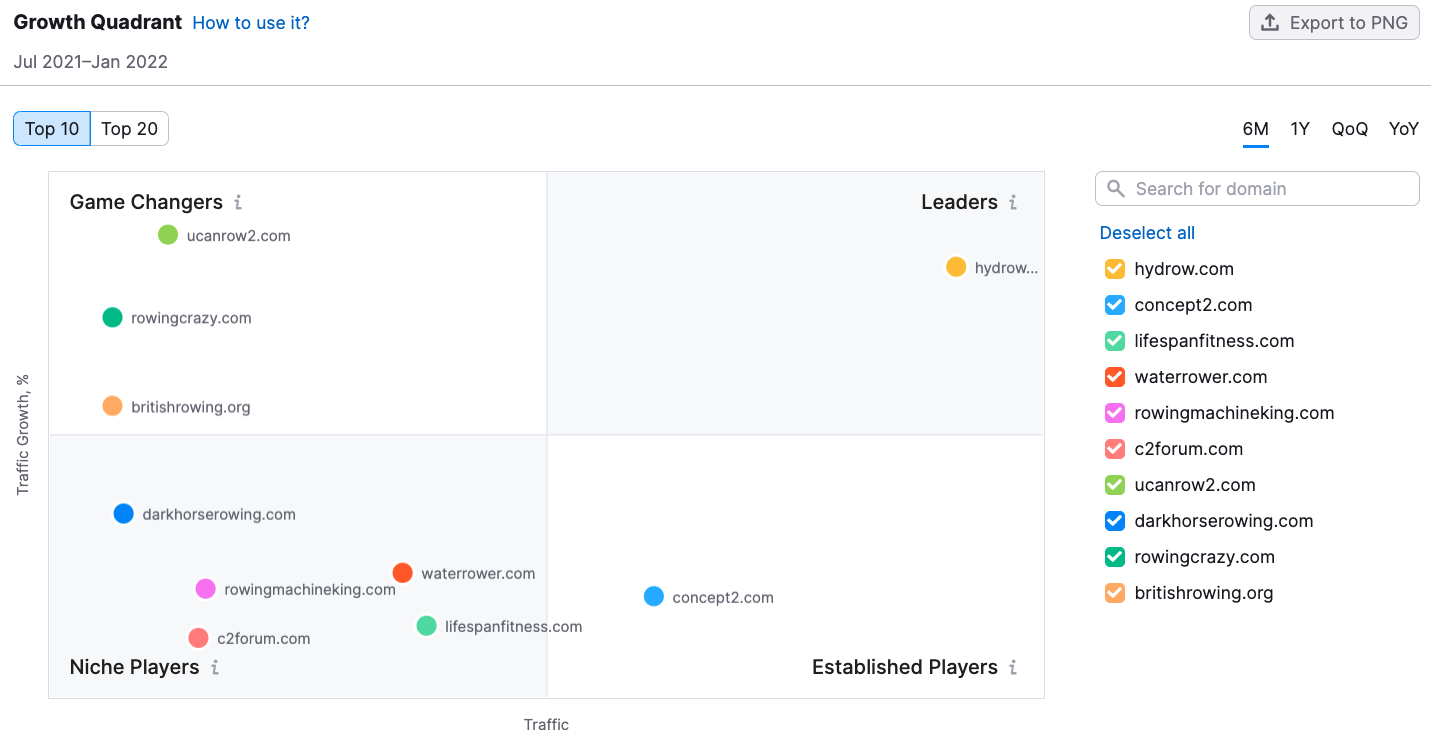 The Market Explorer tool can also help you understand how competitors' traffic compares to the market as a whole over time, which channels provide the most traffic, and the market share earned via each channel.

2. Semrush Traffic Analytics (.Trends)
The Traffic Analytics tool allows businesses to gain insight into their competitor's traffic and onsite activity. Use this tool if you want to evaluate a new market or to identify any trends among your competitors that you can tap into. 
Start by entering your competitor's domain into the input. To compare up to 5 competitors, select the drop-down next to the input field and select Compare domains:

The tool provides estimations of any website's desktop and mobile traffic. You'll be able to track how audiences engage with your competitors' sites and which channels drive the most traffic to your competitors: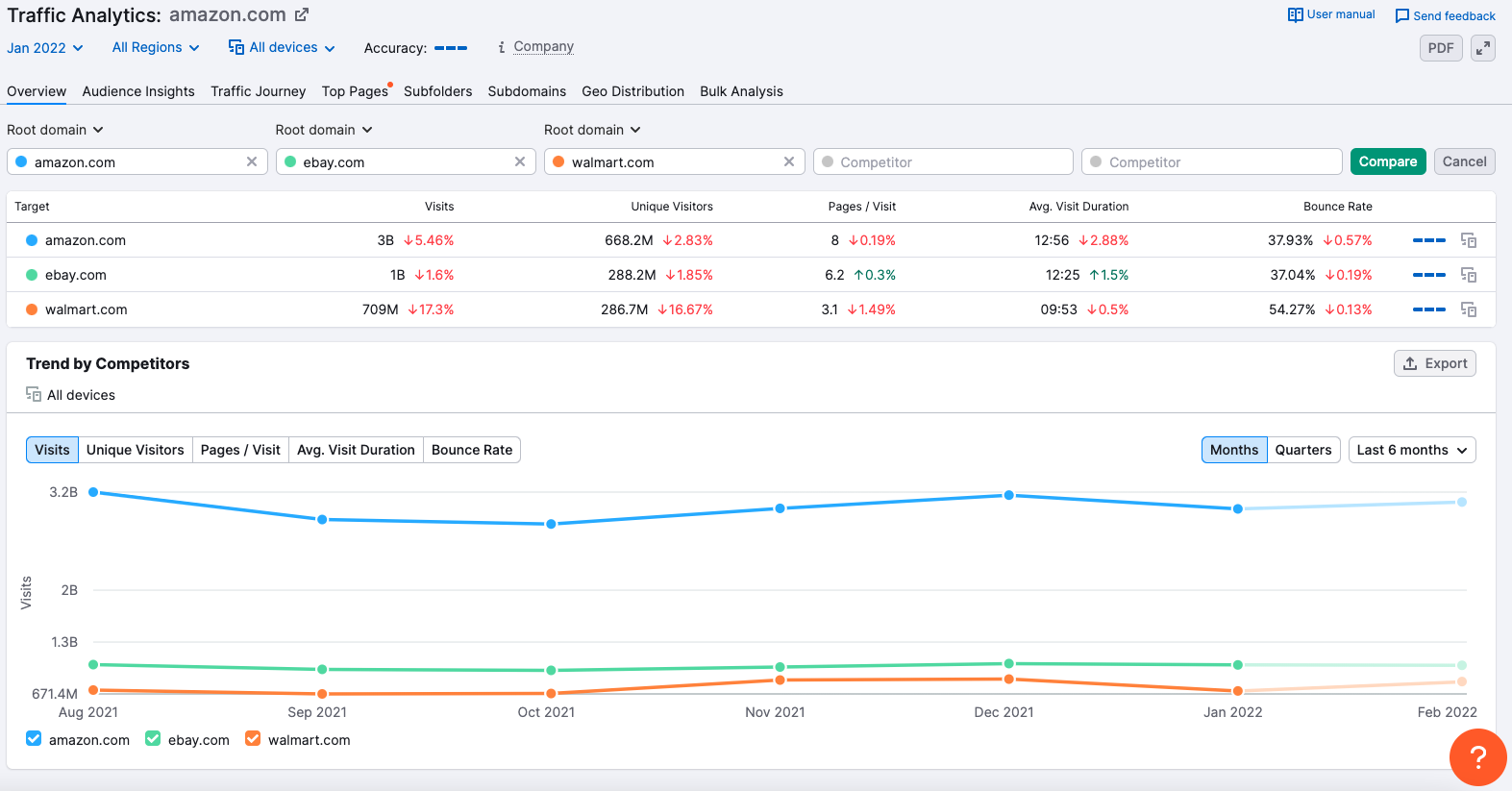 Understanding your competitors' top marketing channel can help you discover where your competitors drive their budget. For example, if you notice that the main source of a competitor's traffic comes from the same social media platform, you can look into any possible ads or popular posts they generated over the month.
When combined with the data generated by the Market Explorer tool, the Traffic Analytics tool can help you focus on your market's most important players, and learn more about the audiences you share with them.
3. Google Trends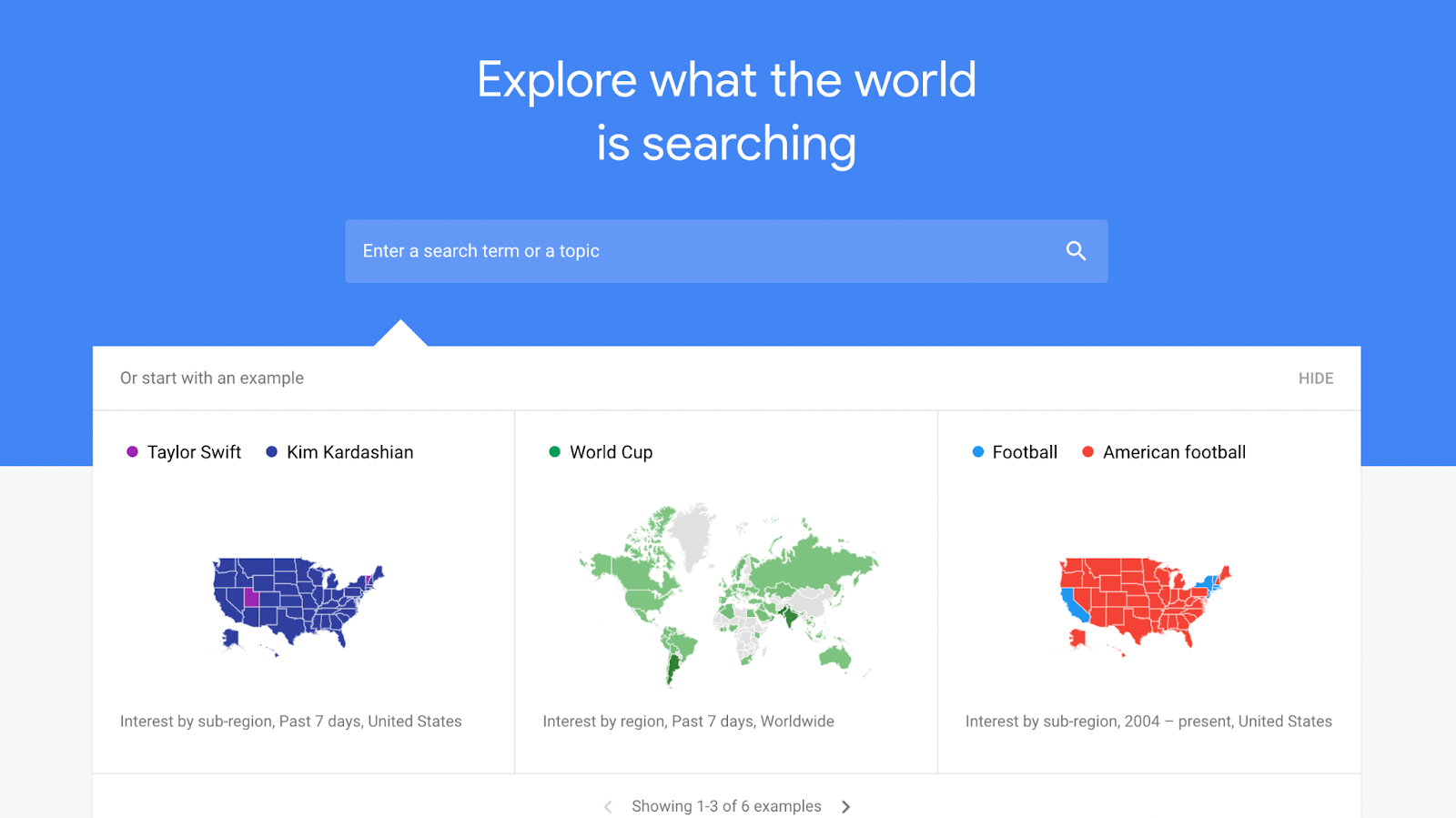 Google Trends is a free tool that can help identify topics to stay ahead of the curve. Keyword research is a pivotal part of creating content for websites and social platforms. It shows the terms and phrases people are searching for and which ones have the potential to be the most engaging to your customers.
The tool allows you to filter searches by specific countries, regions or sub-regions worldwide. Tracking emerging trends in different countries is a massive bonus as it can help you prepare for a trend's potential impact.
4. YouTube Trending Topics
YouTube has continued to dominate when it comes to content generation. And with no signs of slowing down, it's essential that businesses can recognize when a trend may be emerging on the platform. 
Although your YouTube homepage will vary, it can still help you understand trends. You can also follow your closest competitors, celebrities, or influencers who are working with a competitor brand, or even completely new and diverse YouTubers that are establishing the current trends.
However, you can go one step further in your trend research by getting trending content data from YouTube's trends tool. Point to youtube.com/feed/trending to get an overview of what's trending on the platform right now. You can also track trends among YouTube's popular content categories like music, gaming, and film.
5. Google Trends for YouTube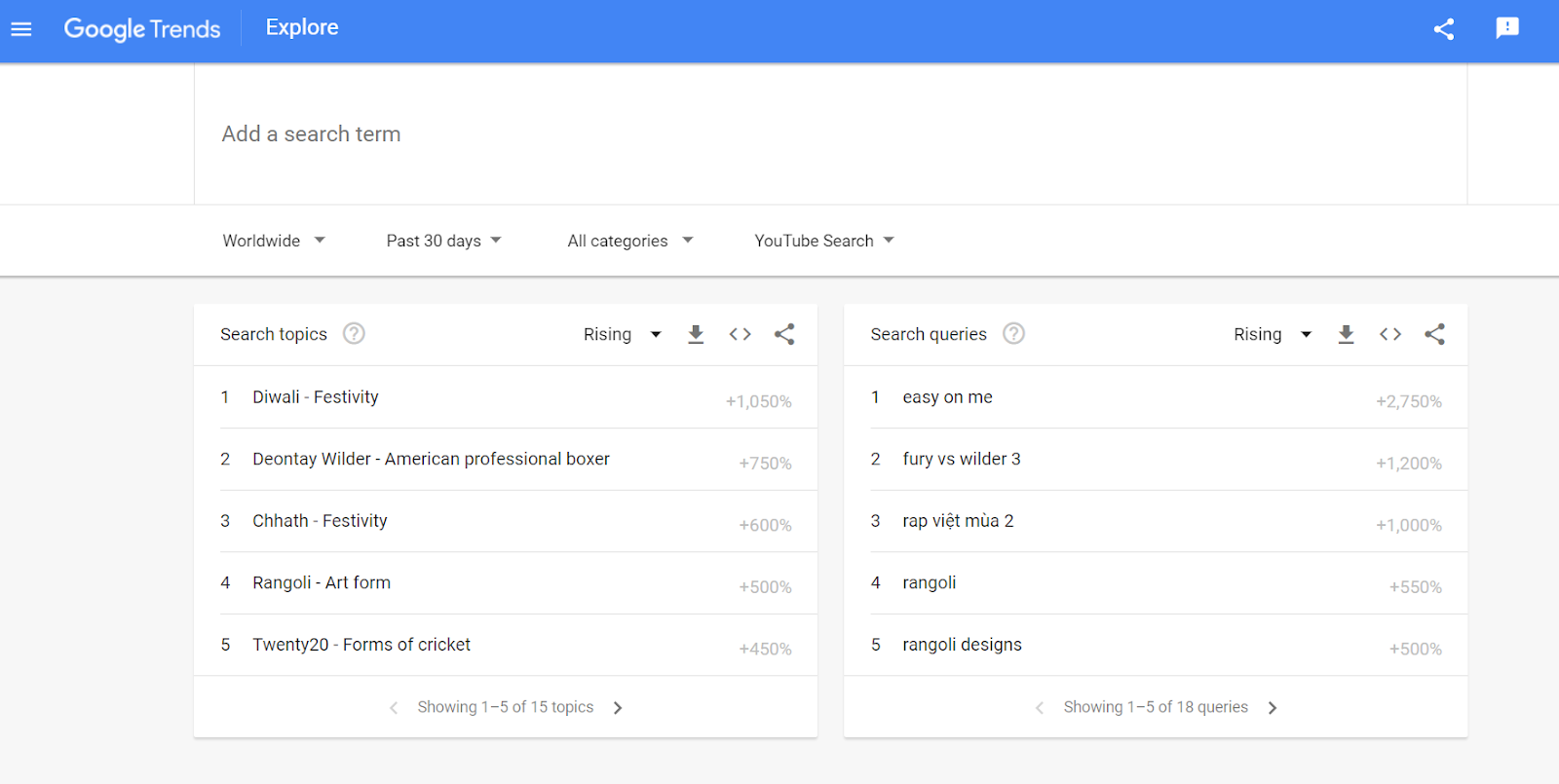 You can also use Google Trends' YouTube filter to keep an eye on trending YouTube activity. Much like a regular Google Trends search, you can view worldwide, categorical, and specific country data for YouTube trends. 
Google also allows you to filter by how performance. For example, the search topic in the image above is currently set to view these results by which topics are rising in popularity. However, this can also be set to show the top search trends.
6. Pinterest Trends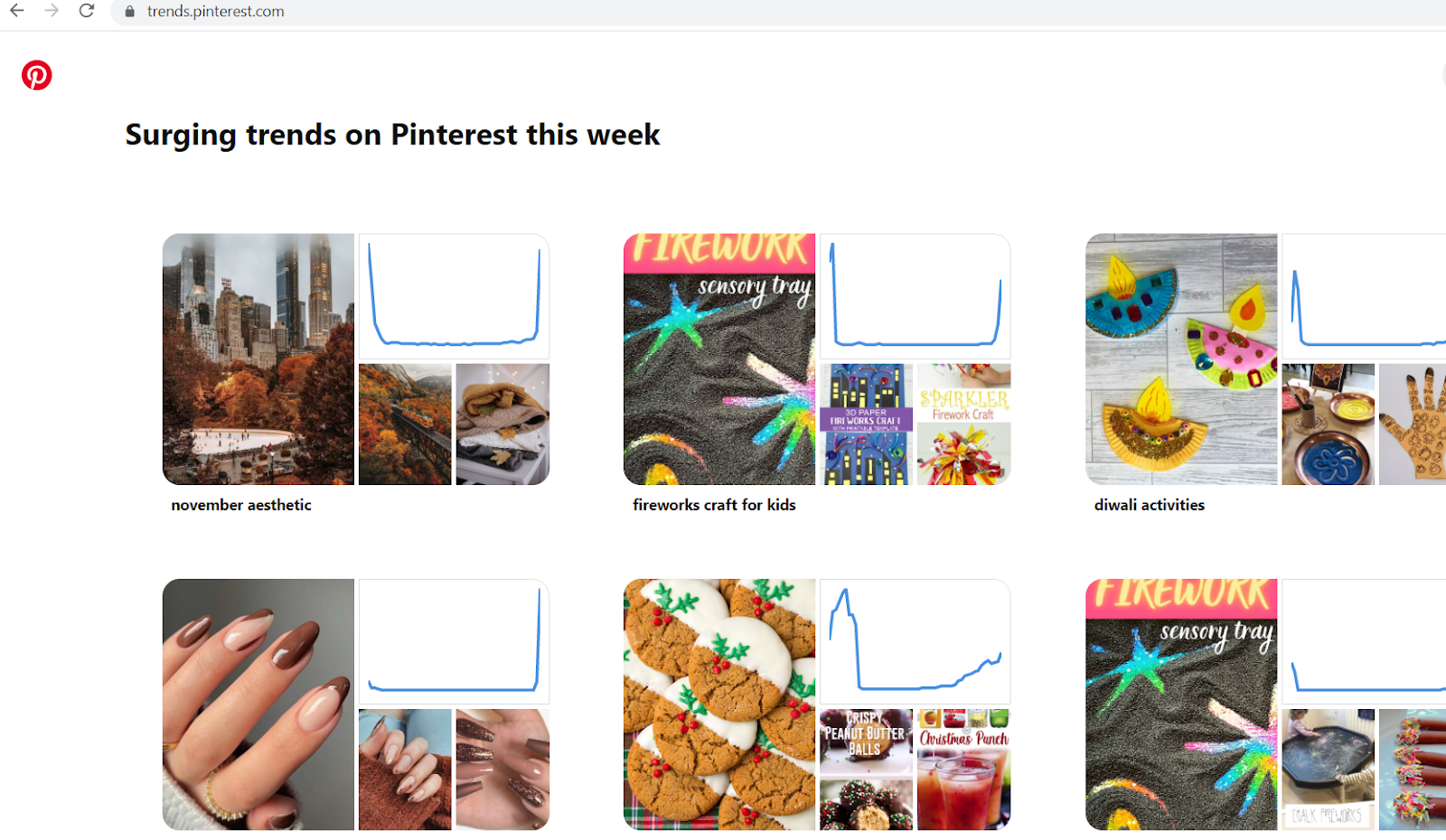 While Pinterest isn't often at the forefront of many marketers' digital strategies, the platform has actually made massive strides in becoming one of the main players across the digital landscape. With 454 million active monthly users worldwide, it's becoming harder to ignore the fact that brands need to connect with the type of user that Pinterest invites.
When visiting the Pinterest site, users can search for the Trends of the week. These trends usually include their most popular imagery over the week. Businesses can use this feature to discover opportunities to share their products and service where they otherwise wouldn't.
Pinterest also offers a fairly new and quirky feature called Pinterest Predicts, a collated list of the future trends that Pinterest believes will take off over the coming year. The feature produces a full report that can be split by category or audience. 
7. Instagram Trends
Instagram can often feel like a place where trends come and go within minutes, mainly due to the massive amount of content that materializes on the platform 24 hours a day. 
However, there is a simple and quick way of keeping track of the trends dominating the platform: simply search for a hashtag that is related to your business. If a company sells clothes or is particularly fashion-forward, a quick search for the "fashion" hashtag shows the trending hashtags related to fashion. You'll also be able to see how posts use a hashtag, which can be a good indicator of how popular a topic is. 
Instagram also suggests accounts, hashtags, and general topics to follow based on their existing activity on the platform. The feature recognizes the hashtags a user searches for, so it's worth using relevant, trending hashtags to improve the chance of a user having your account recommended to them. 
8. Twitter Trending Topics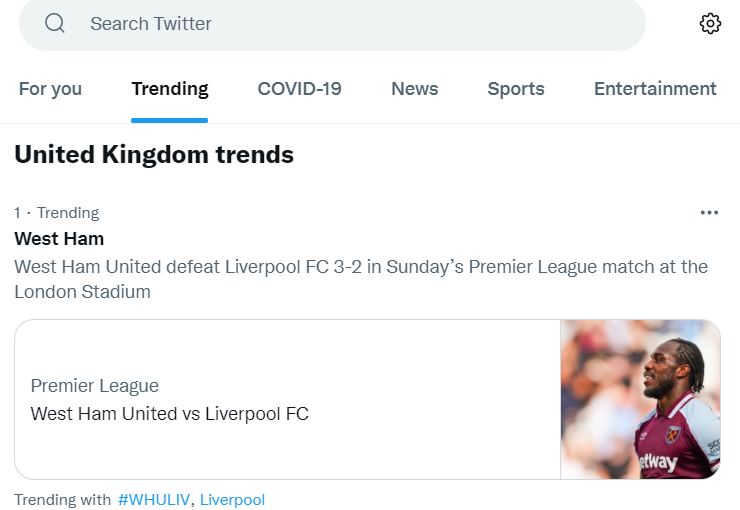 While it's fairly easy to peek at the "Trending" tab Twitter offers on its website, it's ikely that most of us have never dug much further than the trending topics in our specific location. However, you can also use the tool to identify trending topics worldwide. 
By using the "Advanced Search" option, users can delve deeper into the real-time trends that are happening all over the world. Visit t witter.com/search-advanced to see additional search options.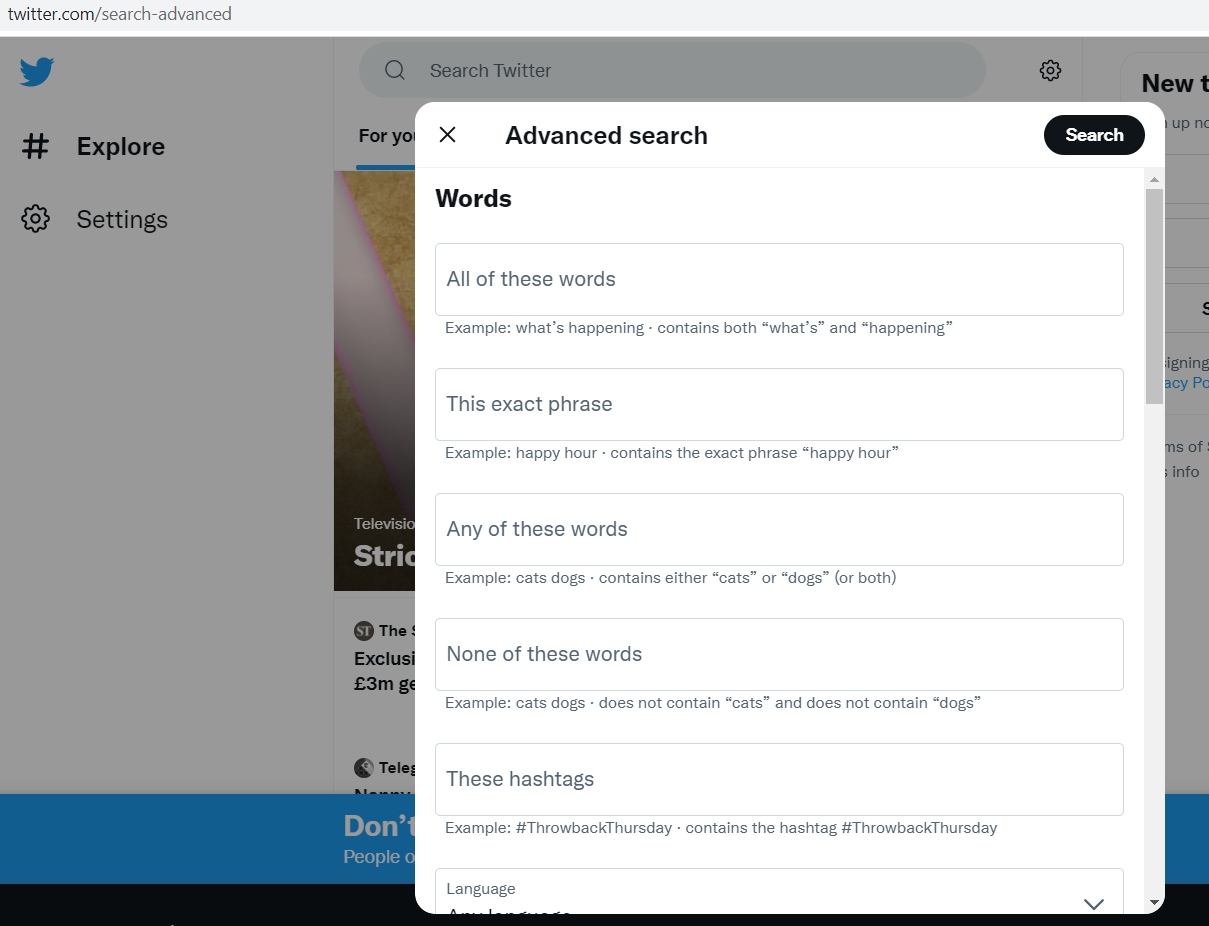 Use the Advanced Search functionality to search for trends across a specific date range, or that have earned a specific among of engagements the related hashtag has received. Businesses can filter out some of the mini trends that don't manage to take off, while also tracking the trends that are gaining momentum.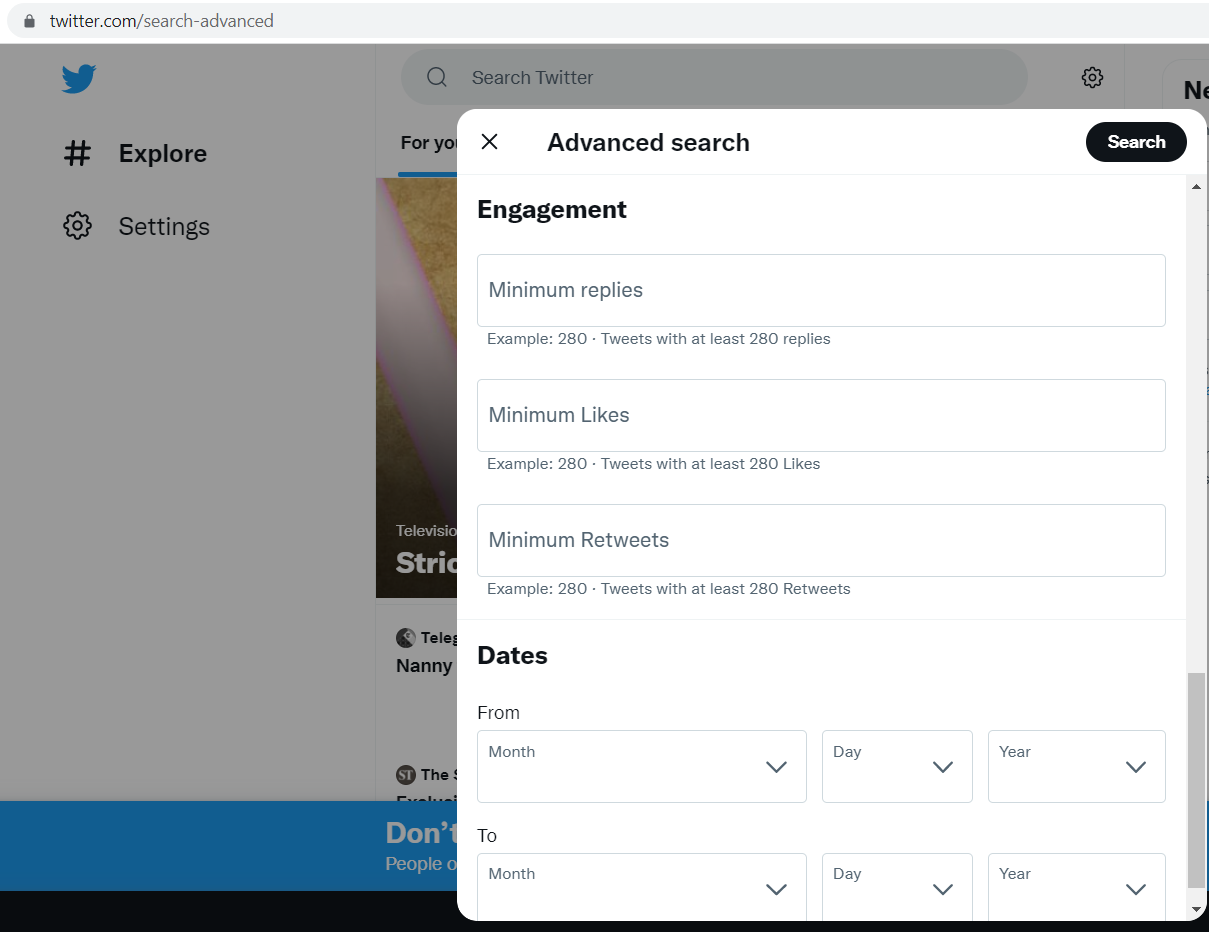 Key Takeaways
Trends can help to identify opportunities for your business both for marketing and products. 
There are free tools, like Google Trends, YouTube Trendings, Pinterest, Twitter, and Instagram that can help you track trends on popular platforms.
For a complete analysis of trends, Semrush offers a suite of tools for one monthly subscription price. Learn more about our competitive research tools and how they can help your trend research.