What Is SEO Traffic? 
SEO traffic is the number of people who visit your site from search engines' organic search results. This is different from paid traffic where people visit your site through paid advertisements.
For instance, someone Googles a question and your site appears in organic search results. They click to learn more, making them part of your site's SEO traffic. 
We'll demystify the process and help you drive relevant traffic to your website without spending a single cent on ads.
How Does SEO Lead to More Web Traffic? 
SEO can lead to more web traffic by helping search engines understand what your website is all about. It makes it easier to place your site on the SERP (search engine results page) in front of an interested audience.
Larry Page (Google's co-founder) once described the perfect search engine as "understanding exactly what you mean and giving you back exactly what you want."
Simple, right? Not exactly. 
Factors like site architecture, helpful content, and targeting the right keywords all play an important role in communicating to search engines so they can understand what your site has to offer.
Other SEO signals like site speed and a good user experience across all platforms matter to Google and should matter to you too.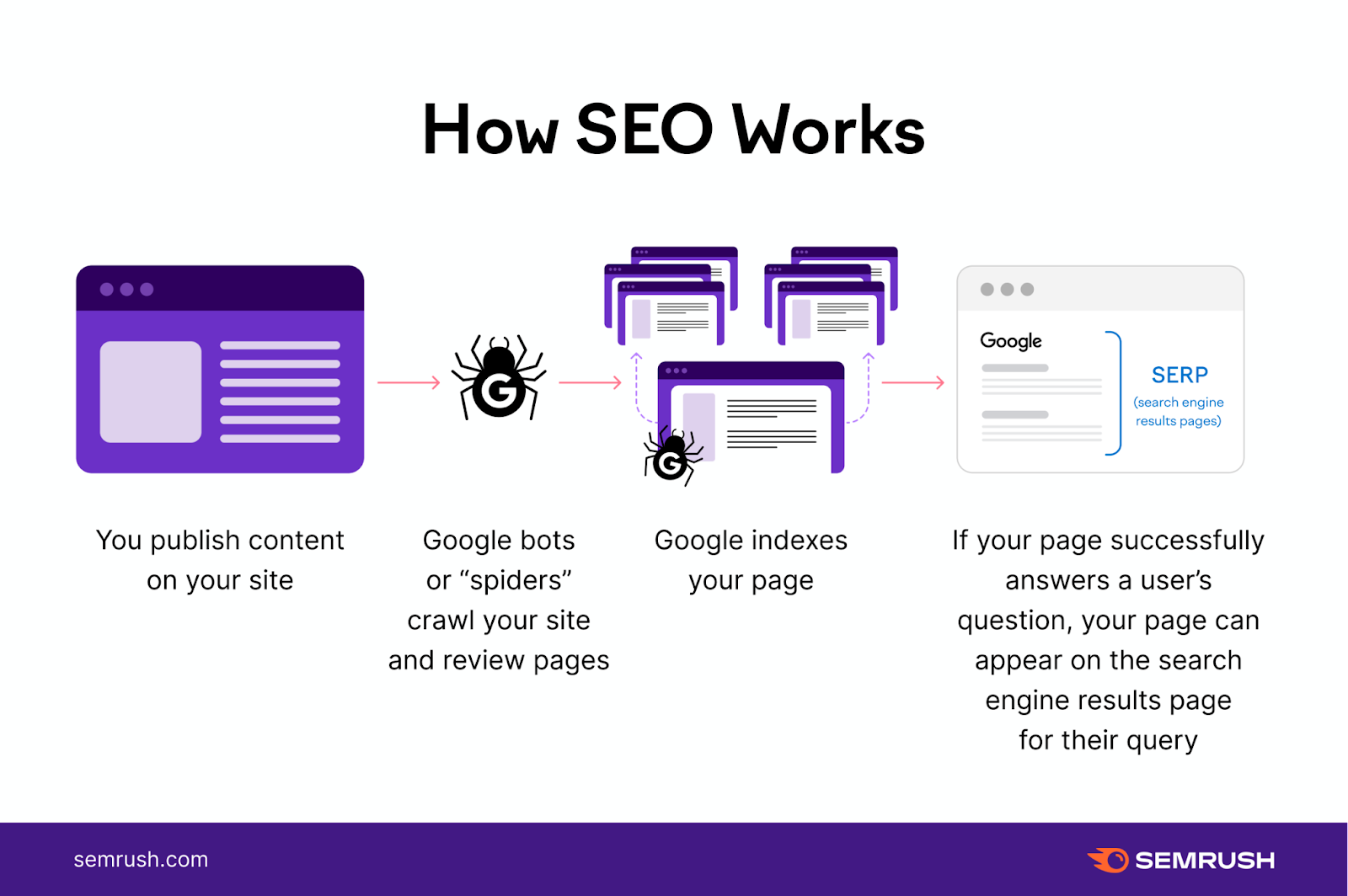 But making your site as user-friendly, fresh, and helpful as you can is the way to get Google's green light. Do this and you're bound to attract more organic traffic. 
Let's break it down together a little more. 
How to Generate Website Traffic for Free (Without Social Media) 
It's more than possible to generate site traffic for free and without social media through SEO. While SEO is a process that takes time, it can bring in a lot of long-term ROI if you're patient.
Yes, Google has hundreds of ranking factors with multiple variations in its algorithm. 
Does that mean you need to know every ranking factor to succeed? Nope! 
Instead, you can focus on three parts of your online visibility to drive your target audience to your website. These three factors are: 
On-page SEO 
Off-page SEO 
Technical SEO 
You can scale the search engine results pages with this in mind, with patience, and with a flexible strategy. 
Including each of these three types of SEO in your digital marketing strategy can help you check off as many boxes as possible on Google's list. 
On-Page Elements for SEO Traffic 
On-page SEO, in short, is the process of optimizing the pages of a website to make it user-friendly. You can probably guess a few of the elements that make up on-page SEO, like high-quality, relevant content. 
But there isn't an actual person reading over every page on your website to decide its rank. 
Instead, you have to make your content easy for Google to read and understand. You can do this by using keywords in the right way throughout your content for Google to understand what you're writing. 
Part of doing this includes using relevant headers to break up your content, adding value through images, and using markup to help search engine crawlers understand your content. 
Other on-page factors to optimize: 
Internal links 
URLs
Title tags 
Clean HTML 
Image size 
Mobile usability 
Of course, it's so much more than this. However, you don't need to be Larry Page to master your site's on-page SEO.
Off-Page Visibility & SEO Traffic
True to its name, off-page SEO involves any action that contributes to your website's rank via someone else's site. 
It's true that social media affects off-page SEO. But there are other ways you can capitalize on it—like with backlinks. 
Webmaster Trends Analyst, John Mueller, said that link building can help with your overall search strategy during a Google Search Central SEO hangout in 2021. Though, he stressed that relevant, high-quality links are what really matter.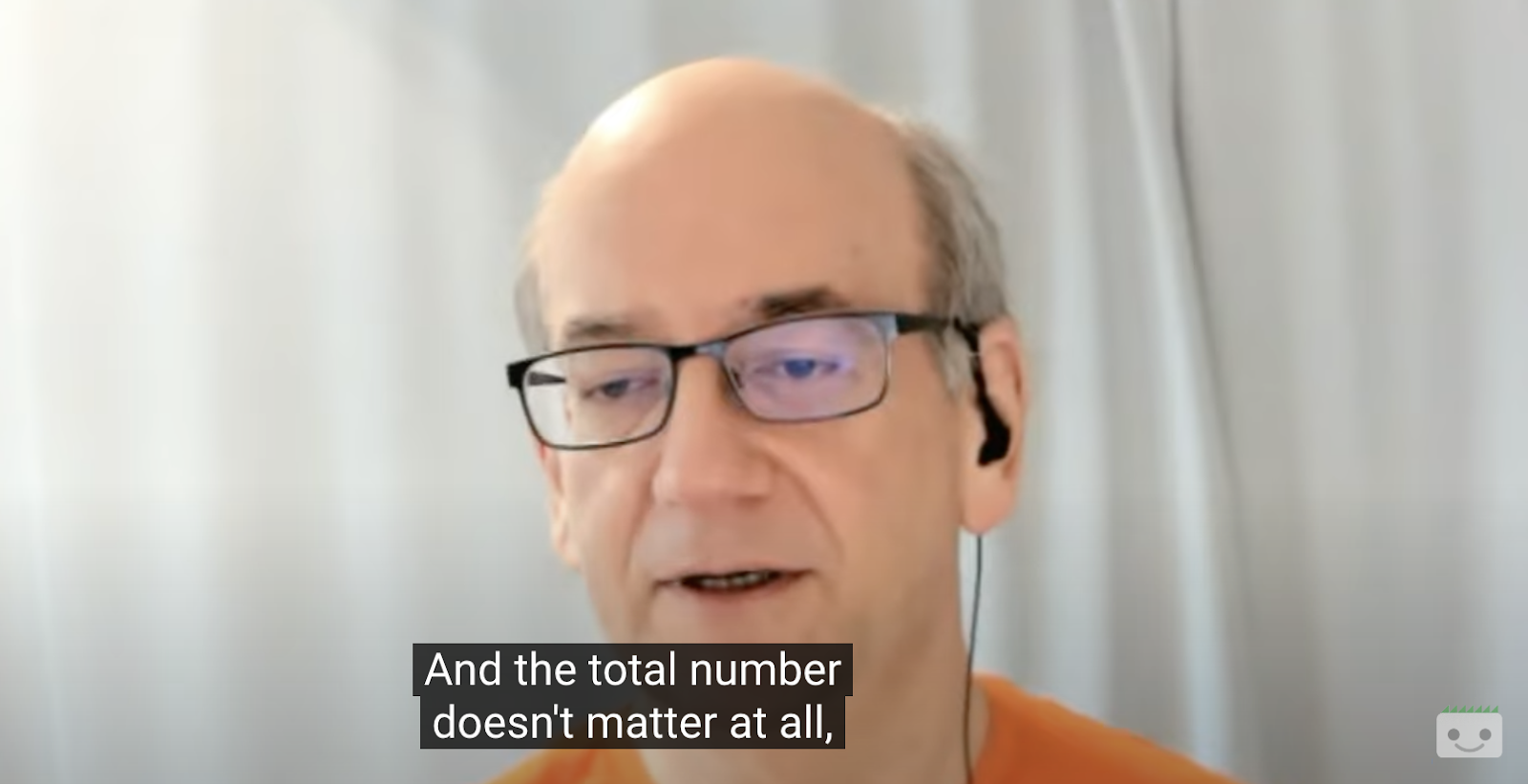 John Mueller on the topic of backlinks during a Google Search Central SEO hangout.
On Page SEO Checker gives you actionable ways to snag backlinks that bring the right audience to your website at the right time. We'll revisit this a little later. 
Technical SEO and Traffic 
Technical SEO describes the actions you'd take to improve the indexability and crawlability of your website. 
Whereas on-page SEO deals more with the user side of making a website easier to understand, technical SEO makes it easier for crawlers to understand. 
You might've heard of the term "core web vitals." It's a series of tests that measures: 
Your site's load time 
If your site visually shifts once it loads/as it loads 
How long it takes for elements to load on your website after user interaction 
These metrics above along with others (i.e. page speed and site architecture) can have a big impact on your website's technical SEO. 
Search engines may place you higher in the SERP if your site health rocks. And that translates to more online visibility and traffic as a result. 
What Is On Page SEO Checker?
On Page SEO Checker is one of many free tools to increase website traffic in the Semrush suite. Instead of throwing darts in the dark trying to optimize your pre-existing content at random, you can use this tool to gather solid SEO suggestions based on real-time data. 
The reports from this SEO checklist tool can show you: 
On-page SEO ideas
Semantically related words to include on your pages
Target content length and readability
Backlink prospects
Ideas to improve technical SEO 
Our crawlers scour the SERPs to find your top 10 competitors for targeted keywords so you learn from their strategies. 
Also, On Page SEO Checker can crawl your entire website to fight against keyword cannibalization and check off items as you go along.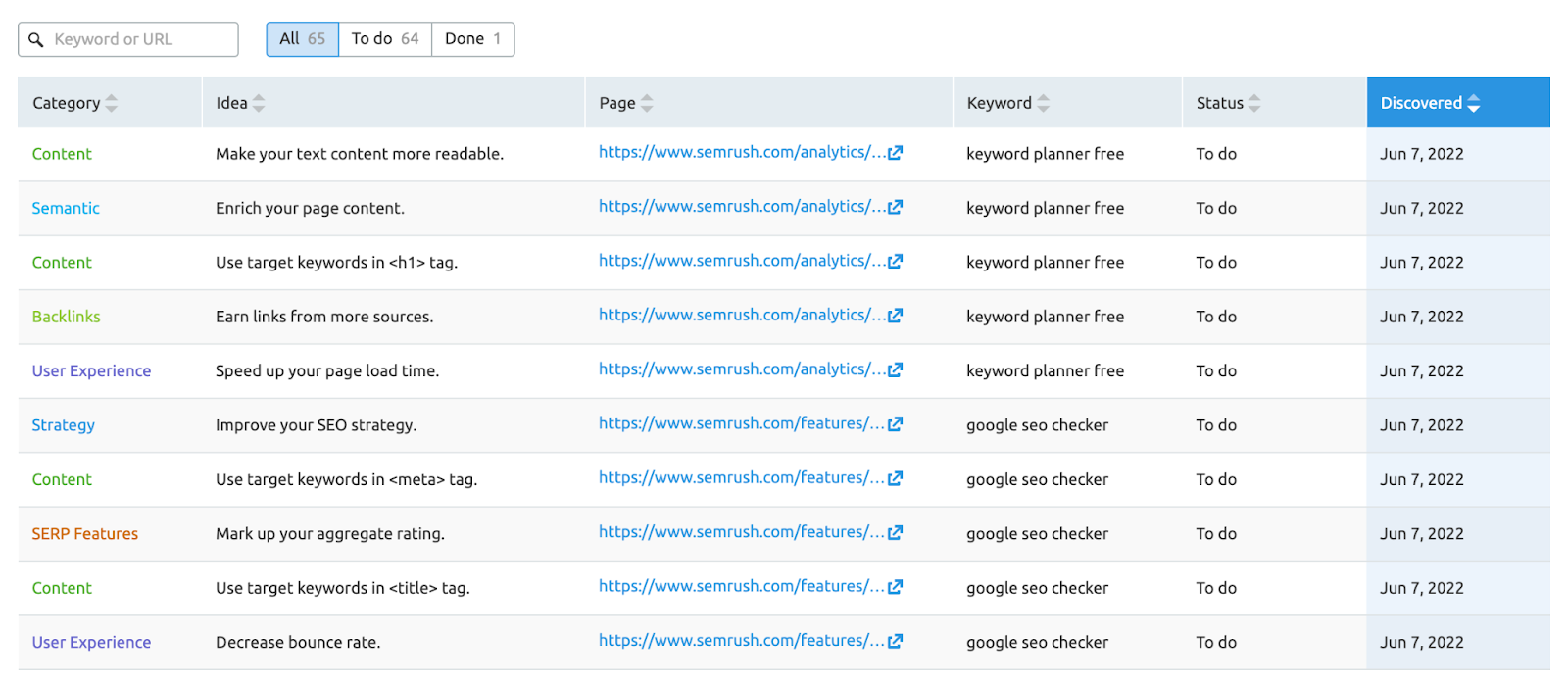 It's tricky to know which aspect of SEO to start with. To help you choose, this tool suggests the priority of what you should focus on first. 
The Trello integration can help your entire team stay on track and on the same page. 

You can choose to look at ways to improve your organic traffic per page or per SEO idea. It's your preference—either route can help lead to interested website visitors. 
How to Find SEO Ideas with On Page SEO Checker
Look no further than the On Page SEO Checker to find enough SEO ideas to keep you busy for weeks. You can see all these suggestions from the Optimization Ideas tab.
Strategy Ideas 
This type of SEO idea lets you know if you're optimizing for the right keyword for a targeted landing page. 
For instance, imagine you're optimizing a specific webpage for the term "google ads." Said page ranks for the 101st position for the term. 
Cue plot twist: 
On Page SEO Checker crawls your site and finds that you have another page that ranks for position 55. It makes more sense to optimize the page that ranks for the 55th position because it has a better chance of moving up than the other. 
The Strategy Ideas section of the Optimization Ideas report also makes you aware of any keyword cannibalization issues. 
As a quick reminder, keyword cannibalization is when multiple pages of your website are targeting the same keyword. It leads to a fight between your content over who gets the better position for the targeted keyword. And here Google is the referee (aka not you). 
SERP Features Ideas 
SERP features are enhanced search results to help searchers easily find the answers they're looking for. You probably recognize featured snippets. 
These coveted spots take up a decent chunk of web real estate and can take the first position on the SERP without needing to rank for the first result. 
The SERP Features Ideas section can help you figure out the best way to snag these spots based on the data of your top 10-ranking rivals'.
This section can also give you a heads up on opportunities where you can add a bit of markup to your page to increase the chances of earning a reviews SERP feature. 
Semantic Ideas
Google's algorithm is quite clever and can better understand your content if you include terms related to your targeted keywords. These related phrases are called semantically related keywords. 
To help you craft your semantic strategy, On Page SEO Checker has a Semantic Ideas section that compares your content to that of your top 10 rivals. It looks at the top results for your targeted keyword and then looks for the semantically related keywords in your competitors' content. 

Clicking on "See detailed analysis" will show you how many times your rivals used these related terms along with how many times you've used them on a targeted page. 
Weave these into your targeted page and you could be looking at more organic traffic. 
User Experience Ideas 
User experience (UX) has become increasingly important to Google. It makes sense: if a website is difficult to use, Google won't want to promote it. 
The User Experience Ideas section under the Optimization Ideas tab checks for three metrics: 
Page load time (which should be 3 seconds or less) 
Bounce rate 
Time spent on the webpage 
These tests aren't wild guesses. You can get accurate SEO suggestions because On Page SEO Checker has a Google Analytics integration. If our crawlers see a page with a long page load time or high bounce rate, it'll suggest that you optimize these pages to improve the user experience.
Backlinks Ideas 
Most of this tool's suggestions deal with on-page optimization. 
But why stop there? 
The Backlinks Ideas section looks at your content competitors based on the targeted keyword and landing page. 
Then, it tracks down your rivals' existing backlinks—referring domains that very well might give you a link with the right outreach strategy and content. 
Clicking on "See detailed analysis" reveals which referring domains link to your top 10 competitors. It also shows you which ones already link to your targeted landing page. 
Technical SEO Ideas 
You can craft the most informative content, but no one will be able to find it if Google's crawlers can't access it. 
If you've already run Site Audit, the Technical SEO Ideas section can show you issues it found that could prevent Google from accessing your pages. Fixing them could help people find the content you worked hard on and turn them into viable leads.
Content Ideas 
The Content Ideas section offers the following on-page checks: 
Readability 
Keyword stuffing 
Using your target keyword in the right places (like H1, meta title, etc.)
If your content is long enough in comparison to your rivals' 
If Google decided to change your meta tags from what you wrote 
Whether or not a webpage could benefit from including a video 
These are all pretty easy SEO ideas that can have a major impact on your website's SERP position. That said, it can be a long to-do list, which the On Page SEO Checker is happy to keep track of.

Just like some of the other sections, Content Ideas also compares the targeted landing page to its top rivals and tells you where you can improve your content. 
You can get a detailed view of the breakdown by clicking the "See detailed analysis" link. It'll lead you to a report with more data.

Want to Increase SEO Traffic?
You might have landed on this blog without a single SEO idea. Now, you should have a long list of them. Knocking off each suggestion brings you closer to the top of the SERP and closer to the eyes of your future audience. 
Best of all, SEO can be great ROI, especially if you're up for doing it yourself.
You can use On Page SEO Checker to help with your supply of on-page, off-page, and technical SEO ideas. It'll keep track of your accomplishments and the results of your effort. 
With a free Semrush account, you'll be able to gather ideas for up to 10 different keywords. If you'll need more ideas, consider signing up for a 7-day free trial of an expanded subscription.
Put in the work with these SEO suggestions to see how much traffic SEO can bring your site without using social media or burning through your budget.