An search engine optimization (SEO) specialist's primary goal is to to improve a website's organic rankings.
Whether you want to start a career as an SEO specialist or work for a company looking to hire one, this guide will provide answers.
What Is an SEO Specialist?
SEO specialists (also called SEOs, or search engine optimizers) use keyword research, content creation, link building, technical audits, and more to improve organic search results. It's their job to identify search-related strategies and tactics that generate more leads and drive more revenue for your business.
Other roles, such as SEO experts and SEO managers, have extensive SEO knowledge and experience. SEO specialists are entry- to mid-level professionals developing their expertise.
Benefits of Becoming an SEO Specialist
SEO is an in-demand and lucrative field. According to BrightEdge, 53% of all site traffic comes from organic search. And around 70% of online marketers think SEO is better than PPC (pay-per-click) for generating leads.
A recent B2B marketing report found that 49% of respondents use search engine optimization tactics at their company, and CMOs and Senior Executives plan to allocate 23.5% of their marketing budgets to SEO in 2023.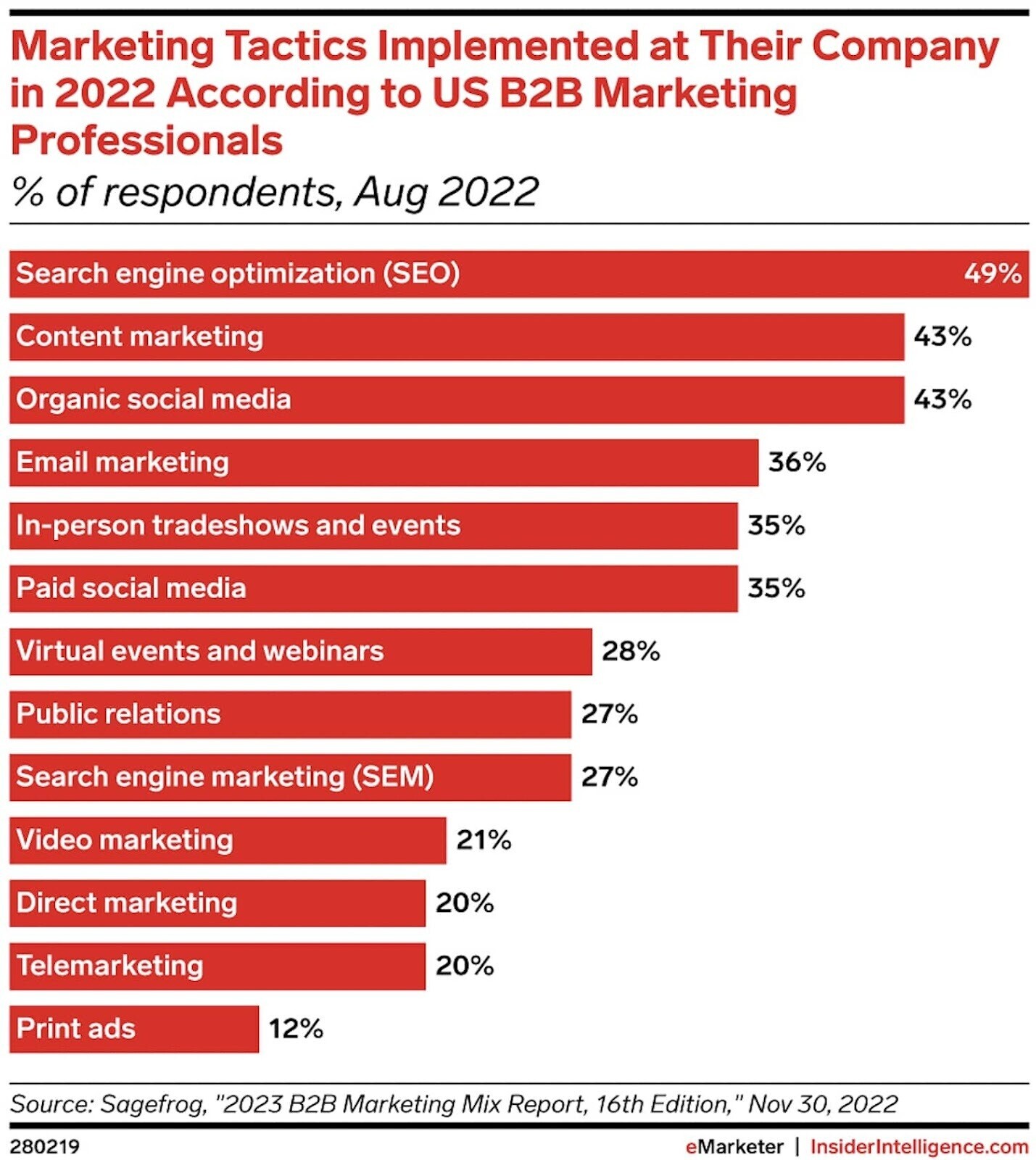 SEO specialists are in high demand as businesses spend money to generate leads through organic search traffic.
Another advantage of SEO is the low cost and entry barrier compared with other digital marketing types such as PPC advertising or social media marketing. 
Aspiring SEO specialists can start by taking a simple SEO certification class, such as Greg Gifford's SEO Fundamentals course through Semrush Academy, which provides a solid foundation for more advanced SEO training. 
Additionally, there are numerous free and low-cost resources available including: 
Becoming a search engine optimization expert is also financially rewarding. 
According to Glassdoor, SEO professionals can expect to earn at least $56,653—higher than the U.S. median.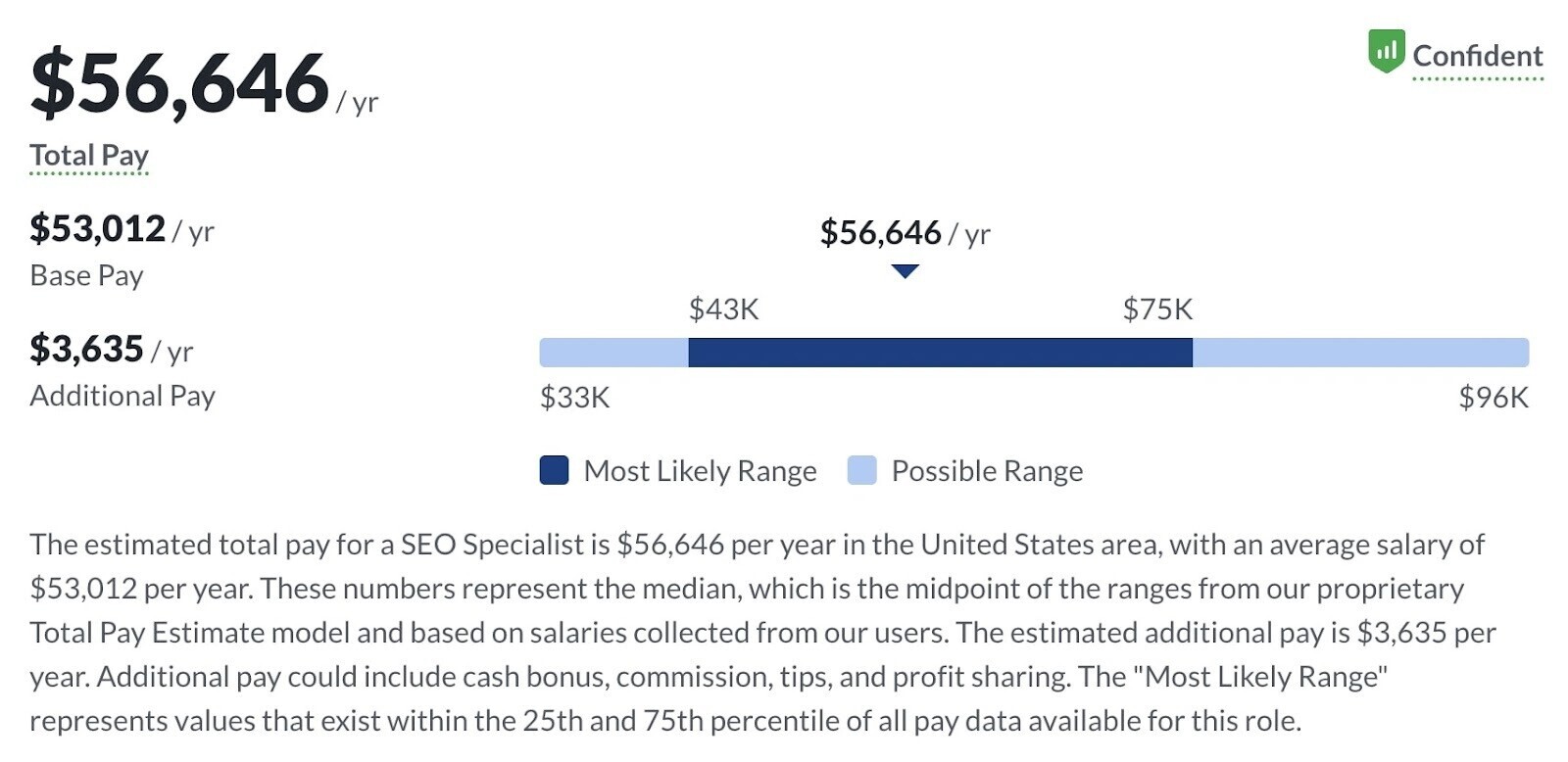 According to a 2022 report published by Search Engine Journal, freelancers reported the highest earnings, with 44.5% of freelance, founder, and contract respondents earning between $75-149,000 per year. 
Starting as an SEO specialist can open doors to other high-paying career opportunities like: 
Search Engine Marketer
SEO Manager
Content Marketer and Content Marketing Manager
Marketing Analyst
Digital Marketer
Business Marketing Consultant 
Let's explore the job responsibilities of an SEO specialist.
What Does an SEO Specialist Do?
An SEO specialist's responsibilities may vary depending on their employer and employment type (e.g., freelance, in-house, full-time, contract, or agency).
Most SEO positions require daily tasks such as: 
Conducting keyword research to identify the words and phrases users are searching for related to the business
Auditing website architecture and structure to improve usability and organic rankings by checking things like your backlink profile, website crawlability, on-page SEO, and user experience
Investigating ways to gain backlinks by fostering relationships with third-party websites and organizations
Craft compelling meta descriptions and title tags that summarize what users can expect to read
Optimizing web pages using HTML tags,canonical tags, alt text, and more, so search engines and users can better understand the content
Improving accessibility to make your website easier for users to understand and anyone using a screen reader to navigate 
Building comprehensive reports to track the progress of key metrics such as organic rankings, organic traffic, CTR (click-through rates), bounce rates, and more
Making suggestions on how businesses can boost their online presence through content marketing
Monitoring changes in search engine algorithms to ensure your website aligns with current best practices
Learn more about the day-to-day responsibilities of an SEO specialist from Ophyr Hanan, an SEO Outreach Specialist at Wix:
With these aspects addressed, let's discuss the traits top-performing SEO professionals share.
What Are The Traits of a Successful SEO Specialist? 
An SEO specialist needs to understand the ins and outs of search engines in order to help businesses achieve their inbound marketing goals.
Here are some traits a successful SEO specialist should possess:
1. Analytical Mindset
An SEO specialist needs to know how to analyze and interpret data, such as website traffic, keyword rankings, and user behavior to identify improvement areas and devise appropriate SEO marketing strategies.
In an article for SearchEngineJournal, Ryan Jones, vice president of SEO at Razorfish, shared that when hiring an SEO specialist, he wants an SEO who can interpret data through the "3 What's":
What happened?
Why "what happened" happened
What should we do about it?
SEO professionals should be able to understand the problem from different angles and use data and logic to inform decisions.
2. Technical Proficiency
For SEO specialists to communicate effectively with developers and offer valuable insights rather than just demands, they need technical skills.
SEO specialists make decisions about:
Page speed
Rendering
Lazy loading
Server-side redirects
Microdata tagging
Schema markup
Proficiency in Google Analytics, link building, Python, CSS, Javascript, and HTML gives SEOs an invaluable advantage.
3. Communication Skills
Although SEO requires technical expertise, SEO specialists work with various stakeholders: clients, team members, managers, and more to convey ideas, provide updates, and resolve issues.
Communication is among the five top-rated skills employers seek in candidates, as the graph below from NACE demonstrates: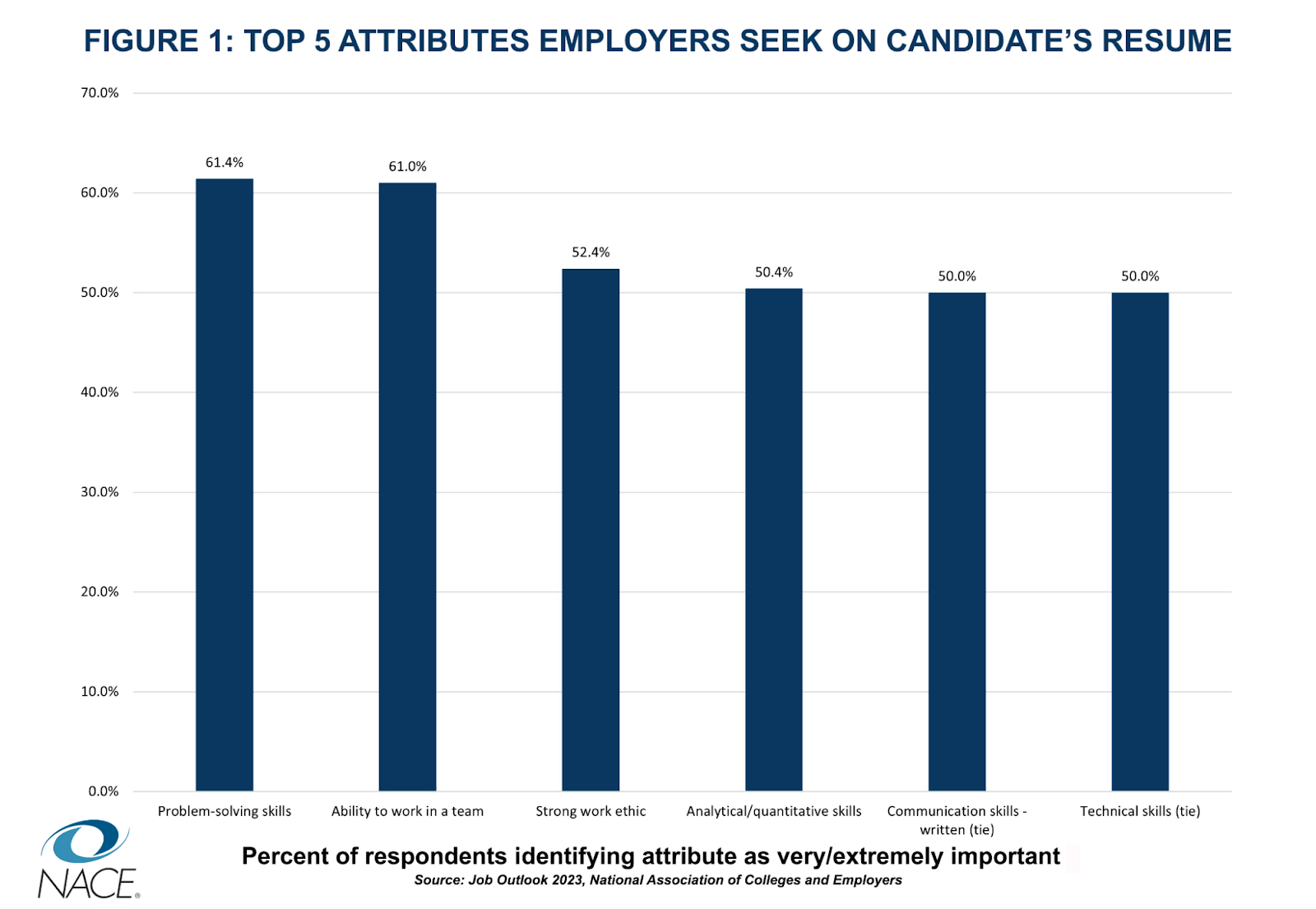 ​As SEO constantly evolves, staying up-to-date with the latest trends and updates is vital. Networking with other SEO professionals can help specialists stay informed while building valuable relationships.
4. Adaptability
SEO is rapidly changing, and specialists need to adapt constantly.
For instance, in 2010, Google's Matt Cutts revealed that "on average, [Google] tends to roll out 350-400 Google algorithm updates per year." In 2020, it made around 4,500 Google search engine changes.
Specialists need to be aware of and adapt to things like:
Algorithm changes
Changing consumer behavior
Competition
Client needs
New technologies
Adaptability helps you grow organic rankings and traffic, maintain market share and revenue, and meet client needs.
5. Curiosity 
To cultivate and maintain the skills they need, SEO specialists must have a desire to learn.
Here's how Google's John Mueller, puts it: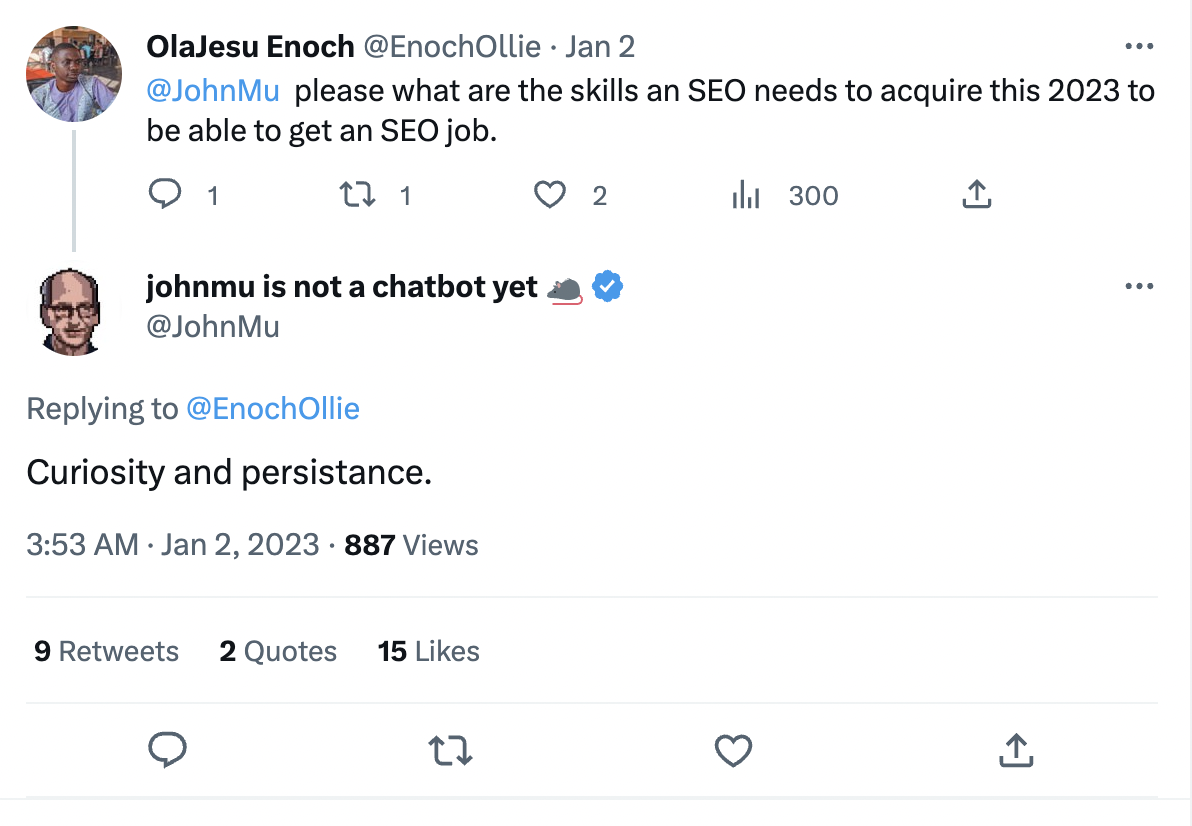 The SEO industry can be highly competitive, so specialists can demonstrate their industry commitment by continually learning and developing their skills.
How to Become an SEO Specialist
Although no universal qualification guarantees an SEO job, having a degree in marketing, computer science, or a related field is an optional advantage.
The DIY approach involves learning and practicing SEO skills on your own. Many successful SEO professionals become experts through self-study, hands-on experience, and trial and error.
Here are some steps you can take to become an SEO specialist through this approach:
1. Learn What SEO Is
SEO is the practice of improving your website's visibility in search engines.
SEO satisfies users' search needs by providing the best possible user experience and creating relevant, high-quality content.
There are four main SEO categories:
On-page SEO: Includes webpage elements such as title tags, meta descriptions, header tags, image alt tags, and keyword usage
Off-page SEO: Includes external factors such as link building, social media marketing, and influencer outreach to increase a website's authority and reputation
Local SEO: Includes creating location-specific landing pages, optimizing business listings on directories like Google Business, and ensuring NAP (name, address, phone number) are consistent across the website and directories
Technical SEO: Includes backend elements such as site speed, mobile-friendliness, and structured data markup
All four types help websites achieve higher search engine rankings and increase organic traffic.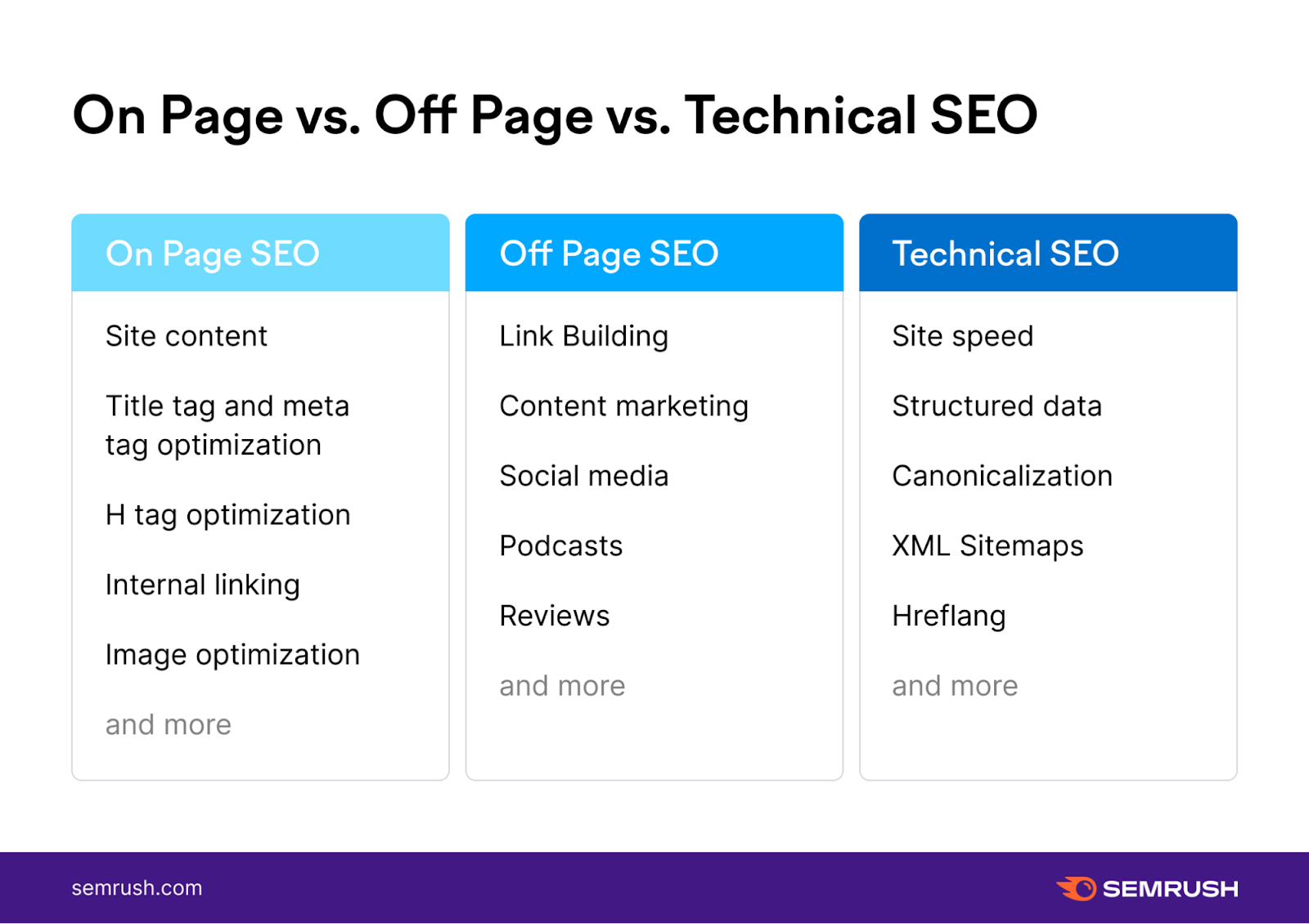 Familiarize yourself with popular SEO tools such as GA4 (Google Analytics 4) and Semrush.
Google Analytics (GA) is a web-based analytics tool that tracks website and app traffic, providing insights into user behavior and website performance. GA also offers a certification course, which we'll review in the next section.
GA4 replaced Google's Universal Analytics (UA) in June 2023. It offers a new-look interface, with a focus on events and parameters over UA's focus on pageviews and sessions.

Learn how to use Semrush to help you analyze and optimize your website's SEO, track keyword rankings, conduct keyword research, manage your social media presence, perform competitor analysis, and monitor your overall online visibility and performance.
Our introductory SEO guide and roadmap will teach you more about the basic elements of SEO.
2. Take SEO Courses
The quickest way to gain SEO knowledge is through a formal course. Choose a course that aligns with your experience level.
For example, you can start with Google's SEO Starter Guide, then follow up with itsGA4 training guide and support.
You can also read our Google Analytics for Beginners guide, which explains how to set up and get the most from it.
As you move from beginner to expert level, you can sign up for advanced courses like Google's GA4 course to develop skills for SEO-related data analysis.
Although certifications aren't obligatory, they always look good on a LinkedIn profile and your resume.
Tips for Learning About SEO: 
Consider enrolling in courses that offer certifications, such as Google Analytics or Google AdWords certification, to add credibility to your skills
Network with other students and industry professionals on LinkedIn (like this group) to gain valuable insights and learn about the latest trends and best practices in SEO
Continuously update your knowledge by taking refresher courses or attending conferences (like the ones on this list of the best SEO conferences)
Practice your skills by working on your own website or volunteering on SEO projects for others
Get involved in online communities and forums (Google Product Forums and SEO Chat Forums) to share knowledge, ask questions and stay connected with the SEO community
3. Read Authoritative Blogs and Industry Publications
To stay ahead of the constantly evolving algorithms and industry trends, you can read about them through industry-leading blogs covering SEO and marketing topics.
Some thought leaders include: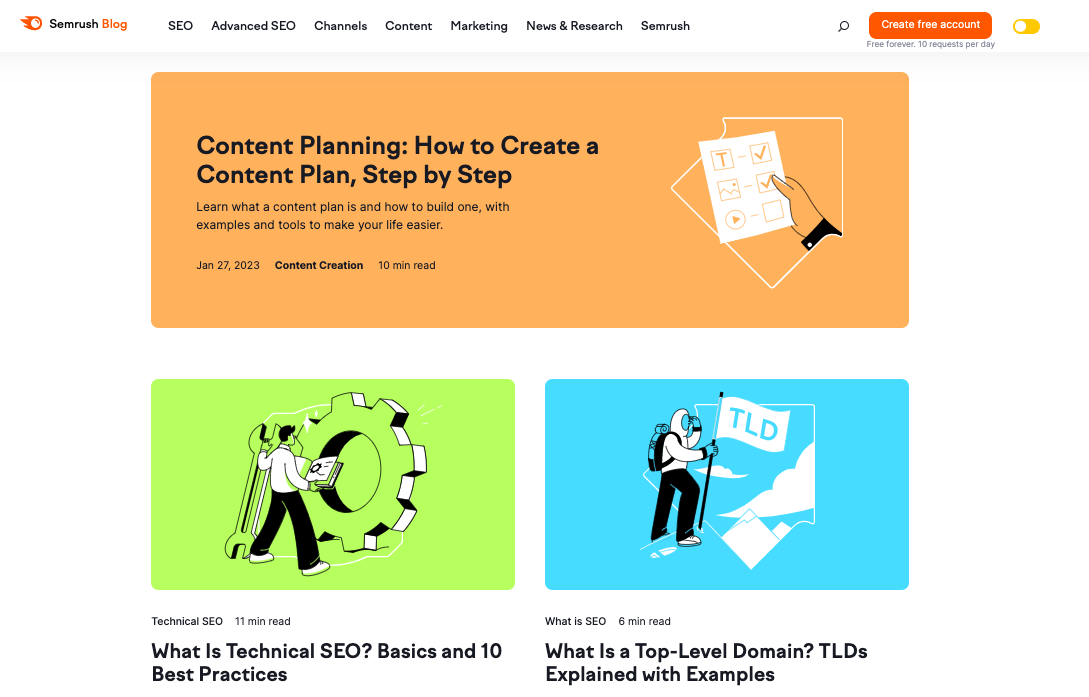 You can find guides, the latest news, tips, industry trends, and more on these sites. We also recommend signing up for website newsletters so you can have the latest industry updates delivered to your inbox.
4. Listen to SEO-Related Podcasts
When you don't have time to sit down and read, podcasts provide an excellent educational format.
There are many podcasts to choose from, like the Authority Hacker Podcast (from the creators of the SEO course, Authority Hacker Pro).
Search Engine Journal has a podcast about SEO, PPC, social media, content, and digital marketing featuring industry experts from many industries.
5. Learn Through Trial and Error
You can spend hundreds of hours listening to SEO podcasts, reading blogs, and taking courses, but the best way to learn SEO is by doing it.
Many self-taught SEO experts developed by applying what they learned from courses to their own or a friend's website.
Having your own website works as a portfolio, demonstrating your SEO skills to potential clients or employers. It's also a good place to experiment with new strategies and tactics.
Semrush's free trial allows you to perform keyword research, analyze competitors, track keyword rankings, audit your website, and more.
Google Keyword Planner, a free tool, can also help you search for words or phrases related to your products or services.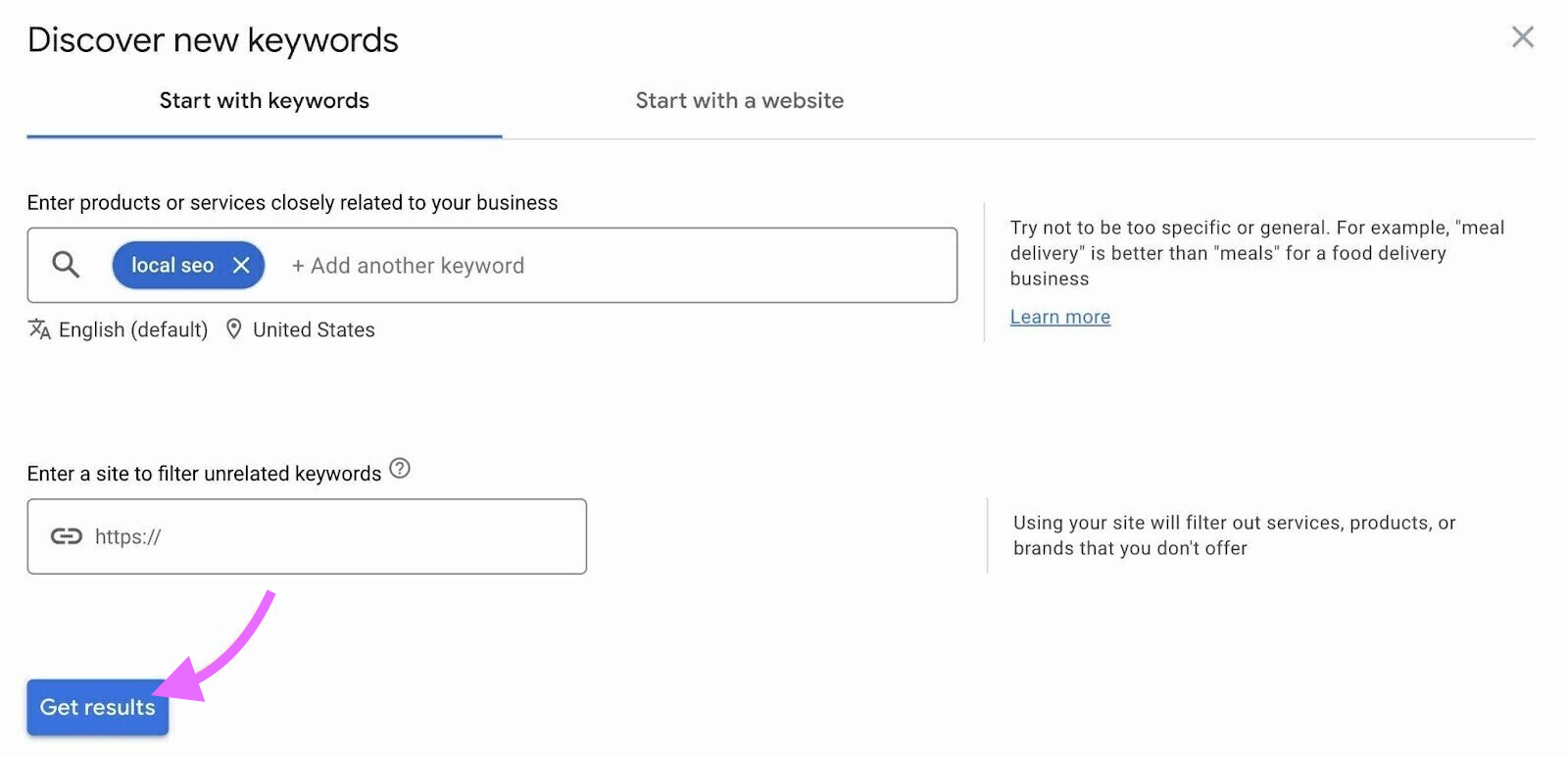 Although it may take time to see results from SEO (around six to 12 months), monitoring your results over time can help identify what does and doesn't work for a particular website, leading to a profound understanding of SEO and effective strategy development.
Becoming an SEO specialist is a continuous process that requires technical know-how, practical experience, and creative problem-solving abilities. With dedication, hard work, and a willingness to learn, anyone can build a successful career in this growing field.
Bonus: How to Hire an SEO Specialist
Although learning SEO yourself is possible, it can be time-consuming, and you may not have the resources to dedicate to the task.
Hiring someone to fill an SEO role can save time and improve your website, but it can be a challenge to find the right person. Below are some tips for hiring a skilled SEO specialist.
1. Get Clear on the Why
Before starting the hiring process, determine why you're hiring an SEO specialist in the first place.
What goals do you want to achieve with your website's SEO? Are you trying to generate new content strategy ideas? Update existing content? Do you want to increase website traffic, generate leads, improve conversions, or enhance your brand visibility?
Clear goals will help you find an SEO specialist with the right skills and relevant experience.
2. Write Your Job Description
Next, write your job description. Consider including the following:
Job title: Begin with a clear and concise job title, such as SEO specialist
Job summary: Provide a brief overview of the role and the key responsibilities. Highlight the importance of the role in driving traffic and improving search engine rankings
Key responsibilities: List the specific tasks and responsibilities, such as keyword research, on-page optimization, link building, and content creation
Required skills and experience: List the required skills and qualifications, including knowledge of SEO best practices, experience with SEO tools, and familiarity with web analytics tools such as Google Analytics
Education and certifications: Specify any required or preferred education or certifications, such as a degree in marketing, computer science, or related fields, or certifications from organizations like Google or Moz
Personal qualities: Describe any personal qualities that are essential for success in the role, such as analytical thinking, problem-solving skills, attention to detail, and the ability to work independently and as part of a team
Salary and benefits: Specify the salary range and any other benefits, such as health insurance, retirement plans, and paid time off
Company culture: Provide a brief overview of the company culture, values, and mission to help candidates determine if they are a good fit
How to apply: Provide clear instructions on how to apply, including the application deadline and any required application materials, such as a resume, cover letter, and portfolio
Sites such as Glassdoor can help you generate ideas for the SEO specialist job description by using common responsibilities from global marketing job listings or making use of its templates.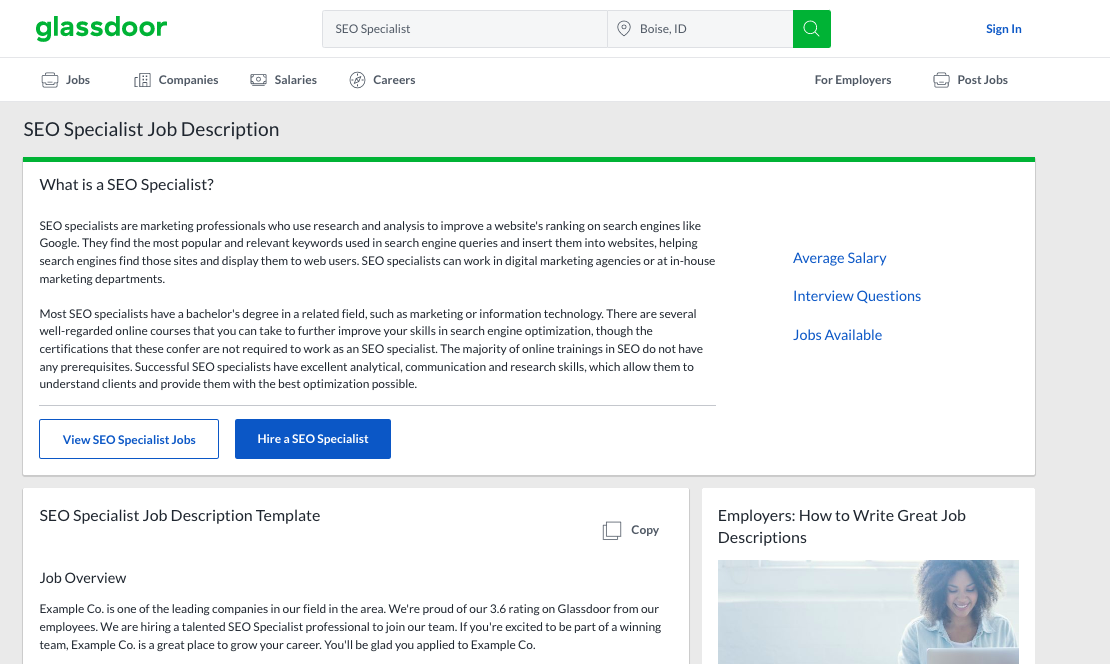 3. The Hiring Process
Hiring takes time, and the process varies from company to company.
Here are some guidelines to help you find a promising SEO specialist for your marketing department:
1. Conduct the Interview
Apart from general interview questions, you'll want to ask SEO-specific questions like: 
How did you learn about SEO?
How do you stay up-to-date on industry changes?
What is your approach to keyword research?
What tools do you use for keyword research and SEO data analysis?
What experience do you have with on-page optimization, link building, and content creation?
How do you measure the success of your SEO efforts?
Can you share examples of successful SEO strategies you've worked on?
Beware of promises to rank your website first on Google. Instead, look for candidates who set realistic expectations and focus on performance indicators in addition to organic rankings, such as engagement metrics.
2. Check for References
Ask the candidate to provide at least three references, preferably from former clients.
Ask questions like:
How did the SEO specialist help your business achieve its goals?
Were the results of the campaigns sustained or were they temporary?
How did the SEO specialist communicate with you and the rest of your team?
Reviews from similar business owners confirm an SEO specialist's credibility.
3. Test with a Website Audit
Consider using a light SEO website audit as an ability test. A light SEO website audit is a brief analysis of your website's SEO performance, which doesn't require backend access.
Asking an SEO for their thoughts on your site can give you a good idea of their abilities and process. Pay attention to the following:
Did the specialist provide a prioritized list with expected impact and difficulty? Prioritize easy initiatives with the biggest impact first.
Did they explain their suggested changes and reasoning to you?
Did they improve listings for real people and not just search engines?
Is the specialist someone you can work with and learn from?
Although a light SEO website audit cannot replace a full SEO audit, it shows how the candidate thinks and works, so you'll get an idea of how they'll work with you.
4. Qualities to Look For
SEO specialists must analyze data, possess technical skills, communicate effectively, stay up to date with the latest trends, adapt to changes, and continuously learn and develop their skills.
Find an SEO specialist passionate about their work and genuinely interested in helping your business succeed. With these qualities in mind, you can find an SEO specialist to help your business thrive online.
Become an SEO Specialist to Expand Your Career Opportunities
As businesses rely on organic search traffic to generate leads, there's an increased demand for SEO marketing specialists, a financially rewarding role with quick career advancement for marketing professionals.
Use online SEO courses, blogs, and other resources to learn to conduct keyword research, audit web page architecture, develop a link-building strategy, and other skills necessary to becoming an SEO specialist.
With the increasing number of free and low-cost resources available, anyone can gain the necessary knowledge and skills to succeed as an SEO specialist.