What Is SEO Forecasting? 
SEO forecasting is when you predict future rankings, search traffic, and value from your SEO efforts. 
It can help estimate your revenue from SEO. 
Other steps to take to predict this value include figuring out your click-through rate (CTR), identifying your site's organic (unpaid) conversion rates, and determining your sales from search traffic. 
There isn't one agreed-upon way to forecast SEO. It's a complex task, and there are different opinions on how to get the most accurate results.
While an SEO forecast is never going to be exact, it can help businesses understand where to focus their efforts. To get the most out of their marketing strategies. 
Tip: Start keyword research now with Semrush's Keyword Magic Tool.
Why Is SEO Forecasting Important? 
Estimating the impact of your SEO efforts can have great benefits:
As search engine results pages (SERPs) change and SEO becomes more unpredictable, it's more important than ever to have some way of setting expectations. You'll appreciate it, and so will stakeholders. 
It Gives You a Competitive Edge Over Other SEOs 
You have case studies, but so do your competitors. 
So, what sets you apart from them? Being able to connect the dots. 
Many businesses understand SEO is a good investment. But they might not understand how clicks can actually translate into money. 
It's important to show a potential client how your plan can help them outperform their keyword competitors in an ever-changing market. And how that can translate to revenue. 
That can win you an account over another SEO or marketing agency. 
It Gives You a Case for More Resources
SEO forecasting establishes expectations. So businesses can understand where they need to allocate resources to achieve growth. 
Here's a hypothetical: 
You work on the content team at a company where the social media department says they need to hire one more person for their team. But your team could benefit from hiring a content writer to produce more articles for the blog. 
There's only a certain amount of resources your company can afford without going over budget. 
Who gets the new teammate? 
The social media department helps get a solid amount of unpaid traffic to the company's site. But your team also drives plenty of organic traffic through blog content (something you might show using a chart like the one below).
If you can prove how increasing content production on the blog could lead to more revenue, you're more likely to get more resources. 
It Can Improve Client Relations
Getting a vote of confidence from an employer or client isn't easy.
But if you can prove that your actions are likely to lead to a specific number of new customers, it's easier for stakeholders to trust you. 
It's even easier for them to trust you when you show how this all leads to the bigger picture: increased revenue down the line. 
Plus, creating an SEO forecast lets stakeholders in on your strategy. Which improves client communication and relations. 
Calculations and Metrics that Help with SEO Forecasting 
These are some of the most common calculations used in SEO forecasting:
How to forecast organic traffic: Monthly keyword search volume x average organic click-through rate
How to forecast conversions (leads): Forecasted organic traffic x average conversion rate
How to forecast sales: Forecasted organic leads x average lead-to-sale rate
How to forecast revenue: Forecasted sales x average order value
Now, let's look at some useful metrics in more detail:
Metric

Definition

Useful Tools

The average number of monthly searches for a keyword. 

Organic click-through rate (CTR)

The percentage of searches that generate clicks to your site. 

This depends on your ranking position, users' search intent, and the SERP landscape. 

See the State of Search 2023 report for benchmarks.

A measure of SERP competitiveness for a given keyword (out of 100). This can help you understand ranking potential.

Conversion rate

The percentage of visitors that become leads.

Lead-to-sale conversion rate

The percentage of leads that become paying customers.

Average order value (AOV)

The average amount of each transaction.
Further reading: Learn more about how to forecast SEO traffic.
SEO Forecasting Tools
Now, let's look at the SEO forecasting tools you can use to collect data:
Keyword Magic Tool
Semrush's Keyword Magic Tool is a keyword research tool. You can use it to find relevant keywords and get associated data like search volume. 
Enter a keyword to base your search around.
Then, choose your country and click "Search."

The tool will provide a list of keywords that contain your starting keyword. Or a close variation.
These columns are particularly helpful for keyword-related forecasting: 
Intent: The type of search intent—the reason behind a searcher's query (which can impact conversion rates)
Volume: The average number of monthly searches (which impacts potential traffic)
KD %: The keyword difficulty score, out of 100 (which impacts ranking potential)
SF: The number of SERP features on the SERP (which can impact CTRs)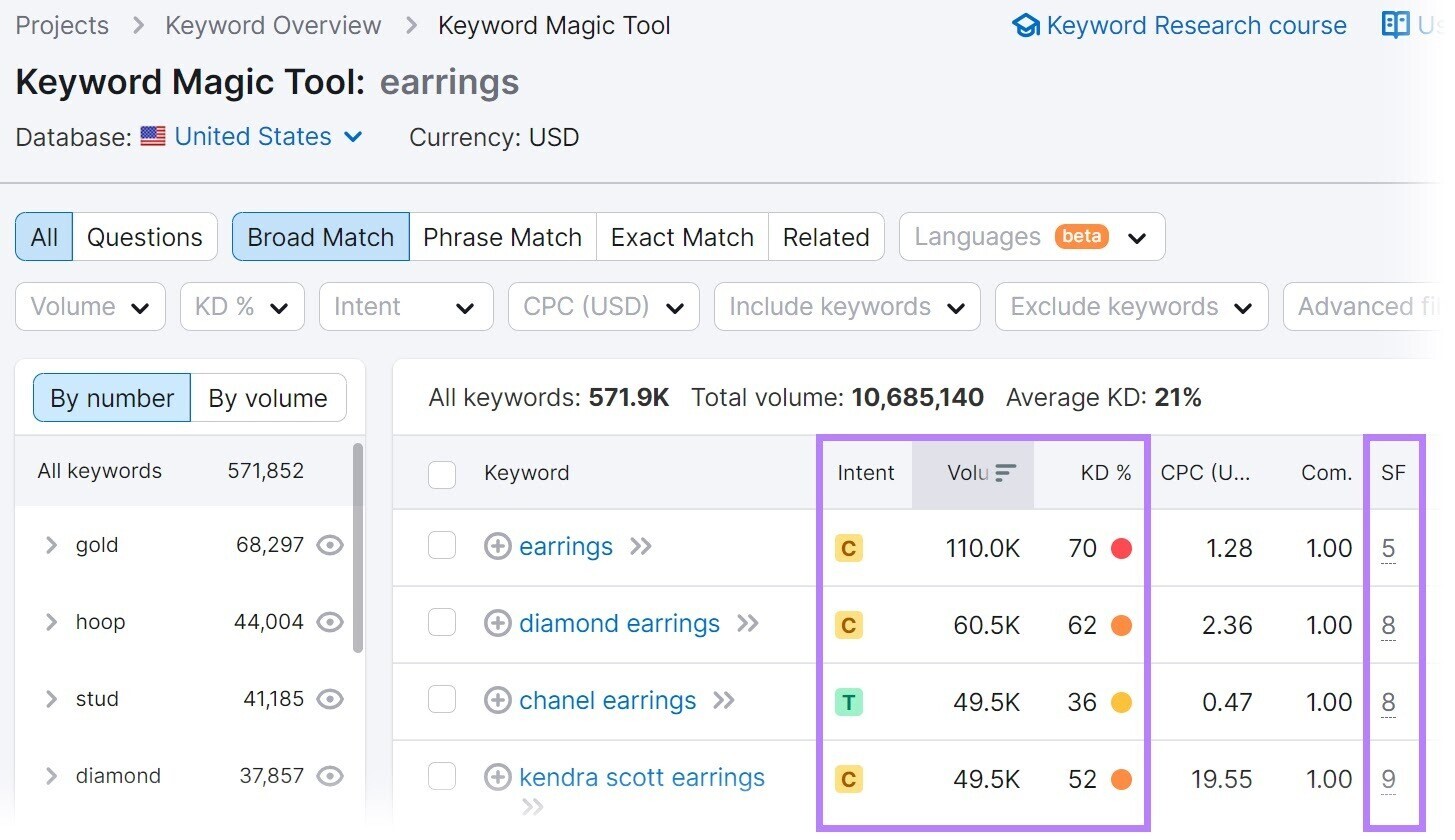 Click the "Results" icon to view any SERP.
Use the "Export" button to save your data in an XLSX, CSV, or CSV semicolon file.
Keyword Overview
Collect data for your target keywords with Semrush's Keyword Overview tool. You can even see how search volumes trend over time.
Enter up to 100 keywords. Then, choose your country and click "Search."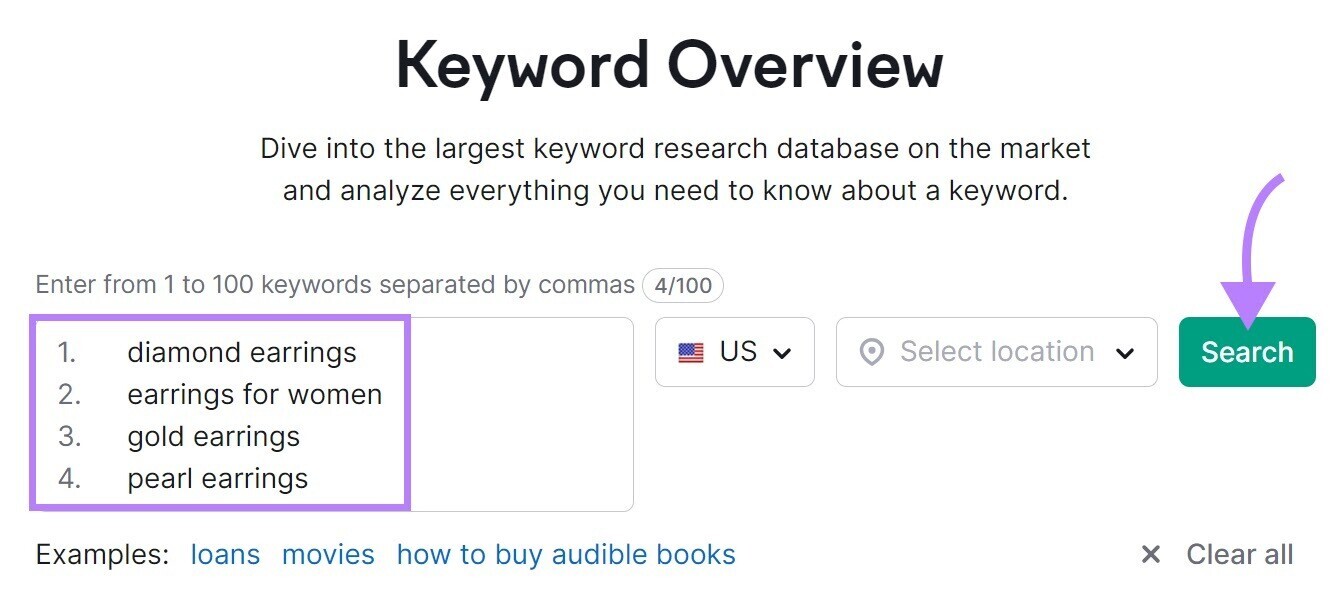 As with Keyword Magic Tool, you'll find data about intent, volume, keyword difficulty, and SERP features.
The "Trend" column shows how interest in each keyword has changed over the past 12 months.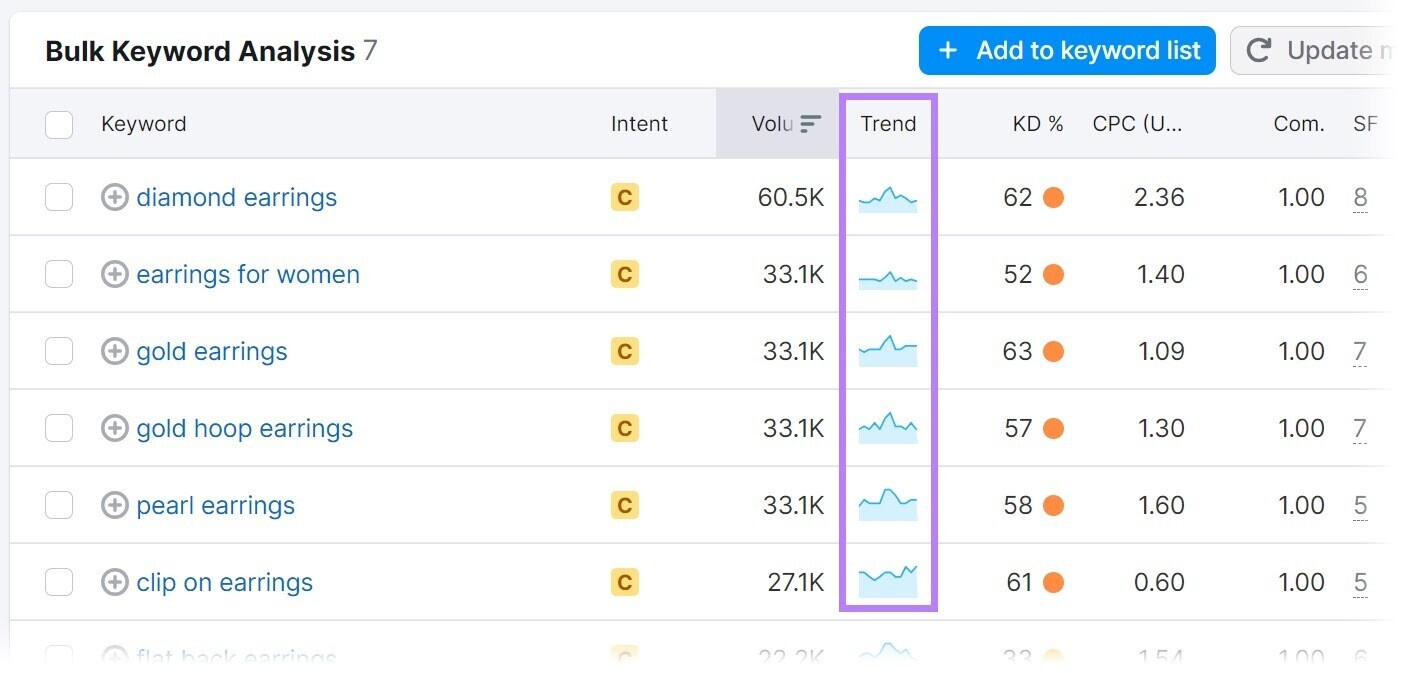 Use the "Export" button to save your data in an XLSX, CSV, or CSV semicolon file.
Google Search Console
Google Search Console is a useful SEO forecasting tool because it allows you to review your organic performance in Google.
Go to "Performance" and choose a date range.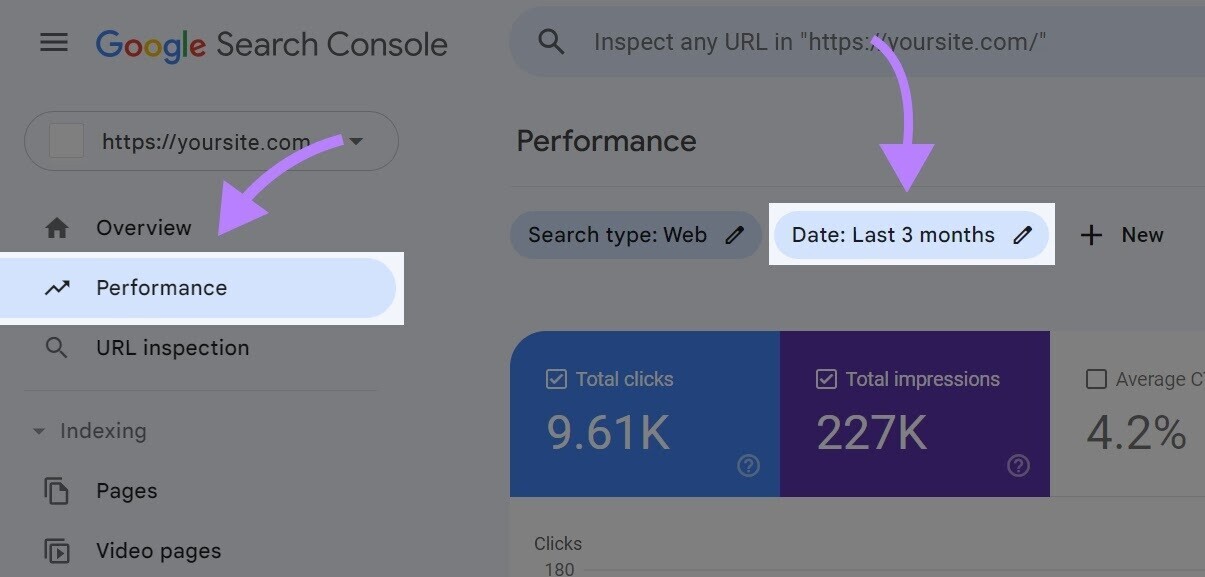 Check all the boxes to view the following data:
Total clicks: The number of clicks through to your site 
Total impressions: The number of times your results were viewed in SERPs
Average CTR: The percentage of impressions (not searches) that resulted in clicks
Average position: Your average ranking in organic results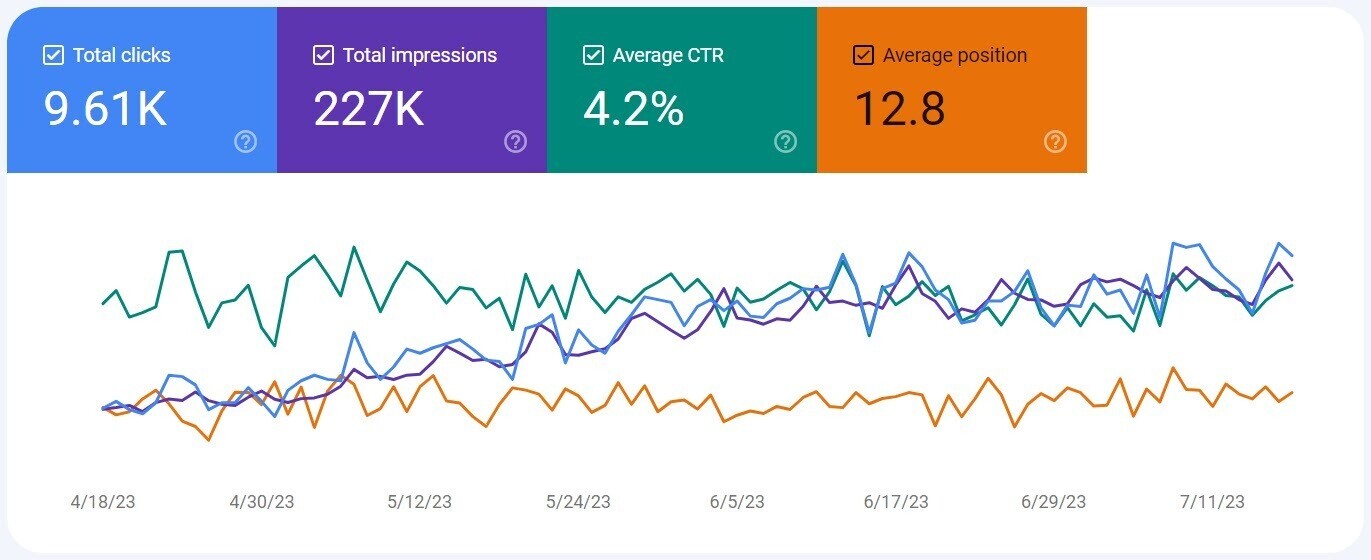 Scroll down to the "QUERIES" table to see data for each keyword. 
Or go to the "PAGES" tab to see data by URL:
Use the "EXPORT" button to open your data in Google Sheets. Alternatively, create an Excel or CSV file.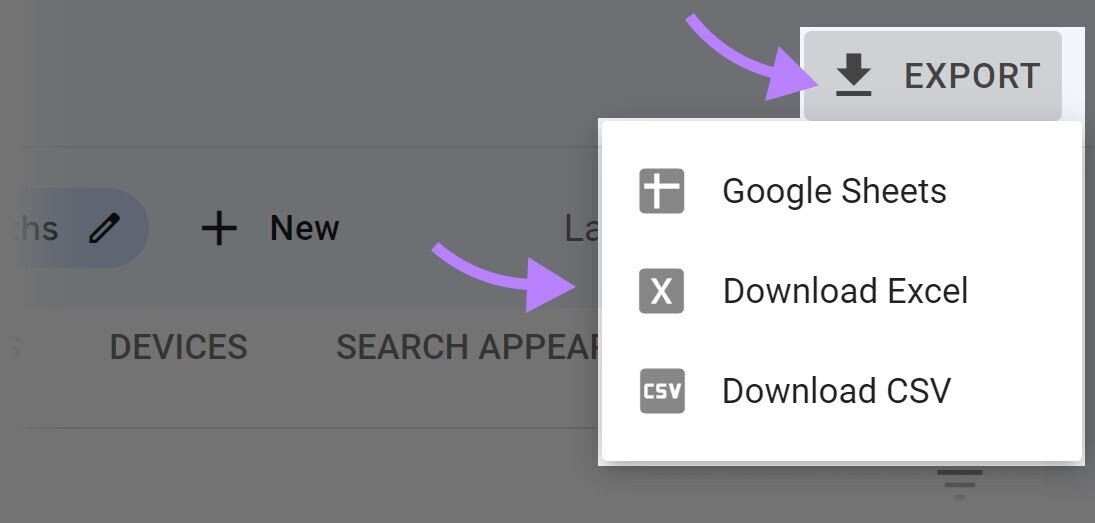 Further reading: Google Search Console: The Ultimate Guide for 2023
Google Analytics
Google Analytics allows you to analyze user behavior on your site. This means it's particularly useful for finding conversion rates and AOV you can use for forecasting.
You'll need to mark important events (user interactions) as conversions. (See Google's guide to learn how.)
Then, gather useful data from the conversions report:
Conversions: The number of times the event was triggered
Total revenue: The revenue generated from events, where applicable
Total users: The number of unique users that triggered events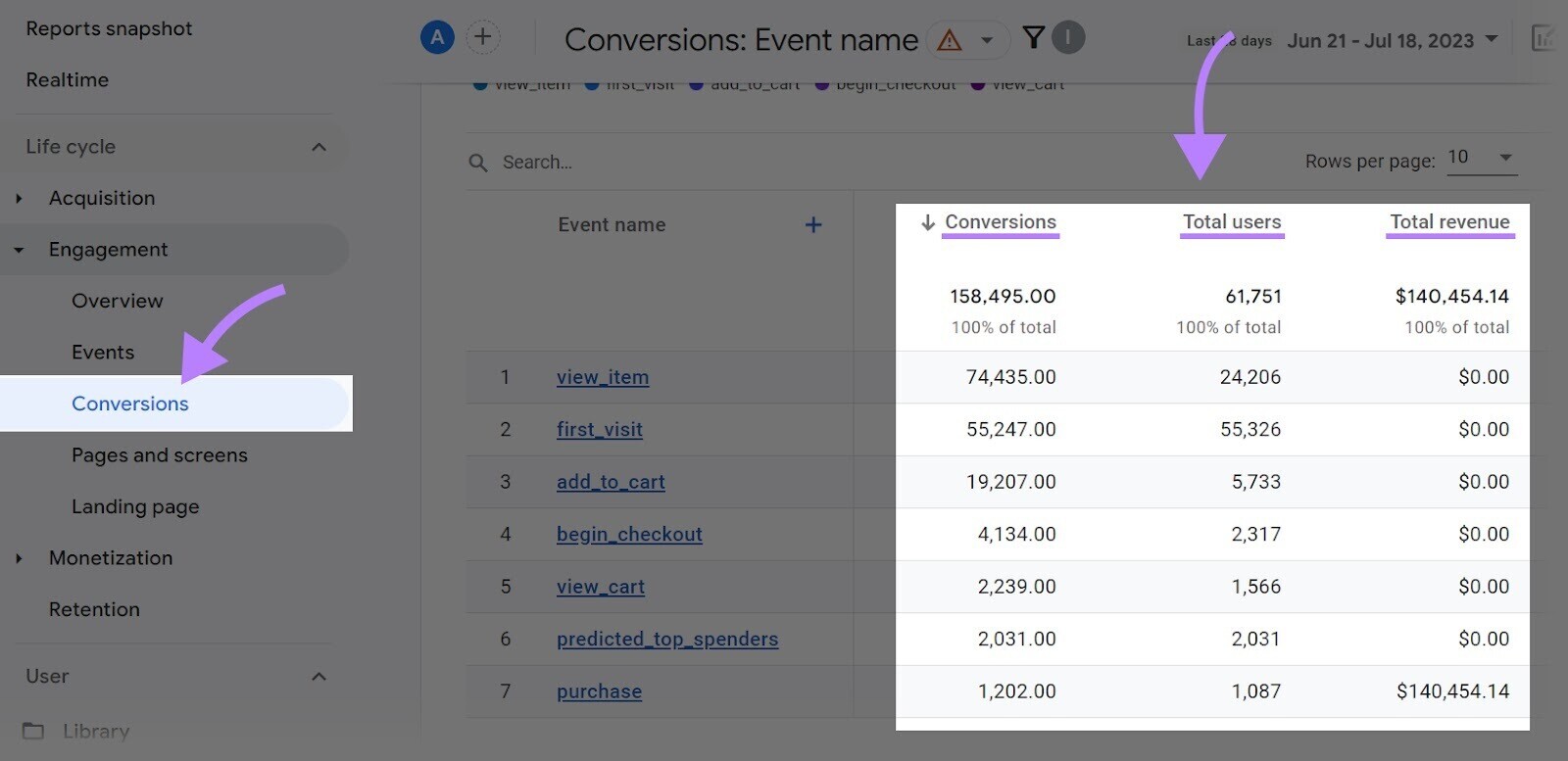 Further reading: Check out our Google Analytics guide or discover some Google Analytics alternatives.
Different Methods of SEO Forecasting
Forecasting SEO results isn't an exact science. But there are a few popular methods out there to get an SEO forecast that's accurate.
Estimate Based on Historical Performance 
One of the simplest ways to forecast your SEO performance in the future is to look at your website's historical performance. This indicates what's likely to happen if you maintain the same amount of effort.
For example, you might see in Google Analytics that organic traffic increased 10% over the past year. If you keep a similar strategy, you could grow another 10% in 12 months.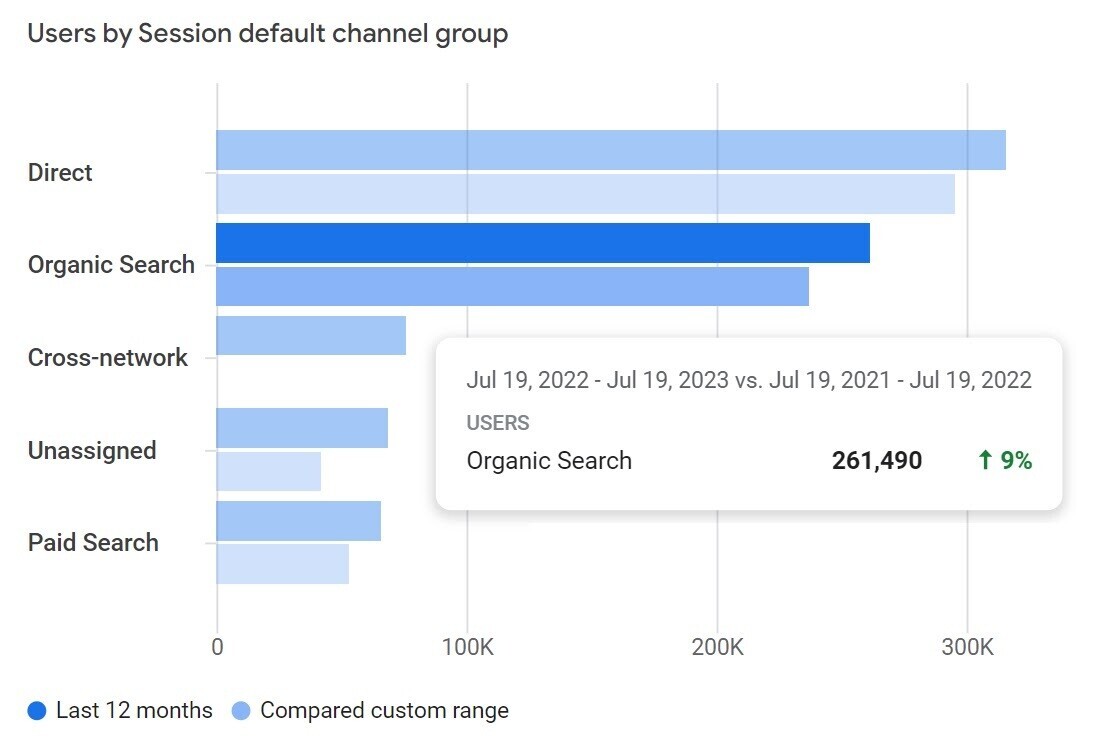 This method doesn't account for your competitors' efforts or search trends in general. But it still gives you an idea of how your SEO strategy could play out. 
Tip: Head to My Reports in Semrush to create SEO reports for your business. You can collect data from Google Analytics, Google Search Console, and more.
Create a Spreadsheet Based on Historical Performance
Using spreadsheets is another popular way to forecast SEO using historical data. 
And software like Excel and Google Sheets have a number of built-in functions to make it easy to do complex calculations. 
Plug in figures for organic traffic based on your historical data. You can choose to include weekly numbers, monthly numbers, etc. 
Then, apply a function/formula to the cell(s) that accounts for your estimated growth and any factors that might affect it. And you'll have a nice overview of your forecasted traffic metrics in a neat package that's easy to sort through. 
Create an Algorithm with Python
You can create an algorithm with the help of coding languages like Python to build predictive models. 
Without getting too technical, Python has a set of functions (much like a spreadsheet) that it pulls from its own libraries to analyze data. 
But unlike your average spreadsheet software, Python can pull in massive amounts of historical data through a set of rules that allow programs to communicate with each other. 
You can then use it to create and train a model. So it can make robust, data-driven estimates. 
Search Engine Journal has an in-depth post on how to use Python and the SARIMA model to create SEO forecasts. But know that it's intended for those with a data science background.
To go this route, you'll probably need to hire a web developer or data scientist. 
Review Competitors' Performance
It's not always possible to emulate competitors' success. But analyzing their SEO results can help you forecast your own.
You can get traffic estimates from Semrush's Organic Research tool. 
Enter a rival domain, choose your country, and click "Search."

Click the "Traffic" graph to see an estimated organic traffic trend.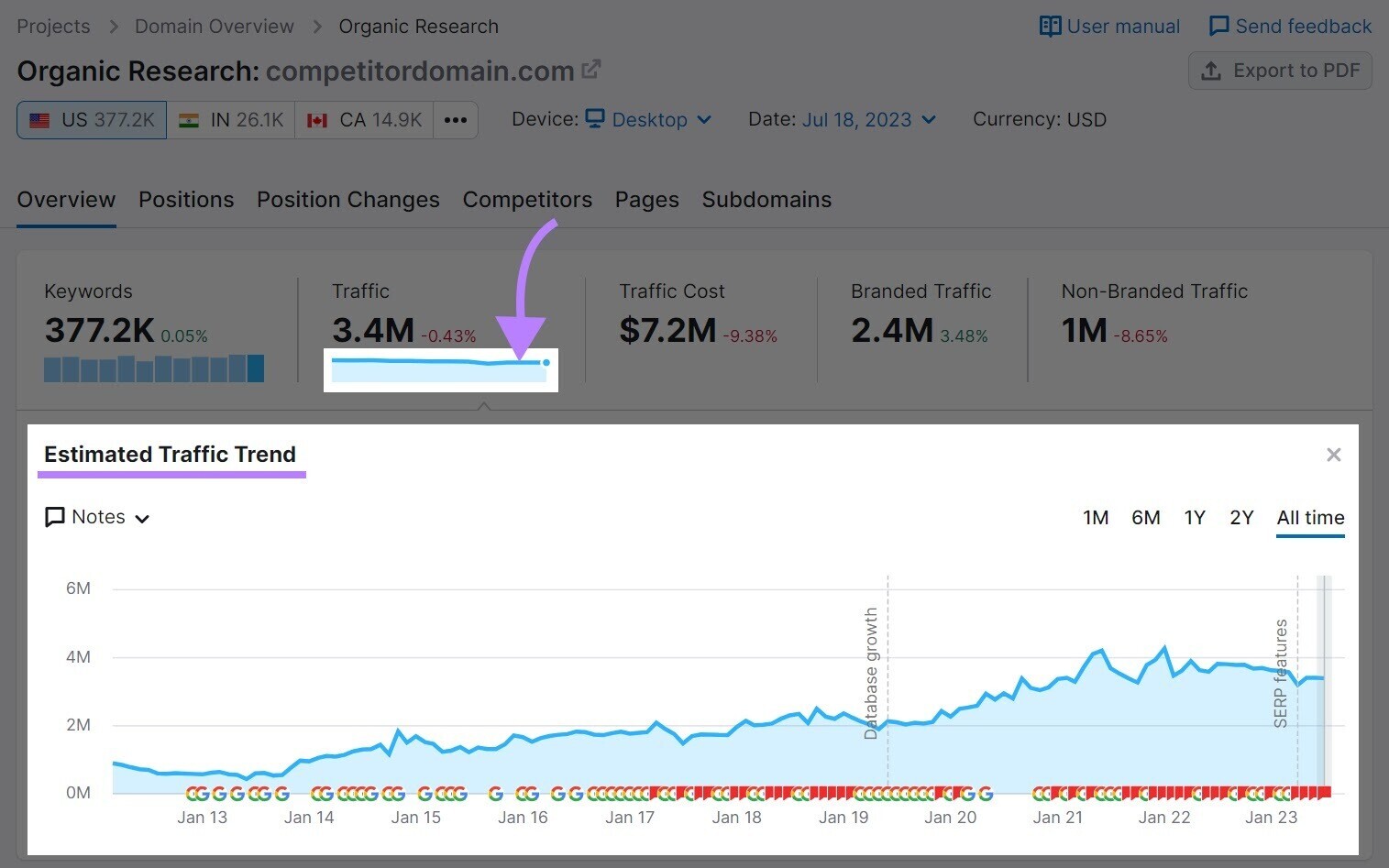 Or, head to the "Positions" report to explore the competitor's keyword rankings in detail.
The "Traffic" column shows the estimated monthly traffic your competitor receives for each ranking.
You can use this information to help estimate how outranking your competitor for certain keywords could impact your own results.
Further reading: How to Do an SEO Competitor Analysis
Conclusion 
Predicting the future of a site's SEO isn't an easy job. But it's often worth the effort.
Instead of investing resources into campaigns that may not work, you can use SEO forecasting as a way to mitigate those risks. That leads to less money and time wasted.
Even if you're not a Python or spreadsheet pro, you can use historical data to forecast the results of your SEO strategy.
To see how your current performance measures up, use these SEO tools:
Position Tracking: Input target keywords to track positions, estimated traffic, and more
Google Search Console: Monitor organic impressions, clicks, positions, and CTRs for available keywords
Organic Traffic Insights: Review Google Analytics, Google Search Console, and Semrush data for your top 50 landing pages