Whether you're new to SEO or a tried-and-true expert, SEO blogs are one of the most valuable resources available to you. Agencies, professionals, and businesses alike run or subscribe to SEO blogs to stay on top of industry news, breakthrough techniques, and more.
We've shared our picks for the best SEO blogs to read in 2021 — plus a few metrics we pulled from our Domain Overview tool. You'll find something here for every skill level & focus. Browse away!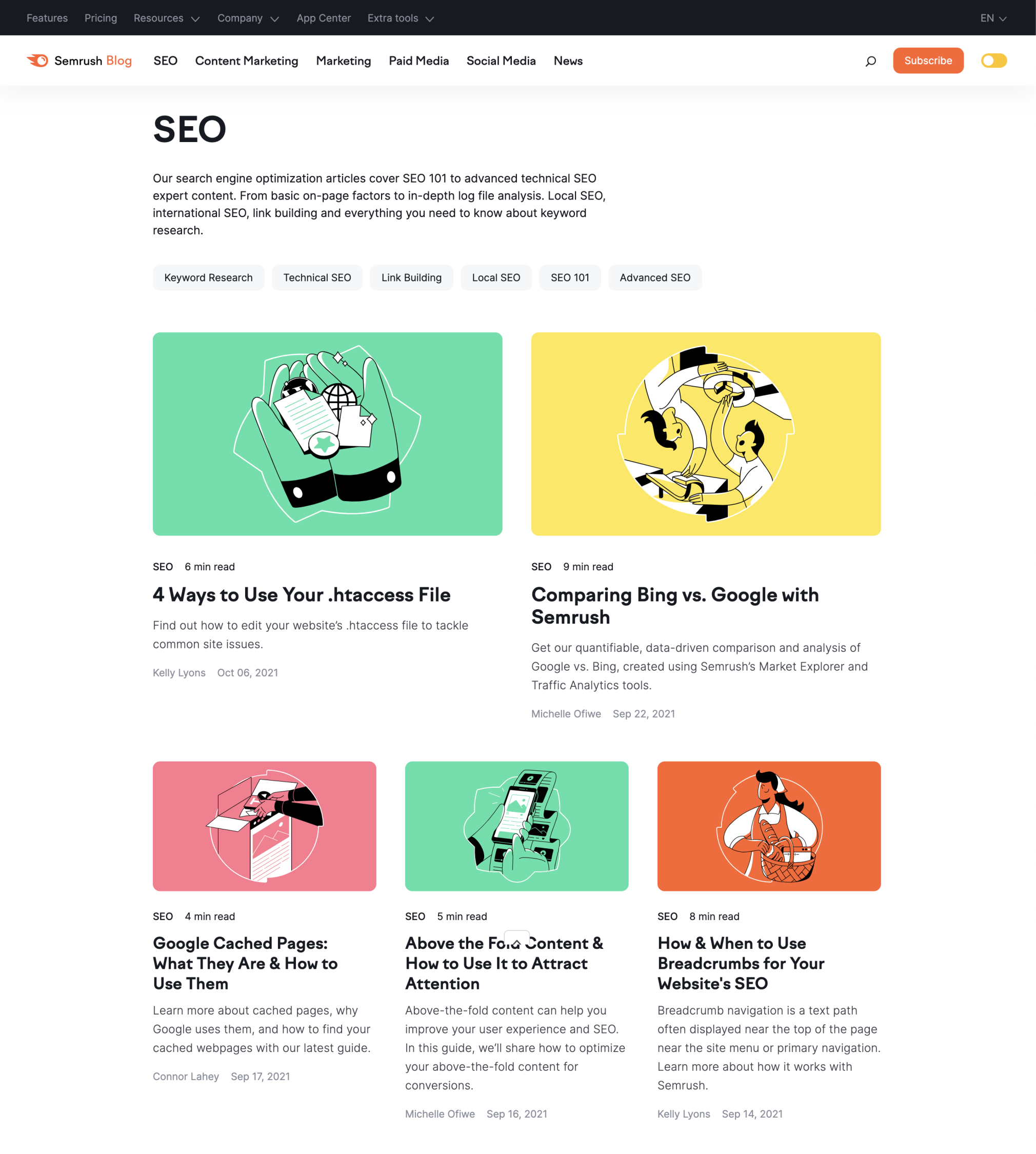 Hopefully, you're pretty familiar with our first entry — you're reading it right now!
If you're new to the Semrush blog, we publish a mix of industry news, data studies, and detailed guides for readers of every skill level. 
Our focus remains on producing high-quality, factual content covering the wide range of SEO topics available, including learning SEO, keyword research, technical SEO, and link building. 
However, we provide plenty of insights on other key digital marketing aspects like content marketing, paid media, and social media.
SEO Blogs for Beginners
If you're new to SEO, start simple. These blogs cover industry basics with clear, easy-to-follow posts for the casual reader.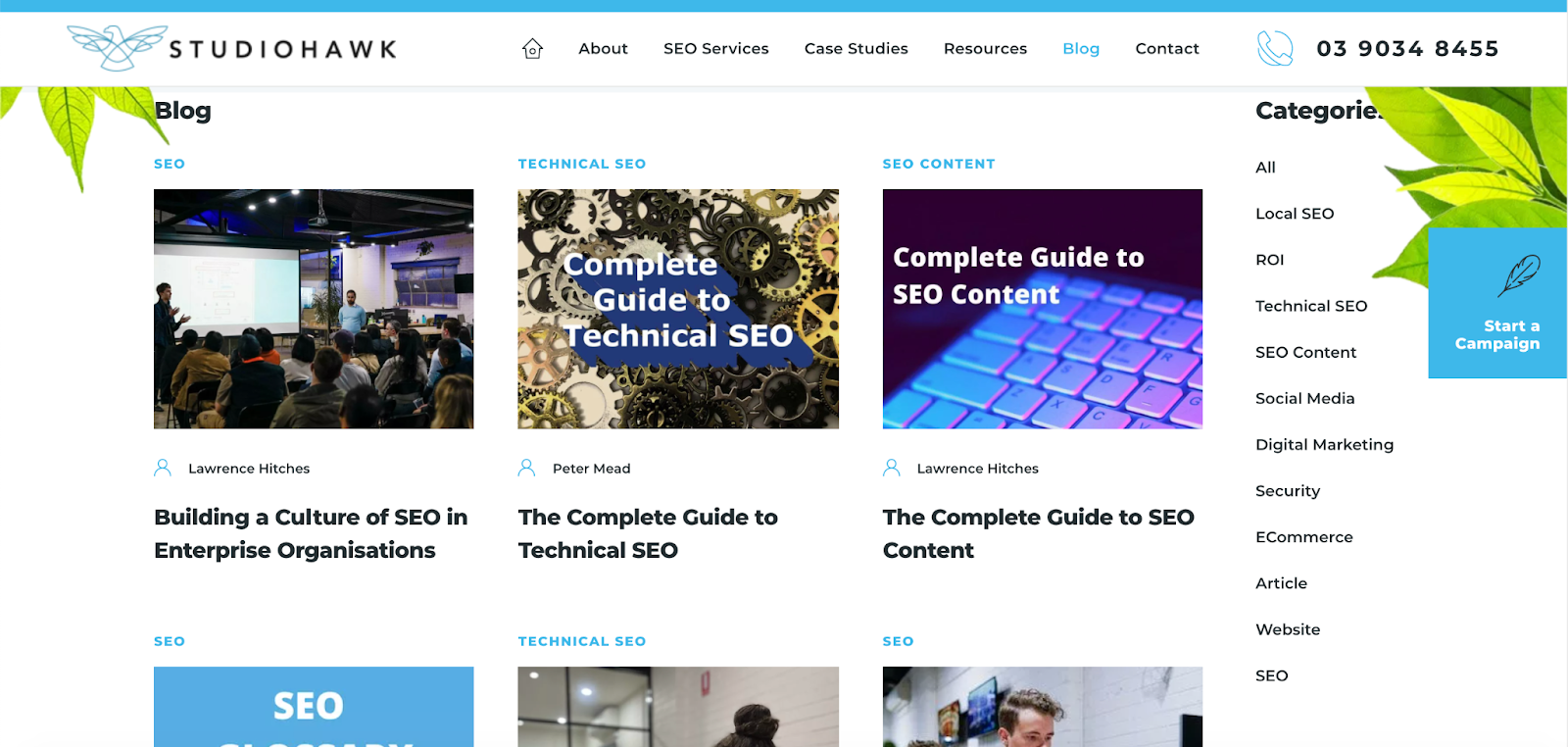 This award-winning SEO blog aims to help beginners demystify the world of SEO. SEO professionals can also browse the blog for inspiration and industry updates, though they specifically target business owners. 
Studiohawk covers many SEO topics, including content creation, website fundamentals, and technical SEO. Give them a read if you'd like a friendly, step-by-step approach to learning SEO.
Mangools writes their blog for SEO beginners and small businesses looking to build an SEO-friendly website. Expect posts on search engines, keyword research, backlinks, on-page SEO, and more.
Each post is accessible and written with simple language that empowers readers to explore SEO with confidence. 
Brian Dean's Backlinko blog is popular amongst SEO professionals and digital marketers alike — but their target audience is anyone interested in improving their SEO with content creation and backlinking. 
As expected, there are plenty of articles on developing SEO content, including blog posts, videos, and email marketing. You'll also find in-depth guides to building a backlinking strategy in 2021. Brain pairs his posts with vibrant graphics and infographics that are easy to share and save. 
You can tell by the domain name alone what this site's about. SEO.com's blog promises content from trusted experts that earns actual results. Beginners can browse the blog for well-researched answers to common questions like "Why isn't My Website Ranking?" or "What is an SEO Specialist?"
Full transparency: it doesn't seem like SEO.com updates often anymore, though we did spot a few recent posts for 2021. Still, we believe the blog includes many resources in its pages and recommend giving it a try.
SEO Blogs for Intermediate-Level Learners
Once you've got the basics down, add these blogs to your rotation for next-level SEO techniques and knowledge. 
Onely is big on kicking out "ultimate guides," but don't be intimidated: guides are written and designed for beginner to intermediate-level professionals. Their Ultimate Guide to SEO Indexing is full of actionable techniques that all professionals can try for a new approach to their SEO strategy.
Onely's blog targets owners of small to medium businesses that want to earn more organic traffic. If you have a marketing professional or team on staff, all the better. Regardless of your resources, you can follow along to Onely's guides with ease.
If you've ever worked with WordPress, you've likely heard of Yoast. They're best known for their excellent SEO plugin features and the amount of user-friendly resources they provide for their products.
This SEO blog bridges the gap between beginner and intermediate SEO concepts. Professionals of all skill levels will find something useful among their pages of insights, data studies, and industry updates.
A significant percentage of Yoast's readership are WordPress designers and CMS users, but you can still follow along even if you aren't a web admin. 
Search Engine Land is a trusted news source within the SEO industry, best known for updating readers on industry and algorithm changes that can impact their sites. Browse this site for insights into the latest SEO practices that you can try for your website or blog.
You will need to know some SEO terminology to grasp their content, so it's not particularly beginner-friendly. 
Search Engine Journal works more like an industry tracker for digital marketing professionals. No topic is too big or too small to be covered on the site, so you'll find a good mix of SEO topics to browse. 
Much like Search Engine Land, Search Engine Journal's written in a style that appeals best to experienced SEO professionals and digital marketers. Posts won't always explain the impact of an algorithm update, for example. Still, beginners can check in on the site for updates and insights into more advanced topics.
Like the previous two entries, the Search Engine Roundtable functions like an online newspaper. It mainly reports on new SEO trends, Google updates and changes to the SERPs.
This blog is an excellent casual read for intermediate digital and SEO marketers, web administrators, and anyone working their site's technical SEO.
Industry expert Saijo George curates TLDR Marketing (Too Long Didn't Read), where he breaks down the latest SEO news and critical updates into bite-sized blog posts.
Unpacking SEO this way certainly makes it easy to follow for beginners, but there may be a knowledge gap when applying the insights to your strategy. Beginners should know some SEO terminology and basic techniques before adding this blog to their reading list. However, whenever you're ready, George and the team compile their updates into a newsletter. 
Aleyda Solis is a world-renowned SEO consultant. Her blog provides up-to-date tips, news, and more on SEO and its related industry.
She also provides handy spreadsheets, templates, and similar resources that help you track and grow your SEO campaigns and help you develop them. SEO marketers and technical SEO professionals can benefit from the wealth of information Solis provides. 
Go Fish Digital's Director of SEO Research Bill Slawski runs SEO by the Sea, the renowned SEO blog for insightful and informative updates.
Bill covers the latest SEO news and patents and often writes about the whitepapers and more technical resources offered by the search engines. He's a great option for more technical insights into the world of SEO and search engine algorithms. 
Brodie Clark runs his own SEO consulting firm when he's not updating SEO Insights, and it's evident in his content. The blog is an excellent resource for organic search insights and updates on changes to SERPs.
SEO Insights functions as part newspaper, part blog — so you'll have an even mix of industry updates and guides to cutting-edge SEO techniques.
Glenn Gabe is a digital marketing veteran with over 25 years in the industry. He started the G-Squared agency in 2001 to help businesses with the constant shifts of the SEO industry. 
He provides the latest SEO news and reviews of the latest in digital marketing technologies and algorithms.
SEO Blogs for the Advanced
SEO veterans, these blogs are for you. Add these to your reading list for in-depth SEO insights and industry updates. 
Google and its developers provide technical updates and advice on best practices to index and rank your site on Google's SERPs.
Given that it's Google, the information here is incredibly valuable. However, it's written in a technical format that isn't exactly beginner-friendly. If you're new to SEO or not well-versed in advanced topics, you might fare better with a blog that breaks down the updates added here. 
Builtvisible's blog offers the latest SEO strategies from a reputable digital marketing agency. Check this blog for actionable advanced SEO techniques and important industry updates. 
Key Takeaways
There are plenty of blogs available for SEO professionals and business owners of all skill levels.
If there is an option to subscribe, we recommend it. It's easier to keep up with content delivered straight to your inbox.
If you're looking for tips on how to optimize your own blog, read our piece on blog SEO tips.