What Is Restaurant SEO?
Search engine optimization (SEO) is the practice of optimizing pages on your website to appear higher on Google results pages.
Restaurant SEO is a specific type of SEO that involves optimizing your pages to show up when locals search for places to eat.
It involves the following tactics:
Optimizing your website using local keywords
Creating and maintaining a Google Business Profile
Listing your website on relevant directories
Enhancing your local online presence
Requesting reviews from real customers
And more! But more on that later.
This guide will show you how to use restaurant SEO to become more visible on Google and reach your local audience.
How Does Restaurant SEO Generate Customers?
The goal of restaurant SEO is to help you appear higher in search results. Which means more people see your business. And you get more website visitors (i.e., potential dine-in or takeout customers).
Here's a quick example.
Let's say you're from Los Angeles.
If you search for "pizza near me," you'll find a list of pizzerias at the top of the results page. Beside a map that shows you where those pizzerias are.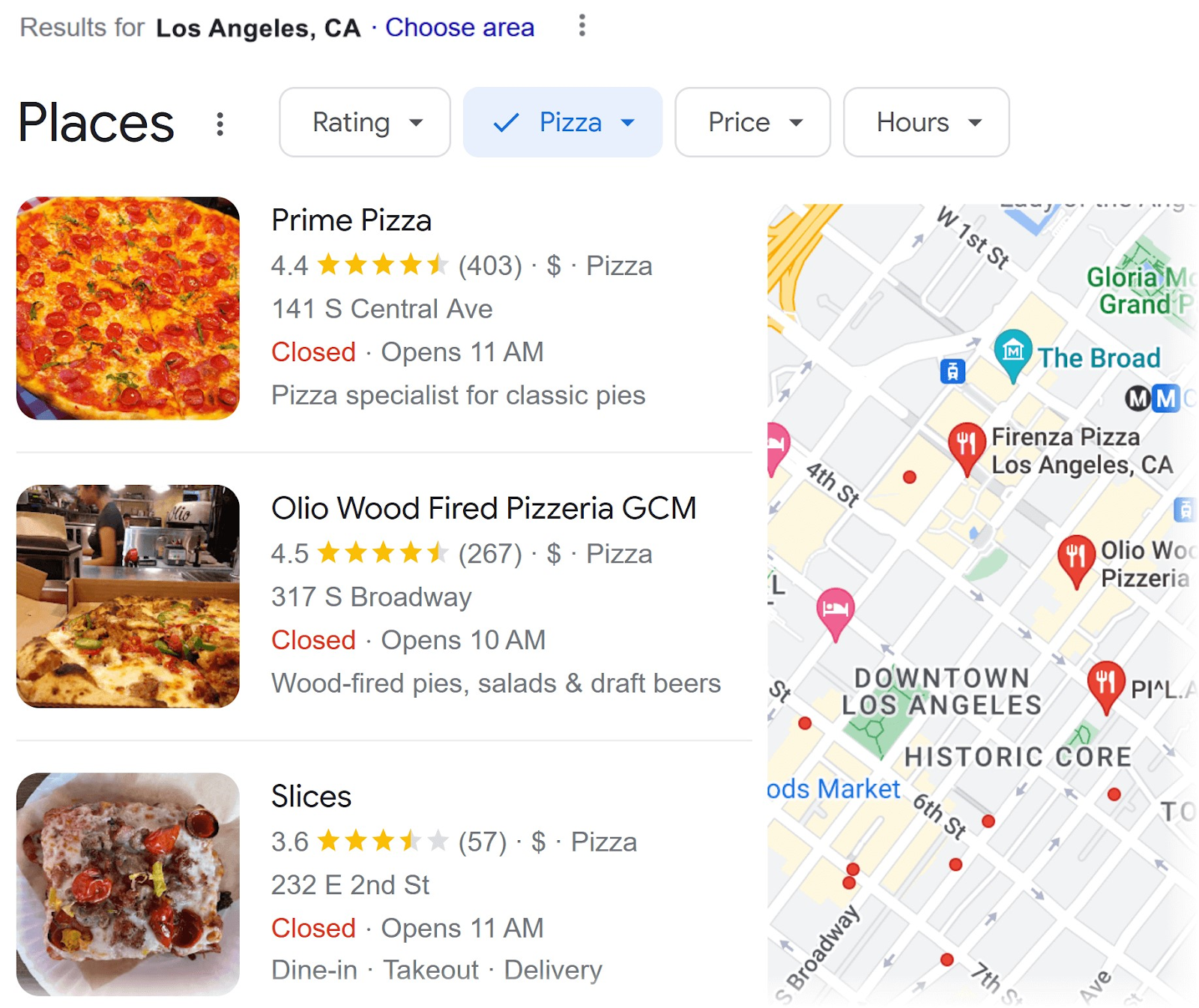 That's because those pizzerias optimized their websites using restaurant SEO.
And chances are, if you're looking for pizza, you'll click on one of those results.
Here are more specific results you can achieve with restaurant SEO:
Access to local customers who want quality dining experiences near where they live. Search interest in "restaurant near me" has doubled in the past 5 years, especially as residents supported local businesses during the COVID-19 pandemic.
Better visibility in local searches to improve your online presence and brand exposure. That way, more potential customers see your restaurant and remember you. Which is crucial because 77% of customers look into a restaurant online before dining in.
Improved website ranking and engagement to create a good digital first impression, build trust, and encourage visitors. When searchers stay on your website for a long time, it tells search engines your website is worth showing in results. 
Increase in online orders by attracting customers with optimized website content, improved user experience, and better search engine rankings. That's vital since 80% of US consumers expect to be able to place an order or book a table online.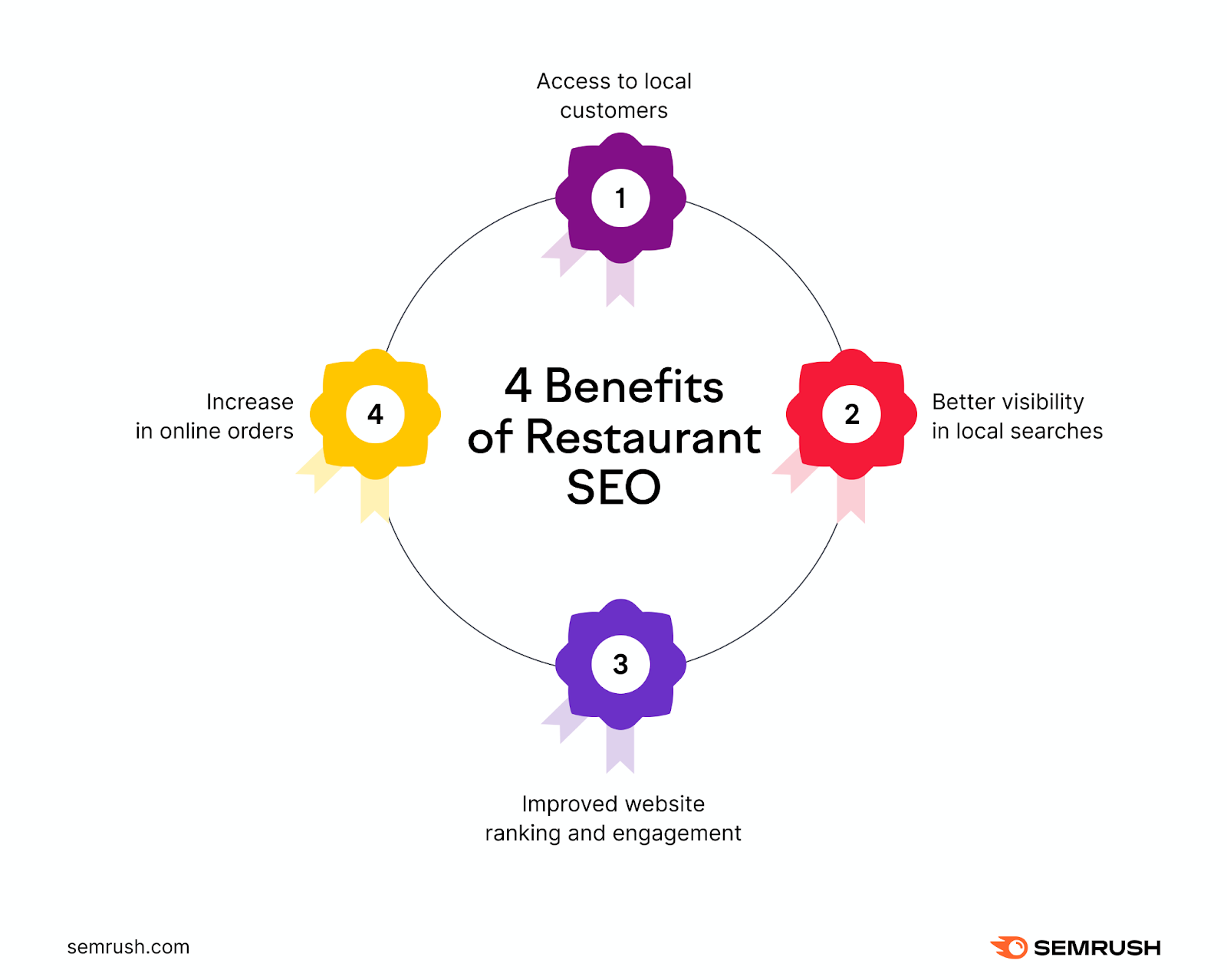 Now let's get into how specific restaurant SEO tactics that you can use today.
10 Restaurant SEO Tactics to Get Your Business Noticed
Here are 12 restaurant SEO tactics to get your business noticed:
1. Make a List of Keywords Relevant to Your Restaurant 
Restaurant keywords are more specific in that they are more focused on local searches. After all, there's no point in ranking for "Best BBQ in Texas" if your restaurant is in California.
There are two ways you can do this.
The first way to identify relevant keywords is with the Keyword Magic Tool.
Start by listing out the services and products you offer. For example:
BBQ
Beef brisket
Food truck catering
Then, list out the your locations:
Memphis
Summer Ave
Downtown Memphis
Now, go to the Keyword Magic Tool, plug one of your products or services into the space provided, and hit "Search." Let's use "food truck catering."

Then, make sure that your "Database" is set to the right country. And your location keywords to the "Include keywords" filter. And select "Any keywords."
Now you have a list of keywords to start with. If the list is too long and a bit overwhelming, we recommend the following:
Excluding branded keywords using the "Exclude keywords" filter
Setting Keyword Difficulty or KD% to "49%," as these keywords are easier to rank for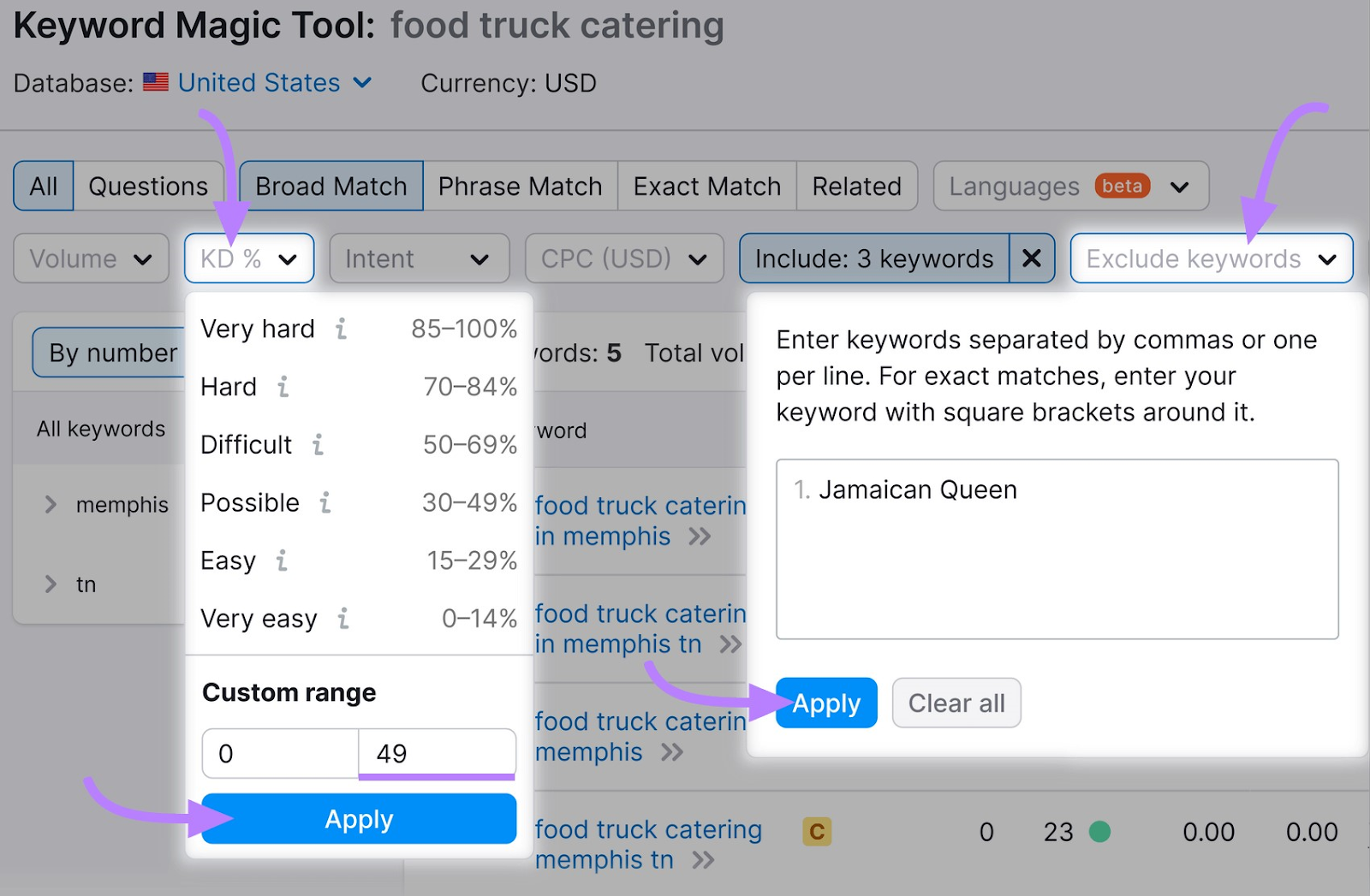 Once you find keywords that work for your brand, click on the checkbox beside the keyword. And then hit "+ Add to keyword list."
Now you have your first list of keywords!
The second way to identify relevant keywords is through a competitor analysis.
Start by making a list of your competitors' domains.
If you don't know who your competitors are, go to Google and search for one of your target keywords from the list you just created.
The top-ranking results are probably your competitors.
For example, there are three top-ranking results for "bbq memphis tn:"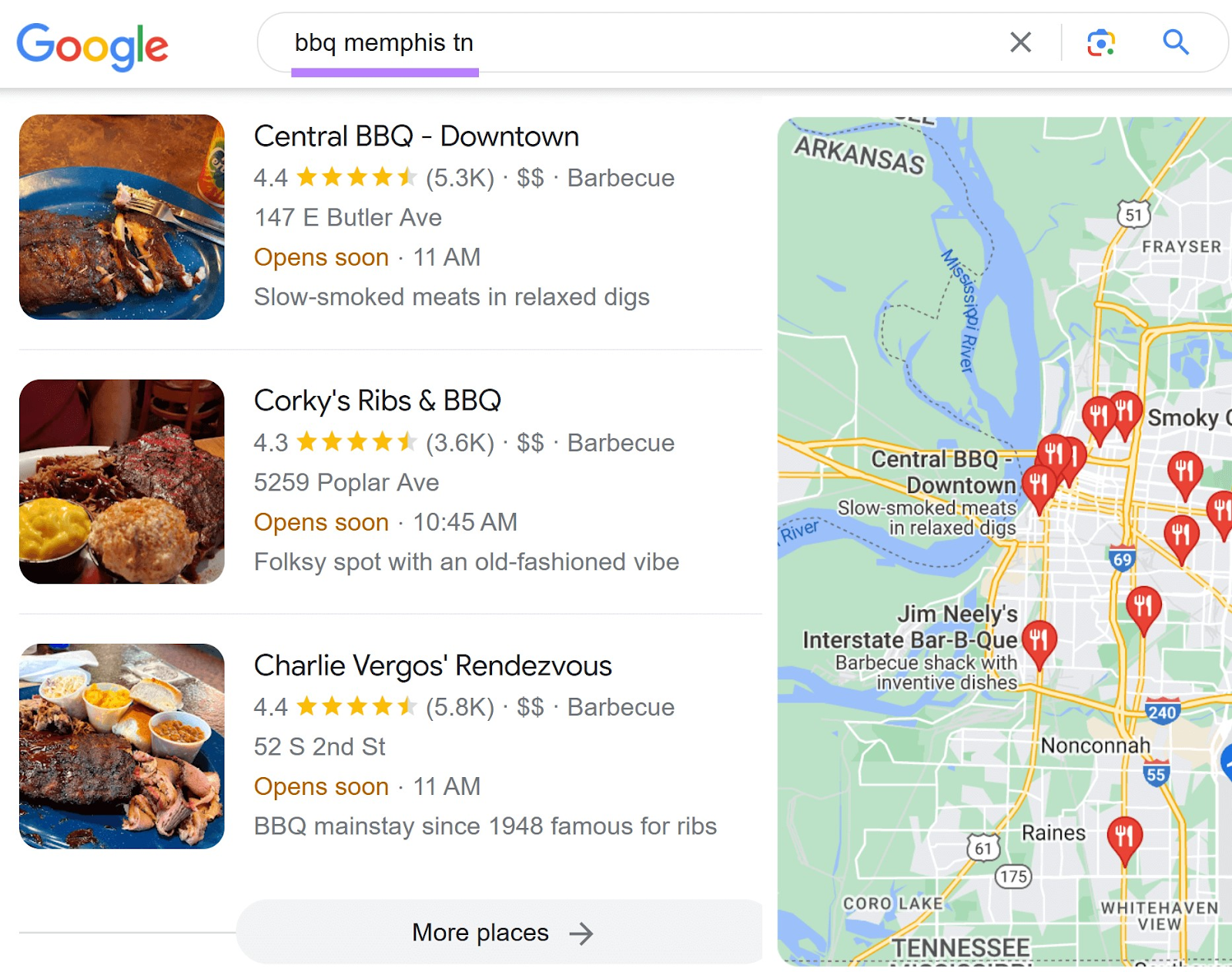 Then, go to the Organic Research tool and plug one of your competitors' websites into the space provided. And hit "Search."
Then, go to the "Positions" tab to see what keywords they rank for.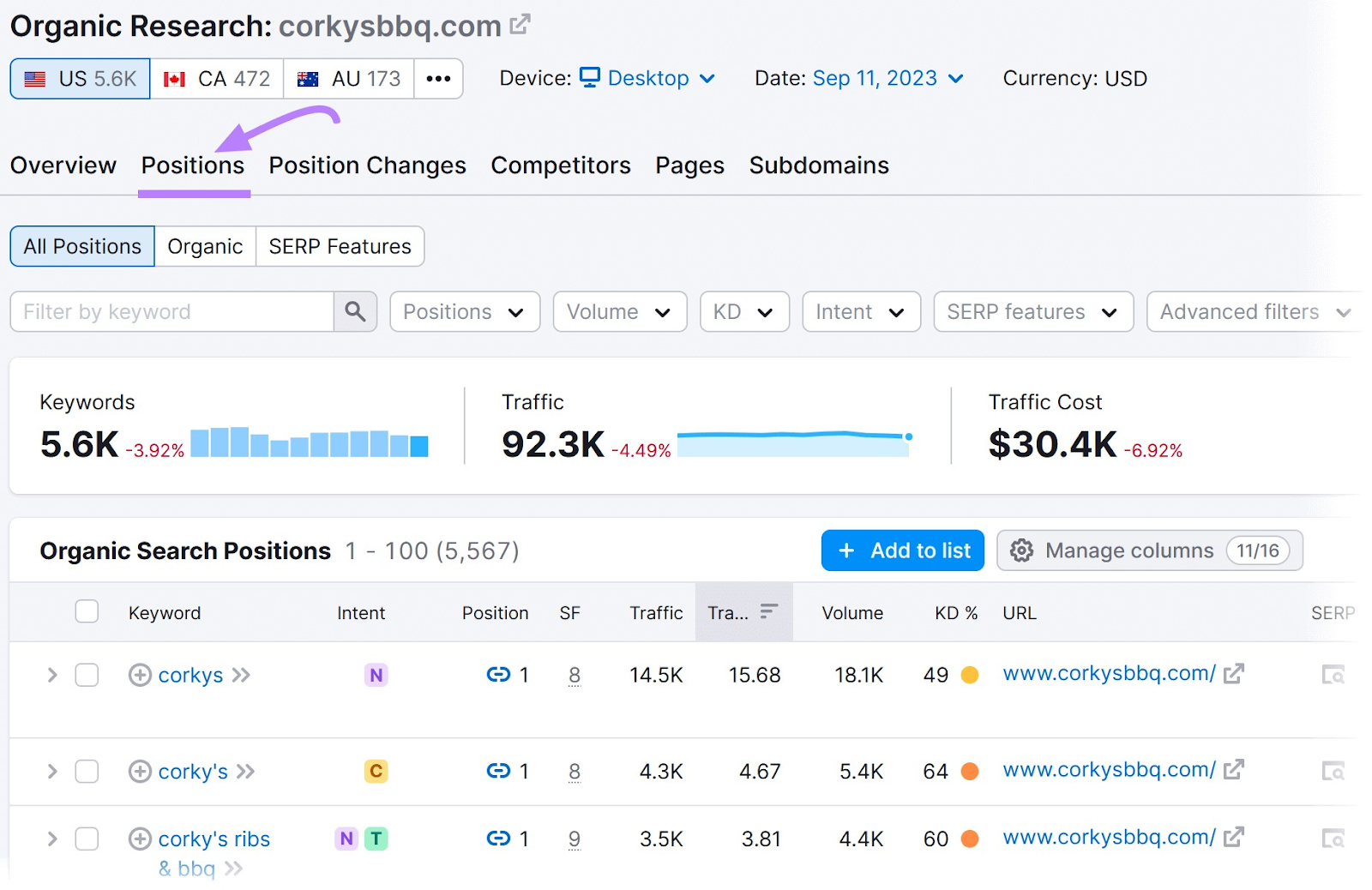 And filter out any branded keywords. For Corky's BBQ, we're filtering out "corky" and "corkey."
Now you have another list of potential keywords! Similar to above, click on the check box beside potential keywords. And add them to your list by hitting the "+ Add to keyword list" button.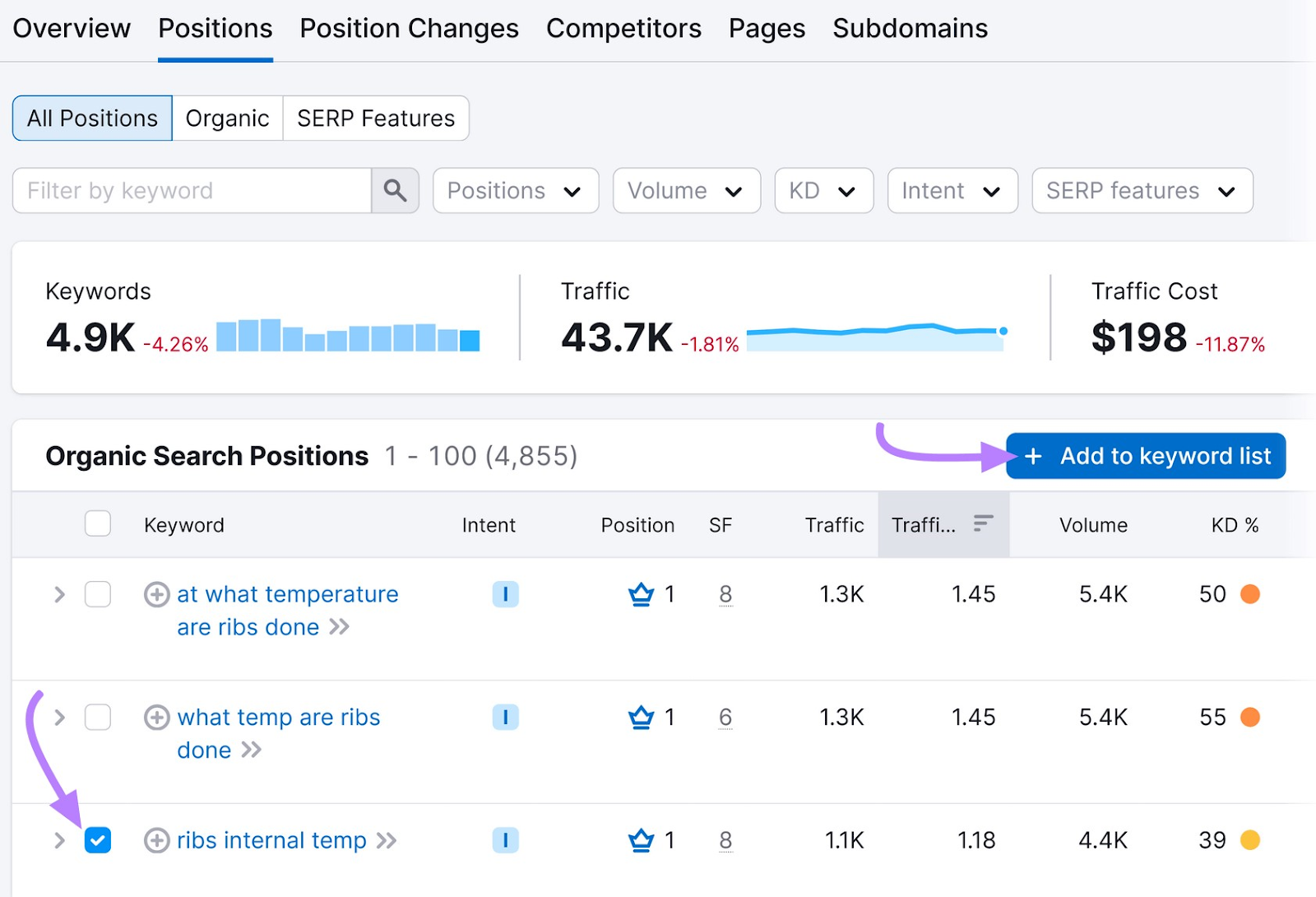 Use these keywords to optimize your website's homepage, menu, location page, and other relevant pages. Also use these keywords to inspire content.
For example, you can create an article to target the keyword, "what temp are ribs done."
Pro tip: Also look for relevant "near me" keywords." For example, "BBQ joints near me" or "Best bbq near me."
Read our in-depth guide to local SEO for more tips.
2. Create a Google Business Profile
Create a Google Business profile (formerly known as Google My Business) to make your brand more searchable. And accessible.
Here's why.
Brands that have Google Business Profiles get local listing panels right within the search results page.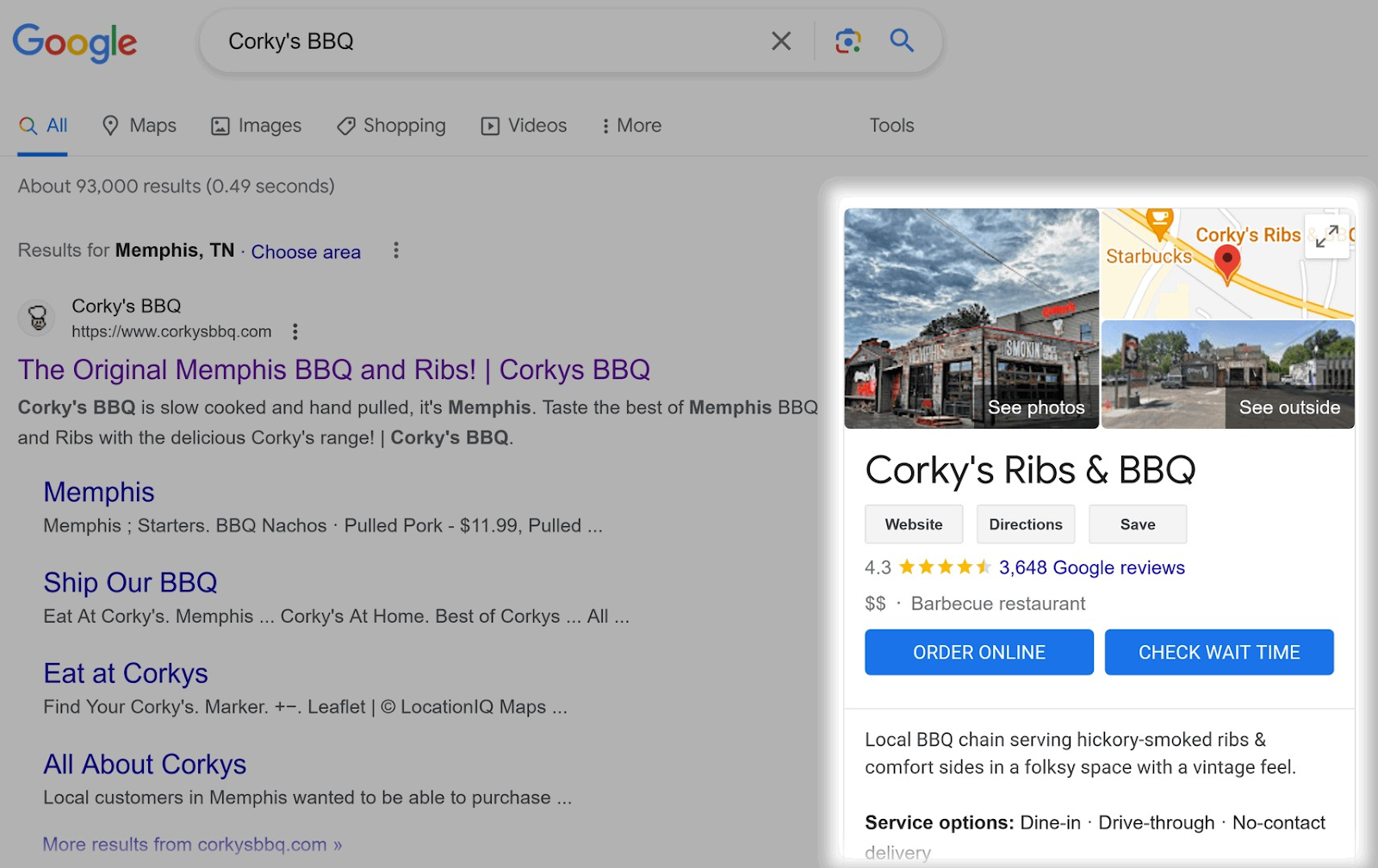 That panel contains information like your opening hours, contact details, a website link, and photos.
Which means that after searching for your brand, potential customers can get to your website or your takeout page with a single click.
If you're new to Google's business feature, you need to set it up first. Get some specific tips in our guide to Google Business Profiles.
Then, add keywords to your profile to show your business category. For restaurants, that would be the type of cuisine and the location of your eatery (e.g, "bbq in Memphis").
You also need to add keywords to your business description. Weave relevant keywords naturally into the narrative and avoid keyword stuffing.
Here's an example from Corky's Ribs & BBQ in Memphis: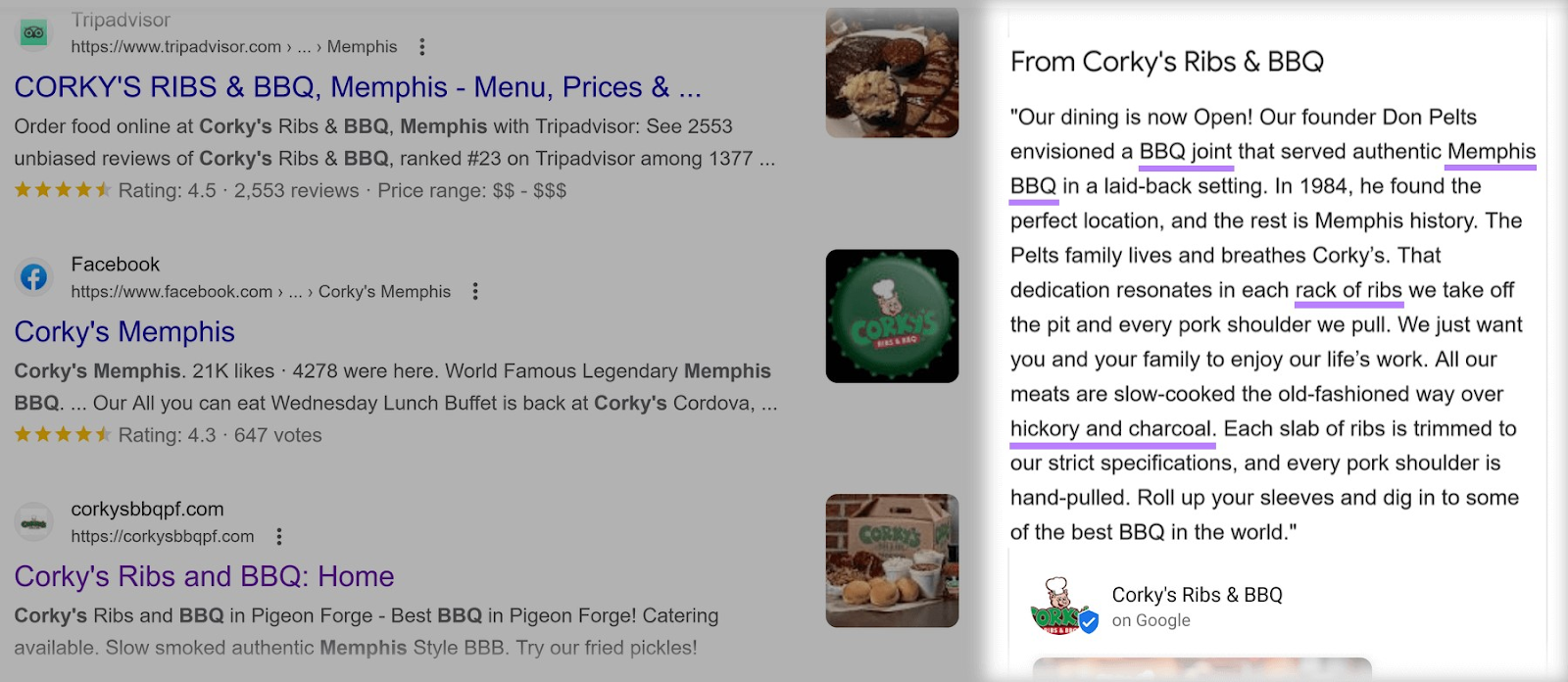 It uses keywords like:
BBQ joint
Memphis BBQ
Rack of ribs
Hickory and charcoal
That way, both Google and searchers can clearly see what they serve.
You can also add keywords as business attributes. These are predefined descriptions, like whether your restaurant delivers or offers outdoor dining.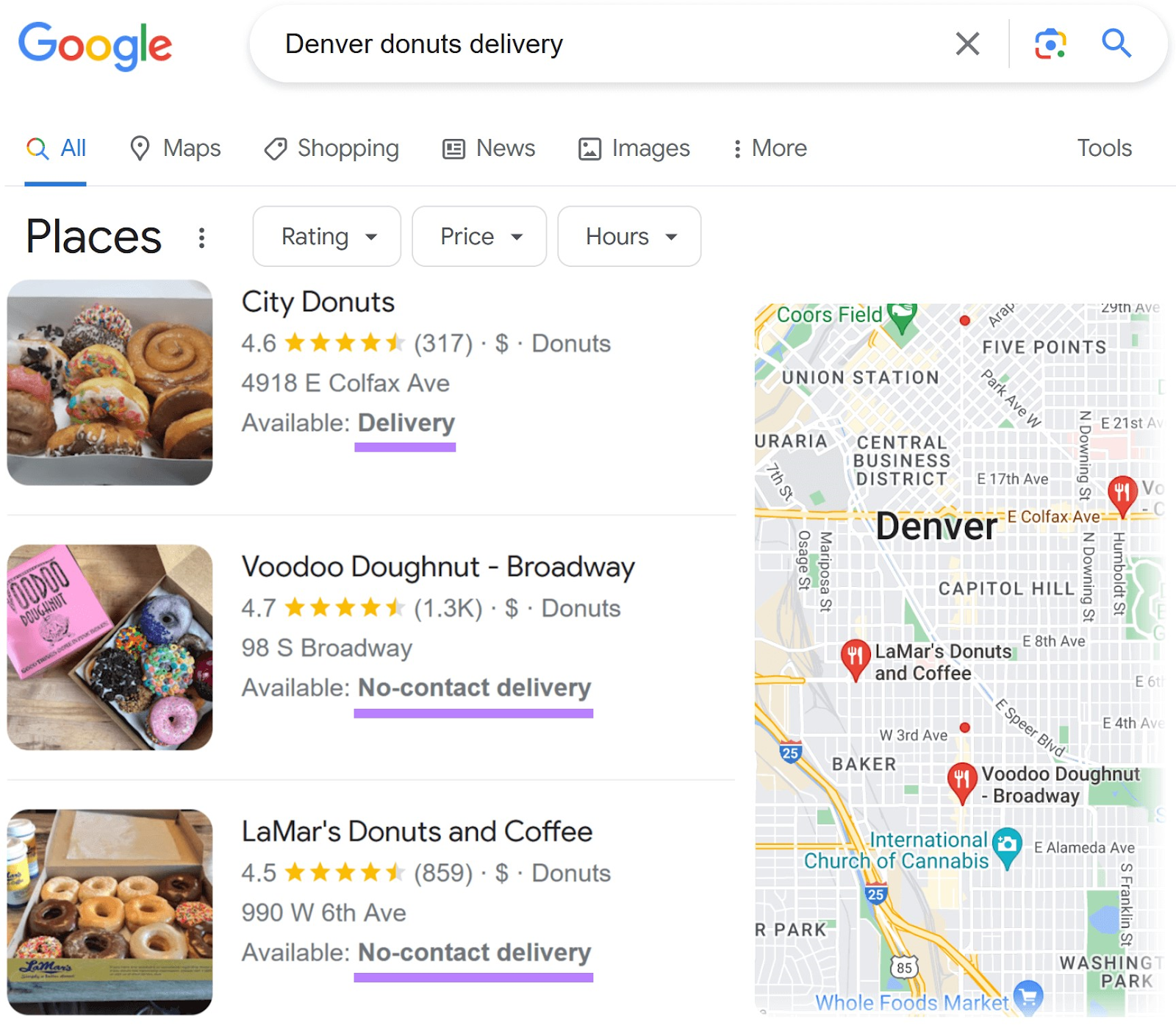 For more detail, read our full guide to adding keywords to Google My Business.
3. Optimize Your Website for Both Mobile and Desktop
Almost 90% of dining research is done on mobile before visiting a restaurant. Over half of diners also think mobile-friendly websites are critical.
Which makes sense.
Because when potential customers are hungry, they go on their phones and do a search. And probably go with the restaurant that offers the best online ordering system.
Here are some tips to keep in mind for optimizing your website works well on all platforms:
Note: If you're not a website designer or tech person, yourself, send this list to your tech team.
Use responsive design so that your website looks great on all devices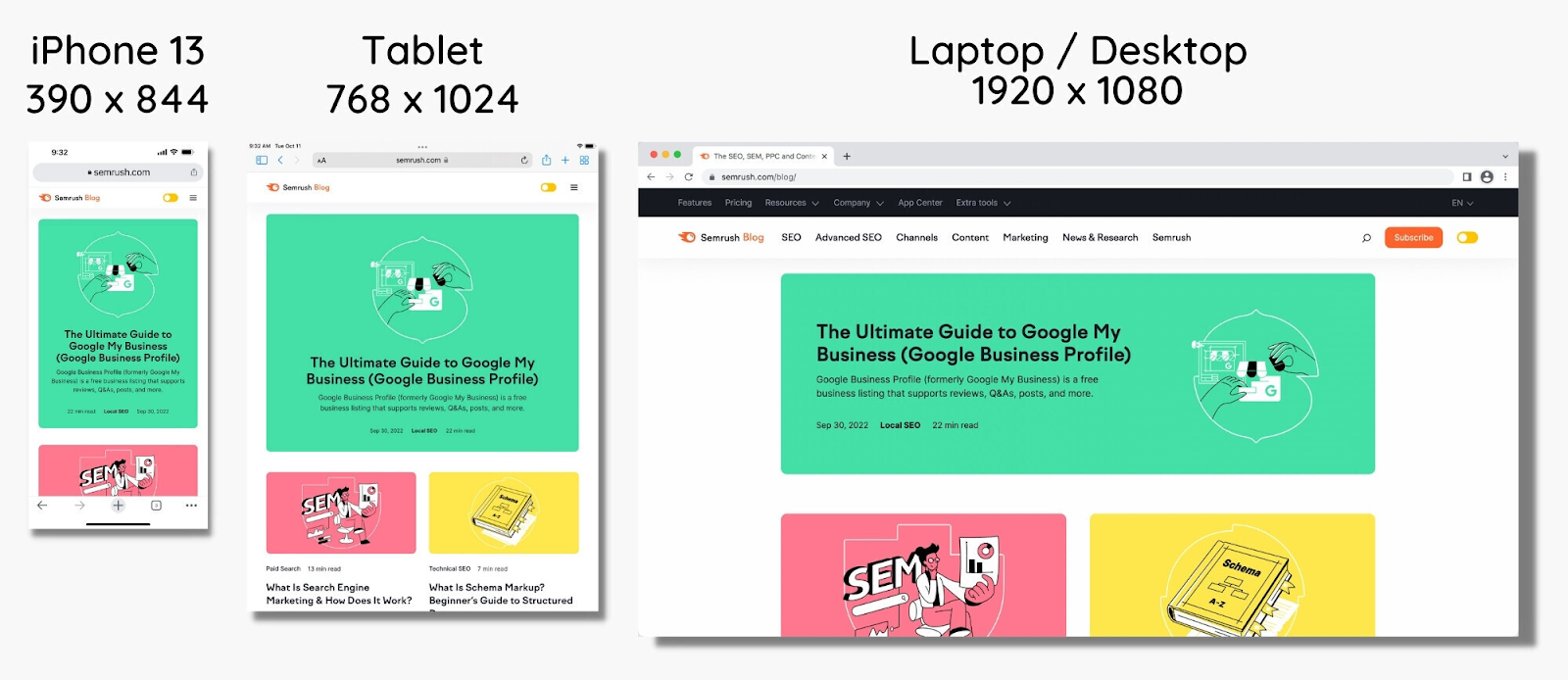 Use high-resolution images that look good on large and small screens
Set up a simple website navigation that can fit in a hamburger menu
Make sure your text is readable even on small screens
Add click-to-call or click-to-order buttons so that visitors can get in touch with a single click
A restaurant that does all these things well is Domino's.
Let's look at how their website appears on mobile.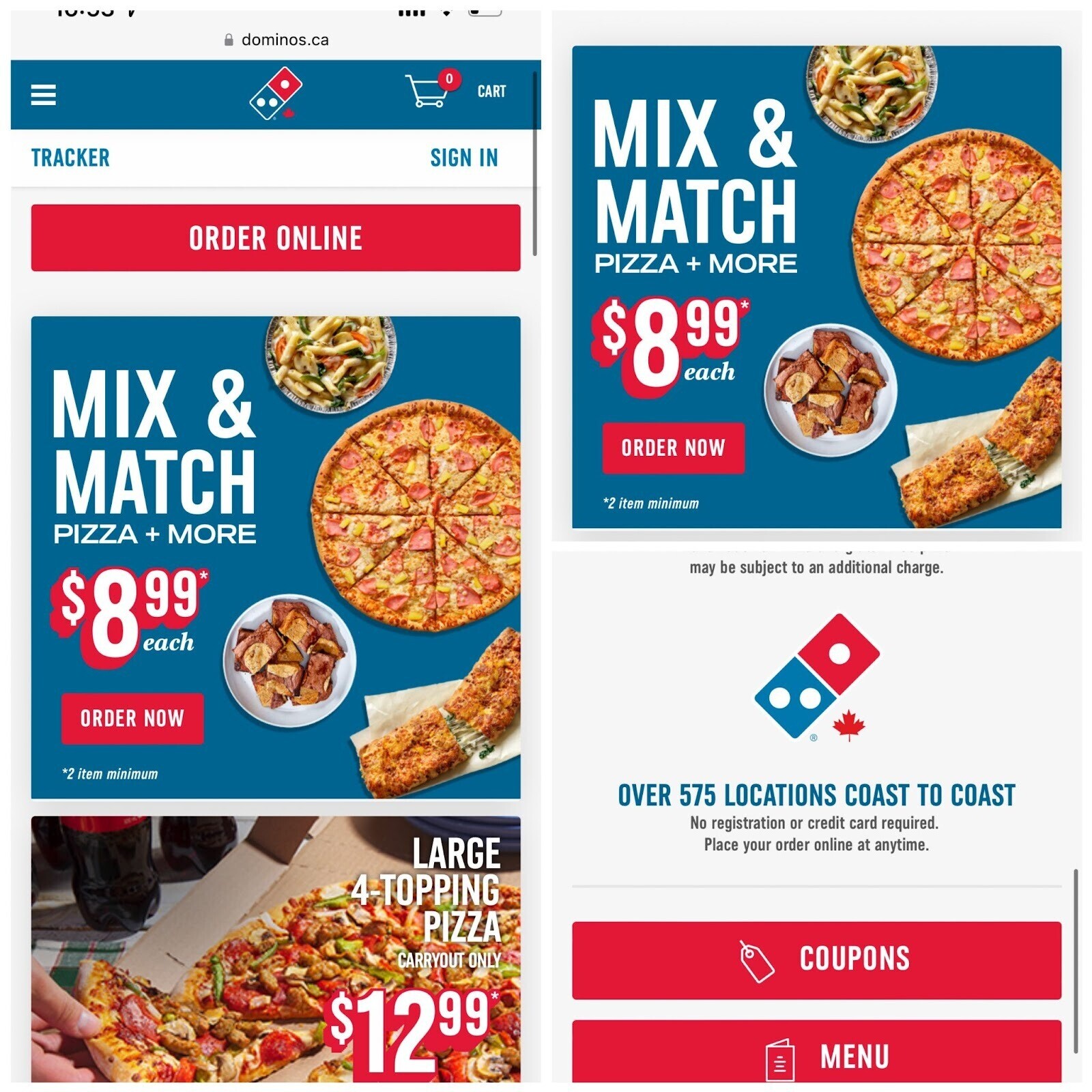 Customers can order online, explore offers, track orders, and view the menu.
A smooth user experience eliminates hiccups and makes customers more likely to return.
Pro tip: Use Google's Mobile-Friendly Test to check on how mobile-friendly your website is.
4. List Your Restaurant on Third-Party Sites and Directories
People search online before deciding where to go for dinner or where to order from.
And websites and directories like Yelp, Foursquare, Tripadvisor, and OpenTable are usually one of the top results that appear.
For example, the search results page for "best bbq vancouver" shows results from Tripadvisor, Yelp, and Foursquare right after the map results.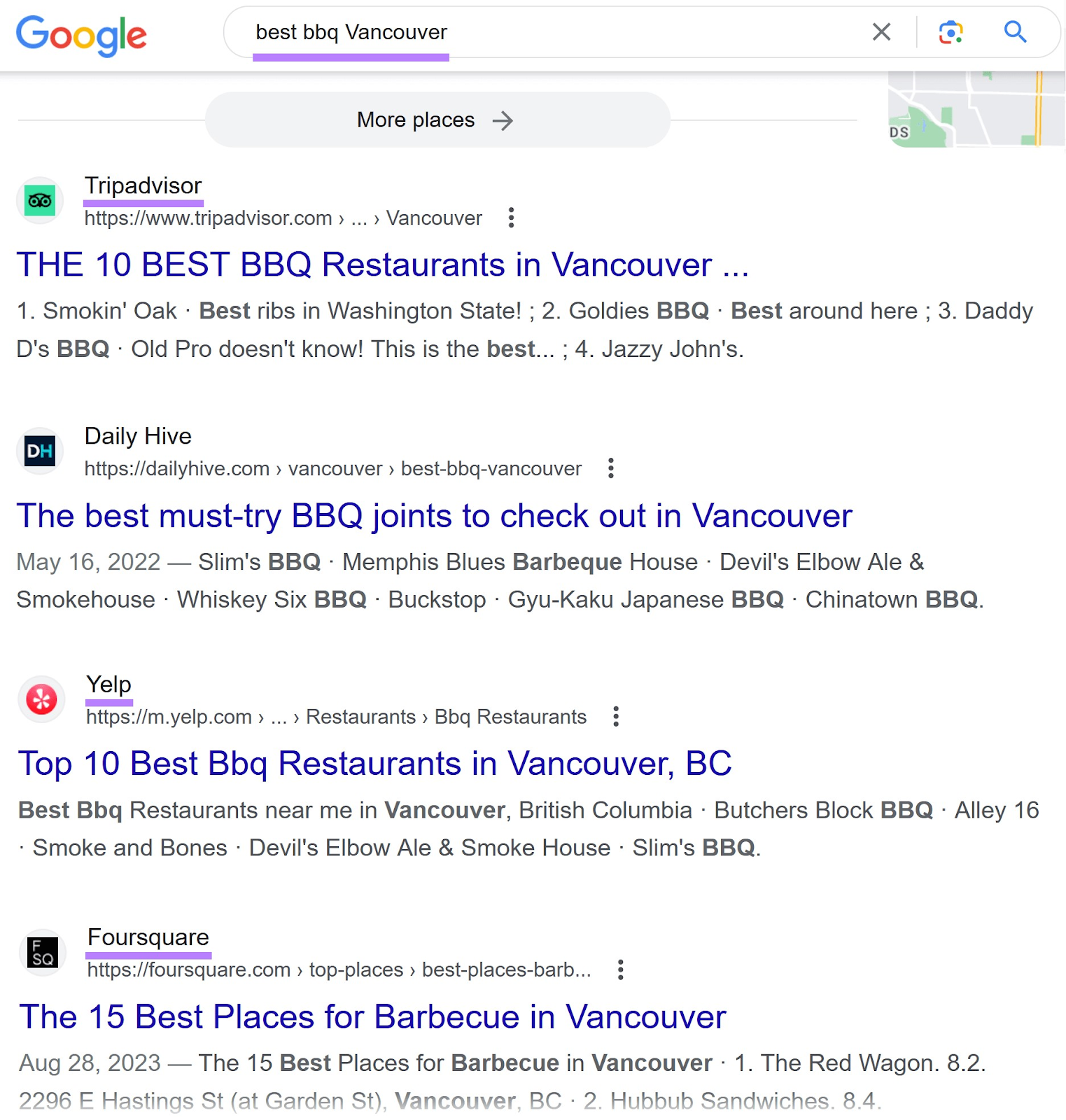 So you want to get on those websites and directories. To be a part of those lists of "top 10 places to eat in X city."
Both users and restaurant owners can add restaurants to these sites. But each site is a little different. And there are hundreds of directories.
The good news is that you get your business listed in 76 directories with a single click.
Simply go to Listing Management. And search for your restaurant name in the blank provided. And click on the correct branch in the list of suggestions that appears.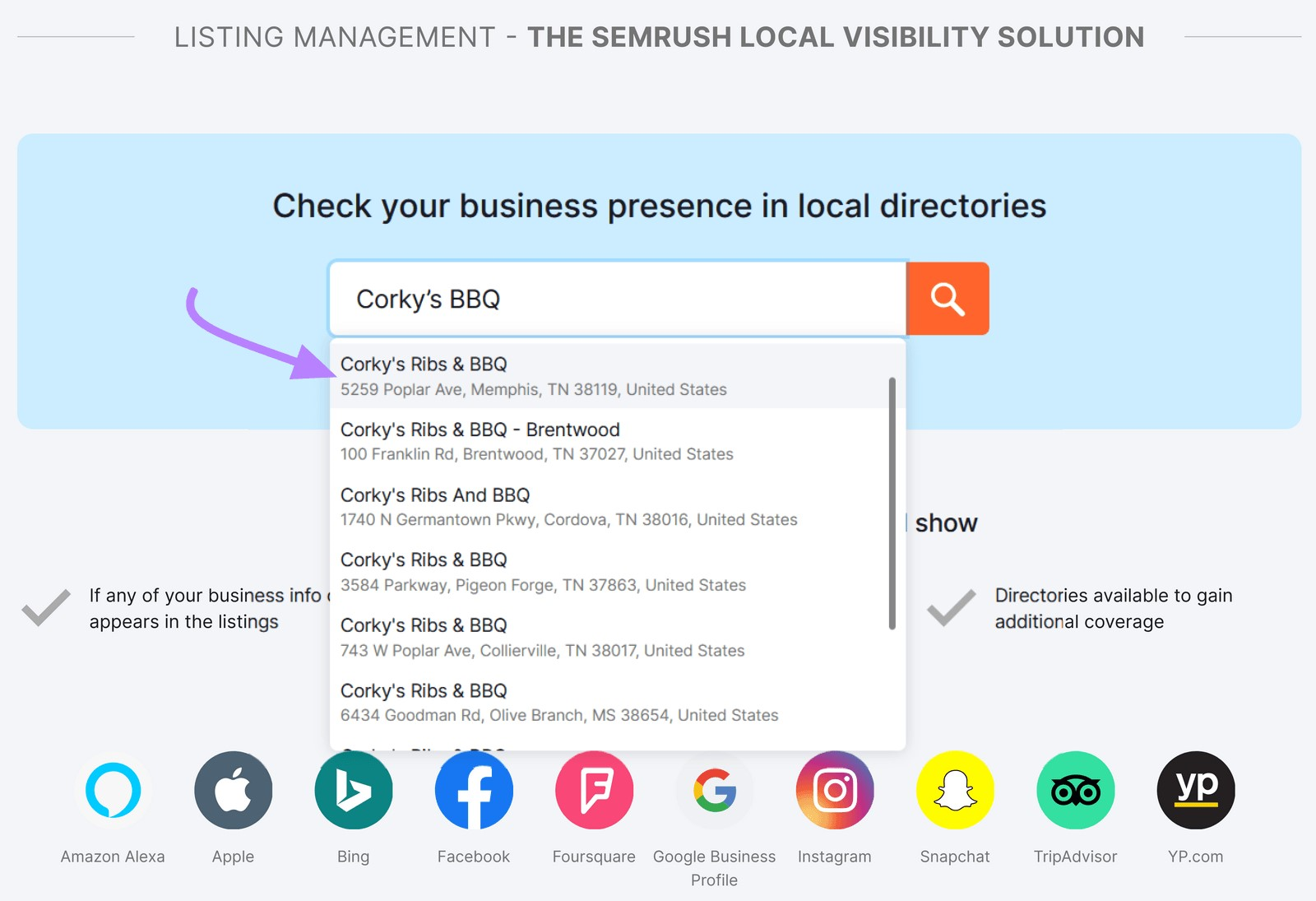 You'll see your current online presence assessment. And some of the listings you need to fix.
Hit the "Try it now" button to get redirected to a setup page. Where you can specify your correct name, address, and phone number (NAP).
After you set up your account, the Listing Management tool will automatically correct all local listings with errors. And add your restaurant to directories you may have missed.
You can also manually add your restaurant to each directory. But each site has a different way of doing it.
On Tripadvisor, for example, all you need to do is click on the pen or "Review" button that appears in the navigation bar.
And then start typing out your restaurant name. If your restaurant isn't in their database yet, then click on "Add a missing place."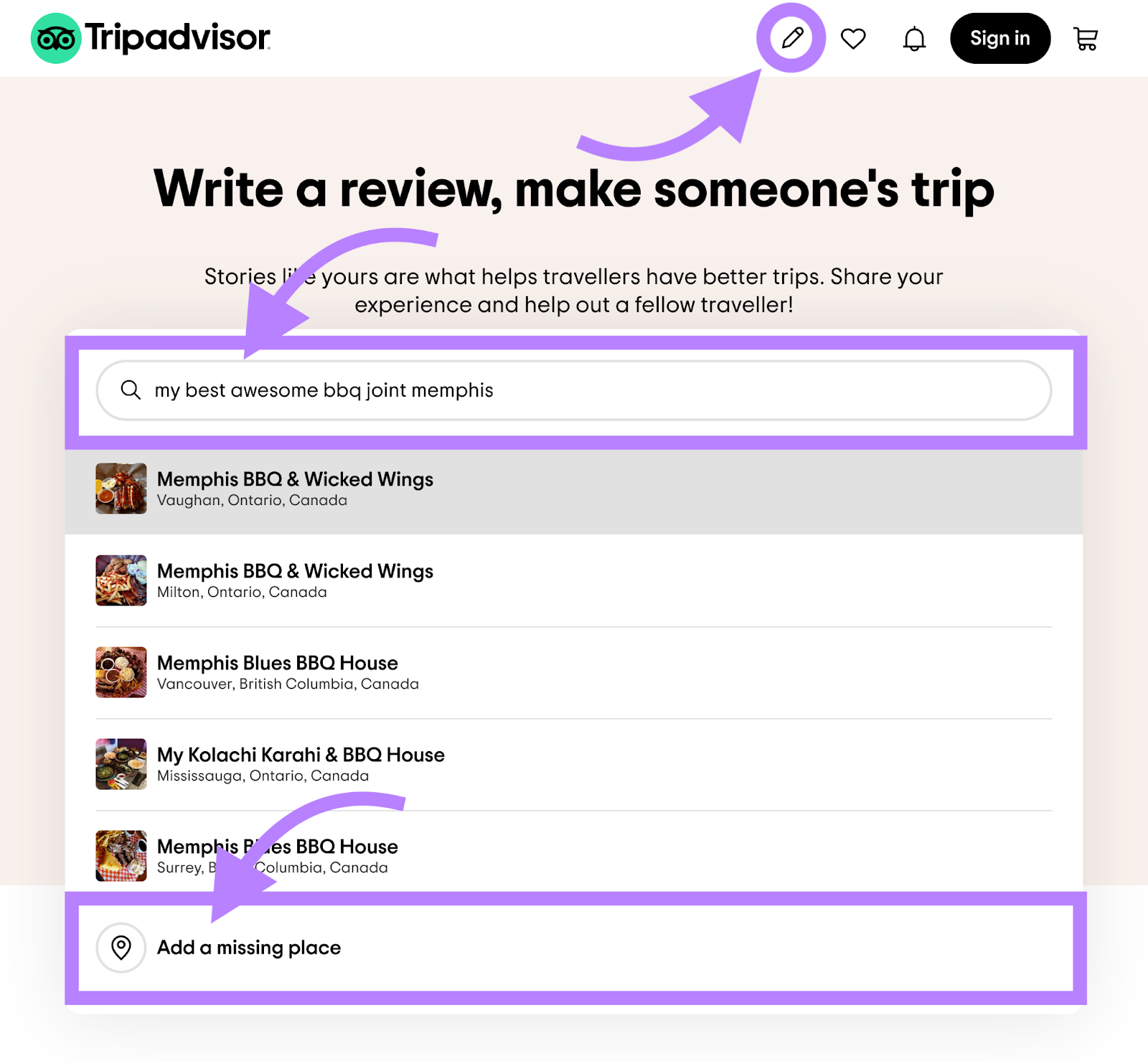 Pro tip: Double-check that your business information, restaurant name, address, and phone number (NAP), is consistent across all directories.
Inconsistent information can confuse your customers. Or lead them to click on a similarly-named competitor's website instead of yours.
Not to mention, inconsistent NAP can hurt your local pack rankings on Google.
The Listing Management tool can check on your listings for free.
5. Get Mentions or Backlinks from Other Local Businesses or News Outlets
Backlinks or external links are links on one website that point to another one. They're one of Google's top ranking factors since they indicate that your site is a trusted source.
Backlinks are a great way for restaurants to help each other.
For example, if you own a Mexican restaurant across from an ice cream shop, you can link to their website from yours and say "After having dinner with us, have dessert here."
Roundups from news outlets are another great source of backlinks.
Sometimes, local news outlets publish lists of "Best Restaurants." And getting on those lists can help you gain more brand recognition and rank better.
To find great backlink opportunities, go to the Link Building Tool.
Enter your domain. And hit "Start Link Building."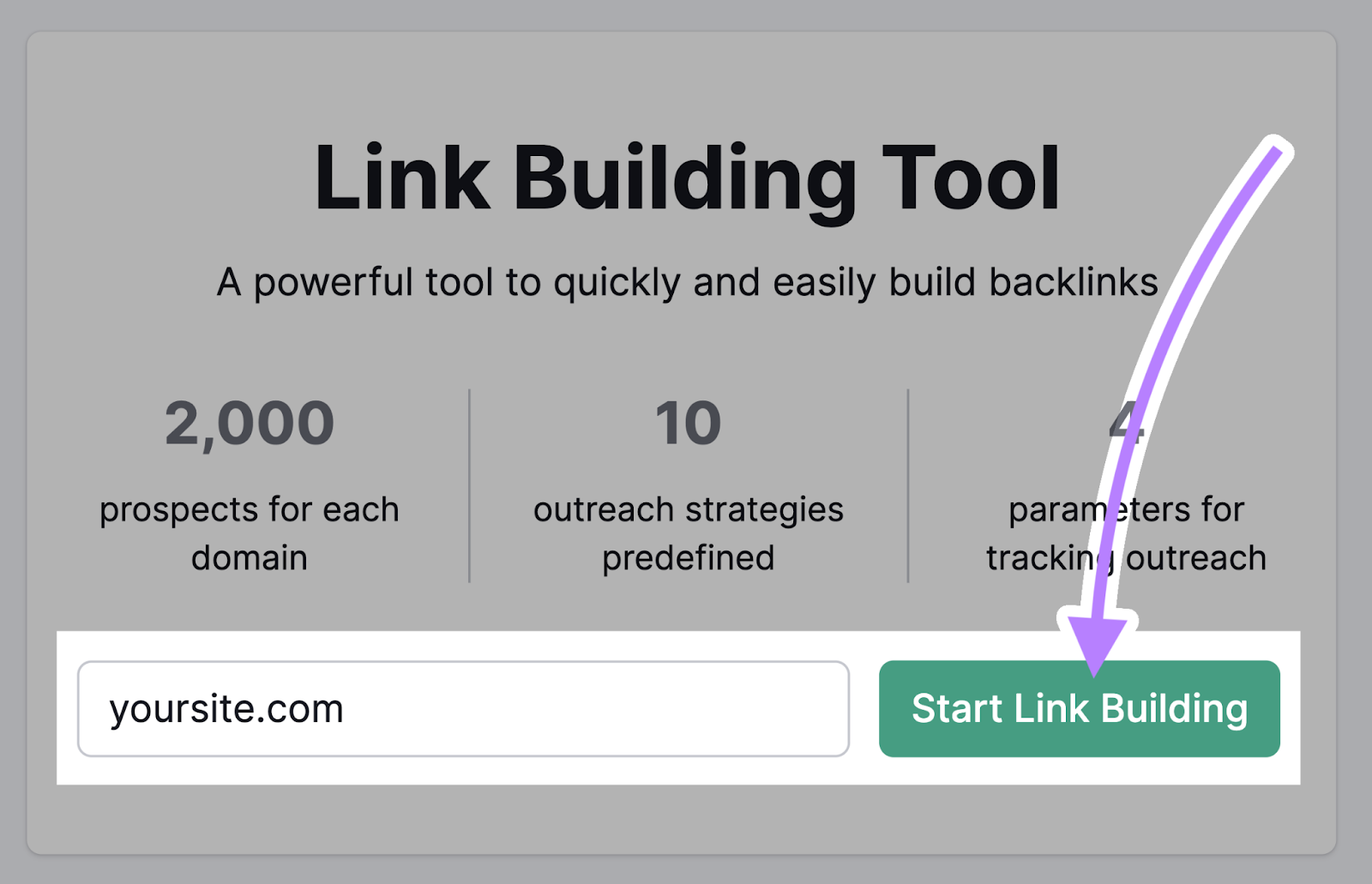 Set up your project by following the prompts that appear. Add your keywords and competitors into the fields provided. And then click "Start link building."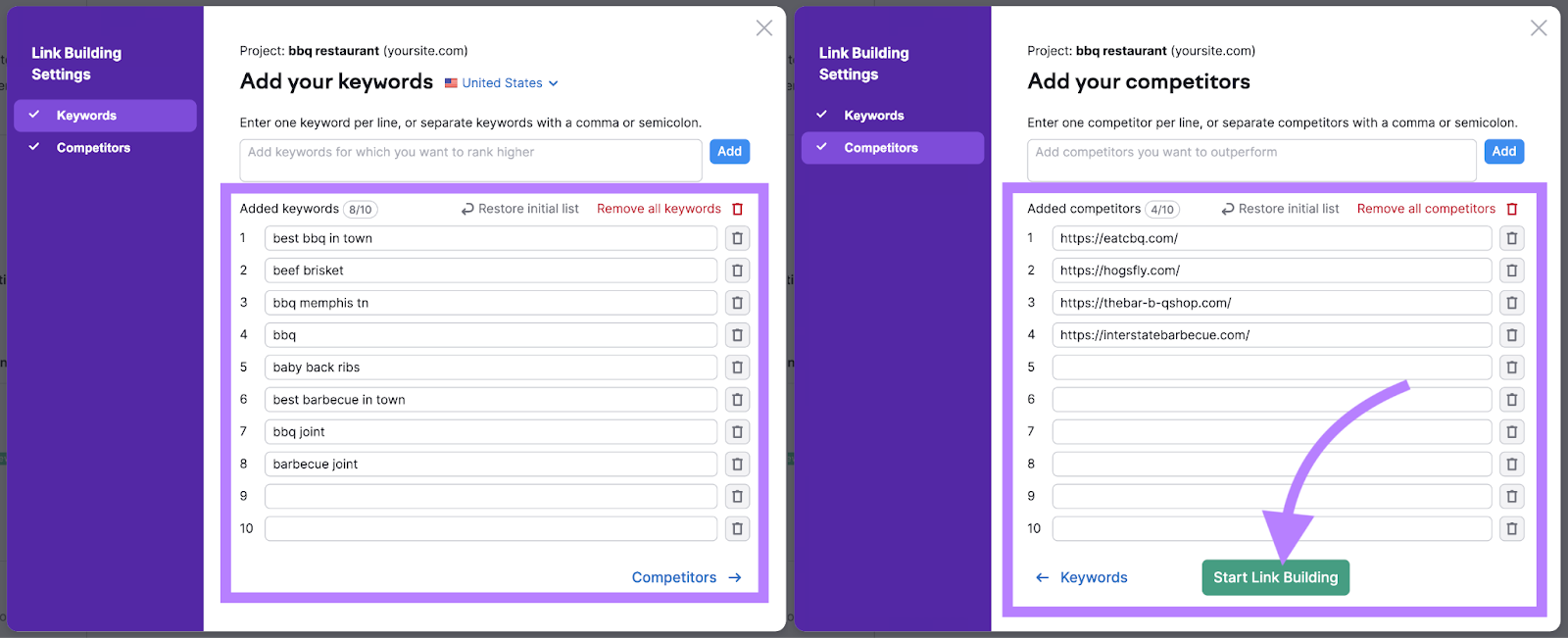 When your project is all set up, you'll see a pop-up that says, "Collecting and analyzing data is complete." Click on "View prospects" within that window to see a list of prospects.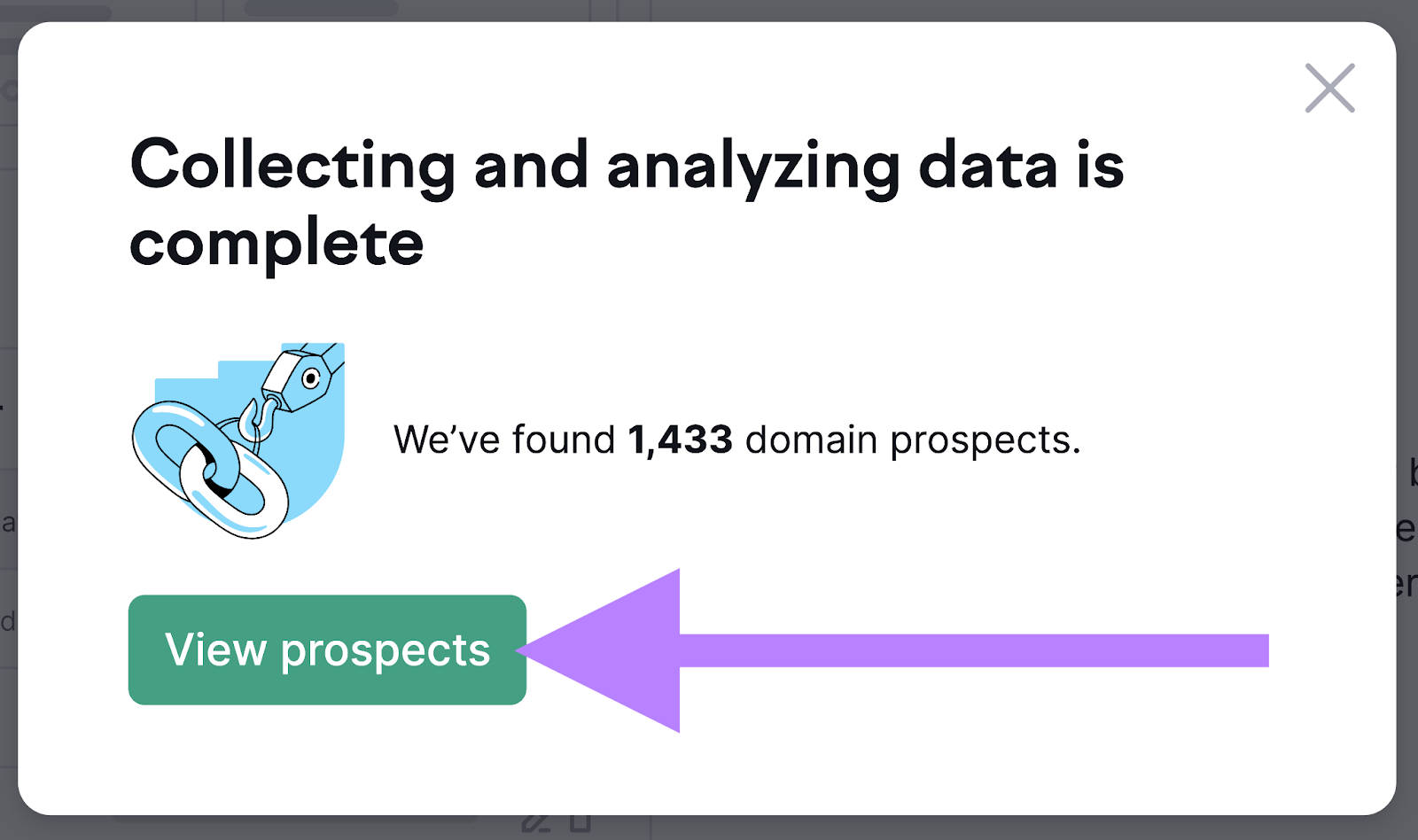 Take note of the AS or Authority Score metric. The higher a site's AS, the more authority it can pass on to your site.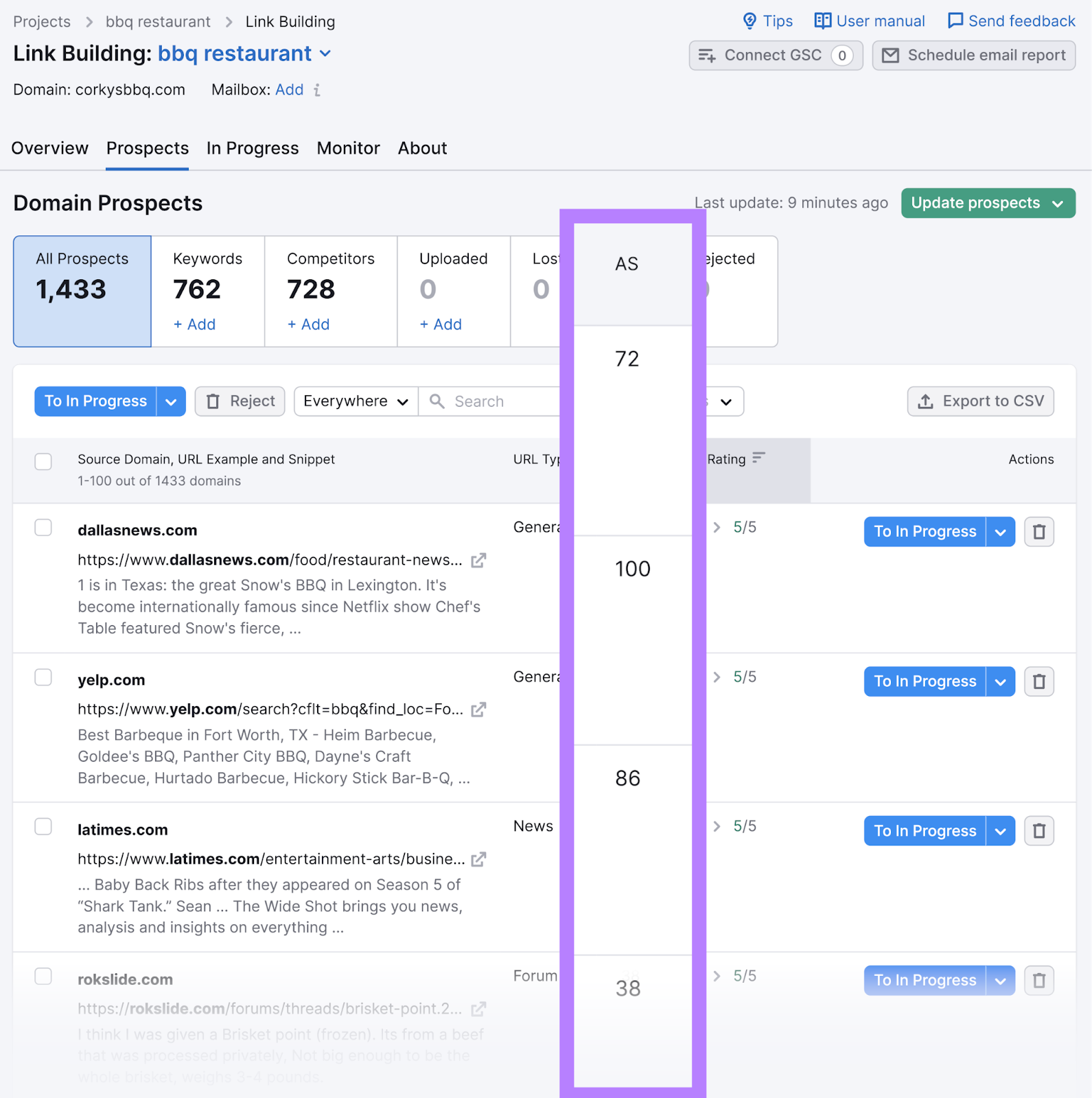 When you find sites that you'd like backlinks from, click on the checkbox beside each domain name. And then click on "To In Progress."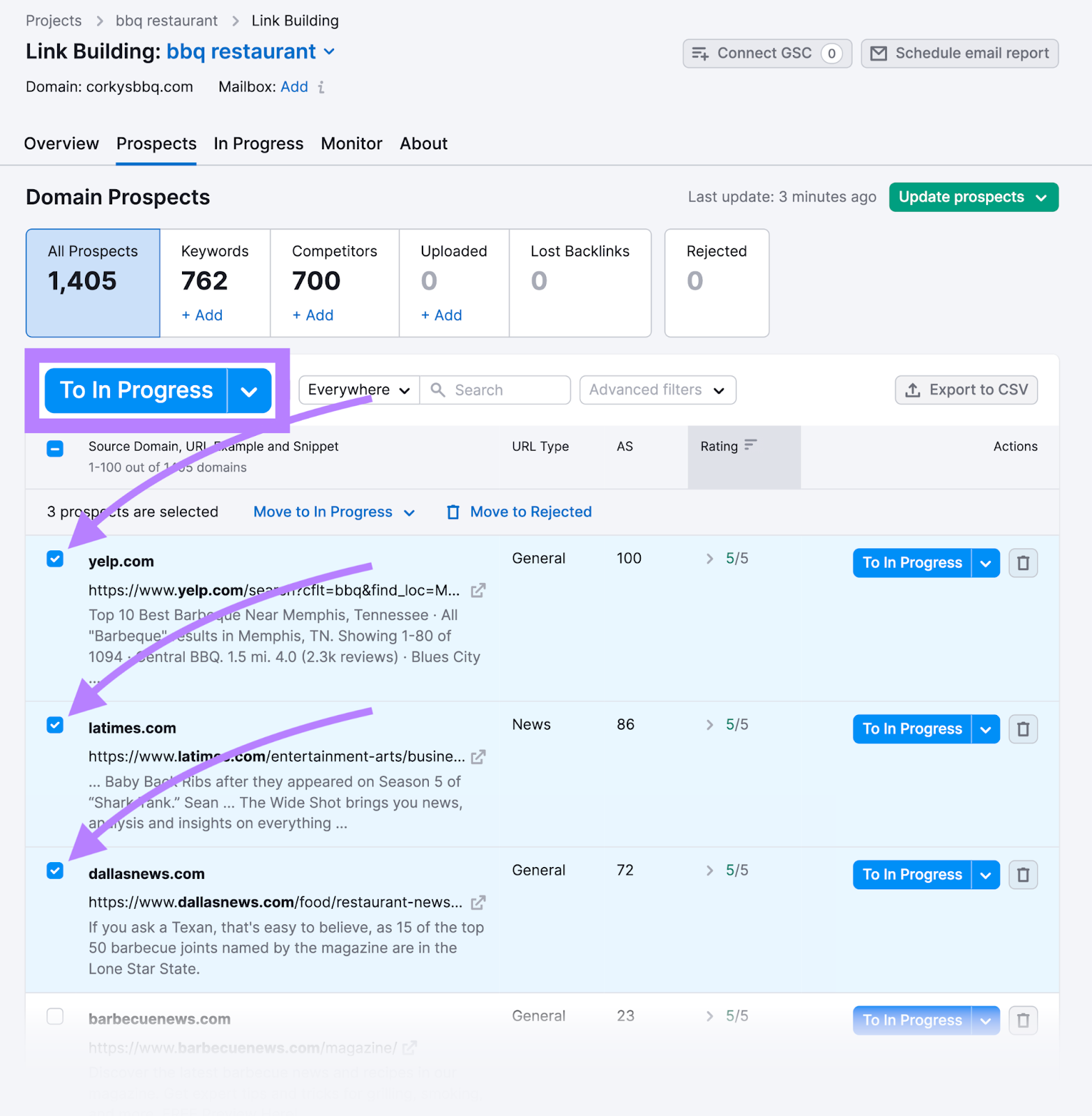 Then, go to the "In Progress" tab. And click on "Contact" for the site that you want to reach out to.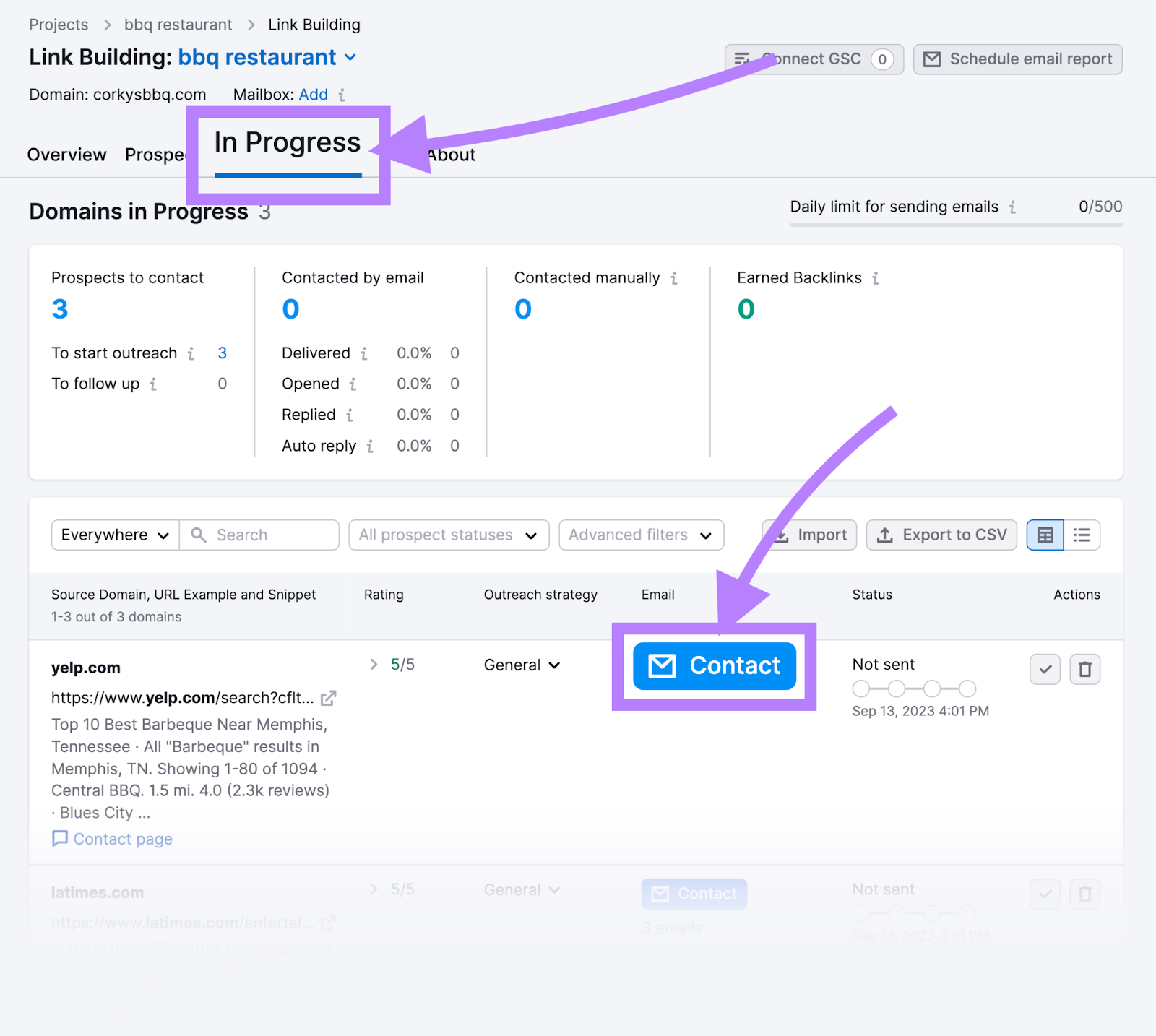 Edit the message. And then click "Send and proceed to next."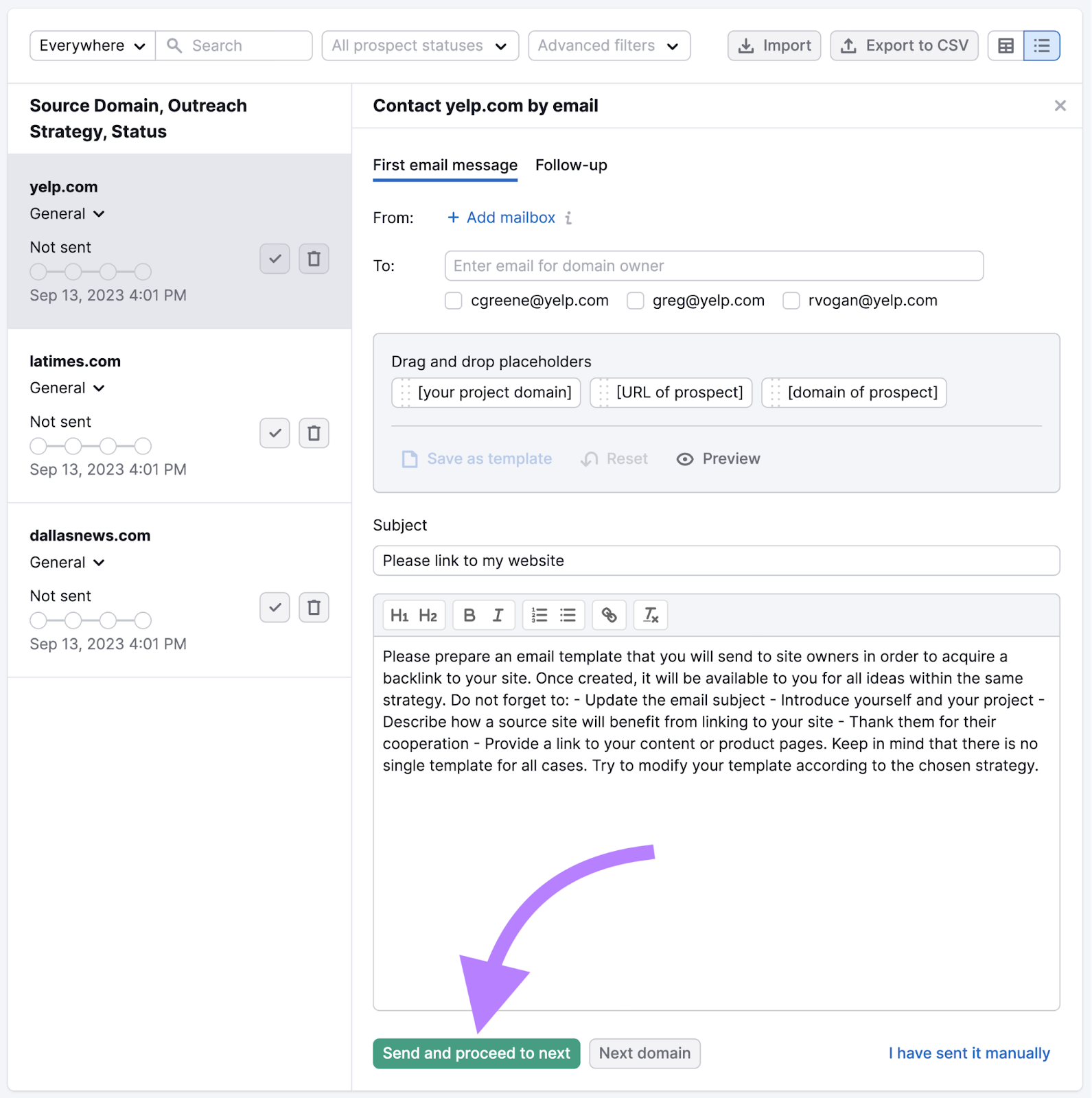 Reach out to as many relevant sites as you like.
Another way to find great domains to request backlinks from is with the Backlinks Gap tool. Enter yours and your competitors' website URLs. Then, hit "Find prospects."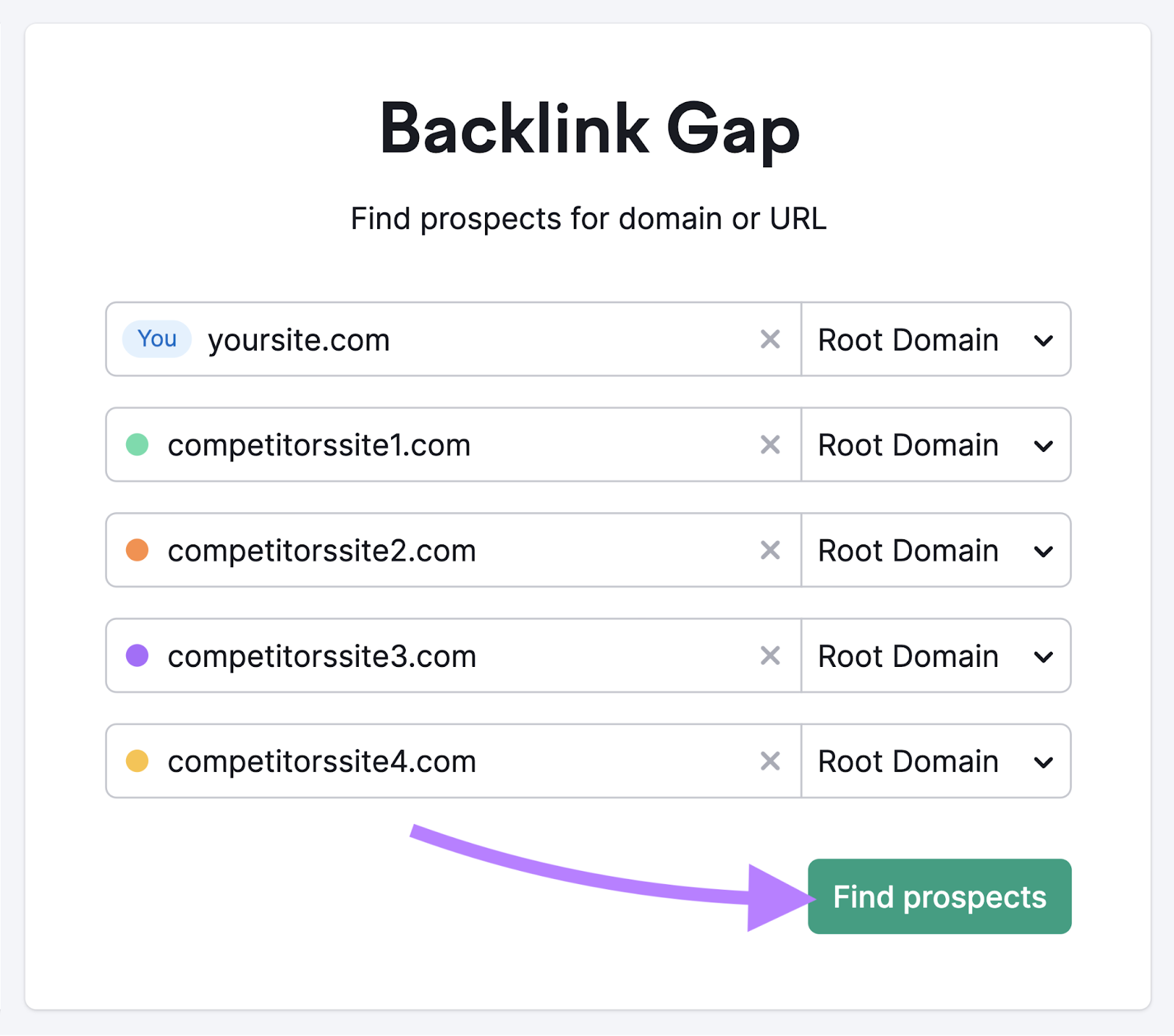 You'll get a list of sites that link out to your competitors that don't link out to yours.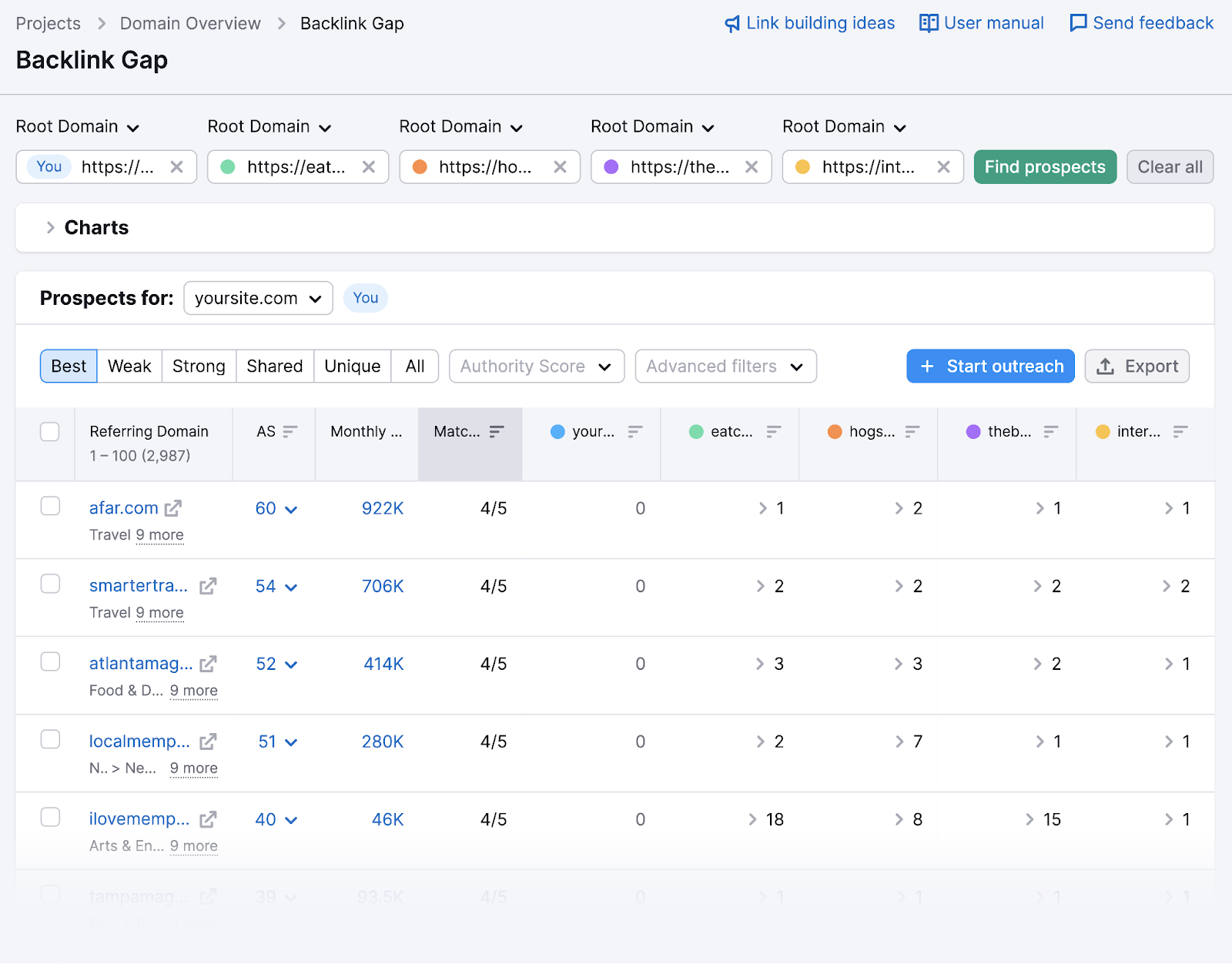 When you find a site that you want to request a backlink from, click on the checkmark beside the domain link. And click on "Start outreach."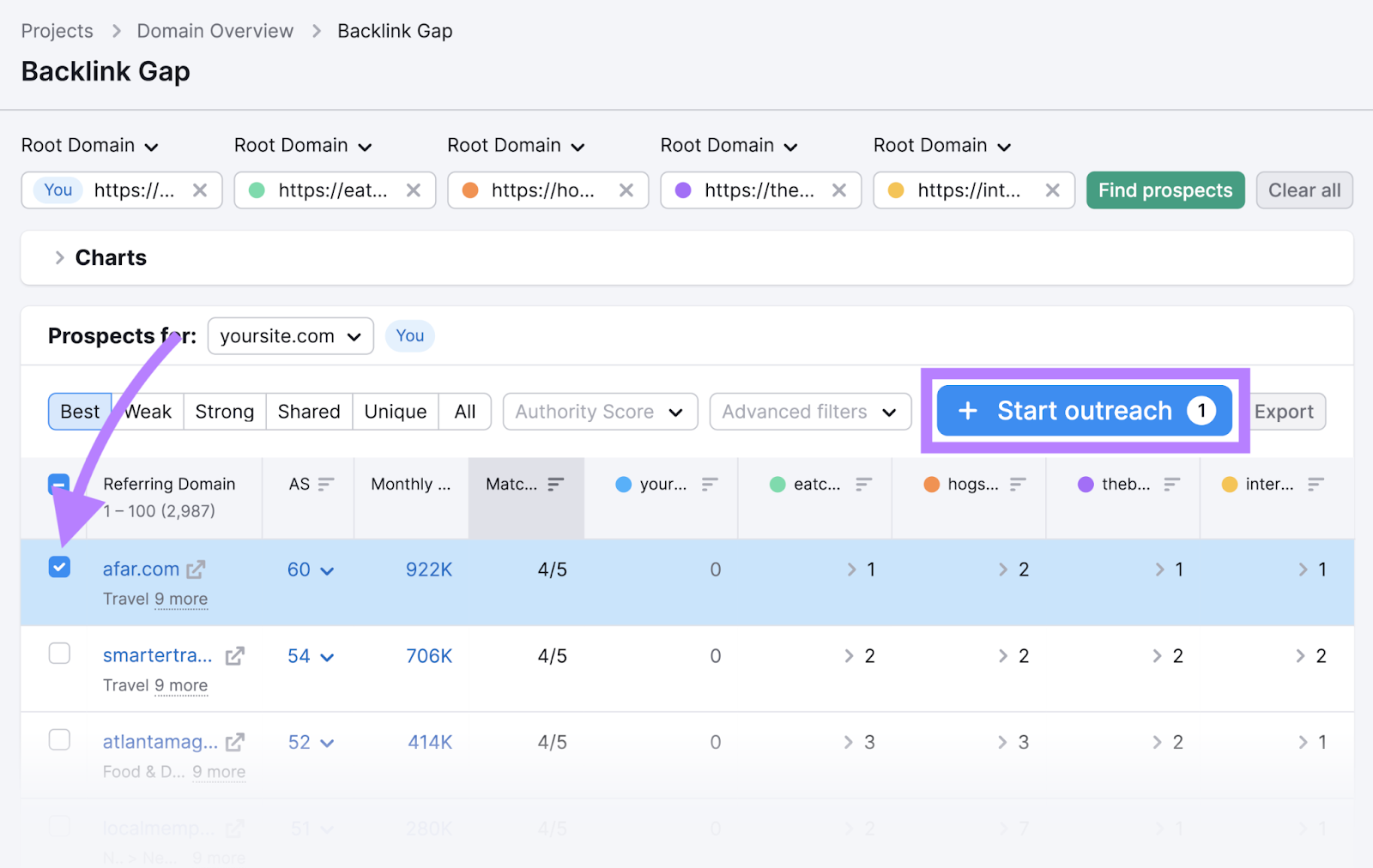 In the pop-up that appears, select your existing Link Building Tool project. And hit "Send prospects."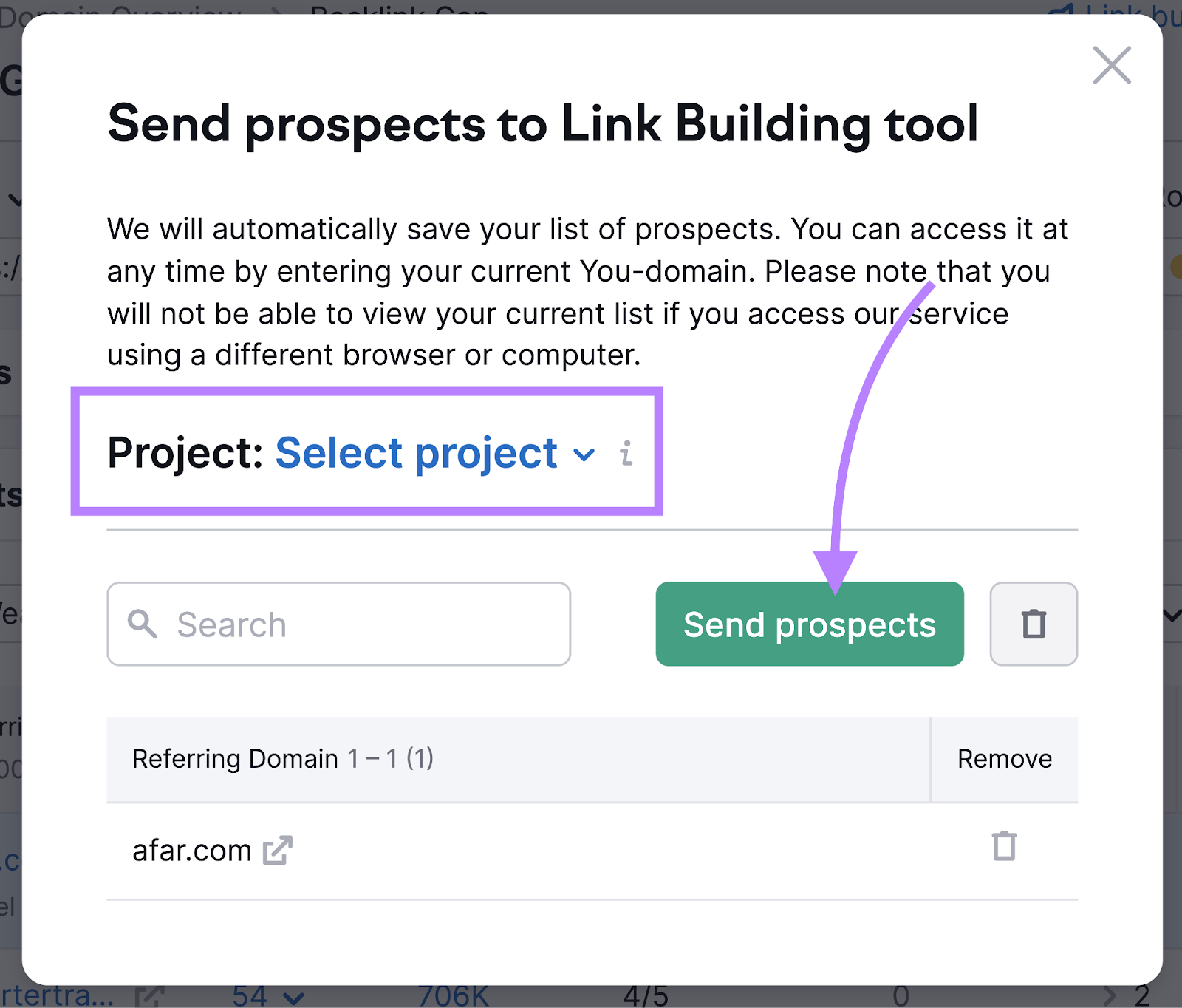 And you're done! Your new prospect is added to the list.
Reach out to them with the Link Building Tool to get the conversation going.
6. Create an Online Menu
A menu is the number one factor that influences a purchase decision. Potential customers want to know what they're getting and if it's worth the price.
Pai's menu, for example, lists the different categories of dishes, mentions allergens and the ingredients used, and includes stunning visuals to entice customers: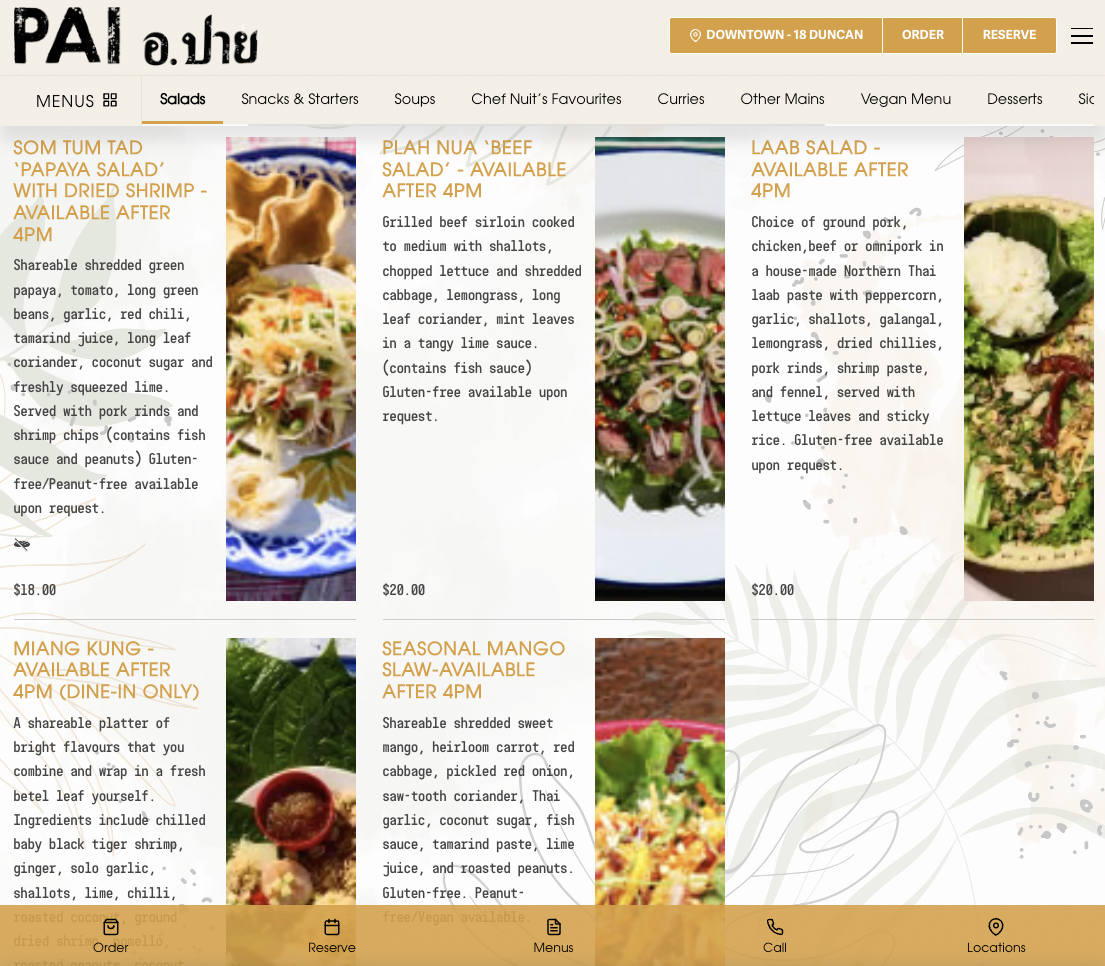 Pai uses a menu schema that allows Google to pull up the menu and display it on the SERPs. Because two-thirds of Google searches end without a click, this schema provides customers with the information they need without leaving the SERP.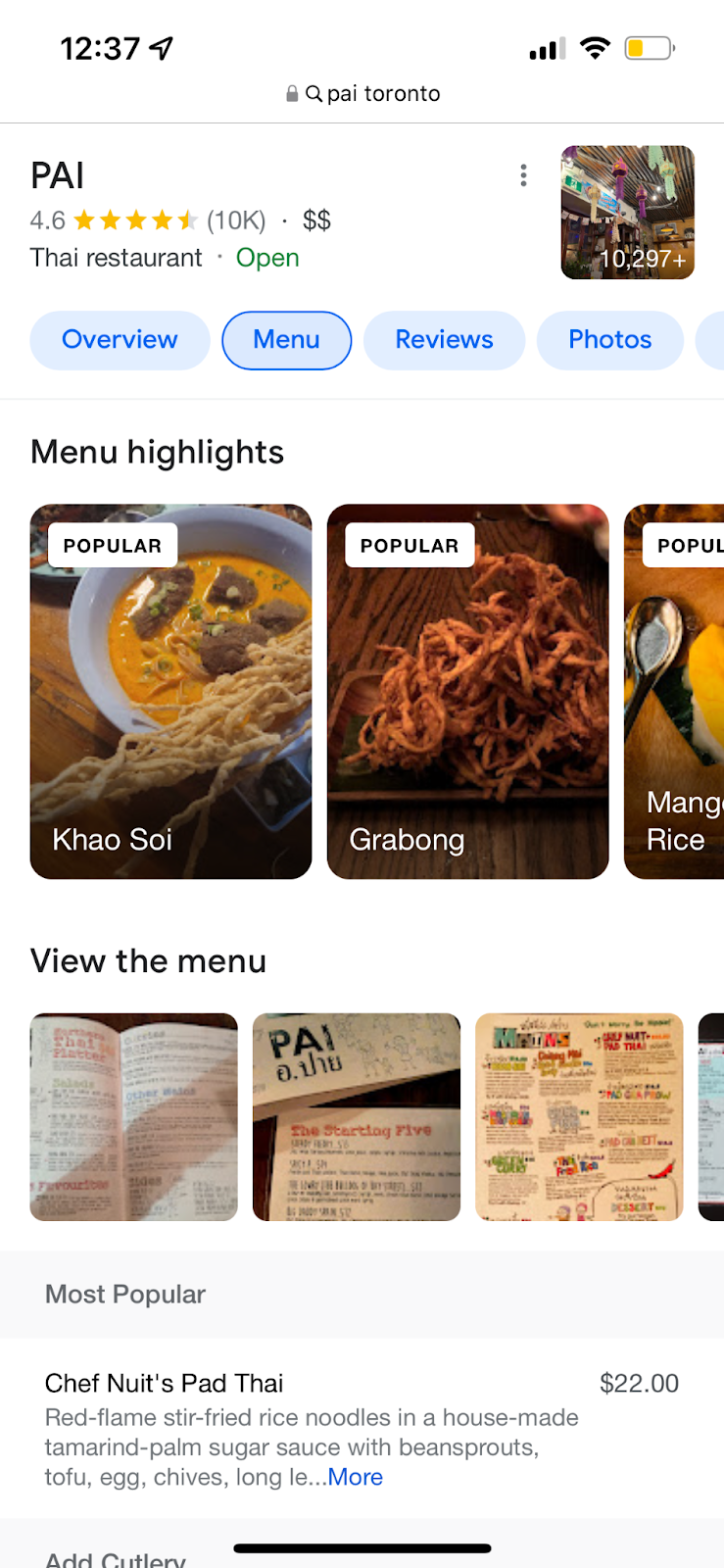 7. Have an Active Social Media Presence
Social media influences nearly half of U.S. diners. So having social media accounts that influencers and your customers can tag is crucial to staying visible online.
Start with visual social platforms, like YouTube, Instagram, and TikTok.
Magnolia Bakery, for example, is launching grocery store versions of its famous cookies and uses Instagram as a medium to answer questions from followers. This engagement tactic piques interest and addresses queries.
Similarly, Chipotle uses TikTok to announce new items, link back to web offers, and provide tips on how to make the most delicious burrito bowls. The company boosts SEO in the process.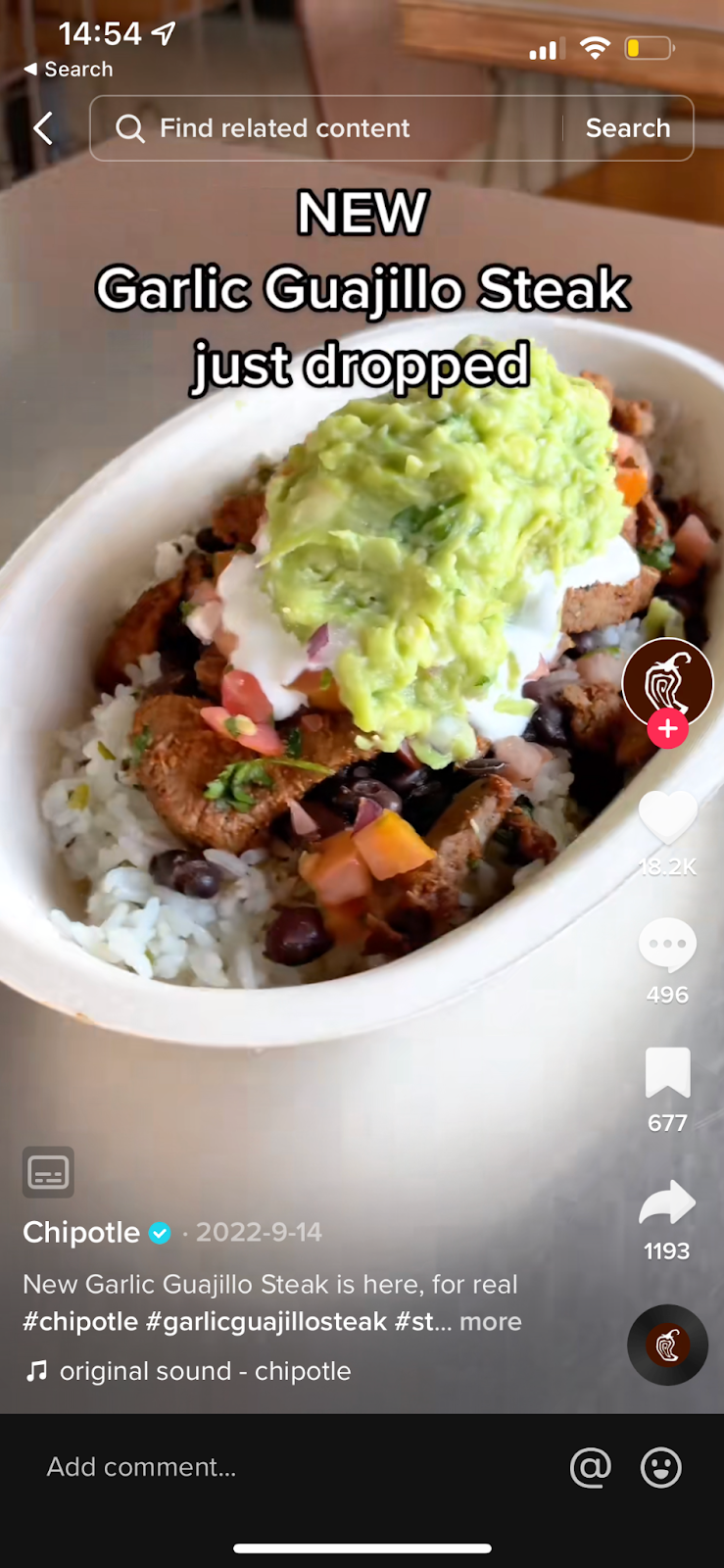 Over half of users visited a restaurant after seeing it on TikTok. Share recipe hacks and exciting restaurant updates to build an audience of engaged customers.
8. Encourage Customers to Leave Reviews
Reviews from real people are a great way to show potential customers that your restaurant has great food.
Plus, a lot of the high-ranking results on Google also have a lot of reviews and a high star rating.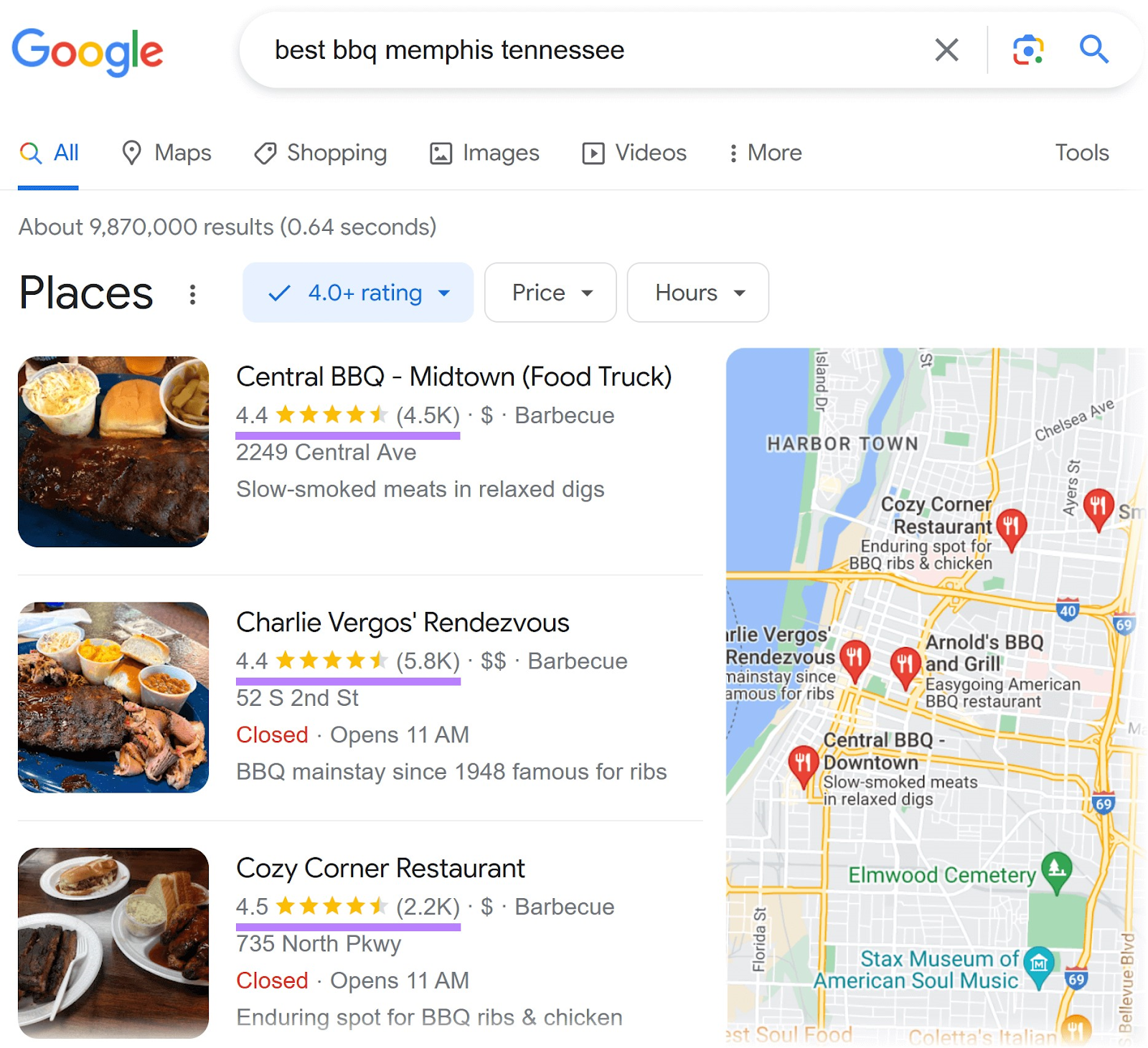 There are a number of ways that you can ask customers for reviews. And a lot of them are willing to do so.
One way is to print out a QR code. And display those QR codes on each table.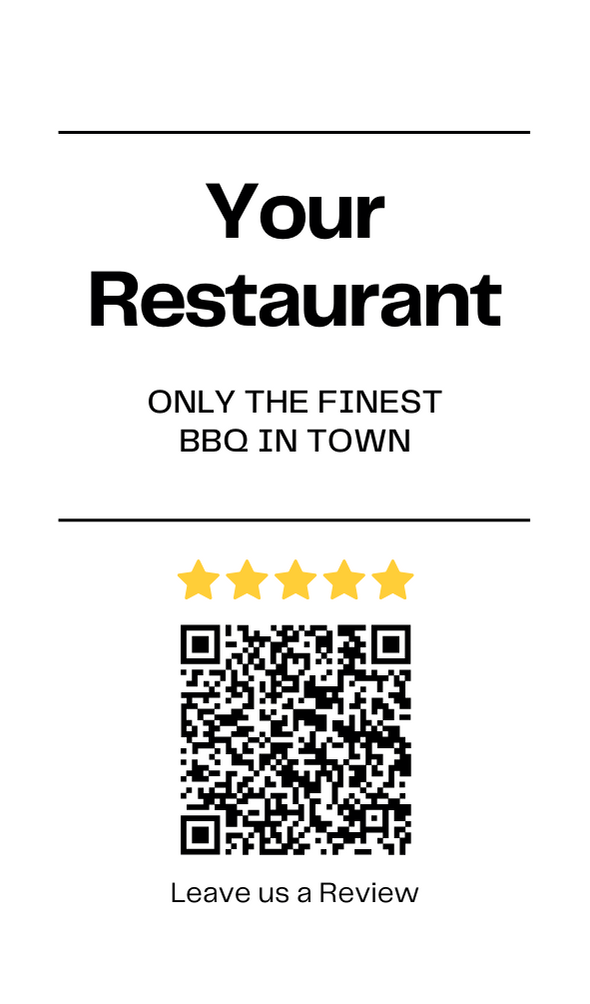 Or message your customers on social media or through email. Make it as easy as possible for customers to leave reviews.
And incentivize them with freebies, if that makes sense for your business model.
Pro tip: Always respond to reviews, positive or negative.
Over half of customers expect businesses to respond to negative reviews within a week. The Cheesecake Factory, for example, responded to both positive and negative reviews in under 24 hours here.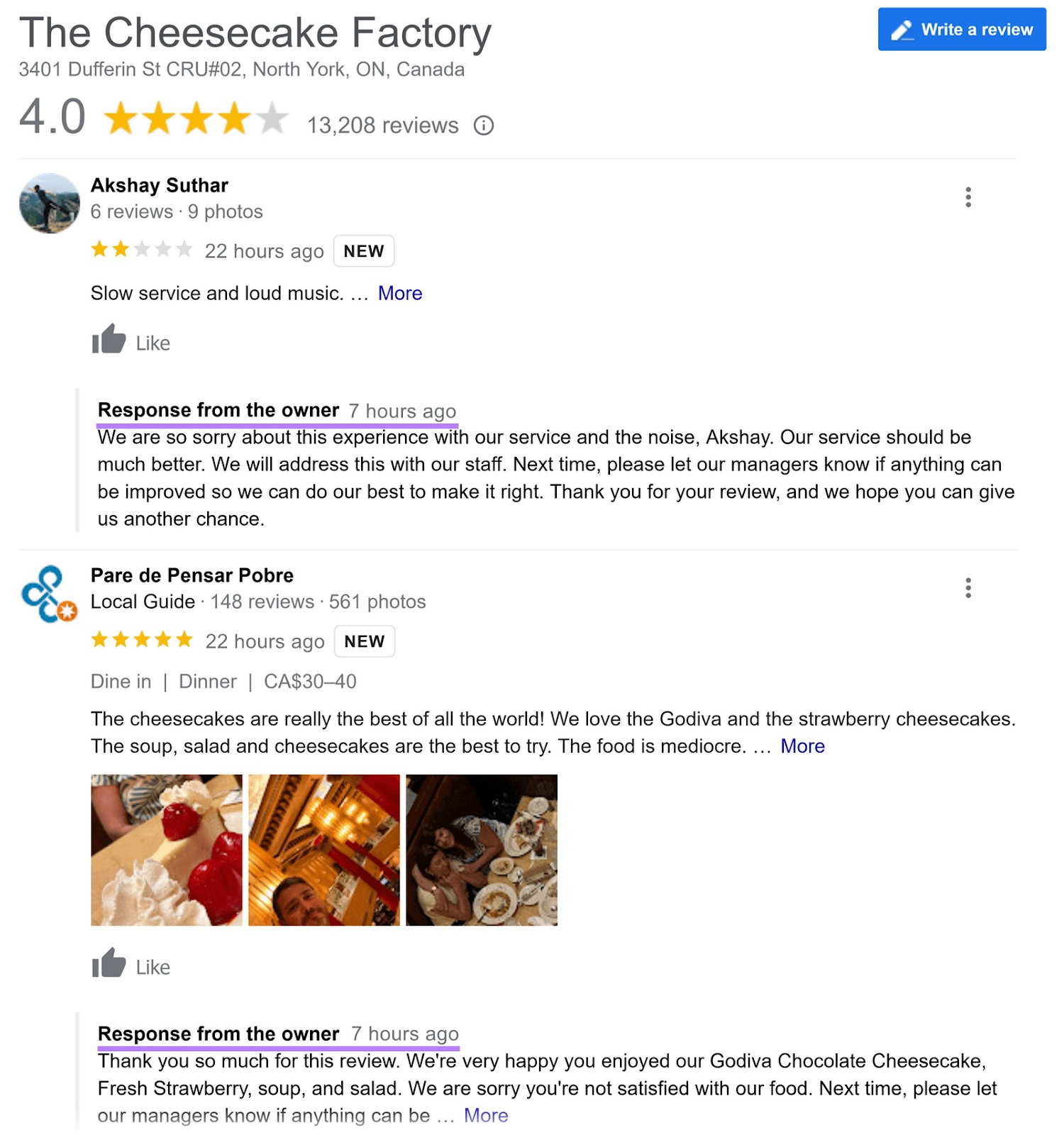 Never miss a review with Semrush's Review Management tool.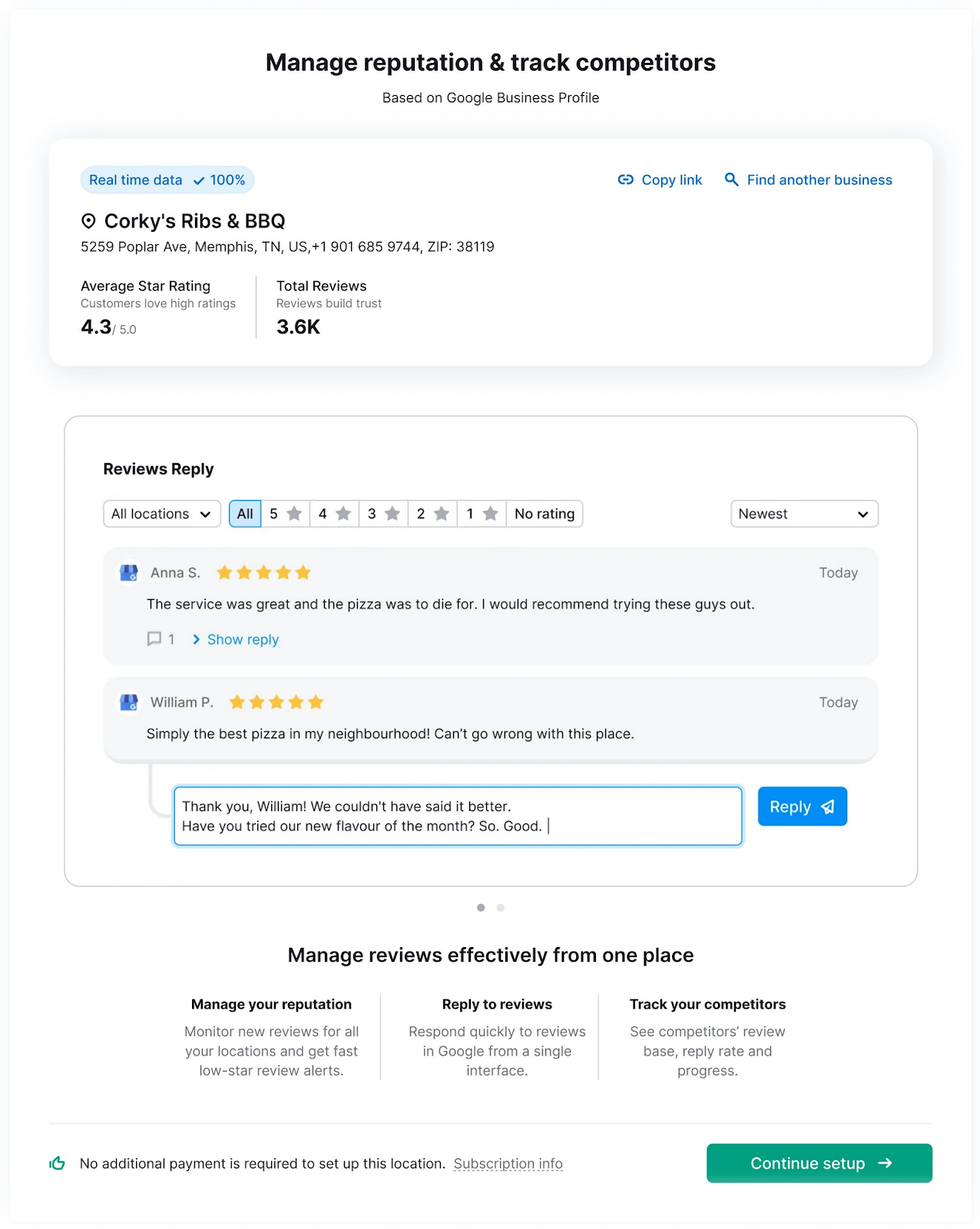 The tool gives you a single dashboard for over 70 review sites—Google Business Profile, Facebook, Yelp, etc.
So that you can respond to reviews on time and keep your customers engaged.
9. Optimize Content for Voice Search
"Hey Siri, what's the best pizza place in New York?"
A survey by Yext highlighted 39% of voice search users preferred voice devices over smartphones when searching for restaurant information
So add natural language content, answer frequently asked questions, and include long-tail, conversational keywords to optimize for voice search. 
Think about the "what," "when," "where," and "how" questions customers may ask about your restaurant. 
For example, a pasta restaurant in New York named Italiano could optimize for the following phrases:
What is the best pasta restaurant near me?
Where can I get carbonara in New York?
How much is spaghetti bolognese at Italiano restaurant?
When does the Italiano restaurant close?
A quick overview of related queries can show you conversational phrases and words you can incorporate into your website and content.

10. OptimizeSchemaMarkup
Search engines use schemamarkup or structured data to display relevant data about your business in SERPs. Like a direct link to your menu.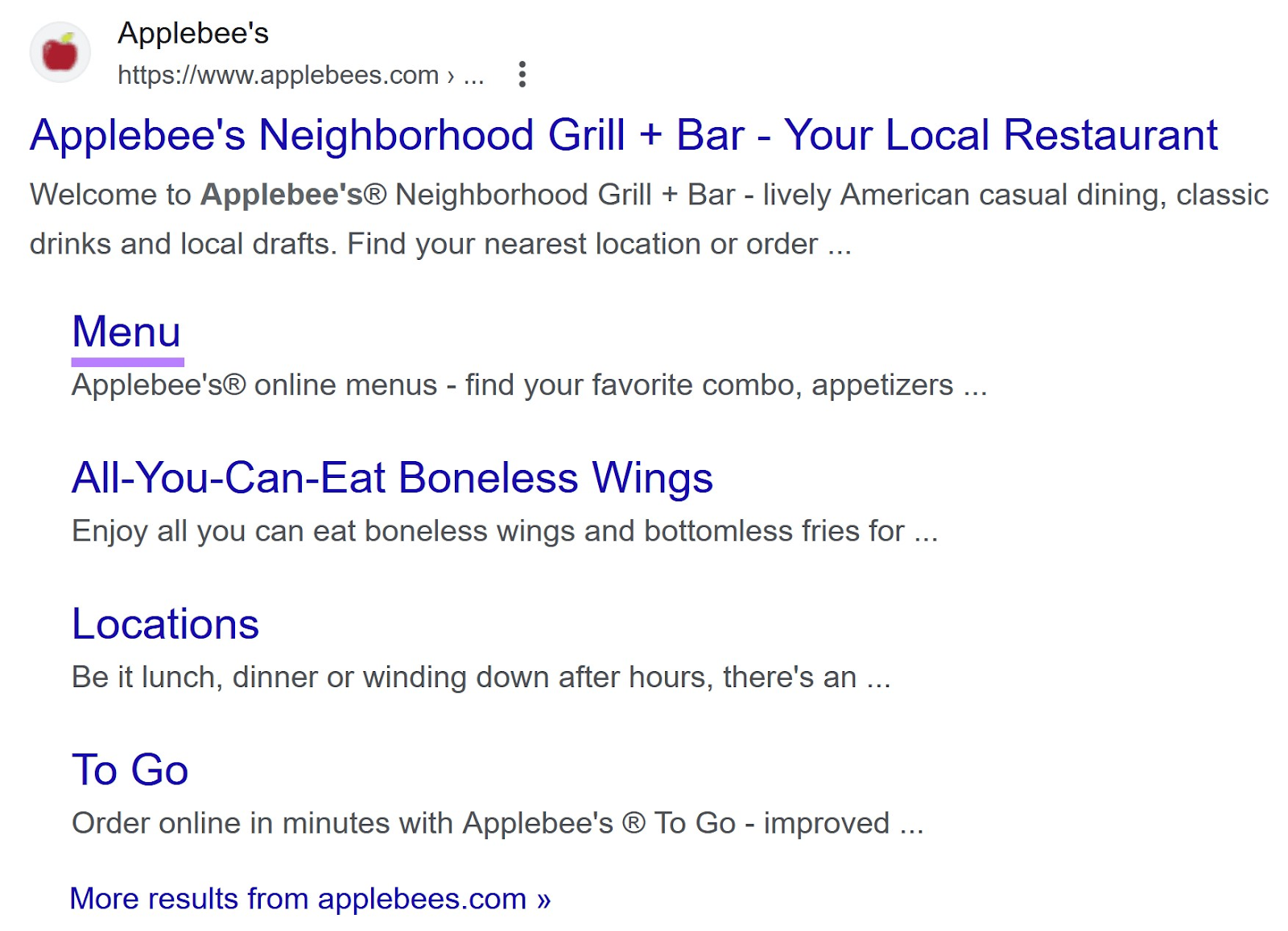 With the help of a developer, add restaurant-specific schemamarkups to your site's code, like cuisines, so crawlers can understand your content better. 
Grow Your Restaurant Business with SEO
An intelligent SEO strategy will help your restaurant thrive. From the basics like keyword research to more advanced technical SEO.
That may sound complicated, but local SEO tools like Semrush can help. Request a free trial today.