What Are Related Keywords? 
Related keywords are words or phrases that are closely connected to the primary keyword you're targeting. Not necessarily synonyms, but terms that are similar or within the same context as your primary keyword. 
Search engines use related keywords to understand the content and context of a webpage.
Finding and optimizing for related keywords can help you create content that ranks well for a large number of keywords—putting you in front of more potential customers. 
This article explores how to find related keywords and how to use them for your SEO strategy. 
Tip: Create a free Semrush account (no credit card needed) to follow along with the steps in this guide. 
How to Find Related Keywords 
Let's look at five ways to find related keywords. And dive into tactics you can use to avoid missing out on critical opportunities. 
Note: You should already have a list of seed keywords (broad keywords that describe the topics you want to rank for). If you don't, start by brainstorming a bunch of terms that are closely related to your business.
1. Do Keyword Research 
One of the easiest and fastest ways to find related keywords is to do keyword research using Semrush's Keyword Magic Tool. 
Enter your seed keyword, choose a country, and click "Search." 

You'll quickly see a list of related keywords and their most important metrics.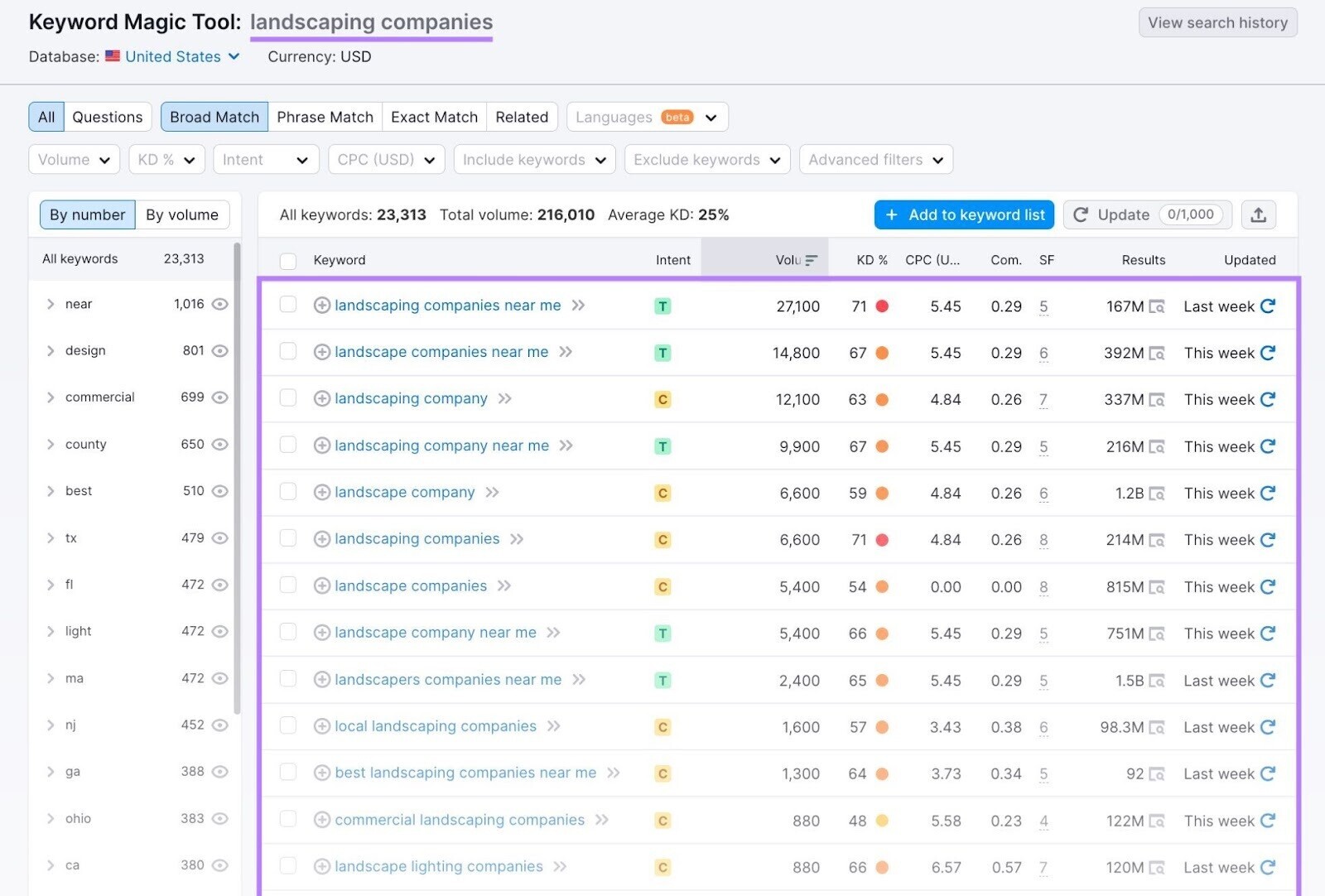 If you want to dive a little deeper, use the different match modifiers: "Broad Match," "Phrase Match," "Exact Match," or "Related."
Here's what each one means:
Broad match shows any variation of your seed keyword in any order
Phrase match shows keywords with the exact seed keyword in any order
Exact match shows keywords with the exact seed keyword in the exact order 
Related shows keywords similar to your seed keyword, based on having similar search engine results 
For example, if you select "Related" you'll see a list of similar keywords. And a "Related %" column that measures how closely the related keyword is to your seed keyword. 
The higher the percentage, the more relevant.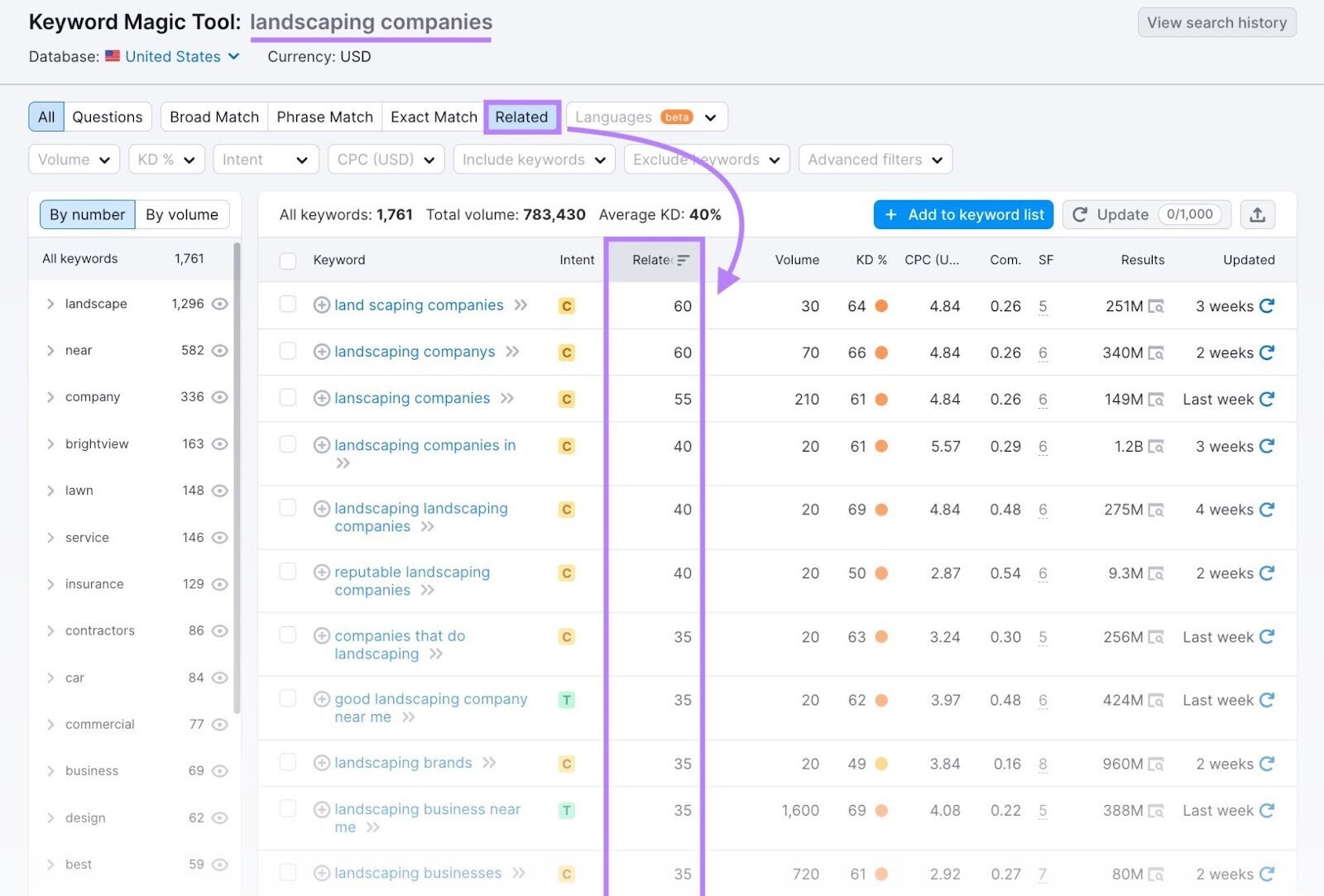 You can also click the "Questions" button to filter for question-based keywords that contain your seed keyword.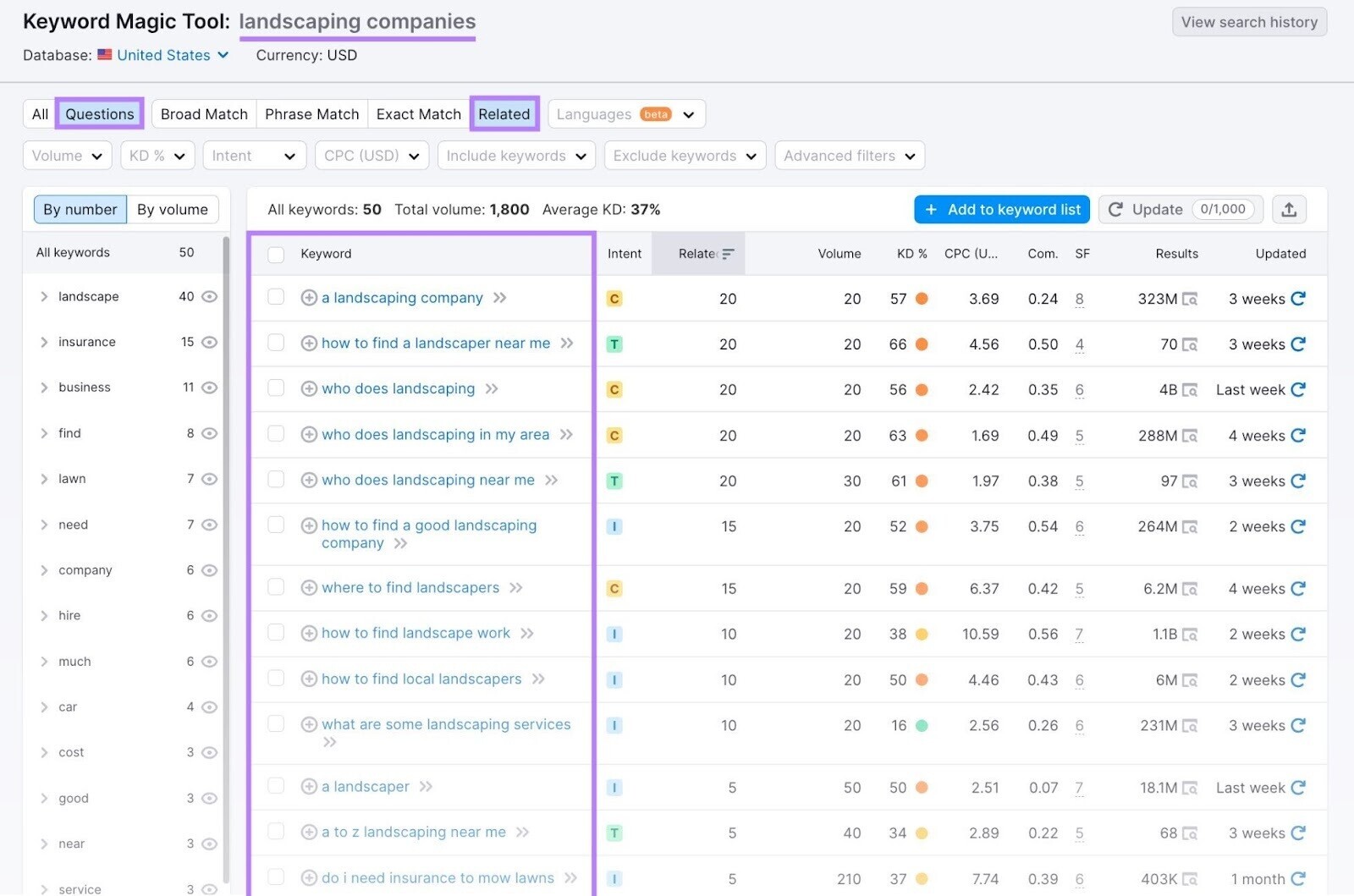 This helps you find related keywords that are easy to rank for and have informational search intent (meaning a user wants to learn more about something). 
Further reading:
2. Analyze Your Competitors
Another tactic for finding related search terms is to conduct competitor research. And the search engine results page (SERP) is a great place to start. 
First, run a quick Google search to see which pages are currently ranking for a query you're interested in targeting. 
Like this: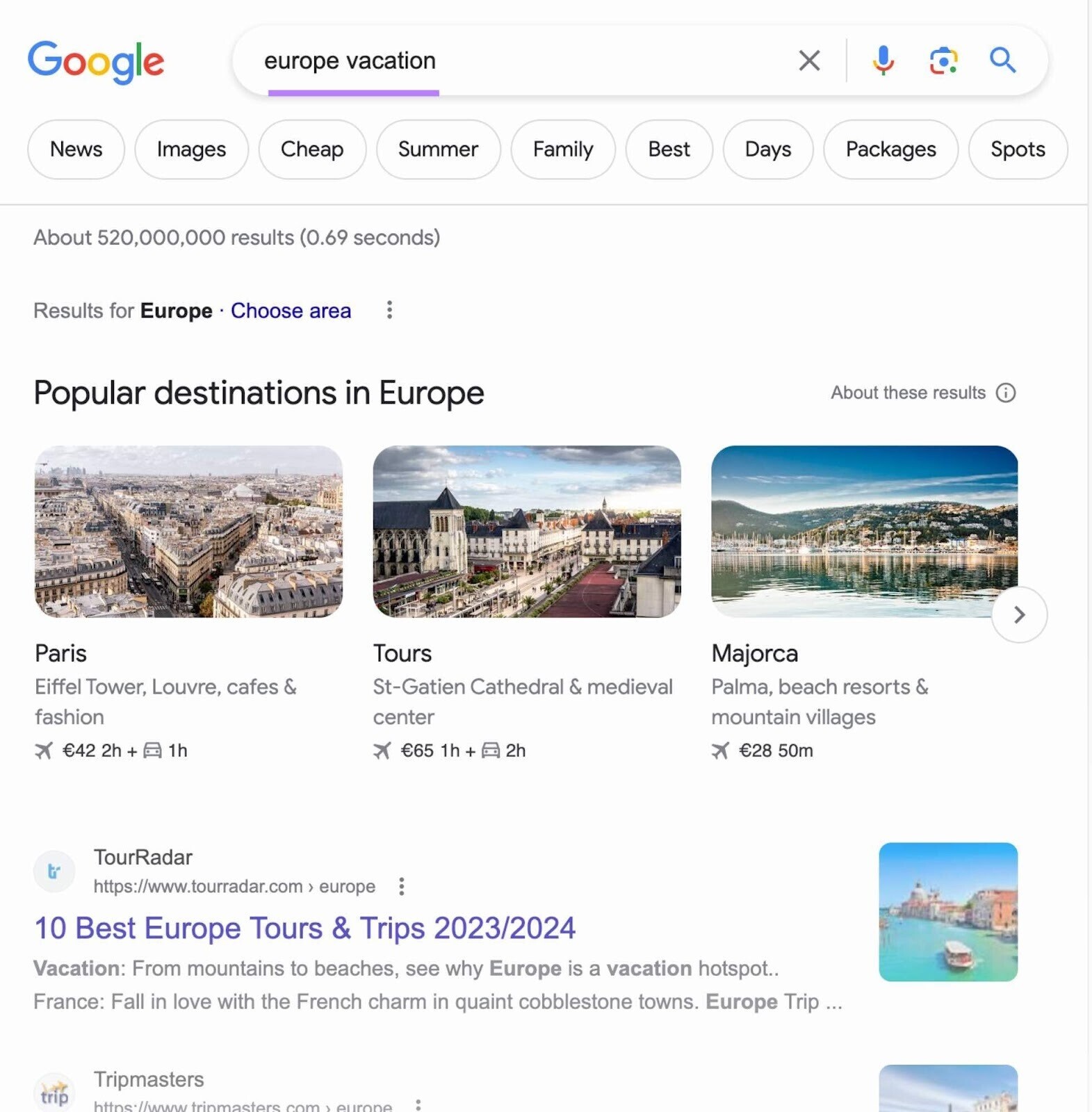 Then, run each of the top-10 ranking URLs through Semrush's Organic Research tool. One by one.
Here's how:
Enter the URL, choose a country, and click "Search."

On the next page, select "Exact URL" from the drop-down menu at the top.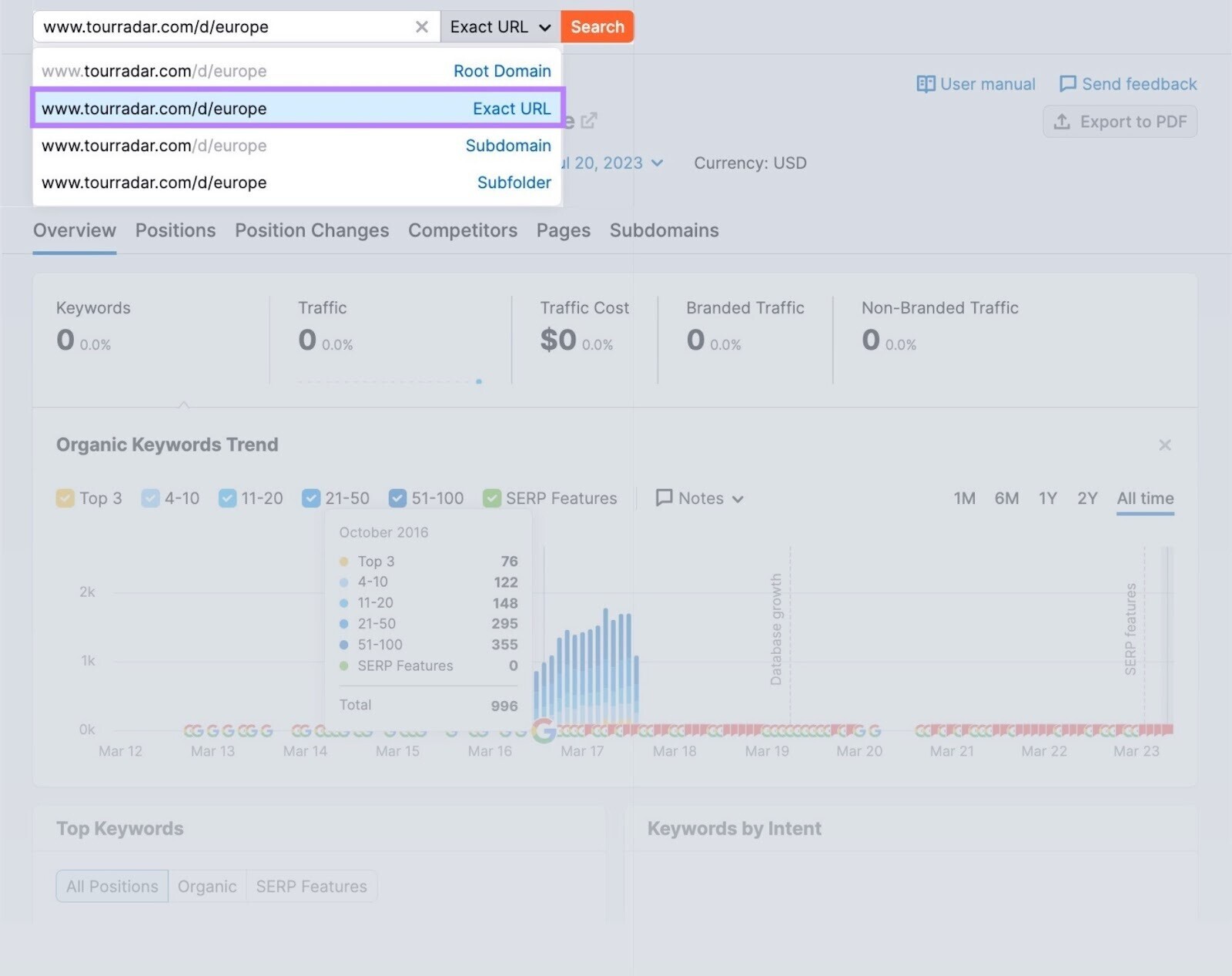 Now, click on the "Positions" tab. And you'll see the keywords that page is ranking for.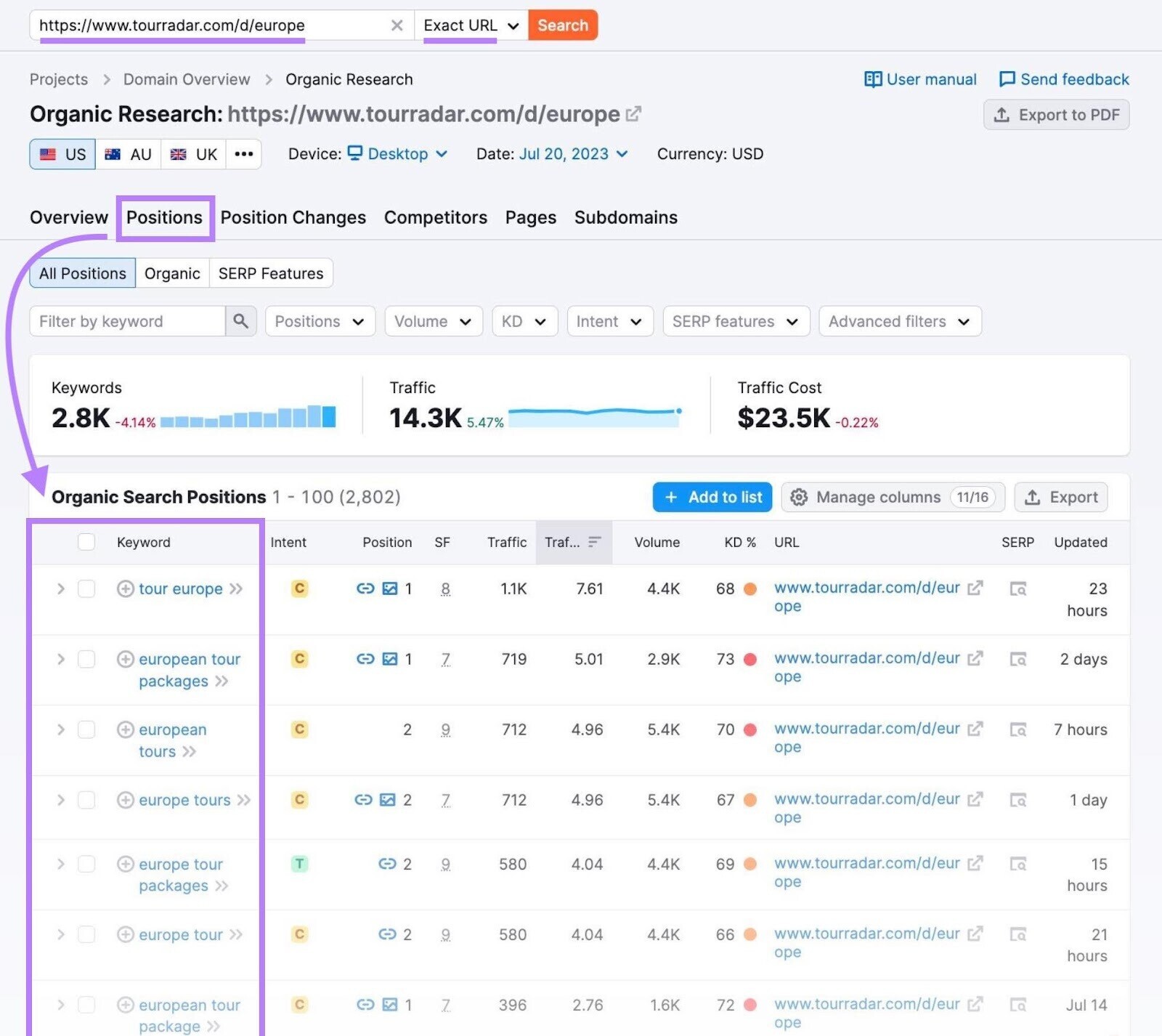 Do this for each of the top-10 ranking URLs. And you can put together a long list of related keywords. 
3. Leverage Content Creation Tools
There are tons of content creation tools out there. And though their main purposes might be different, some can help find related keywords. 
For example, Semrush's SEO Content Template. 
Start by adding your target keyword and clicking "Create content template." 
The tool will analyze your top-10 ranking rivals and share recommendations. Including a list of semantically related keywords. 
This means the keywords aren't necessarily synonyms. But they're closely related. 
They give context to your content. And help both users and search engines understand your page's overall topic. 
To analyze existing content, copy and paste the text into our SEO Writing Assistant. You'll see an "SEO" widget on the right that lists recommended keywords. 
These are related keywords you can add to your page to get better SEO results. 
4. Evaluate Your Content's Performance
Google Search Console (GSC) is a free tool that can help you understand how your site is performing in Google search. 
It shows you which keywords your pages are currently ranking for. Which means it can help you find related keywords you can add to your content. 
Note: To learn how to set up Google Search Console, check out our ultimate GSC guide. 
In the dashboard, click on "Search results" under "Performance." 
This page shows the queries your site is currently ranking for. 
To analyze a specific page, click "+ New" and select "Page" from the drop-down menu.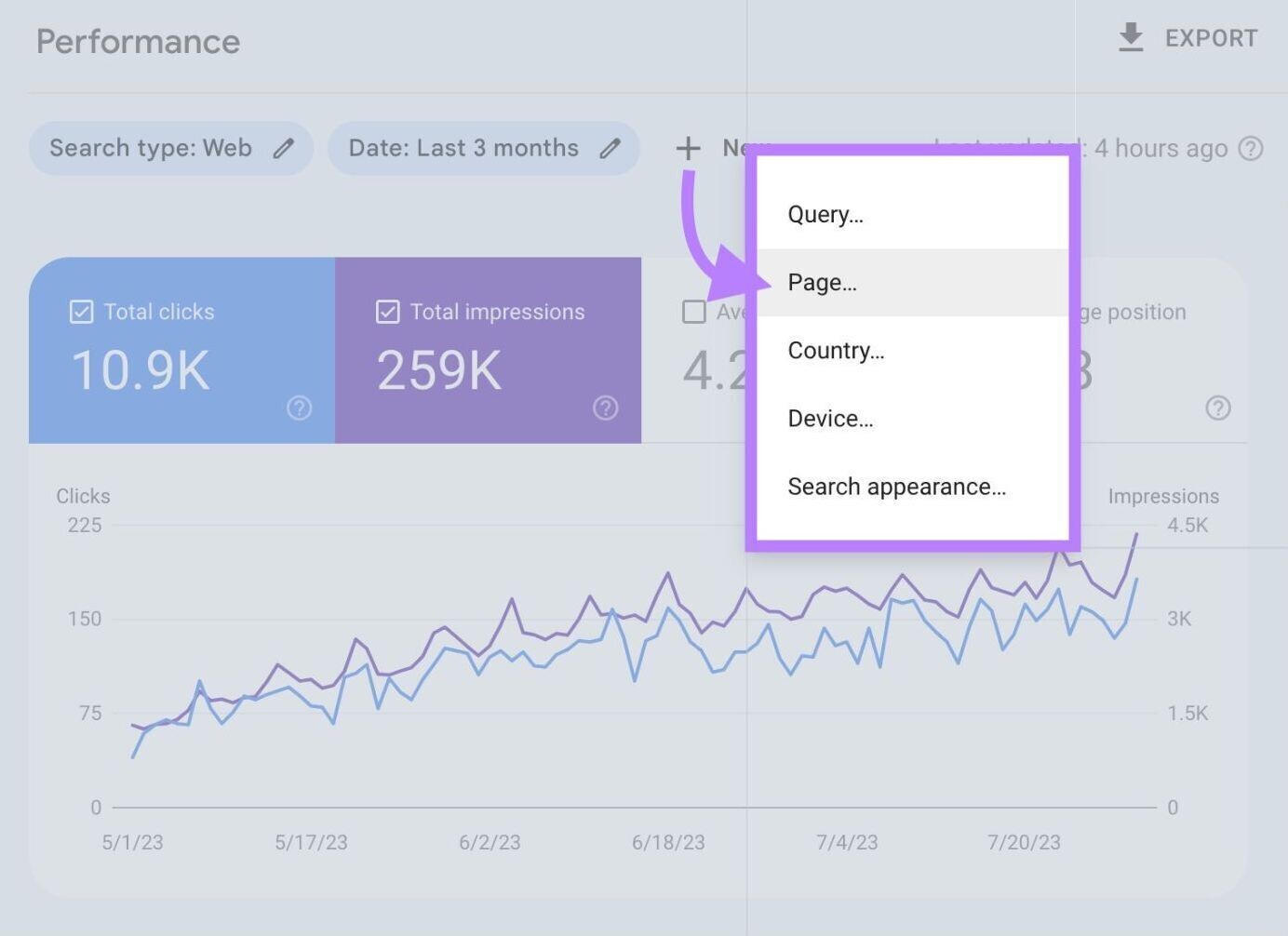 Then, select "Exact URL" from the drop-down menu, add the page's URL, and click "APPLY."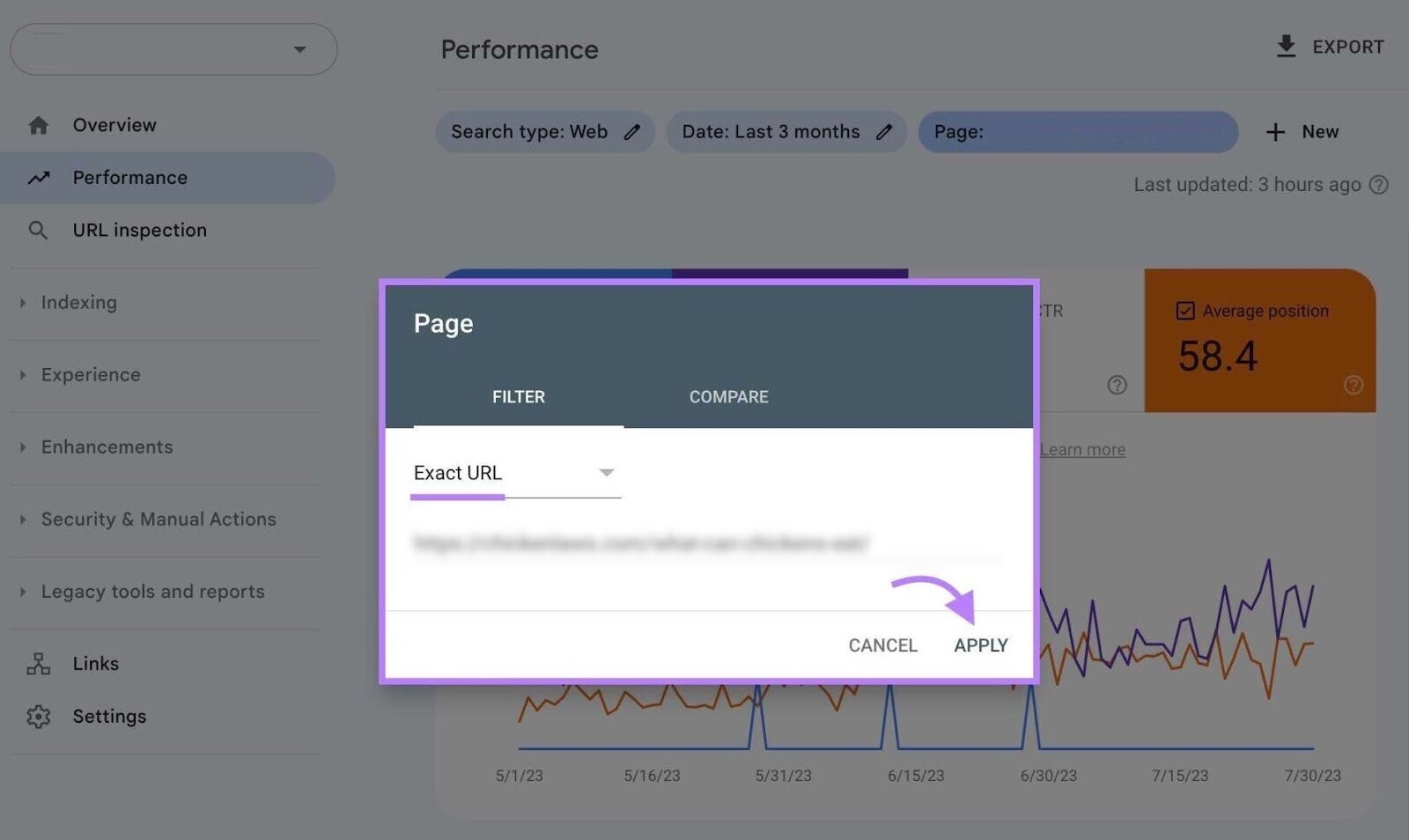 Check the "Average position" box at the top and scroll down to see which keywords the page is ranking for.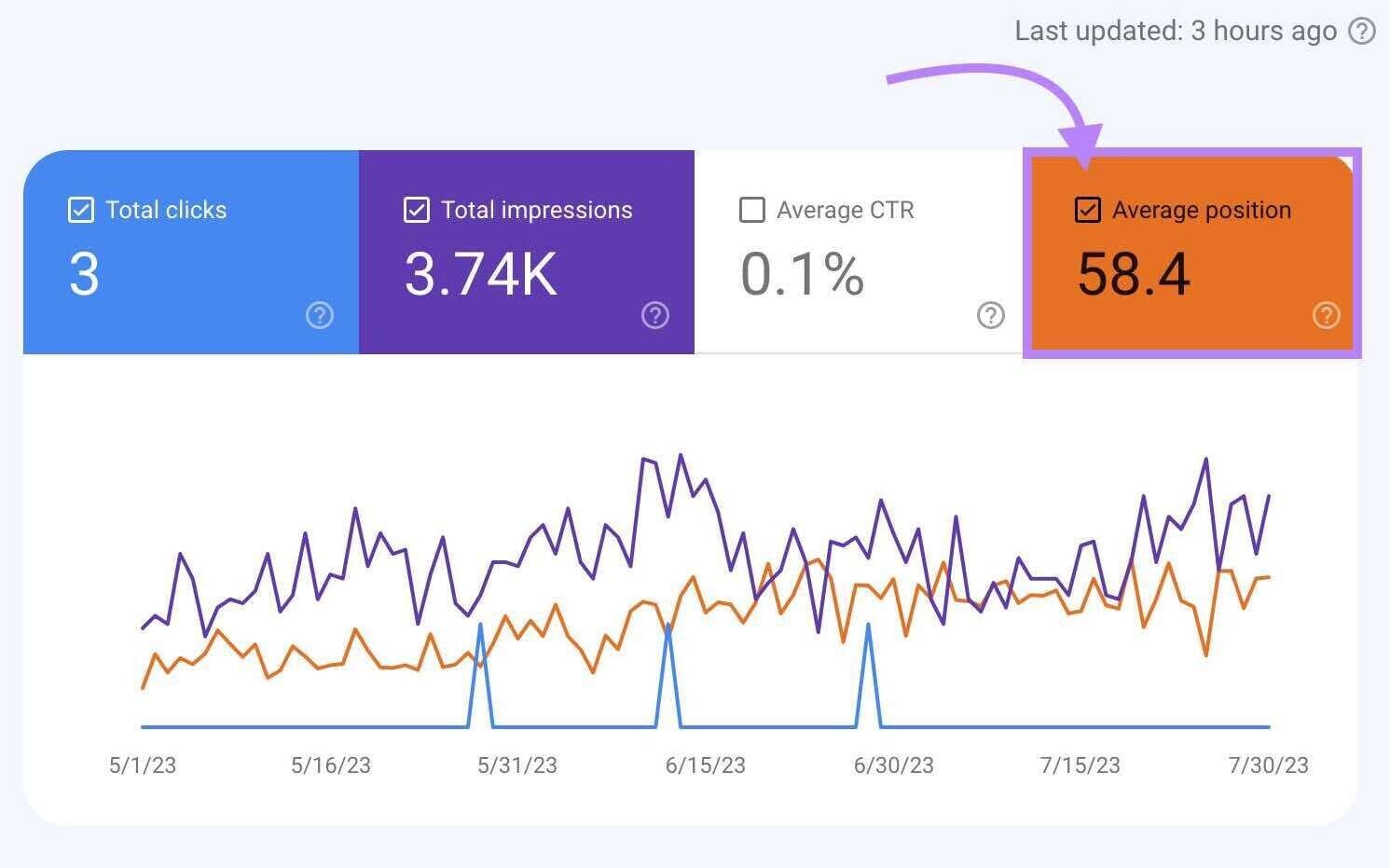 Now, go back to your content and make sure it contains these related keywords.
For example, when we look at this guide for what chickens eat, we can see we're currently ranking for these queries: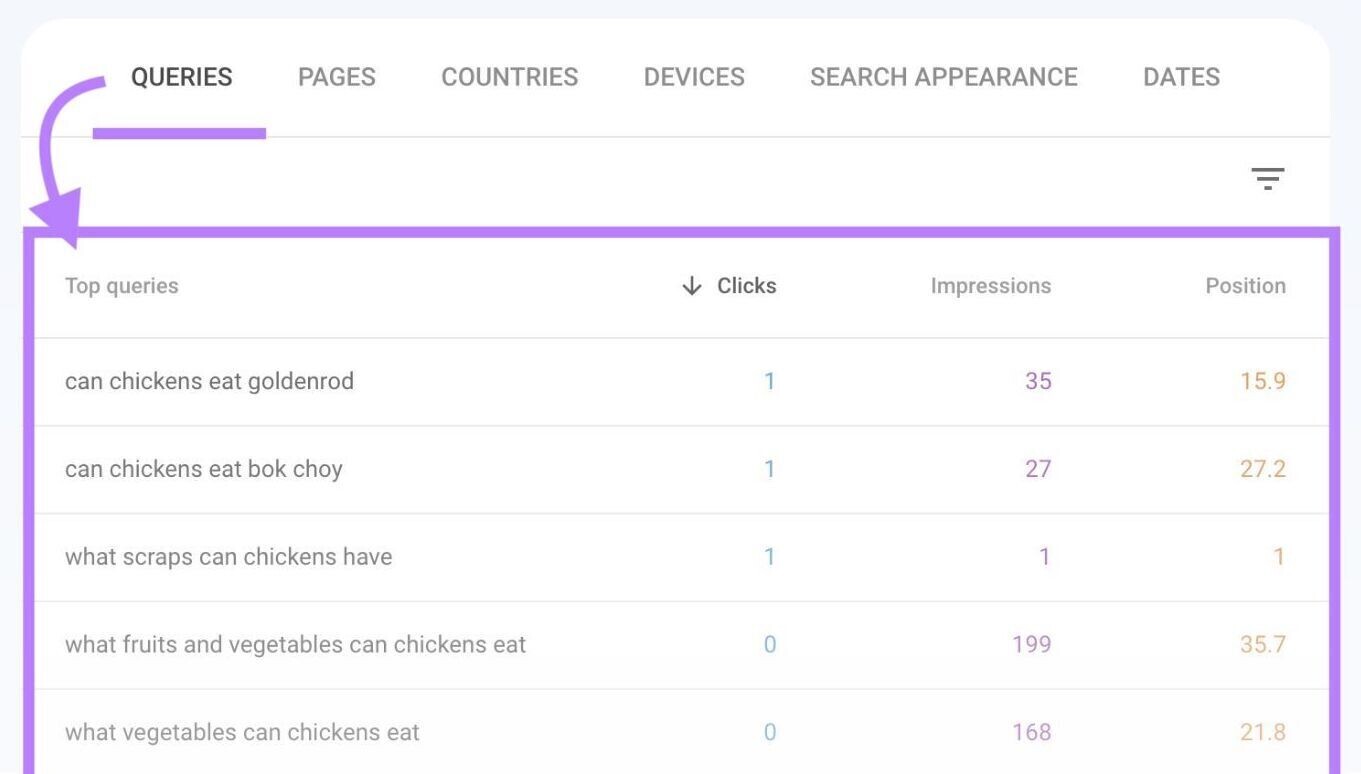 This guide currently doesn't mention bok choy. But folks are searching for it. 
So, we could add a new "bok choy" section to our guide. 
It'll make our content more valuable to readers. And could help us get more clicks since it'll now rank for additional keywords. 
5. Use Google Autocomplete and Related Searches
You can also find related keywords using Google. 
Autocomplete is a feature within Google that predicts what you're going to search for once you start to type.
And those search terms are all related keywords. 
For example, you could type "off page SEO" into Google if you're writing an article on that topic. 
Like this: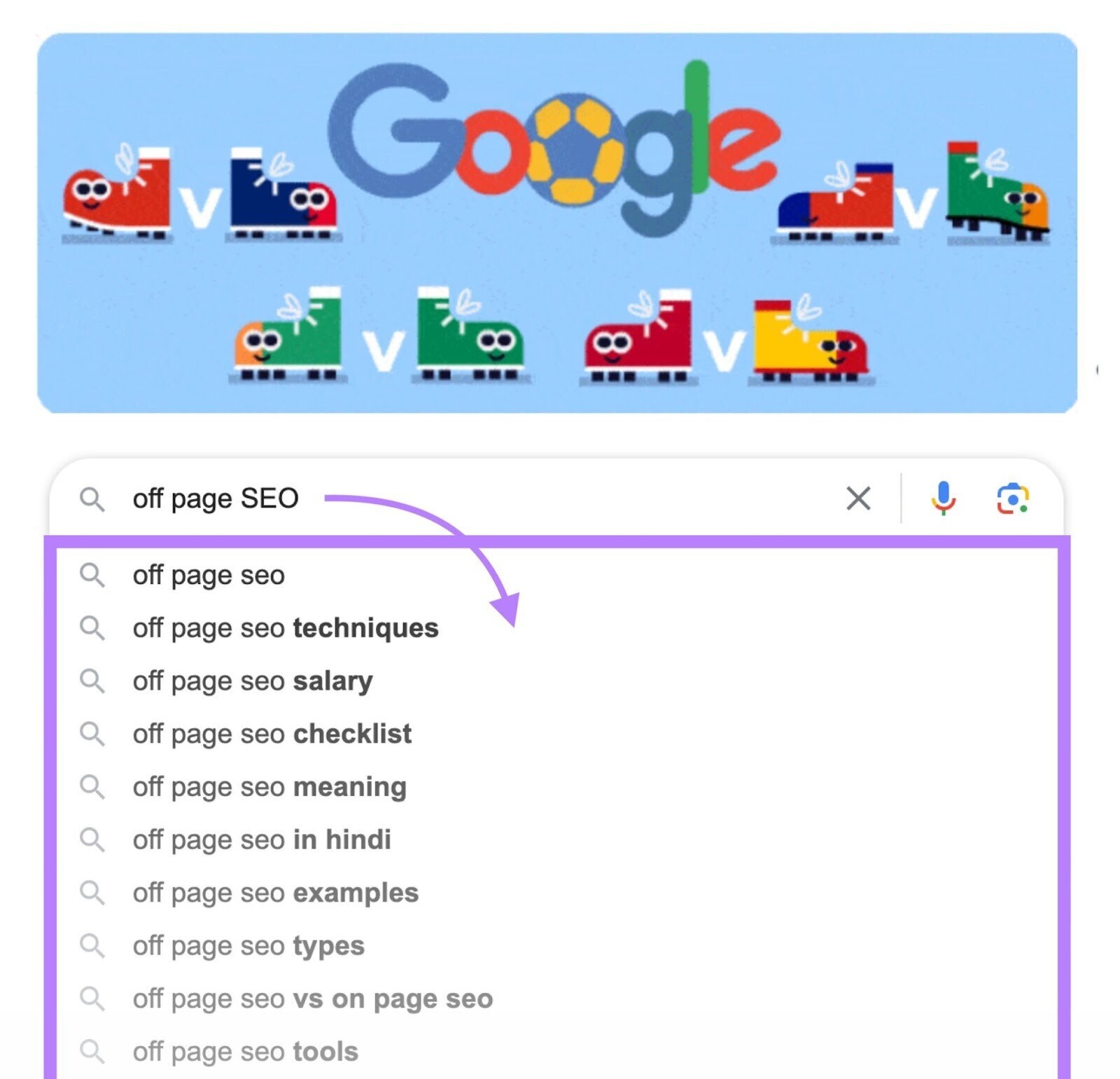 All these predictions are related search terms you can add to your content. After all, they reflect real searches people have made on Google. 
You can also use another Google feature called "related searches." 
If you search for "off page SEO" again, scroll down to the bottom. And you'll see a block with related keywords. 
These are keywords Google believes are strongly related to your search term. 
How to Use Related Keywords to Optimize Content 
Once you've identified your related keywords, here's how you can use them in your content. 
Build Topic Clusters
Topic clusters are groups of strategically interlinked pages that focus on a specific subject. 
They help search engines understand your site's structure. And can help validate your authority around a specific topic. 
And they're structured around three components:
A central "pillar" page focused on your main topic
A "cluster" of pages covering related keywords
Internal linking between the pages
Like this: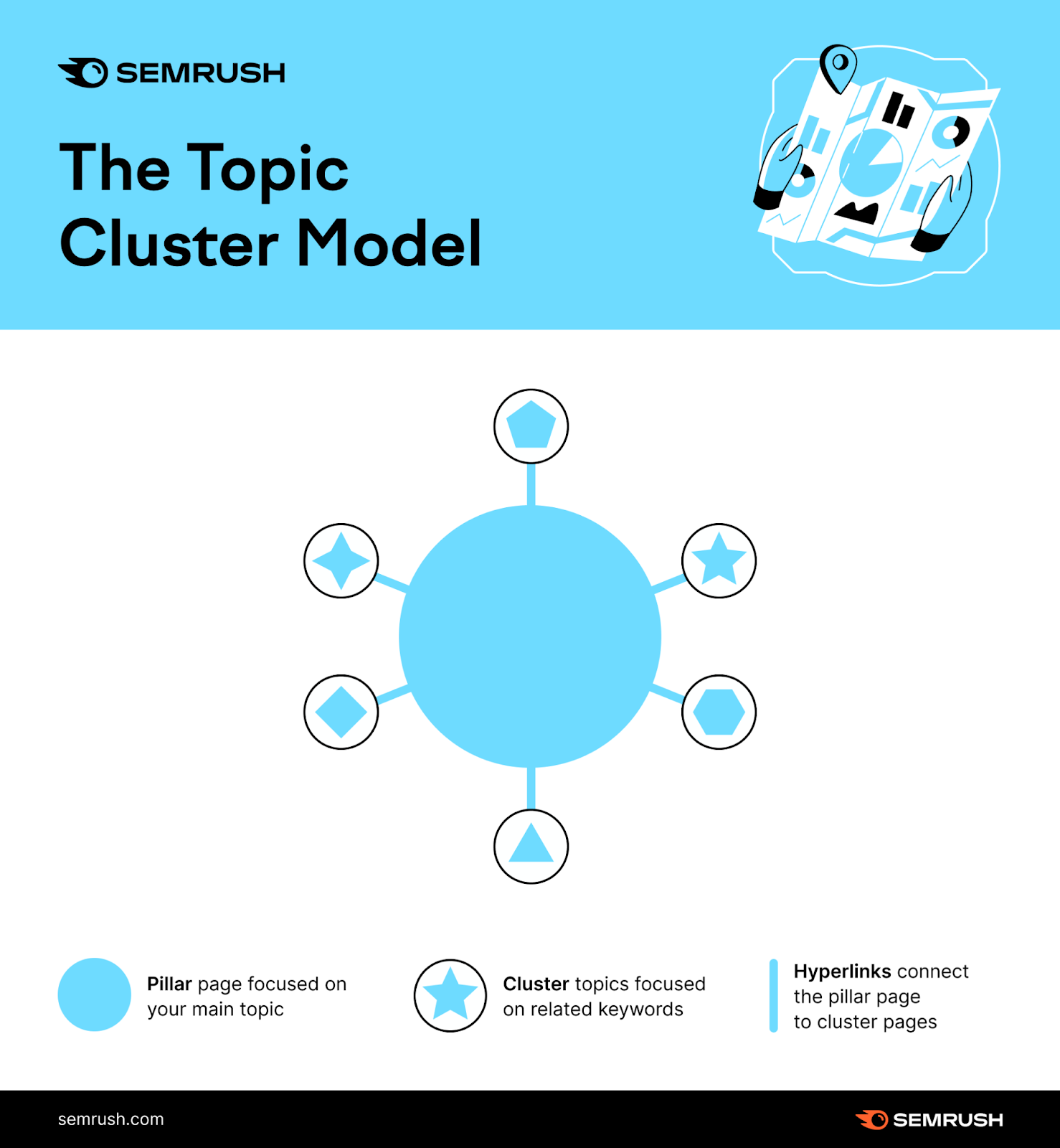 Essentially, your pillar page would focus on your main keyword and mention your related keywords. 
And your clusters would cover those keyword variations in more depth. 
For example, if your main keyword is "copywriting," your cluster might look something like this: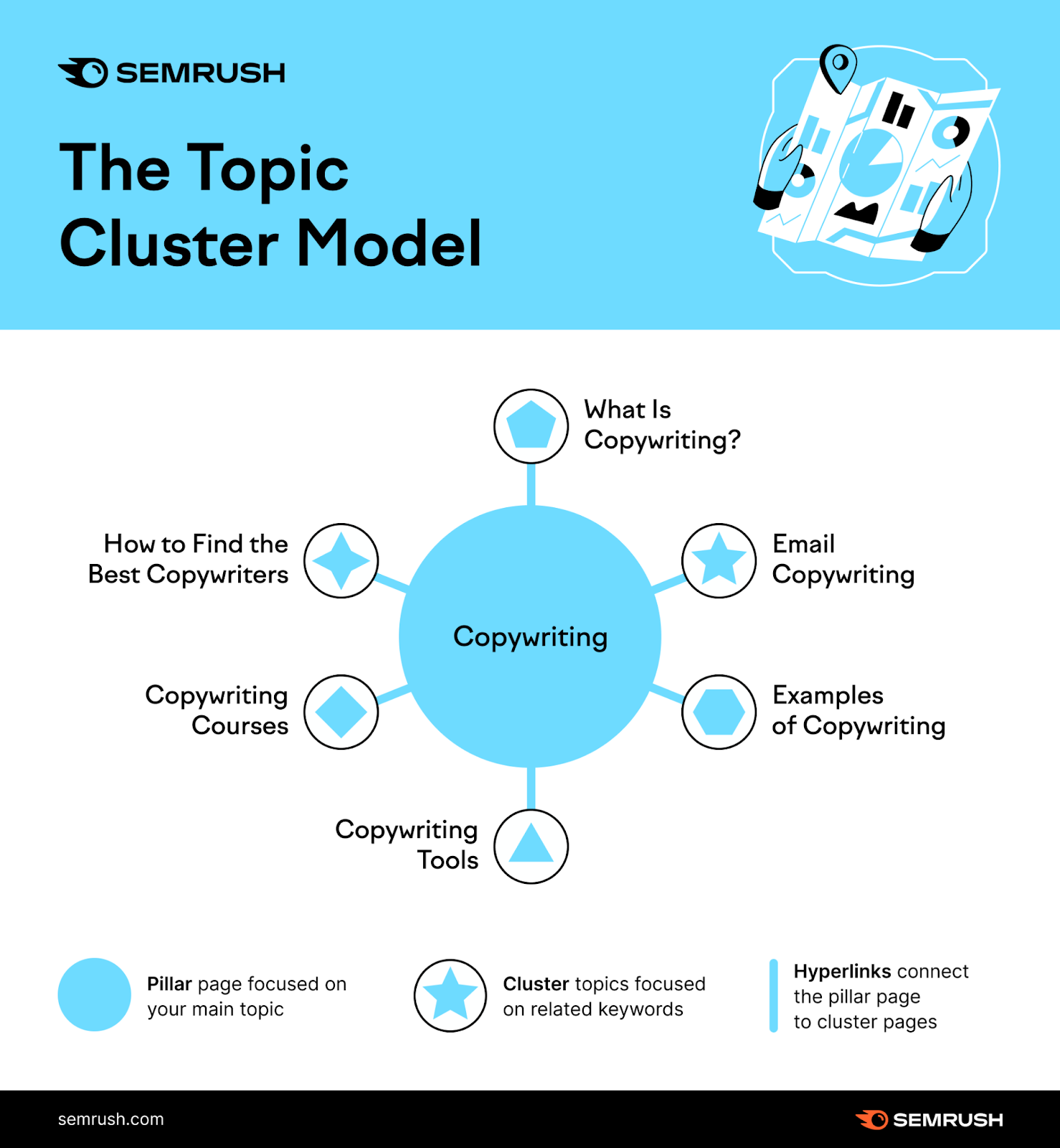 Using related keywords this way helps you cover topics more comprehensively. And enables you to build topical authority and position yourself as an expert.
Add Relevance to Existing Content
Search engines like Google use keywords and context to determine whether a page is relevant to a specific topic. Meaning it contains information that addresses a searcher's query.
And relevance is one of Google's main ranking factors. 
Their systems will see whether you've used your main keyword in the title, headings, and body. 
But Google also looks for relevance in other ways—including pictures, videos, and related keywords.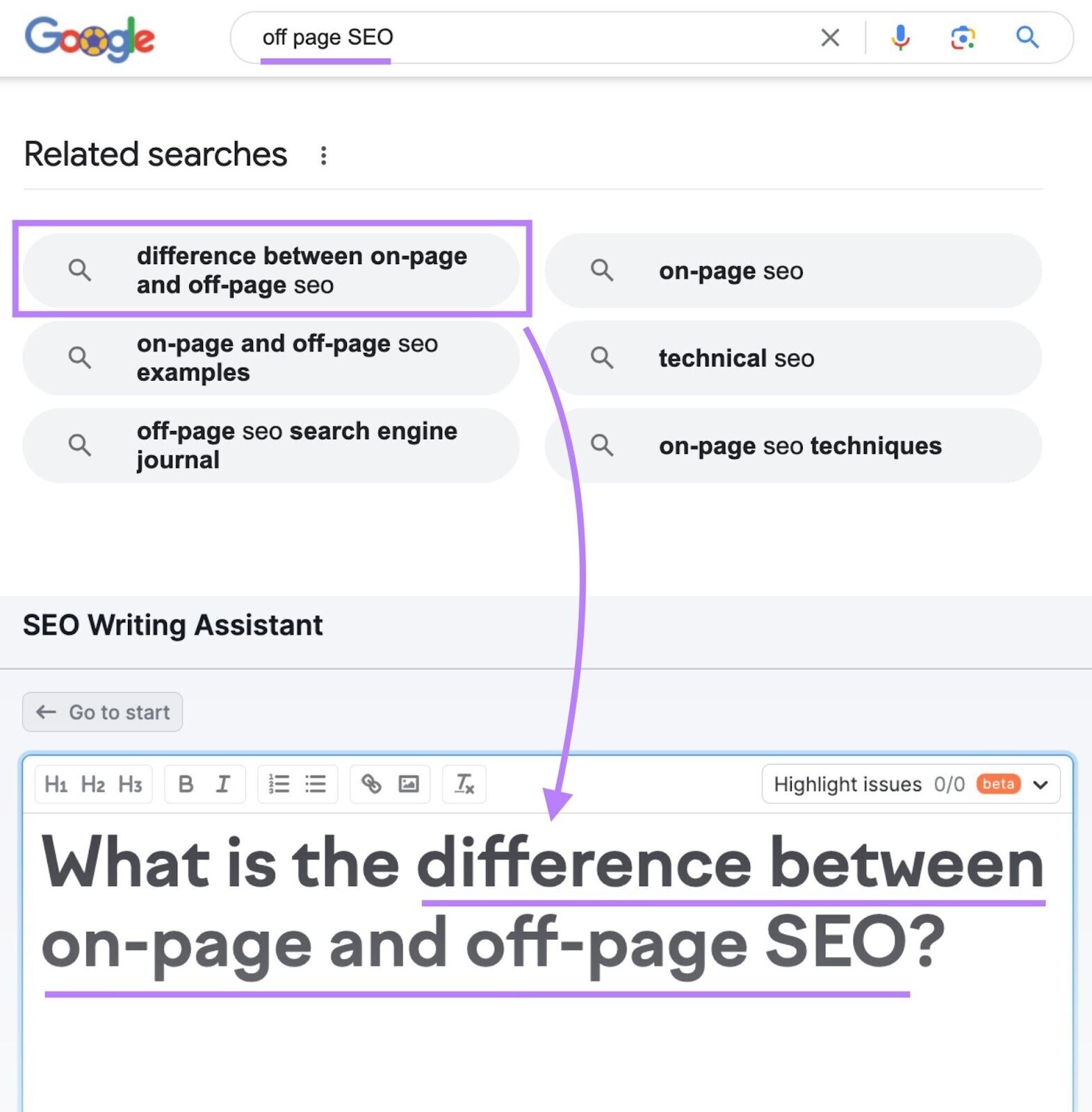 Which means:
If your content doesn't include any related keywords, Google might believe your page isn't relevant to the main keyword. 
So, use related keywords (where they sound natural and make sense) throughout your copy when optimizing content. 
Use Your Keywords Effectively 
Once you've identified and used your related keywords, it's time to take it a step further. 
And that means continuously analyzing your keyword usage and optimizing your content. 
You can easily do that with a tool like On Page SEO Checker. 
Configure the tool for your priority pages and target keywords. And you'll get tons of on-page SEO ideas, so you can optimize your pages: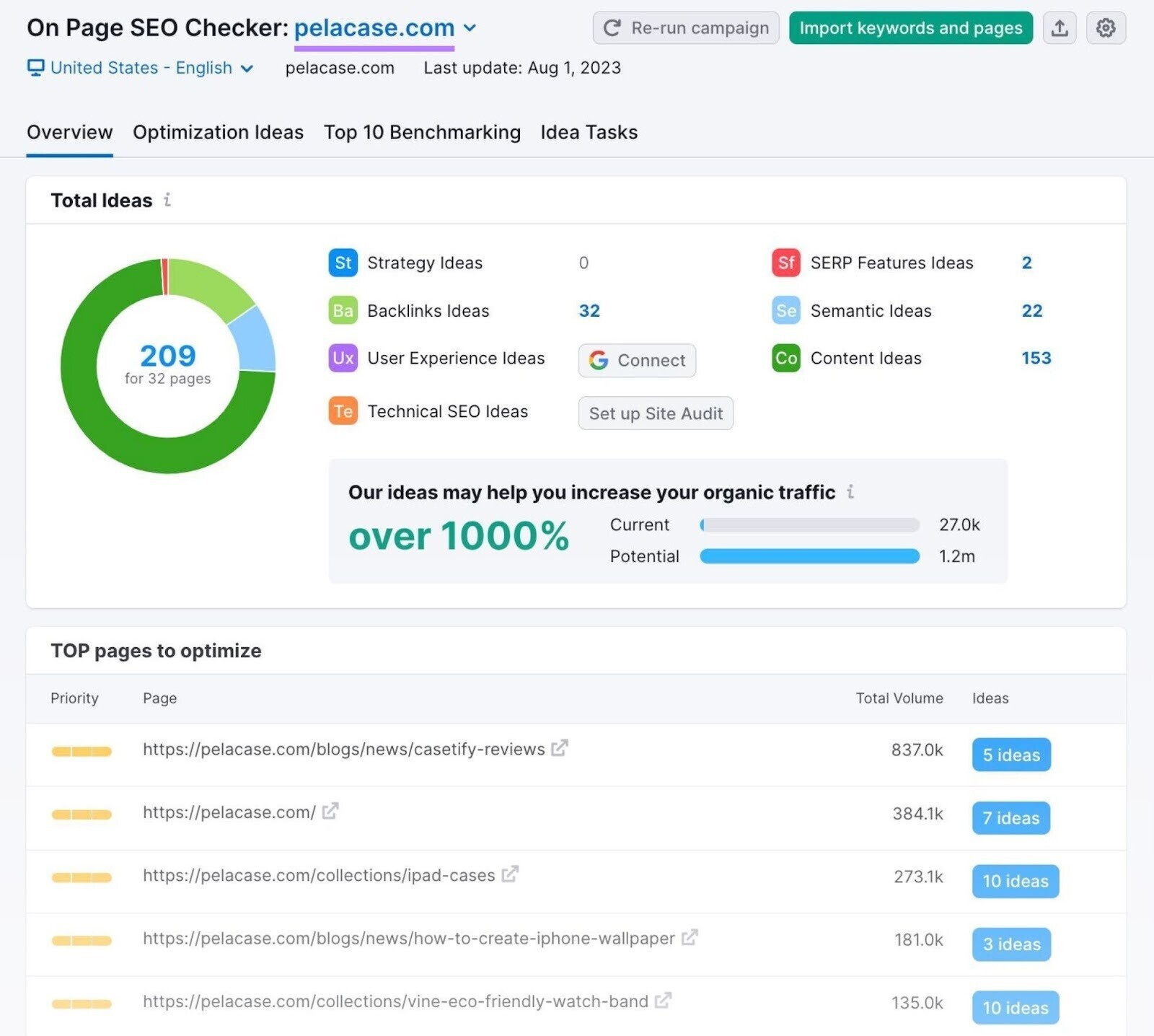 To see the secondary keywords you should add, click on the number beside "Semantic Ideas."
You'll see a table with the pages that could benefit from having more related keywords—which you can conveniently sort by priority. 
(Priority helps you understand which pages you should optimize first for the best results.)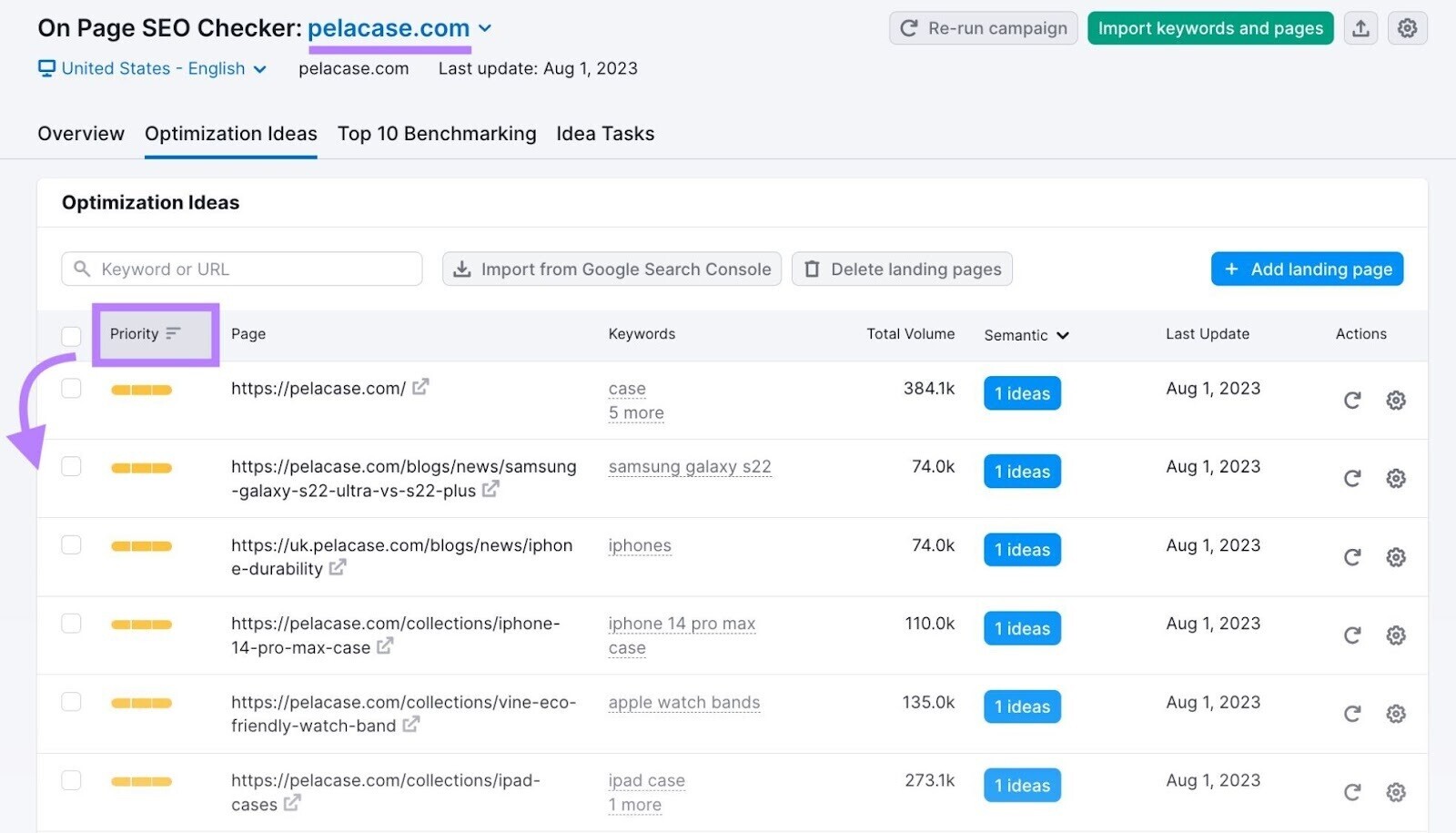 Click on the "# Ideas" button in the "Semantic" column.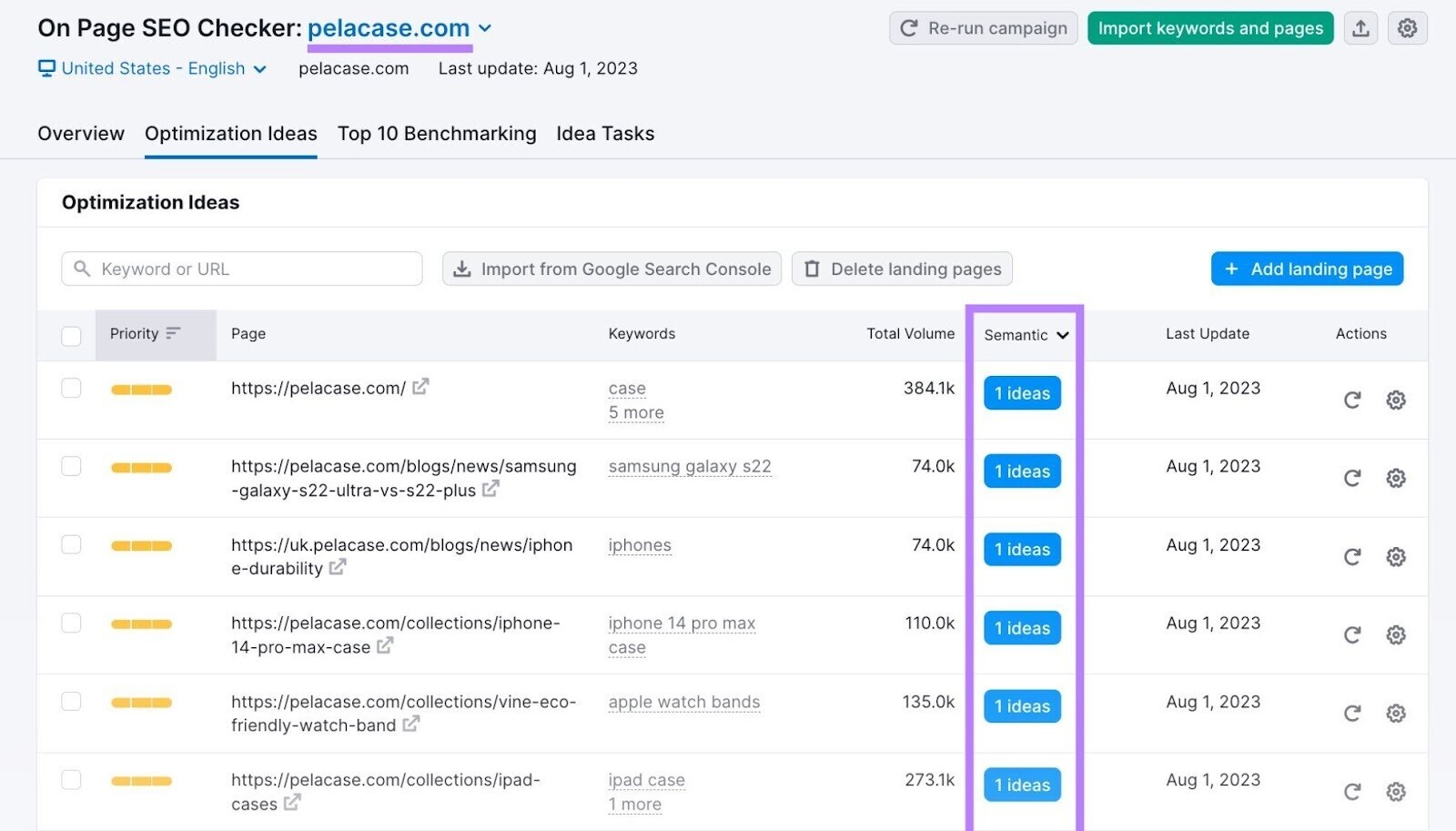 The tool will take you to the "Semantic" row in the "Optimization Ideas" tab. 
You'll see the exact keywords you should add to the page to improve its quality. And make it more relevant to searchers.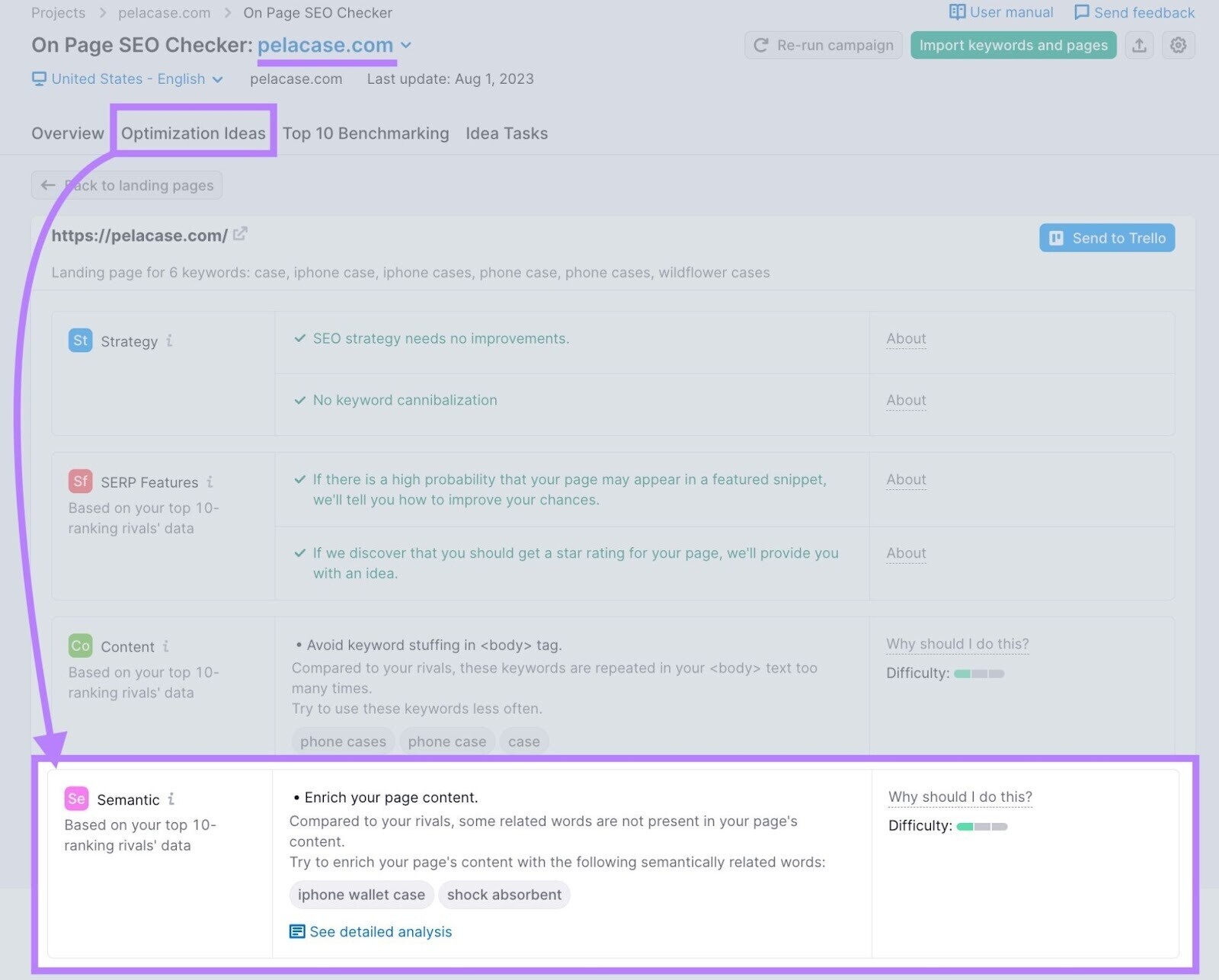 Do this for all the pages in the report, and you should see better performance.