In the summer of 2020, LEGO® launched a marketing campaign for their new product: Braille Bricks by LEGO®. 
Designed to help children who are blind or visually impaired learn the Braille system of reading and writing, Braille Bricks was launched in twenty countries over the next six months following a successful pilot program. 
This launch was driven by a strategic, well-coordinated marketing campaign that included: a dedicated website, video, press releases, media coverage/PR, social media, ads, webinars, and more.
In addition to developing an incredibly valuable and innovative new product, LEGO's global launch of Braille Bricks offers an insightful glimpse into just how many content assets, channels, and promotional strategies can go into executing a successful marketing campaign. 
If you're new to developing marketing campaigns, or simply want to learn how to make them more effective, this guide can help. 
Let's dive into the steps and stages that marketing teams should go through to achieve successful outcomes from their marketing campaign. 
What Is a Marketing Campaign?
At its most basic, a marketing campaign is simply an approach marketers use to promote their company's products, services, or resources. 
However, for a marketing campaign to have a fighting chance at being effective, that approach should start with a clear strategy and detailed plan.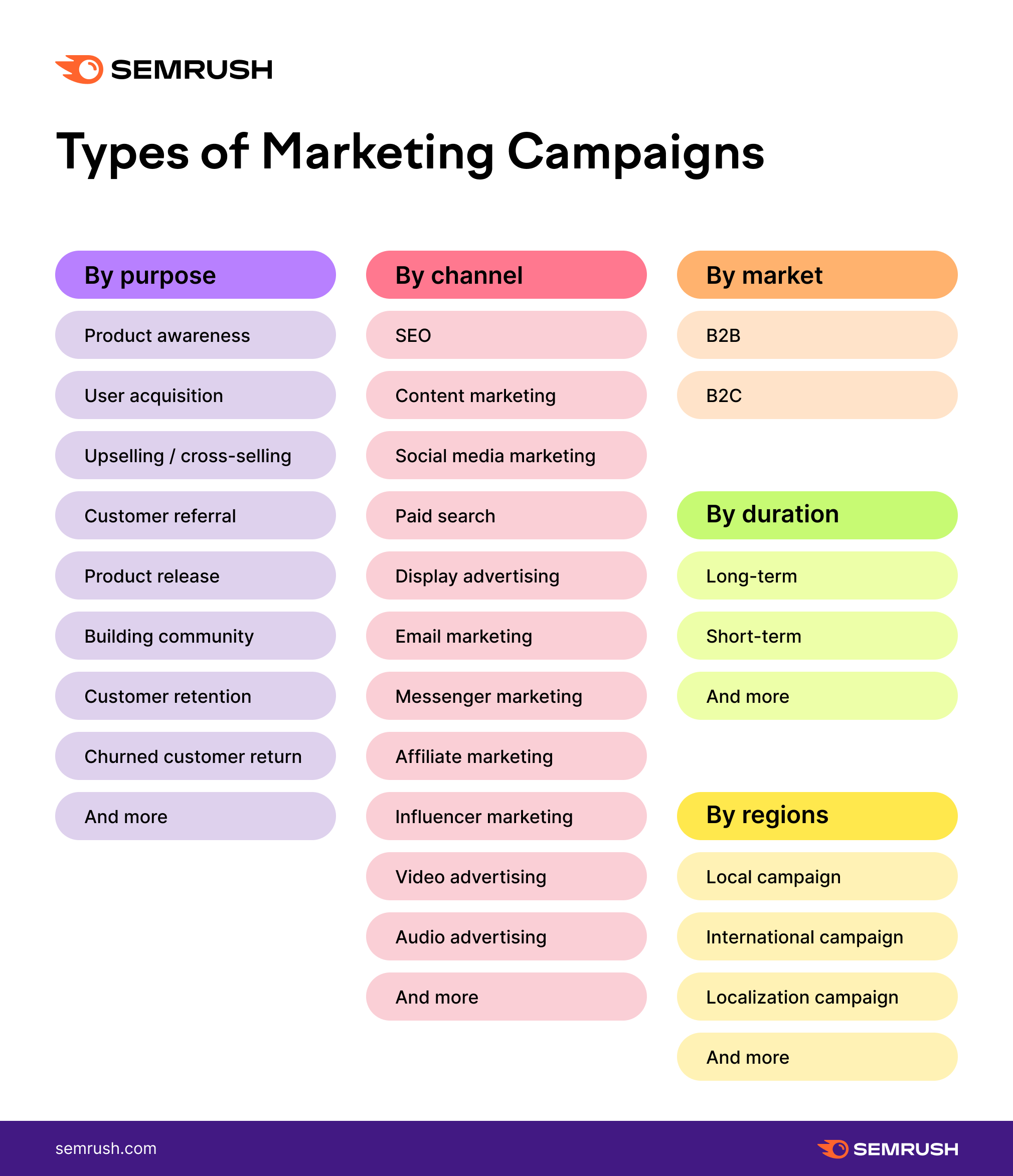 Marketing Campaign: Strategy vs. Plan 
Think of the strategy component of your marketing campaign as a destination you're wanting to reach. Before you can know how to get there you need to know where you're going. It can also help to know why you're wanting to get there and who'll join you in your journey. 
Applying this to a marketing campaign, your strategy should clearly identify:
Where you want to get to (objective)
Why you want to get there (purpose)
Who you want to connect with along the way (target audience)
Who will help you get there (team)
How much it'll cost to get there (budget)
When you plan to get there (timeline)
What success looks like (KPI)
If the strategy is akin to the destination, then the marketing campaign plan is your roadmap for getting there. It lays out how your strategy will be executed. Ideally, it should clearly identify:
What needs to be done (tactics)
How should it get done (activities/tasks)
Who will do what (roles and responsibilities)
When the activities and tasks need to be done (deadlines)
How much to spend on what (expenditure of budget)
How success will be tracked and measured (metrics)
Whether your marketing campaign is focused around a specific product, has a small budget and will only run for a month in a narrow geographic location, or is a large, global, multi-month initiative with a significant budget, the point is that the first few stages of your campaign should be focused on defining your strategy and plan. 
Now that we've covered this at a high level, let's dig a bit deeper into each of these segments.
Structuring Your Marketing Campaign Strategy
While traveling without a clear destination may work for a free-spirited wayfaring wanderer, in the world of marketing, that's an approach that risks wasting both time and money. 
To help you ensure you're not meandering with your marketing campaign, take the time to consider — and answer — these questions:
What's Your Objective? 
The answer to this question should (ideally) tie back to a larger business purpose. 
Let's circle back to our LEGO® Braille Bricks example from the beginning of this post. Based on LEGO's communications around their campaign, we can speculate that an objective for this campaign was to promote inclusive learning in a fun, engaging way. 
Why This Objective? 
Another way to phrase this is, what's the purpose of this marketing campaign? 
In LEGO's case, the WHY behind their campaign was clearly stated in their press releases and marketing assets: "To help children with vision impairment learn critical thinking, problem-solving and collaboration through play."
Now, the purpose behind your marketing campaign doesn't have to be as benevolent as this, but it's important for you and everyone involved in the campaign to understand — and get behind — why the time, effort, budget, and resources are being put into this campaign. 
Other common "why's" behind marketing campaigns include: 
Generate high-value leads to support the sales team
Increase our company's brand awareness in the X market that we're expanding into
Raise awareness of our new product or service to boost sales and reach a new audience segment
Nurture existing customers to reduce acquisition costs, increase lifetime value and demonstrate your appreciation of them. 
The key is to include the WHY behind the WHAT. For example, "Increase brand awareness" is a what. What you really want and need to get at is, why do you want/need to do that? 
And taking this a step further … it's even more valuable to clearly answer the question, "Why would my intended audience care about this?"
Who Do You Want to Connect with Along the Way? 
The heart of this question is, who is your ideal and intended target audience for this campaign? This is also referred to as your "buyer persona".
Returning to the Braille Brick's campaign, their communications and content made it clear that the primary target audiences for this campaign were:
Children and youth with vision impairment
Parents or family members of children with visual impairment
Educators 
Why does this matter? Because, in the words of Seth Godin, "Everyone is not your customer." It's essential that you are clear about who you are trying to reach and add value to through your campaign. 
If you haven't created a persona (or personas) of your ideal customer, check out our post: " How to Create Your Buyer Persona".
Who will Help You Get There? 
Most marketing campaigns, even short-running ones with small budgets, need a team to help bring it to fruition. So, who are the individuals you'd need to rely on to successfully implement and measure your marketing campaign? This roster might include: 
Marketing Director
Creative Director
Content Director / Manager
Digital Marketing Director / Manager
SEO Director / Manager
SEM Director / Manager
Social Media Director / Manager
Content Writer(s) (in-house and/or freelance)
Designer(s) — graphic, motion, illustrators, etc. (in-house and/or freelance)
Web Developer
UX Designer
Email Marketing Strategist 
Video Producer
Data analyst 
Public Relations Manager (in-house or agency)
External agency/agencies
How Much will It Cost to Get There? 
After taking into account What you're wanting to accomplish, Why you're wanting to accomplish it, and Who will help you accomplish it, it's vital to look at how you're going to pay for it; in other words, your budget. 
Most of this will likely go toward the creation of assets you'll need for your campaign and paying for the ads to promote those assets. However, other budget considerations include web hosting and development costs (if you'll have a full site or subdomain dedicated to your campaign), bonuses to influencers or affiliates, postage if doing any direct mail, and any additional tools you may need to use to efficiently and effectively execute your campaign. 
When Do You Plan to Get There? 
Whether you want your marketing campaign to run for a few weeks, a few months, or even longer, setting a clear start and end date is important — not just for performance measurement, but also for proper budget and resource allocation.
What Does Success Look Like?
Your key performance indicators (KPIs) for your marketing campaign should tie back to your objective and purpose. 
For example, if your objective is to promote a new product or service, your KPI might be "X amount in sales revenue." And if your purpose is something like LEGO's — to help blind and visually-impaired children learn Braille in a fun, playful, engaging way — then you might have a KPI around customer satisfaction, the share of voice, and/or social engagement. 
Preparing your Marketing Campaign Plan
Okay, now that you know where you're going with your marketing campaign, the next stage to focus on is your plan to get there. 
What Needs to Be Done?
To bring this campaign to fruition, what tactics will you take? 
Answering this question can be one of the most challenging and time-consuming steps in this process as there can be many pieces, parts, people, processes, perspectives, paths, and priorities to consider. Some of these include: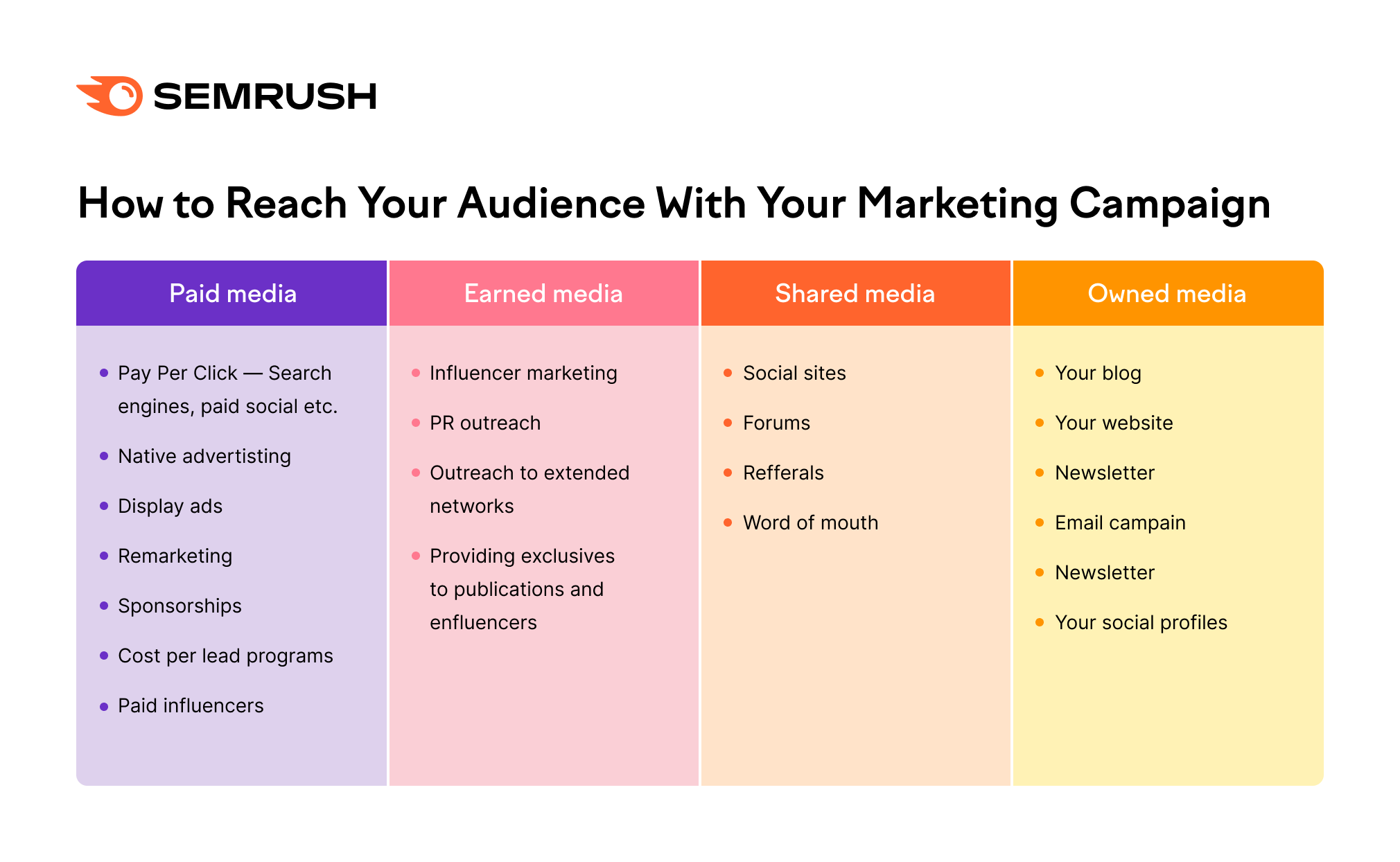 Content types involved in the campaign. E.g. Blog posts, email, paid ads, video, infographics, webinars, press releases, testimonials, podcasts, etc. 
Messaging creation. What do you want to say and how do you want to say it? What do you want your calls-to-action to be?
Conversion Steps. Aligned with messaging, where do you want to take your target audience after they engage with your content? What's the next step in their engagement journey? 
Design. Is there a theme to your campaign? What should the overall look and feel of the design be for all components of the campaign? 
How Should Those Tactics Get Done? 
Said differently, what specific actions need to be taken. For example, if you've determined you'll leverage blog posts, paid ads, and video in your marketing campaign, the tactic might be to create 10 blog posts, 5 paid ads, and 2 videos that focus on X, link to Y, and are distributed by A, B, and C channels. 
Who will Do What? 
Going back to your "Who will help you get there" question in the marketing campaign strategy stage, the answer to this planning question should focus on assigning ownership to the various tasks that need to be completed to accomplish the tactics that will get you closer to achieving your objective.
In short, this is your delegation step. 
When Do the Activities and Tasks Need to Be Done?
Your mighty marketing campaign needs deadlines for each tactic they are accountable for. It helps keep them on track, know what time parameters they have to work within, and establishes clear expectations. 
Marketing calendars can be a valuable tool for providing clarity into what's due when, what's being worked on and by whom, what's been completed, etc. This transparency can foster collaboration and cohesion throughout your marketing campaign. 
How Much to Spend on What? 
Your overall marketing campaign budget should be set in your Strategy stage. How you'll allocate that budget should be determined in your planning stage. 
This relates to the What (tactics) and How (activities) of your plan. If you want to run paid ads, do videos, and work with influencers or affiliates, this is the step where you determine how much you're willing and able to spend on each. 
How will You Track and Measure Success?
If a KPI is a measurable value tied to your marketing campaign strategy, then your planning stage should use more granular measurements — metrics — to help you achieve or optimize your KPI. 
For example, if your KPI is $100,000 in revenue from your new product sales, then the metrics you might track and measure might be related to the specific tactics you're employing to contribute to driving sales. 
See below for examples of metrics to track depending on the type of content you're leveraging for your marketing campaign. 
Type of Content

Metrics to Track

Email Metrics

Click-through rate
Bounce rate
Conversion rate

Social Media (Paid) Metrics

Click-through rate
Conversion rate
Cost per click
Cost per-conversion

Social Media (Organic) Metrics

Passive engagements (likes and shares)
Active engagements (comments)
Follows
Click-through rate

Lead Magnet/Content Offer Metrics

Opt-in rate
Cost per opt-in
Follow-up email open rate
Opt-in conversion rate

Display Ads/Paid Media Metrics

Cost per thousand impressions
Click-through rate
Conversion rate
Cost per conversion

Content/SEO Metrics

Click-through rate
Bounce rate
Time on page
Page scroll depth
Conversion rate

Direct Mail Metrics

Response rate
Cost per conversion
The average revenue per conversion
Supporting Your Marketing Campaigns with Semrush
If the above insights have conveyed anything it's that marketing campaigns, especially successful marketing campaigns require a substantial amount of thought, time, resources, and collaboration.
Fortunately, tools do exist to help streamline, simplify and scale parts of the process. In a shameless (but hopefully helpful) plug, here are a few Semrush tools that many marketers find invaluable in their marketing campaign strategy and planning process: 
Campaign Planning:
Campaign Preparation and Implementation:
Campaign Tracking and Analysis:
Integrations that offer a variety of connections of Semrush with other tools to help obtain more precise data.
My Reports tool makes it easy to integrate modules from dozens of Semrush tools, Google Analytics, Google Search Console, Google My Business, and screenshots and images to create professional reports of your marketing campaign performance. 
Although a plethora of tools exist to help support the strategy and planning stages of a marketing campaign, there are no shortcuts to the approach that's required to make that campaign successful and effective. Leverage the tools, but trust in the process.