Marketing calendars keep marketing activities organized and moving toward the finish line. 
When used correctly, they can lead to better results. And help you plan further in advance.
This article will show you how to build a marketing calendar that helps you accomplish your marketing goals.
We'll discuss the major components of marketing calendars, the different types, and even provide some templates to help you get started.
What Is a Marketing Calendar?
A marketing calendar is a detailed schedule of all your past, current, and future marketing activities. 
It includes all of the tasks associated with your marketing plan. And is used by all the team members involved in executing those tasks.
Here's a marketing calendar example: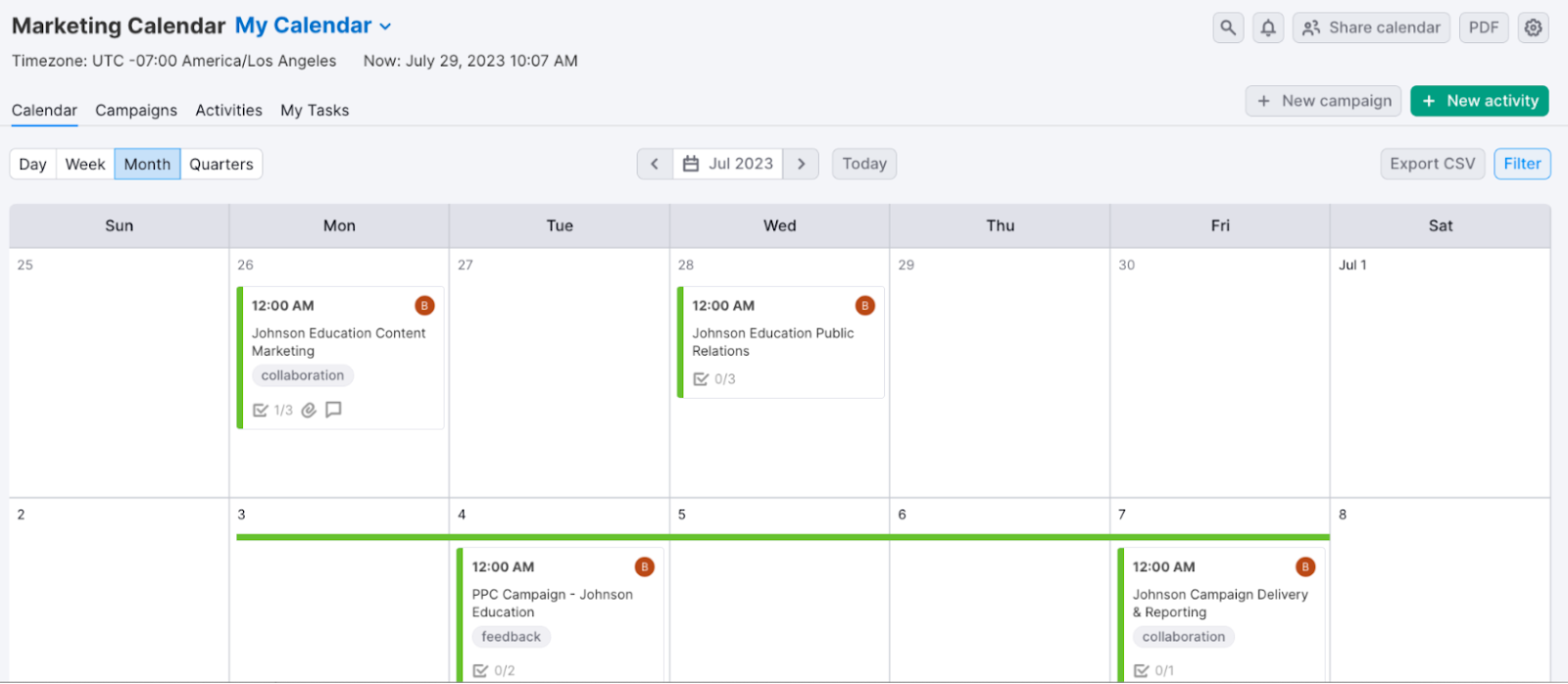 Marketing teams use calendars to manage internal workflows, assign tasks to team members, and set deadlines for marketing projects like ad campaigns and white papers. 
You can also use marketing calendars to track occasions (like holidays) for generating relevant seasonal content. 
There are many types of marketing calendars. But they share a common goal: to keep marketing activities on schedule. 
Why Is a Marketing Calendar Important?
A marketing calendar helps with completing marketing projects by or ahead of deadline. Plus, they give every team member visibility into the progress of activities. 
Anyone who has access to the calendar can know exactly what's going on. 
Because there are many people involved in planning, executing, and delivering marketing projects. An SEO strategist, a content manager, a content writer, a graphic designer, and a web developer may all work on a single piece of content. 
So, marketing calendars help teams avoid delays, miscommunication, and letting tasks slip through the cracks by:
Improving communication among team members
Breaking down campaigns or projects into smaller steps
Assigning deadlines that create accountability
Allowing for the easy tracking of projects
Helping track occasions to generate relevant, seasonal content 
For remote teams or teams that use freelancers to create content marketing content, well-organized marketing calendars are even more crucial. They keep team members working across time zones or outside of business hours up-to-date on the status of projects.
Different Types of Marketing Calendars
It's possible to have just one marketing calendar. But many teams have multiple so they can keep track of important dates and activities needed to execute their marketing strategy. 
The more marketing activities you have going on, the more you might want to consider using multiple calendars. 
Here are some of the most common types of marketing calendars:
Editorial Calendar
An editorial calendar (often called a content calendar or content marketing calendar) helps teams plan, write, and publish content. 
It's a must for companies that produce a lot of blog content. Like Salesforce: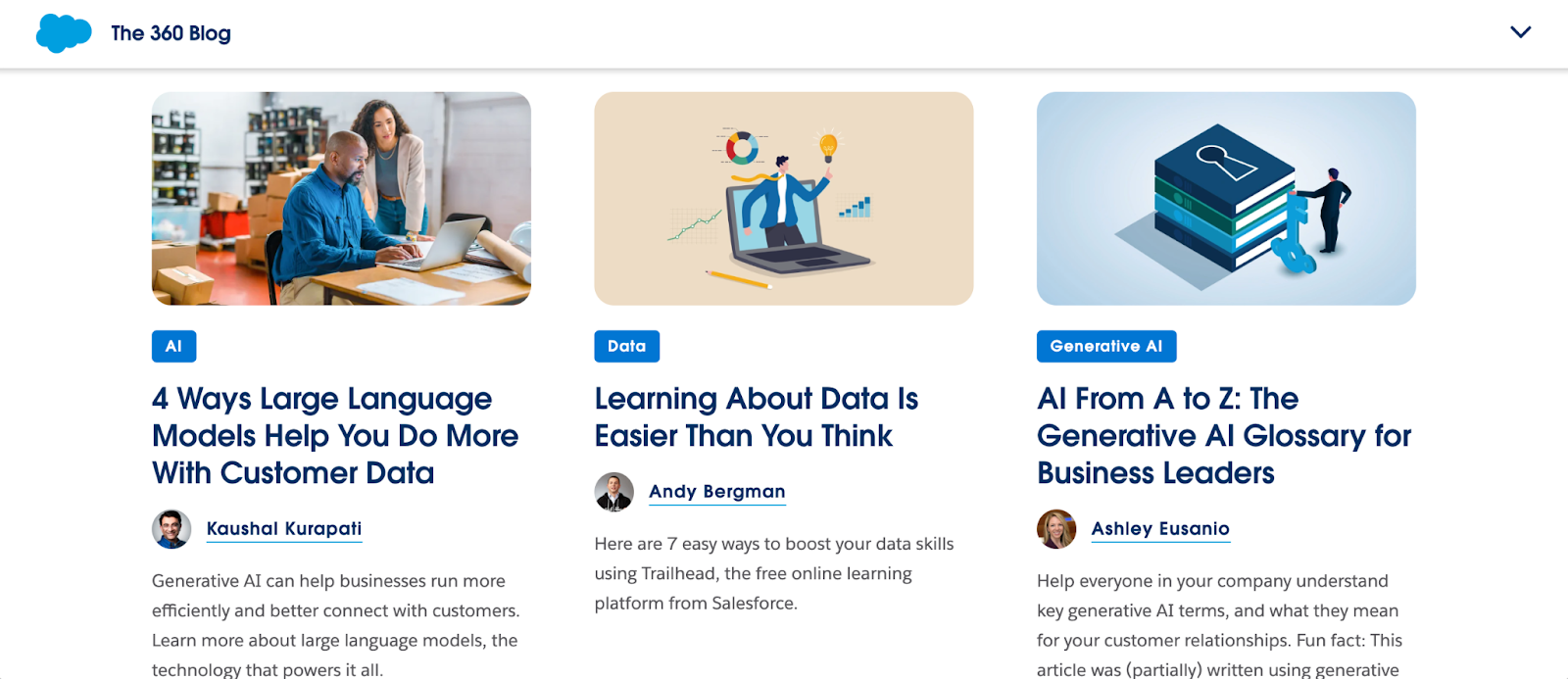 But ebooks, white papers, and case studies are also examples of content that would be in an editorial calendar. Some include social media content in their editorial calendars as well.
Because there are so many types of content marketing, these calendars often include details like article titles, target keywords, and links to detailed content briefs. To help differentiate them.
And editorial calendars can help marketers create valuable content for their target audience on a more consistent basis. As long as you keep them populated with content ideas or article topics that your target audience is interested in. 
Tip: To get content ideas for your own editorial calendar, use Topic Research. Just enter a topic to get tons of ideas you can create content around.
Social Media Marketing Calendar
A social media marketing calendar helps marketers plan, manage, and schedule their social media posts. And across multiple platforms. 
Here's a sample social media calendar: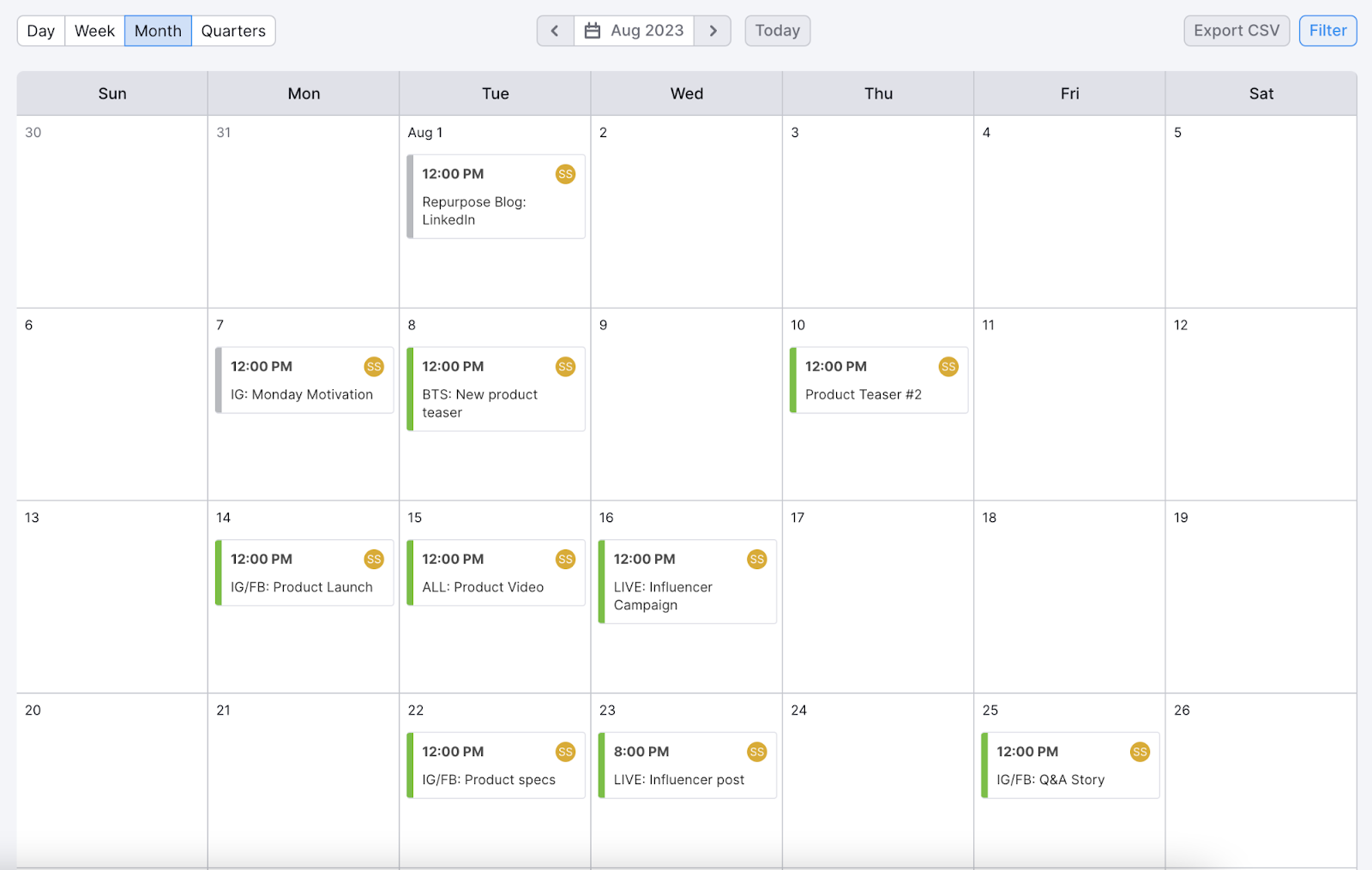 These calendars often include copy, hashtags, and links to images or videos to include in each post. Along with the scheduled post date. 
It's also a good idea to include time of day for posts based on the performance metrics you have about when your target audience is most active.
Regularly posting social media content is crucial to growing your following on those channels. So, these calendars can help teams keep up their posting frequency, as long as they are continually populated with new content for posts.
Email Marketing
These calendars help with scheduling your email marketing campaigns. 
They may include information like email subject lines, links to templates, and audience segments. And even the intended call to action (CTA)—the action you want users to take (see the image below).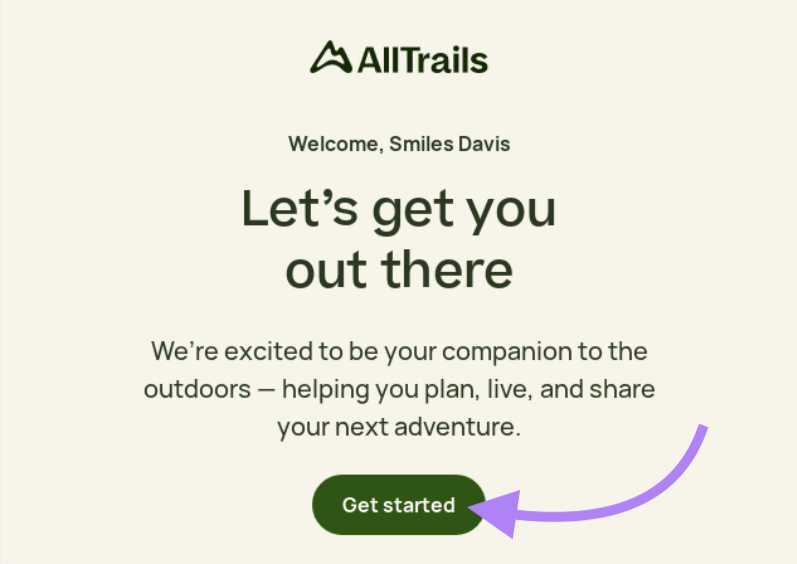 The more robust your email marketing strategy, the more important this calendar is. 
It helps ensure the emails include all of the information needed to be most effective. And that those emails are sent to the right audiences.
Campaign Calendar
A campaign calendar outlines tasks and deadlines associated with specific marketing or client campaigns.
Marketing campaign calendars can include a combination of deliverables (ads, emails, landing pages, etc.) completed over the course of weeks or months. And because campaigns often have a clear start and end date, they can keep marketing teams organized throughout the campaign's duration. 
They can be very useful to marketing agencies who manage campaigns for multiple clients at the same time. Like the campaigns tracked below in the project management platform, Monday.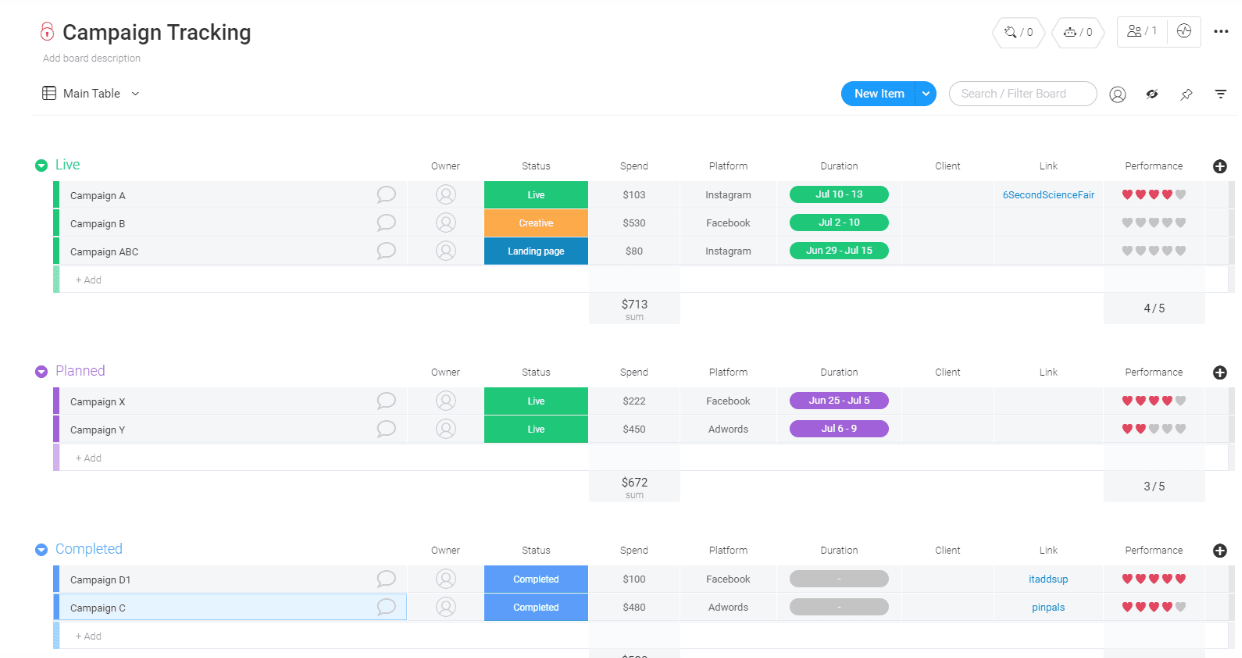 It's also a good idea for campaign calendars to include tasks and deadlines for reporting. This is when your team does the work of collecting and analyzing performance data.
Although reporting comes after marketing activities are completed, it should still be considered a central campaign task. You don't want it to fall through the cracks, so add it to your calendar.
Holiday Calendar
Holiday calendars track days, weeks, and months of celebration or awareness (Flag Day, Teacher's Appreciation Week, National Cancer Prevention Month, etc.). 
Why track holidays for marketing?
Because holidays present great opportunities to create seasonal, relevant content across all marketing channels. Especially for social media and email marketing, where users expect to engage with timely content.
In general, holidays are great opportunities for businesses to increase traffic and conversions through holiday promotions, seasonal gift guides, or holiday deals and sales.
For example, a donut shop can take advantage of National Donut Day (June 7) in the U.S. to connect with its target audience.
These calendars can be quite extensive. And the dates can change from year to year. 
If you use Google Calendar, many of these dates are listed already. And you can easily add more for other countries by clicking the "+" icon next to "Other calendars" and choosing "Browse calendars of interest."
Then click the "Browse all" drop-down menu under "Regional holidays."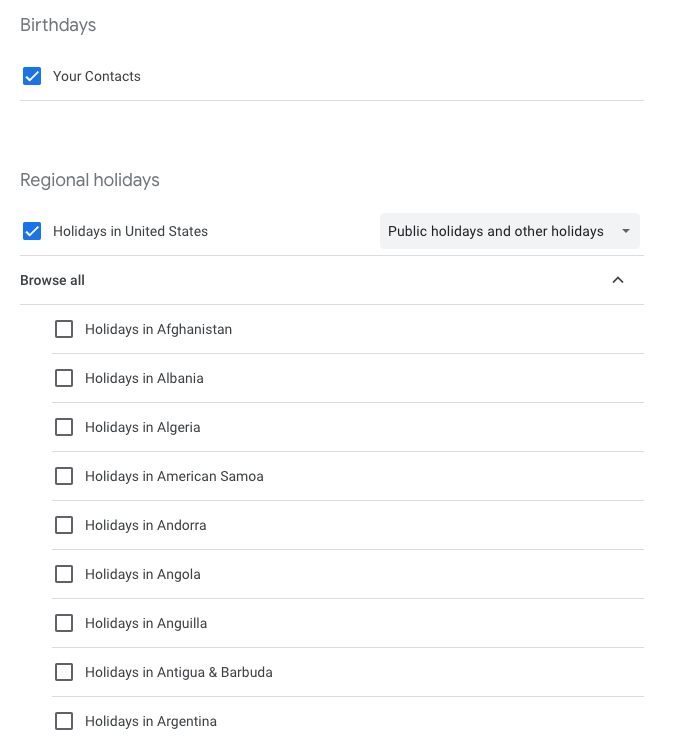 What Should a Marketing Calendar Include?
Here's what every project entered into a marketing calendar should include:
Project name: The official name so that everyone using the calendar can easily identify projects
Project description: The details that team members need to successfully complete their tasks
Tasks/deliverables: The individual tasks or content pieces that need to be completed
Task owners/assignees: The team members responsible for the execution of individual tasks, deliverables, or content
Status: The current status of the project, which should be actively updated and easy to find at a glance
Deadlines: The date that tasks or campaigns should be completed in their entirety
We recommend including these items in all marketing calendars, regardless of type. Not only for organization, but to ensure your processes can be repeated as your marketing team grows.
Remember, these are high-level items that are important for all calendars. But the details of a marketing calendar will obviously depend on its type.
For example, an editorial calendar with SEO content should include target keywords. 
And social media marketing calendars should include hashtags or other account tags that need to be included in posts.
Also, some tools may limit what details can be included (but more on those later) .
How to Build a Marketing Calendar
Here's a roadmap for building a marketing calendar. And remember: the goal is better organization. So make sure to consider what works best for your current team. 
1. Determine Your Marketing Strategy and Marketing Plan
You need a defined marketing strategy and marketing plan before you can even think about building a calendar. 
Your marketing strategy refers to the purpose of your marketing (or the goals you want to achieve). A goal might be increasing website traffic or earning more sales through email marketing.
Developing a marketing strategy usually also includes:
Determining messaging
Choosing marketing channels
Deciding on content types
Your marketing strategy will then inform your marketing plan, or all of the marketing activities you will execute to reach the strategic goal. These are the activities that will be added to your marketing calendar.
For example, to increase website traffic to a real estate website (the goal), you may plan to write and publish ten blog posts about the home-buying process (the plan).
To earn more sales from email marketing (the goal), you might create several holiday emails that include promotions and CTAs to your product pages (the plan), like below: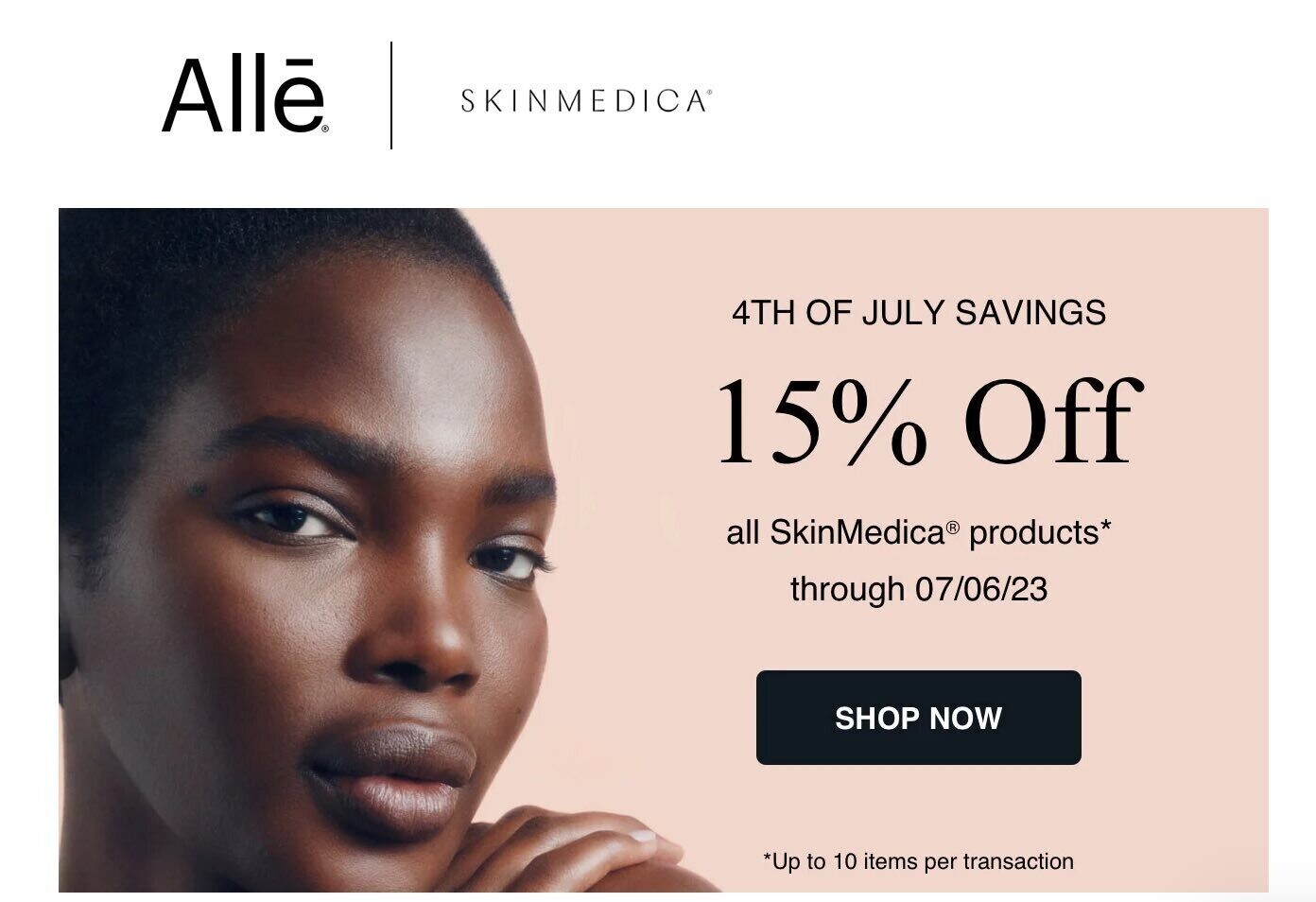 Once your plan is in place, then you can start building the calendar. Mapping out the specific dates, team members, and tasks required to complete each activity.
2. Choose a Tool to Build Your Calendar
There are many applications and platforms available to build your calendar. Google sheets, Excel, and Microsoft Outlook are commonly used by marketing teams. So are larger project management platforms like Asana and Monday. 
When choosing a tool for building your calendar, consider the following questions: 
Can my team easily collaborate in this tool?
Is this tool easy to use and navigate?
Can I include all of the information my team needs to complete their tasks?
Are users notified if any changes are made to the calendar?
Will this improve communication and organization for my team?
3. Identify Tasks & Deadlines
Next, you need to break your activities into tasks with specific deadlines. They should all build toward the final goal. And the deadlines should offer realistic timeframes for execution.
For example, here is an example of individual tasks and timeframes for completing a blog post:
Three days for the writer to research, plan, and write
Two days for editorial review
One day for image creation
One day for final review
The timeframes you choose for tasks will depend on the content type. An ebook or white paper usually takes longer to develop than a social media post. Timeframes may also depend on the size or resources of your team.
There will be times when deadlines have to be adjusted, of course. But don't get in the habit of tweaking. Remember, the goal here is consistency. 
Set firm deadlines. And more importantly, stick to them. 
4. Assign Tasks to Marketing Team Members
After you identify your tasks, you need to assign them to specific team members. Your calendar should make it very clear who's responsible for what. 
Like this: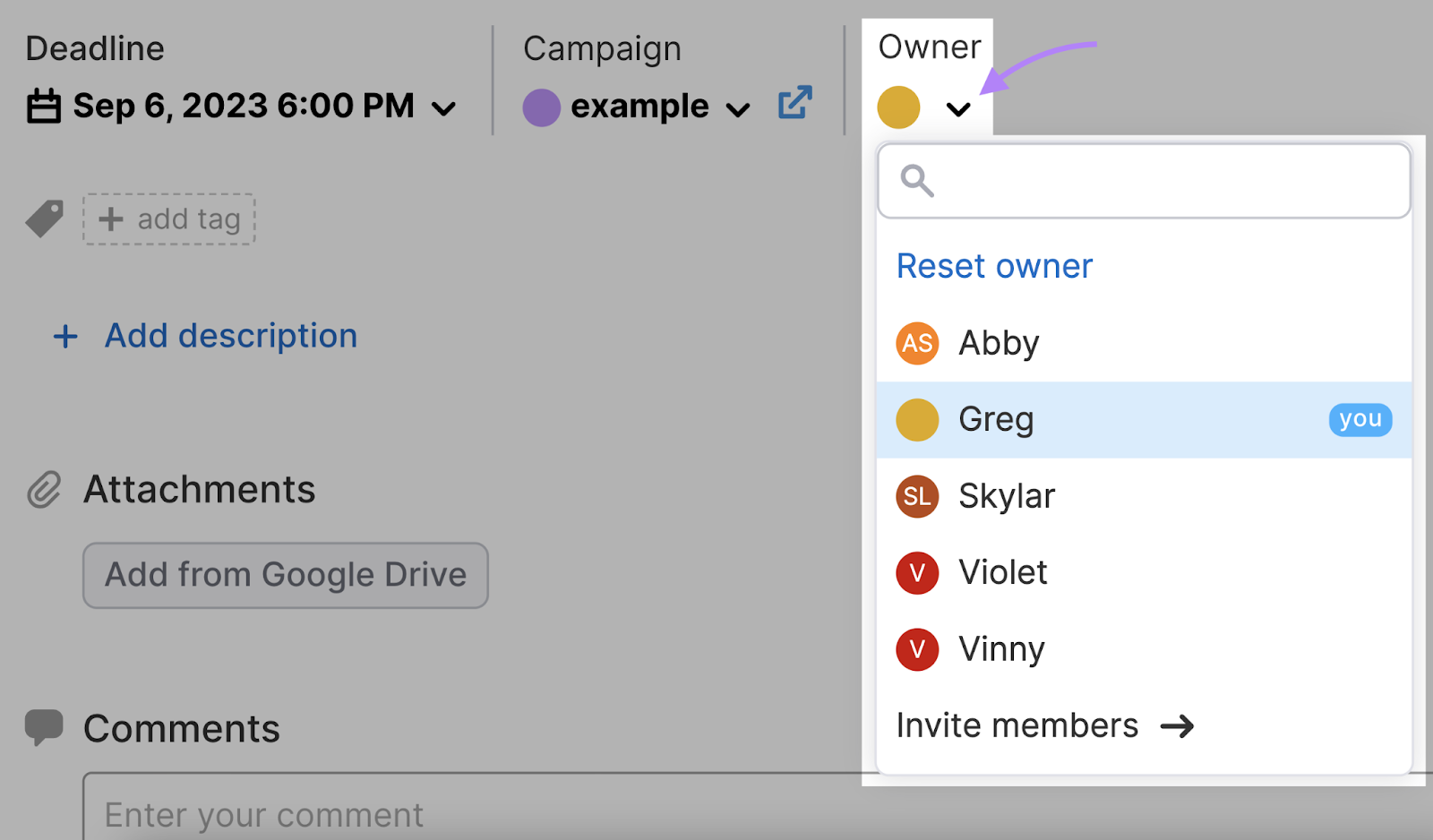 Identifying each task owner ensures the other team members know who to turn to when they need that deliverable or have questions about it.
Depending on your marketing team workflow, it may be a manager who assigns out tasks. Or, maybe team members sign up for them. 
Depending on the tool you use, team members may get notified when they have been assigned a task. And those team members can then use the calendar to update their team on when those tasks are completed. 
5. Keep the Calendar Standardized and Up to Date
Your marketing calendar should be regularly updated. So everything is reflected accurately. It's also good to standardize the calendar so it's easier to organize, use, and replicate.
You can keep the calendar standardized by:
Identifying a team member to manage the calendar. They should be responsible for adding activities, assigning tasks, and setting deadlines. Too many people making changes can result in delays, mistakes, and missed deadlines.
Creating standards for how activities are broken down into tasks. Every blog post should have the same set of tasks. So should every ad campaign. And so on. This creates consistency and repeatability.
Determining a cadence for updating the calendar. This might be daily, weekly or monthly. Remember that activities with faster turnaround times may require a faster cadence.
Archiving projects after completion. It should be clear which projects on your calendar have been completed and which are still in progress. And it's best not to delete past campaigns or projects. They can be used to build out future projects in a standardized way.
5 Marketing Calendar Templates
Let's take a look at marketing templates housed in spreadsheets that you can use to get started. This is a good first step if you aren't ready to invest in a tool just yet.
Blogging Editorial Calendar Template
This template can be used to organize and schedule your blog content. 

It includes due dates, drafts, blog topics, authors, target keywords, target audiences, and CTAs.
This calendar is useful for websites that produce a lot of blog content, particularly for SEO purposes. It helps keep everyone on the same page toward meeting the strategic goals of your blog posts.
Download the blogging editorial calendar template:
Social Media Marketing Calendar Template
This template can be used to organize and schedule your social media content. 

It includes content title, copy, images, and links. It is formatted to include a week's worth of social media content across multiple platforms.
In addition to tracking all of the assets you need for your posts, this template can be easily duplicated from week to week.
Download the social media marketing calendar template: 
Email Marketing Calendar Template
This template can be used to schedule and plan your marketing emails.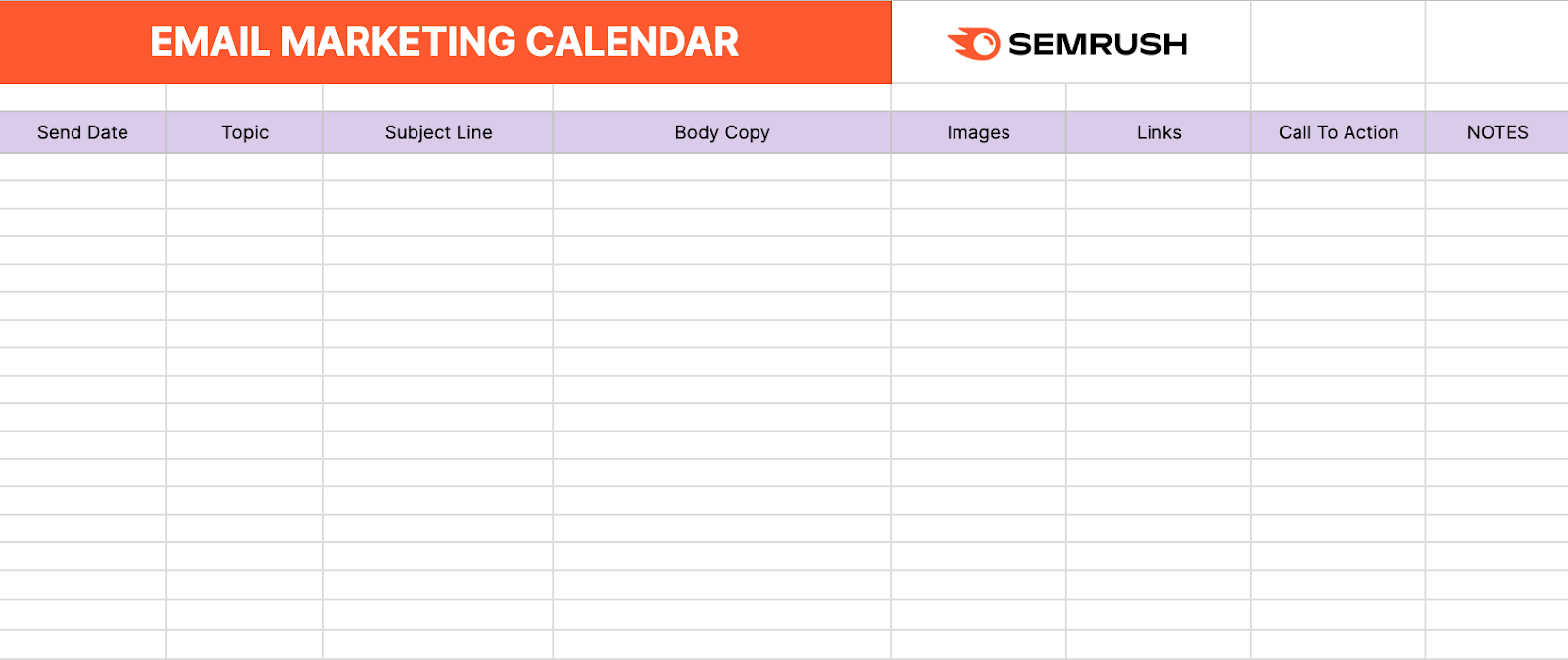 It includes send dates, topics, subject lines, body copy, images, links, and calls to action. 
If you are doing email marketing, this template provides a simple way to make sure your emails include all of the necessities. And the crucial elements that direct recipients to click through to your website.
Download the email marketing calendar template: 
Marketing Campaign Calendar Template
This template can be used to track activities for various marketing campaigns.
The spreadsheet includes start dates, end dates, marketing activities, campaign names, project descriptions, team leads, calls to action, channels, and success metrics.
This template is great if you're organizing activities for multiple campaigns simultaneously. It can also be customized to add or remove information based on your specific campaign goals or execution.
Download the marketing campaign calendar template:
Holiday Marketing Calendar Template (U.S.)
This template tracks U.S. holidays that present opportunities for seasonal posts, content, or promotions.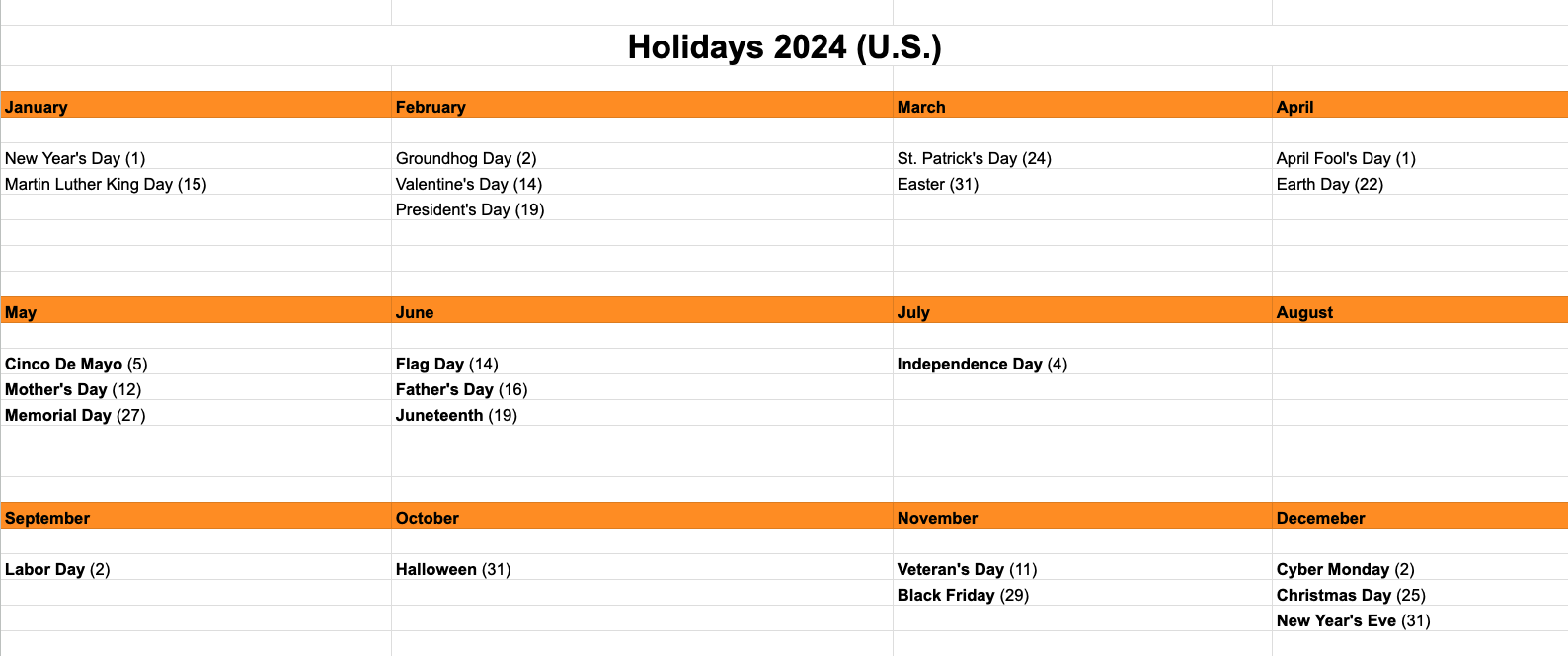 It is organized by individual months and includes the dates and names of U.S. holidays in 2024.
You can easily add or remove holidays to the calendar based on their relevance to your products or your target audience. 
Download the holiday marketing calendar template:
Find a Marketing Calendar That Works for You
Marketing calendars lead to better organization and less confusion about which projects are happening at different times.
A dedicated calendar tool can help even more as it facilitates communication with your teammates.