What Is a Local Business Listing Directory?
A local business listing directory (also known as a "local business directory") is any website that lists businesses based on their location. 
A listing usually contains NAP (name, address, phone number) information, a basic description, a link to the business's website, and customer reviews. 
Like this:
Benefits of Local Business Listings
A local listing (also called a local citation) is any online mention of a company's NAP information. And listing this information on various online directories is called citation building. 
Getting citations from authoritative websites is an important part of local SEO. 
Why?
Here are just some of the benefits of having business listings on relevant business directories:
Your business is easier to find
Search engines understand your business better
You get more brand awareness and exposure
You may attract more customers with positive reviews
Tip: Read our beginner's guide to local SEO to learn more.
How to Submit Your Business to Local Business Directories
When it comes to submitting your business to local listing directories, you have two options. 
You can do it manually—we provide a list of 30 popular local business directories below.
Or you can use atool like Semrush's Listing Management to automate the process and save lots of time. 
The best way to start is to get a free Local Visibility Report.
Enter the name of your company. (If there are multiple locations, be sure to click the correct address.) Then click the orange search icon: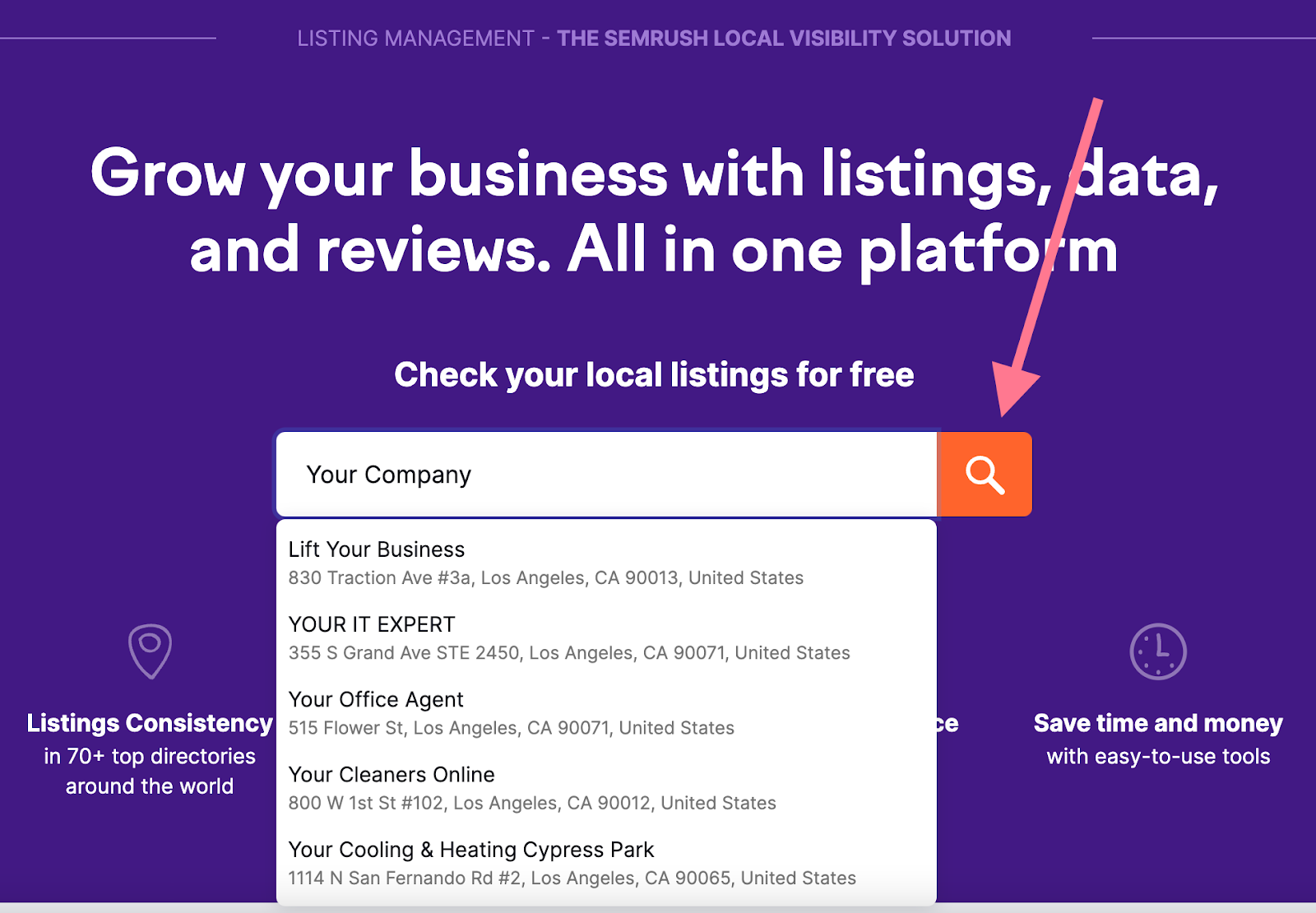 The tool will scan the presence of your business across the major directories and provide a report with the following information:
Your overall "Online Presence" score (which shows how visible your business is online)
Number of found listings
Number of listings you should fix or update
Average rating
Total number of reviews
It will look like this: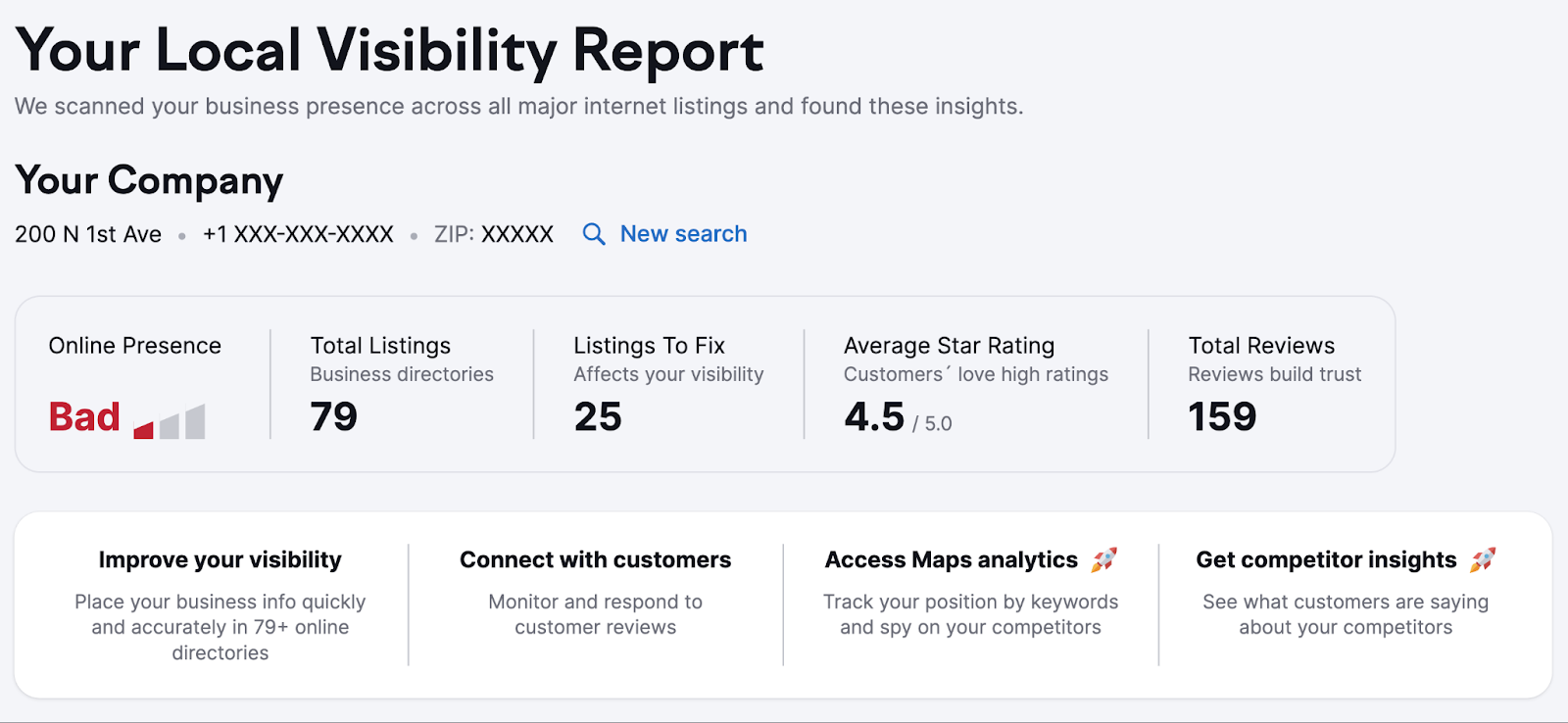 Below that, you'll also see a list of missed opportunities: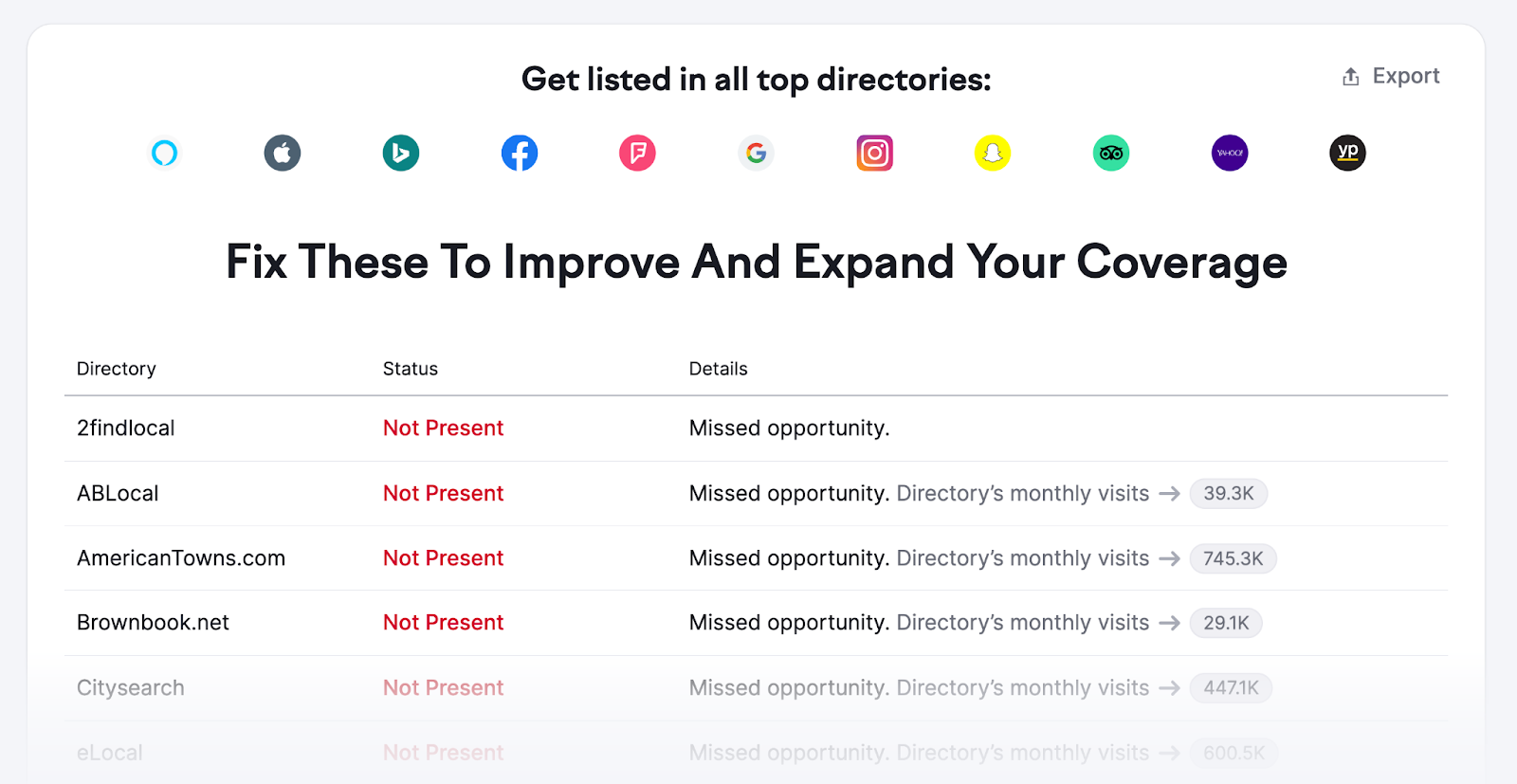 The Listing Management tool gives you full control over your listings in one dashboard. 
Here are the price points:
Local citation scan (free): Audit five locations per day, see your status in only the top directories, and check your average rating for reviews
Basic Location ($20/month per location): Distribute business information to 70+ listings, suppress duplicate listings, consult user suggestions, track local rankings, manage reviews, and optimize for voice search
Premium Location ($40/month per location): In addition to accessing the Basic Location features, you can track your positions in Google Maps at a hyperlocal level with the Heatmap feature, respond to reviews directly from the tool, and analyze the sentiment of your reviews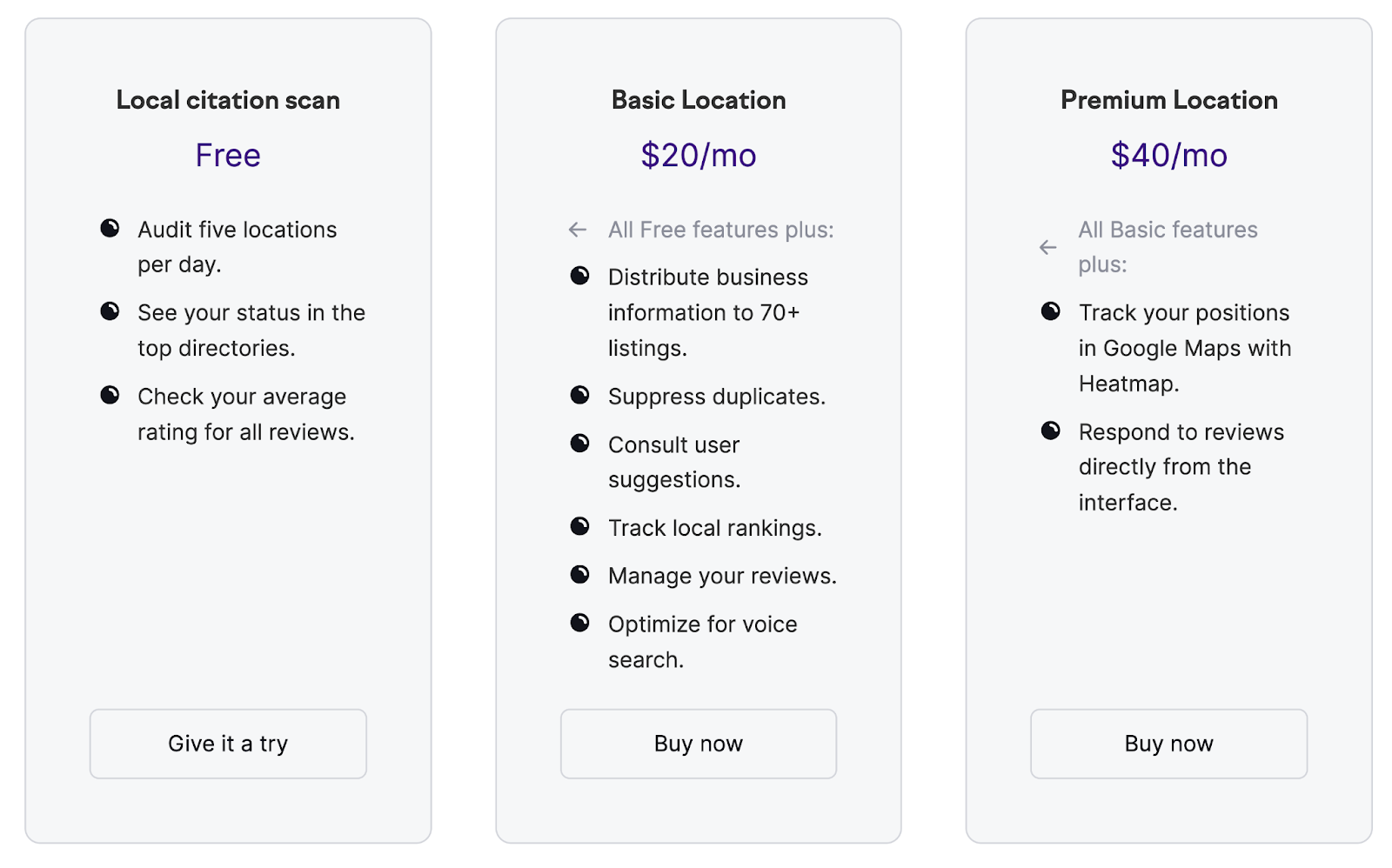 To start maintaining your business information, go to the "Locations" tab in the Listing Management tool. Then, pick your location.
Here, you can edit basic information about your business: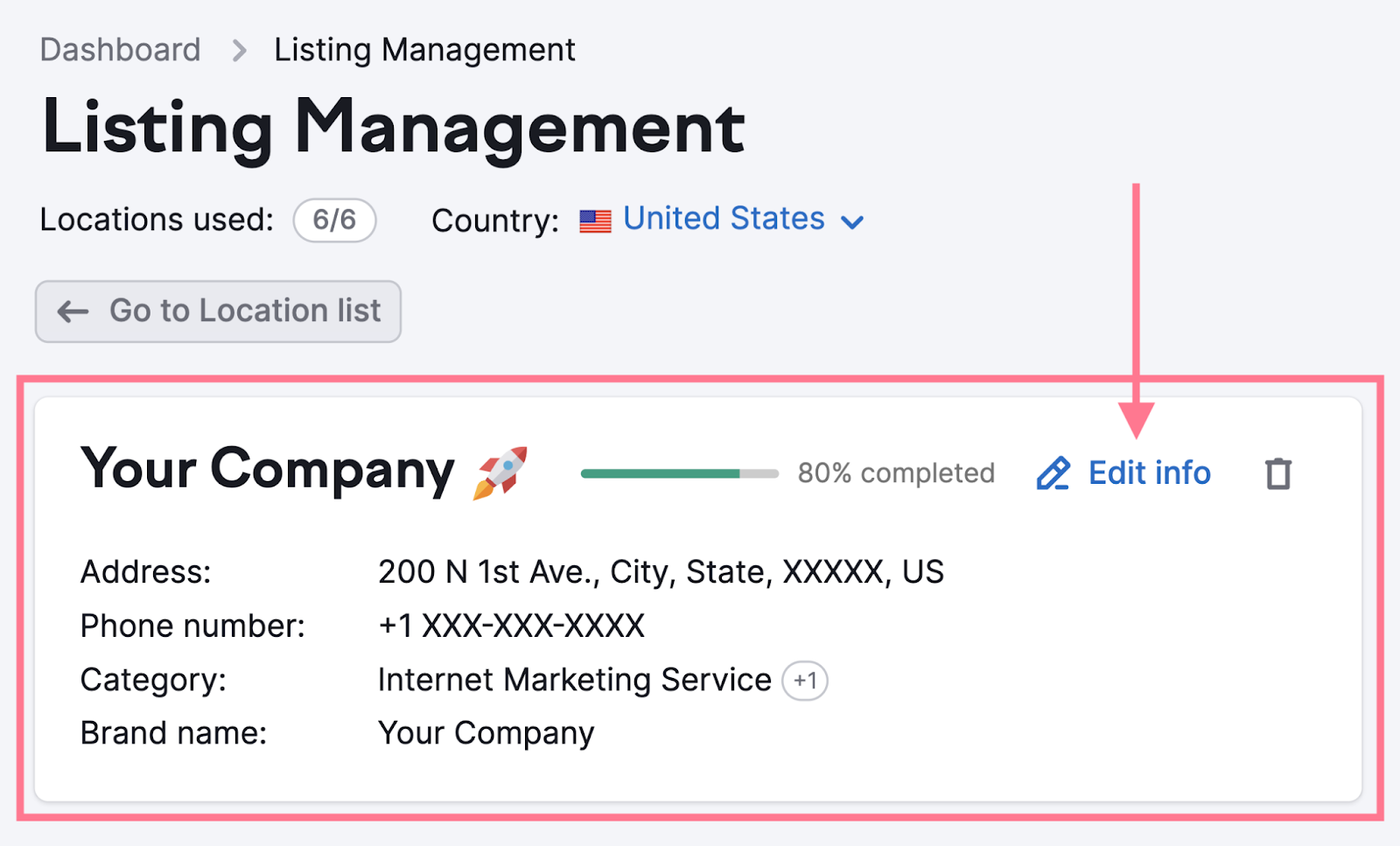 After you update your NAP information, the Listing Management tool will push the changes to all connected directories.
The tool will inform you about the status of your submissions. And any potential issues or duplicate listings. 

You can also review and manage all your listings in the list of directories below.
If you opt for a Premium Location, track your hyperlocal rankings with the visual Heatmap.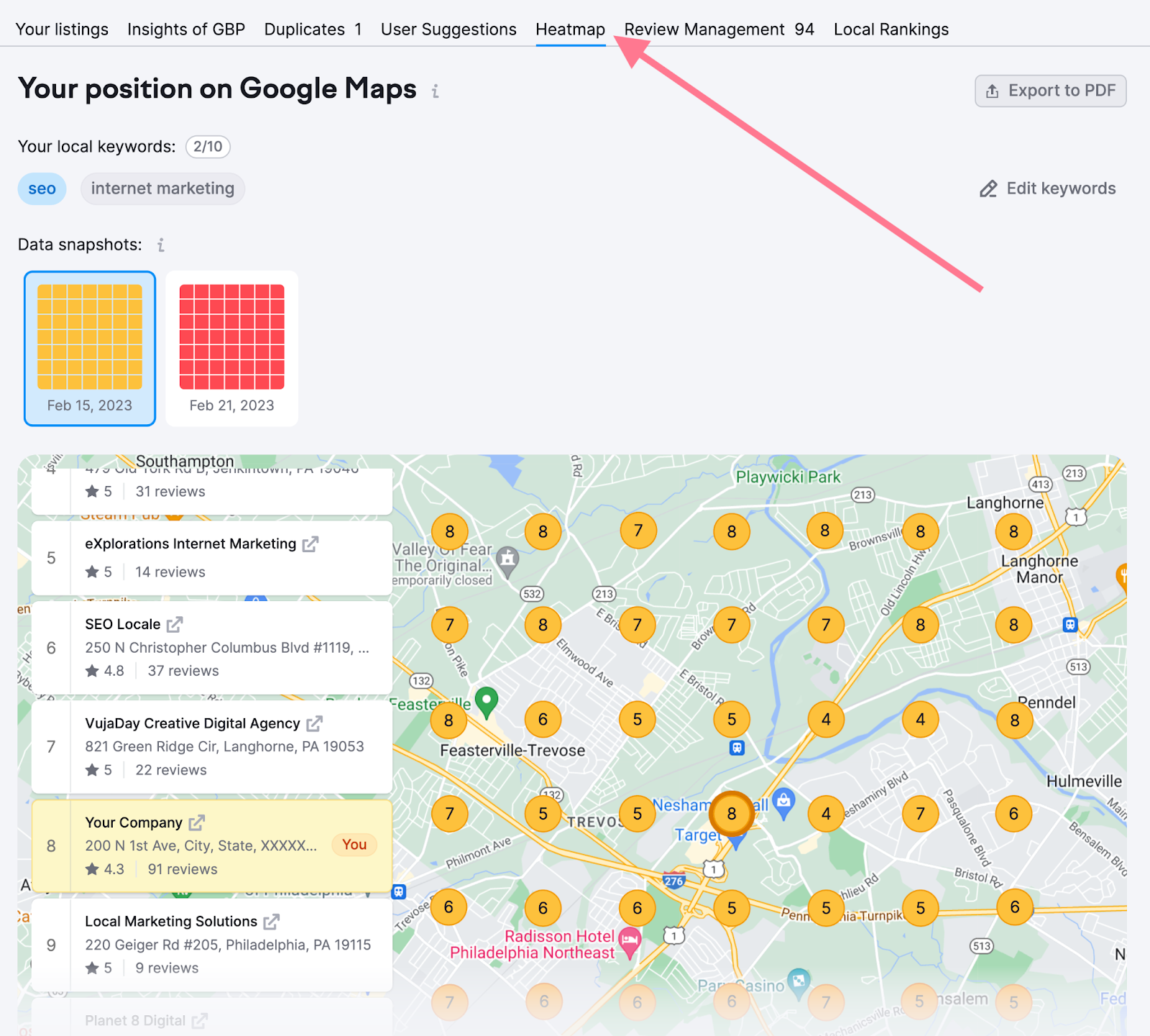 And analyze your reviews (and their sentiment) and respond to them directly from the tool.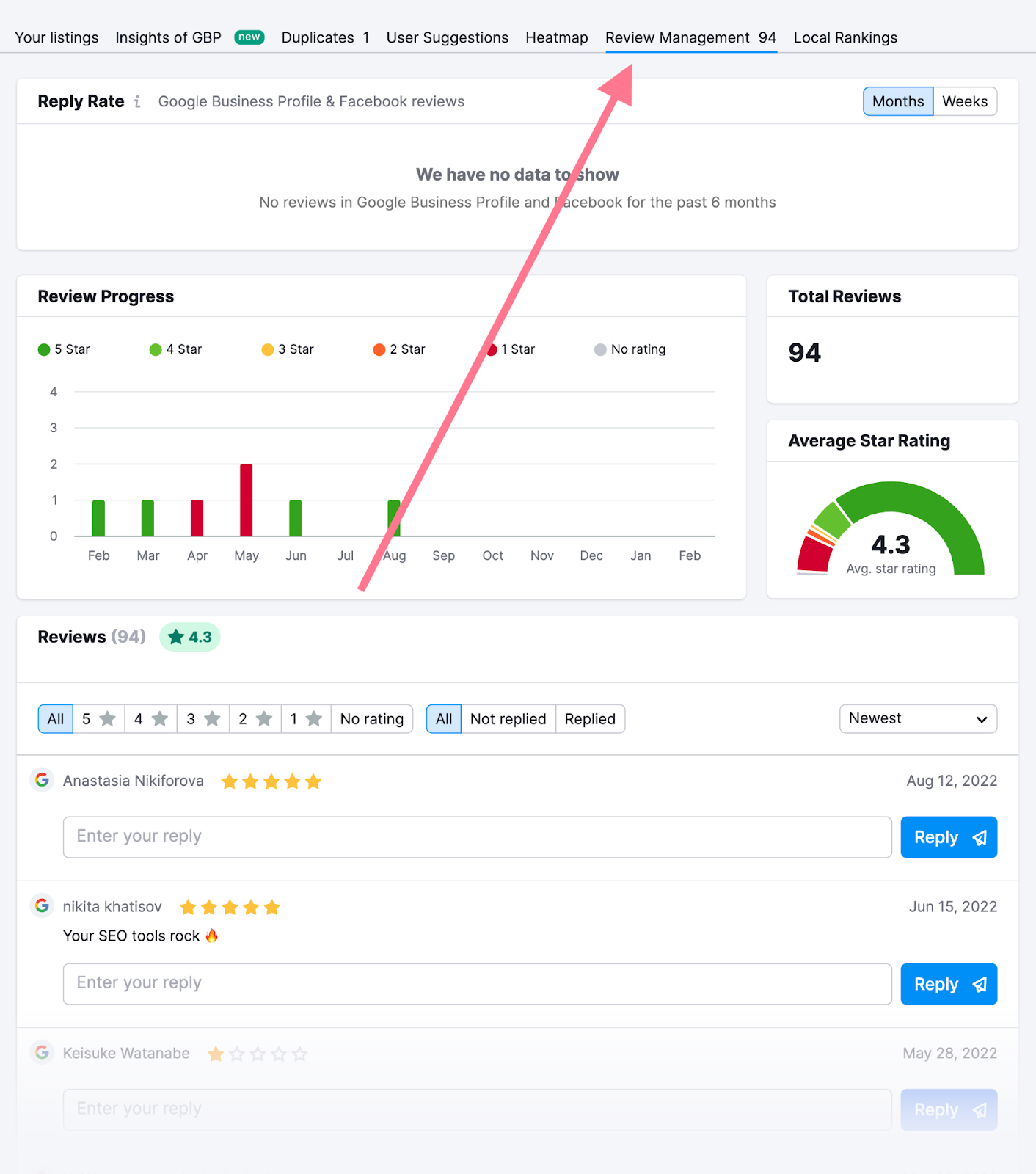 To learn more about these features, check out our guide to the Listing Management tool.
Best Local Business Listing Directories
Here's a list of the best local business listing directories that allow you to submit your business listing online.
While it's quicker and easier to use a local citation tool, you can manually submit your business to different directories if you choose. Keep in mind that you'll need to repeat the process for each directory.We also provide two metrics that will help you prioritize the submissions: 
Authority Score: A measurement of a domain's overall authority on a scale from 1 to 100
Organic Search Traffic: Average global monthly traffic from Google's organic (unpaid) search results
Start with directories with higher authority scores and more organic traffic. These sites are generally more trustworthy and attract more users.
Note: The data comes from Semrush's Domain Overview tool and was accurate as of February 2023.
1. Google Business Profile
Authority Score: 100
Organic Search Traffic: 4.5B
Google Business Profile (formerly known as Google My Business) is, thanks to Google's popularity, the most important local listing directory by far.
It's a free tool that enables you to manage how your business appears across Google products like Google Search and Google Maps.
For example, this is what Olive Garden's local business listing looks like on Google Maps:
Your Google Business Profile displays business address, business hours, business category, and reviews. So make sure it's up to date.
Read our guide to Google Business Profile to learn how to set it up to boost your local SEO. 
2. Facebook
Authority Score: 100
Organic Search Traffic: 3.5B
Facebook is another popular place to maintain your business's local listing. 
Creating a Facebook Business Page is free. This page acts as a microsite for your company and gives you a greater ability to interact with customers.
3. LinkedIn
Authority Score: 100
Organic Search Traffic: 302.1M
LinkedIn is the biggest social media platform for business professionals. A free LinkedIn Company Page can be a great source of leads and partnership opportunities.
More than just a hiring tool, LinkedIn allows business owners to identify business prospects with applicable interests. And contact these "warm" leads instead of making cold calls.
4. Apple Maps
Authority Score: 100
Organic Search Traffic: 451.8K
While not as popular as Google Maps, Apple Maps still attracts millions of users a month and is the default GPS app on iOS devices. 
Local businesses can create or claim their Apple Maps listing for free to ensure their NAP details are accurate.
5. Tripadvisor
Authority Score: 100
Organic Search Traffic: 235.5M
If you're in the hospitality sector, your business's local listing should be on Tripadvisor. A listing on the world's largest travel platform means you can reach millions of travelers who use the site each month. 
Add or claim your hotel, restaurant, holiday rental, or similar business for free.
6. Yelp
Authority Score: 100
Organic Search Traffic: 214.1M
Yelp is one of the most popular sites for reviews and recommendations of local businesses. If you haven't done so, claim or update your Yelp local business listing.
7. Foursquare
Authority Score: 90
Organic Search Traffic: 55.3M
The location discovery app Foursquare is a popular choice for finding nearby businesses. Claim your listing for free.
8. Houzz
Authority Score: 81
Organic Search Traffic: 10.8M
A popular community for home renovation and design, Houzz is one of the best places for finding interior designers, decorators, and landscapers.
9. Better Business Bureau
Authority Score: 79
Organic Search Traffic: 8.8M
The Better Business Bureau (BBB) is a directory that helps consumers find reliable businesses. Creating a listing is free, but accreditation comes with a fee.
10. The Yellow Pages
Authority Score: 72
Organic Search Traffic: 6.3M
The Yellow Pages, the original printed small business directory, is still going strong online.
11. Angi
Authority Score: 75
Organic Search Traffic: 9.8M
Many households rely on Angi (formerly known as Angie's List) for reviews and ratings of home services like roofing, plumbing, and heating. The site has more than 700 service categories.
12. FindLaw
Authority Score: 70
Organic Search Traffic: 2.8M
FindLaw is home to the largest online directory of attorneys. It's ideal for finding legal professionals in your area. 
Users can search within categories like employment law, family law, criminal law, etc.
13. HomeAdvisor
Authority Score: 72
Organic Search Traffic: 1.5M
One of the leading sites for finding tradespeople, HomeAdvisor is a suitable directory for home repair and home improvement businesses. 
14. The Business Journals
Authority Score: 67
Organic Search Traffic: 1.2M
The Business Journals media platform features local business news from over 40 U.S. cities and has its own online business directory.
15. Yellow.Place
Authority Score: 55
Organic Search Traffic: 1.3M
The local business listing Yellow.Place operates worldwide and provides information about both companies and places. 
It describes itself as a search engine for finding local places and businesses in specific cities or towns.
16. Nextdoor
Authority Score: 71
Organic Search Traffic: 4.1M
Local businesses can claim their free listing on Nextdoor—a hyperlocal social network for neighborhoods.
The main highlight is that businesses can connect and communicate with residents who live in their service areas.
17. Thumbtack
Authority Score: 75
Organic Search Traffic: 5.4M
Thumbtack is a directory that specializes in home services. It includes categories like home improvement, financial and legal services, and event planning.
18. Healthgrades
Authority Score: 79
Organic Search Traffic: 10M
Healthgrades is the top healthcare review site with information on over 3 million U.S. doctors, hospitals, and healthcare providers.
Users search by doctor name, specialties, conditions, and/or procedures.
19. Local Chamber of Commerce
Authority Score: Various
Organic Search Traffic: Various
Join your local chamber of commerce to network with other business owners. Each chamber includes local listings in their membership directory. However, it's not free to join.
Here's a list of local chambers in the U.S. Find the yearly membership fee on your local chamber's website.
20. Superpages
Authority Score: 53
Organic Search Traffic: 519.4K
A long-running and authoritative directory, Superpages offers free business listings for businesses of almost any category. 
21. ShowMeLocal.com
Authority Score: 49
Organic Search Traffic: 434.6K
ShowMeLocal.com is an international directory that helps local businesses get their contact information online quickly and easily. 
22. Bing Places for Business
Authority Score: 49
Organic Search Traffic: 177K
Bing Places for Business is its own version of Google Business Profile. 
Claiming a free listing on America's second most popular search engine means you can maintain business information on Bing's search results and Bing Maps.
23. Alignable
Authority Score: 48
Organic Search Traffic: 111.8K
Alignable is a platform where small business owners can connect and generate referrals.
24. Local.com
Authority Score: 48
Organic Search Traffic: 52K
Local.com is an online business and service listing directory that allows you to submit your business information for free.
25. Hubbiz
Authority Score: 39
Organic Search Traffic: 30K
​​Local search and discovery community Hubbiz is another free U.S. business directory.
26. B2B Yellow Pages
Authority Score: 36
Organic Search Traffic: 43.5K
One of the oldest business-to-business (B2B) directories, B2B Yellow Pages has over 18 million local company listings.
27. MerchantCircle
Authority Score: 40
Organic Search Traffic: 13.8K
MerchantCircle is a social network for local business owners, with 2 million merchants listed nationwide. List your business, respond to reviews, and chat with other business owners.
It offers free and paid options for a local business listing.
28. Spoke
Authority Score: 37
Organic Search Traffic: 10.1K
Spoke is one of the older directories. It lists about 1.6 million businesses. Create an account with an email address or sign up with a social network (like Twitter or LinkedIn).
29. Hotfrog
Authority Score: 36
Organic Search Traffic: 7.6K
Hotfrog is a platform where users can search for local businesses by keyword and location.
30. CitySquares
Authority Score: 34
Organic Search Traffic: 4.8K
CitySquares is a neighborhood directory that brings online exposure to local businesses like restaurants, shops, and hairdressers.
Monitor Your Local Listings with Semrush
We hope this list has helped you identify the most important business directories, review platforms, and online mapping services for your business.
So, if you're going to list your business manually, it's time to get started! 
Alternatively, Semrush's Listing Management tool makes it easy to manage listings across multiple platforms, respond to Google reviews, and see how your listings perform. 
Try it out today to automate citation building.