It's true that generating backlinks can seem complex, but they remain one of the more effective SEO strategies. We'll share 8 link-building strategies you can use to improve your website's ranking. 
What Are Backlinks?
Your website earns a backlink when an external website links back to it. These backlinks should point to a specific page on your websites, such as a blog post or a product page.
Backlinks work best when they come from websites that are relevant to your topic or niche. Links that come to you from link farms, gambling websites, or adult sites won't help you boost your ranking and could lead Google to penalize your website.
Why Are Backlinks so Important for Your Website?
Backlinks operate like a qualified referral. If you earn a backlink from a website with authority, it can signal that your products, service, or website can be trusted. 
Backlinks can increase your website's page authority in the eyes of Google. The more qualified backlinks, the more trustworthy your website appears, and the more likely Google recommends your website for people to click through to.
What Impact Do Backlinks Have on Your SEO?
Improved Authority
As mentioned above, SEO backlinks can improve your website's page authority, which can signal to Google that you're a trustworthy source when it comes to your market or niche. 
Earn More Organic Traffic
A good backlink strategy can increase organic traffic to your website. Ranking higher on Google SERP brings you more attention and unpaid clicks. 
What Are Link Building Strategies? 
Earning quality backlinks will take some time and plenty of good strategies. You'll need to understand your current backlink profile and the quality of the links your website earns.
Link building strategies are specific techniques you can use to improve your backlink profile. Strategies can range from somewhat simple (improving your on-page content) to incredibly complex (digital PR.) 
Here are 8 link building strategies you can try for your backlink portfolio:
8 Link Building Strategies to Build a Powerful Backlink Profile
Link Building Strategy #1: Skyscraper Technique
The Skyscraper technique of link acquisition involves finding content that websites are already linking to, and then creating your own valuable, quality content on the same topic or niche. You'll then promote your content to influential or trustworthy folks in your market or try to convince them to link to your new content instead. 
You can use the Backlink Gap tool to compare your site's backlink profile to your competitors' profiles. Enter up to 5 domains in the tool's input to see which referring domains you share with competitors or referring domains your competitor's earned.
Select the Best filter to see the domains that point to your competitor's domain but not yours. These will be your top prospects for the Skyscraper technique.
Select the arrow to the right to visit the referring domain's landing page. Clicking on a blue link opens the Backlinks Analytics tool, where you can review the domain's backlink profile:
Check any prospects you want to contact in the Backlink Gap tool, then select Start Outreach to send them to a Link Building tool project: 

The Link Building tool can help you manage multiple link-building campaigns for your domain from one interface. The tool collects a list of link-building opportunities for your domain and helps you keep track of the outreach process. 
Retrieve each domain's contact information automatically, or enter info manually. As you reach out to prospects, the tool keeps track of your progress.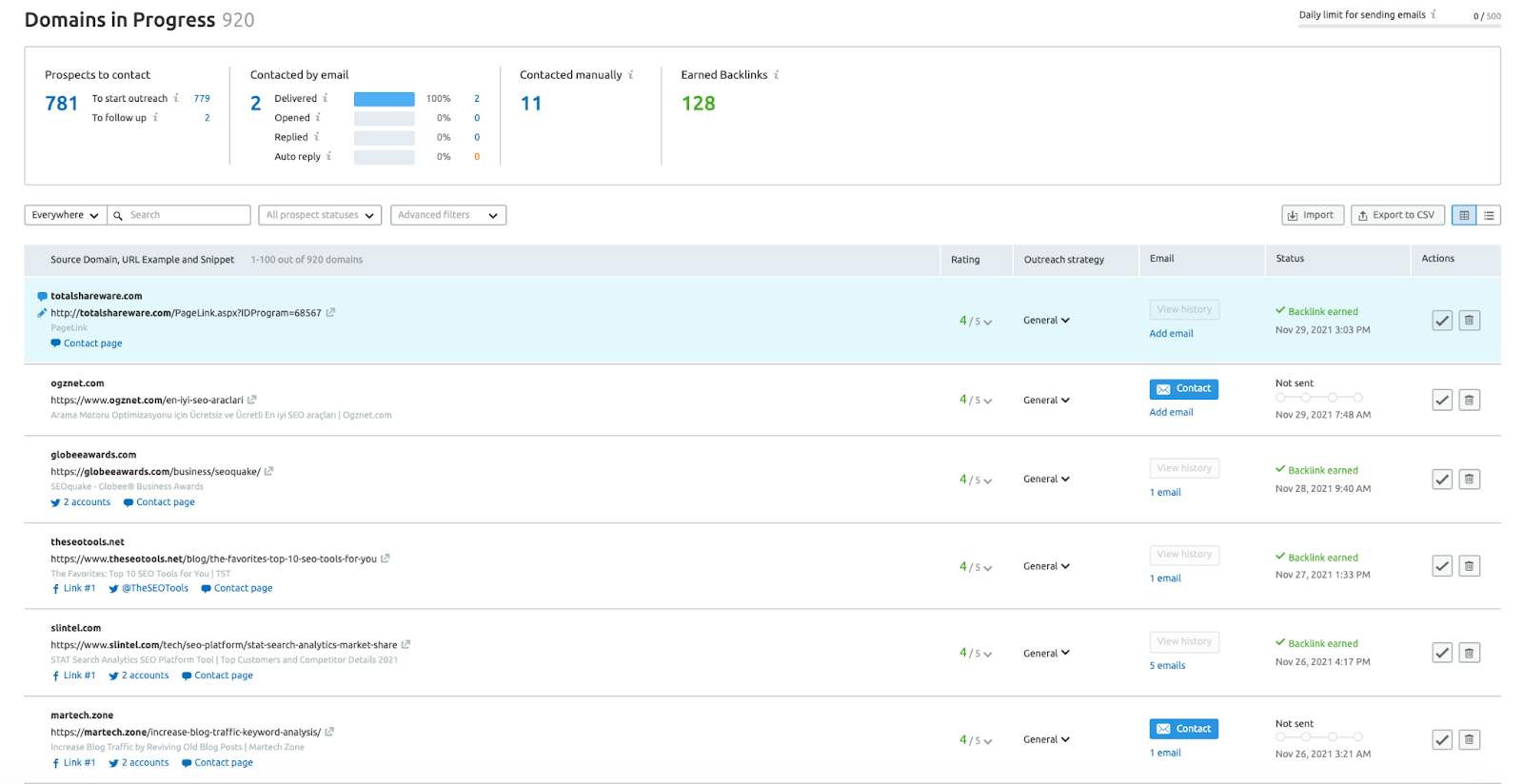 Link Building Strategy #2: Moving Man
As businesses update their blogs or websites, they'll often leave behind broken links or defunct pages. The Moving Man strategy allows you to take advantage of these natural transitions with updated, detailed content.
Start by finding a web page on your competitor's site that's out of date or defunct. Create a new page or update an existing page with quality, helpful website content. Details are pretty important here — you'll want your content to be as unique and engaging as possible.
Reach out to websites linking to your competitor's old page, and ask them to consider linking to your new, relevant content. 
Link Building Strategy #3: Guest Posting/Blogging
Guest posting involves writing and posting engaging content to a popular or trustworthy website then linking back to your site.
You don't want to spam the content with links. Only reference your website when relevant, and save your most valuable links for your author's bio. (Confirm with the website you'll be posting to that you'll have an author bio somewhere on the page and can include links in that bio.)
Your guest content should be just as engaging, helpful, and accurate as the content you create for your website. Remember, you're writing to a new audience; you'll want to pique their interest so you can earn that click through to your website.
Use the Domain Overview tool to review each domain's traffic estimates, including their authority score, monthly organic search traffic, and top link anchors: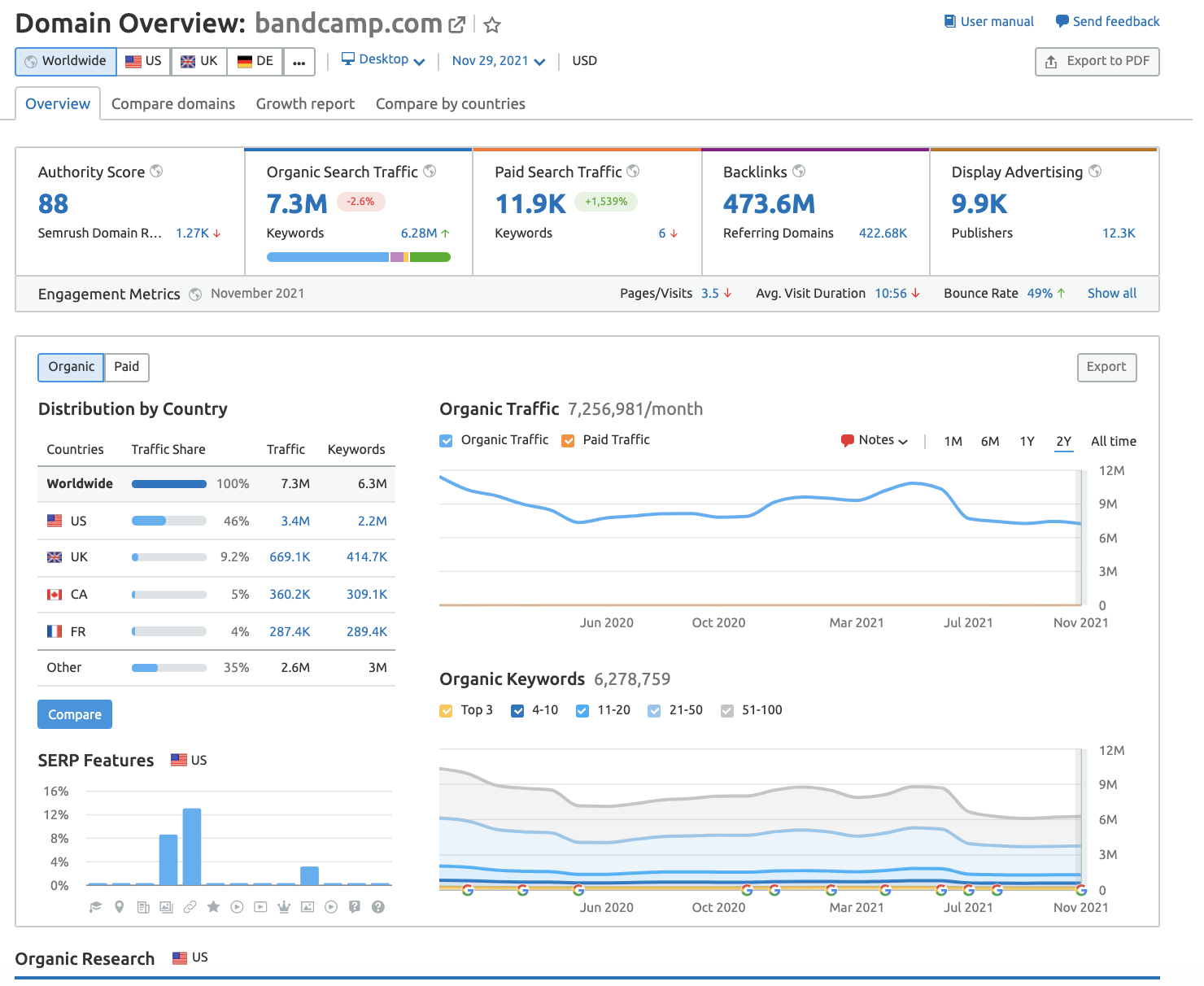 Once your post has been published, you can use the Post Tracking feature of the Content Analyzer tool to track any referral traffic you receive from posts, including social shares and backlinks.
Link Building Strategy #4: Unlinked Brand Mentions
With this strategy, you're looking for brands that mention you on social media that haven't linked to you yet. Use the Brand Monitoring tool to keep track of mentions you earn across different social platforms like Instagram and Twitter:
Use the Brand Monitoring tool to track mentions of any brand keywords or phrases you want to track. You can also use the tool to search specific domains for mentions of your site. Toggle the Sentiment filter to identify prospects that are speaking about your brand in a positive way; they may be more likely to provide a backlink. 
You can also run a quick Google site search to see if there are any mentions of your website on theirs. If not, reach out to the site's owners and offer them an opportunity to link to a web page related to their niche or keyword.
Link Building Strategy #5: Reclaim Lost & Broken Backlinks
This strategy works much like the Moving Man strategy. However, instead of looking for broken competitor backlinks, you're looking for any broken backlinks that used to point to you.
Select the Lost & Found tab in the Backlink Audit tool to see your broken or lost backlinks. Toggle the filters below to see each link by category: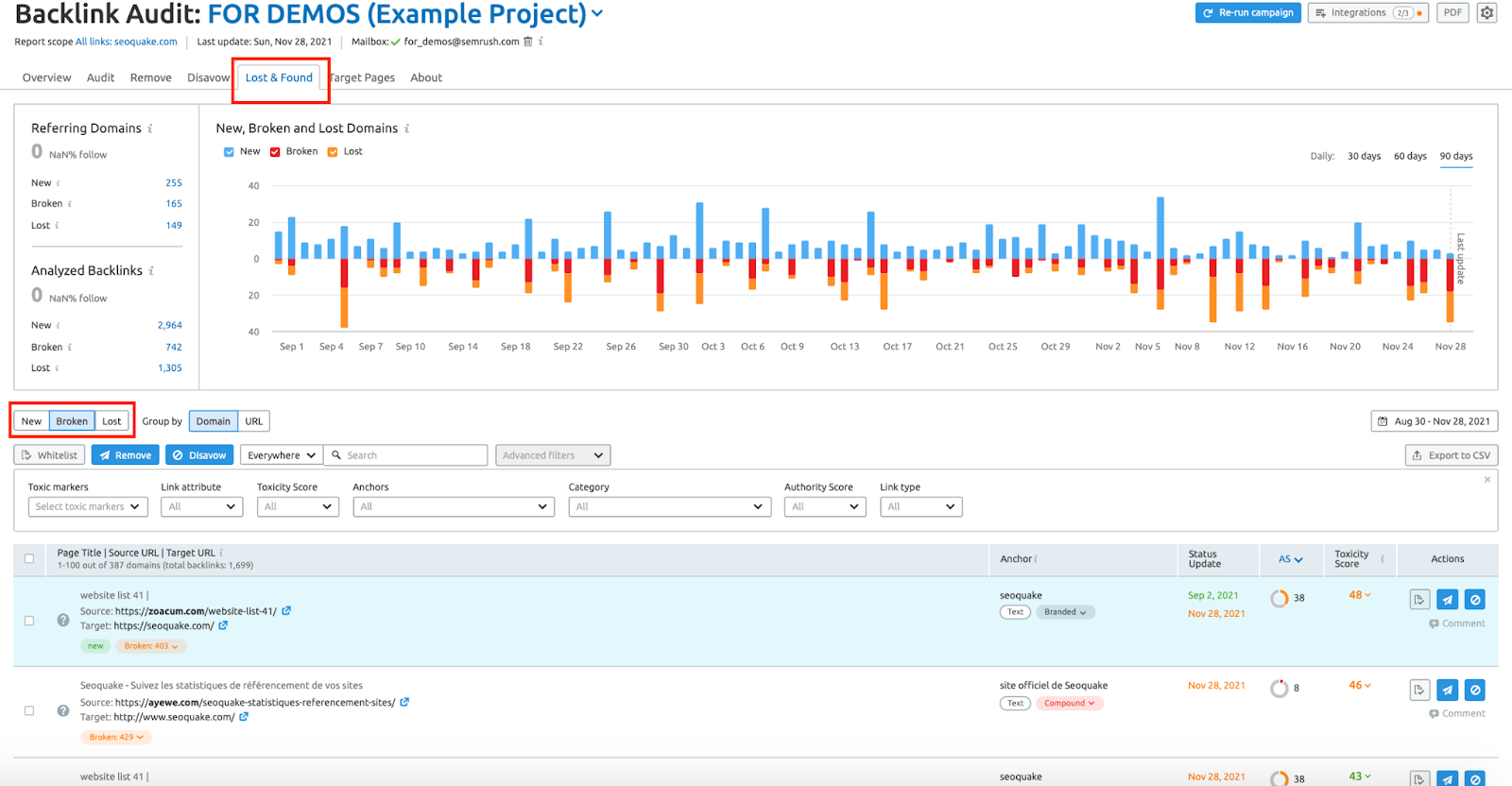 Investigate why each link is broken or lost. Has the referral domain completed a website migration or updated its content? Reach out to the owner and ask them to update the broken link with your relevant site content. Use this as an opportunity to refresh the web page content if necessary.
Link Building Strategy #6: Digital PR
Digital PR involves offering good news stories to the media that highlight you, your company, and your products or services.
You can write a press release about a significant event or development and then distribute it to related media. Your press release should include a backlink to your website. Try to link to a related webpage, not your homepage. 
Try focusing on media websites or journalists that write about your market or niche. Diversify your contact list as much as possible, but only reach out to prospects that would likely be interested in your press release.
Posting your press release to aggregation sites like Business Wire can help you reach outlets or journalists searching for a specific story about your niche. 
Unlike some of the other strategies listed here, you can incur costs with this method. For example, you may need to subscribe to specific aggregation sites before posting. However, the relationships you can build with journalists can be enriching in the long term.
Link Building Strategy #7: Attend Interviews & Podcasts
Much like guest posting, interviews and podcast appearances can help you reach a new audience, provide them with quality content, and earn backlinks online.
You want to be seen as an expert in your industry while earning backlinks from reputable websites with a sizeable audience. Interviews and podcasts are usually posted online to these sites with bios or descriptions that you can use to link back to your website.
As a bonus, these content types are regularly shared across social media, earning you brand mentions and other backlinks. 
This method is admittedly more time-consuming, as you'll need to spend some time finding relevant podcasts or publications in your market and pitching yourself as an expert. But, much like the Digital PR method, you can earn valuable relationships with journalists or creators that you can utilize in the future.
Link Building Strategy #8: Offer Link for Link
This method comes from the olden days of backlinking, where businesses focused on quantity instead of quality. Backlinking has evolved since then, but "link for link" can still be a useful strategy when executed right.
Look to your network of friends and business associates to build your prospect list, then evaluate each prospect with the Domain Overview tool. You'll want to focus on candidates with a sizeable, consistent monthly audience that publishes content related to your niche or market. You can reach out to ask them to include a link back to your website on a web page or in a blog post in exchange for a link on your website.
You'll want to make your offer sound convincing, so don't be afraid to share some of your website stats to indicate that a link on your website would be valuable.
This strategy is low cost and encourages connection building between other people in your industry.
Use the Bulk Backlink Analysis tool to review your prospect's domains at a glance. Keep an eye on relevant metrics such as authority score and monthly visits: 
Key Takeaways
You earn backlinks when an external website links back to a page on your website.
The more authoritative and trustworthy the referral domain, the better. Focus on earning backlinks from reputable websites.
Use backlink analysis tools to find backlink opportunities, such as broken competitor backlinks or brand mentions.
Find backlink strategies that work best with your resources.