Ebooks require a lot of investment: researching the topic, writing, editing, designing, and publishing is not a one-day job.
However, according to the Semrush State of Content Marketing Report 2020, at least 37% of businesses create Ebooks on a regular basis. Why don't they opt for blog posts instead? 
Here are some of the reasons:
Ebooks can be used to move your potential customers down the sales funnel. People anticipate an in-depth analysis of their topic of interest and are ready to provide their email address or even phone number in exchange for information. 

Ebooks can be utilized across the funnel - top, middle, and bottom - because of their versatility and depending on their scope and type.

Ebooks can have smooth navigation and plenty of visuals to keep the reader engaged to the very end. 

Ebooks can help you establish yourself as an industry expert thanks to the in-depth analysis of a topic.

Ebooks can be stored and shared in an easy-to-access format, printed out partly or as a whole, and distributed with minimal effort on your side.
However, not all Ebooks are equally good. To avoid disappointing your readers, you have to own the Ebook creation process from start to finish. This means conducting topic and audience research, structuring, and writing your book so that it delivers maximal value but doesn't overwhelm your readers, formatting, publishing, and promoting your Ebook. 
In this guide, we'll walk you through each step of creating your Ebook. We'll:
Talk about the goals Ebooks can help you achieve. 

Provide you with actionable advice on the kind of research that needs to be done.

Help you choose the best structure, design, format, and content for your Ebook.

Discuss possible promotional activities to help your Ebook thrive.
7 Marketing Goals Ebooks Can Help You Achieve 
Ebooks can be used for a variety of purposes. The Content Marketing Institute, for example, sees Ebooks as powerful lead generators, but they can also serve to raise brand awareness or tell a story.
In each case, to achieve your goal you'll need to structure, write, and distribute your Ebook in a different way. Let's take a closer look at each goal and the corresponding scenario.
1. Generating Leads 
According to Curata Blog, 63% of B2B buyers would happily provide their contact details for an Ebook. The immediate availability and the perceived value of the Ebook as well as the fact that it's free encourage your audience to provide you with a means of direct communication. 
To start generating leads, create a landing page with a lead-generation form (a "gate"), put some extra effort into promoting it on social media or via paid ads, and start building your email/phone number list. 
Try to take those leads down the marketing funnel with the help of email marketing, which, according to a recent study by Econsultancy, has proven to be the most effective channel in terms of ROI or (if you have phone numbers) with the help of your sales department. 
2. Reaching Wider Audiences
The Semrush State of Content Marketing Report 2020 shows that today's audience tends to be interested in 7000+word long-reads (they generate the most page views, shares, and backlinks), which means you can leverage an Ebook focused on the theme of your marketing campaign to expand your coverage too. 
Conversely, you can turn an Ebook's most engaging chapters into blog posts, infographics, emails, and even videos to cover more channels and expand your reach without too much extra investment. Here's how we repurposed parts of our Ultimate Social Media Checklist Ebook into a blog post and an infographic: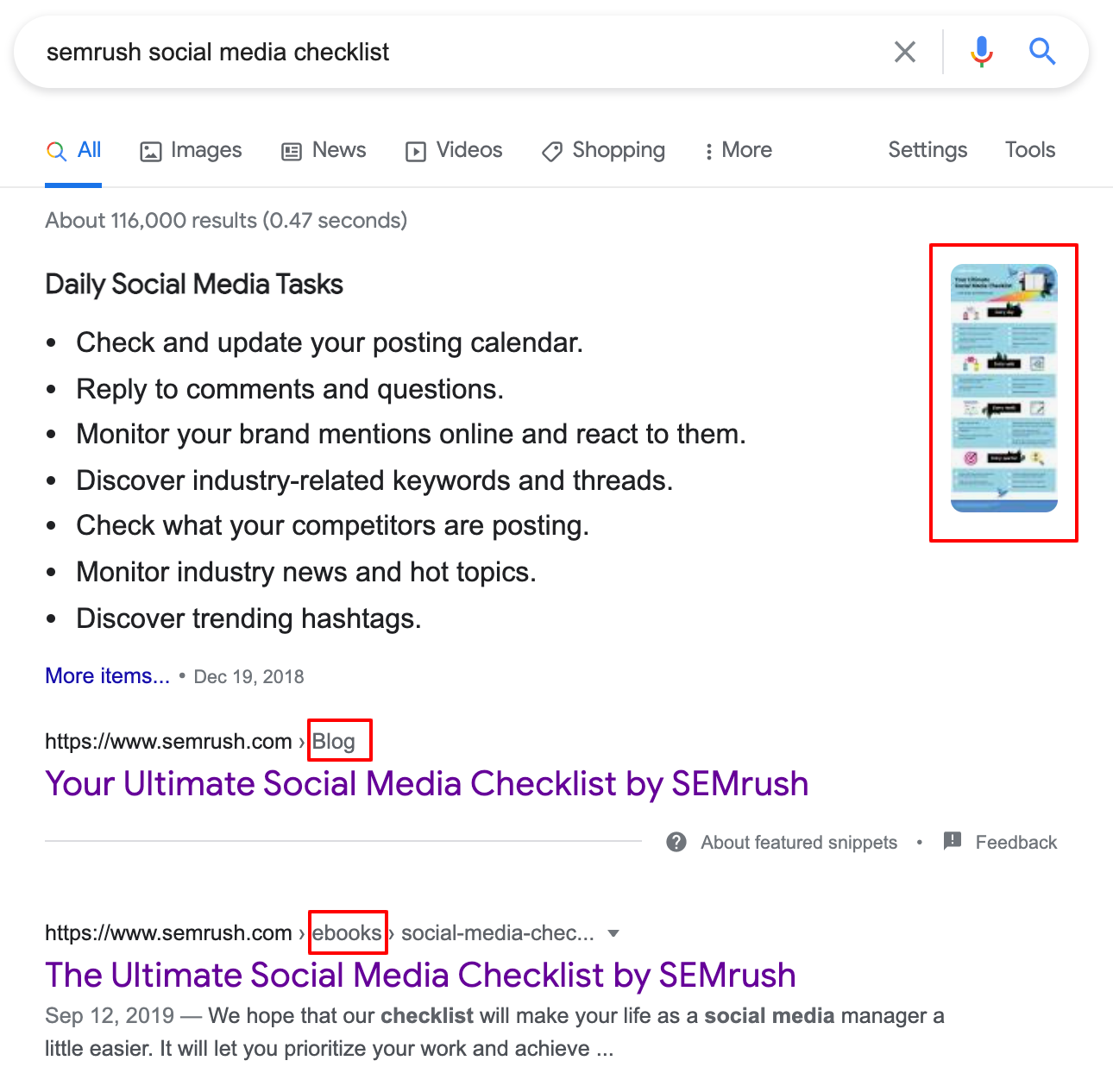 3. Gaining Thought Leadership
In the modern world of informed decisions, precise data is highly valued. Ebooks give an opportunity to demonstrate your expertise through research and earn the respect of B2B buyers by providing information that isn't easy to obtain. 
You can survey or consult your clients to define their pain points and then conduct industry, customer or product research to bring them the answers they are struggling to find.
Let's look at some examples.
To create their industry Top Trends in Cybersecurity research, Microsoft has been researching software vulnerabilities for 10 years, which makes their opinion trustworthy. 

To offer their insights on Generating Small Business Customers With Social Media Marketing, HubSpot spent time and effort interviewing small business marketers and researching their own customer base to identify 10 common traits shared by small business owners who are successfully using social media.

In their Beverage Trends Report, Think with Google used loads of consumer info and advertising trends based on actual search data from real web users to create a rare instance of a big (and undoubtedly impressive) top-of-the-funnel report. 
Information about industry trends will always arouse interest as it lets businesses gain a competitive advantage. 
4. Brand Recognition and Reinforcement 
No Ebook will succeed if the value it delivers doesn't connect the audience to your brand. In fact, you can create your Ebook for this purpose solely and convert it into a branded image enhancer, as the Content Marketing Institute calls it. 
If you represent a young business, you can leverage the design of the Ebook to promote your brand and logo as people may share the Ebook with their colleagues or customers.
As a well-known company, you can do the opposite and align the Ebook cover and design with your corporate identity so that your audience associates the data they are using with you. For example, the Content Marketing Institute sticks to their favorite color scheme so that you can recognize their Ebooks from a distance, even if they decide to play with the font.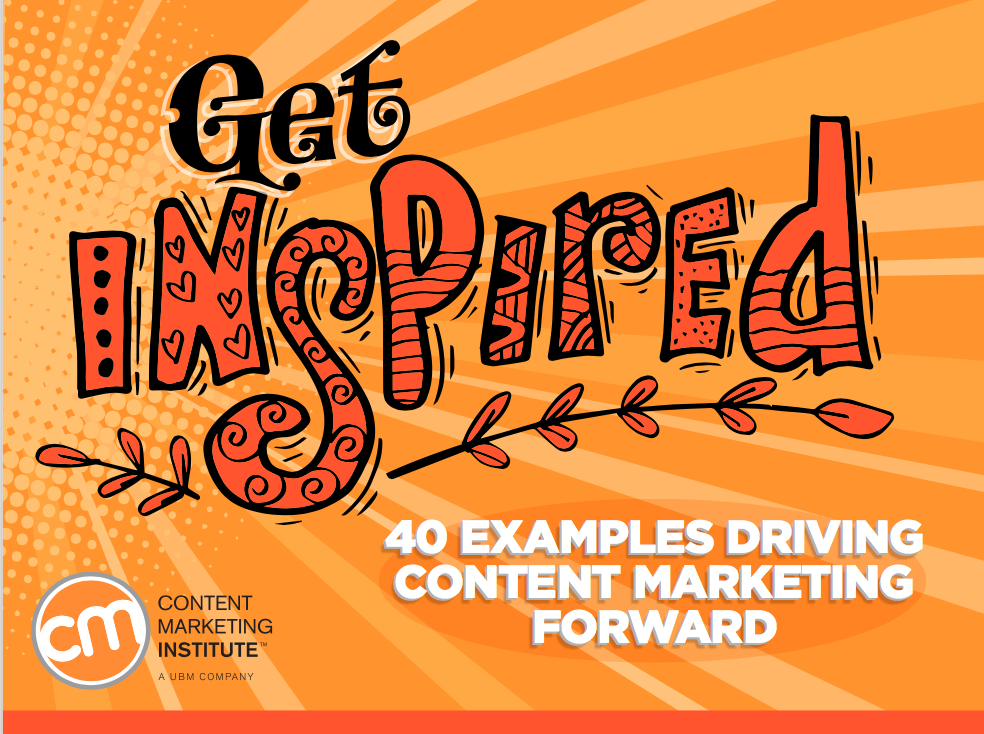 However, we recommend that you're careful when using branded content, as you don't want your Ebook to look like an ad. 
A similar approach works with the text: you can back up your statements with quotes from the experts/thought leaders or from your customers, mentioning your company name in a positive way, or even place these quotes on the cover.
5. Educating and Informing Your Readers
Some Ebooks are intended to educate readers on a brand, product, or other activity. 
Such Ebooks are almost always free and based on the company's internal knowledge. They offer help and advice which is likely to be put into action immediately. 
Below are some categories that educational Ebooks can fall under:
The above-listed content is always user-oriented, be it a person or an entity.
6. Building Trust
With the majority of communication between you and your customers happening online, you have to find a way to visualize your credibility and bring it to people. Ebooks can do an amazing job here due to their great visual potential and data-driven nature.
You can format your case studies and success stories as downloadable Ebooks, which allows you to show the tactics your business used to achieve results with real customers. This can help increase the credibility of your brand or product.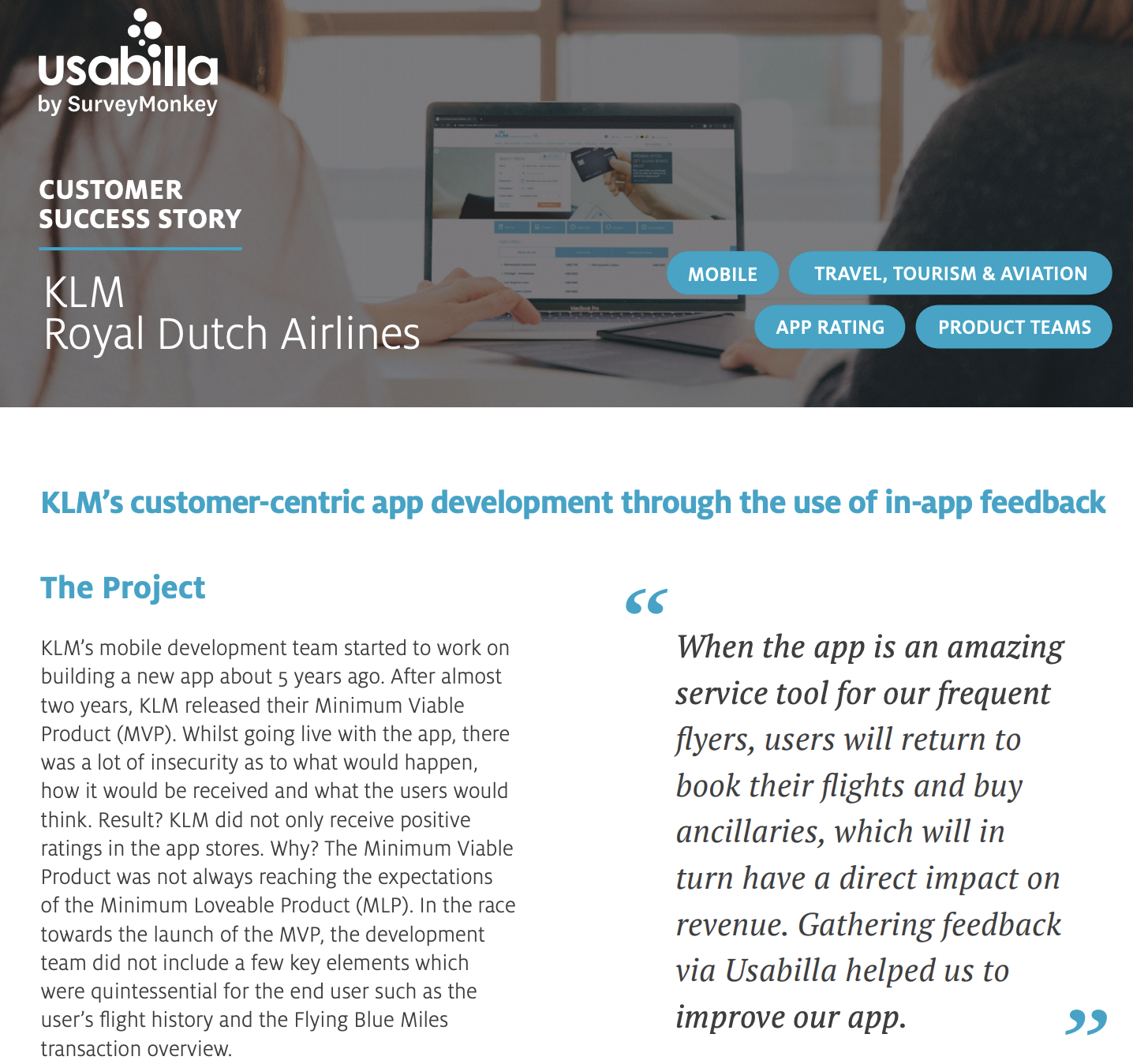 With email marketing continuing to be the winner in terms of driving the best conversions, consider incorporating case studies and customer success stories into your email marketing campaigns. 
7. Telling a Story
Your brand can be perceived differently depending on its visual identity, positioning, marketing strategy, and reputation, but you always have a chance to tell the story your own way. 
In an Ebook, you can combine information about why your company was created, what problems you are trying to solve, what your employees and customers think about you, etc. 
The undeniable advantage of the Ebook format here is that you can print this information out at any time and use it to promote your brand at an offline event.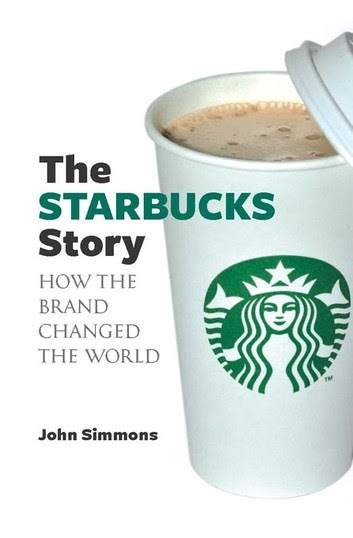 Audience and Topic Research
To make your Ebook attractive to an audience, you need to pay attention to the choice of topic. It's better to spend time on research than months on writing content that no one else will read.
Your job is to understand exactly who you want to reach, address this specific audience, and provide a solution to their pain points. Here's what you can do.
Match Your Topic with Your Expertise
If you choose a topic in which you already have weight, for example, you blog on this topic, the audience will already be more loyal to the content; it's the simplest and most advantageous way.
However, if you are not a strong brand yet, we don't recommend going after hot topics and hot audiences. To create a truly valuable product, favor the topics in which you have expertise or experience. Of course, you'll still have to do a lot of research and surveys, but at least you'll understand what you are researching. 
Keep in mind that you are writing for an audience, so it's not enough to choose a topic that you like, you need to choose a topic that your buyer persona is interested in. This is the next point.
Research Your Audience and What They're Asking
To make sure people are interested in and satisfied with your Ebook, you need to know who they are and what they want. 
Who are your readers?
To get a clearer idea of your buyer persona, you may want to discover the following about them:
Demographics

Job title

Industry

Values, standpoints, and goals

Pain points and challenges

Influences and information sources vital to them
Here you can read about how to find data to create a buyer persona. 
Note: Market Explorer can quickly analyze any niche audience on the Internet. Type any website dedicated to the topic of your Ebook into the search bar, and get its audience's age, gender, interests, and location.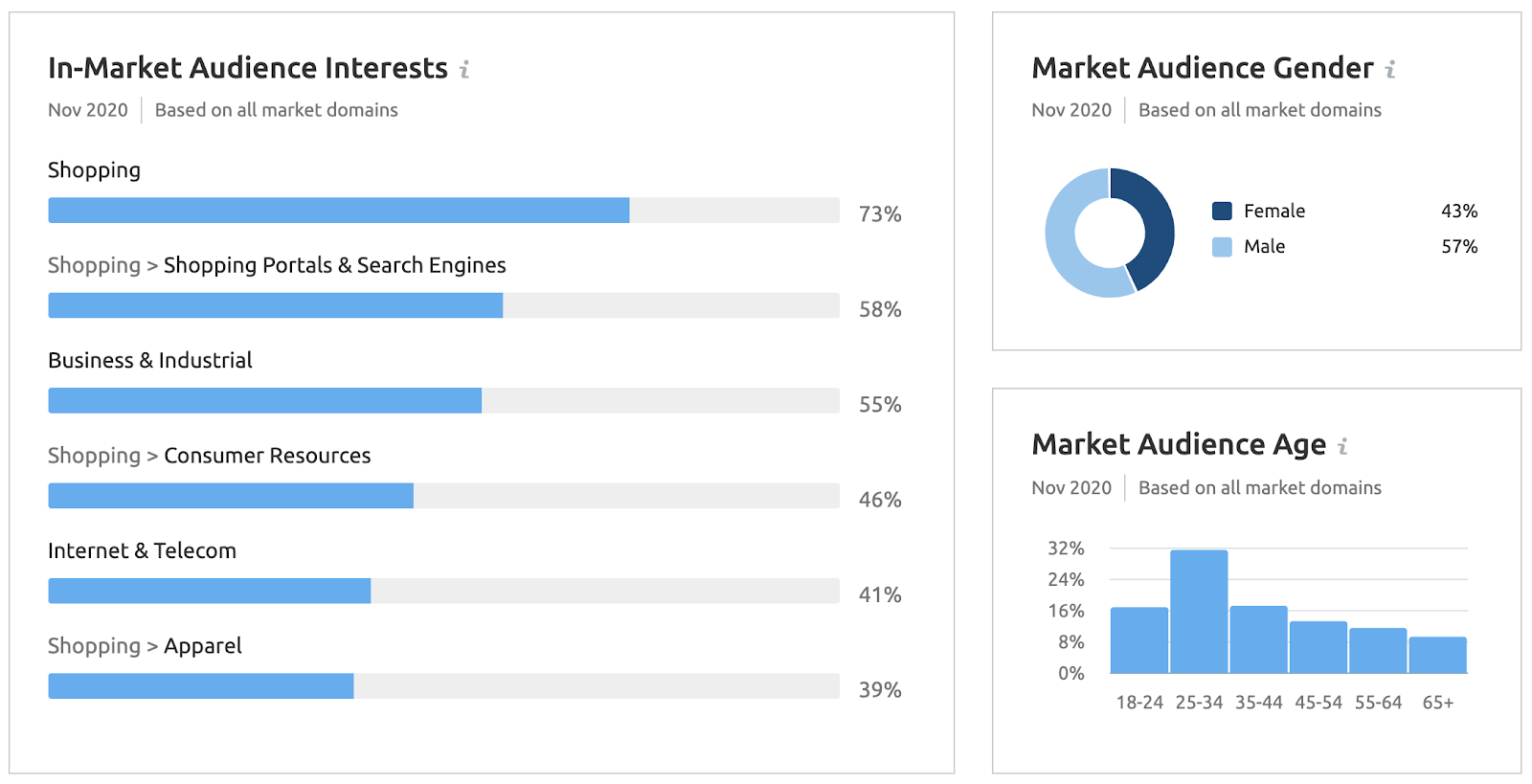 What do your readers want?
The best way to find out what people want is to ask them. 
Take a look at where your audience spends time and use this information when choosing where to post your poll. Ask them what questions they would like to know the answers to about your topic.
A convenient way to distribute a questionnaire is via Google Forms. You can leave a link to the poll on social networks, include it in an email campaign, share in niche communities, launch a survey via PPC, or place it on a special landing page.
For example, Annie Maguire, a successful blogger, made a pre-sale landing page for her Ebook, which summarized her product and gave a launch date. Through the email capture form, people could sign up to get notified of the Ebook's publication. Annie then used those contacts to ask for their ideas and feedback while writing her Ebook. 
This is a great tactic if you want to: 
Make sure people are actually interested in your topic

Build up a strong list of potential customers before your Ebook is live

Consult with people who have signed up to ask for their contribution.
Another way to find questions people ask is to check platforms like Quora, Reddit, and industry forums.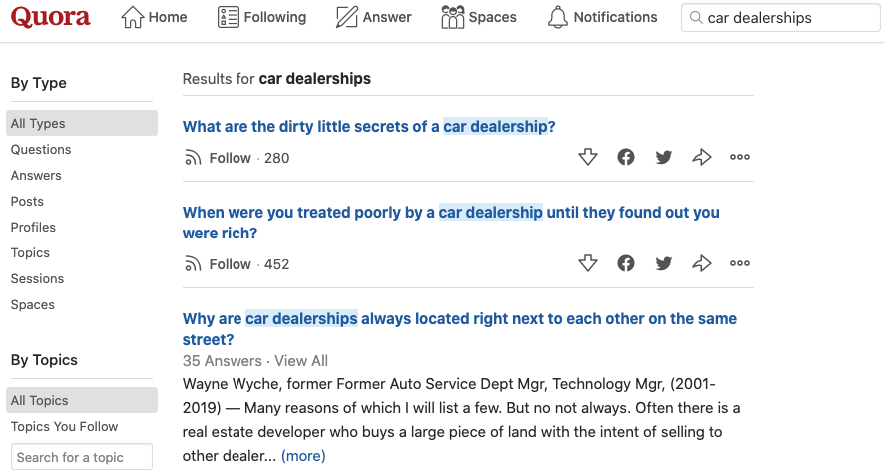 Users ask thousands of questions on Q&A platforms every day. Research what people are asking about the topic you are thinking of covering. The easiest way to find relevant questions is to type partial questions or your keyword into the Quora search box.
Note: Consider using Topic Research, where you can enter a topic into the search bar and the tool will generate related subtopics and ideas to include in your content.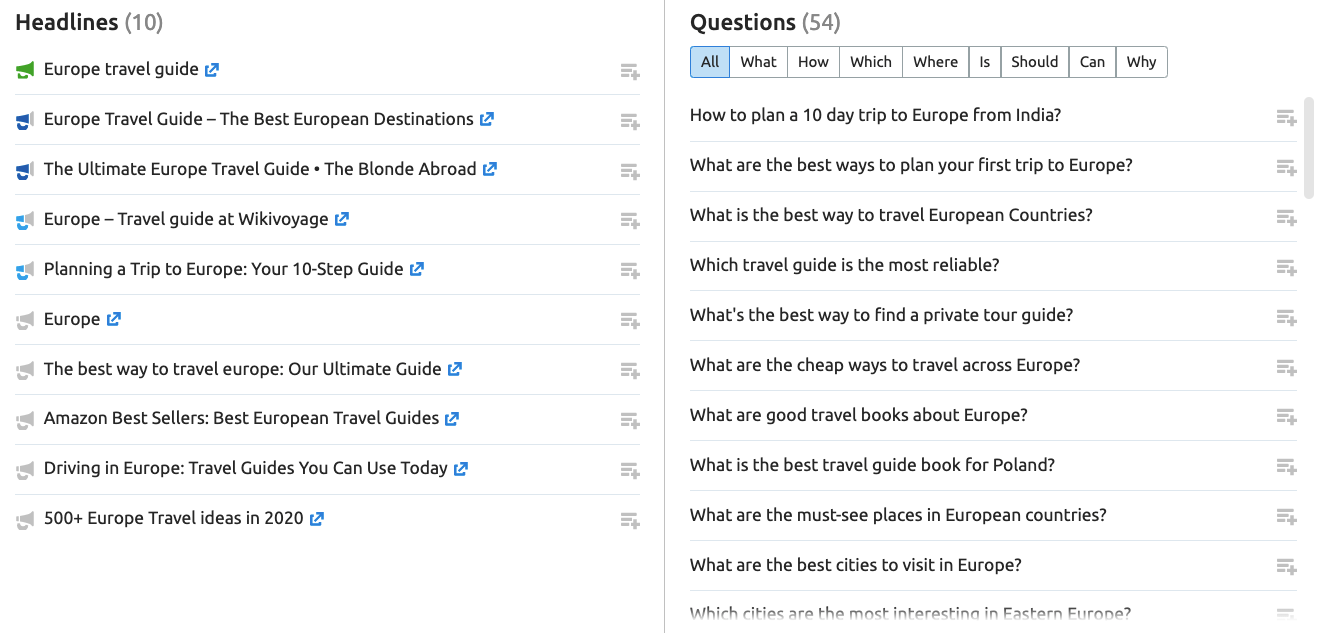 Based on this knowledge, adapt your tone of voice, design, message, СTA, and a landing page. Even the order of chapters can be influenced by your audience's goals. We'll talk about specific examples in the next few chapters. 
Determine where your potential readers are on the customer journey.
This step is essential for those who write an Ebook to get conversions or new leads. 
Different formats work better for customers at different customer journey stages. Determine the journey stage of the people you are targeting - have they only just become aware of your product? Are they in the process of evaluating solutions to their needs, or are they ready to purchase?
According to our study, there are some tactics you can use to successfully map content to the funnel stages:
Here, most people are not ready to buy and have probably never heard of your company. Your goal is to attract their attention by offering the best answer to their query. 
Successful tactics: 
Use the 'how-to' approach to solve a specific problem and show that you are an expert in the field.

Use infographics and checklists to educate readers and gently introduce them to your brand. 
At this stage, people are much more willing to interact if you encourage them to. Here, you should provide an in-depth understanding of how your solution helps. 
Successful tactics: 
Here, you should also use the 'how-to' approach to solve specific problems and show that you are an expert in the field.

You can add your recommendations about free alternatives to your solution to enhance your brand credibility, but show the benefits of your option. 

Mention your case studies and success stories, naturally weaving them into the context.
This is the end of the funnel, where content can accelerate the purchase. The content you create should answer very specific questions about your product or service (e.g., how it actually works or what skills are required to deal with it). 
It is best to place such content on your own website, that way, you will have more control over it and can follow up on customers who downloaded your Ebook but didn't make a purchase.
Successful tactics: 
Customer-generated and case-oriented content are some of the most effective types to convince a person to make a purchase. 

Support the purchasing decision of your potential customer with product overviews, customer reviews, success stories, use cases, and case studies. 
Discover the keywords.
You may understand the general area you want to cover in your Ebook but don't know what to write about specifically. Keyword research will help you. Even in the free version of the Keyword Magic tool, you can check the popular queries for your topic in Google.
Note: The Semrush Keyword Magic tool has a useful feature that allows you to determine not just individual query volume but the overall topic volume. If you find a topic that's high volume, your chances of reaching a large audience increase.
Of particular interest is the Questions tab, which allows you to discover queries in the form of natural-sounding phrases. These are most likely set using Voice Search and also reflect people's needs. 

Find more tips on how to do keyword research in 2020 here. 
Research the demand. 
The first thing you can do is to see what your competitors have published on this topic. Search Google for Ebooks by your competitors, and find out if they have already written on the subject.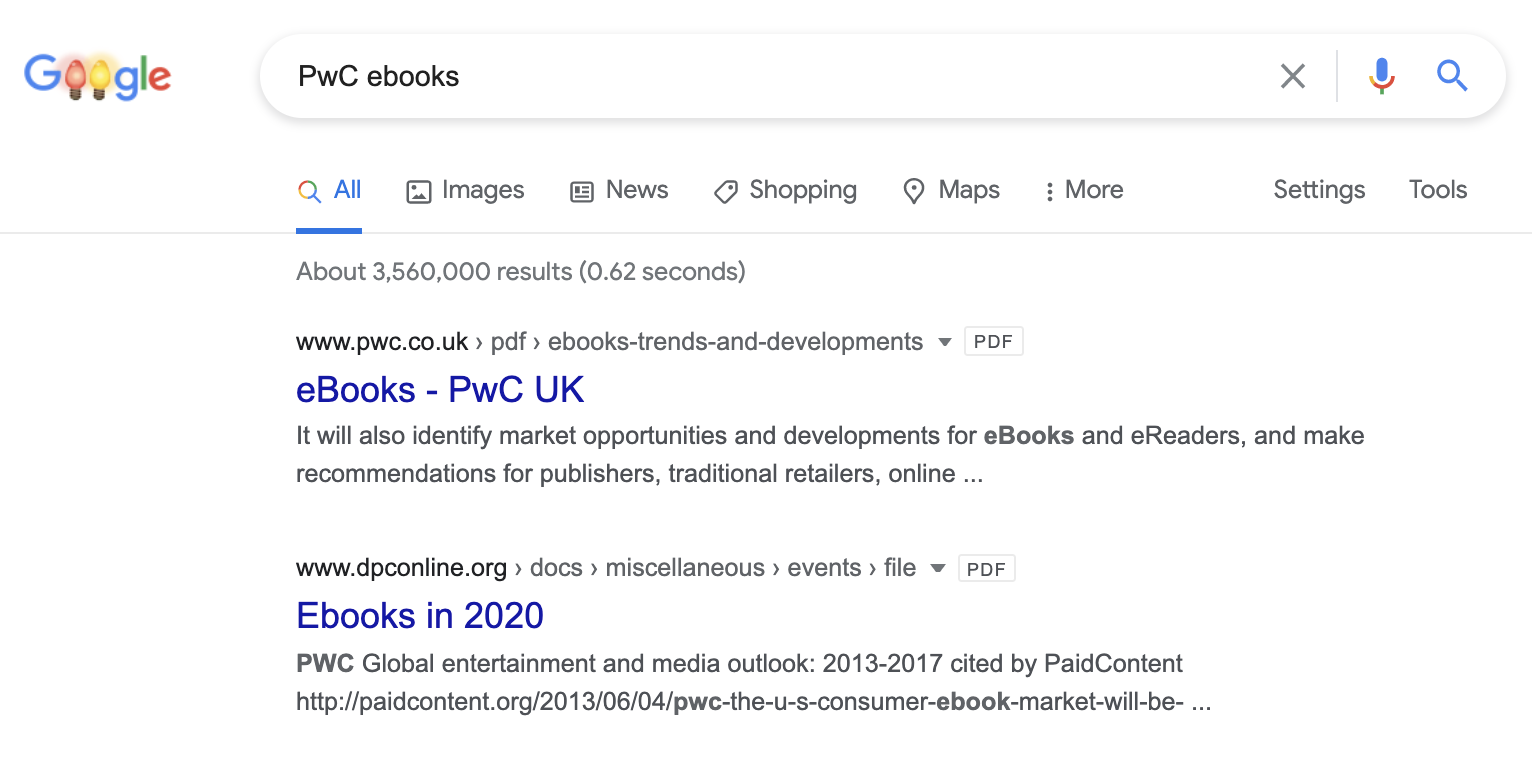 Take a close look at which topics your competitors have chosen, where they published, and how they designed their Ebooks. Then, use the feedback they got on this content and research the engagement to see if the topic is trending. 
Note: Organic Research is a convenient way to check any landing page from the Internet for statistics.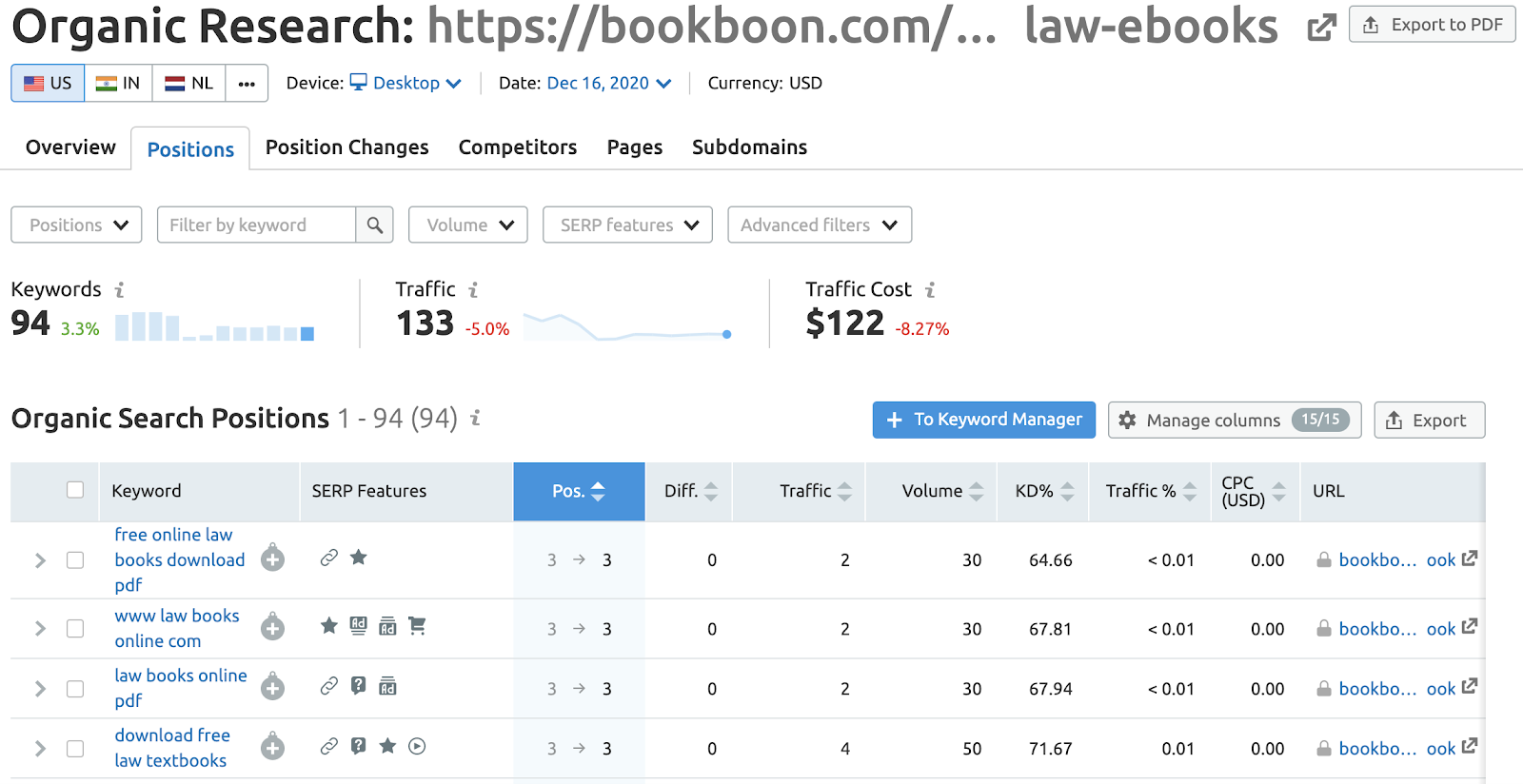 The other thing you'll want to do is to research what self-publishers publish on this topic on Ebook platforms Amazon and Barnes & Noble. Go to the Top 100 paid bestsellers and see if there are books on your topic. 
Pay attention to the reviews. You may find a clue to what readers were missing and what they were asking for. The latter is more likely to be written in reviews with low ratings, so use filtering by stars.
Once you've completed your research, you should clearly understand what your audience is looking for and which of their questions remain unanswered. 
Settle on Your Ebook Structure
When deciding on the Ebook structure, consider the strategic reasons behind it. 
Some Ebook sections will only be relevant to particular types of Ebooks. For example, you will probably want to include a section with tables and figures if you're writing a research paper, or a CTA if one of your strategic reasons is to take a reader to your product page.
You should also consider the specific audience you're targeting and how they will engage with your content. Targeting potential customers will require a different approach to engagement than if you're targeting academics.
In this chapter, we'll go over the different sections of an Ebook and provide actionable examples that can apply to specific content types designed for specific readers.
Attract Readers With a Captivating Title
This section is relevant for any type of Ebook. Here are some tips to get you started:
Tip 1: Start with a working title.
Set a goal and return to it at the end to make sure that what you've written is what you promised to explore.
Tip 2: Make your Ebook title specific.
After scanning your title, your readers should have a clear understanding of what they'll learn from the Ebook.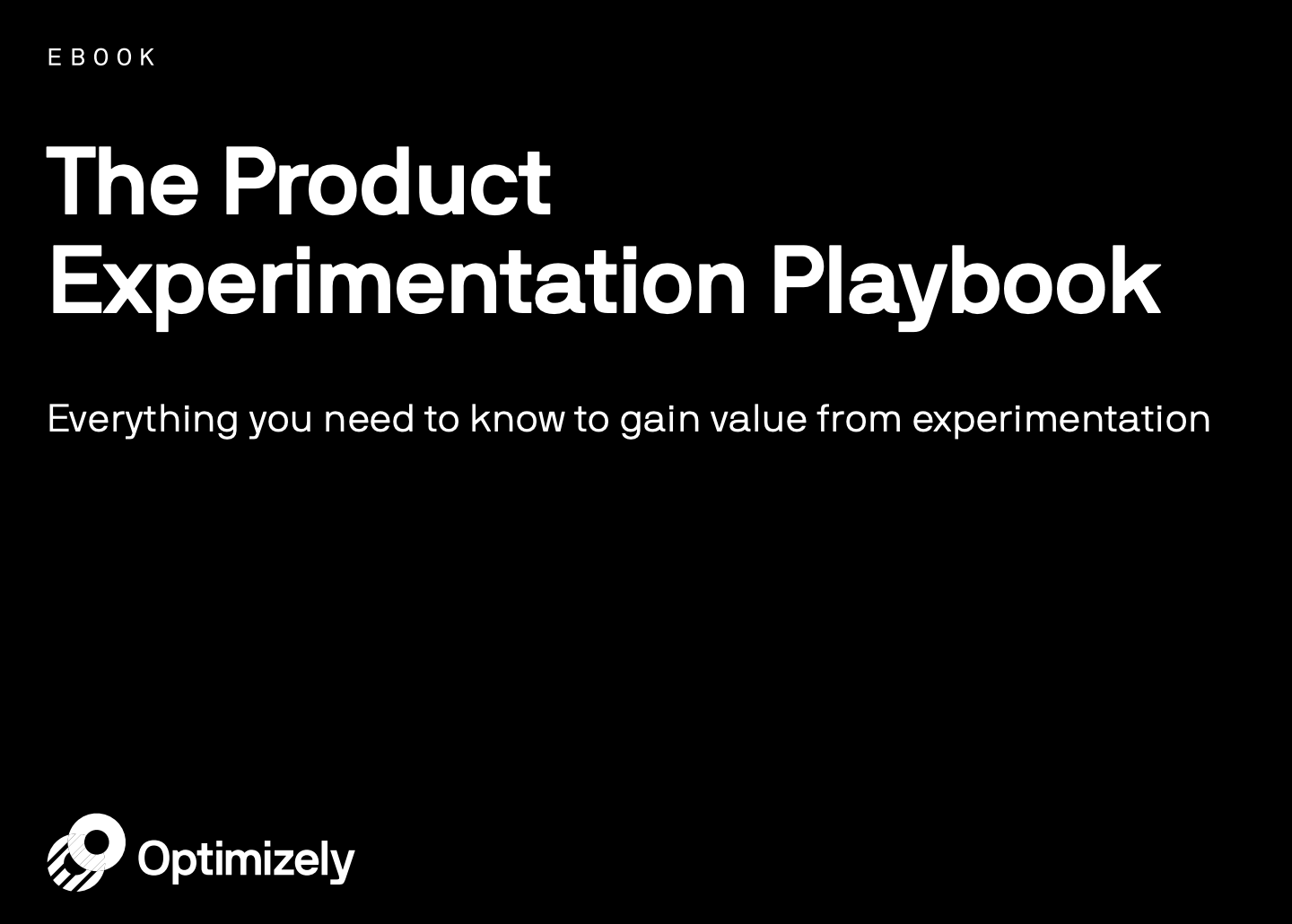 Tip 3: Use numbers to add credibility. 
For example, if in your Ebook you are talking about best practices, instead of "Best Practices of...", it is more effective to write "10 Best Practices ..." 
Another example of numbers being useful is in a case study; for example, a company increased its traffic by X percent (you should state this in your title).
If you are writing a white paper with statistics, then you can say X [Industry] Statistics On [Topic]. Or maybe you'd prefer to choose the most popular questions that people ask and write X Common Questions About [Topic] Answered.
Tip 4: Make your keywords stand out visually.
Design your cover title, highlighting those words that will catch the target audience's attention.
Tip 5: Make it resonate. 
Consider mentioning your buyer persona in the title to establish a personal connection with your reader. Let them know that you wrote this book especially for the "investor," "businesswoman," or "financier."
Tip 6: Show what problem readers can solve with your Ebook.
Structure the title as if you're explaining to them what to do. For example, "Know Your Customer":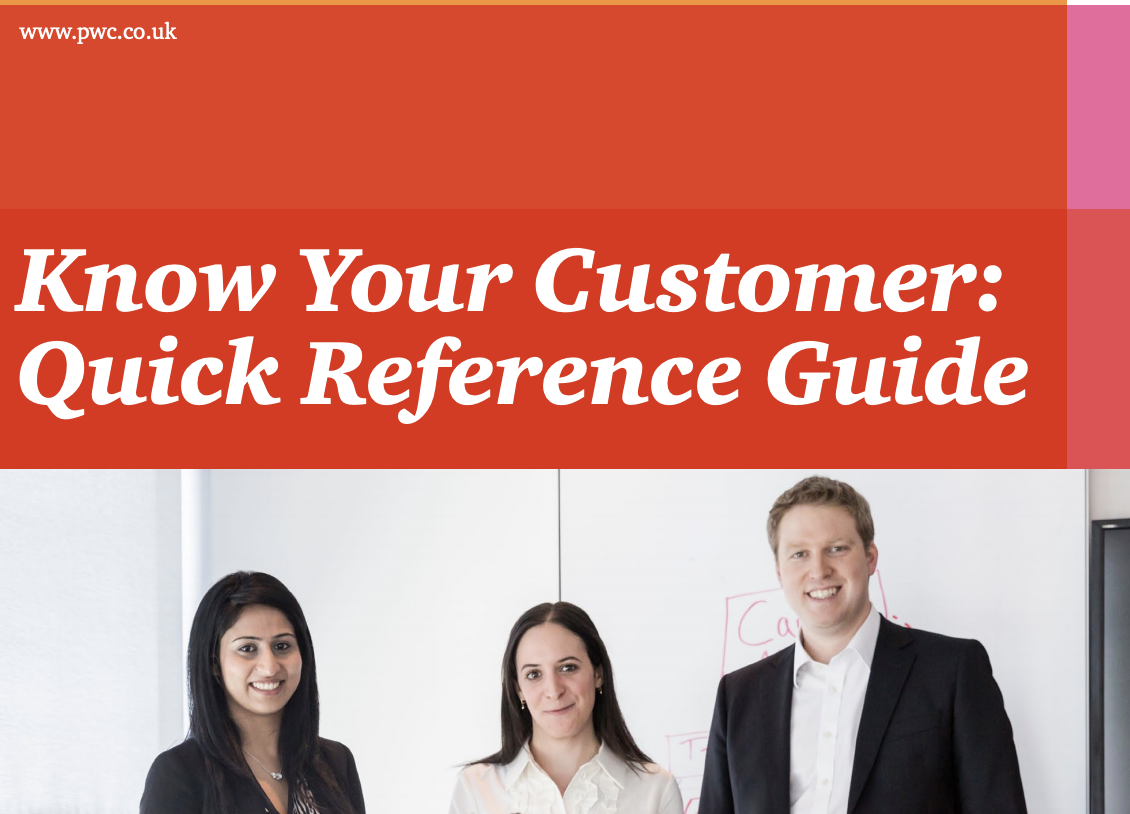 Tip 7: Ask a question that you are going to answer.
Ask a question that your audience often asks in the title to show them that you are going to answer it, like Search Engine Journal does here: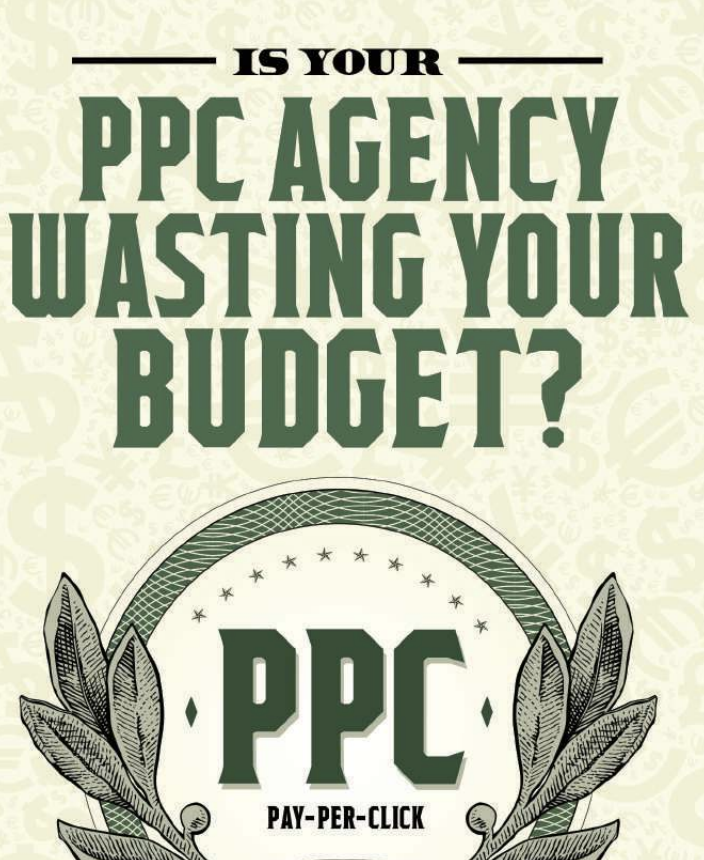 Introduce Your Ebook's Value
Regular books start with an introduction. This is a logical step to take if you want to immediately show your Ebook's value and encourage your readers to keep reading. 
Let's look at the steps for a great Ebook introduction:
Hook them and pull them in.
You don't want to have a long introduction. Start by addressing users' concerns, or challenges you want to solve with this Ebook, in a few sentences. For example, "Do you need help overcoming…?"
Speak about the benefits in the "you" form instead of the "I" form.
It's tempting to talk about your feelings or goals you want to achieve, but readers are a bit selfish, and they clearly want to know what they'll get if they invest their time in reading your Ebook. For example, "You will discover how to…"
Tell readers what to expect in the chapters.
Open the door to one of your chapters and tell readers what they will find there if they keep reading. Will it be facts, stories, tips, expert comments, statistics? 
Briefly talk about who you are.
Explain in a sentence how you are associated with this topic to start gaining credibility if readers don't know you yet. 
Make the introduction easy to perceive visually.
Break up the content into short sentences and paragraphs.
Double-check your introduction before releasing your Ebook.
When you're done with the main content, go back to the intro and check that they match each other.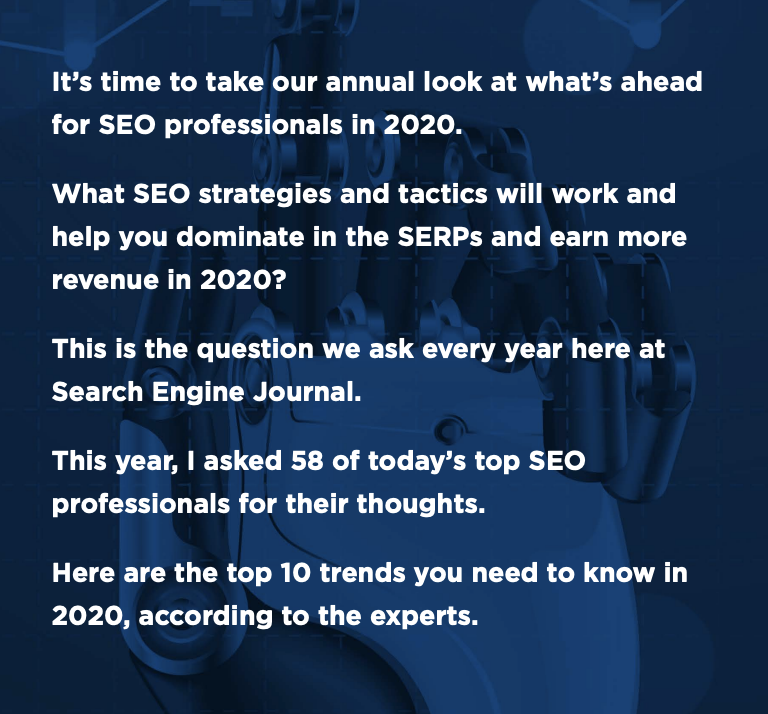 Search Engine Journal: SEO Trends 2020
If you have something else noteworthy to say, consider including this information right after the introduction; for example: 
If you're creating an academic paper, such as a research paper, literature review, thesis, etc., an abstract can help you explain why the study was conducted, to begin with, what the research has concluded and how these findings can be applied. As an industry expert, only you will know how to engage your readers from the outset.

If you're publishing a non-fiction Ebook for the first time, the f oreword can serve as a social legend if written by an expert or peers from your field.
To give a personal message to the reader about why the topic is close to you, how you found information, and the story behind the book, use the preface section. At the same time, don't hide critical information in your preface – many readers often skip this section.

Perhaps you need to give the reader a little background information to then move on to an analysis of a narrower topic. Here's how Cornerstone did it in their Rise of a Holistic Learning Experience whitepaper: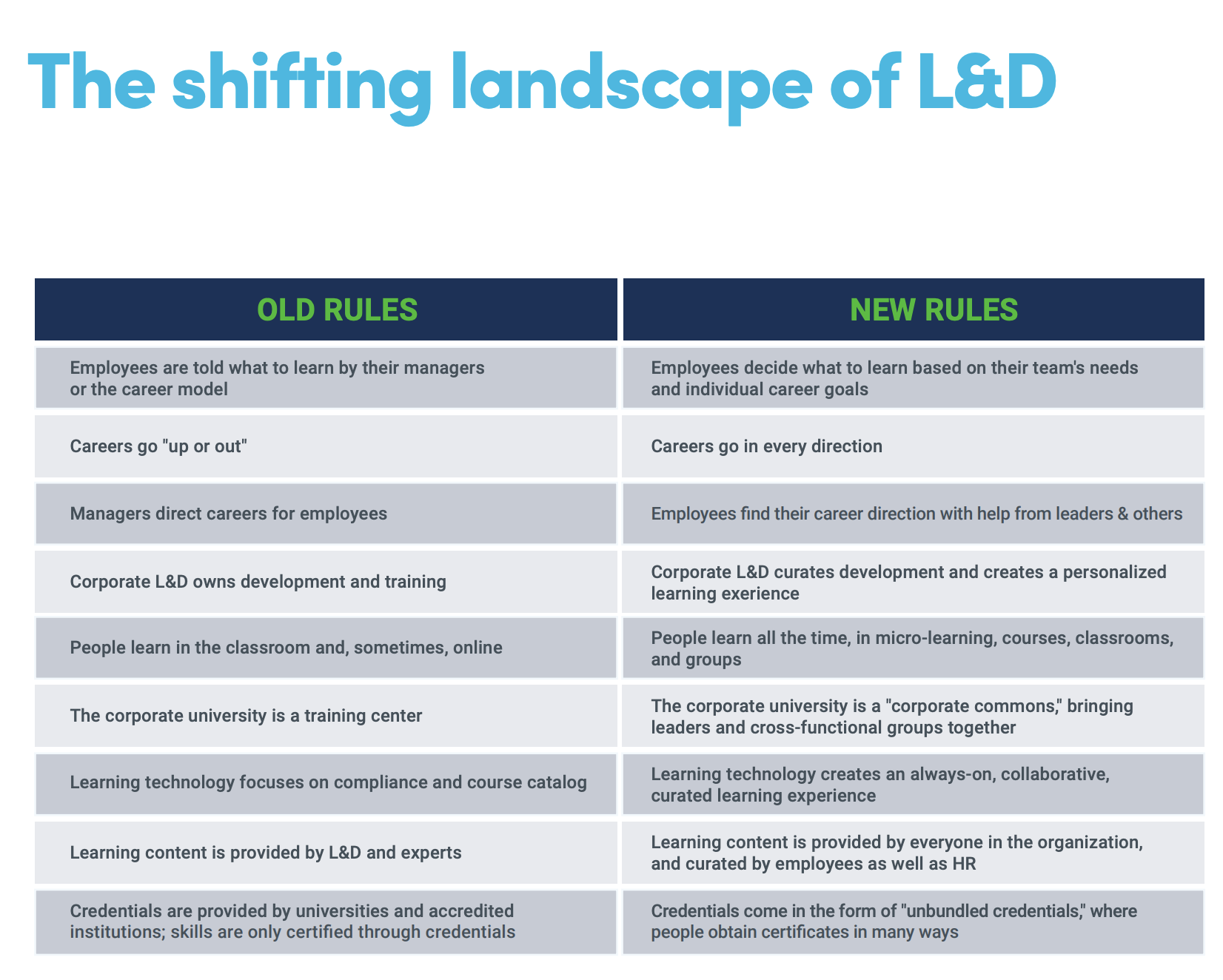 If you want to give kudos to people who have influenced the Ebook, then you can include a special Acknowledgments section.
Help Readers Navigate with a Table of Contents
The table of contents is an important part of any Ebook, and has two purposes:
To present the Ebook structure to the reader as you would a printed book.

To allow the reader to quickly access specific parts - a benefit of an electronic book.
Make each element in the table of contents clickable, so readers can go to the appropriate place in the Ebook. If you are writing a complex Ebook, divide the content using the main headings and subheadings.
Amazon also notes that a table of contents is required for a good Ebook reading experience, and provides instructions on how to create one if you're going to place your Ebook on their platform. 
Create a placeholder, but fill it in last, just before you make the PDF of your Ebook, as pages will shift throughout the editing and design process.
Search Engine Journal: Advanced Technical SEO A Compete Guide
Build Your Chapter Outline
The chapters will be different depending on the topics you want to cover, but here are the basic steps on how to make an outline:
Throw out as many topic ideas as you can, and disable your internal editor; any little idea can lead to a golden idea.

Group the related sub-topics into parts or sections, and reject those which are irrelevant to your Ebook.

Use subheadings to break each chapter down into several key points.

Try to convey the value of your Ebook in the headings' wording; be consistent in formatting for every chapter heading. 

Make each chapter flow logically into the next.

Make headings stand out from the rest of your text; make them bold and larger or use a style to define them.
Having a clear outline will make the writing stage far easier. 
Back It Up with Data
Any investigation, be it marketing analysis or scientific research, must be backed up by data.
Of course, if you are writing company history, a playbook, or product guides, this section is optional, but even then, proving your words will help to increase your Ebook's credibility.
Pay attention to these rules if you're writing about an investigation: 
Clearly and succinctly explain your methods.

Use the past tense.

Use credible resources that ensure accuracy.

Describe ethical approval, study dates, number of subjects, groups, materials used, locations of the manufacturers, evaluation criteria, exclusion criteria, and statistical methods. 
If you're writing scientific research, you should pay particular attention to this section. Provide sufficient details, so others can repeat the experiment to verify your findings.
Summarize Your Ebook
You will want to present the summary and key conclusions in the Results section, and explain your results in the Discussion section. 
Keep in mind the following points when writing your Summary:
Include key outcomes of your work and your explanation. 

Don't repeat your introduction, but address the problem pointed out there. Suggest that something is or is not true without making definitive statements.

For academic papers, the discussion should tell a story and include explanations for observed phenomena, with supporting studies to justify the findings.

Analyze your results carefully and make sure they logically follow from your Ebook. 

Add visual representation of your data using figures, tables, and graphs whenever possible (tables can also be a separate chapter at the end of your Ebook). 
References/Sources
References, as well as the abstract, materials and methods, results, and discussion, are an important part of any research. 
Include links to any material you've referenced in your Ebook to help your readers learn more about the topic.
About the Author
Place a short "About the Author/Company" blurb at the end of the Ebook. Include any appropriate credentials, a fun fact or two, and a link to social media pages. 
You can build visual testimonials using a special tool like Canva. They have several free templates, appropriately sized for all social channels, from Facebook and Twitter to Instagram and LinkedIn.
Call-to-action
If you want your readers to learn more about your services, add a CTA that will encourage them to investigate your solutions, as Cornerstone does in its ' Rise of a Holistic Learning Experience':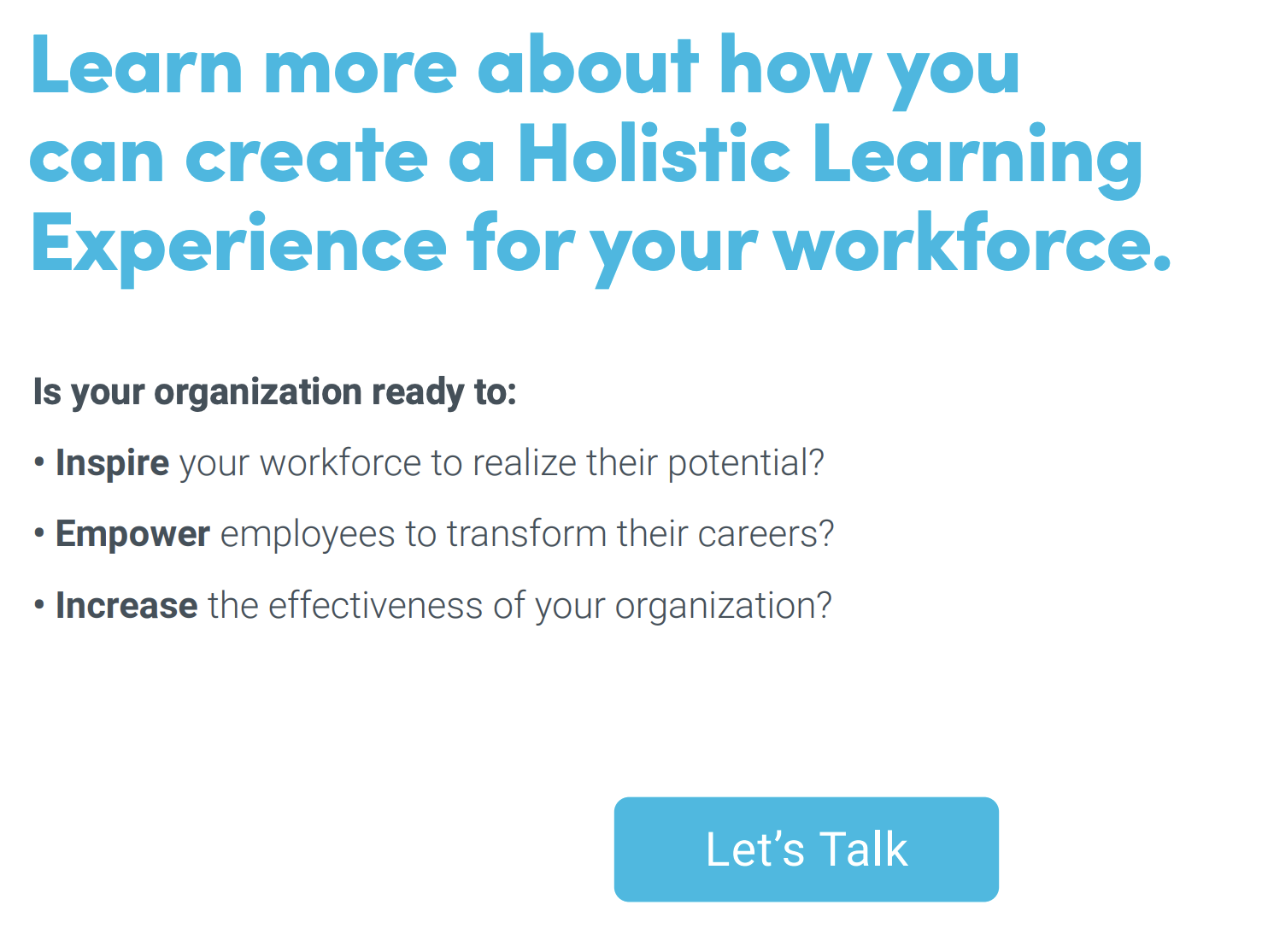 You can also take readers directly to your product page, especially if you provided a step-by-step guide to your solutions like SalesForce did in their Complete CRM Handbook: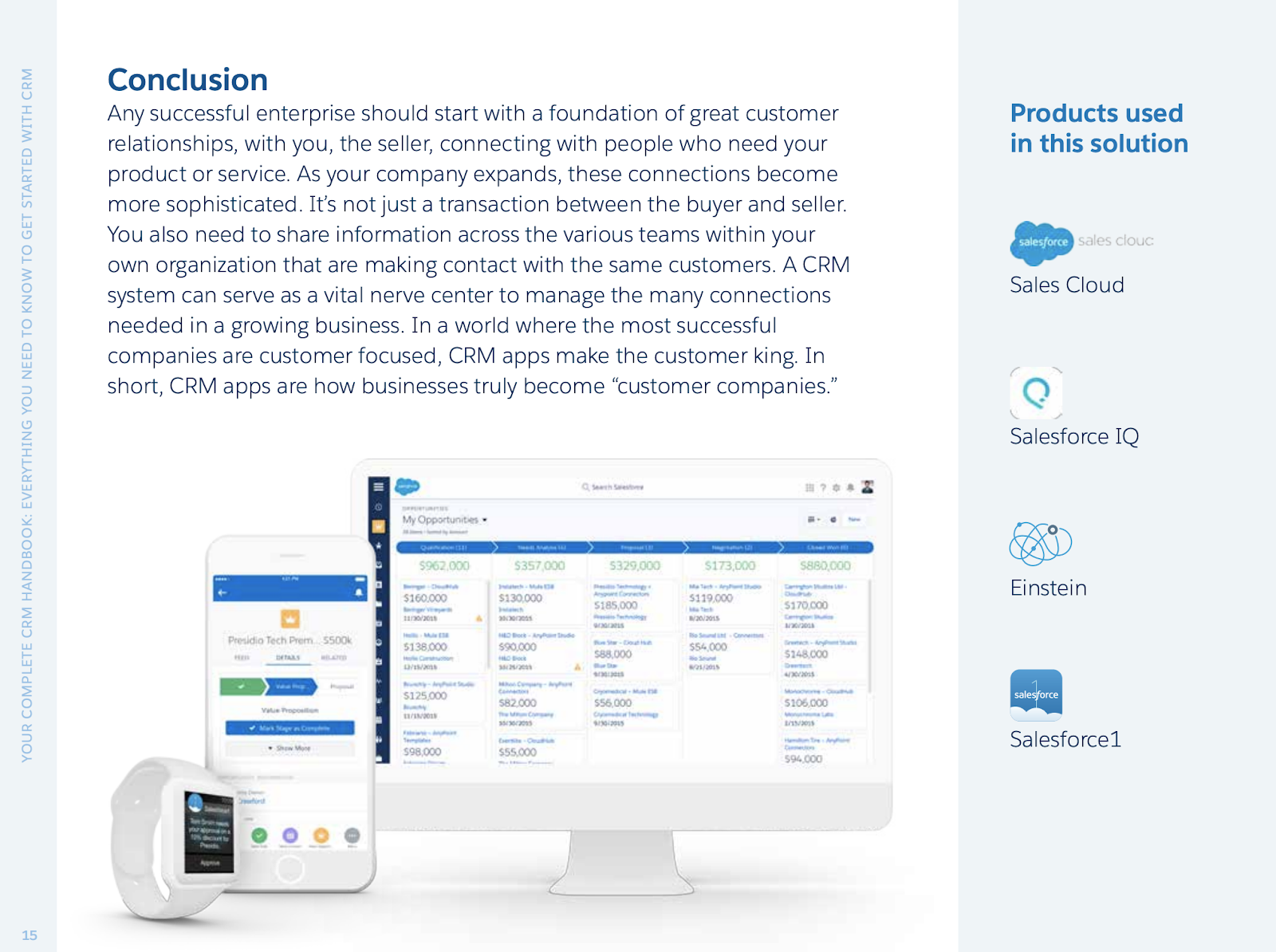 If it's a customer success story or a case study, consider a CTA where readers can request a demo or contact your sales team.
Your CTA will depend on the goals you want to achieve with your Ebook. For example, you can include a video about your company at the end of company playbook if you're targeting potential job candidates, or a link to further research if your goal is to educate your readers about a topic.
Keep in mind that a CTA doesn't always have to be placed at the end of your Ebook. For strategic reasons, you can place a CTA right at the beginning. 
Once you're settled on your Ebook structure and which sections you'll need, start filling them out with content, keeping in mind the following.
Ensure Value
So far, we've been talking about how people are willing to give up their contact information in exchange for something that provides value. Therefore, in order to keep your end of the deal, you need to make sure your Ebook meets this definition.
Here's what we mean by providing value:
Go into detail.

Be credible.

Provide actionable content. 

Make sure it's readable.
Go Into Detail.
It's important to ensure that your Ebook isn't just paying lip service to the topic at hand. Readers will be disappointed if they part with their contact information, only to find that there's no substance or weight to what you're writing about.
To avoid this, you should:
Cover the topic at hand more comprehensively than any of your competitors (you can learn how to research your competitors' content in the Audience and Topic Research chapter). 

Aim to answer all the questions your audience are likely to have (you can also learn more about utilizing keyword research in the Research chapter).
This doesn't mean that you should waffle on for the sake of it, however. Try to summarize your points succinctly, and convey only what is necessary. Filler content will turn off readers – especially busy ones – pretty quickly.
Stay focused, too. Rather than flitting between multiple topics, cover your primary topic in detail. This means conducting thorough research and interviewing relevant experts for unique insight.
Finally, be cautious in your use of jargon. If your Ebook is targeted at an audience that knows the topic well, then some technical jargon is acceptable. However, as a rule, you should always write for a more general lay audience or assume that, for most readers, your Ebook is going to be an introduction to the topic in question.
Be Credible. 
It's no good either to submit conclusions to your readers without any evidence or analysis of how you reached them. For your content to be deemed trustworthy, you should:
Interview Experts.
If possible, try to speak to industry experts and get their take on key issues or trends. Their participation will give your Ebook more credibility, as well as providing useful insights into how your findings affect real-life organizations.
You can also use these quotes to divide your text and draw your readers' attention to particular areas. Just make sure that your chosen experts have sufficient authority on the topic they're discussing!
Semrush: In Data We Trust
Include Research.
Ultimately, the best way to validate what you're saying is by supporting it with cold, hard numbers. However, this doesn't necessarily mean that you have to create complex visualizations or invest in huge research campaigns; your output could be something as simple as the results of a social media customer survey.
You can also research and refer (and of course link!) to external sources, although you should be 100% certain of their accuracy and credibility first. If you're able to utilize all of this research to dispel a common misconception or idea, then even better!
Collecting this kind of information also enables you to build more meaningful relationships with your participants or sources, who will then be more likely to share the final publication across their networks.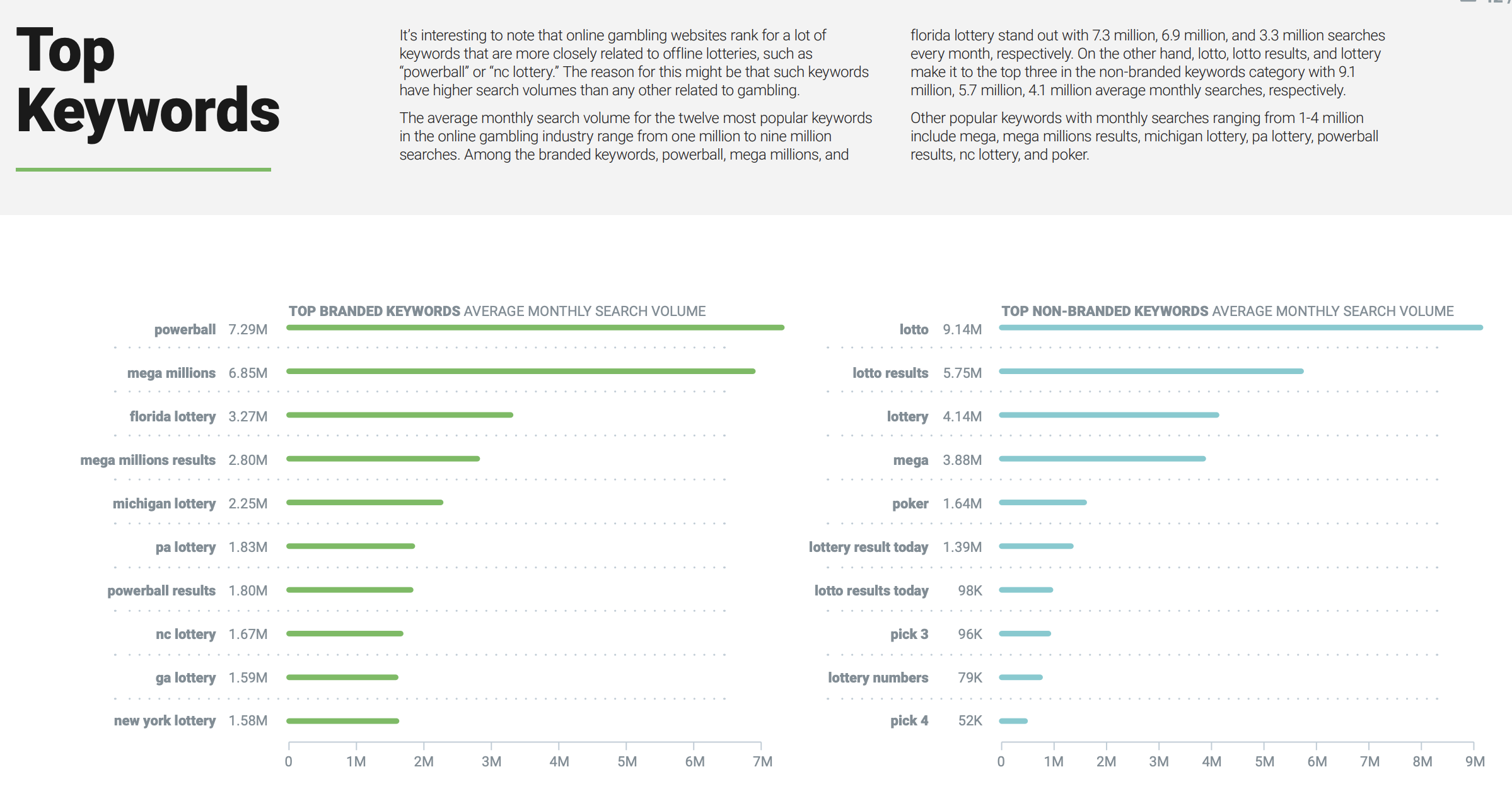 Semrush: The Ultimate Guide to Digital Marketing in Online Gambling Industry report
Strike the Right Tone.
The tone is a crucial element in any type of written content and striking the right one can make or break how your Ebook is received.
In the process of creating your Ebook, you will be pulling together research and interviewing experts in much the same way that a journalist would prepare an article. However, your finished product should have a more helpful and personable voice, like a blog post. You want to inform your audience, but you also want to engage with them in a one-to-one way.
Provide Actionable Content.
To have the most impact, your content needs to be actionable. It's all well and good wowing your audience with statistics and insights, but they need to know how everything relates to their own needs.
Therefore, ensure that you provide checklists, actionable tips, infographics, how-to guides, or any other practical tools that support your text.
Semrush: The State of Content Marketing 2020 Global Report
In the same vein, make sure your writing is clear and easy to understand, too. You want to be engaging and keep people interested, but the primary goal is to inform and enlighten your readers.
Make Sure It's Readable.
As well as being in-depth, credible, and actionable, your content also needs to be visually appealing. This means formatting everything correctly, including fonts, paragraphs, and bullet points.
Here are some best practices to follow, as recommended by our very own Semrush design team:
Font
Your font scheme should consist of no more than three fonts (one for headings, one for highlighted sections, and one for body text), and it should be applied consistently throughout the document. There is no definitive research on which font is the most effective, but it is generally advisable to use a clean, sans-serif font such as Roboto, Arial, or Lato. It's advisable that one line of text does not exceed 80 symbols (including spaces), or have less than 40.
Images
Images are a great way to break up dense bodies of text and capture the attention of readers. When using them in your Ebook, however, there are a few guidelines you should adhere to:
If you are unsure where to place your visual, place it at the top of the text above the header. Images placed below the header (and before the text) make information harder to perceive.

You can use images on either side of your text if they are of the same height as the text block. 

If you are using your own original photos, make sure they are properly edited to maximize color and clarity. 

If you are planning to use stock photos, make sure you have permission to do so. Agencies such as iStockPhoto, Unsplash, and Adobe Stock offer a wide array of stock photo options for use in Ebook layouts, but before you use a particular image, you need to check if it has any publication limitations. Different providers will offer different guidelines in this regard, so make sure you understand the terms and conditions of your license.

Ensure that any illustrations or photos that you use are placed strategically throughout the book and that they adhere to basic design principles. If your Ebook consists mainly of text and maybe one or two images, then you should be able to produce the layout on your own. However, if you want your finished product to look professional and include plenty of illustrative elements, then it's advisable to work with a professional graphic designer for this part of the process.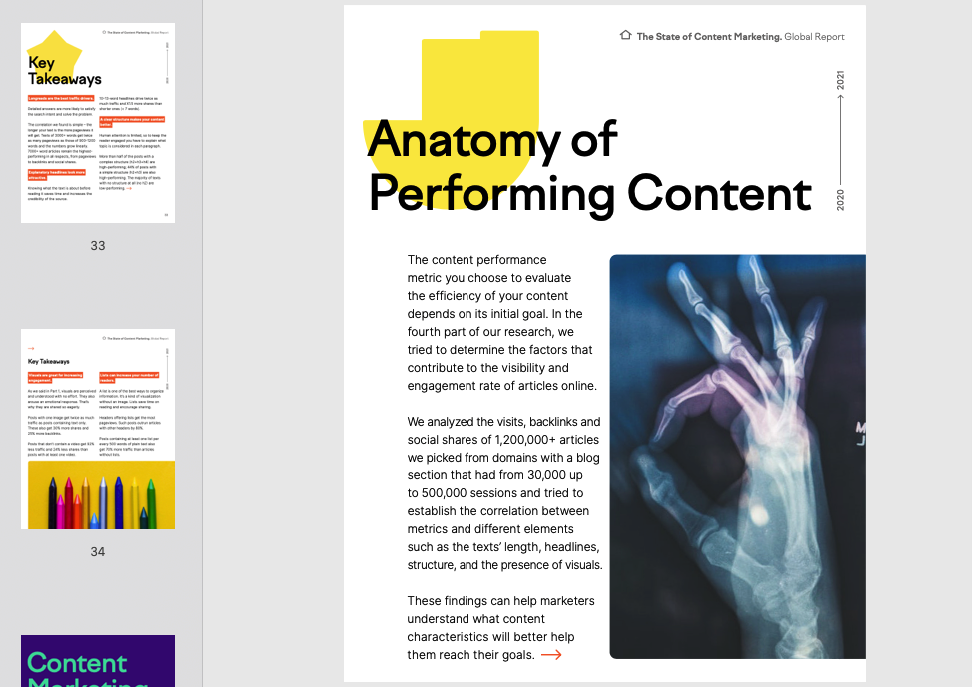 It's also a good idea to use pictograms if you are referring to key numbers, with supporting text underneath: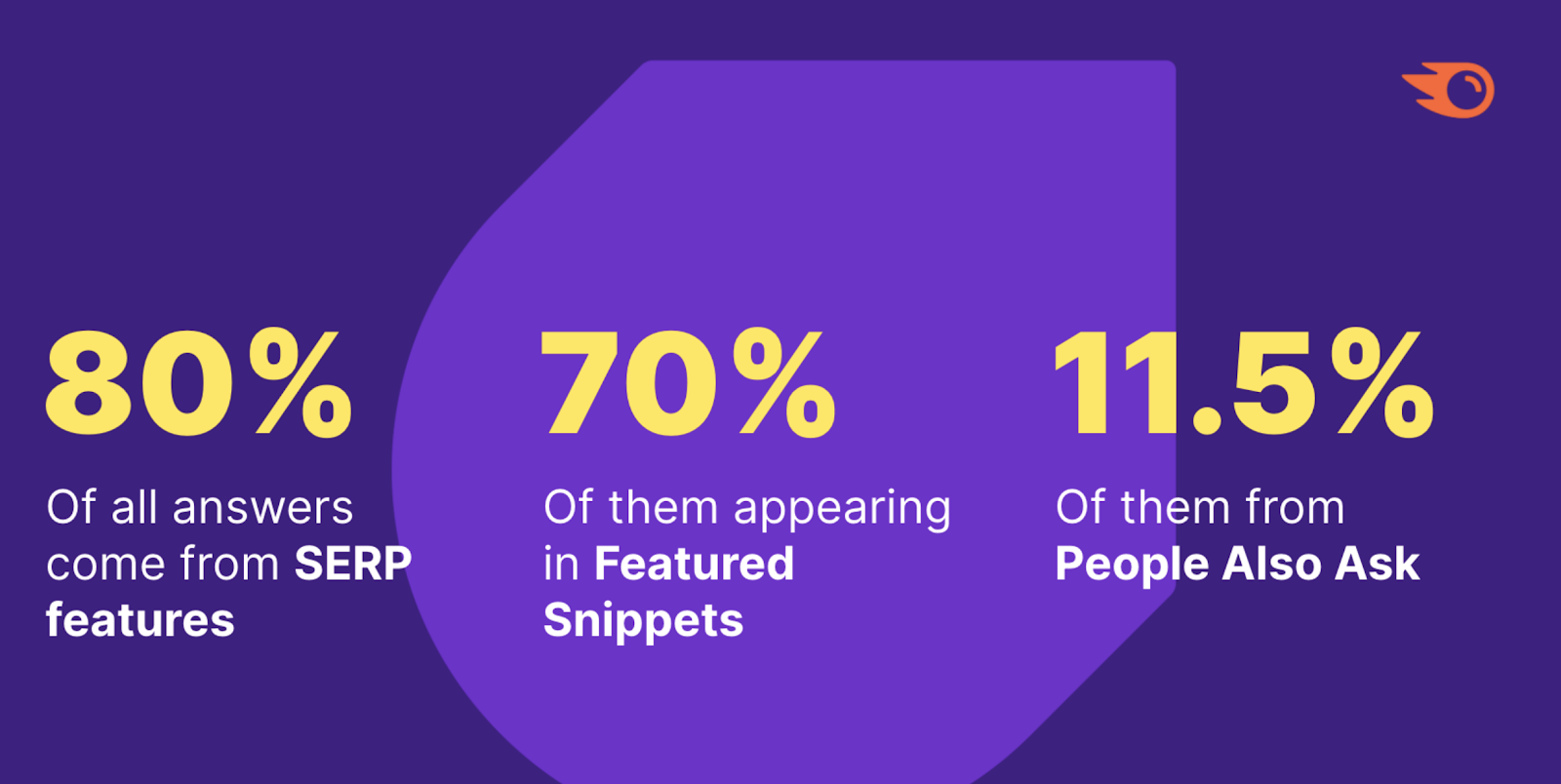 Paragraphs and Columns
How you space and arrange your paragraphs can affect the readability of your Ebook, so it's worth taking the time to format everything properly.
Again, there is no definitive strategy for this, but as a general rule of thumb, most experts recommend that you should incorporate a significant ratio of white space into your layout. This is to avoid dense, text-heavy pages that challenge readers and make the content look unappealing.
It's also a good idea to incorporate visual breaks in and between paragraphs, which can be achieved by using bulleted lists for quick facts, lists, or descriptions, and blank lines between paragraphs (a technique known as the block method).
The line spaces between these paragraphs should be bigger than those between your header and the first paragraph.
Also, when using columns, it's recommended that:
Each column is approximately the same height.

Subheadings are not placed at the bottom of columns (they should be placed at the top of a new column instead).
Navigation
Some readers will only be interested in a specific sub-topic or section, so your content should be structured logically – and mapped out as such in your table of contents. This will allow those readers to find what they're looking for quickly, rather than trawling aimlessly through paragraphs of text.
You can learn more about creating a table of contents in the Settle on Your Ebook Structure chapter.
General Readability
Keep in mind that these are general recommendations. If you're creating a serious study, or if your competitors have created similar Ebooks in a more modest style, then it's not advisable to experiment with too many images or unconventional fonts (unless such a style will allow you to achieve your goals).
Here are some other key tips to remember:
Where possible, maintain a page hierarchy. Images will always be noticed first, followed by your headings, and, finally, your body of the text. Therefore, your images should always serve a purpose by reinforcing and emphasizing your message.

For lists, use increased line spacing between your bullet points.

Be consistent with your page margins (the only exception is for images that exceed the page's corner). It is advisable for the lower margin to be higher than the upper margin, as this makes the page look less intimidating.

The main objects of your page (such as images or headings) should be placed either in one corner of the page or at the very center of it.
Edit, Edit, and Then Edit Again.
Any text that is published under your brand's name needs to be written to a high standard. If your content is jumpy, incoherent, or – worst of all – littered with sloppy spelling and grammar mistakes, then you compromise your brand's message and credibility.
Of course, when you are working with longer-form text, such as an Ebook, it's a lot easier to make mistakes and lose sight of the overall picture. This is why you should secure the services of a professional editor or, at the very least, get trusted colleagues or friends to go over the text with a fine-tooth comb.
What should the editing process entail?
The editing process can differ depending on who is reviewing your text, but, generally, an effective approach should follow these steps:
Your editor should read your Ebook closely and provide you with guidance on how to improve your style, tone, flow, or structure. They may suggest that certain sections be removed or reworked, or even that you need to provide additional text. This step represents the most significant part of the editing process.

You should consider and implement the changes accordingly. You may disagree with some of the suggestions, but always bear in mind that just because something sounds "good" or "simple" to you, this might not be the case for others.

After re-submitting your draft, your editor will then focus on the finer details of the text, such as spelling, grammar, word usage, and any other small errors. Most Ebooks go through several rounds of copy editing, but you can speed up the process by using a copy editing tool such as Grammarly.
Decide on Your Ebook Format. 
Once you have finalized your text and it has been proofread and edited, the next step is to decide in which format you are going to publish the book.
To determine the correct format, however, you first need to identify where you are going to publish your Ebook.
Choosing a Format
One of the most popular Ebook formats is the simple PDF, as it is quick and easy to create and can be read on pretty much any device. As a result, it is the go-to choice among most B2B marketers, with users able to download and read it directly from your website, or in an email.
However, PDFs are not reflowable, which means that they do not adapt their presentation to the output device. This isn't such a problem on a desktop, but for smaller-screen devices, such as smartphones, tablets, and ereaders, it can make your Ebook difficult to read.
Using the PDF format can also create potential issues if you are intending to sell your Ebook. As a file type, it only offers basic copy protection, while there are varying restrictions in place with most major online Ebook retailers:
| | |
| --- | --- |
| Seller | Policy |
| Kindle Store (Amazon) | Amazon's KDP accepts PDFs but does not recommend using this format. There are also language restrictions. ( Source) |
| Apple Books (Apple) | You can distribute PDFs for free in the Book Store, but sold books must be in EPUB or iBooks format. ( Source) |
| Google Play Books | Accepts PDF files. ( Source) |
Therefore, you may want to consider one of the following formats:
EPUB
If you are looking to sell your Ebook on Apple Books, then EPUB (electronic publication, or .epub) is a great option. It is supported on most devices, although it is important to note that it is not supported on Amazon's Kindle.
EPUB's strength lies in its flexibility; it can support fixed layouts but, unlike PDFs, it can also support reflowable layouts, meaning that the text and images in your Ebook will automatically adapt to whichever size screen your readers are using. This is especially important if your Ebook is text-heavy.
EPUB files are also DRM protected and have strong copy protection, which means that you can control how your Ebook is used by your readers.
AZW / AZW3
Conversely, if you are looking to reach your audience through Amazon's enormously popular Kindle device, you will need to use the tech giant's proprietary file type, AZW.
AZW files are built upon the existing MOBI format (now no longer supported), but with additional DRM protection. The latest version of this format – AZW3 – supports HTML and CSS, meaning that you can get more creative with your fonts, styles, and layouts.
However, this file type only works on Kindle devices (and AZW3 is not supported on Amazon devices predating the Kindle Fire).
Publishing 
Of course, as with any product, people can only access your Ebook if they are aware that it exists. Therefore, the last step in your journey is to publish and market it. 
As previously mentioned, there are a wide variety of places that you can publish your Ebook, and your choice should be defined by the goal you wanted to achieve in the first place.
For example, if you want to monetize the Ebook, then it's a good idea to publish externally. There are numerous large-scale Ebook publishers you can list with, including Amazon's Kindle Store, Apple Books, Google Play Books, and Barnes & Noble.
However, as a marketing tool, it's more likely that you will want to make your Ebook easily available through your own online channels. Here are some of the ways that you can achieve this:
On Your Website
Offering downloads on a certain section of your website is the easiest starting point. Not only is it logical, but it also creates potential organic value, as Ebooks generally provide broad insights and solutions to particular search audiences. By ranking for certain keywords or queries, you won't just attract potential leads, but also be able to position yourself as an authority within your niche or industry.
There are a few things you should bear in mind, though. If your Ebook is in PDF format, then there is a possibility that Google won't crawl it unless it's in your sitemap, or the link leading to it is easily accessible. Even if this is the case, PDFs are also not mobile-friendly, which will affect your ranking.
Therefore, if you want to rank organically, it's a good idea to create an additional HTML page and make your Ebook available as a gated download from this location. You may get fewer contacts this way, but you will have a much higher chance of ranking.
Through a Landing Page
A landing page is a standalone page separate from the rest of your website, and generally acts as a "base" for visitors who have seen your marketing campaigns, either externally or via your internal communications channels (such as email or social media). There should be no other internal links on this page, and only one simple CTA: to download the Ebook. 
When creating this page, you should bear in mind the following:
It should entice the reader but remain informative at the same time. Use an eye-catching image of your Ebook cover to grab attention, and add a small abstract as a teaser.

It should describe the Ebook's main topic, as well as the key subtopics that you're going to cover.

If your goal is to generate leads, add a simple form visitors can fill out in exchange for access to the Ebook. 

Optimize the page for relevant keywords to ensure that it is more discoverable in search engine results. 
In some cases, you can actually complete this stage before you've even started writing the Ebook. Provide some information about the topic, and then leave a CTA enabling people to subscribe in exchange for access once the final product is released. 
During the course of your work, you can even consult with these subscribers to understand any questions they may have on the topic, making your Ebook even more relevant and helpful.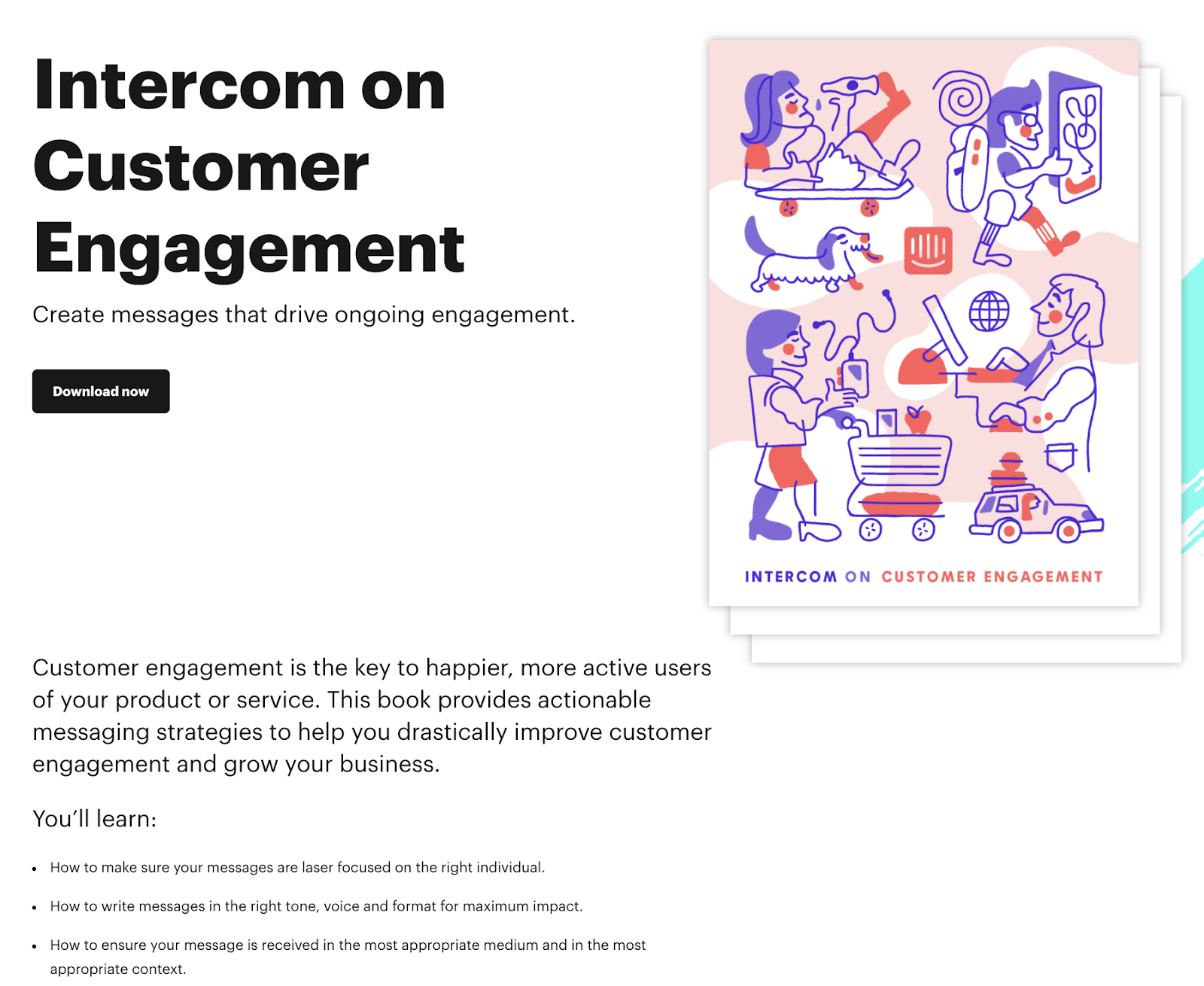 Marketing and Promotion
How do you get people to your landing page and your website, though?
Ultimately, you need to explore a variety of relevant avenues. This means getting people to engage with your social media, writing kickback emails, and building a quality landing page (as described above). You should also amplify these efforts by producing supporting blog posts, thereby generating as many avenues as possible through which your target market audience can discover your Ebook.
As mentioned above, being visible in the organic search results for your target keyword(s) is a strong starting point. Indeed, according to a study we conducted in September 2020, organic search is the most effective channel for attracting traffic (70%), with the number of visitors being the main metric used to assess the effectiveness of content at the ToFu level.
This doesn't mean that you should let Google do all the work, though. Here are some additional ways you can promote your Ebook:
Social Media 
Social media is another effective channel for attracting traffic (60%), so aim to harness it. For example, you can pin your Ebook to your Twitter feed so that it's the first Tweet your followers see. You can also enlist the services of influencers and engage directly with relevant communities.
Recycled Content
You can cherry-pick the most relevant or exciting elements of your Ebook, and use them to create blog posts that provide a CTA or link to the full report. Of course, you don't want to give the whole game away; you still want to give your readers a reason to download the full Ebook. Instead, mention key headlines or statistics that grab the attention of your readers and make them want to delve further into the details.
Email Marketing
Email marketing is another effective way to drive traffic. You can send a series of short segmented emails to your relevant contacts, briefly highlighting how your Ebook can help solve a particular issue or problem that may be affecting their organization. Just make sure you include a link to your landing page!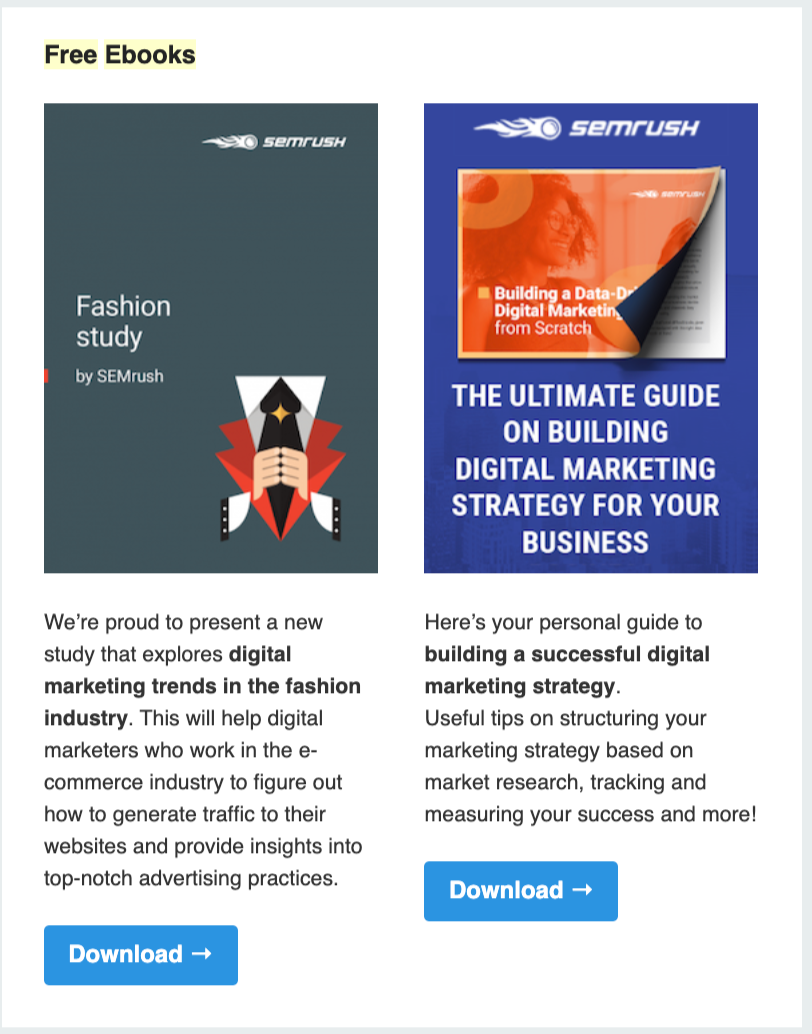 Paid Advertising
If you have the budget, then you can also utilize paid advertising campaigns, either through Google search or display campaigns or on social media. However, you need to consider if this approach will be cost-effective and if it will align with the goals behind the creation of your Ebook.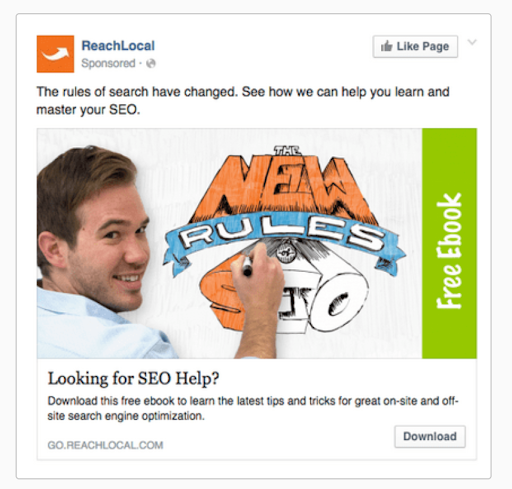 Get a Professional Writer to Do It for You.
What happens if you have an Ebook idea, but need help with writing? Many people hire ghostwriters to draft Ebook content. Some opt to provide their professional expertise and then have a ghostwriter properly shape the content; others have an idea and want a professional writing service to bring it to life from start to finish. 
The Semrush Content Marketplace Ebook writing service can bring your Ebook content to life through industry-expert writers. You can order Ebook writing in three easy steps and get an exceptional Ebook in 14 days. Working with a professional writing service allows you to monetize your Ebook idea while leaving the heavy lifting to the professionals.