Google Voice Search is making search easier and more accessible. And it presents big opportunities for businesses to reach more people.  
In this article, you'll learn how to use Google Voice Search to improve SEO and increase your visibility.
What Is Google Voice Search and How Does It Work?
Google Voice Search (also called Search by Voice) is a virtual search assistant that lets you use Google Search by speaking rather than typing. 
You can use Google Voice Search on the Google website or app by clicking on the microphone icon in the search field.
You can also access it via Google Assistant on Android smartphones, Google smart speakers, and Apple devices if you've downloaded the Google Assistant app.
On these devices, you wake the feature by saying "OK Google" or "Hey Google."
For example, here is the results page for the query, "Hey Google, how do I cook an egg?" on a smartphone.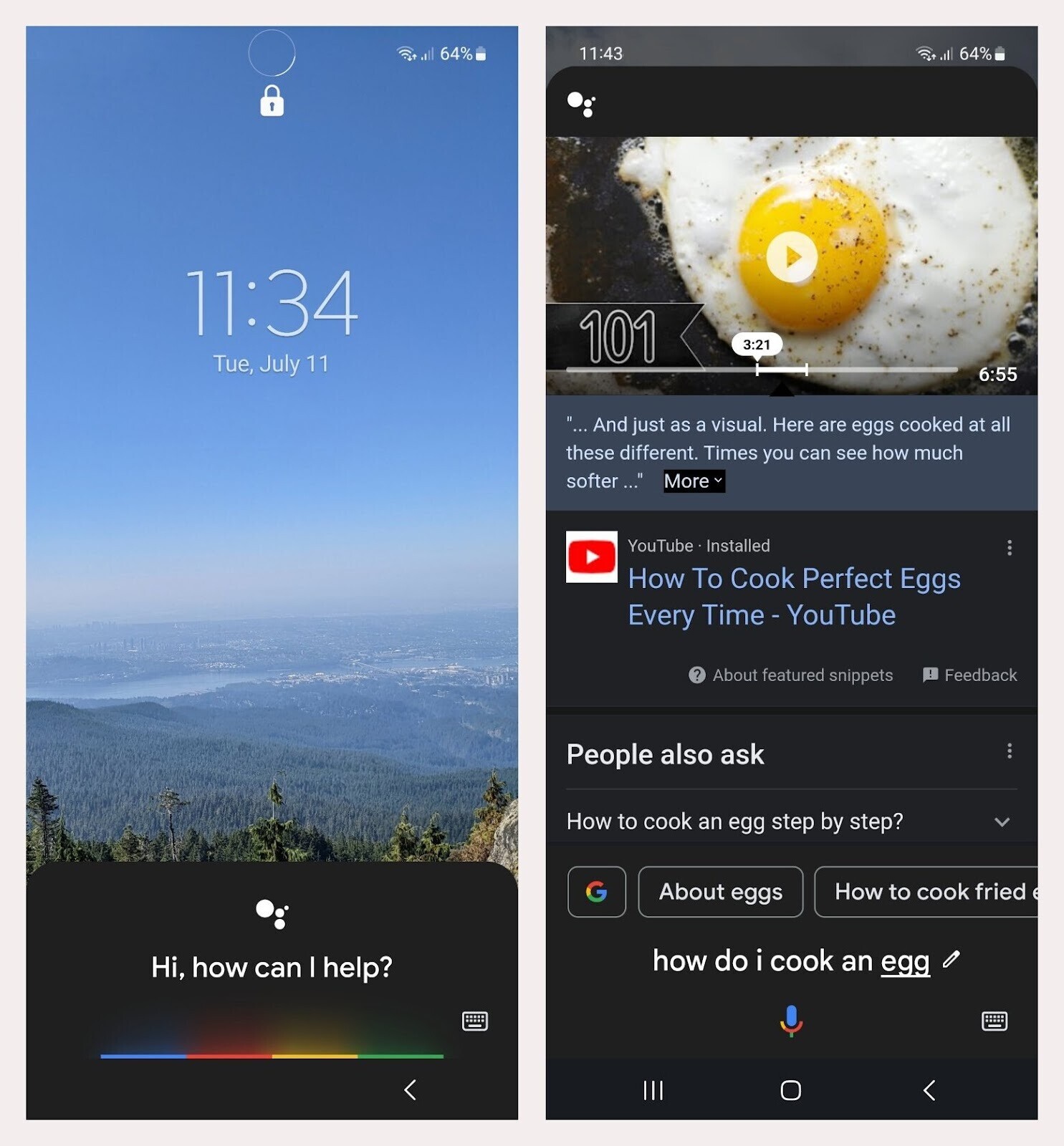 When you say your command or question, Google uses natural language processing (NLP) and speech recognition to read and interpret your request as a human would.
That means Google can understand search intent and deliver the most relevant results in the same way it does when you type a query.
Generally, Google will turn to organic content and return similar—or identical—results for the query.
For some queries, though, Voice Search will pick the most relevant result and read it back to you. Giving you a truly hands-free experience
Why Should You Optimize Your Website for Google Voice Search?
Voice search isn't a fad.
And the voice assistant of choice for most people? 
Google devices.
Almost one-quarter of the US population used Google Assistant in 2022. And Google also powers Siri.  
In addition to that, more than 80% of results returned by Google Assistant are from the top three organic search results on a search engine results page (SERP).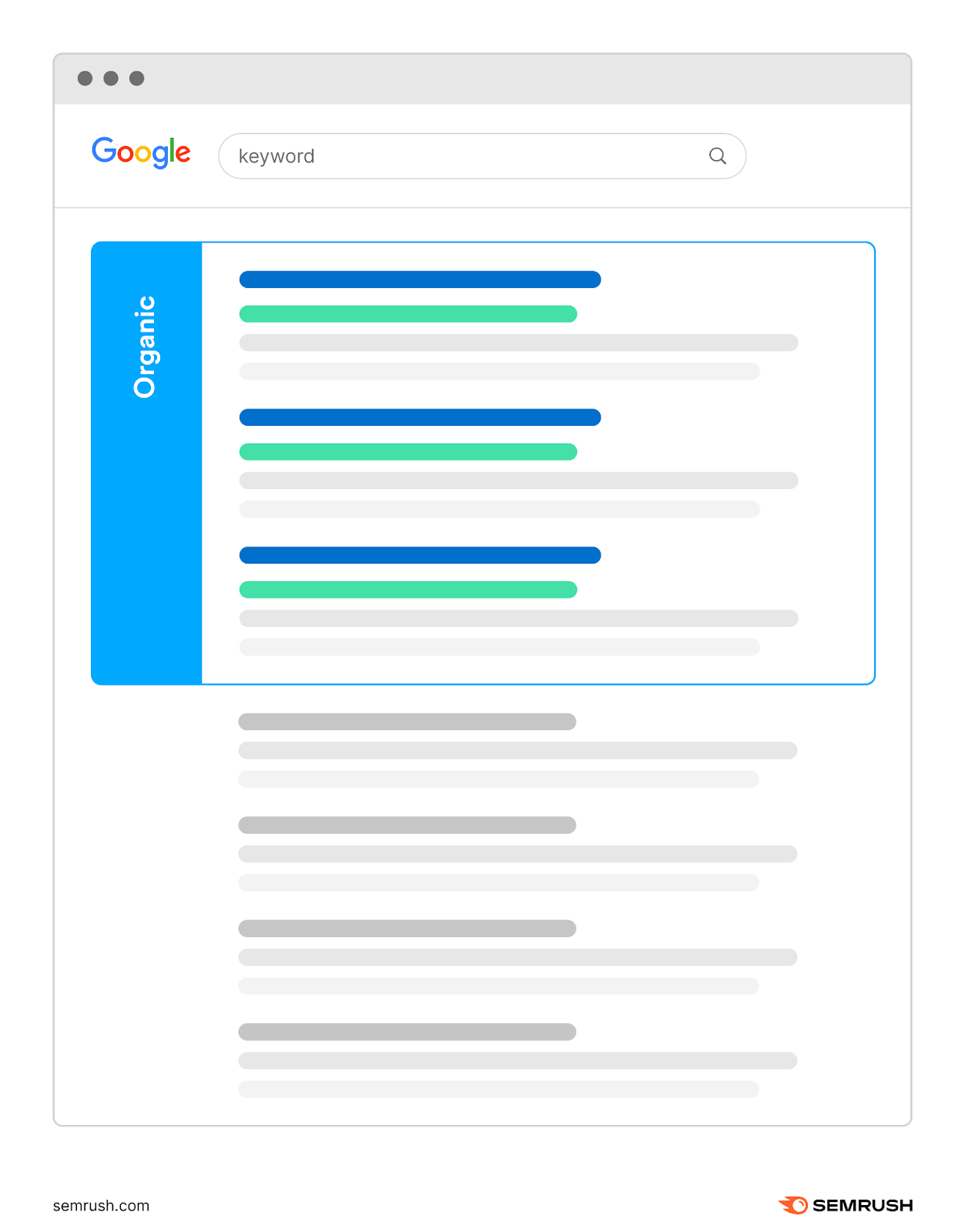 Because Google perceives these results as the ones that best meet search intent.
That means whatever content is at the top of traditional search results is seen as the most relevant and authoritative answer to a user's query.
5 Ways to Optimize Your Website for Voice Search
The goal of search engine optimization (SEO) for Google Voice Search is the same as traditional SEO: to appear at the top of search results so more people find you. 
And a good traditional SEO strategy will give you solid foundations for voice search success. 
So you can't be one of the most relevant results for a search query and expect to drive traffic to your website. You have to be the most relevant result.
Here are five ways to elevate your website above the competition in voice search results.
1. Use Conversational Keywords
Conversational keywords are long-tail keywords and natural-sounding phrases that humans use in conversation.
Since voice search replicates human interaction, targeting the words people use in conversation gives you a better chance of matching search intent. 
For example, if you're performing a text search for a pizza place you might write something like "pizza places near me." 
But that's not how you'd say it if you were asking someone on the street.
You'd most likely ask: "What are some good pizza places near me?" Which is also how you'd perform a voice search.
To optimize your website for voice search, think about how your keywords fit with real-life dialogue.
An easy way to do this is to focus on relevant "who," "what," "when," "where," "why," and "how" questions and include them in your content. 
That will help you address what people want directly. And help Google's search algorithm serve them the best result. 
Semrush's Keyword Magic Tool can help you find the phrases and questions people are searching for. 
To get started, enter a keyword related to your product or service. Then click "Search."
The Keyword Magic tool will generate a complete list of related terms. Click the "Questions" tab to find the most popular questions users are asking. 
The tool sorts results by volume. The higher the number, the more people are searching for it. 
It also displays: 
Keyword intent: The purpose of the search
Search trends: Interest in the keyword in the last 12 months
Keyword difficulty (KD): How hard it is to rank for the keyword 
Look for keywords with high volume and interest and a low keyword difficulty. 
Another quick way to find conversational phrases is to use Google's "People also ask" feature.
Here's how you do it.
Let's say you run a pizza place. Type "pizza place [your location]" into the search bar.
And then scroll down to "People also ask" to find commonly asked questions and queries.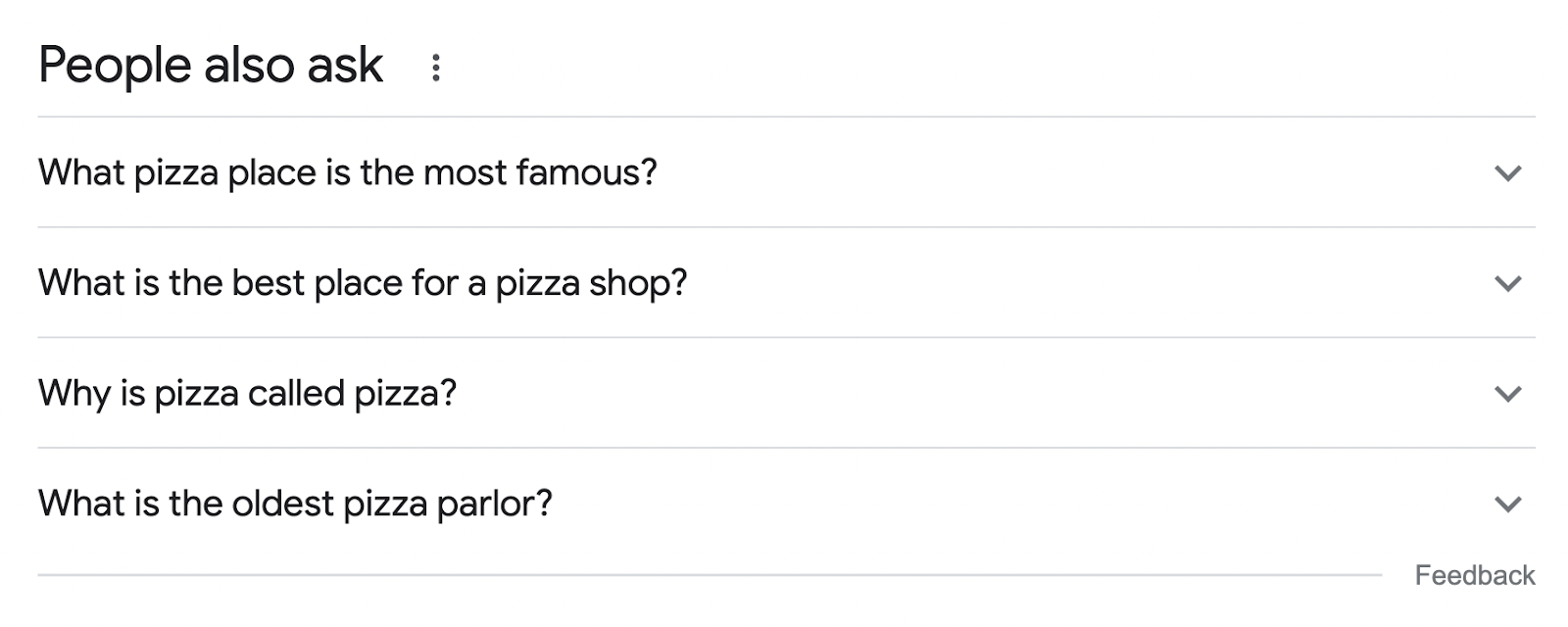 Click on one of the questions to see how other brands are answering these queries. And get a list of even more questions.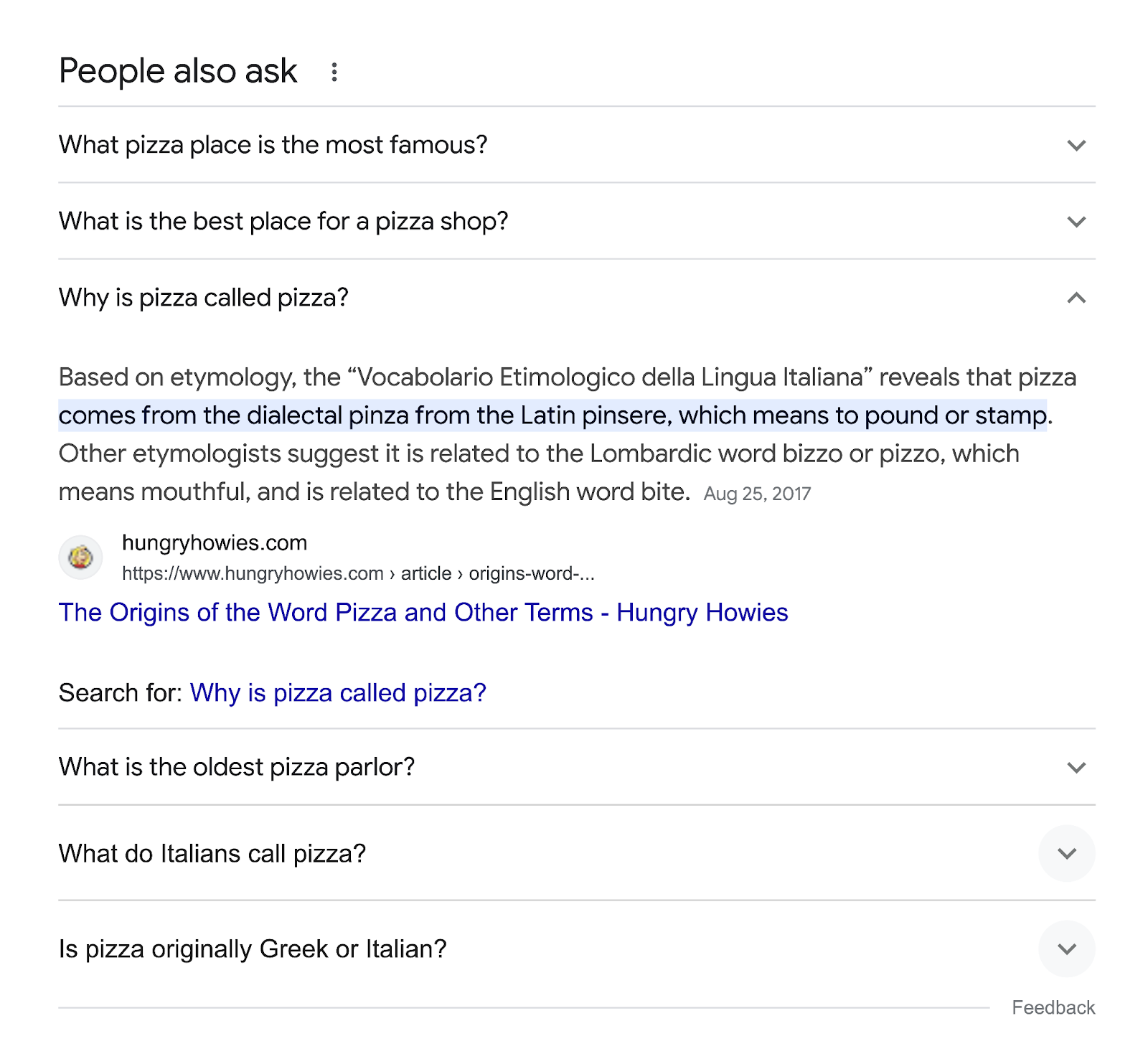 Make a list of all the relevant keywords you find.
2. Optimize Your Content
Optimize your content by including each conversational keyword from your list and answering questions directly. 
Say you want to answer: "How can I feed my dog a pill?"
First, make the search query or something similar the title of your blog post. For example, "X Ways to Get Your Dog to Take Pills."
Or, "Giving Pills to Dogs," as the VCA Animal Hospital does in the results below.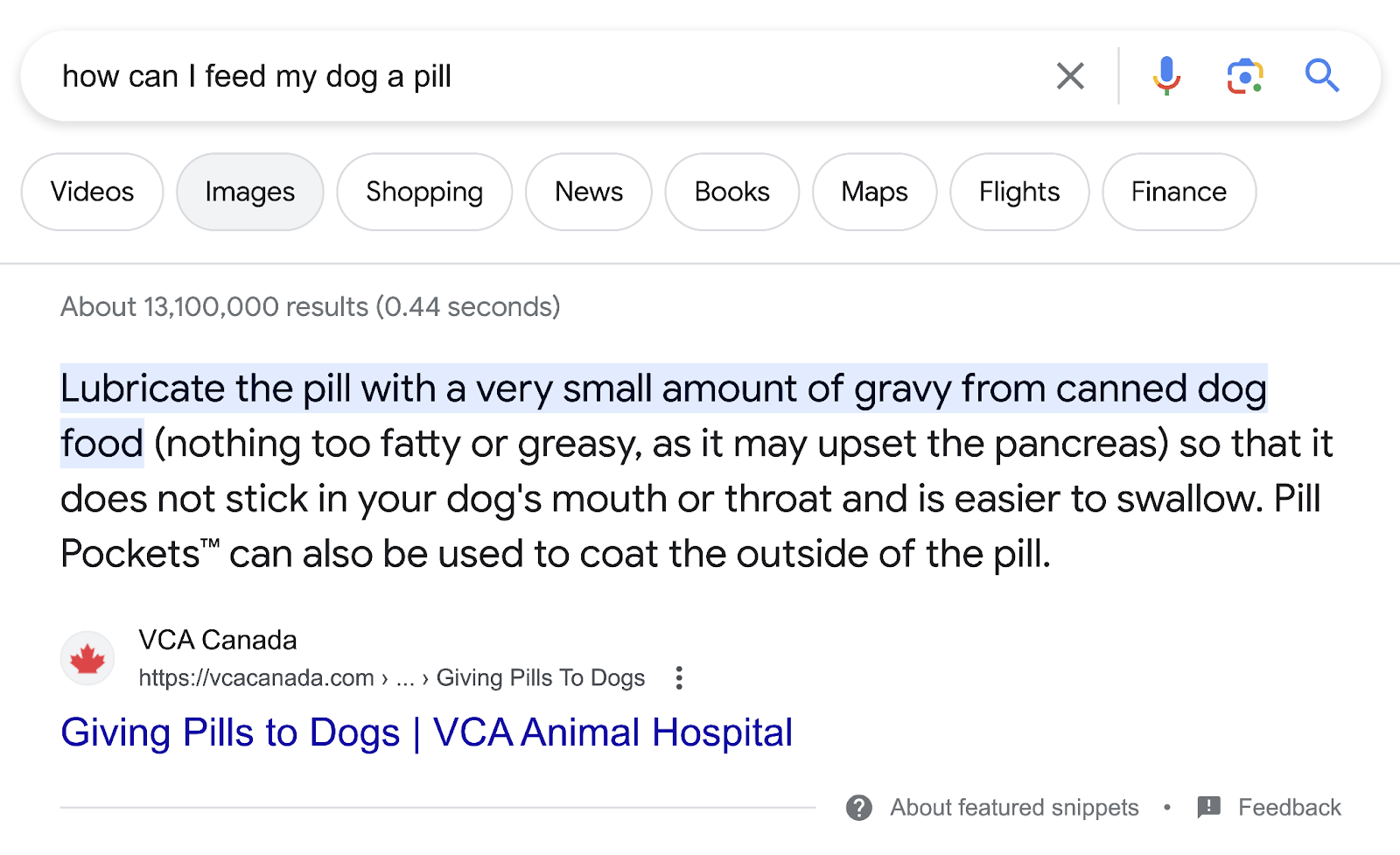 Then, optimize your page headers.
Google uses page titles and headers (H1, H2, H3, etc.) to learn about your content. The more descriptive they are, the easier it is for the search engine to understand and rank content.
If your title or header matches the query, Google recognizes your page is relevant to the searcher.
Related to the example above, VCA Canada uses the header: "How do I give a pill directly into my dog's mouth?"

And Google readers out the second bullet point for people doing a voice search.
Take note, though, that Google Assistant users will hear search results, not read them  And the average voice search answer is 29 words. So use that as a benchmark. 
Your answer can be longer or shorter, but don't make it unnecessarily wordy. Remember Google is reading the response to the searcher. It aims to do this as efficiently as possible.
Another great example is the results for the question, "How to get my dog to drink water?"
Google Voice Search reads the below answer by the Veterinary Emergency Group: 

The header relates directly to the question. And the answer is a single paragraph.
The directness of the content helps the Veterinary Emergency Group rank as the featured snippet on the traditional SERP. 
Google Voice also reads it on desktop and mobile:
While relevant headers and concise answers don't guarantee you a spot at the top of search results, using them is a great start and increases your chances for ranking.
Pro Tip: Use traditional SEO best practices and learn about Google's E-E-A-T (Experience, Expertise, Authoritativeness, Trustworthiness) metric to discover more ways you can help your pages rank.
3. Create an FAQ Section
Including a Frequently Asked Questions (FAQ) section on your website is another way to directly answer what your audience wants to know. 
FAQs allow you to satisfy audiences by catering to search queries with varied intent. Creating FAQs about your products and services can also help you eliminate confusion.
Because when people look up your product, your FAQ answer might just be the one that Google reads. After all, you're the most reliable authority on your own product.
For example, an answer from Headspace's FAQ page shows up in the top three search results for the question: "How long will it take to experience the benefits of meditation?"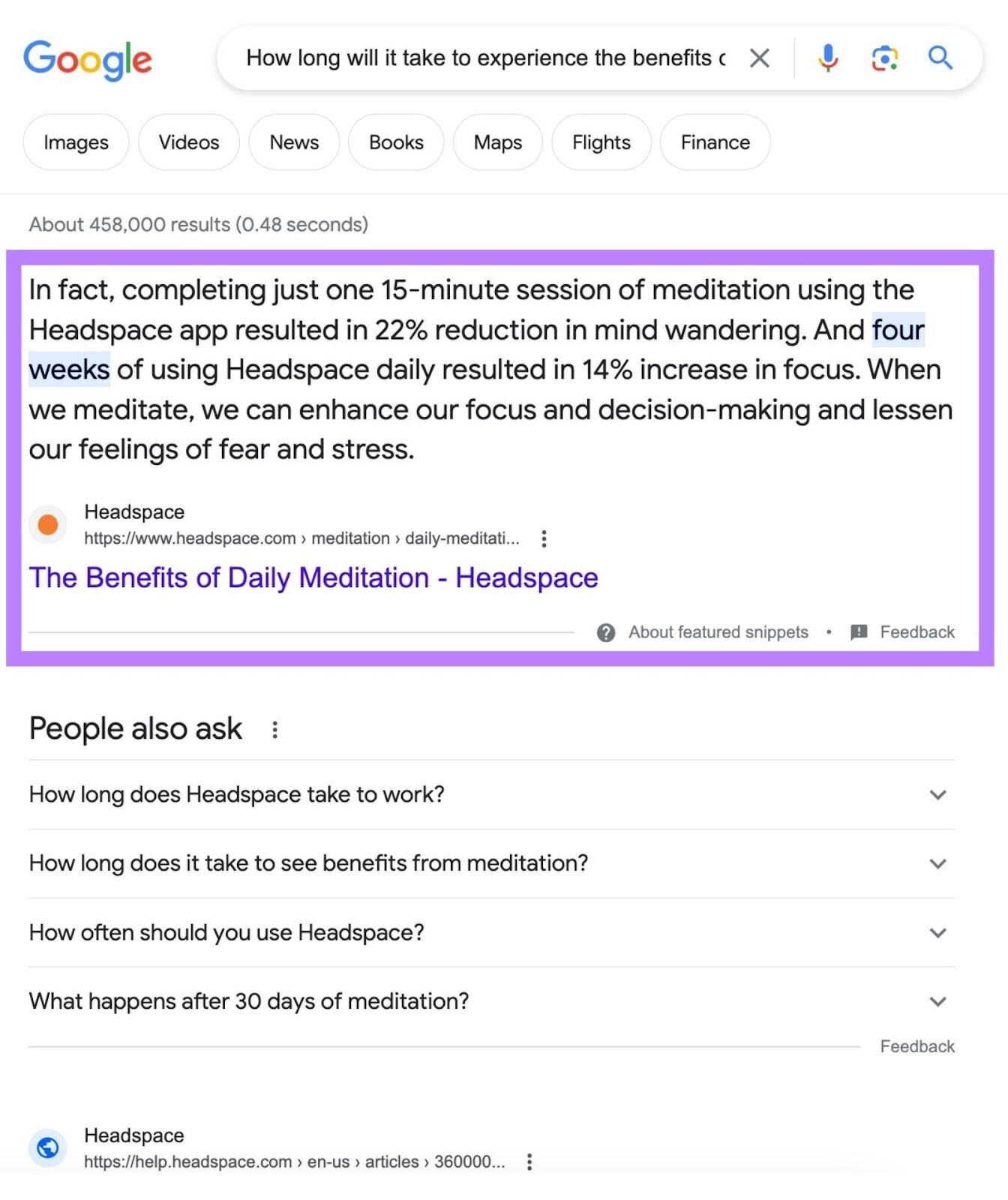 Your conversational keyword research will give an initial list of questions to answer. To expand that list, look through your customer service inbox and social media messages for common customer queries. 
Make your list as comprehensive as possible. There are no dumb questions. If someone asked it, chances are others will want to know the answer too.
If you want more ideas, you can use Semrush's Topic Research tool to uncover questions that users ask about certain subjects.
Enter a keyword related to your business and click "Get content ideas."

Click on any card to find the top related questions. If they fit with your brand, include them on your list.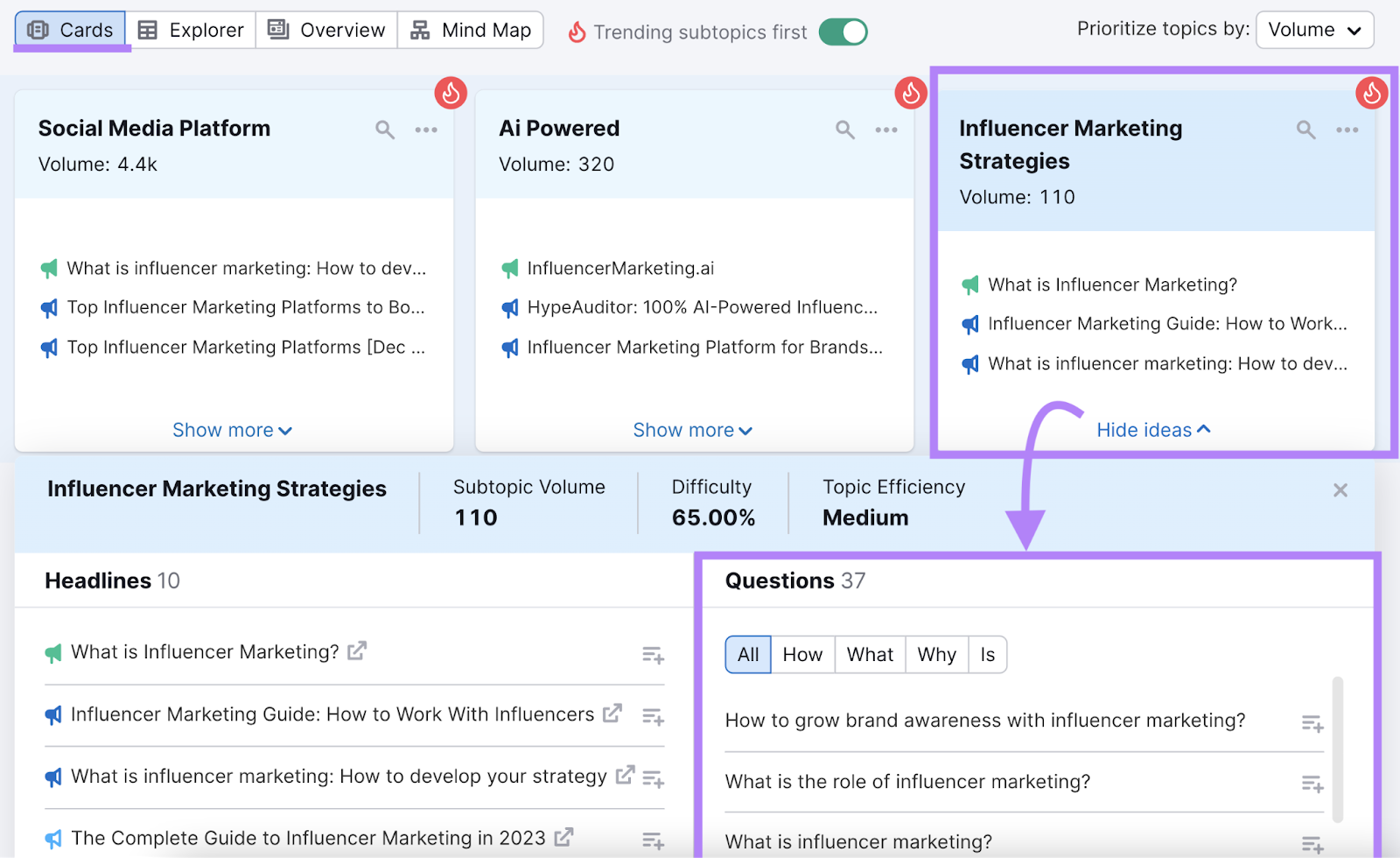 Group your questions under common themes so users (and Google) can navigate content easily. Common categories include: 
Shipping and returns
Products or services
Payments
Bookings and cancellations
Your account
Privacy and security
Promotions and discounts
Write frequently asked questions from your customer's perspective. And answers from your business' perspective.
Make answers detailed, but keep them concise.
Pet brand Chewy, for example, answers questions in one or two sentences.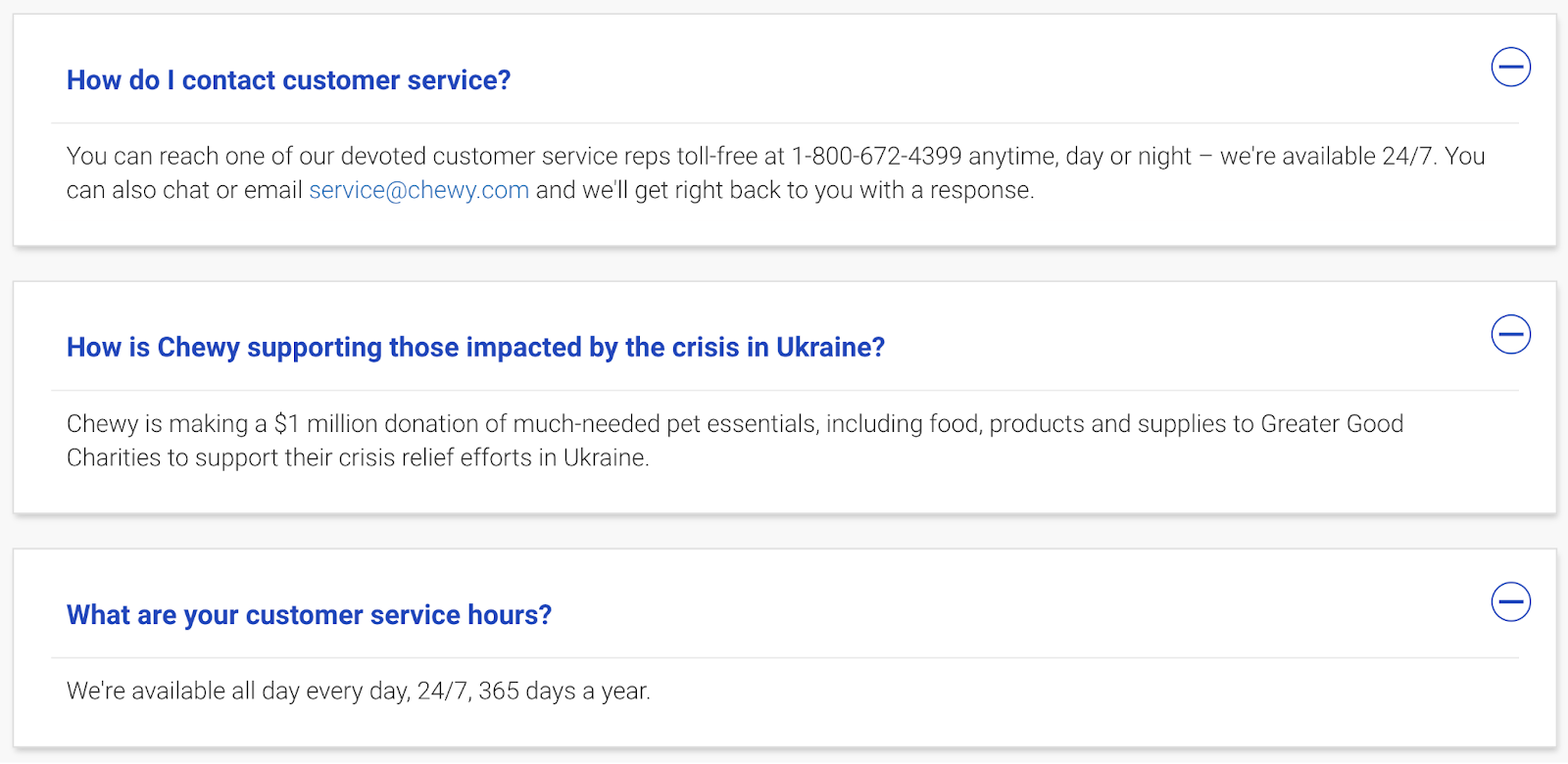 Remember Google Voice Search answers tend to be on the shorter side. If your answer to a general question is more succinct than a competitor's, Google is more likely to choose it.
4. Make Your Website Mobile-Friendly
When Google crawls your website, it uses the mobile version for indexing and ranking. 
Most people using voice search are probably using it on mobile. So your site must be mobile-friendly to perform well in Google Voice Search results. 
What's more, when Google crawls your website, it uses the mobile version for indexing and ranking.
As a result, mobile-friendliness is something you should monitor regularly. 
Google has free tools to help you do that. 
If you have Google Search Console (GSC) set up for your website, log in to your account and click "Mobile Usability." 
The report flags any mobile issues. Including for voice search queries.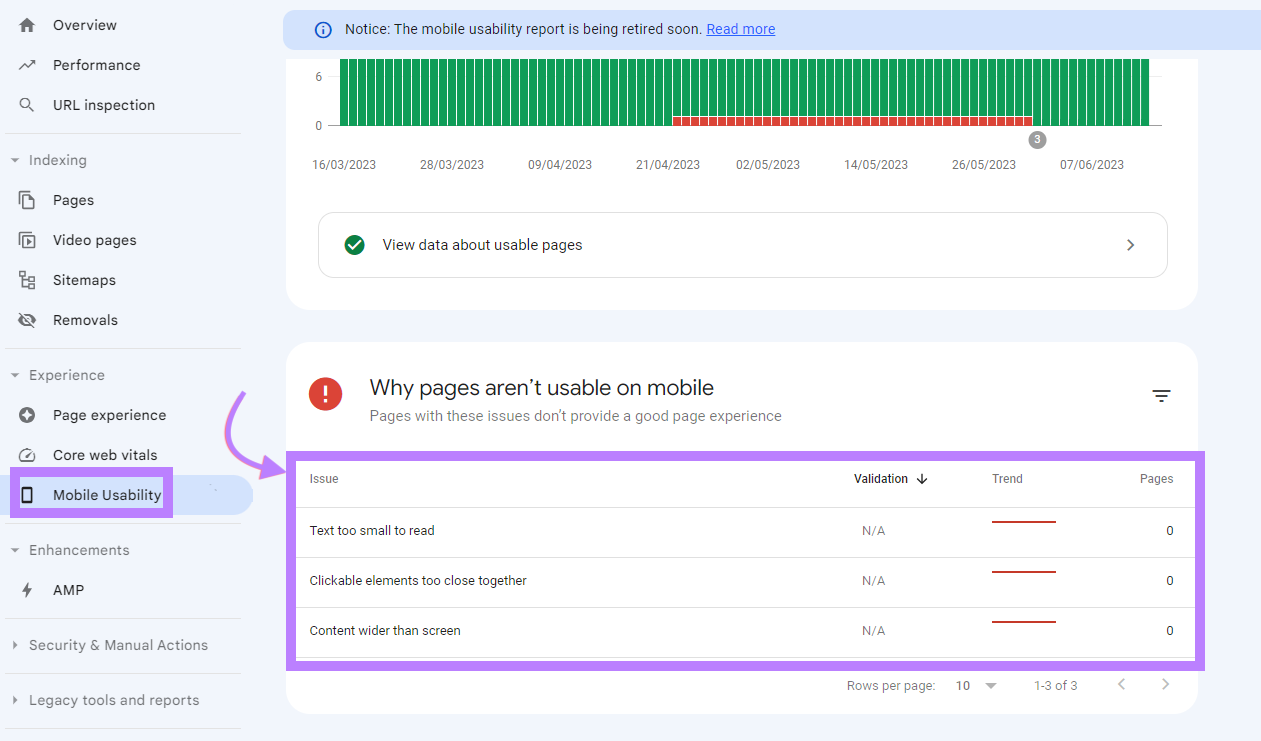 Use these insights to fix problems and improve performance. 

Our guide to mobile SEO has tips to optimize your mobile website. One smart approach is to target voice search-friendly keywords. As we've discussed, question-based long-tail keywords are your best bet.
5. Claim Your Google Business Profile
A free Google Business Profile (GBP) is the most important ranking factor for local SEO. Google uses it to deliver local results to potential customers in Search and Maps. 
Here's what a profile looks like: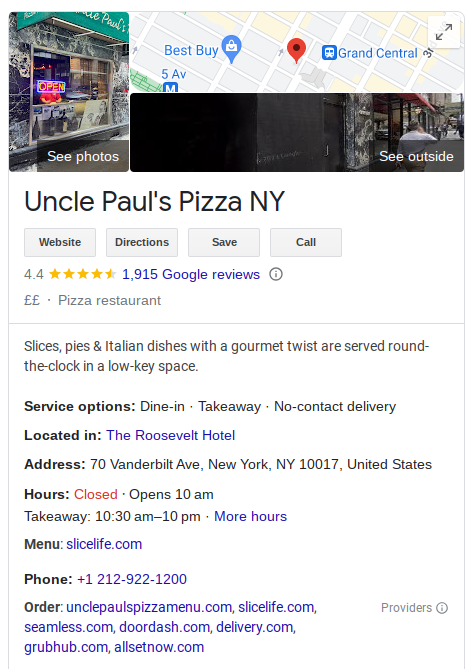 Say you run a pizza place and a voice search user asks the Google Assistant: "What are the best pizza places near me?" or "What pizza restaurants are open now?" 
Google pulls the most relevant answer from the local pack, which is populated based on GBP data.
Here's what the local pack looks like:
So a GBP is something to prioritize if you want to be featured in voice search results.
You can claim yours for free by following the steps on the Google Business Profile website. 
Our guide to Google My Business shows you how to set up and optimize your profile for local SEO: 
Include your complete business name, address, and phone number (NAP)
Write a description that details your product services, history, and mission
Add photos of your business premises, products or services, and team
Share updates on new products or services and special offers
Request and respond to online reviews
Add and answer frequently asked questions
Include unique features like service options or user accessibility
When optimizing your GBP, it's also worth evaluating your presence in local directories like Yelp, Bing, or Facebook Business Pages. 
Google uses these additional sources to confirm your business information is accurate. So details must be consistent across every listing. 
An easy way to do this is to enter your business name into Semrush's Listing Management tool. 
After you perform an initial scan, the tool shows your current online presence, total listings, listings to fix, and average star rating. 
Then, you'll see what you need to fix to improve existing listings. The tool also shows you new directories to target: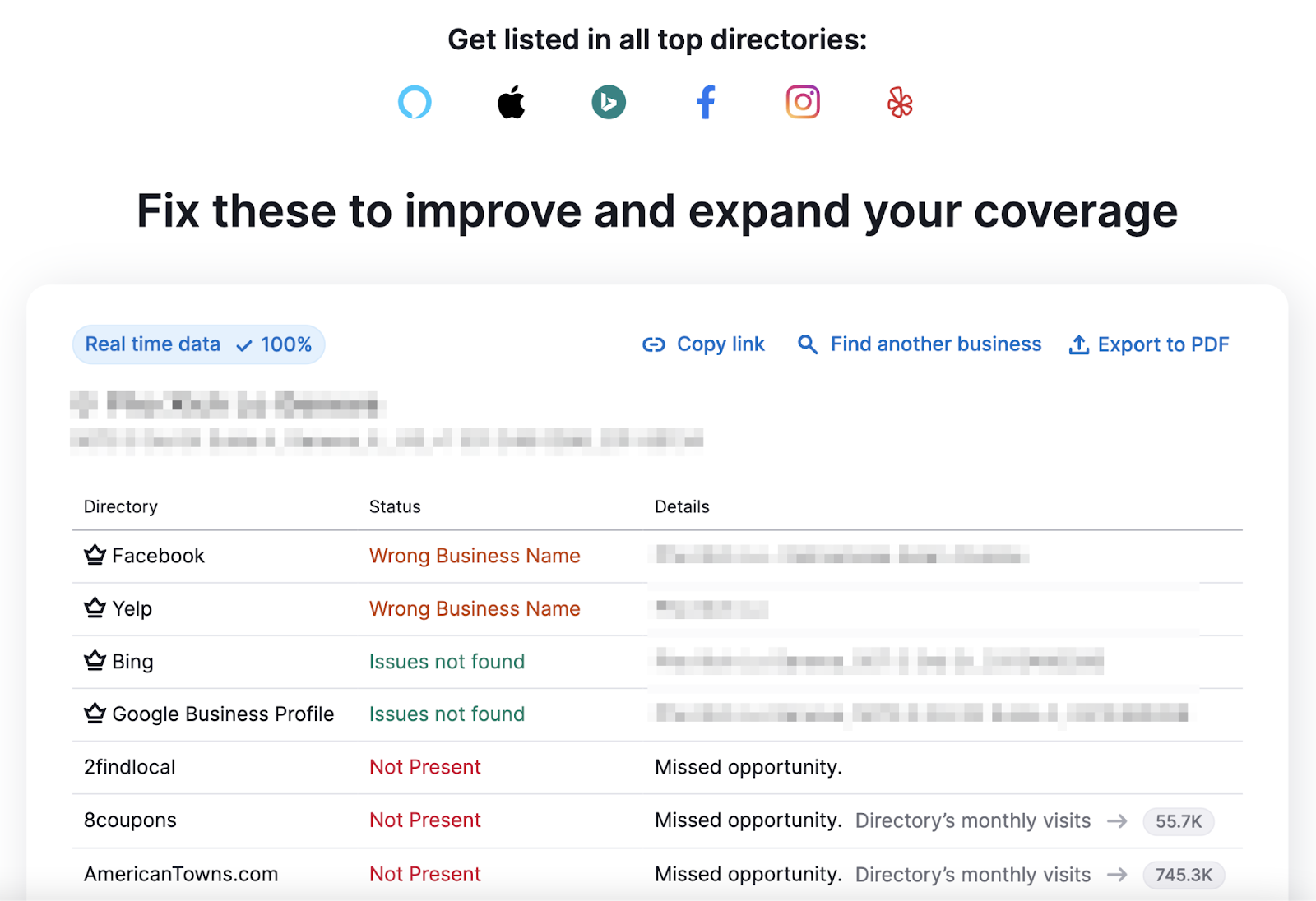 Create new profiles for these platforms to expand your coverage and boost local visibility. 
BONUS: Optimize Content for Different Languages
Multilingual SEO is the practice of converting your website content into multiple languages so voice (and traditional) users can find you in search results. 
Google Voice Search supports 119 languages. So it's a powerful tool to grow your audience if you operate in (or want to expand to) non-English speaking markets. 
The best markets to target for multilingual SEO are the ones with high search demand for your products or services. 
Semrush's Market Explorer tool can help you identify opportunities. 
To get started, click "Analyze Category." Then select your niche from the drop-down menu and click "Research a market."

In the "Overview" scroll down to "Market Geo Distribution." 

That will give you an idea of which countries have high traffic potential. 
You can then translate your content into the dominant language of that country. For example, if you want to expand to Germany, translate your content to German. 
To rank for voice search in another language, the quality of your translation needs to be accurate. When Google reads your content, it should have the nuance and authority of a native speaker. 
So it's best to use a copywriter and editor who speak the language fluently to translate and proofread your content. 
A human understands how to translate emotion and tone better than tools like ChatGPT and Google Translate, which tend to translate literally.
SEO With Google Voice Search in Mind
Google Voice Search is the preferred method of using Google Search for millions of people. And its popularity will continue to grow.
So it's something you can't ignore if you want to stay competitive and increase traffic to your website. 
Follow the tips in the post and you'll be well on your way to positioning your content as Google's choice for voice search queries.
To keep improving, sign up for a free Semrush account. Our tools will help you find keywords that voice searchers use and optimize your site to maintain high rankings.