Google Maps marketing is a set of tactics you can use to make your local business listing appear more prominently in Google's map results.
Maps marketing helps you reach people who search for relevant products and services in your area. And convert more of them into customers.
Your Google business listing, also known as your Business Profile, can show up in three key locations:
The Google Maps website and app (when someone searches for a business, product, or service). The number of listings depends on the query.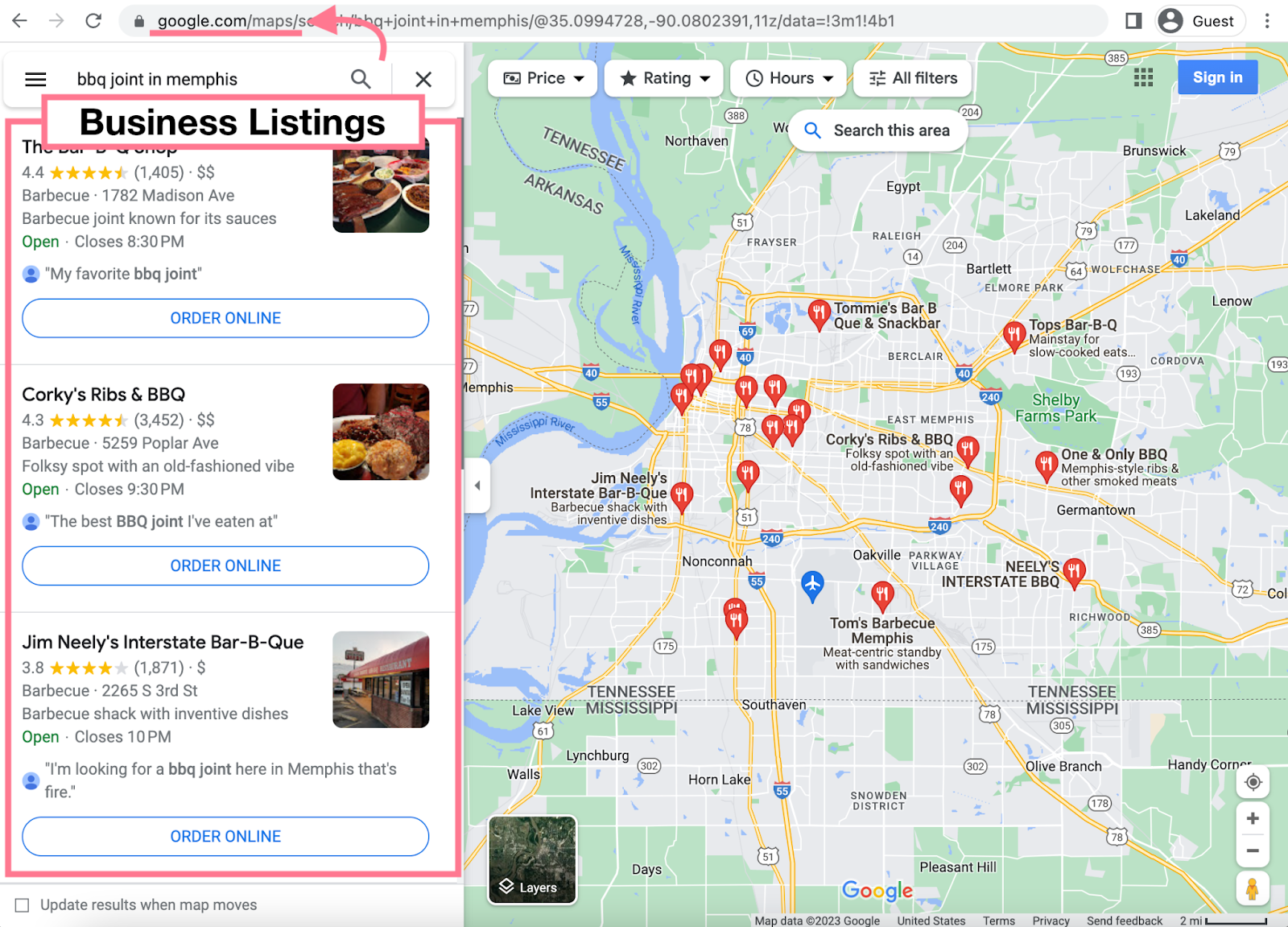 The "local pack," also known as the "Google map pack." Google displays this in standard search results when it thinks the user wants nearby or localized results. It typically contains three listings.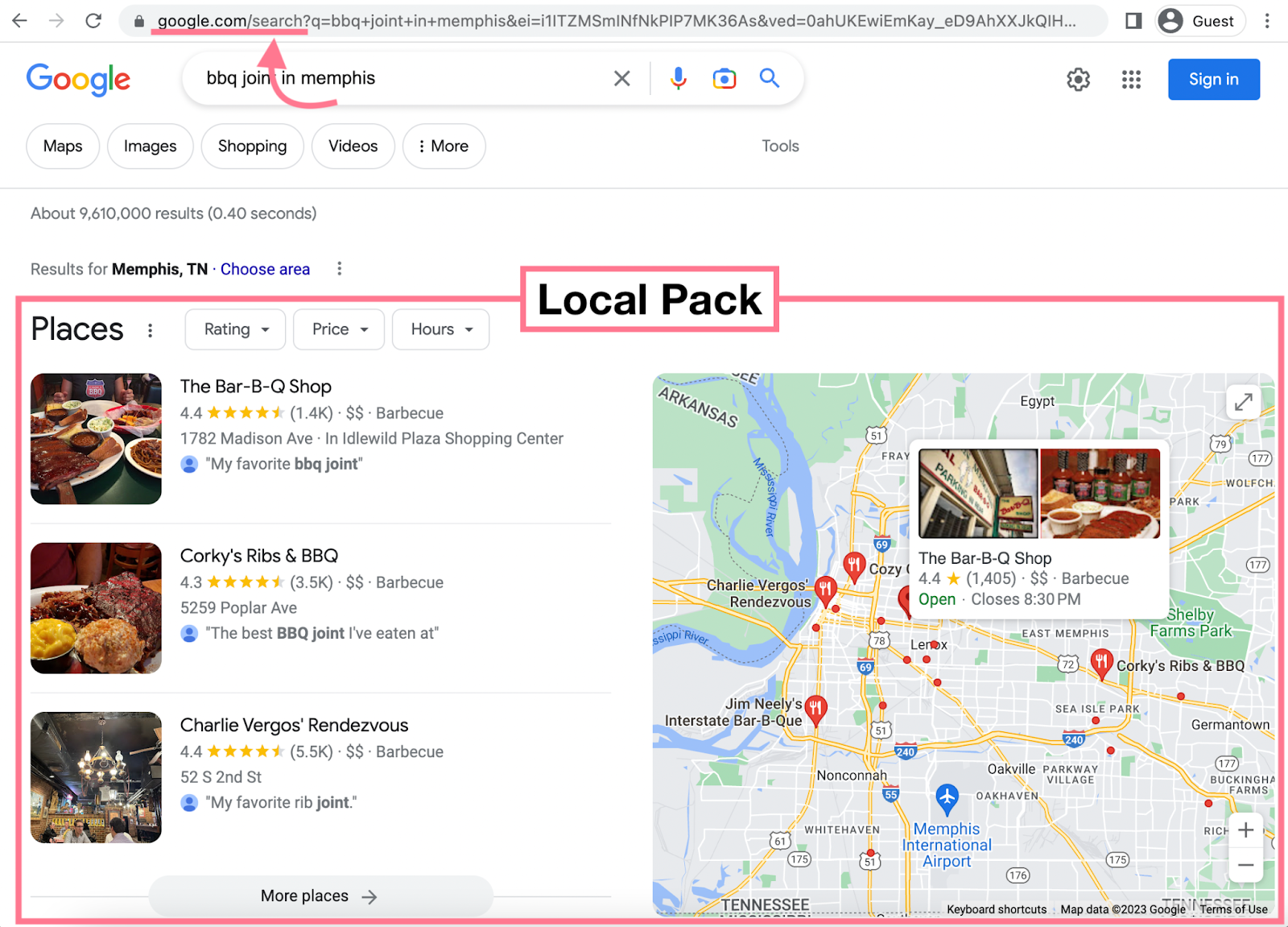 The Local Finder, which opens when you expand the local pack. The number of listings depends on the query.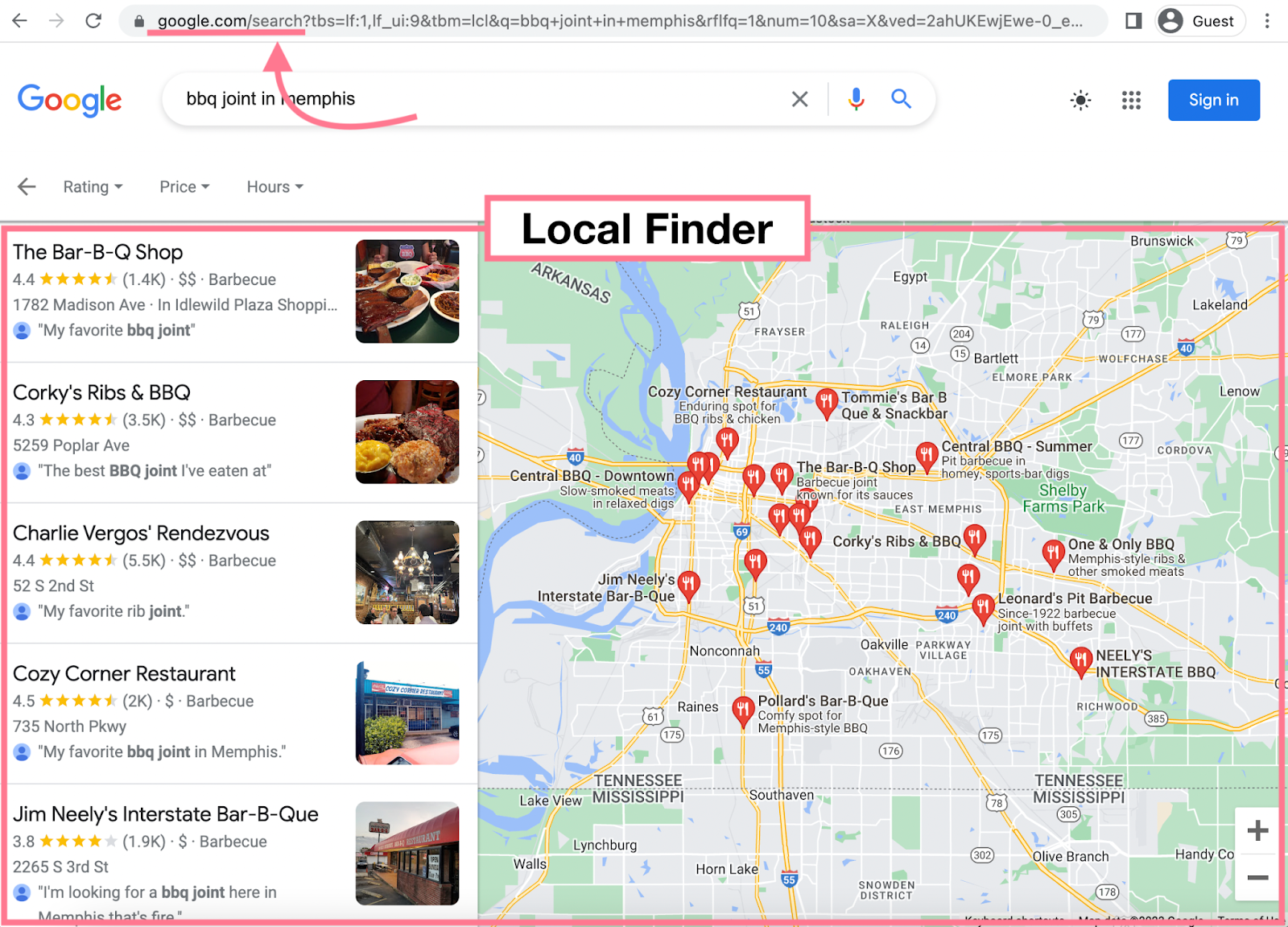 Google chooses business listings based on three main criteria:
Relevance: How well the business matches what the searcher wants
Distance: How far the business is from the search location
Prominence: How popular the business is in the real world and online
Here are eight Google maps marketing tactics your local business should try:
1. Create or Update Your Business Profile
Google Business Profile (GBP, formerly Google My Business) is a free tool that lets you manage your business listing on Google.
Complete and detailed profiles rank better in Google's map results. Because Google can "better understand your business and match your profile to relevant searches."
They also drive local business by helping customers make informed decisions.
Your Business Profile is what's previewed in Google Maps, the local pack, and the Local Finder. Users can click on the snippet to view more information:
Information from your Business Profile should also appear on the search engine results page (SERP) for your business name: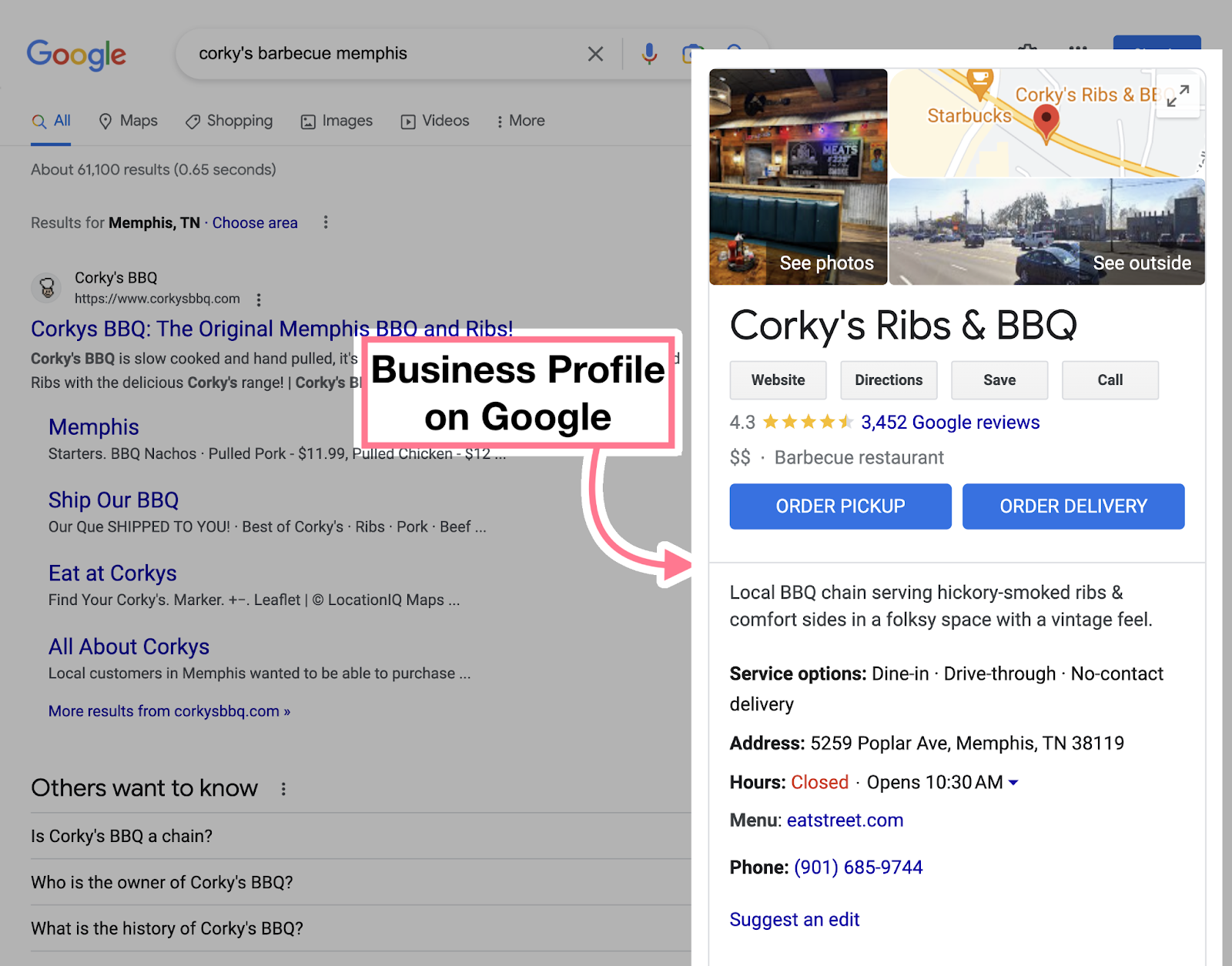 If you haven't already, add your business to Google Maps. Follow the prompts to add information about your business and verify your location.
Otherwise, head on over to GBP. To ensure all your information is present and correct. 
| | |
| --- | --- |
| Business name | This should be how it appears in the real world (e.g., on signage) |
| Category | Choose a primary category and up to nine extra categories |
| Address and pin location | Tell customers where they can find you (leave blank if you go to your customers) |
| Service area | Tell customers where you will travel to (leave blank if customers come to you) |
| Hours | Tell customers when you're open |
| Phone | Add your primary phone number and up to two more contact numbers |
| Website | Add a link to your business website  |
| Attributes/Hotel attributes | Tell customers about attributes your business has, such as "Wi-Fi" |
| Photos and videos | Add photos and videos to help prospects learn about your business, premises, products, and/or services |
| From the business | Enter a business description up to 750 characters long, making sure to mention key products and services |
| Opening date | Tell customers when your business first opened |
| Services | Add information about your services  |
| Products | Add information about your products |
| Menu (food businesses only) | Provide information about your menu items |
| Check-in and checkout times (hotels only) | Tell customers when they can check in and check out |
| Health insurance information (U.S. health care providers only) | List the health insurance networks for your business |
For example, Corky's Ribs & BBQ has provided (almost) all the information a hungry patron might need: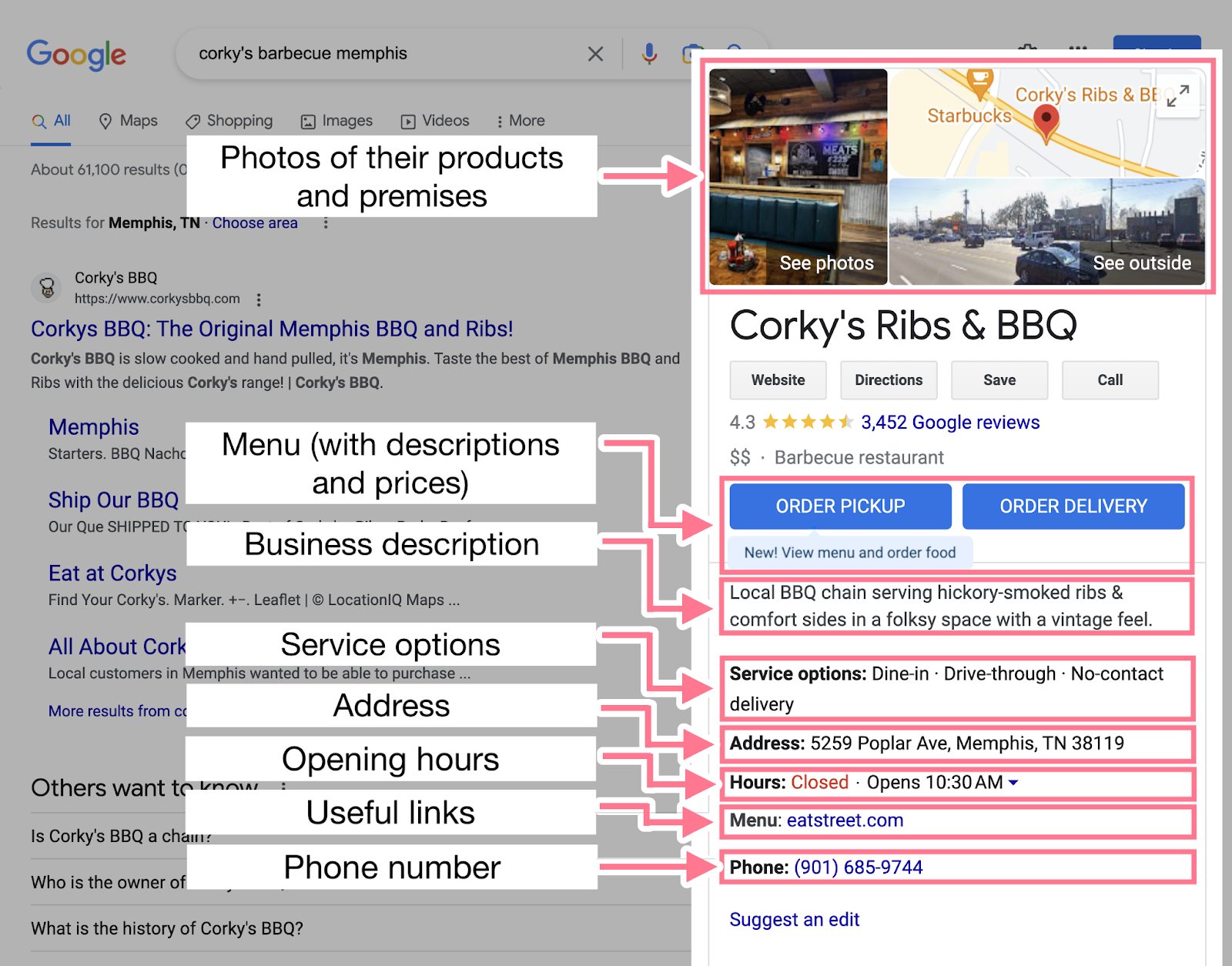 Important note: Don't neglect your Business Profile once you've optimized it. Keep it updated with the latest information.
For example:
Temporary opening hours
Pricing changes
New products or services
This ensures your Google map listing always has complete and accurate information.
2. Engage Locals Through Posts
Use GBP's posts feature to make announcements that encourage more people to visit your location or get in touch. You can share updates, events, and offers.
Like this: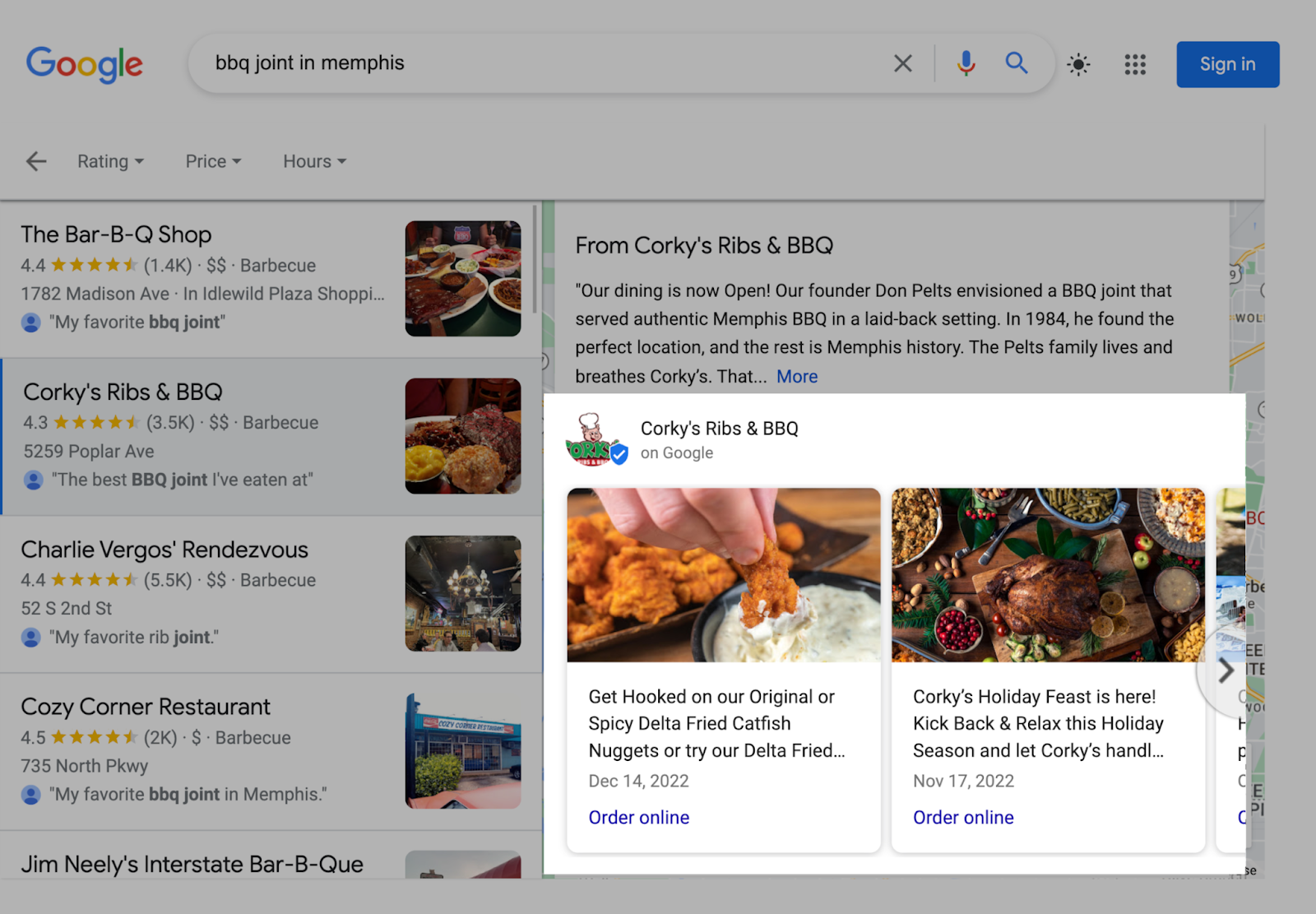 To start, head over to GBP and select the business you want to create a post for.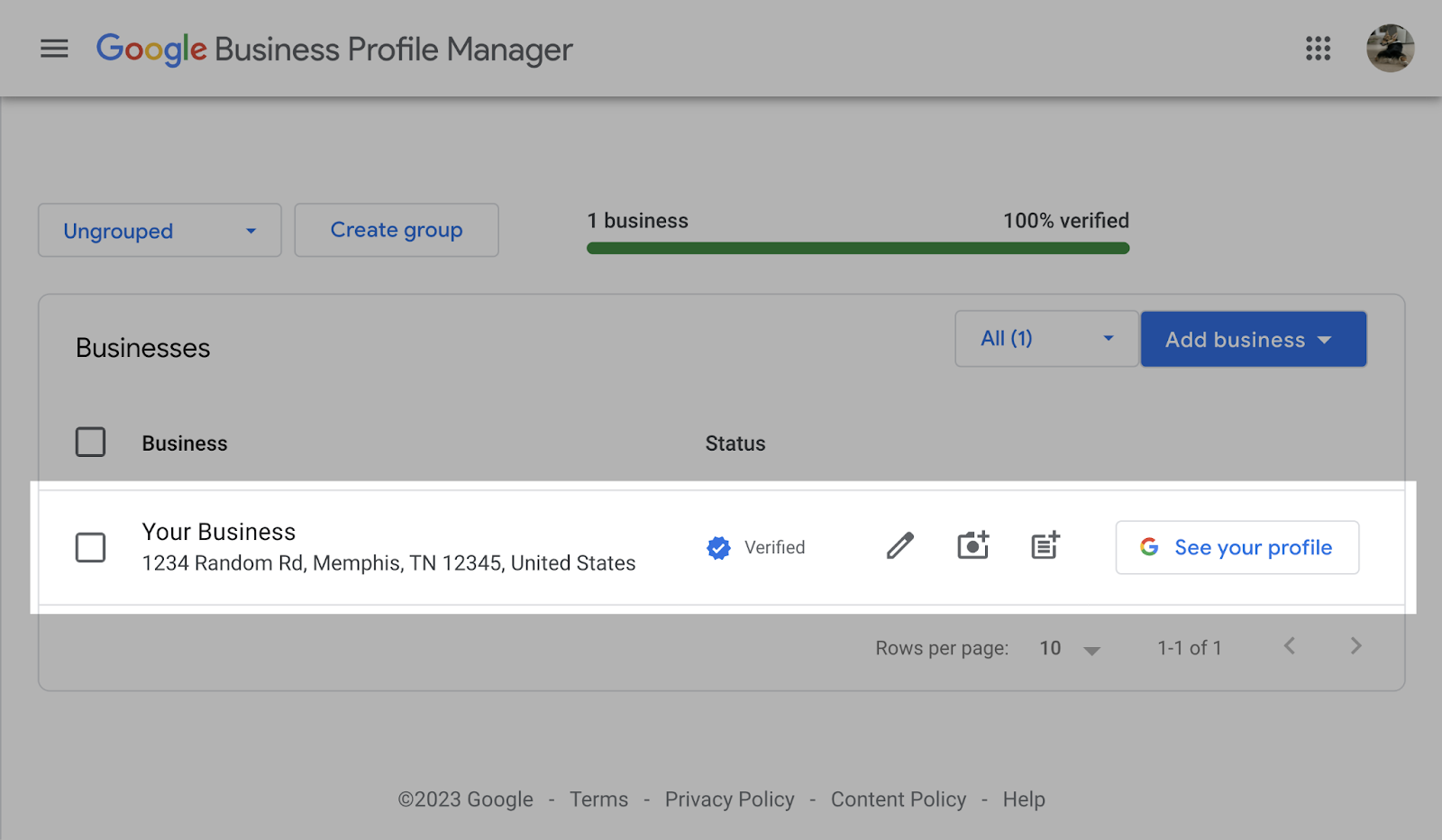 Then, click "Add update."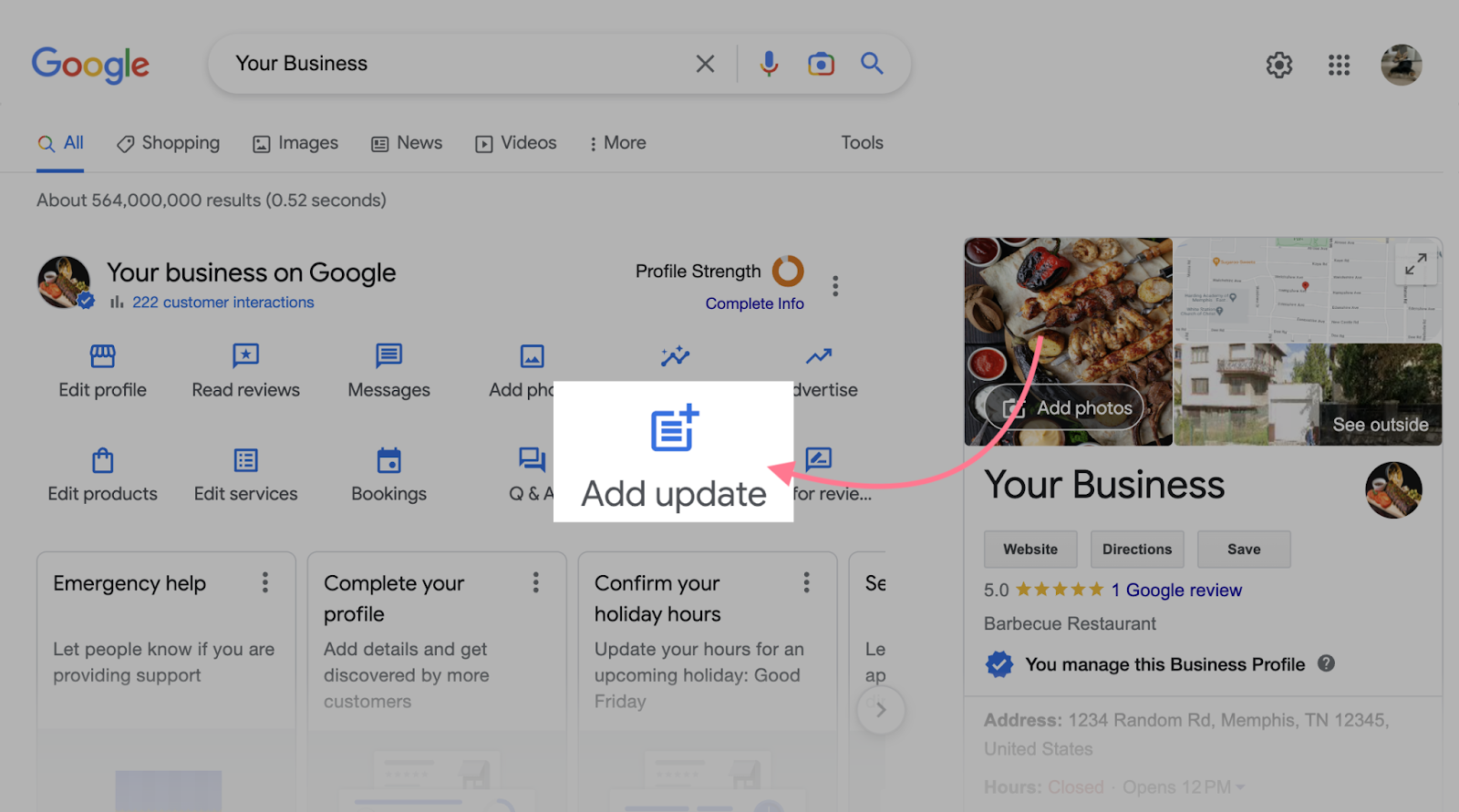 And choose the type of post you want to create.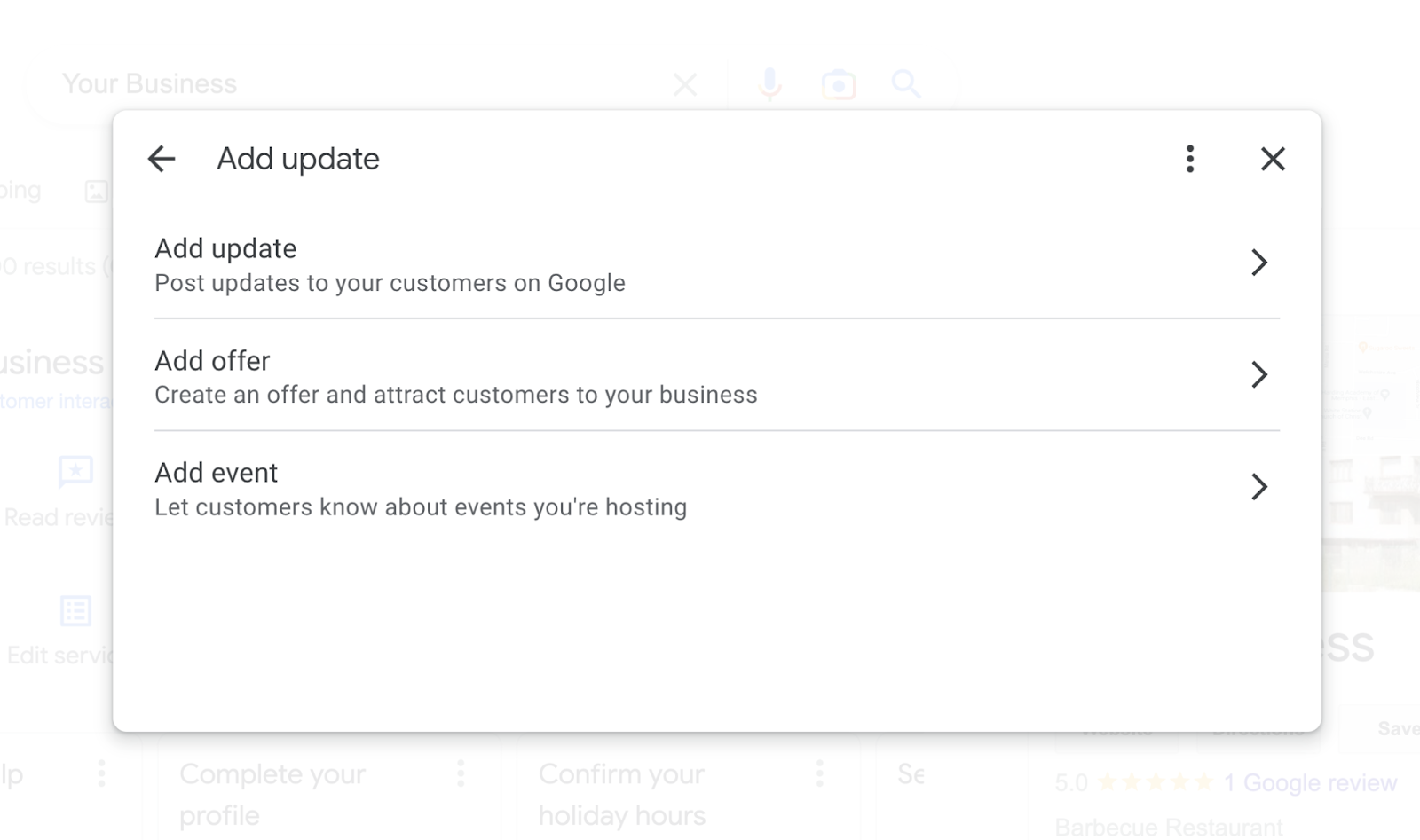 Fill out the form that appears with your post details. Then click on "Preview."
Tip: Add photos and videos to make your posts more eye-catching and informative. And run your text through a spell-checker to ensure it's clear and professional.
If you're happy with the way that looks, click "Post."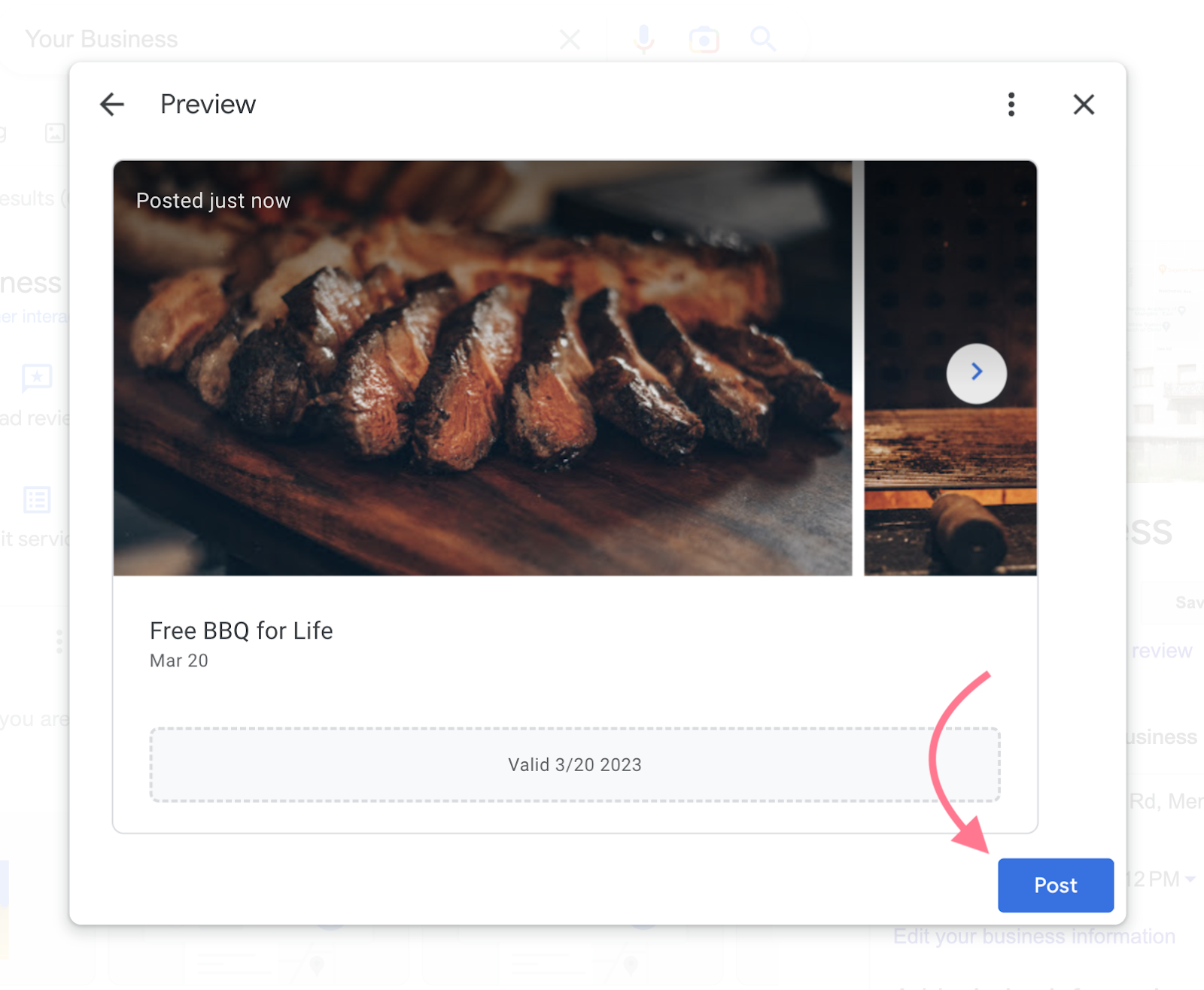 Alternatively, schedule your Business Profile posts using Semrush's free Social Poster tool. This makes it easy to launch your Google Maps marketing campaigns at the perfect time.
Go to "All profiles" > "Add profile" > "Connect Google Business Profile" and follow the instructions to get started.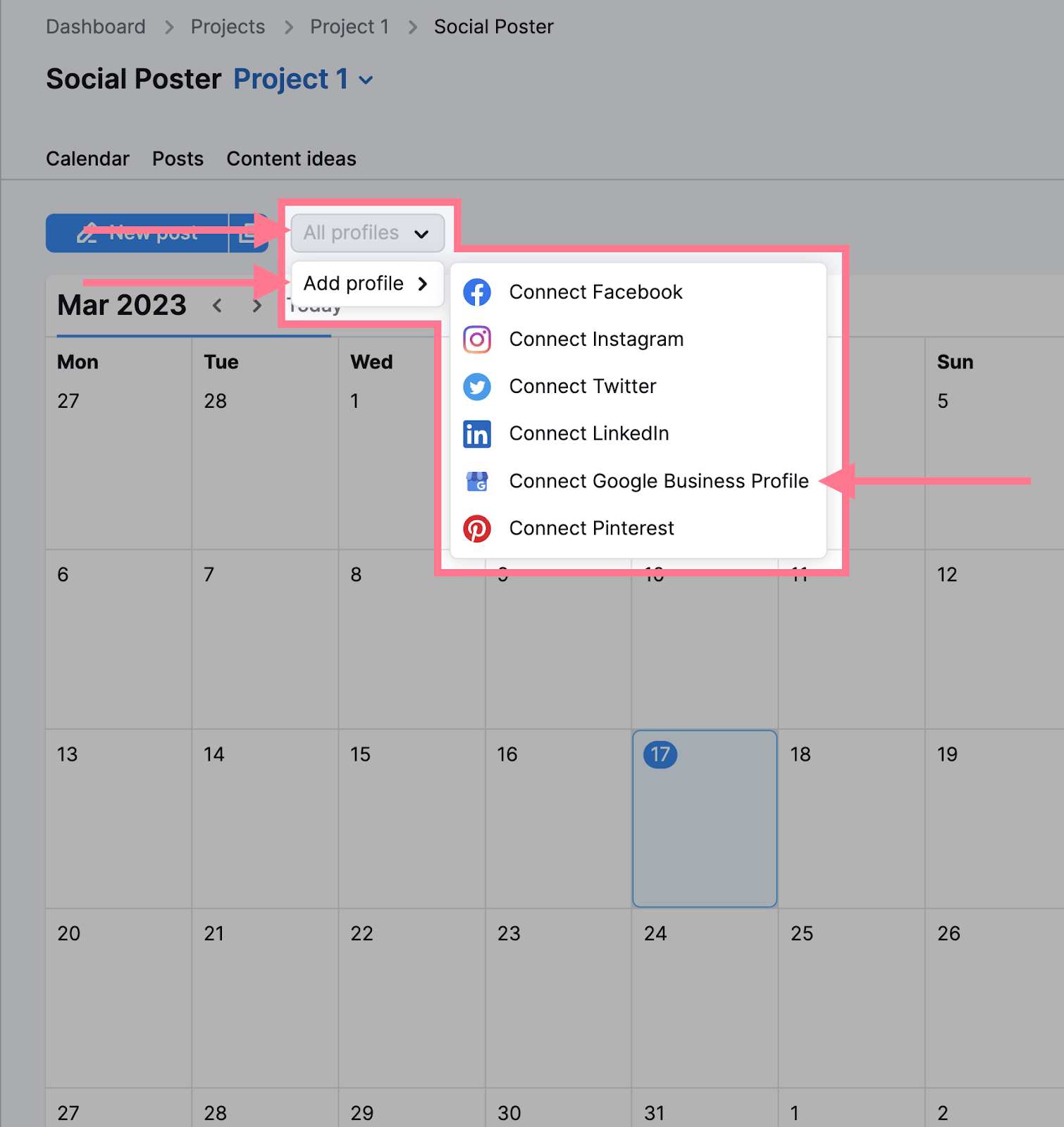 Then click "New post" to draft, schedule, or publish an announcement.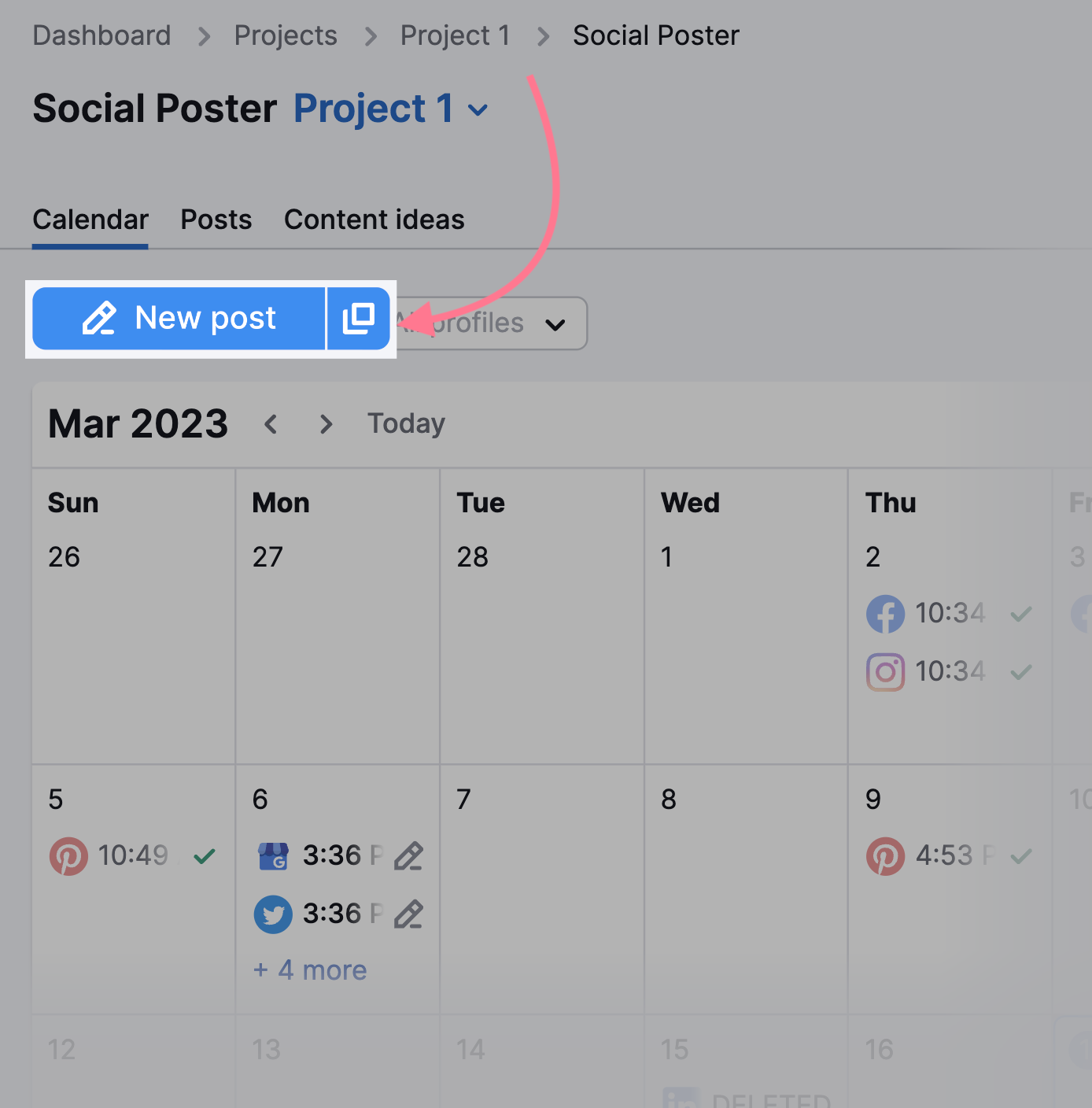 A new window will allow you to draft, preview, and schedule your Google post.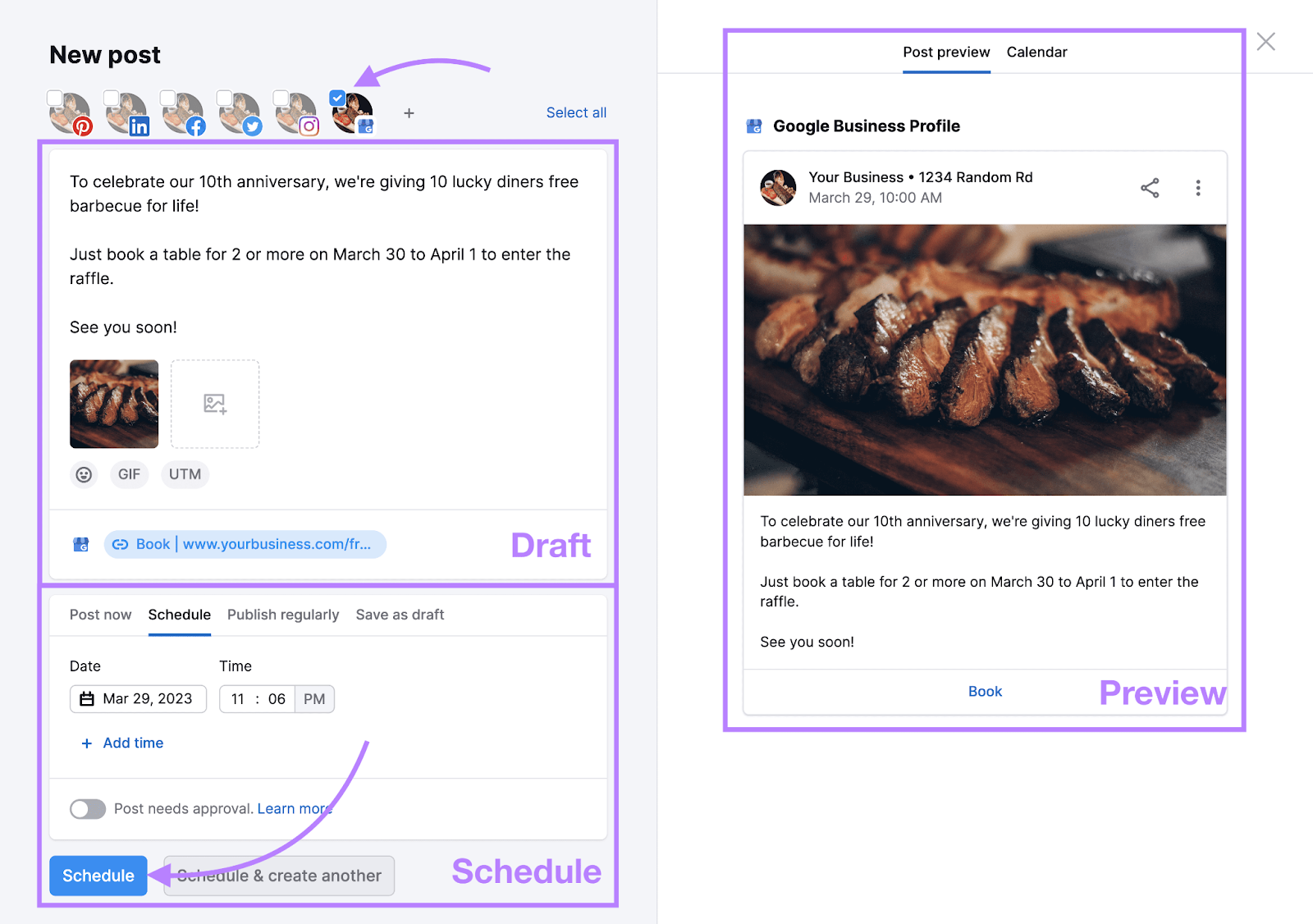 Tip: Connect your Facebook, Instagram, Twitter, LinkedIn, and/or Pinterest accounts to create and view all your posts in one place.
3. Clean Up Local Listings
Local listings (or citations) are references to your local business's name, address, and phone number (NAP). Typically featured in online directories like Yelp. 
Google looks at local listings across the web to check if its own business listings are accurate. If it's not confident in your profile, it may be less likely to display it to users.
So, it's crucial that your local listings are consistent. Especially when it comes to your NAP information—key information for local customers.
Check your local listings for free with Semrush's Listing Management tool. Enter your business name as it appears on your GBP and select the right result from the suggestions.
Scroll down to see whether you're listed in top directories. And whether your details are correct.
These results show that Corky's Ribs & BBQ is missing out on valuable exposure: 
And has NAP issues in some of its listings: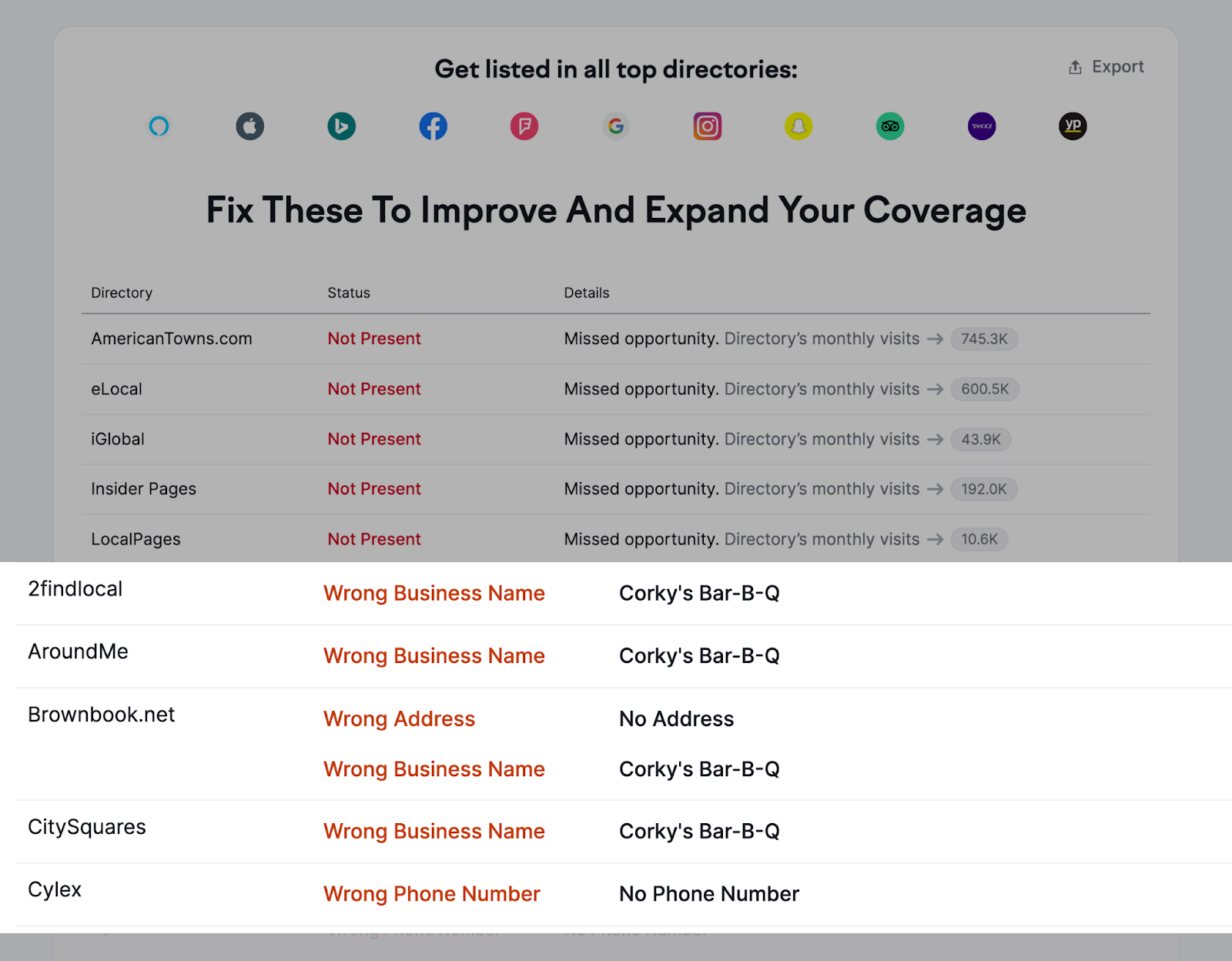 If your business has similar issues, reach out to each directory to get your information added or corrected.
Or use the Listing Management tool to fix them all at once.
Click the "Try it now" button and follow the instructions to purchase your subscription.
Then connect your GBP to get more specific insights into your local listing's performance.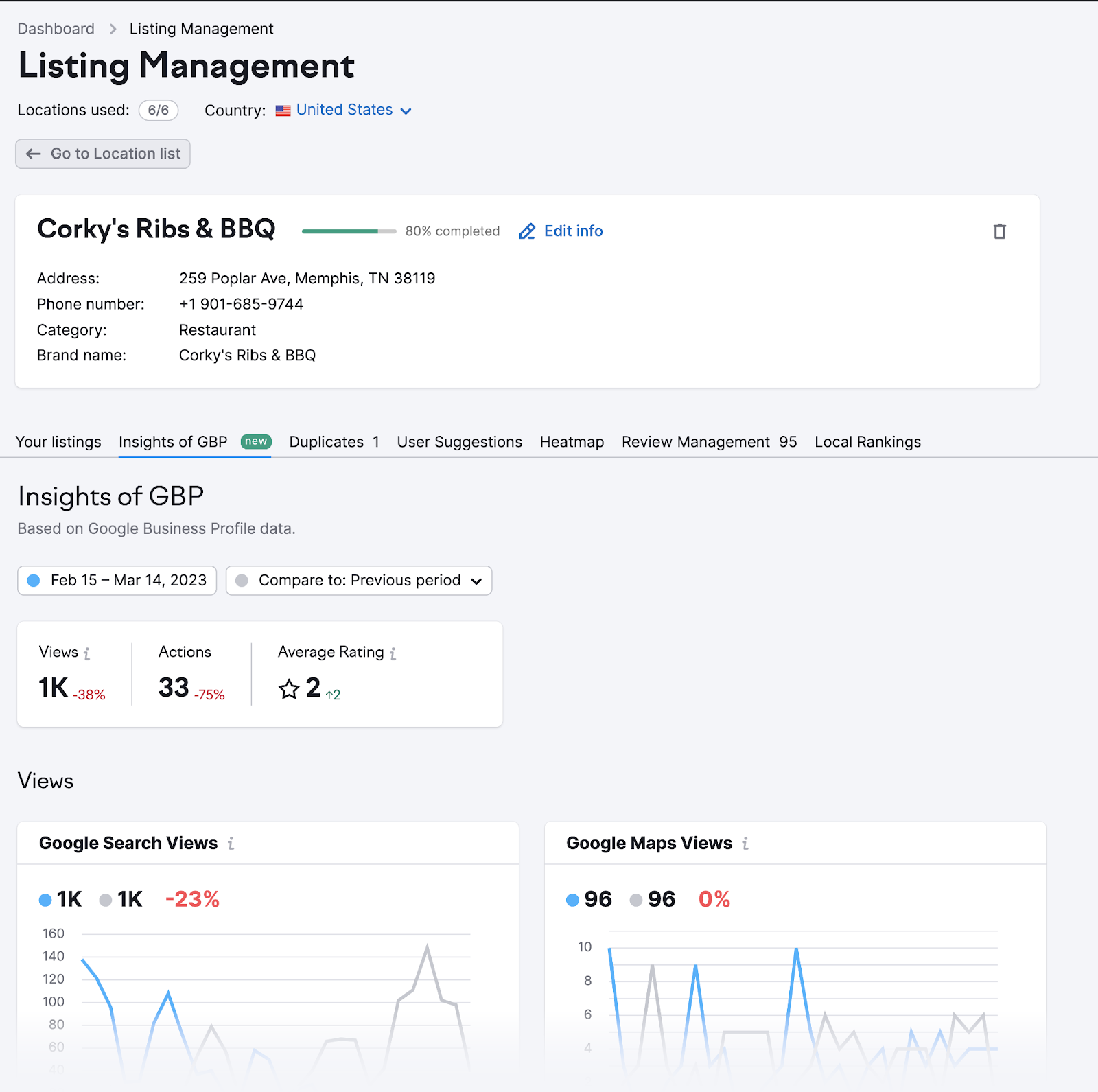 The tool will also automatically submit your business's details to the top directories in your country. Which should improve your Google map rankings. And help more prospects get the right information.
Side note: Listing Management gives you access to many more features that will benefit your Google Maps marketing. Keep reading to learn more, or check out our Listing Management guide.
4. Improve Your Reviews
Google says that "Google review count and review score factor into local search ranking. More reviews and positive ratings can improve your business' local ranking."
Notice how all the top-ranking businesses for "barbecue joints in Memphis" have thousands of reviews and a high average rating: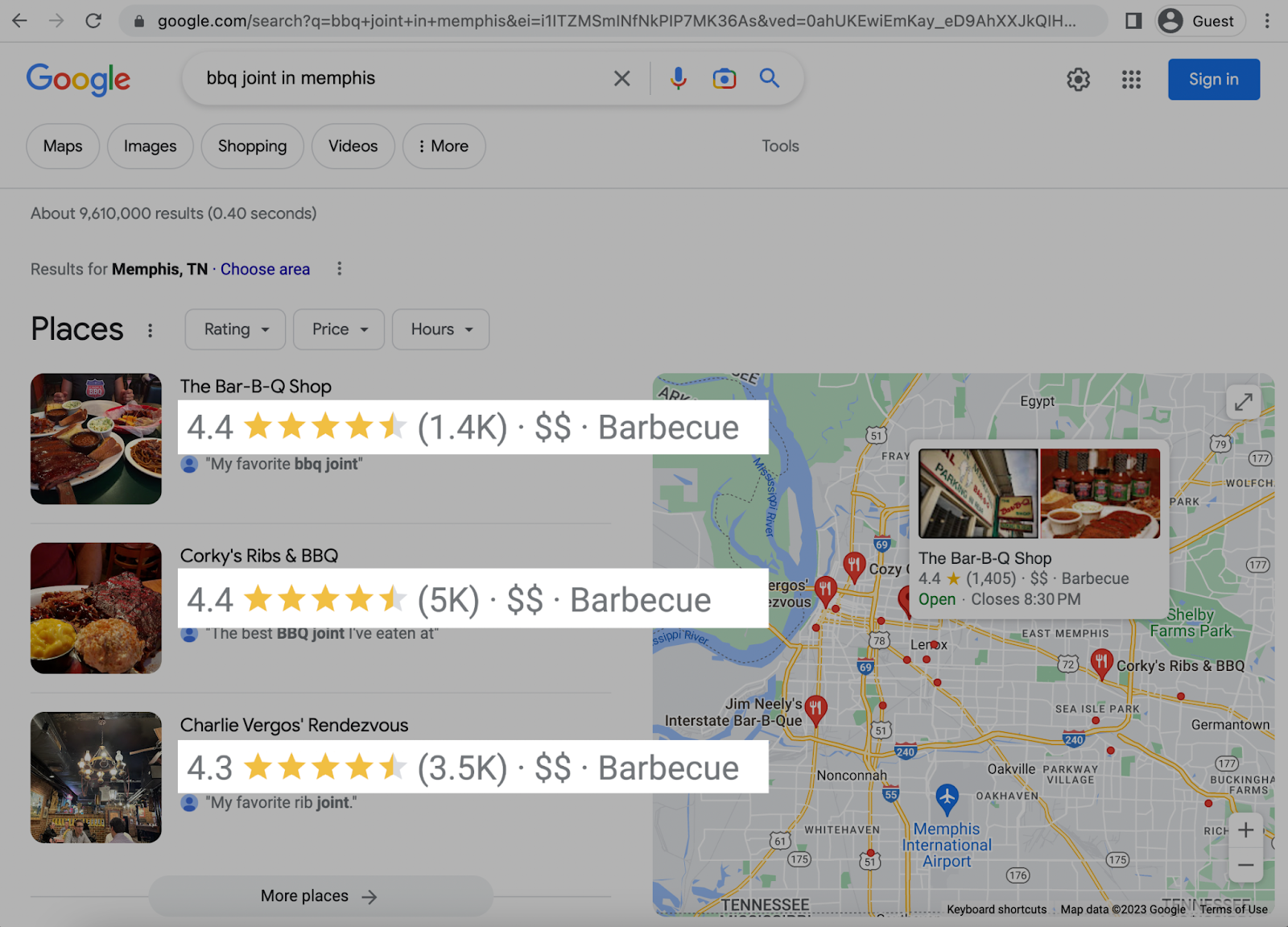 High-quality reviews also help you stand apart from competitors.
Encourage customers to leave a review on your Business Profile using one or more of the following methods:
Review request emails: If you have the customer's email address and permission, send a review request email. Leave enough time for them to experience your product or service first.
Customer conversations: Ask customers to leave a review after any successful conversation. Whether it's in person, over the phone, or online.
Print materials: Print review requests on your receipts, business cards, and other marketing materials. Or display a sign in your store.
Google offers a free customized marketing kit to help you.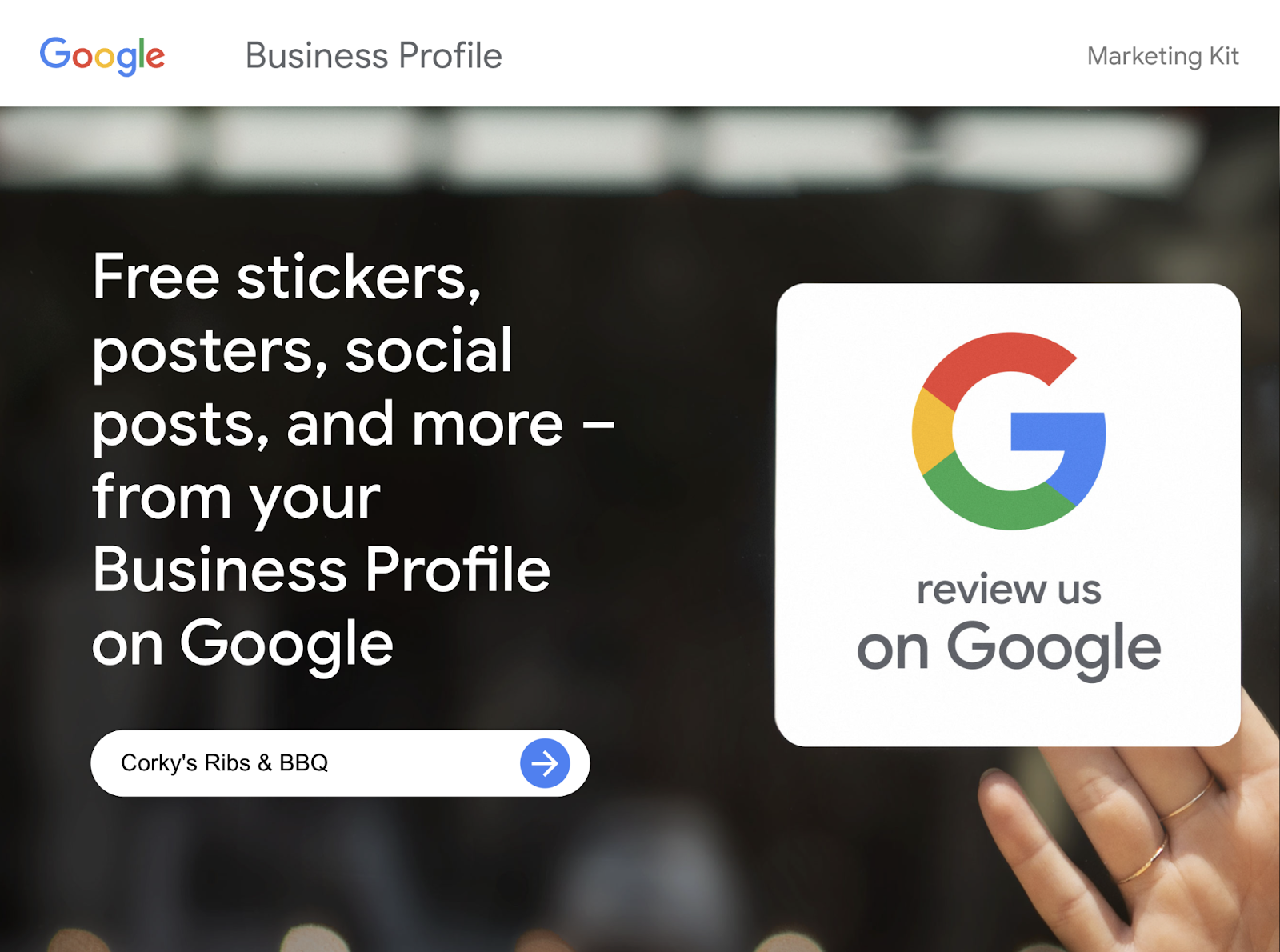 It contains printables such as the "Review us on Google" window sticker, business card, and postcard. In addition to assets you can use online.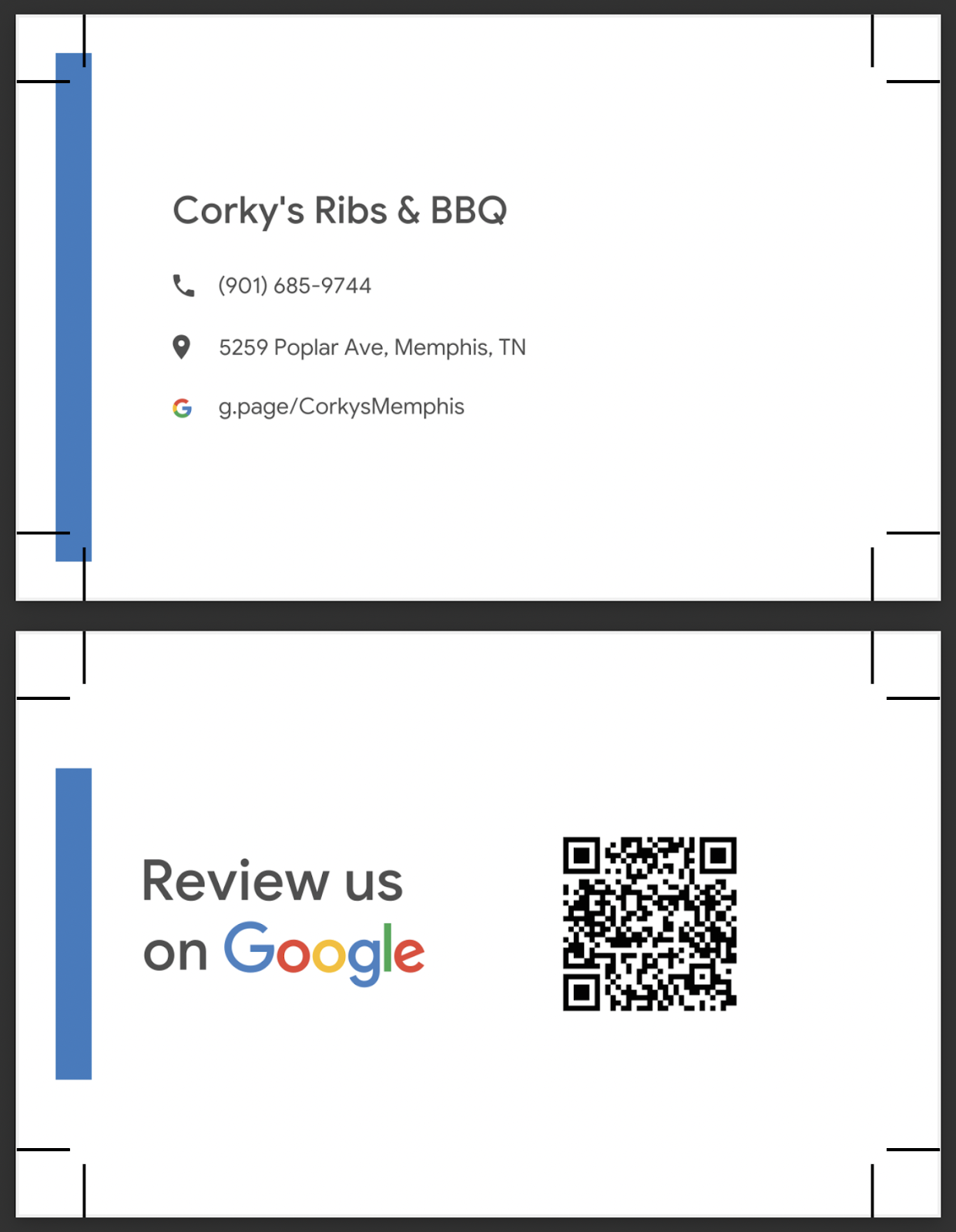 To get a direct link to your review page, select your business on Google and click "Ask for reviews."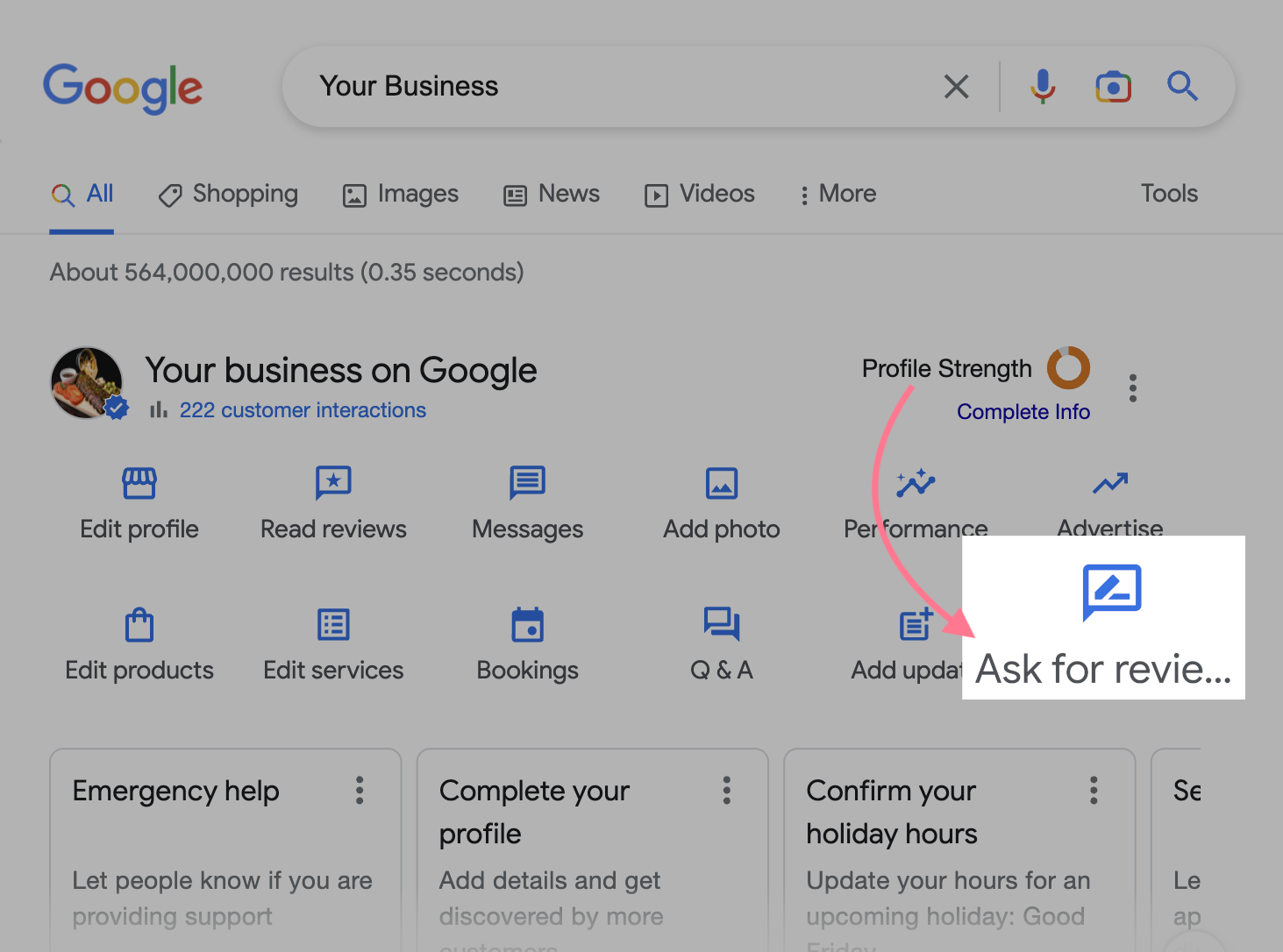 A pop-up will appear with a link that you can send to customers.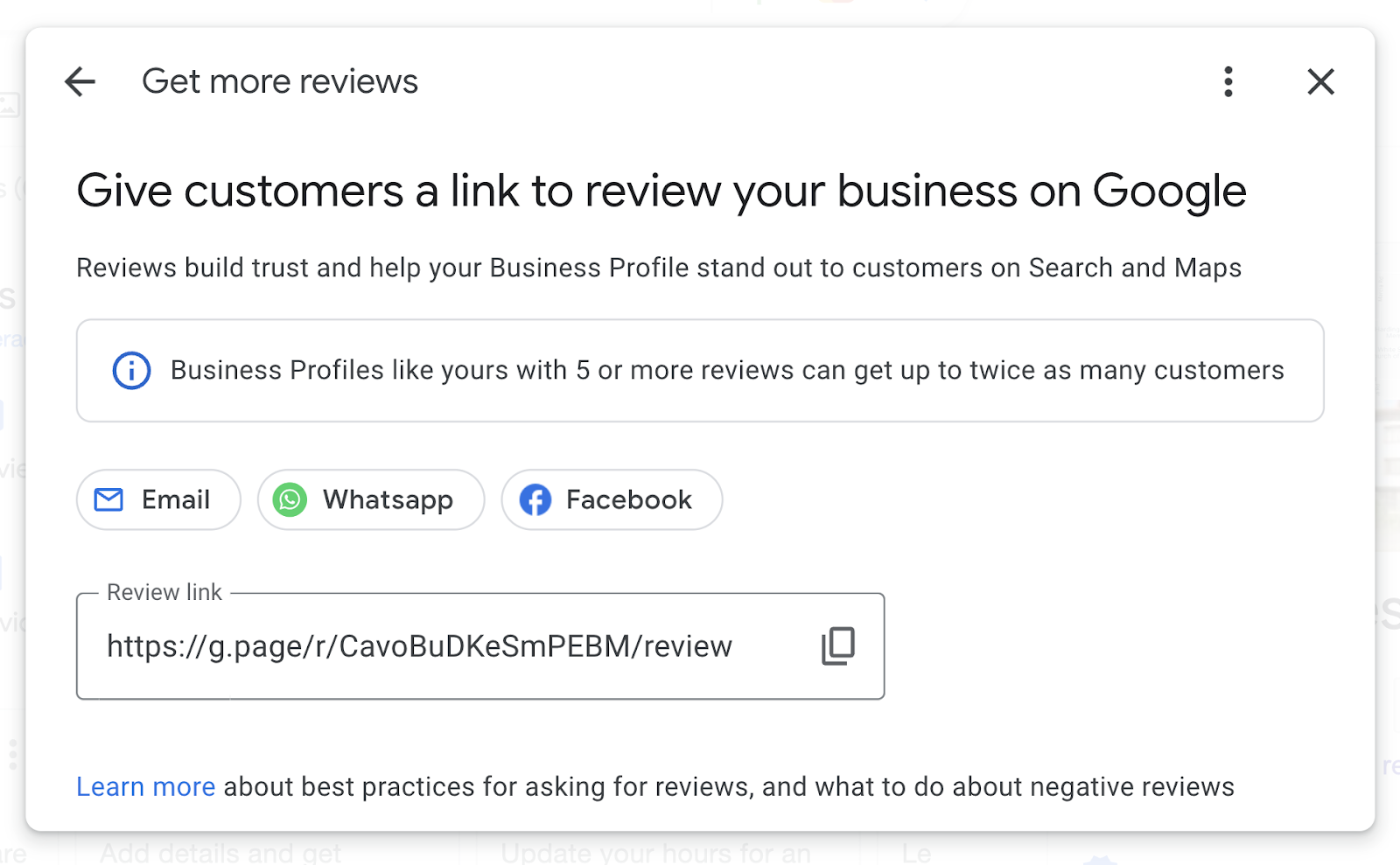 Another way to improve your Business Profile reviews is to respond to them. 
This shows that you care about customers' feedback.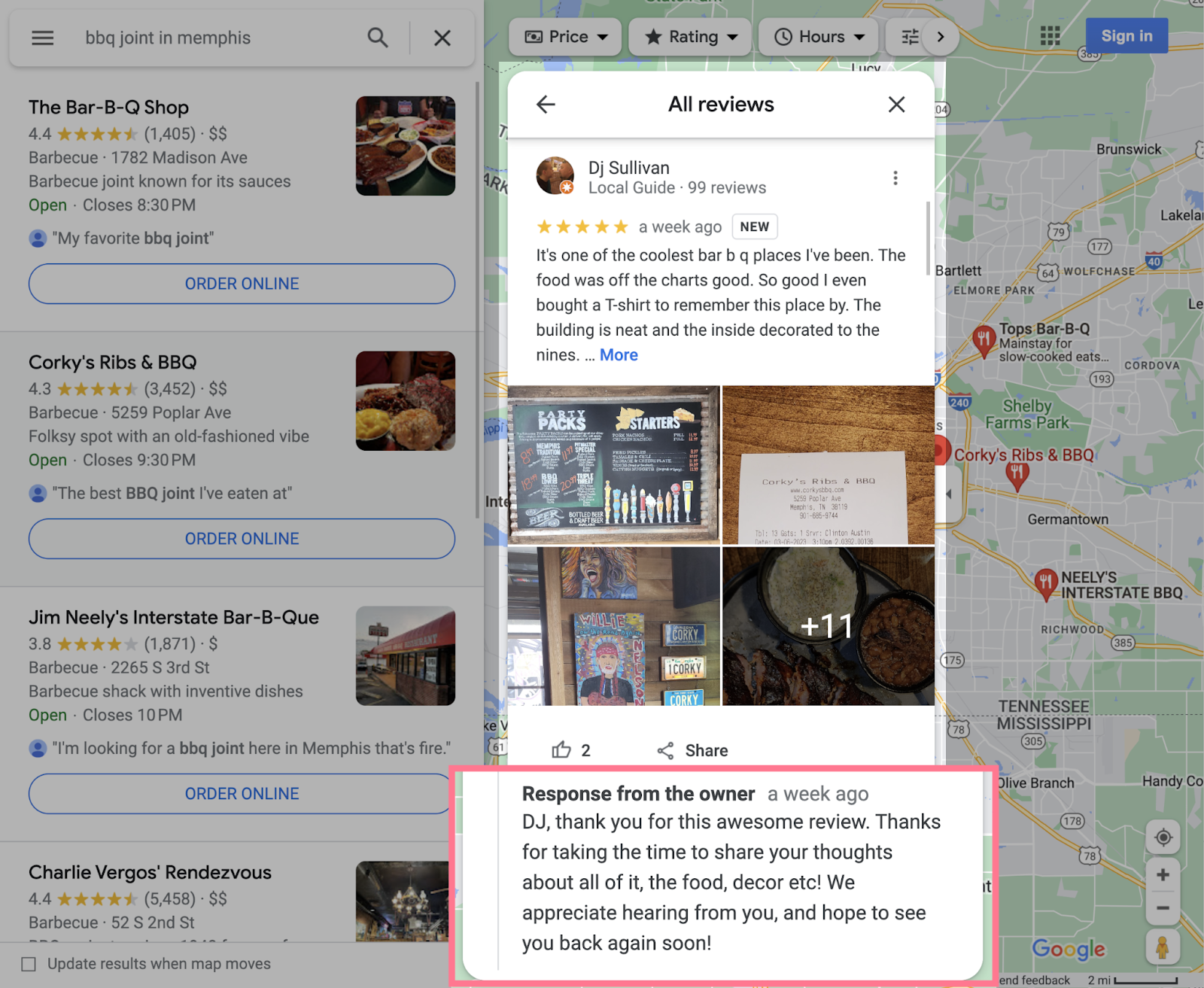 And helps you neutralize any negative reviews.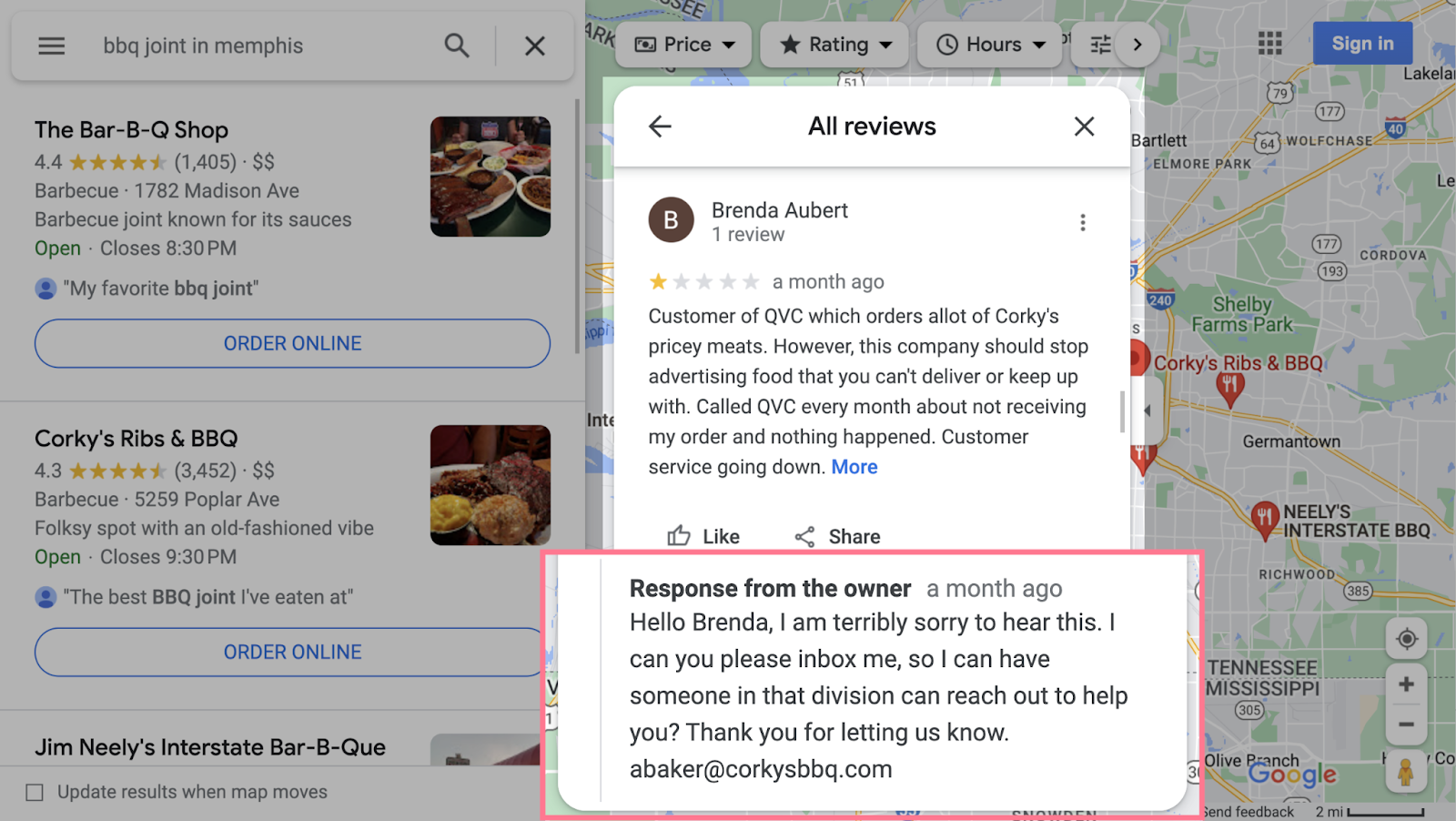 Make sure you're signed up for review notifications. Click on the three dots beside "Profile Strength" to open the "Settings" section of GBP.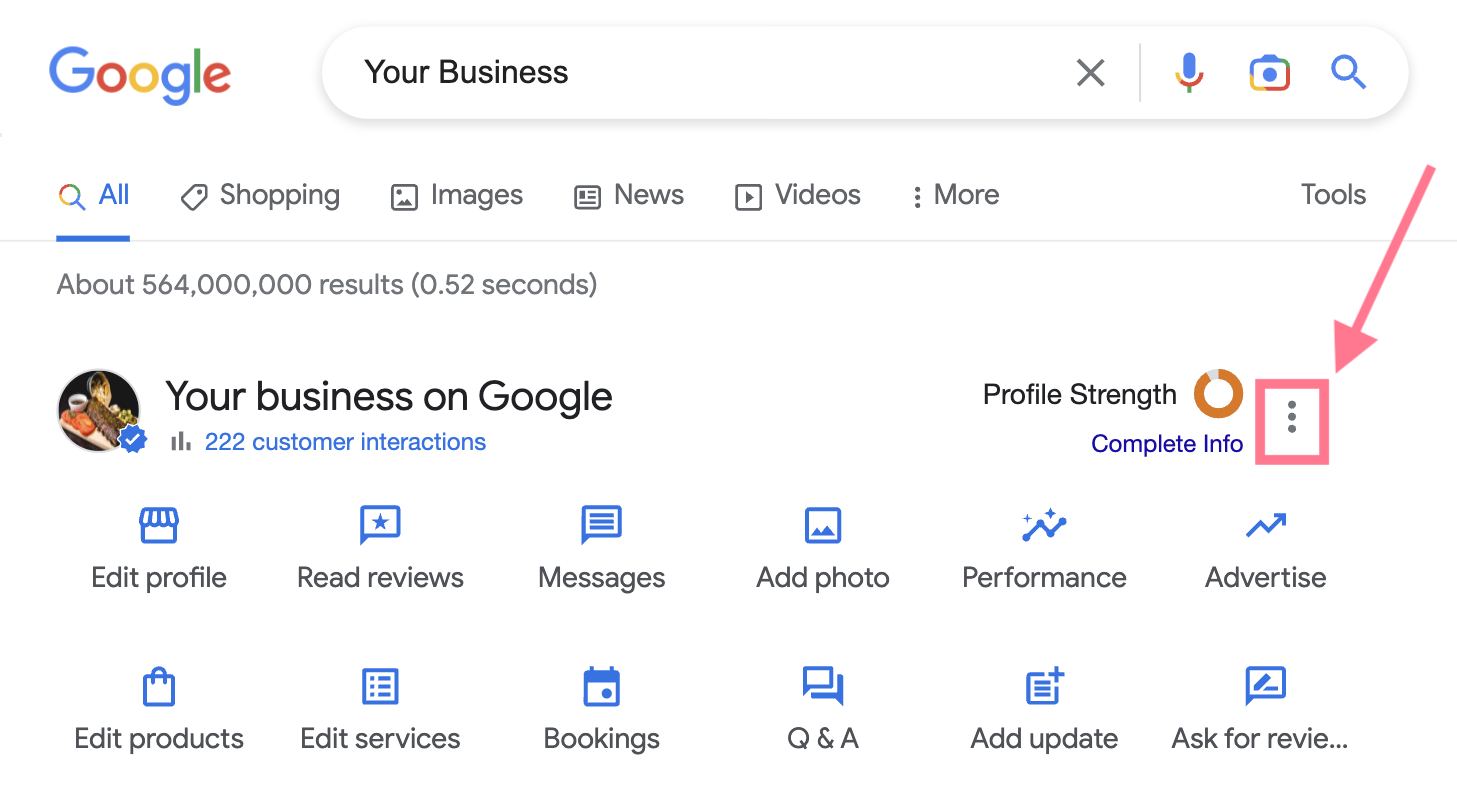 And toggle on "Customer reviews."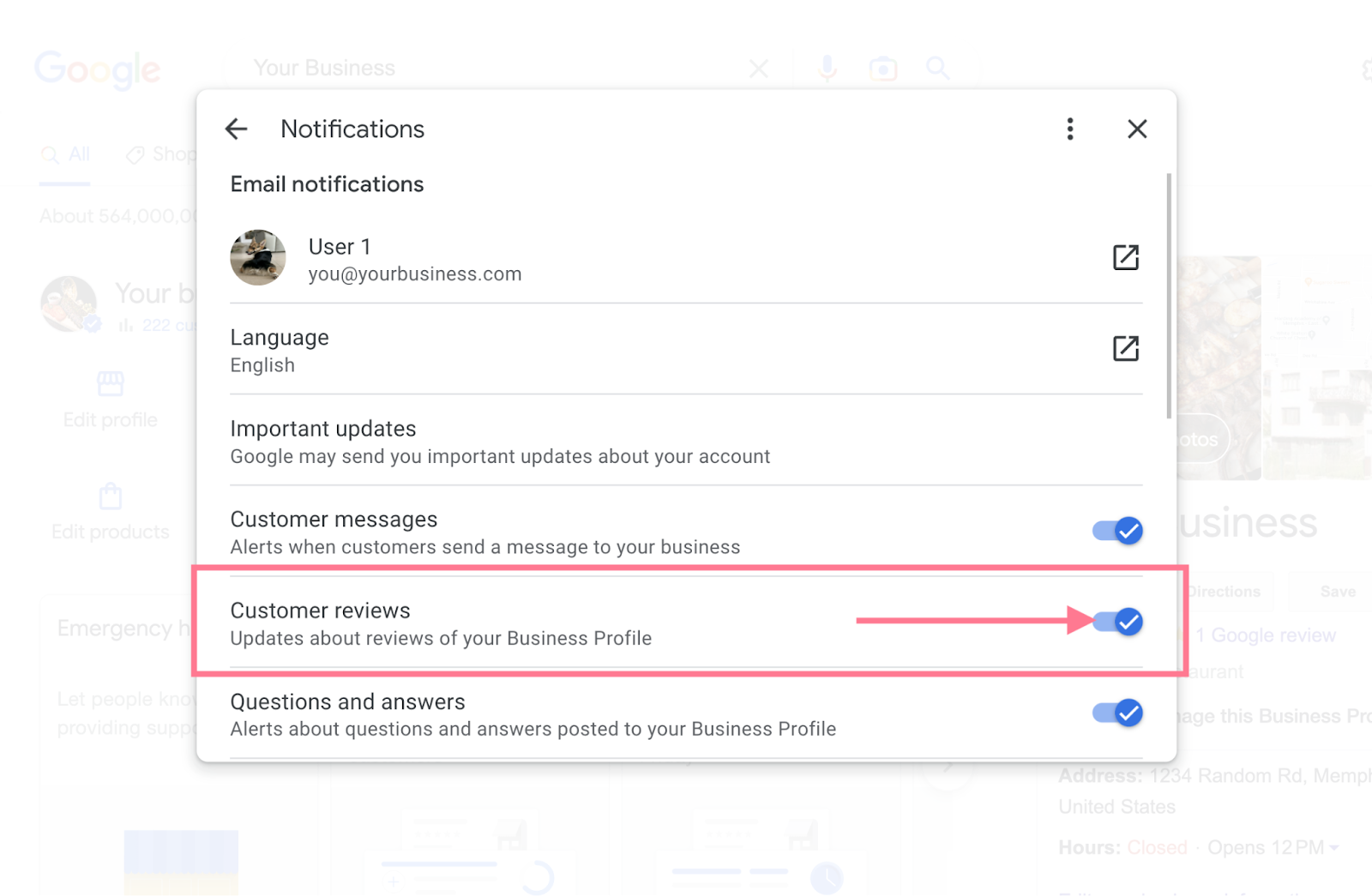 Then respond to any feedback as soon as possible. Making sure to be clear, polite, and helpful.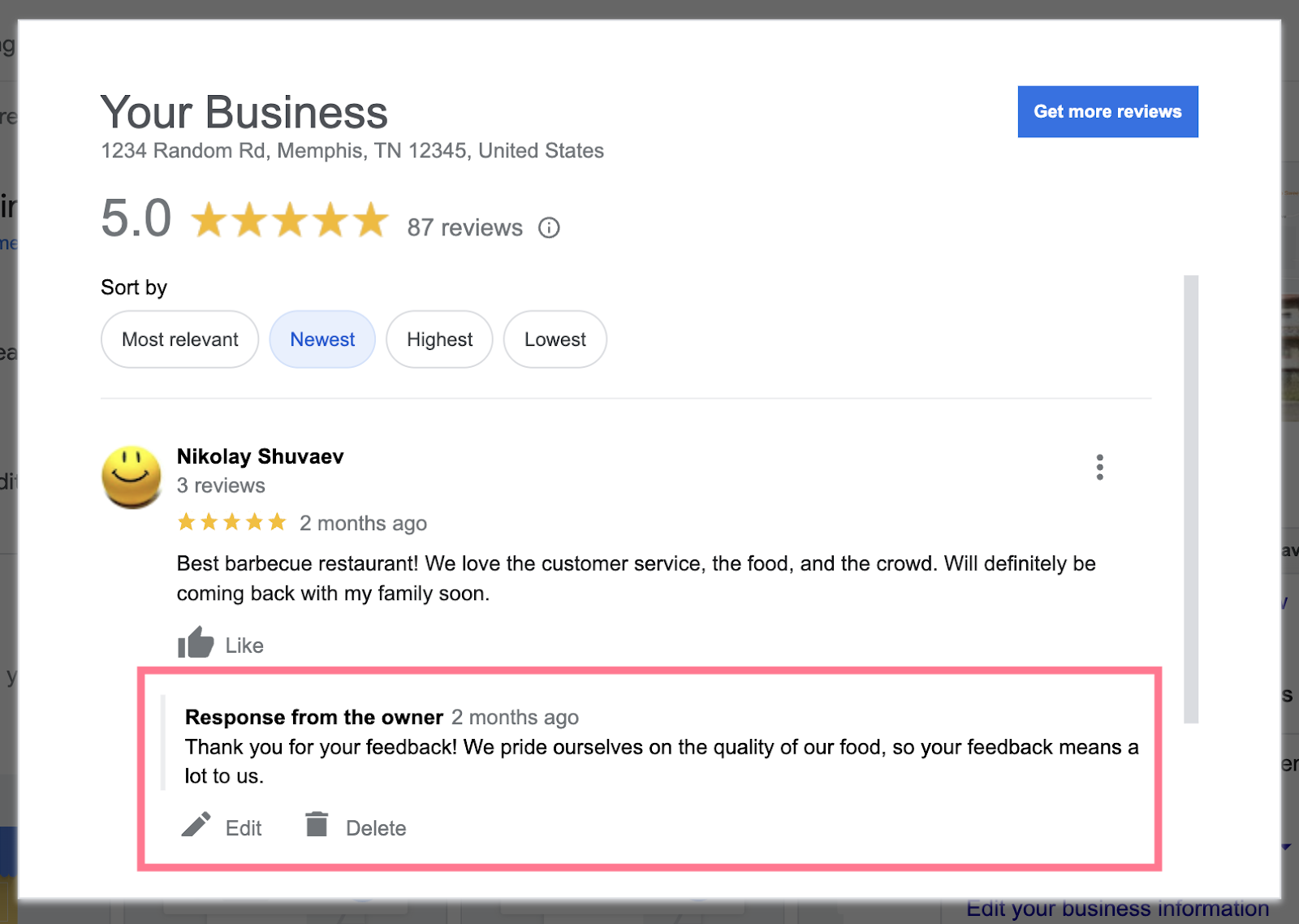 Alternatively, use Semrush's Review Management tool. It brings reviews from multiple platforms (including Google) into one place. 
Filters and sorting options make it easy to prioritize. 
For example, look at reviews where you've "Not replied," starting with the "Oldest" first.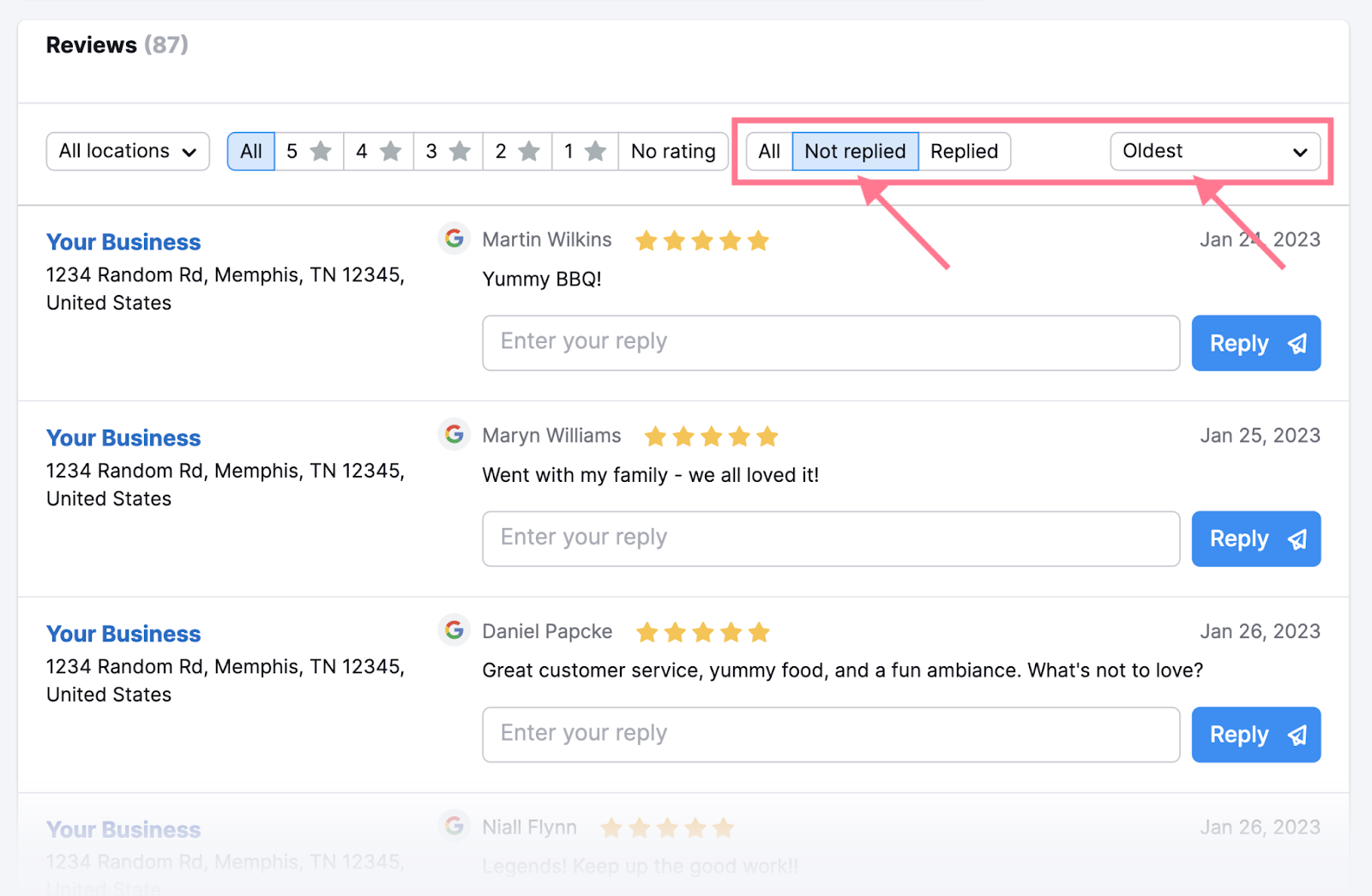 If you have a Premium Location, you can reply right away. There's no need to log in to each platform.
Important note: Google may also display "Reviews from the web" on your Business Profile. Which are average ratings from third-party platforms such as Facebook and OpenTable. These don't impact your map rankings directly, but they can impact consumer decisions.
If most prospects use another platform to research your business (e.g., Trustpilot, Tripadvisor, or G2), it may be worth asking customers to leave a review for you there rather than on Google. It's unlikely they'll be willing to review you on both. Alternatively, leave it up to customers to choose a platform.
5. Submit Questions and Answers
Your Business Profile has a "Questions & answers" section. Here, Google users can ask or answer questions about your business. And so can you.
This is your opportunity to provide extra information and help potential customers with specific needs.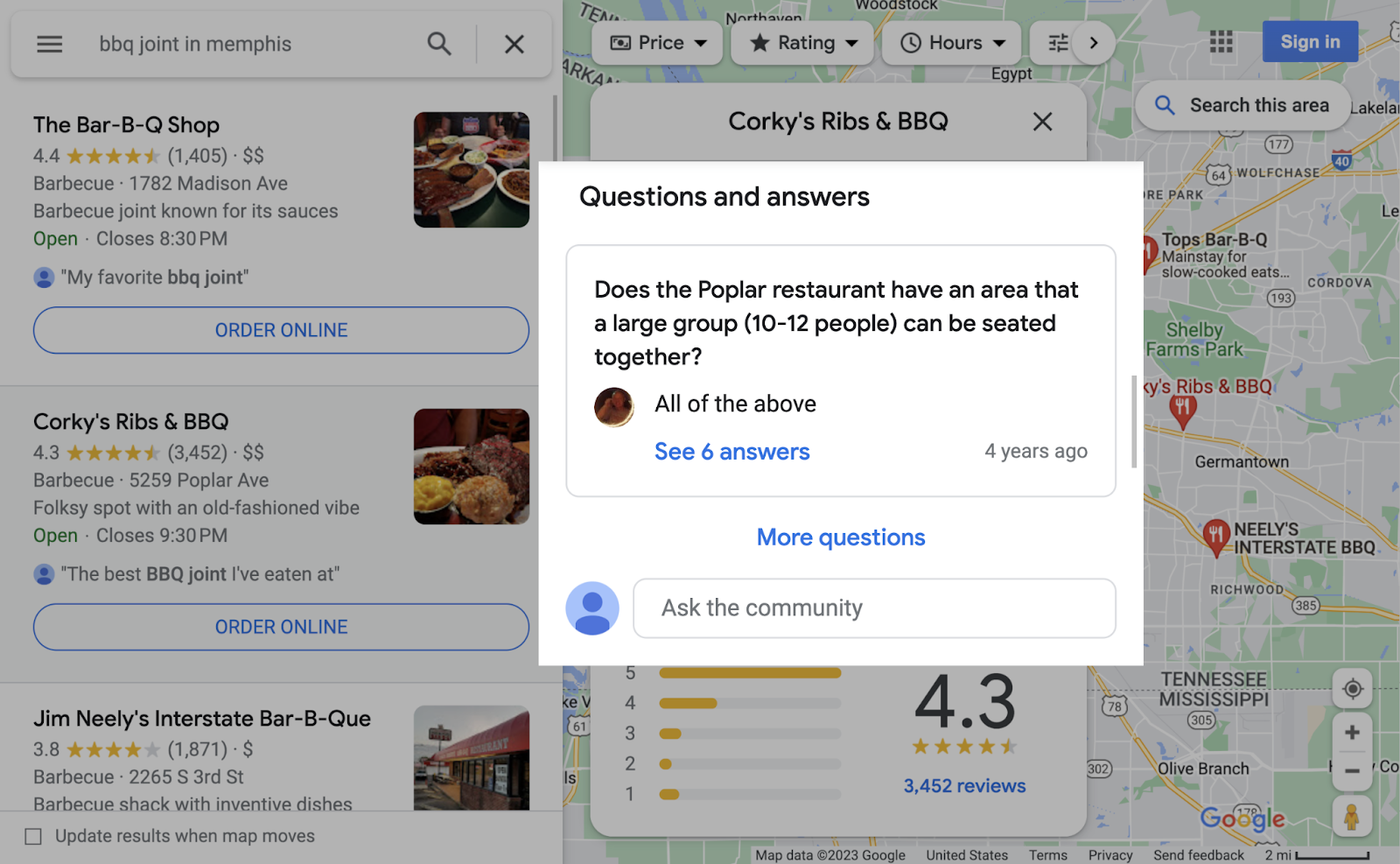 If you receive any questions, provide clear, polite, and helpful answers as soon as possible. 
Make sure you're logged in to your GBP account so your answers are marked as "Owner." That way, readers know the information is reliable. And that you care about customer service.
Want to answer any FAQs that haven't been submitted yet? Add them using the "Ask a question" button. Then respond to them right away.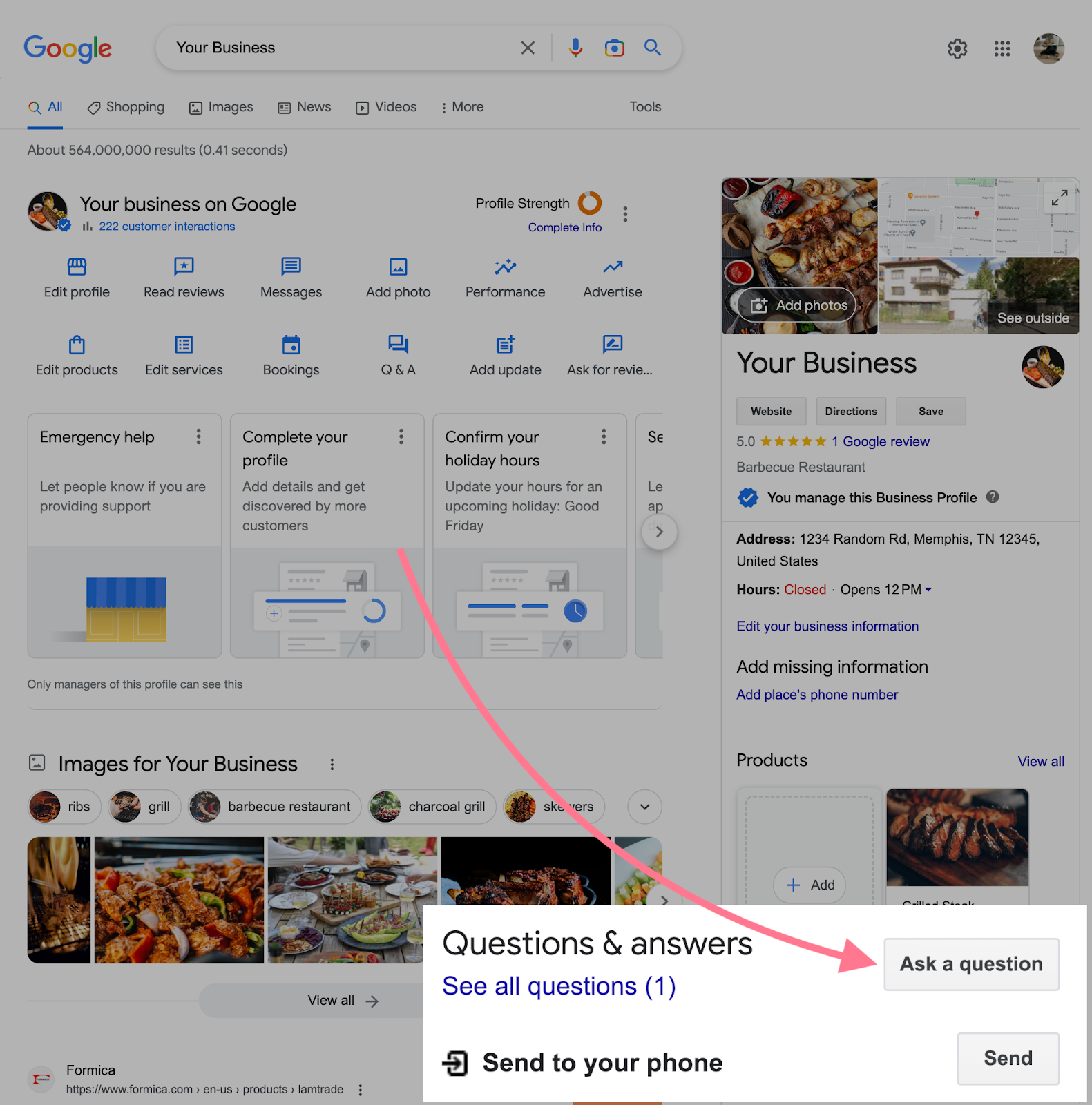 That way, future prospects can get the information they need without having to ask or wait for a response.
Here are some question ideas to inspire you:
Are you dog-friendly?
What payment methods do you accept?
Is parking available?
Tip: Speak to your customer service team and check other support channels (e.g., social media) to see what questions get asked most.
6. Make Your Website SEO-Friendly
Having a more SEO-friendly website can lead to better rankings in map results. If Google believes your website is relevant to searchers, it believes your Business Profile is, too. 
For example, look at the SERP for "memphis bbq." Memphis Barbecue Company's website ranks top.
This business also ranks high in the local pack (and, therefore, the Local Finder).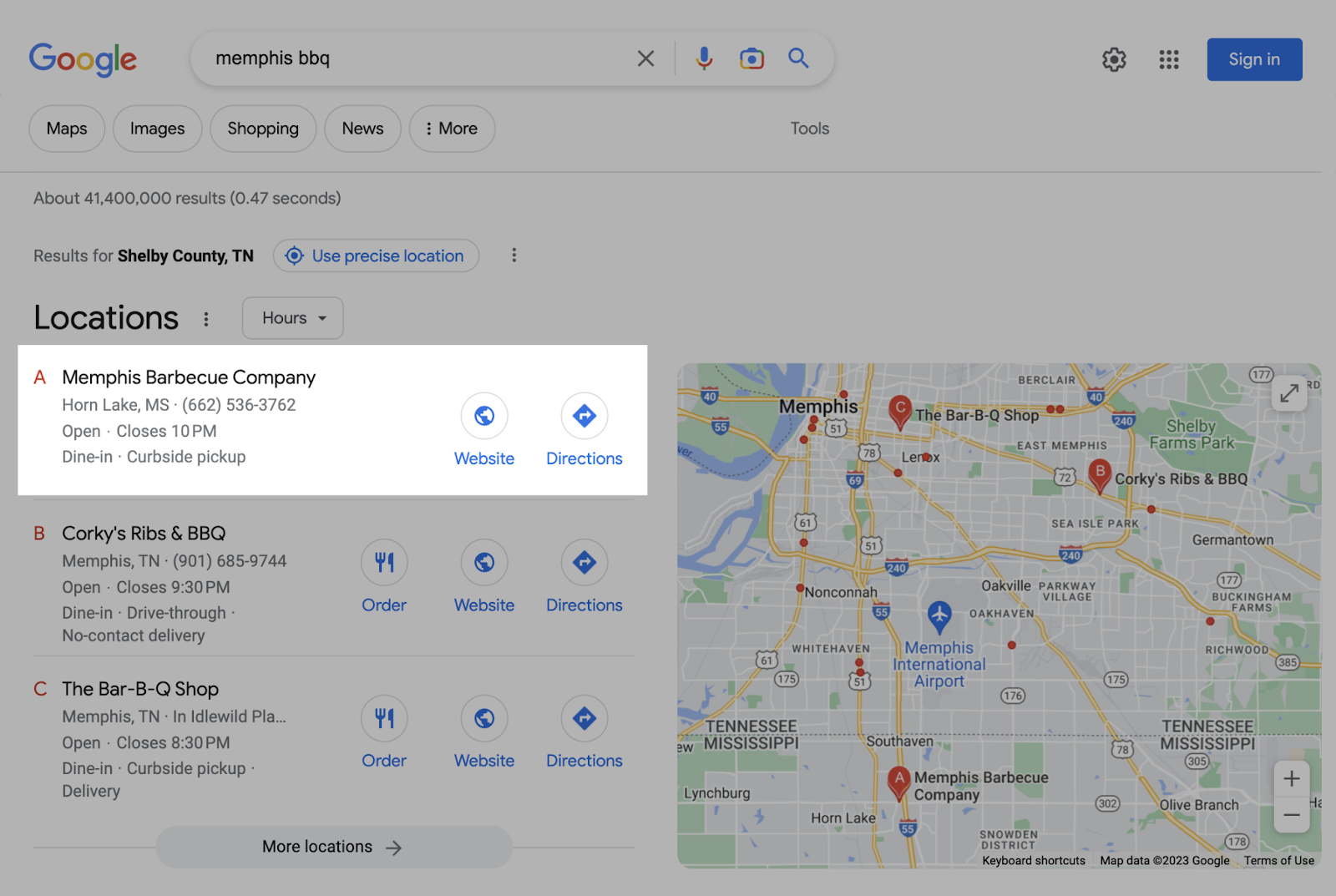 Memphis Barbecue Company ranks high for this search query in Google Maps, too.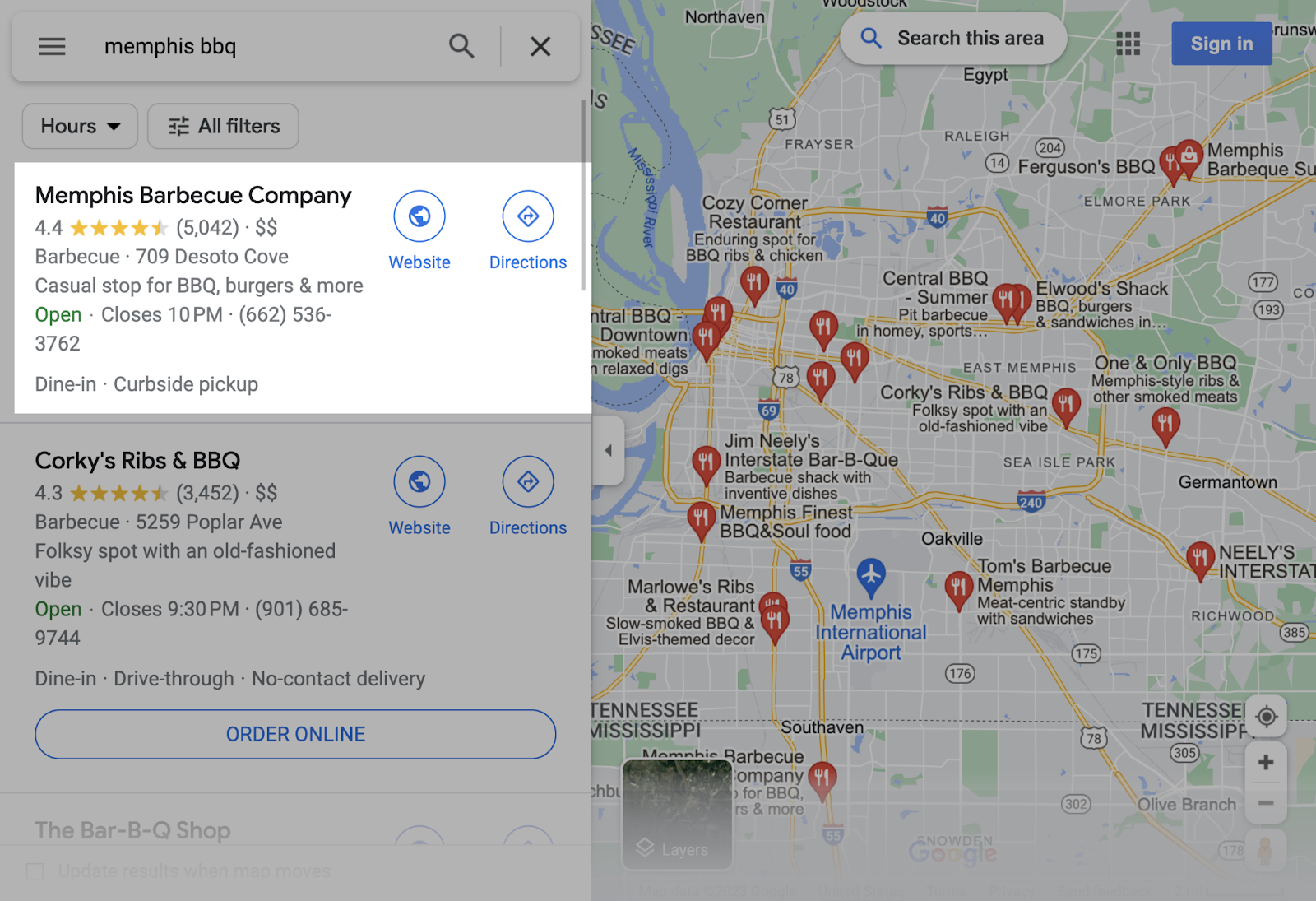 You can use all kinds of local SEO techniques to improve your website's rankings. And therefore boost your map marketing. Such as:
Building links on local websites
Publishing localized content
Fixing technical issues on your site
Get started with the basics in our free local SEO course.
7. Track Your Performance
Track your performance to see whether your Google Maps marketing strategy is working. That means monitoring your Business Profile's visibility in Google Maps, the local pack, and the Local Finder.
You want your listing to appear every time someone searches for a relevant local keyword (i.e., when someone looks for relevant products or services in your area). And rank as high as possible.
If you're not seeing results within a few weeks, you may need to adjust your Google Maps marketing strategy.
First, choose your target keywords. The search queries you want to rank for and track. 
Let's say you owned a barbecue restaurant in Memphis, Tennessee. You'd want to rank for local keywords like:
Barbecue near me
Best barbecue in Memphis
Barbecue joints in Memphis
Our local keyword research guide teaches you how to find what prospects search for. And get associated data. So you can optimize for keywords that will drive the best results.
Once you have identified target keywords, track your performance for them in Semrush's Position Tracking and Listing Management tools.
Tip: Want to get straight into tracking? Use some basic keywords like "[Business Type] near me" and "[Service] [City Name]" for now. You can add extra keywords later.
Position Tracking Tool
With Semrush's Position Tracking tool, you can see which target keywords trigger the local pack. And if so, whether your Business Profile appears.
Enter your domain and click "Set up tracking."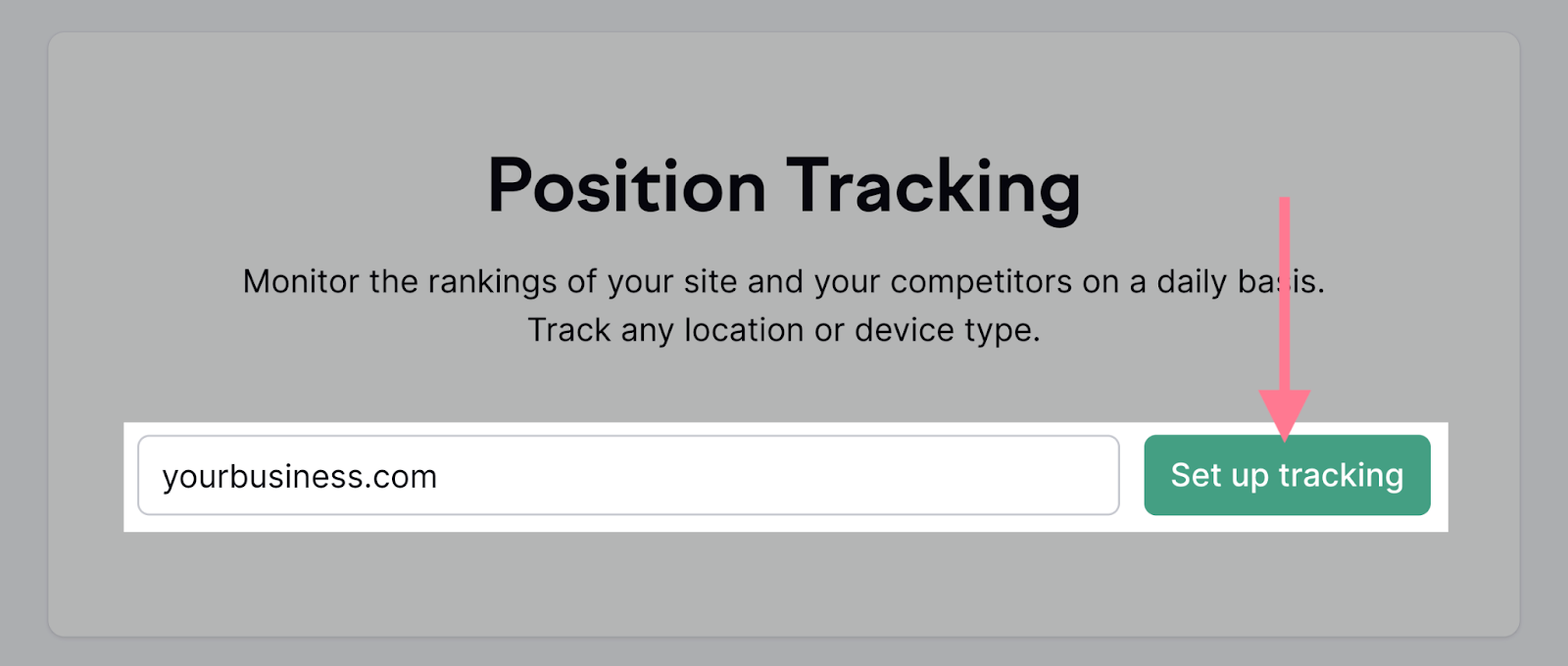 Then enter the "Location" to track rankings in. Many local businesses want to compete at the city level. But it might be more realistic to focus on your ZIP code area. 
Make sure the "Volume to show" field is set to "Local." That way, you'll see the average number of monthly searches for each keyword in your chosen location.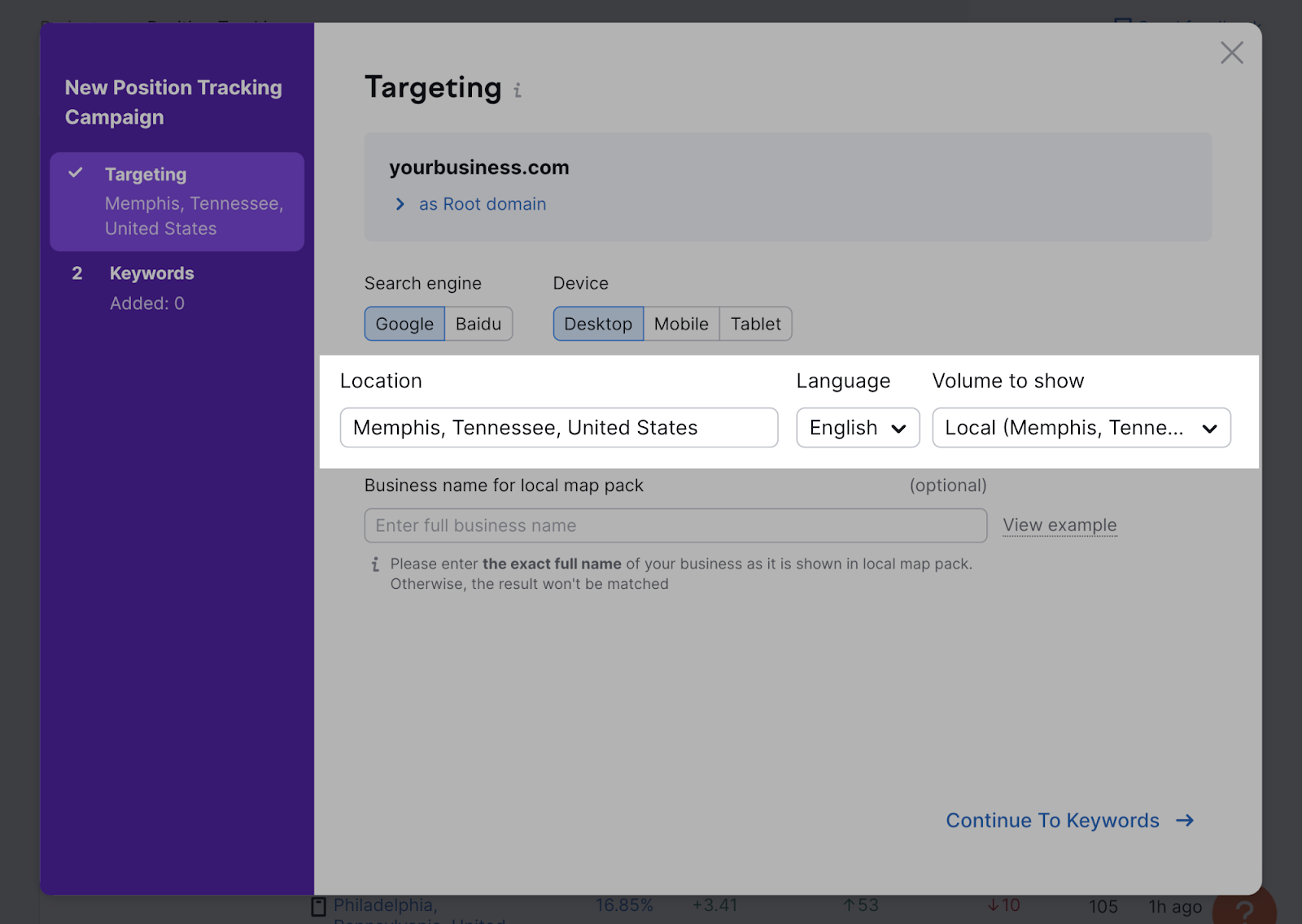 Next, enter your business name as it appears in the local pack. And click "Continue To Keywords."
Now you should type your target keywords in. Or import them from elsewhere.
Click "Add keywords to campaign" then "Start Tracking."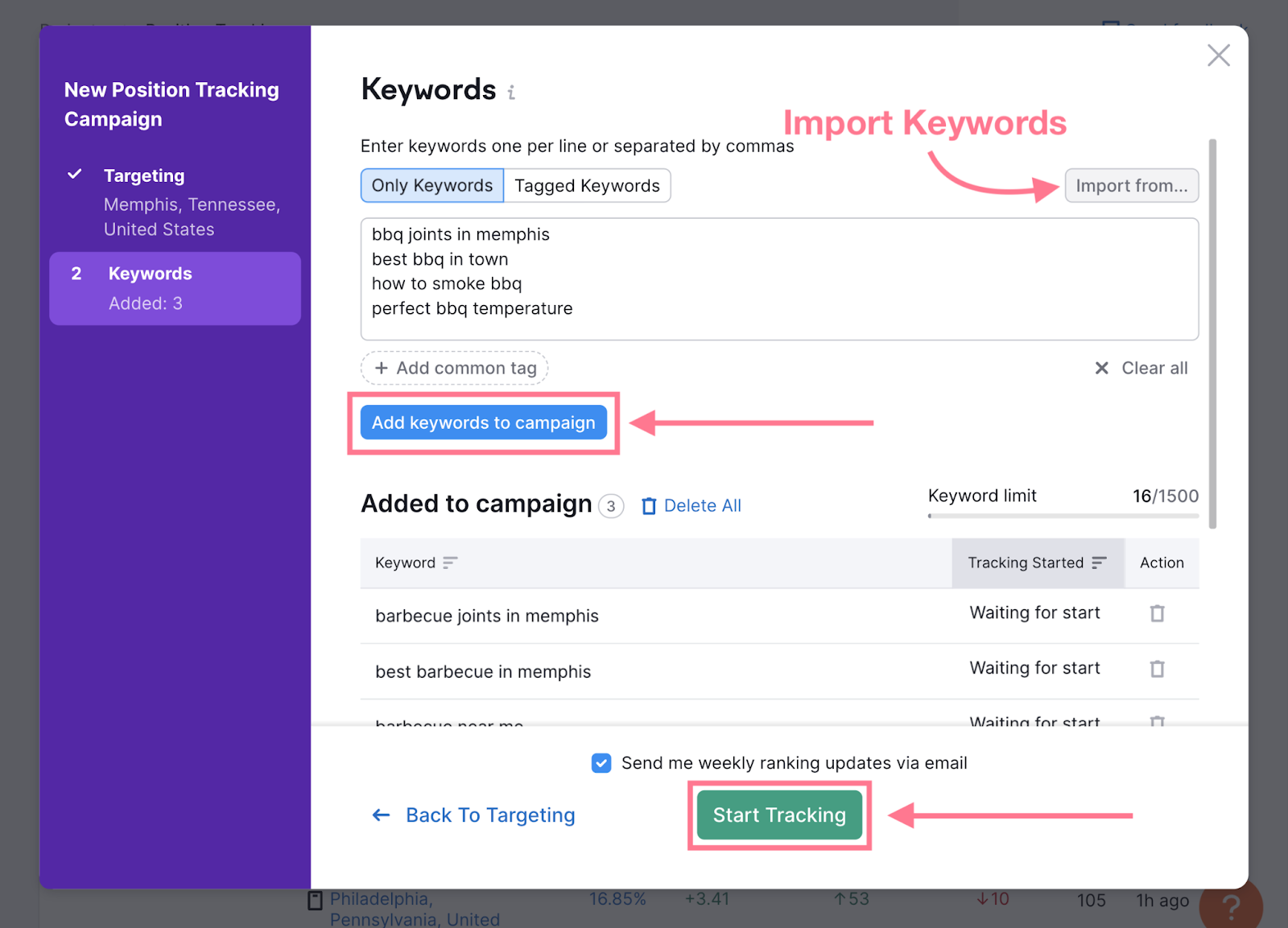 Your project is now ready.
To track your Google Maps pack rankings, go to the "Overview" tab.
Scroll down to "Rankings Overview" and look at the "SF" (SERP features) column. Click on the number to see if the keyword triggers the local pack.
If your Business Profile ranks in the local pack, the map pin icon will appear in the "Pos. [Date]" column.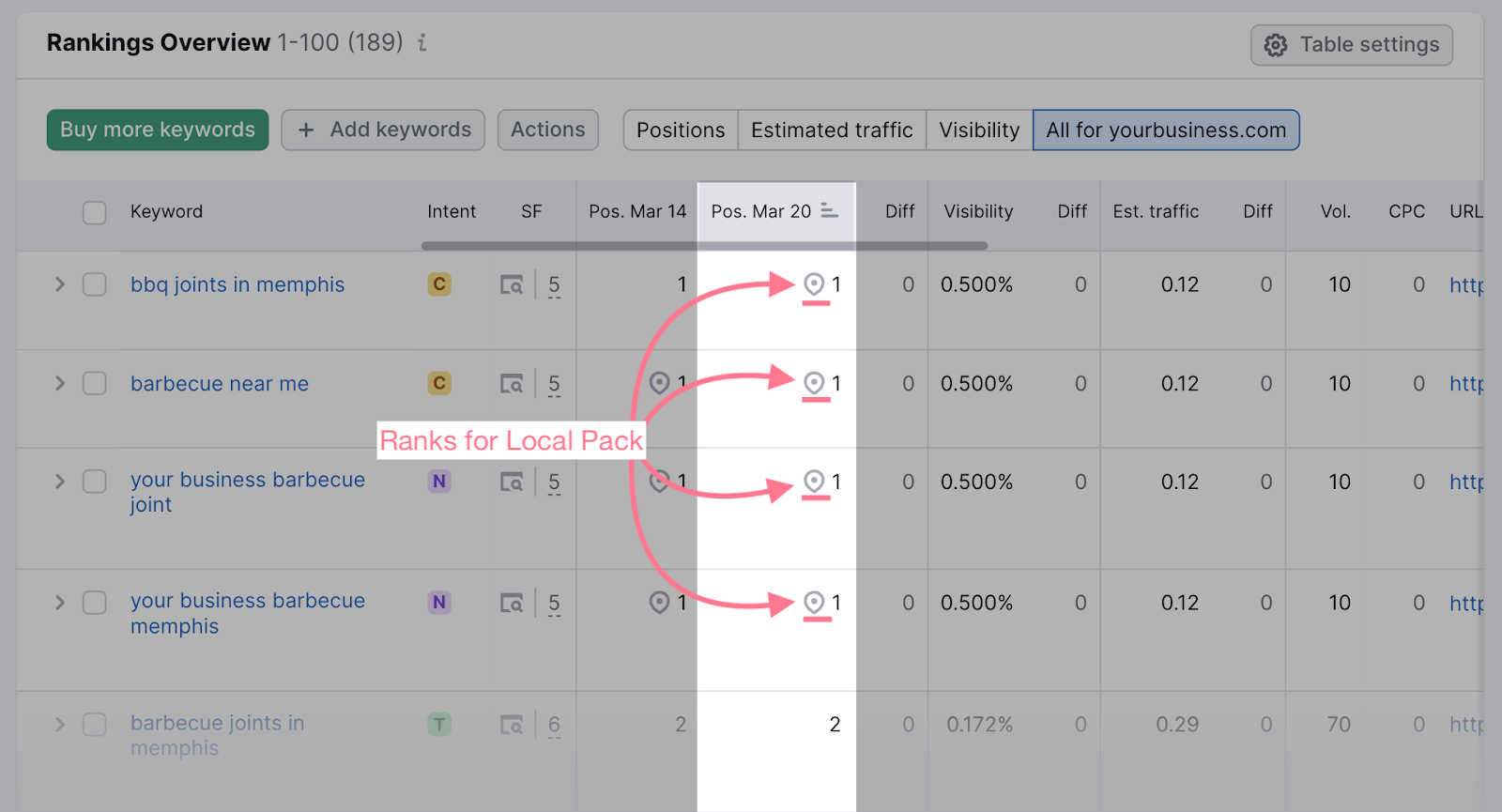 Tip: Not ranking for a particular product or service? Check that it's mentioned on your GBP and website. 
Listing Management Tool
Semrush's Listing Management tool allows you to track your rankings in the Local Finder. With a Premium Location, you can track Google Maps rankings, too.
If you haven't already, set up your location. Making sure to add your brand name, categories (up to nine), and phone number.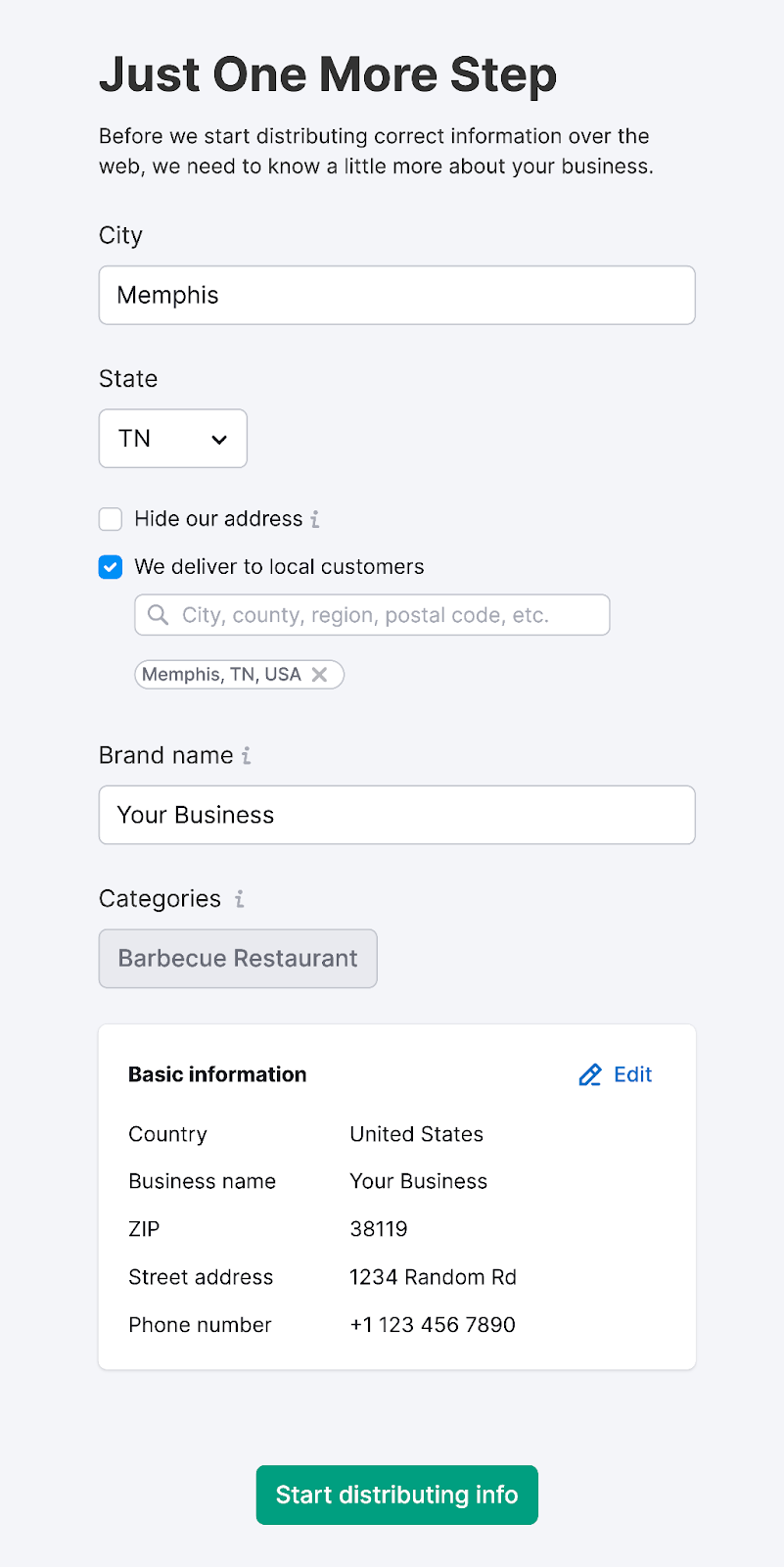 Also add your full business address in the "Basic information" section.
Then click "Start distributing info" once you're done.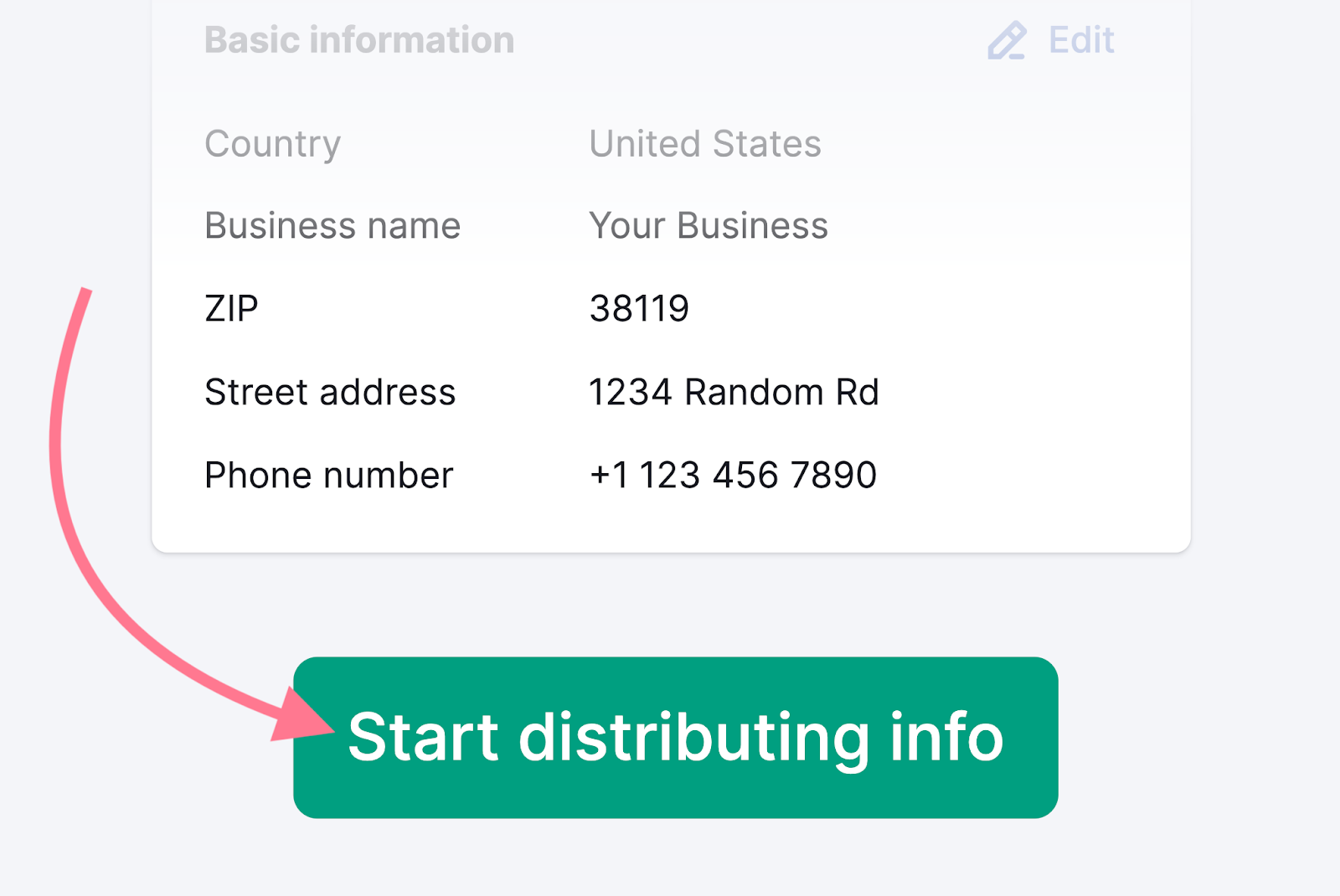 Local Rankings
You will monitor your Local Finder rankings in the "Local Rankings" tab. 
The tool will automatically use the first category you selected as a keyword.
To add more keywords, go to the "Locations" tab. And select the location you'd like to track.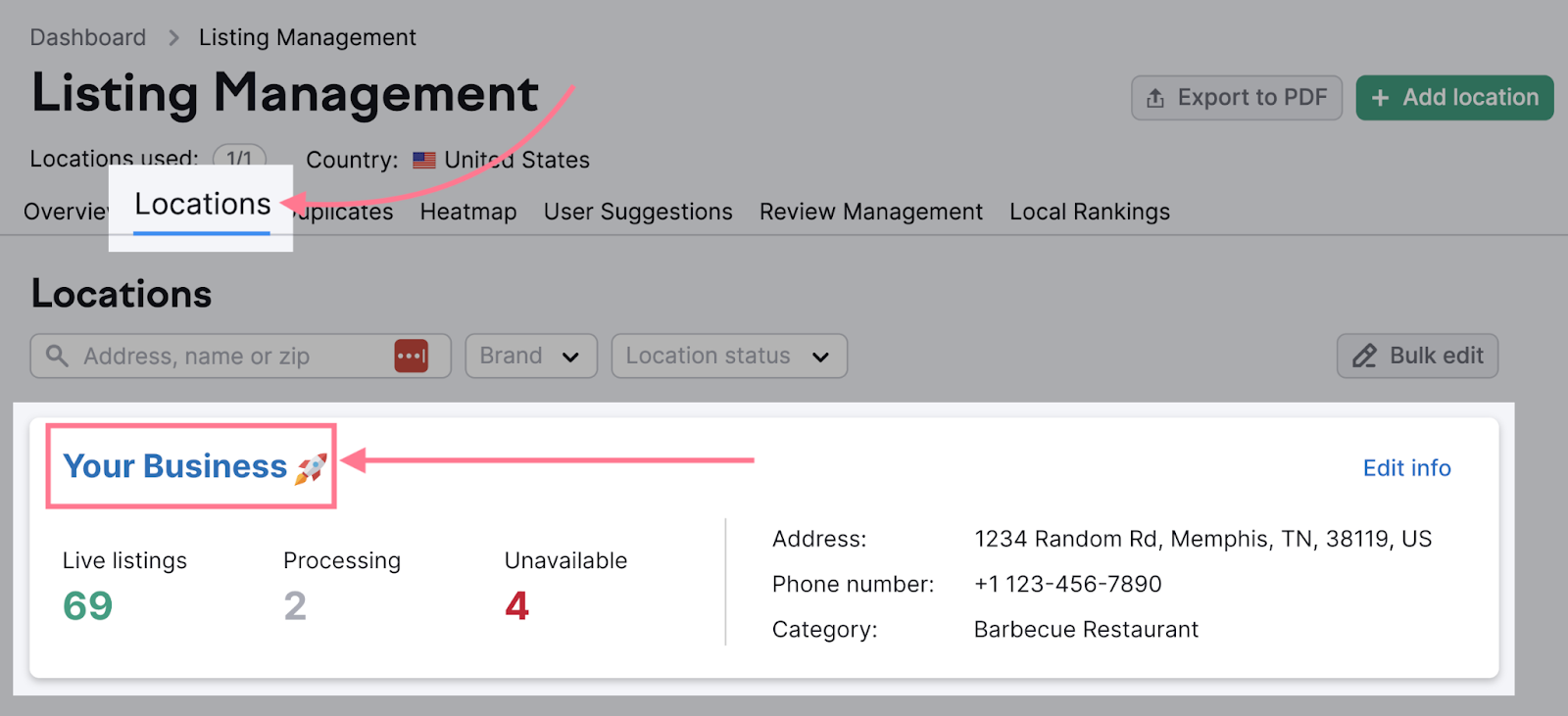 Then go to your "Local Rankings" tab. And click "Select keywords." Enter up to five search queries you'd like to track.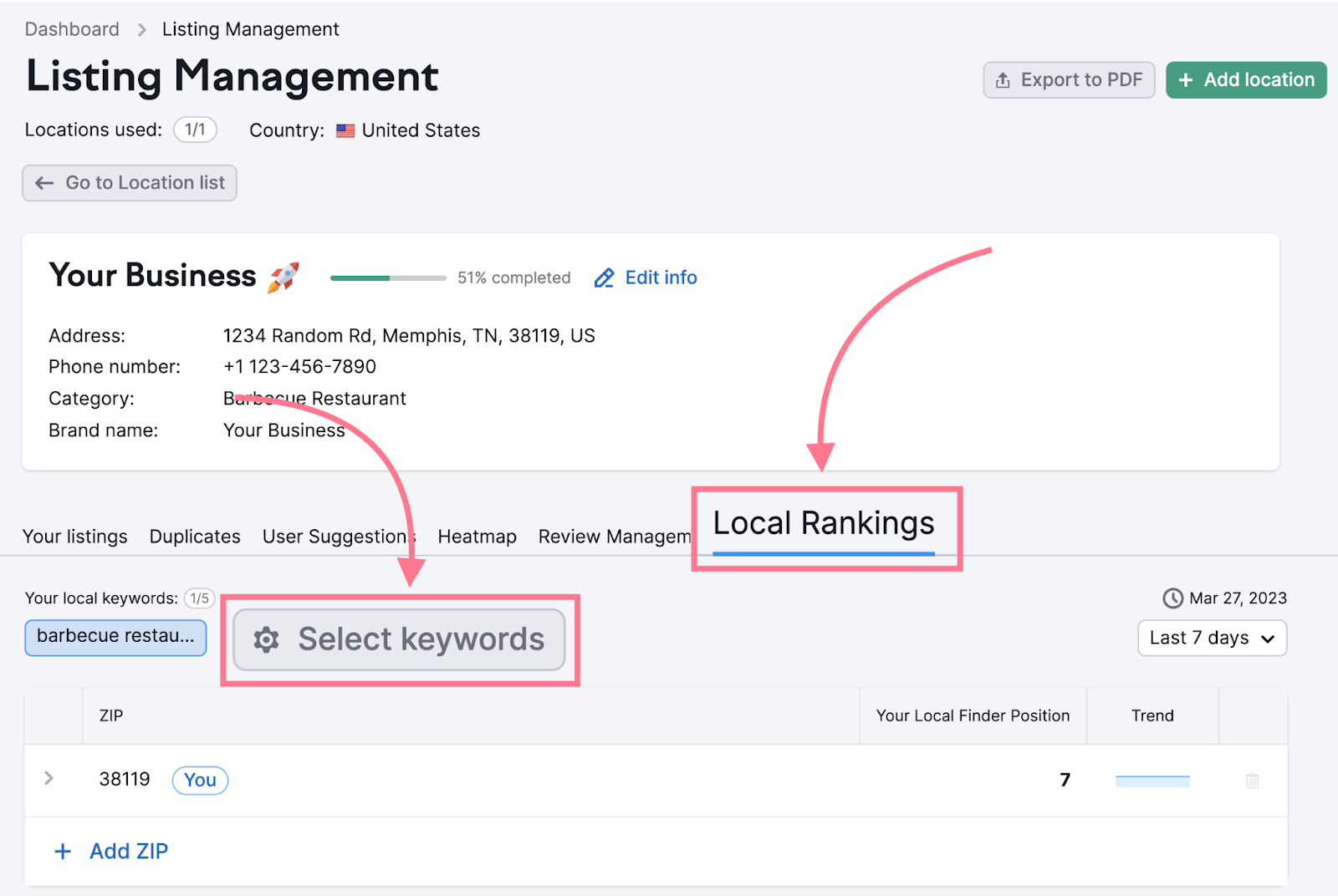 These should be the most important local keywords for your business.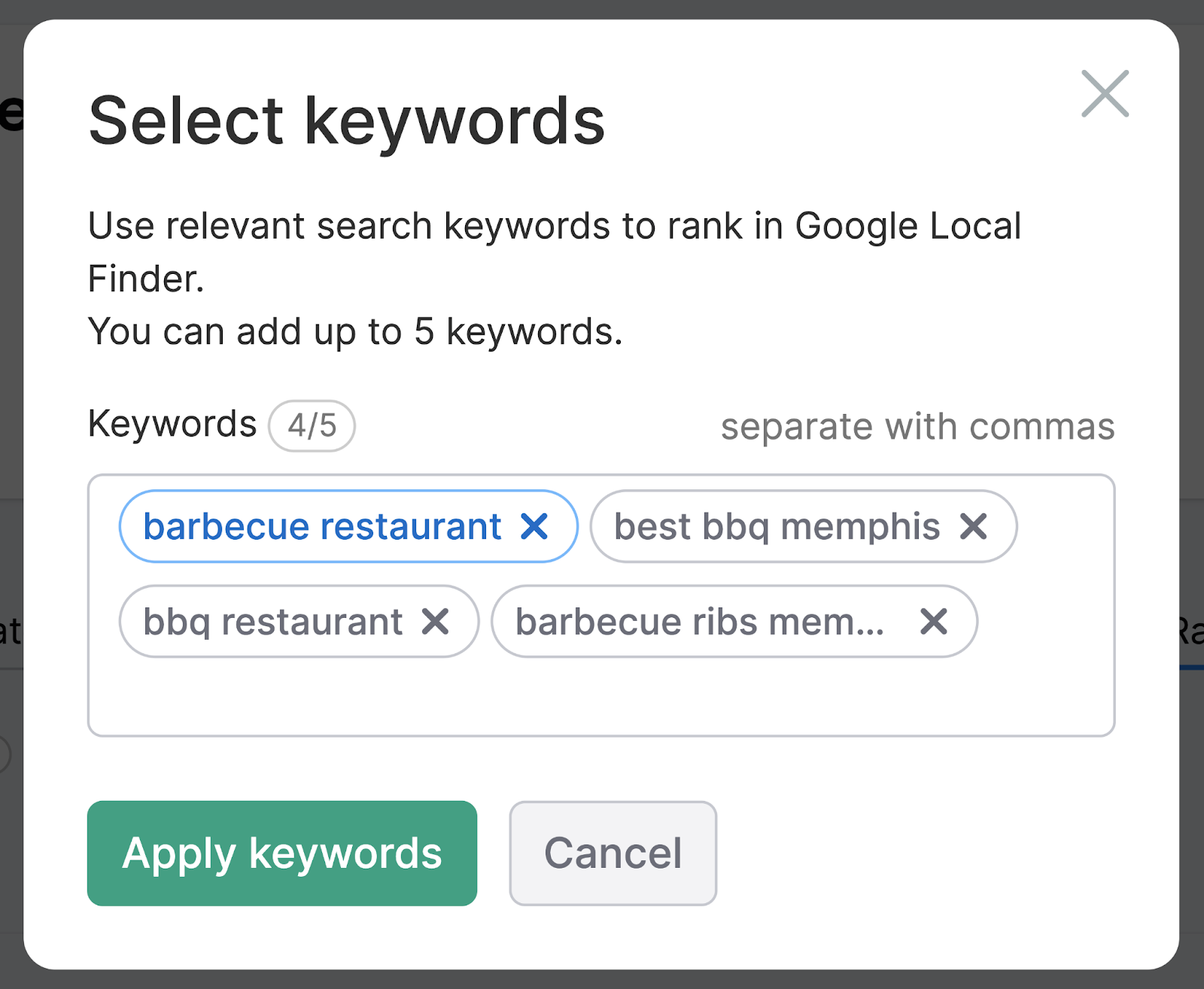 To view your rankings, select the keyword you want to track from the list above your ZIP code chart.
The "Your Local Finder Position" column shows where your Google map listing ranks when the searcher is in your business's ZIP code.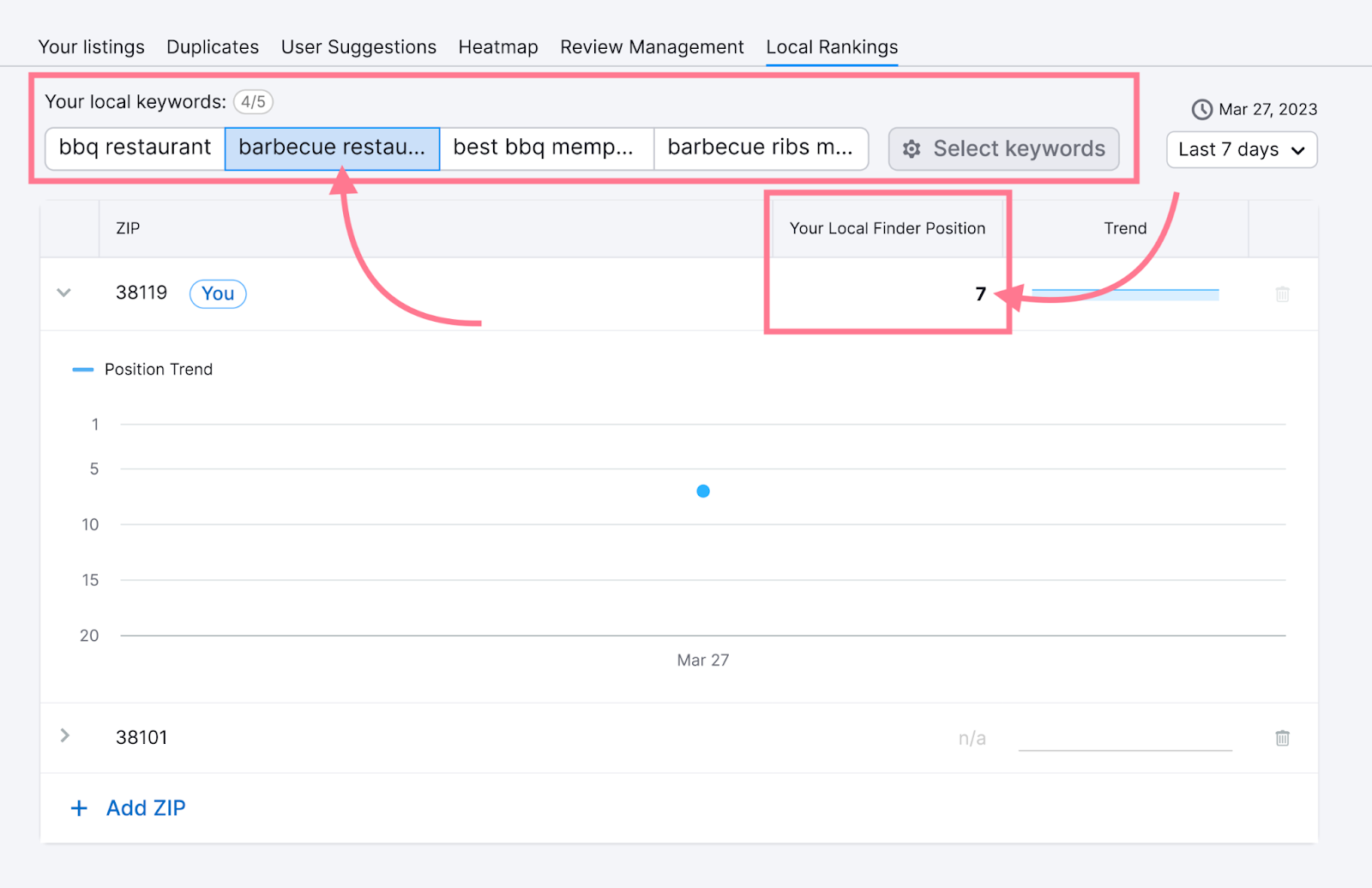 You can track your positions in two more ZIP code areas. Simply click on the "+ Add ZIP" button below the chart.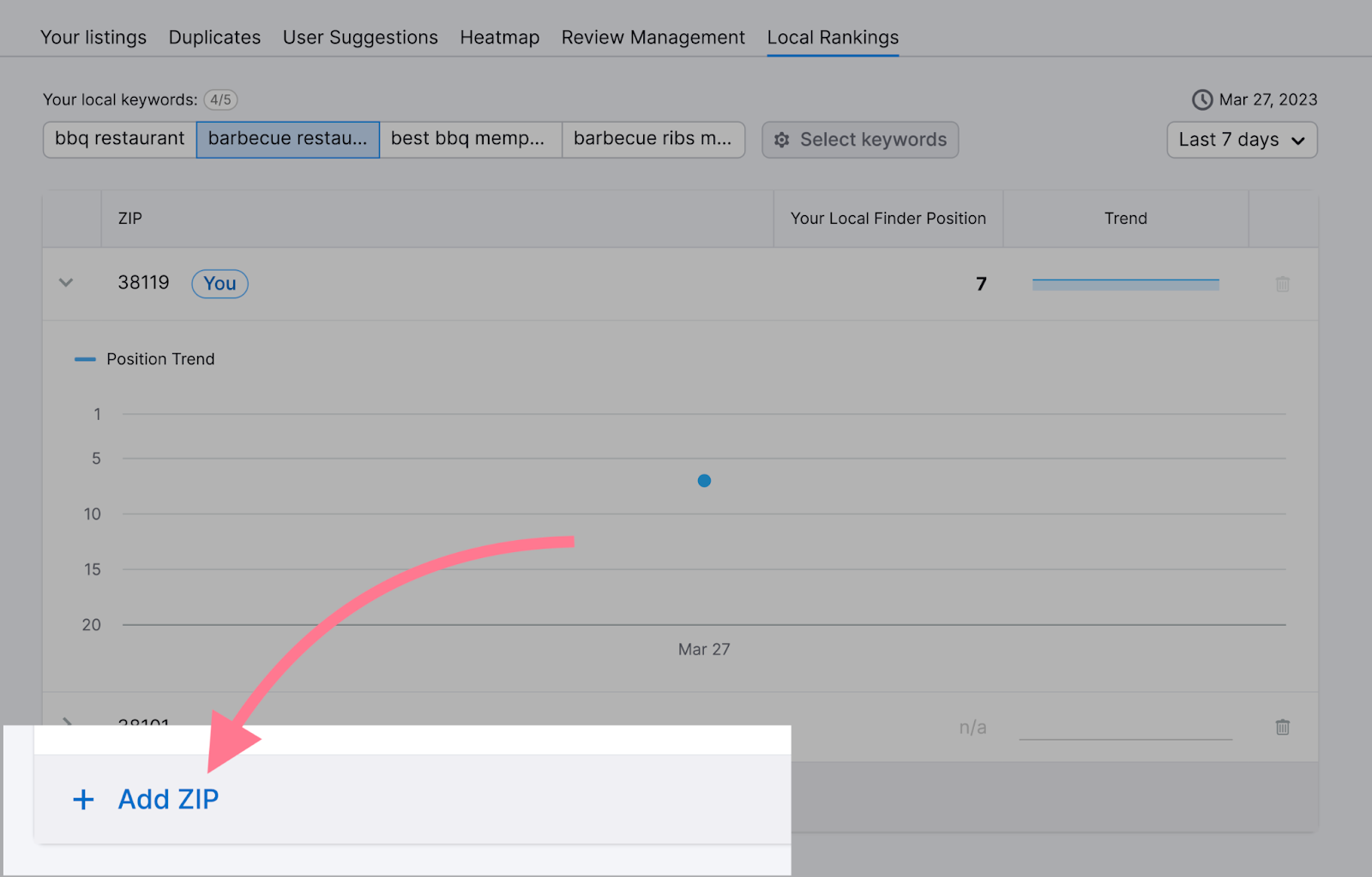 Revisit the tab anytime to view your Local Finder rankings. And how they've changed over time.
Heatmap
In the "Heatmap" section of Listing Management, you can track your rankings in Google Maps.
To get started, enter up to 10 local keywords you want to track. And set your "Scan radius" and "Grid size" to determine where rankings are checked.

Click "Collect data" to generate your heatmaps. The numbers show your ranking in each search location.
Switch between keywords to see your positions for each.
Tip: Check out your top competitors in the listings. Try to work out why they're ranking higher. This can help you improve your Google Maps marketing strategy.
8. Try Google Maps Advertising
Google Ads is a paid service that can help you secure Business Profile rankings for priority keywords in priority search locations.
Advertising through "local search ads'' can help you earn additional exposure on Google Maps results. The idea is that the cost is outweighed by the extra customers you acquire.
However, it's not possible to advertise on Google Maps exclusively. Google may serve your local search ads across other Google properties, where it thinks they are relevant.
For example, here's an ad on mobile search: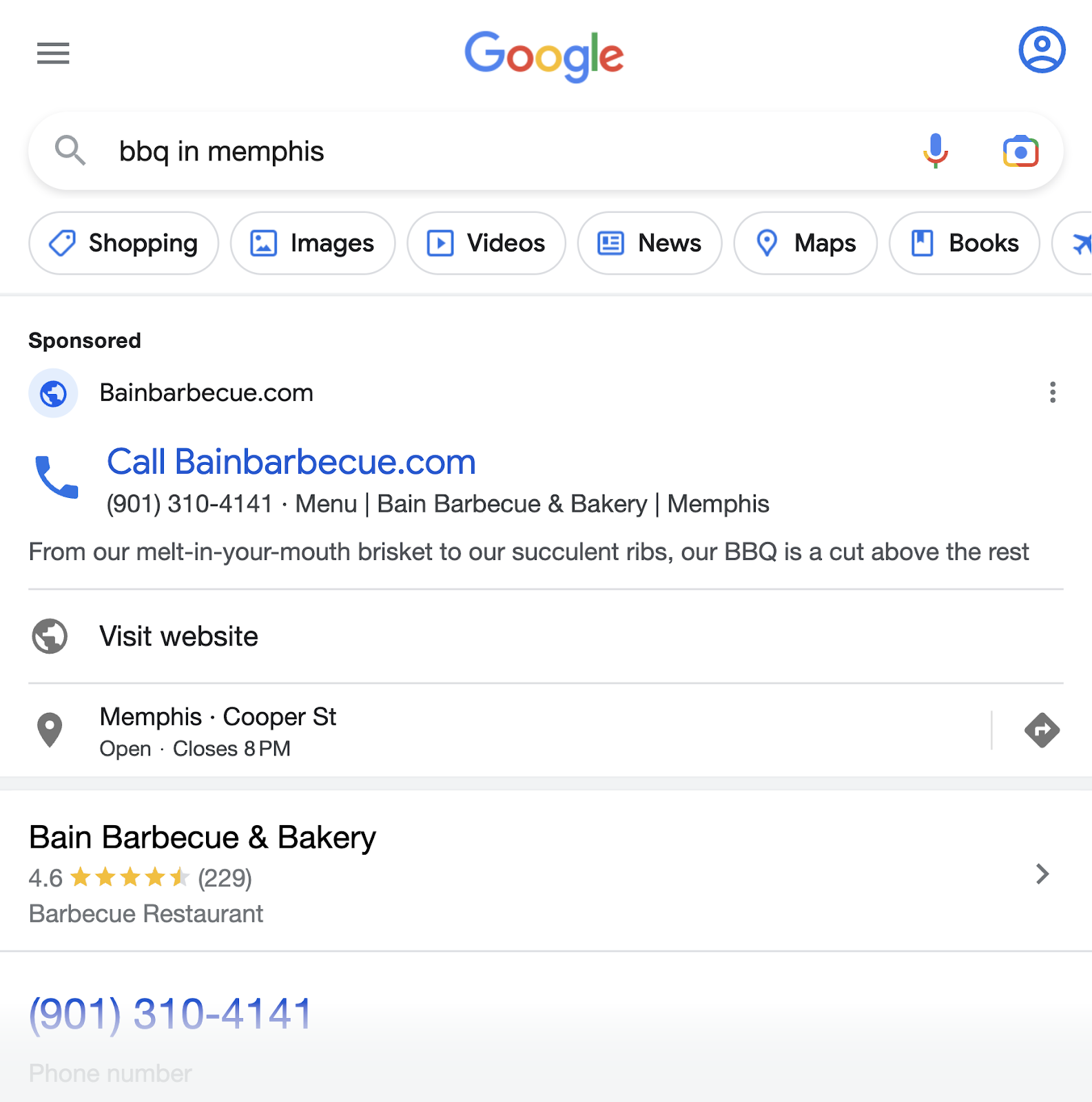 When they do appear, Google map ads take the form of sponsored listings. 
They rank at the top of the local pack, Local Finder, or Google Maps results. And have an "Ad" label. Like this: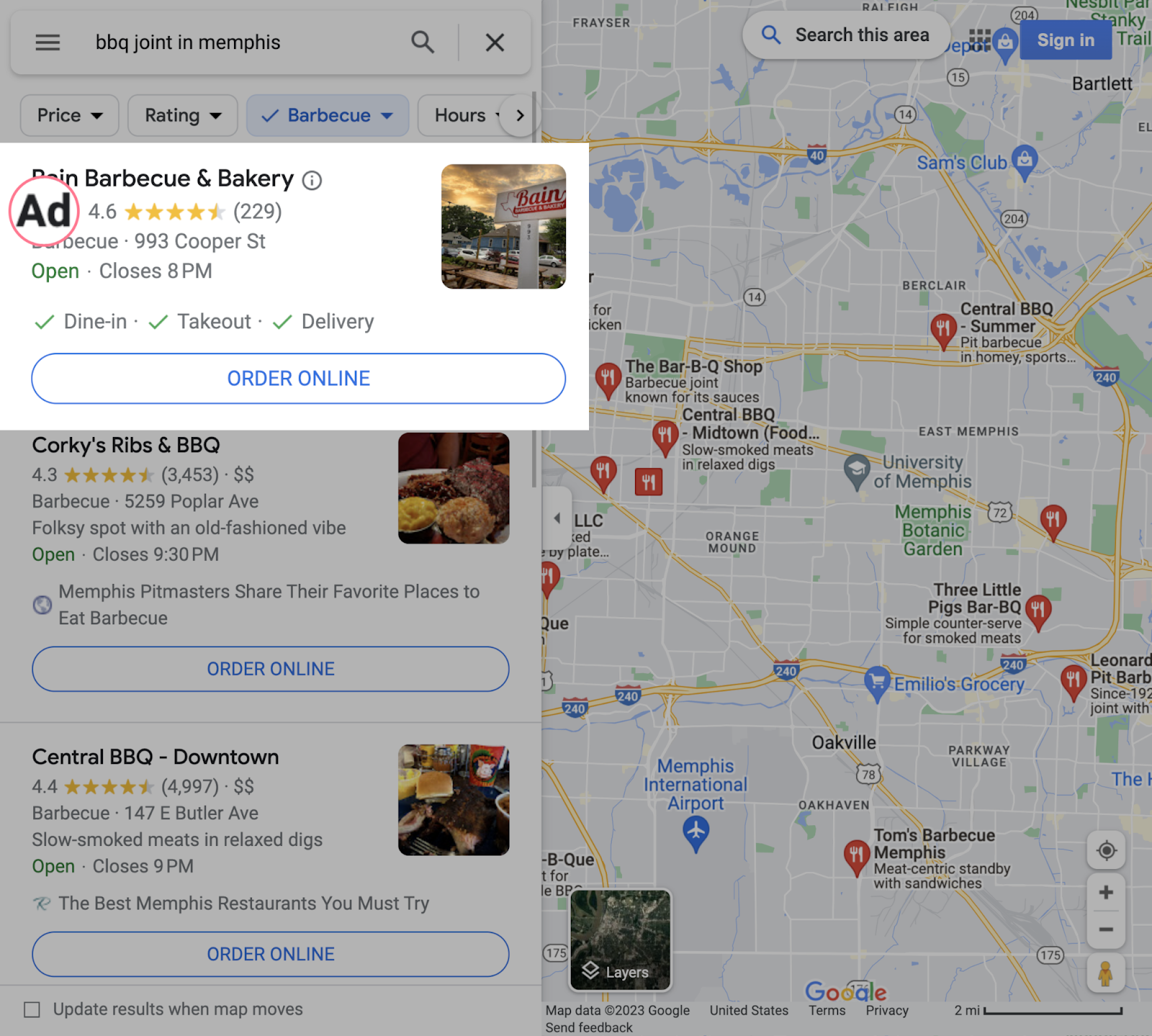 Or a "Sponsored" label. Like this: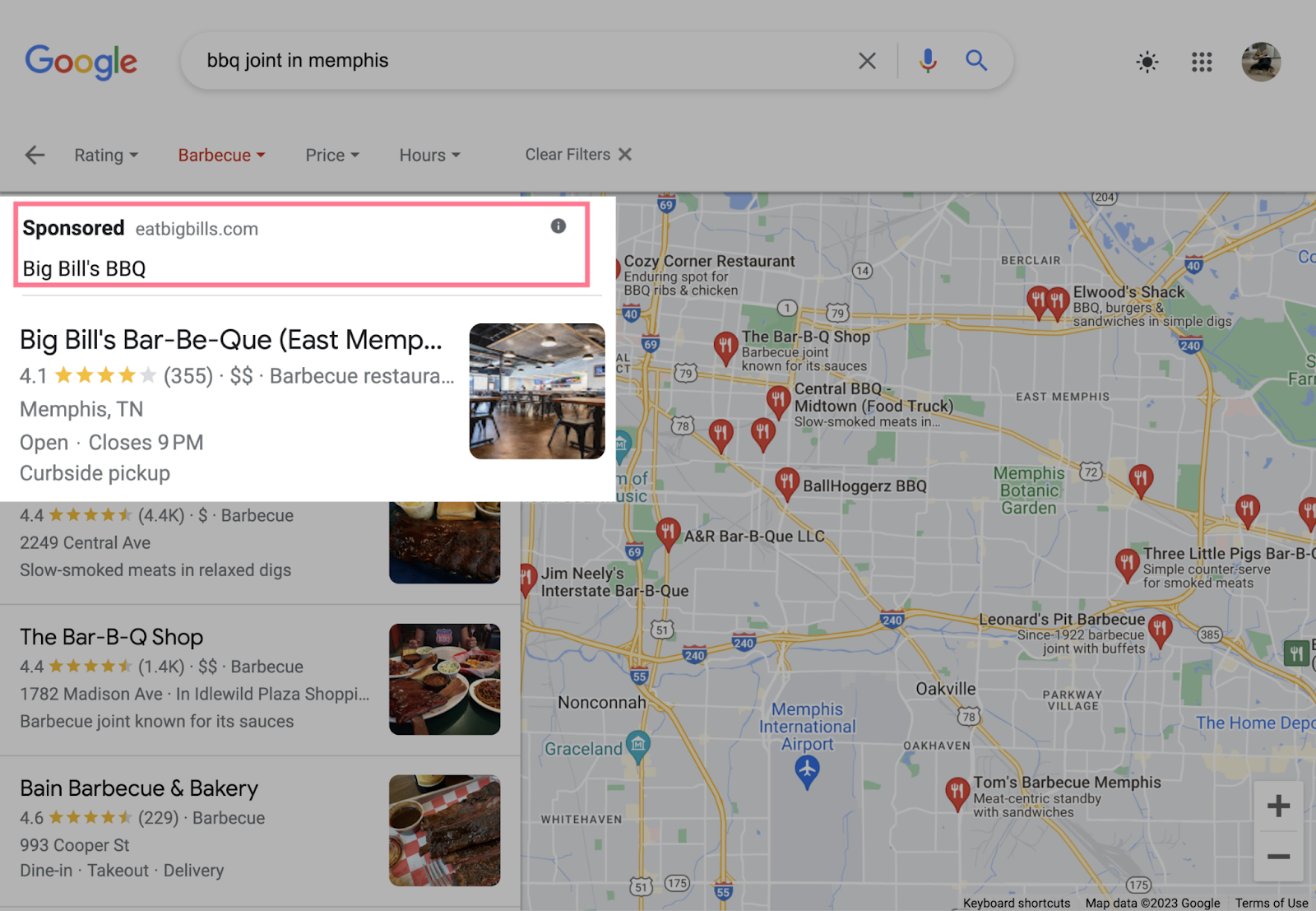 Google Maps advertising works on a cost-per-click (CPC) basis. You pay every time someone does the following:
Clicks to get location details
Clicks to get directions
Clicks to call (on mobile)
Clicks through to your website
The CPC amount depends on various factors. Including how much you (and any competitors) "bid" during setup. You can set an average daily budget to prevent overspending.
To get started, create a Google Ads account using the same email address you use for GBP.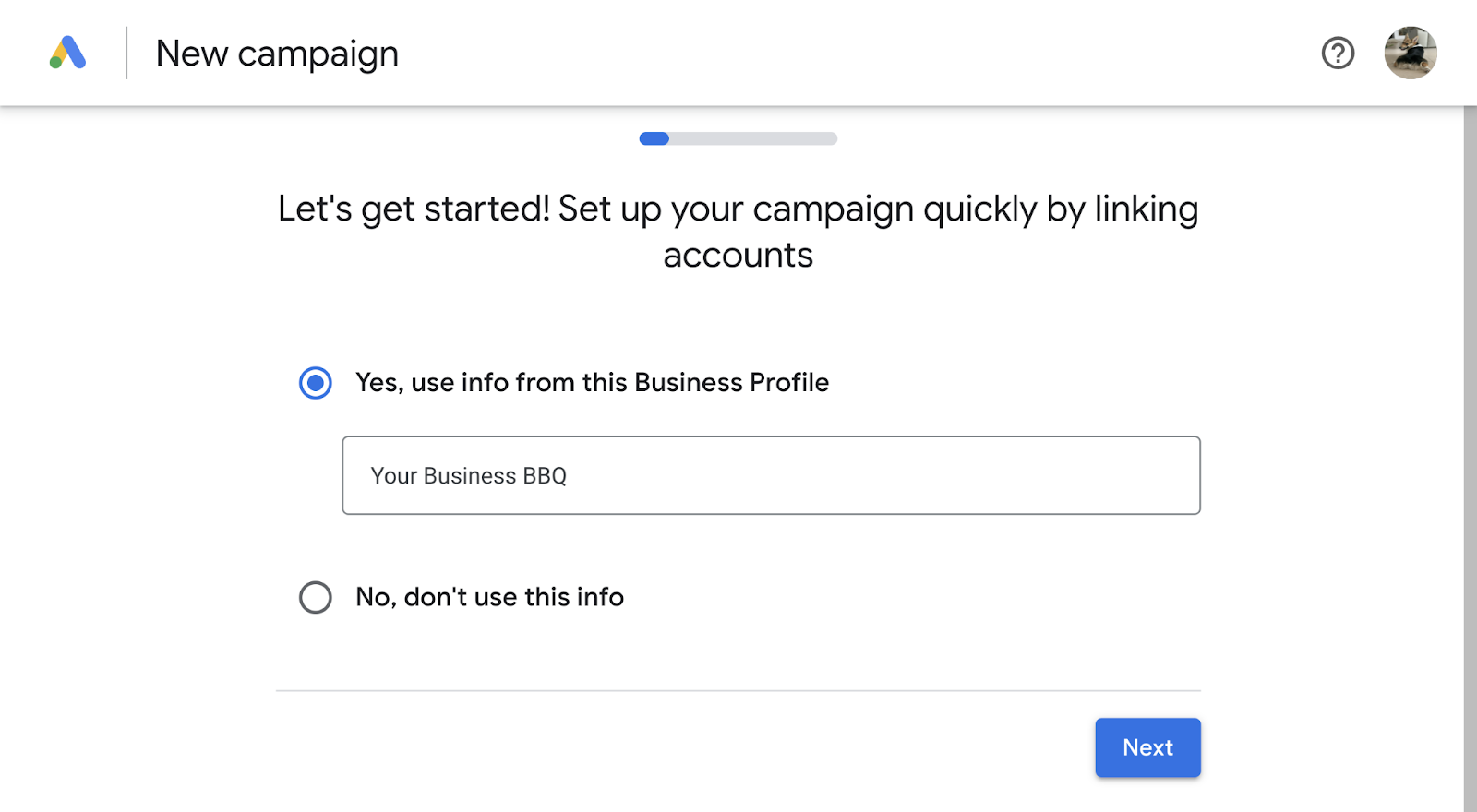 And link your GBP to Google Ads. Then you're ready to create campaigns. To be eligible for Google Maps ads, you must do the following:
Target local keywords
Target a specific location
Set bids by location
Learn more on Google's Help Center.
Tip: Google also offers Local Services Ads, which appear at the top of the SERP when someone enters a relevant local keyword. These can work alongside your Google map ads.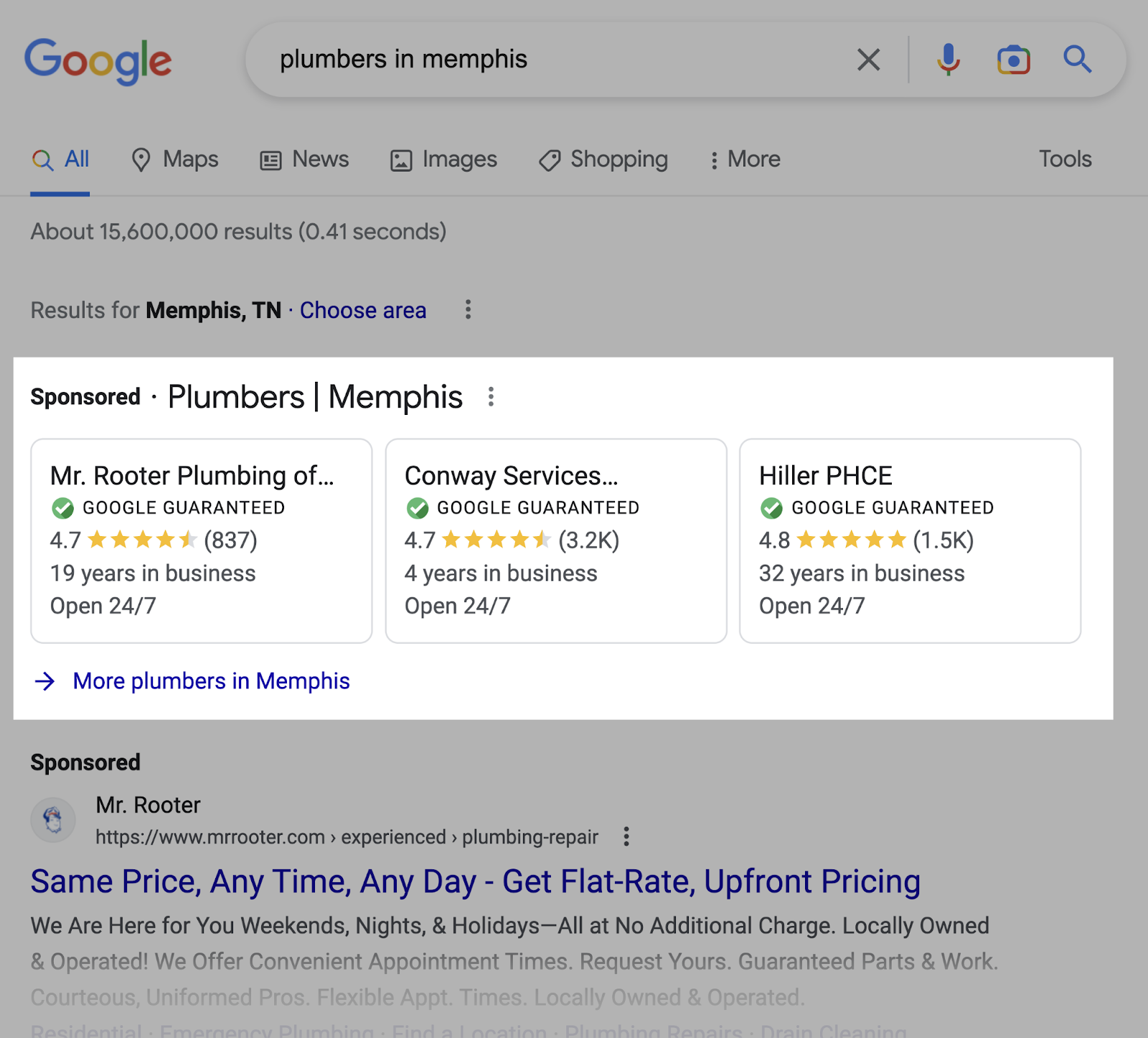 Get More Local Business With Google Maps Marketing
It's time to put your learning into practice and get more local business from Google map listings. 
Semrush has all the local SEO tools you need to strengthen your Google Maps marketing and advertising strategies. And get your website ranking higher. 
---
This post was updated in 2023. Excerpts from the original article by Blake Denman may remain.