Anyone running a local SEO campaign has run into a particular problem before. Before we can even begin to set up our rank tracking, we need to determine if a query even has local intent. This process can be extraordinarily time-consuming for large accounts because there has not been an easy way to discover local intent until now. 
In the past, local SEOs have taken either the manual approach (Google each query to see if local websites are ranking) to discover keywords with implicit local intent, or we have attached geo-modifiers to the big-head terms with a lot of volume and tracked by explicit local intent. In case you are wondering, these two types of local queries are very different and reflect different types of searcher behavior.
Implicit Intent vs. Explicit Intent
Before we go any further, let's talk about implicit vs. explicit local intent and what that is. Implicit local intent is a keyword like "moving company." Google automatically applies local results to this type of search, even though it is not explicitly stated that the searcher is looking for local results. Think of this as a shortcut search where the location of the user is vital to the results shown by Google. 
Explicit local intent is when someone searches a keyword like "moving company Denver." The searcher has explicitly specified a locality they are searching for, and Google will provide results specific to that area. 
Someone might search just "moving company" if they are researching from home and know they don't need a local modifier to get local results. But when might someone search explicitly? Plenty of people search with a geo-modifier by routine, but others may use them if they want to dial into a specific area (for example if someone wants to join a gym close to work, but they are researching from home) they will add a geo-modifier.
If someone is out of town on vacation or a trip and they need to search for a service back home, they will use a geo-modifier. If they are at home and need to book a hotel in another city...you get the picture; people do not always want results for businesses that are near their current location.
Case in point.
And sometimes people will add a geo-modifier to expand their results. For example, someone who lives in Golden, CO might want to evaluate a broader list of moving companies than what they would get with local and personalized results. So that searcher in Golden may change their search for "moving company Denver," even though they want a service to be provided to their home in Golden. 
Implicit local queries are on the rise. People are getting used to searching without a geo-modifier and learning that it still provides relevant results.
How-To Map Implicit Local Queries with the Keyword Magic Tool
Mapping for implicit local intent is made much simpler with Semrush's keyword magic tool, but it does require a little knowledge of your industry and your competitors. For this example, I want to use a home services category, so we will focus on Pest Control. 
What you are going to do is first identify your major head terms for pest control. Just typing "pest control" into Semrush yields 92,804 keywords, and the number one highest volume term is simply "pest control" at 110,000 searches/month. That is perfect. Next, go ahead and set some filters to narrow that down. If I go with a minimum of 100 searches/month in the volume filter, I have 2,416 keywords. Next, I'm going to apply the "local pack" filter under SERP features; this gives me 1,320 keywords to work with. 
Setting filters is the first step to narrowing down your search.
At this point, you have mapped out which keywords trigger the map pack, but there is some info in there you don't need. For example, unless you are Orkin, you probably don't want to track "orkin pest control." Spend some time combing through the various results and add your various keywords to the Keyword Analyzer. Once you are in the Keyword Analyzer, click "Send to other tools" and send them all to the position tracking tool. 
Once you've gone through the Keyword Analyzer tool and done a final qualification of your queries, you'll send them to the position tracking tool.
This is where you need to know a bit about your competitors and your industry. If your industry is the in-home services niche, then by doing some quick keyword analysis research you should be able to identify your competitors that rank well for implicit local keywords. You can open up your current keyword list with the local pack everywhere, and just start manually checking for the big sites that are showing up in the local organic results, or use the competitor discovery feature in the position tracking tool (I find this works really well most of the time).
Remember, the local pack and the organic results operate on different algorithms. The local pack may appear, even though the results below it are non-localized. We want to find out which queries trigger localized results below the local pack. That is why we are looking for competitors who rank well for organic local results. In-home services, a few of the big ones that do this well are homeadvisor.com, yelp.com, and thumbtack.com. There are others, but we will use these three for simplicity. 

If you're having trouble finding competitors that rank well for implicit local queries, the competitor discovery tool is a handy one.
Now here is the fun part. Once you have these competitors added in, you can go to the Rankings Distribution tab, and you can see how many keywords from your keyword set that your local competitors are ranking in. At this point, you can see that these competitors rank for some different keywords in your keyword set, and some that overlap. We are going to make some assumptions that if they are in the top 20 that there is some implicit local intent. Click on each of those highlighted links to see which keywords are ranking. 

Once you are in the keyword set, apply a tag so you can easily find those keywords again. I like to use the tag "implicit local" so it is very clear how those keywords are categorized.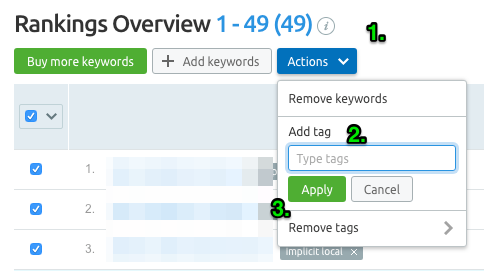 Adding tags is as easy as 1, 2, 3. Click actions, apply your tag, and apply!
Rinse and repeat for each competitor you have identified as a player in your space for implicit local keywords. Once you have those mapped out, you can go back into the Overview section and apply your tag to see how you rank compared to your competitors for implicit local keywords. This strategy is pretty handy because you can find inflection points and track your progress over time for these queries.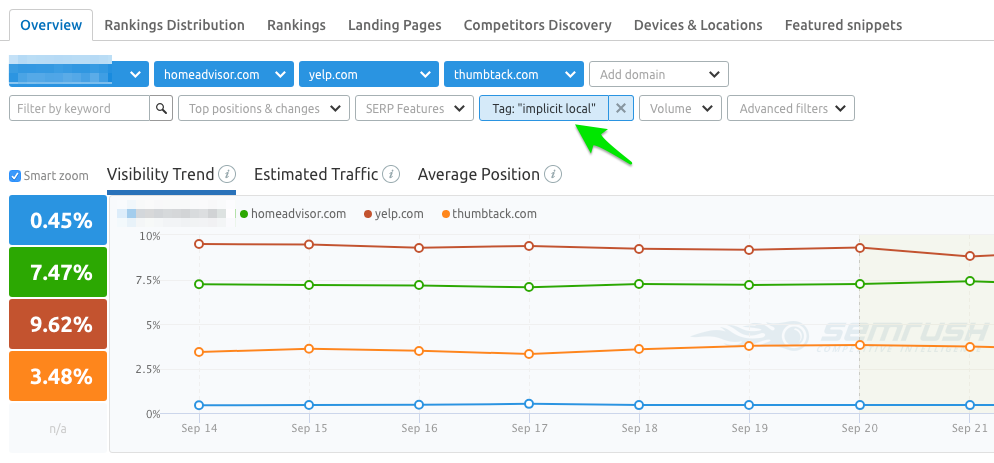 This is useful on so many levels.
I am not mapping out the process for mapping explicit local keywords in this guide because it is really easy, and I think most of us default to this method typically. If you are interested in seeing how I tackle that process, comment below and I will write another how-to for you. 
Limitations
There are some limitations to this process. Your competitors that you have identified may not be ranking for a large number of implicit local keywords, and there could be missed opportunities. You may also run into some odd queries that have split-intent. Google may also be testing keywords from day-to-day, and one day your query has local intent, the next it does not.
There is also the concept of latent intent; this is the idea that Google got the intent wrong or there is an intent that is not being satisfied for a certain query yet, or that the intent will change based on seasonality or current events, and that Google will eventually catch on rank different results. This process will not catch that. 
You may also end up with a very small keyword set with low volume. In some industries, this just may be the reality. In other cases, you may need to expand the keywords you started with by going back to the beginning and running this analysis without filtering down to the local pack queries first. I did make an assumption that in most cases, results with local organic results will also include a map pack, and that is because adding all 94,000+ keywords (and doing this for every client) to position tracking is not fiscally reasonable. Another method would be to use additional head terms, so instead of just "pest control" maybe you add "exterminator" to your list and see if that adds additional queries.
Ultimately this process is about creating efficiency in the local keyword space so you can get to optimizing content and off-page signals faster, and spend less time researching. I find that queries with local intent are generally reliable in that they tend to remain local, and the intent does not change frequently. I have used this same process in ecommerce (for grocery), so I know it works in other industries as well. Overall this process has created efficiency in my keyword research, and I hope it does for you as well.