Companies hire content writers to create engaging articles, ebooks, case studies, and other formats.
A content writer's job is to inform, educate, and entertain their target audience while also promoting the business's products or services. 
Read on to get an in-depth look at what content writing is, based on our analysis of content writer jobs published on Indeed.com. 
You'll learn how to become a content writer, what the job entails, and which skills are needed to rise through the ranks in 2023. 
What Is Content Writing?
Content writing is the act of writing, editing, and publishing digital content. Content writers aim to engage and inform a business's target audience in a way that also promotes the brand or product. 
A content writer's job involves creating material that is entertaining and educational. Such content drives traffic to an organization's website and builds leads and conversions.
Why Is Content Writing Important?
Creating valuable content helps businesses attract and retain customers, build brand loyalty, and establish themselves as thought leaders in their industry. 
Content writing also helps improve search engine rankings, driving more web traffic and increasing sales.
What Is a Content Writer?
A content writer is a professional specializing in creating written material for various types of digital website content. This can include blog posts, ebooks, newsletter content, and everything in between.
Content writers are often part of a larger content marketing team. They work with designers, editors, and marketers to create effective and cohesive marketing materials.
Aspiring content writers often begin their careers as interns or junior writers. In this role, they are coached by senior writers or content managers.
As their careers progress, they will move into more senior roles. 
These can include managerial positions, or even becoming an editor or director of content marketing. 
Content writers who prefer to develop their writing prowess may specialize instead, moving into areas such as copywriting or technical writing.
Content Writers vs. Copywriters
Sometimes, the terms "content writer" and "copywriter" are seen as interchangeable. However, despite some similarities in their skill sets, these are two distinct roles.
Content writers often focus on creating informative or educational content such as blogs, articles, case studies, and white papers.
Copywriters usually craft persuasive or promotional content like advertisements, slogans, promotional emails, and taglines.
To gain a better understanding of what a content writer does on a daily basis, let's delve further into their role.
What Do Content Writers Do?
There are various responsibilities that all content writers have. Our research identified some of the most common responsibilities mentioned in content writing job descriptions: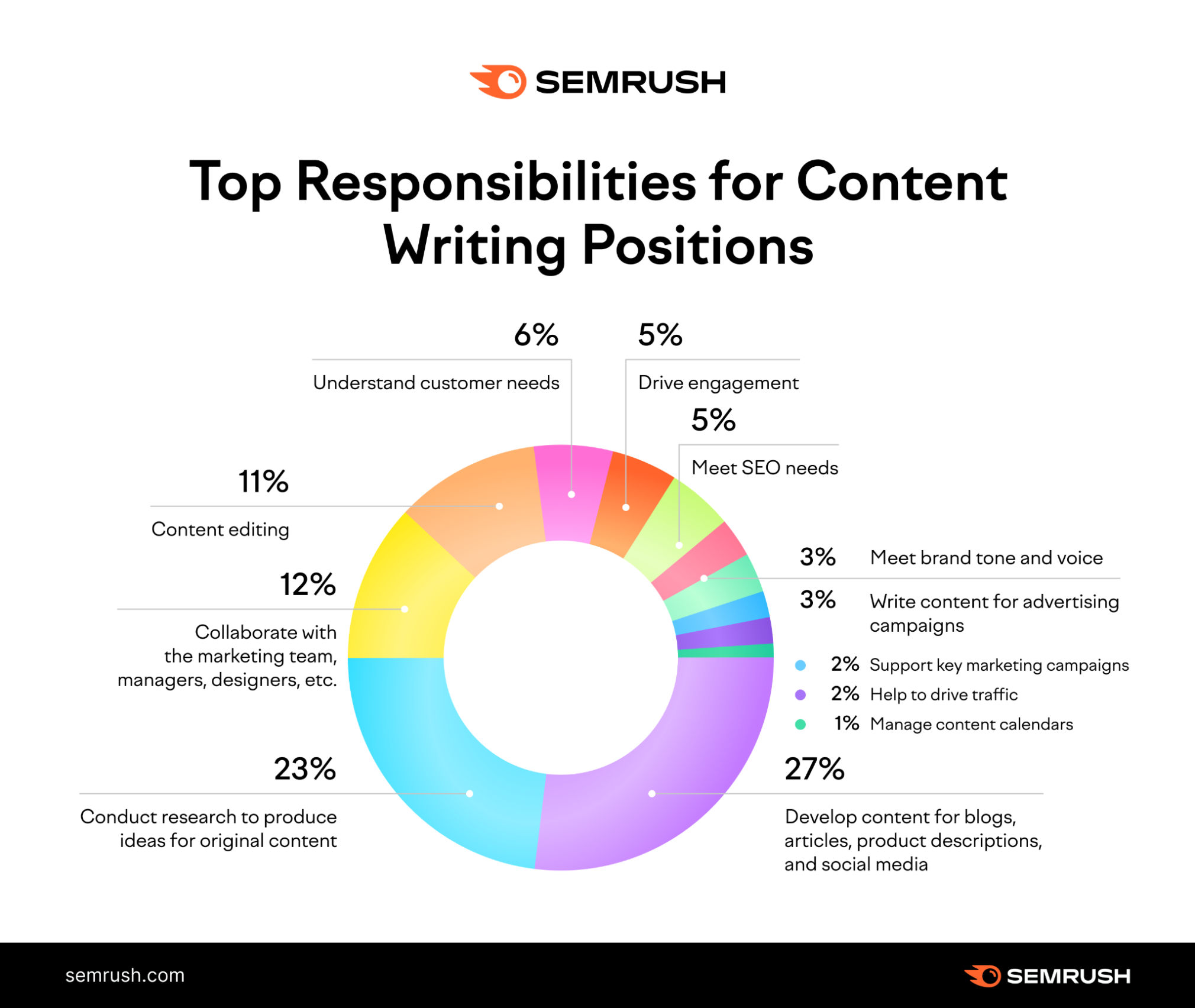 As you can see, content writers are usually responsible for researching, writing, and editing various types of content, including blogging and other long-form pieces. 
In many cases, it also means that these people need at least a basic understanding of SEO.
Content writers should have a clear understanding of their target audiences, know ways to engage them, and use a relevant tone of voice.
Let's look at some of those responsibilities in detail.
1. Research
High-quality content is based on hours of in-depth research. 
Content writers have to analyze lots of information—some of it technical—to build strong articles and blogs. 
This may even mean conducting interviews, reading industry publications, and analyzing data to glean relevant information.
2. Writing
This one should come as no surprise! 
Once they have finished researching an article, content writers must start writing. 
They should be familiar with writing all manner of different article styles and lengths, as well as other types of media. 
This can include blog posts, articles, social media updates, white papers, and more.
Content writers should also have the skill set to optimize their content for rankings, engagement, and conversions.
3. Editing
Once content has been written, it needs a deft hand to edit it. 
More senior content writers need to be able to proofread and edit their content. 
This involves making sure it is free from factual errors, follows the brand's style and tone of voice, and is grammatically correct.
4. Collaboration
Content writers need to be able to work closely with other teams across the company.
This includes marketing, design, and sales teams, making sure that produced content aligns with a company's goals and messaging.
Key Skills for Content Writers
Content writers need a few attributes up their sleeves to help them build a successful career. 
Such qualities include a love of words, creativity, and attention to detail. On top of this, content writers need to be able to work independently and meet deadlines. 
Content writers should also be adaptable and able to write in a variety of tones and styles, depending on the needs of the brand or project.
Here are the most common skills required in content writers, according to our research: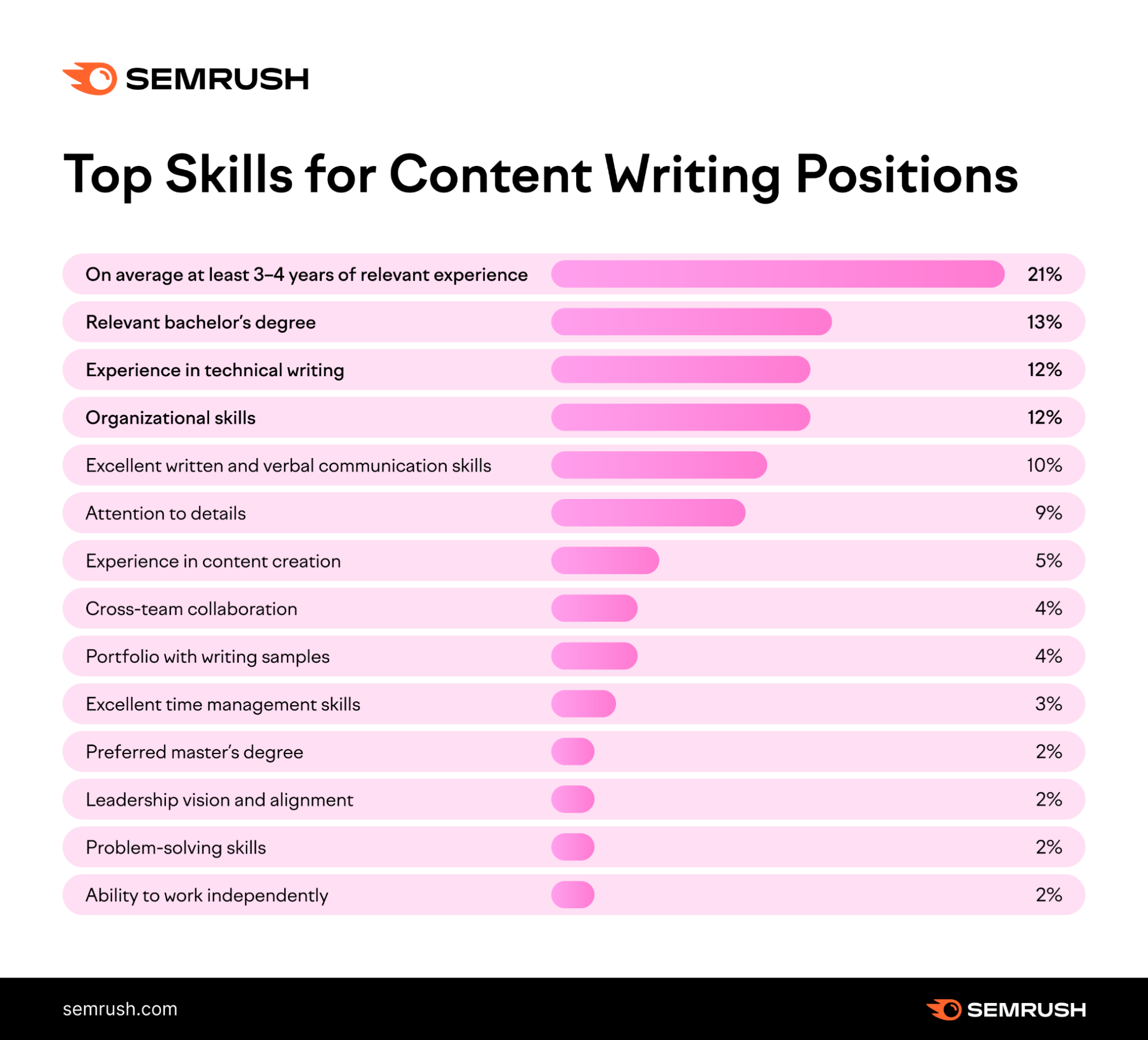 Let's look more closely at these—as well as some other skills content writers should possess.
Writing Skills
Strong writing skills are the foundation of content creation and content writing. 
Content writers must have excellent writing skills to produce high-quality content that engages the target audience. 
They should be able to write clearly and concisely to best communicate with their target audience.
Technical Writing Skills
Many content writer positions might involve creating content for technical audiences. This is especially true for B2B and SaaS companies. 
Your ability to quickly understand and convert complex technical concepts into digestible copy could be extremely valuable.
Copywriting Skills
Copywriting is the art of writing persuasive content that converts readers into customers. 
As well as building on foundational writing skills, copywriting skills help content writers to produce compelling calls to action (CTAs) that inspire readers to make specific decisions. 
These are often linked to buying a product or service. 
Writing Engaging Headlines
Headlines grab attention and generate clicks. It's a key skill for content writers and copywriters. 
You can make the perfect title for your content with our free AI title generator. It will come up with tons of ideas that will catch your audience's eye. 
It will also help you come up with new content ideas. 
Simply type in a topic, and you'll have a bunch of helpful tips, guides, lists, and more you can use later.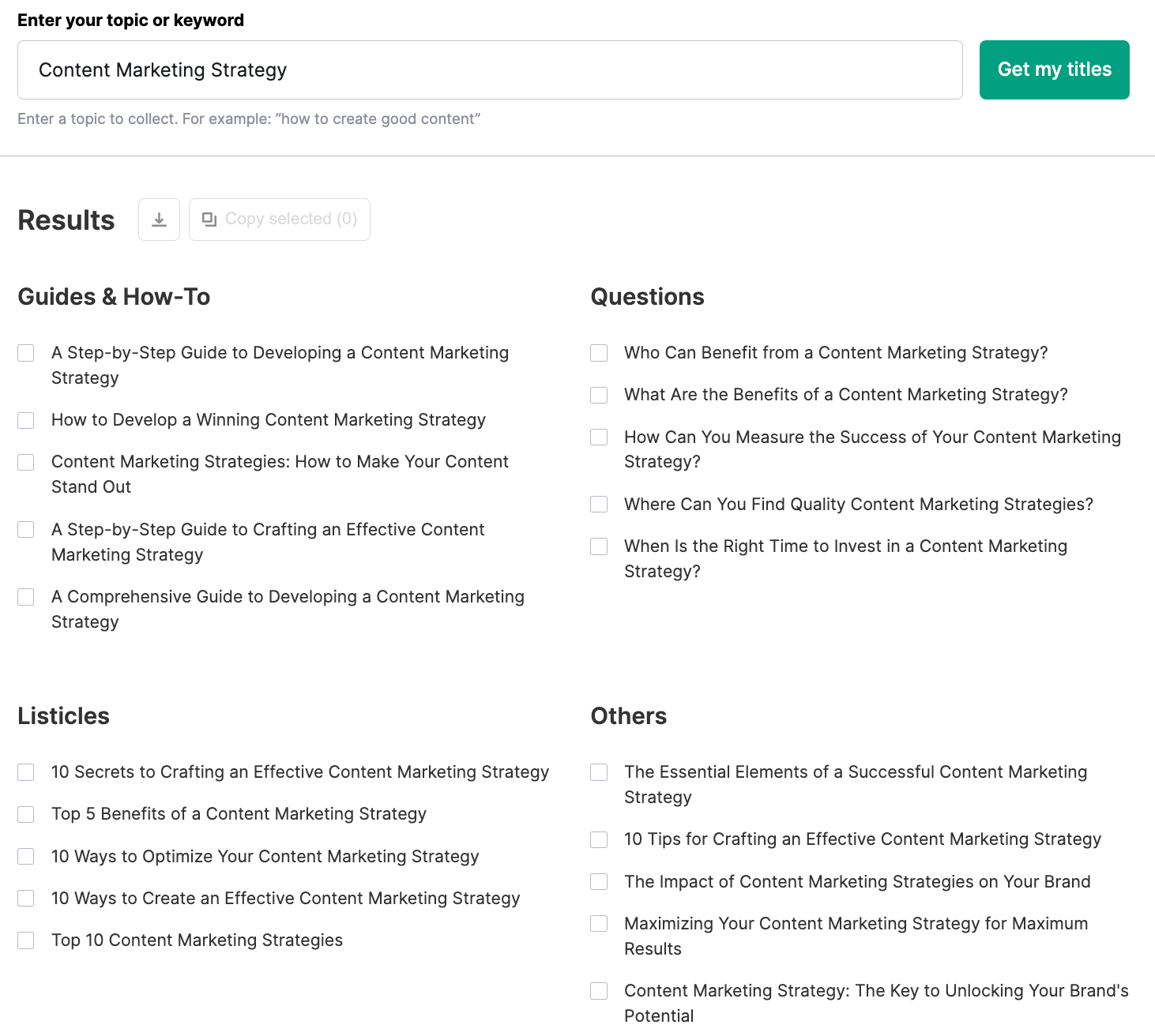 SEO Skills
Content writers must know how to optimize their copy to rank higher on search engines.
If you've not heard of SEO, it stands for search engine optimization. 
This is the art of ensuring your content appears high in search engine results. 
Content writers need a basic understanding of SEO principles to ensure that their content outranks the competition and generates organic traffic.
Editing Skills 
As the adage goes, if you can't stick to a word count, you can't write. 
Content writers need top editing skills to keep their articles, blogs, and social media posts concise and to the point. 
The ability to proofread and edit their own work is even more important than dealing with others' writing. 
Content writers should also be able to identify grammar, spelling, and punctuation errors.
Our free paraphrasing tool will help you edit, shorten, and rewrite sentences—giving you three options for every piece of content you want to modify.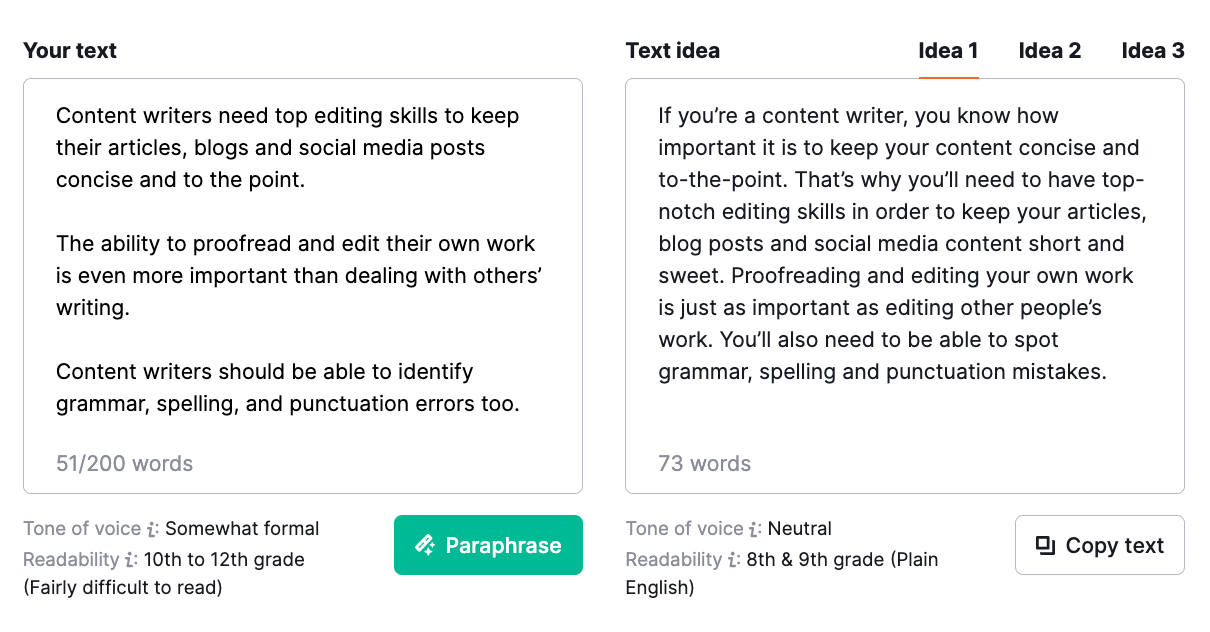 Storytelling Skills
Good content writers can craft great stories to keep their audiences engaged and entertained. 
They need to tell stories that resonate with their target audience and keep them returning for more.
Storytelling can help make your copy more engaging and dynamic—whether a technical white paper or an entertaining blog post.
Tech Skills
Content writers are not usually required to work with multiple tech tools. However, a few platforms are mentioned in the job postings we analyzed.
According to our research, here are the top 10 tech skills for content writing positions: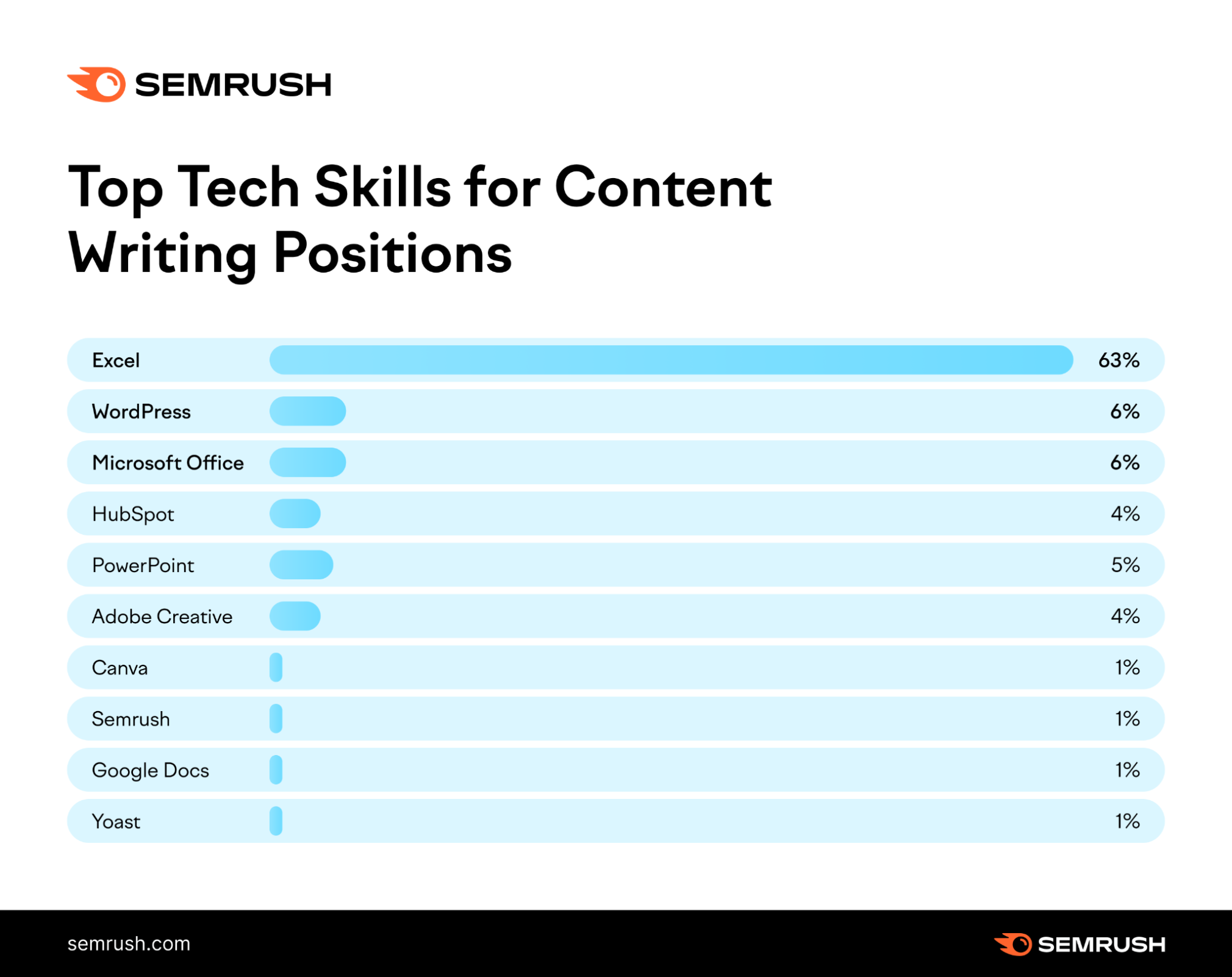 Skills for Later-Career Content Writers
Of course, being a content writer is a career of many levels. 
Content writers need to develop different skills as they move up the career ladder. Usually, those would be aligned with leading teams of creative people. 
Two key areas essential for senior content writers are content management and leadership.
Content management involves overseeing and planning the creation, publishing, and distribution of content across multiple platforms. 
Content managers must be able to lead a team of writers, editors, and designers to ensure that content is produced on time and to high standards. 
They must also be able to develop and implement content strategies that align with the overall goals of the company or the client.
Leadership skills are crucial for senior content writers. 
These professionals must be able to rally the troops, inspiring and motivating their team to produce high-quality content that meets the target audience's needs. 
Do Content Marketers Need a Degree?
As a freelance content writer, you don't necessarily need to have a specific degree, 
However, some in-house positions require having one; based on our research, 13% of job descriptions mention a relevant bachelor's degree.
We identified some of the most common fields of study for would-be content writers mentioned in job descriptions.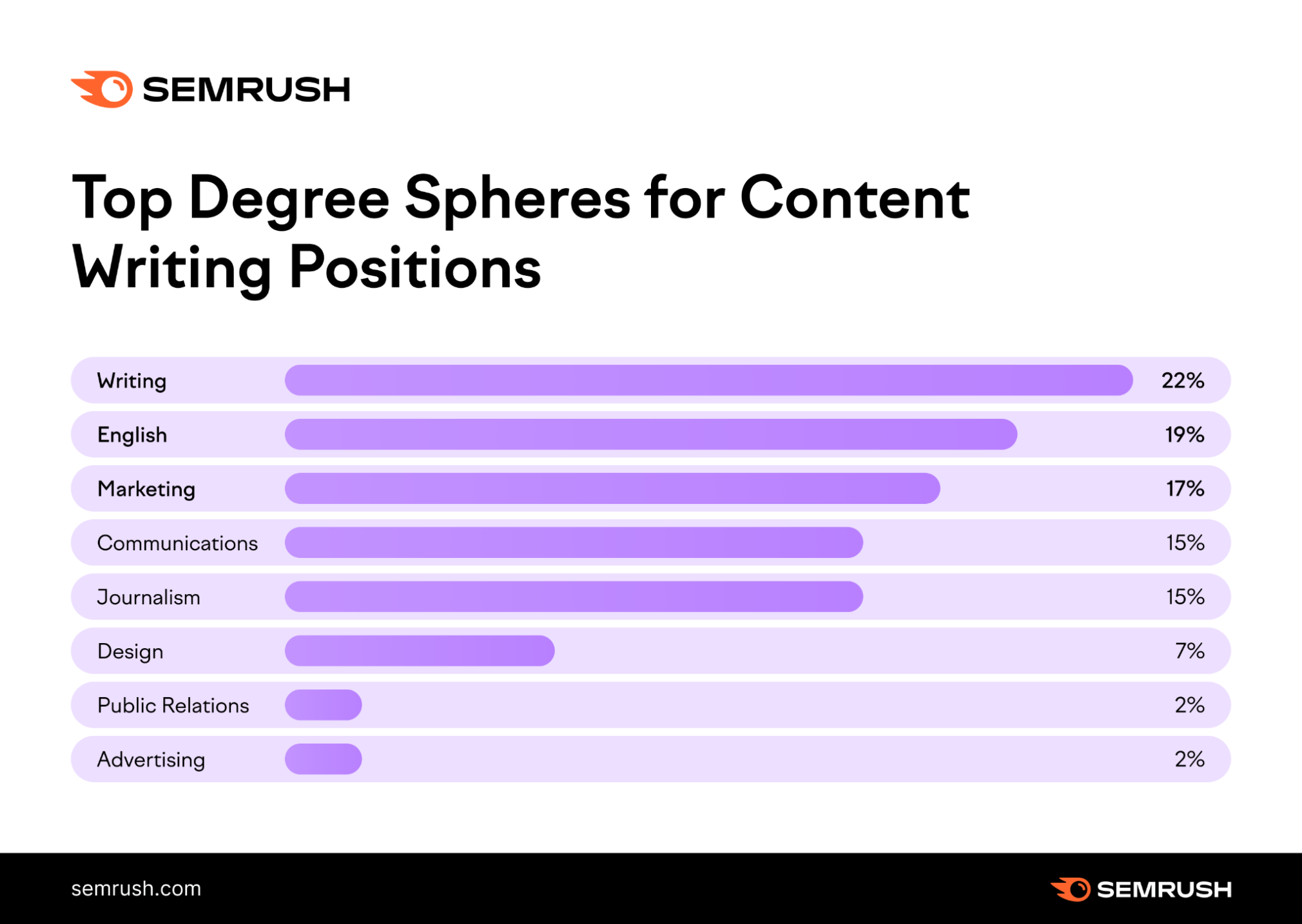 Top five degree options for content writers include:
Writing
English
Marketing
Communications 
Journalism
Such courses can arm students with the necessary writing skills, critical thinking, and research abilities to succeed as a content writer. 
They also give students a chance to flex their creative muscles. 
If you'd like to improve your own skills without getting a specialized degree, there are also many online courses to choose from. 
What Do Content Writers Get Paid?
Luckily for aspiring content writers, there's a continuous growth of digital marketing and the ever-increasing demand for high-quality content.
In other words, the career prospects in the industry are promising.
Salaries for content writers vary depending on multiple factors, including experience, industry, and location. 
According to our research, the average content writer's salary in the U.S. is $63,400 per year. The lowest and highest salaries range from $30,000 to $152,000 per year.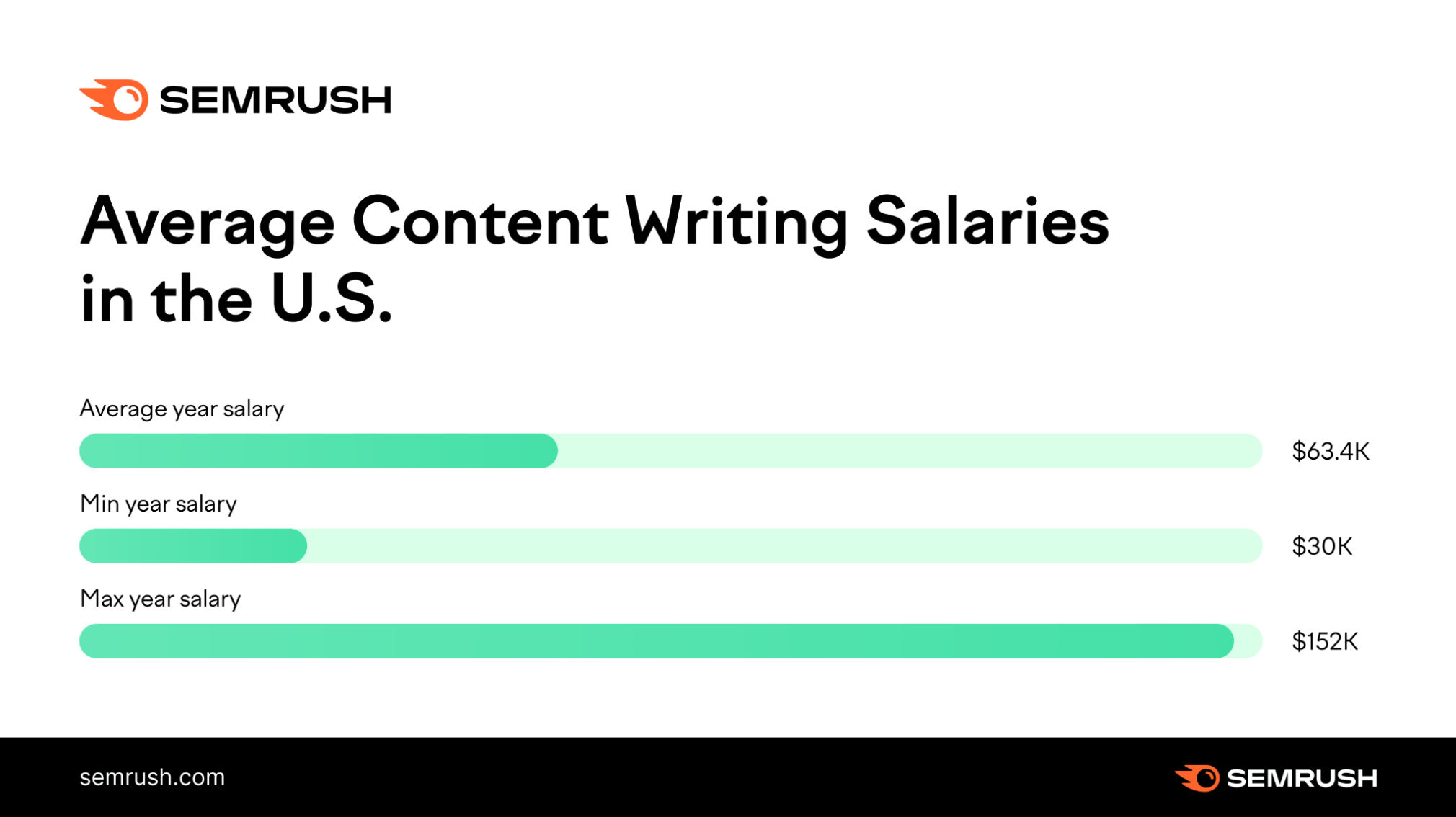 For senior content writers, salaries can come in significantly higher, with higher levels of base pay and a higher overall average. 
The Semrush research found that the average salary for a senior content writer comes in at $89,800 per year, with a range starting at $60,500 and rising to $152,000.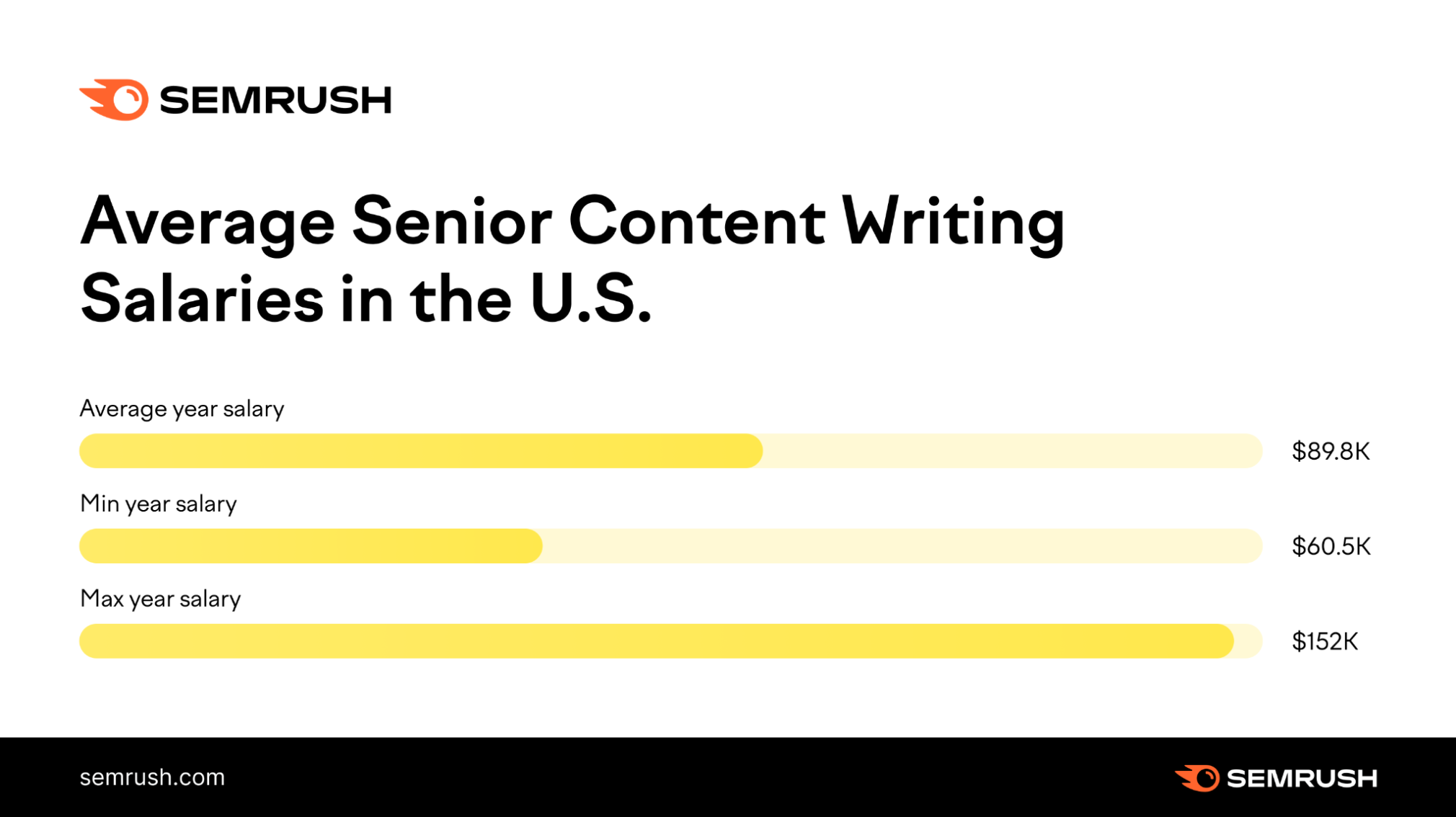 Wrapping Up
As you can see, content writers are a highly sought-after group of professionals. 
To be successful in this field, would-be content writing professionals must be stand-out writers with great skills in editing and storytelling.
These abilities are essential for creating high-quality content to help businesses engage their audience and stand out from the crowd.
Content writing is a dynamic and rewarding profession. It offers all sorts of opportunities for people who love to be creative with words. 
With this knowledge, it's time to start building your content writing career! 
Learn more about content writing and content marketing trends in the State of Content Marketing 2023 Global Report.