So you want to be a content marketer? Or perhaps you want to hire one? Well, strap yourself in for the full lowdown on this exciting industry. 
Content marketing is based on creating, publishing, and distributing content to a specific target audience. Online content marketers are the people who help plan, create, and publish this content. 
We explored the essential skills and responsibilities of content marketers, along with job titles and salaries. To do that, we analyzed 10,000 content jobs listed on Indeed.com. Read on to learn more.
What Is Content Marketing?
Content marketing is the practice of attracting a relevant audience to a website or blog. This is achieved through valuable, actionable information or insights. 
Encouraging potential clients to engage with your content—for example, by signing up for mailing lists or downloading guides—drives them closer to a sale.
The purpose of content marketing is to build a strong relationship with your target audience. Content should address their needs and interests rather than simply promoting your products or services. 
What Is a Content Marketer?
A content marketer is a person who plans, researches, creates, distributes, and analyzes content with the aim of attracting and engaging potential customers. They typically create blog posts, how-to guides, videos, infographics, white papers, and more.
Depending on their experience, content marketers may also be expected to conduct market research and analyze content performance.
At the same time, they'll need to develop content calendars and perform other duties.
Content Marketing Roles
In digital marketing, there are many different people working behind the scenes. 
The following is a list of the most common roles within the content marketing industry. 
The list is organized from the most junior to most senior positions and informed by Semrush's State of Content Marketing: 2023 Global Report.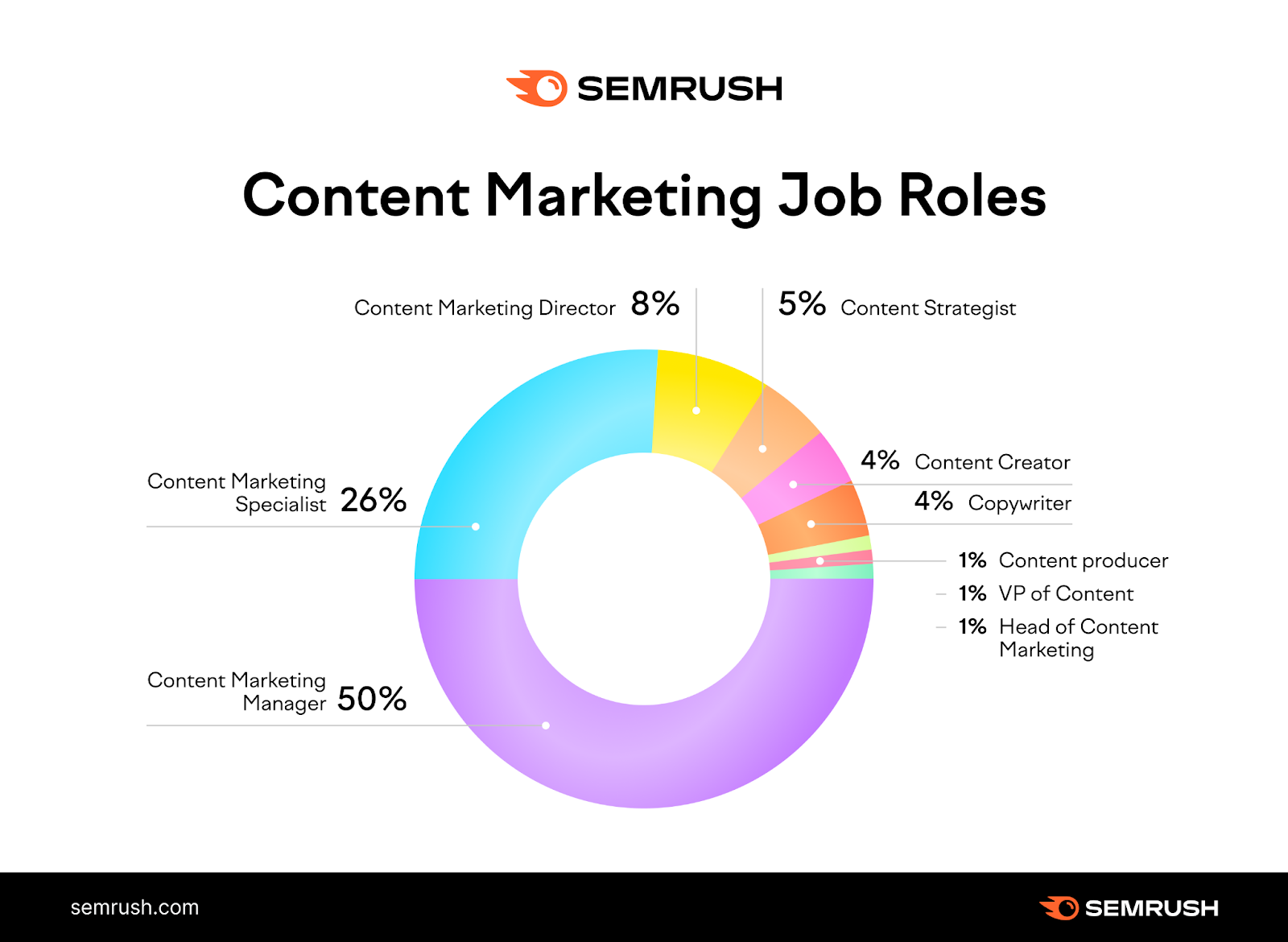 Now let's explore some of the job descriptions in more depth!
1. Content strategist
Content strategists have a clear overview and understanding of a brand's goals, messaging, and values. 
They develop a content strategy that is aligned with the overarching business objectives and oversee its implementation. 
Ultimately, they try to bring value to their audience, drive qualified leads to the website or blog, and help other content specialists meet conversion targets. 
2. Content creator
Content creators are responsible for producing a huge range of content types, from social media posts, video scripts, and long-form articles to guides, emails, downloadable content, and more. 
Their day-to-day work involves researching and writing engaging, accurate, and valuable content for specific audiences. 
They also analyze, update, and repurpose content for other channels. 
Content creators must have a solid understanding of the mediums they are writing for, including the formats and the audience. 
3. Copywriter
Copywriters create written content that is designed to persuade, engage, and motivate the target audience to take particular actions. 
They may work in a variety of settings, including advertising agencies, marketing firms, or freelancing. 
Copywriters produce written content for all manner of mediums. These include print ads, brochures, websites, email marketing campaigns, and more. 
Key copywriting skills include excellent writing and communication skills, creativity, and the ability to work with tight deadlines. 
4. Head of Content Marketing / Director (or VP) of Content Marketing 
The Head of Content Marketing holds a senior position. 
They are responsible for overseeing the development and execution of the content marketing strategy and manage a team of content creators. 
They also make sure the company's content aligns with the overall marketing and business goals. 
They play a critical role in driving brand awareness and generating leads. This could be for their own company or for a range of clients if they are working for an agency. 
Key Skills for Content Marketers 
You need to be able to employ all manner of skills. According to our research, these are the top skills required by content marketers in non-senior positions: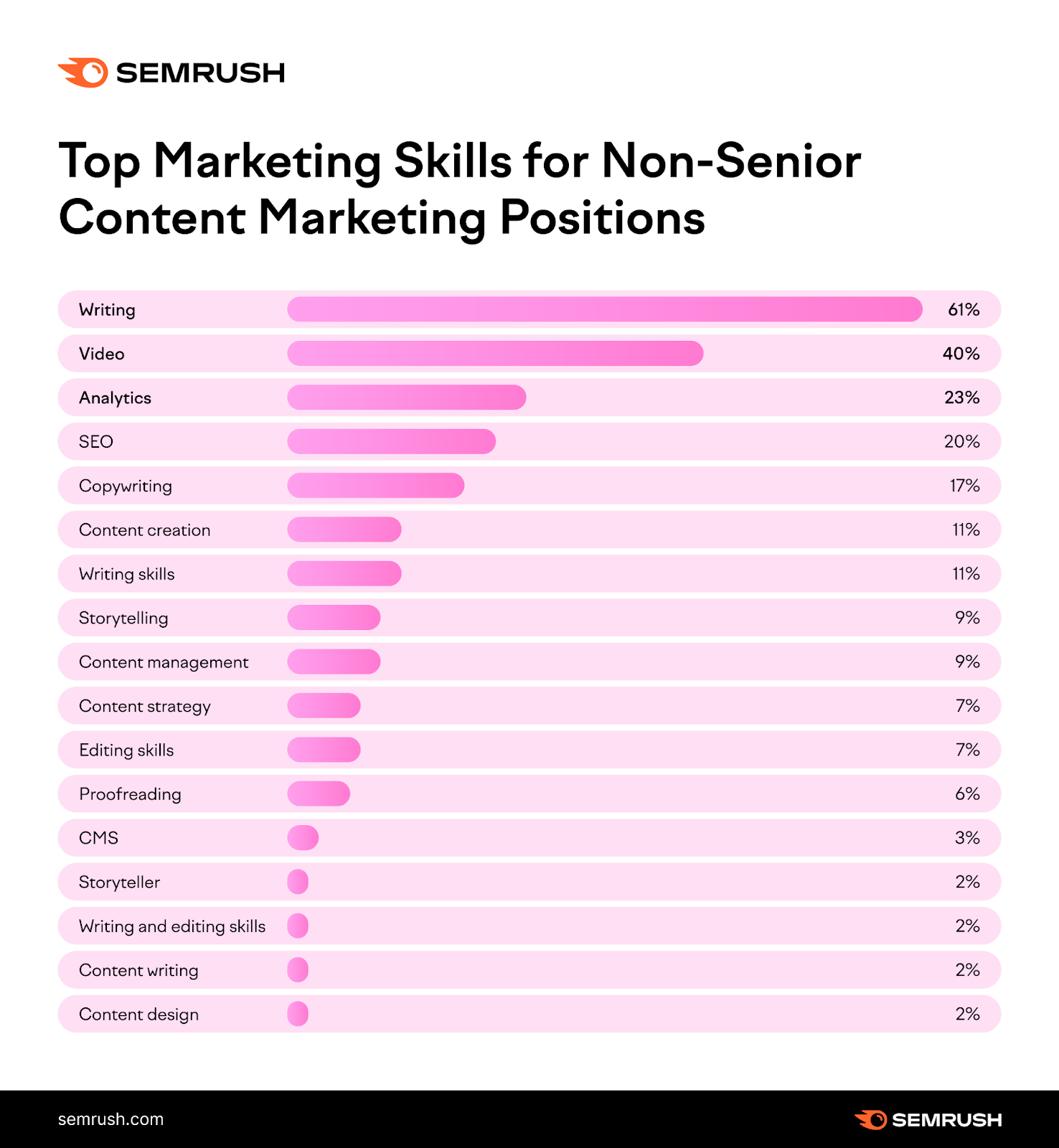 Here's a breakdown of some of these skills:
Writing – This is a key skill for nearly every marketer. Even professionals producing video and other visual content need to be handy wordsmiths, such as when writing captions.
Analytics – These problem-solving skills help marketers make sense of data and develop creative solutions based on their findings. 
Video –Video is an increasingly vital skill as social media platforms become more video-heavy. Knowing how to shoot and edit video on a cell phone is a great skill for social media marketers. 
SEO – Knowing how to use Search Engine Optimization is important for pushing content higher up the search engine results pages. Ultimately, SEO content drives higher levels of qualified traffic.
Content strategy – Important for creating content calendars and developing long-term ideas for driving campaigns forward. You can read more about content marketing strategy here.
Storytelling – Without this, even the best marketer will struggle to keep audiences engaged. Storytelling is an important skill for making compelling content. 
Content management – This is a top skill for content marketing leaders. Being able to assemble a team and manage content flow is an important part of leading campaigns from the front. 
What Does a Content Marketer Do?
A content marketer is typically responsible for planning, creating, distributing, and analyzing content for a business's website and social media profiles.
Here are some of the top responsibilities of non-senior content marketers, according to our research: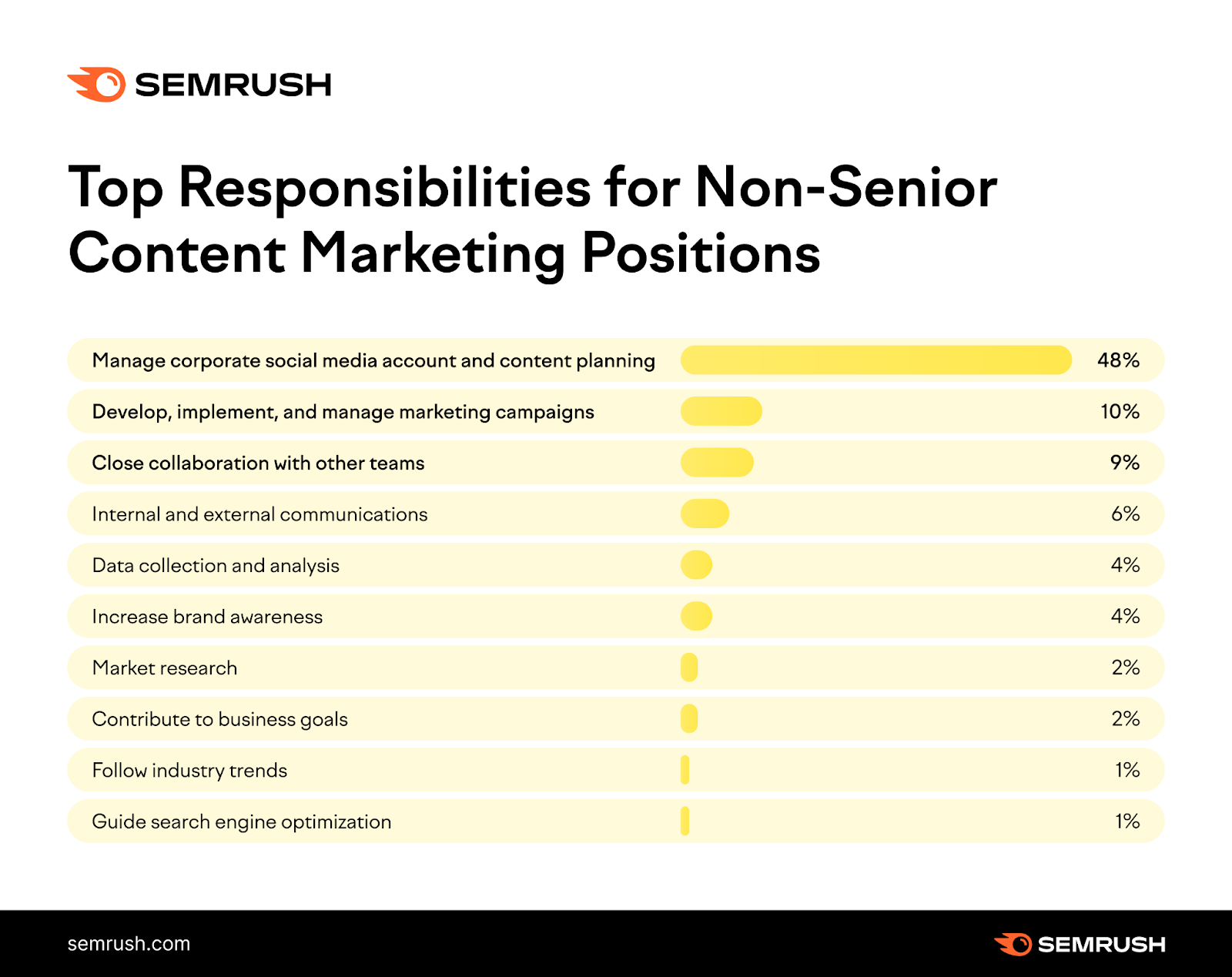 Senior content marketing positions share several similarities while being more focused on the management and strategy side of things.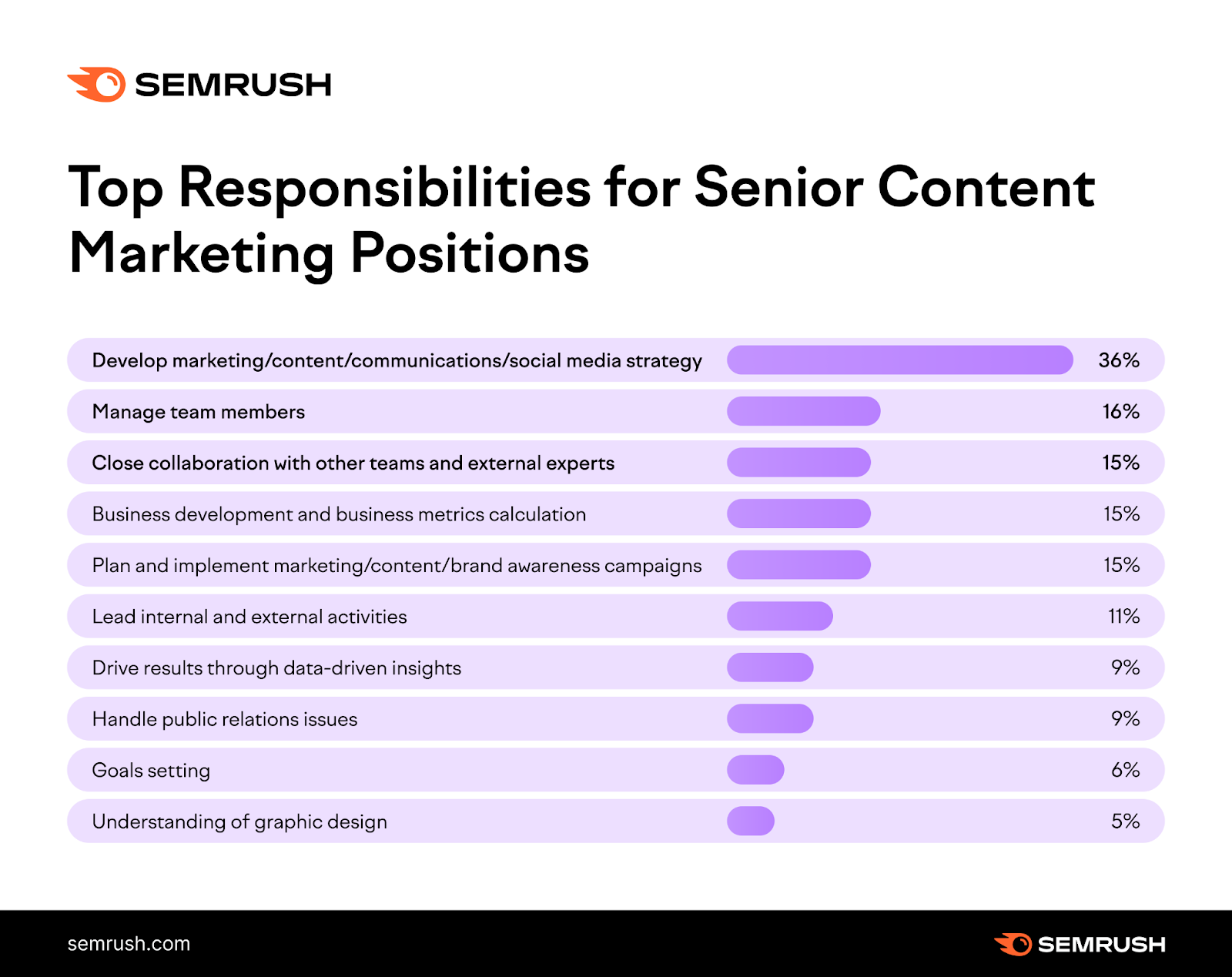 Let's have a closer look at some of the general content marketing responsibilities:
Research is a vital job. For any given topic they produce content for, marketers must have a deep understanding of that product or industry. 
Content marketers should also have a deep understanding of their audience and the competitive landscape.
Content marketers create a roadmap that aligns with overarching business objectives and ensures all content marketing efforts have a direction and meet key performance indicators. 
Content promotion and distribution
Marketers must discuss the strategy they will use for promoting any given piece of content. This means sitting down with various teams to make sure the article, video, or post reaches the largest possible audience. 
Linked to strategy, planning is more focused on the when and where of launching particular pieces of content. This can include creating a content calendar that looks weeks, months, or years in advance. 
Content creation involves writing or production of the content that will be used in the marketing campaign. It might include writing optimized blogs or producing social media content campaigns, for example. 
Everyone needs an editor. Very often, more senior content marketing professionals will edit and proof the work of more junior members or of content creators and copywriters. This is a great time for more experienced team members to coach their younger colleagues. 
A content audit is when marketers review how effective a given content strategy has been. By reviewing a blog, social channel, or search campaign, content marketers can see what really connected with audiences and drove engagement. 
Analytics and performance
Marketers must also analyze and review the performance of content. This means reviewing data to see when posts performed best, and trying to replicate those patterns in future campaigns.
At the same time, analytics looks at the overall results, exploring the true number of conversions (leads, purchases, and other important metrics) generated by your content.
Communicating across teams is vital for content marketers, who often become coordinators for the wider company. For instance, you need to make sure your content calendar is aligned with brand and product campaigns. 
How to Become a Content Marketer
There are lots of different routes into content marketing.
But a background in writing or classical marketing can lay strong foundations for a successful career. 
Becoming an In-House Content Marketer
If you want to work in-house, you might need at least an undergraduate degree. This could be in marketing, English, journalism, or communications. 
An entry-level job will mean working as part of a larger team as you learn the ropes. 
Look for positions titled "Content Marketing Specialist," "Content Marketing Intern," "Junior Content Marketer," etc.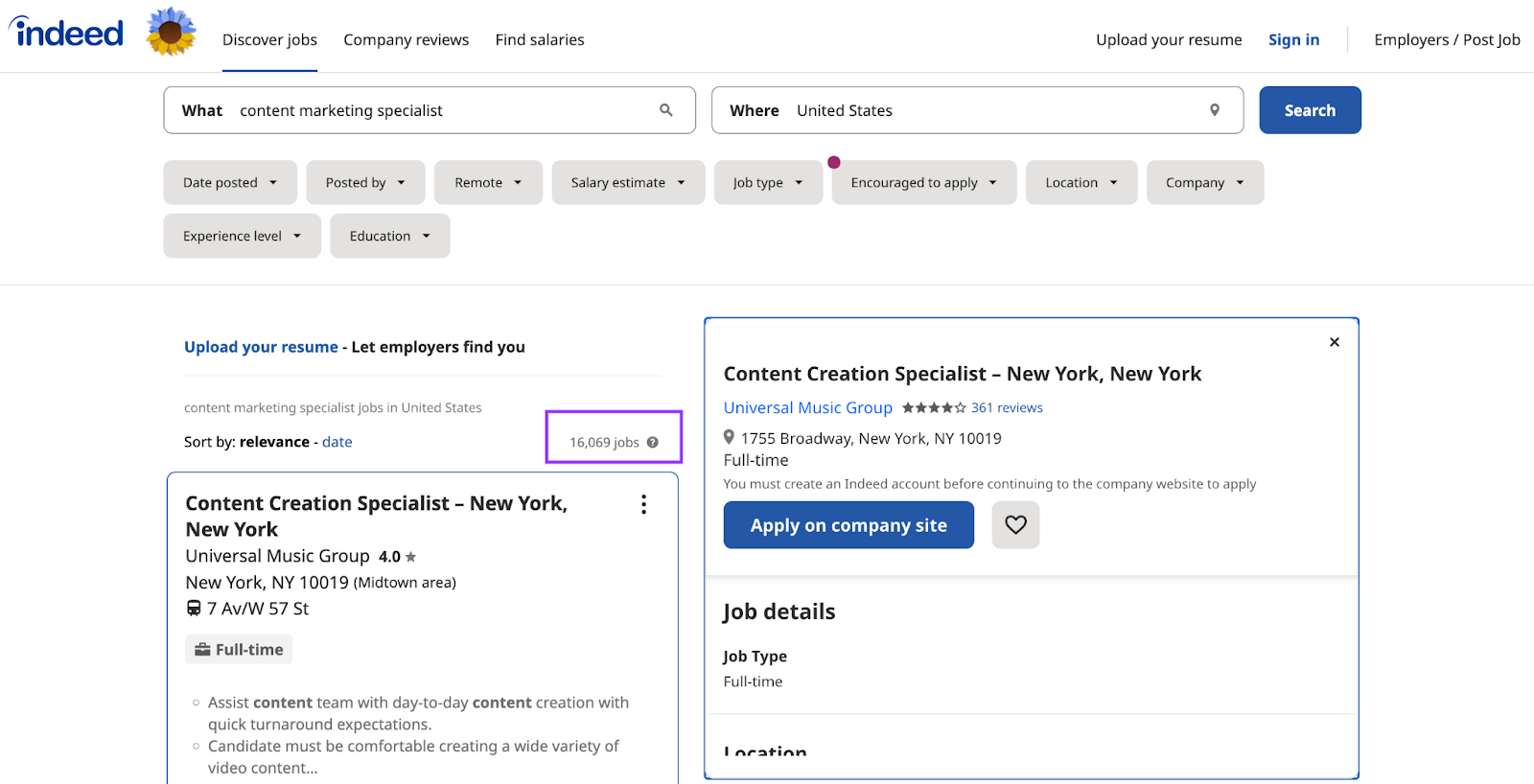 It's also totally possible to move from a more general marketing or copywriting role to becoming a content marketer.
As your career progresses, you'll need to make sure you have both a creative and a strategic skill set. 
In other words, the content marketers that are most in demand can both create great content and make sure it generates real-life business results.
Becoming a Freelance Content Marketer
Starting out as a freelancer will require some experience and contacts. It probably isn't the best option for a complete newbie. 
Freelance content marketing is often a destination for former journalists, copywriters, and PR professionals who want to work for themselves. 
You'll need the same skills as an in-house content marketer. You'll also have to have a contacts book filled with commissioning editors. 
You can also check out platforms like MarketerHire, Freelancer.com, and Upwork. 
Moving Up the Content Marketing Career Ladder
The content marketing career path can be a tricky one, as this is a relatively new profession. 
It's pretty common to see general marketing managers perform content marketing functions—especially in smaller companies.
However, this trend is changing, and you'll see more businesses hiring specialized content marketers. 
Generally speaking, it's a better strategy since content marketing requires a lot of effort and dedication to be effective.
As you progress in your career, you might move from being predominantly a content writer to managing other writers and even managing teams of content strategists, content producers, etc.
To get a management role, it's key that you can create great content and ensure content marketing generates revenue for the company.
Show Me the Money: How Much Do Content Marketers Earn?
Depending on experience and the size of the company they work for, online content marketers can make good salaries. 
According to our research, average senior content marketing salaries in the United States can hit $109,000 per year.
Average salaries for non-management come in at around $62,000.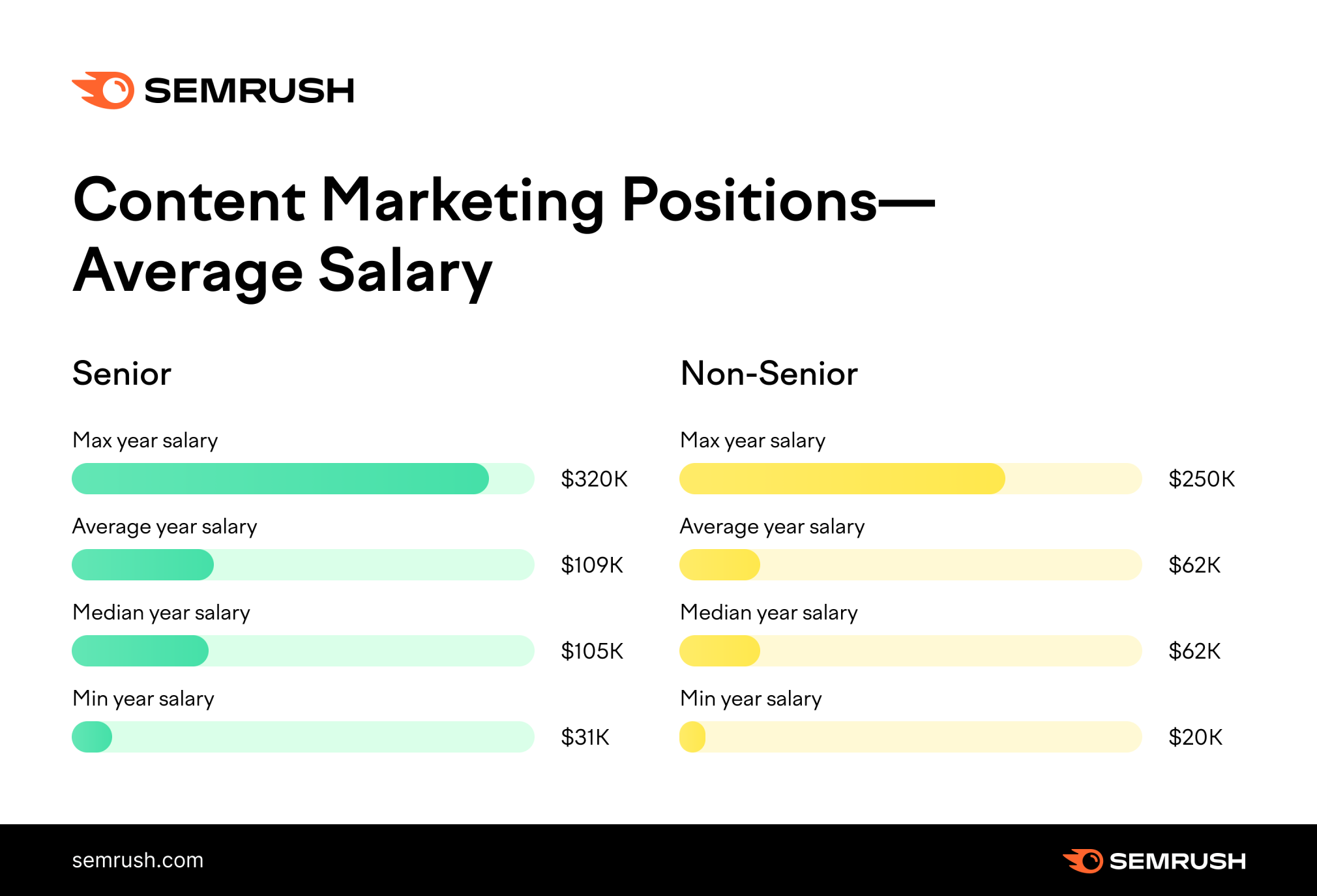 According to the careers website Glassdoor, the average content marketing salary in the United Kingdom is just over £35,000 per year. 
This can rise significantly as people climb the career ladder. 
In London, the average salary for a Content Director is just under £86,000. 
Wrapping Up
Content marketing can be a very rewarding career for people who love to combine creativity with strategic, analytical work. 
People with a love of storytelling and communication can go far in this industry. It also offers lots of options to diversify and grow professionally. 
Remember that content marketing itself is the art of building strong relationships with your target audience. There are multiple disciplines and tactics to use.
With time and experience, good content marketers can go on to earn six-figure salaries. That's pretty good for a job that is famed for its flexible working arrangements. 
Want to get a better idea of what's going on in the content marketing industry? Make sure to download and read our free report!