Thinking of channeling your marketing efforts into a content pillar strategy? 
Good news: you're in the right place.
We'll dive into some impressive examples of pillar content that succeed both in generating traffic and establishing brands as experts on their topics. 
You'll also get a helpful workflow to build a high-performing content pillar to enhance your ranking and promote organic traffic growth.
But first, let's explain how pillar pages work, what they look like, and why they're important.
What Are Content Pillars?
Content pillars are the main topics your business regularly publishes content around on your website, social media, and other platforms. Focusing on key themes can help you build topical authority and engage target audiences more effectively.
Some marketers use the term "content pillars" to refer to pillar pages. These are webpages that explore core topics in-depth. 
Pillar pages should link to (and be linked from) cluster pages, which explore related subtopics. Together, a pillar page and its cluster pages create a topic cluster.
Let's say a digital marketing agency decides that SEO is one of their content pillars.
So they create an SEO topic cluster. Containing a pillar page entitled "The Ultimate Guide to SEO" and various cluster pages.
Like this: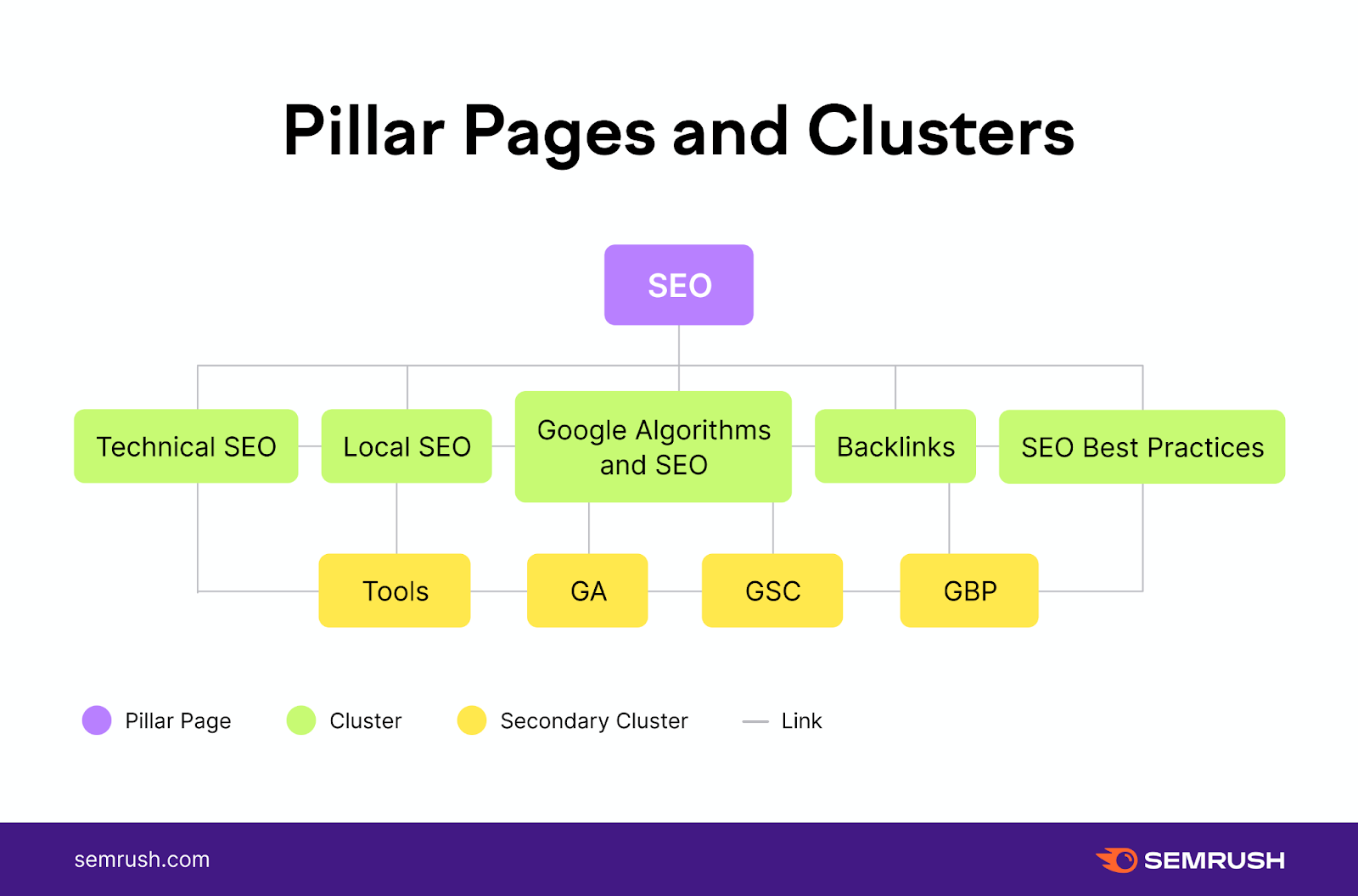 Why Are Content Pillars Important?
Pillars are content powerhouses that enhance organic rankings and propel traffic growth. 
They showcase your expertise on the topic, and the interlinking structure helps give context to search engines. 
These are just two reasons the pillar-cluster model is such an effective SEO strategy.
Content pillars and clusters are also important for improving your rankings and authority through comprehensive topic coverage.
Pillars generate a lot of subtopics all from a single idea or theme. And clusters are perfect for targeting longtail keywords and subtopics your readers are looking for, such as conversational questions or queries, giving you lots of content ideas and opportunities to rank.
Three Key Types of Content Pillars
There are three main types of pillar pages: the "Guide," the "What Is," and the "How-To." We'll look at examples of each type and see how they work.
To decide on the best type to choose for your pillar, it's helpful to consider your audience's search intent (why they are entering a specific keyword) and adjust accordingly. 
The Guide
Typically a "guide" pillar page strives to give the reader a full view of a topic and everything they need to know on that subject. 
Many popular topics for guide pillar pages tend to be evergreen, and they can focus on things like a "101 for beginners" or an "ultimate guide to X." On the other hand, they can be as sophisticated as an encyclopedic treatment of a topic. 
The cluster pages for the guide will expand on particular aspects within the main topic, providing authoritative coverage on questions or specific topics the audience is interested in learning more about. 
Example of a Guide Pillar Page
Let's take this example of this pillar page from the Southern District of New York. It ranks on the first page of Google with the keyword phrase "How to file for bankruptcy in New York."
Titled "Understanding Bankruptcy," the content on this pillar page provides a high-level overview of bankruptcy law, outlining the major themes, chapters, and courts involved in both personal and corporate bankruptcy matters. 
In short, it's devoted and optimized to provide the reader with everything they need in one place to get the information they're looking for as quickly as possible.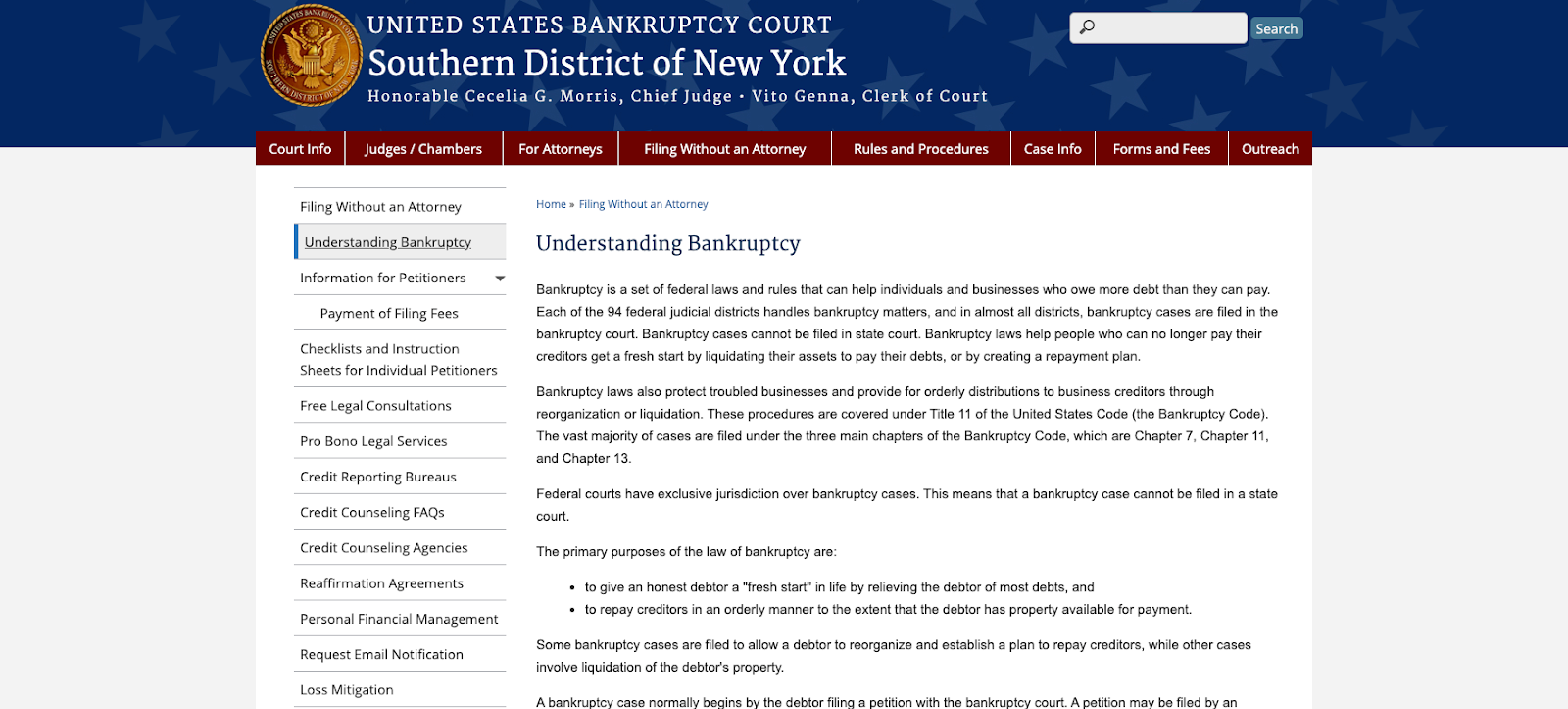 The left sidebar contains a list of cluster topics such as free legal consultations, checklists and instructions, and filing fee information, as well as FAQs. These elements all work to support the main pillar topic, bankruptcy law.
The Guide is a great format to use when you want to provide an overview of the topic and answer your audience's main questions. 
Now let's look at the "What Is" pillar page and some high-performing examples.
The What Is
As the name implies, a What Is pillar page strives to describe, define, and explain a topic in depth. 
This strategy can be helpful if you're trying to rank for a keyword targeted at a beginner audience, where you're introducing a topic and then providing substantive materials that cover the topic in depth. 
If the subject matter is complex enough, you can break down the themes or subtopics into chapters and segments.
Content marketers can achieve an uptick in traffic by using this type of pillar page if the targeted keywords have a healthy search volume. Think of how many times you asked Google, "What is X, Y, or Z?" and it took you to a pillar page where you learned everything you needed to know about that topic.
If your topic is evergreen, you can leverage it to build a stellar backlink profile and promote your expertise within your industry or niche. 
Example of a What Is Pillar Page
Here's an example we created, "What Is SEO? A Beginner's Guide to Search Engine Optimization."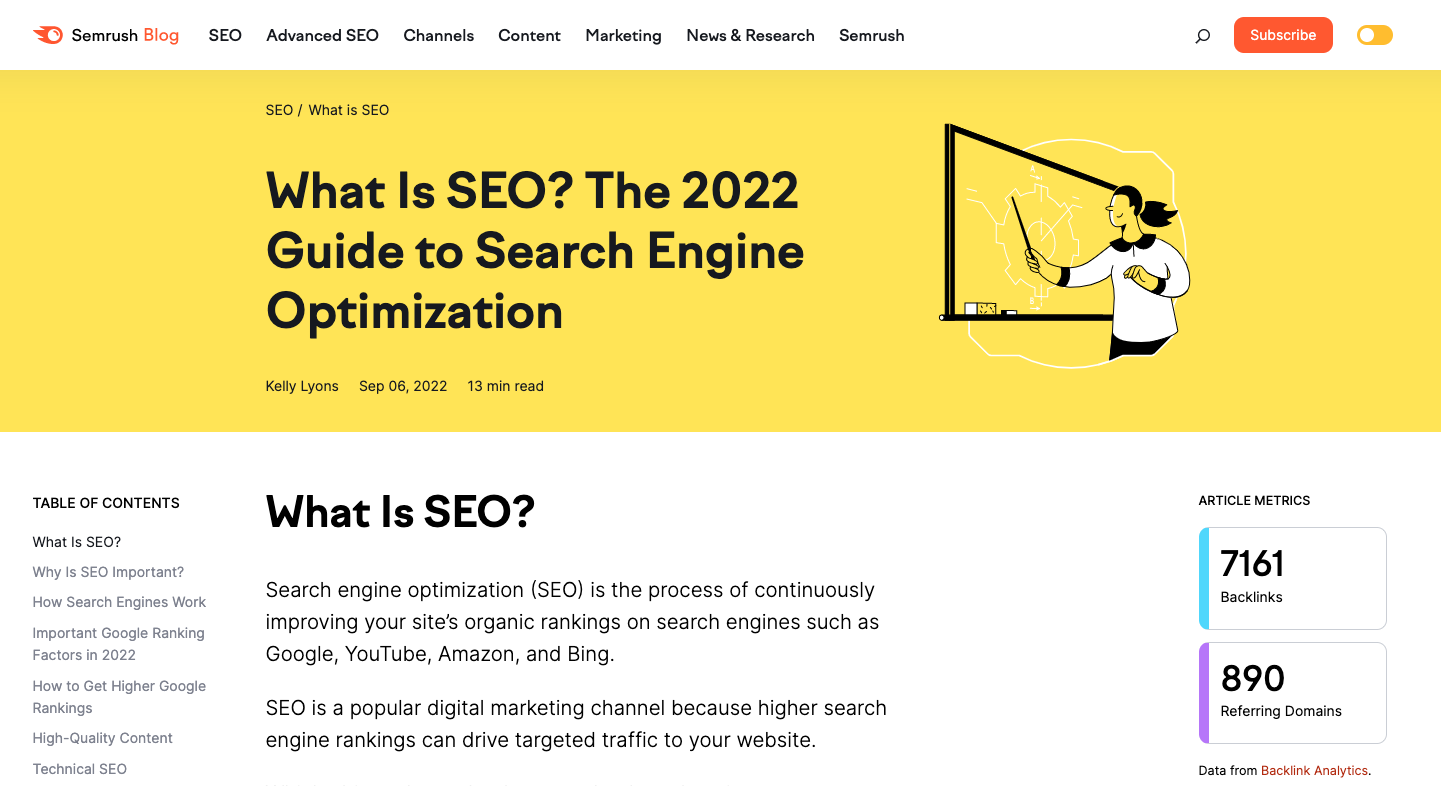 What makes this impactful?
First of all, each subtopic is organized by a table of contents that jumps to specific topics covered in greater detail within the article. 
It follows the "what is," "why is it important," and "how to" structure, touching base on the most fundamental concepts around SEO. But it doesn't go too deep into the details that would be suitable for a more advanced audience.
Secondly, supporting elements such as illustrations, videos, and graphs are included within the body of the article. This gives the reader not one but two ways to absorb the content.
Thirdly, note that these more "snackable" elements are perfect for sharing on social media, email marketing, and other channels to promote the pillar content.
The How-To
The How-To pillar page seeks to inform and empower a reader on how to accomplish a task or solve a problem. 
Think of a tutorial or a step-by-step article that breaks down everything your audience needs to know on how to carry out a goal. 
Rather than covering a broad topic (like the guide pillar page), the How-To provides more granular details. 
Depending on the topic and search intent, it could be used to describe a process for both beginner and experienced audiences.
Example of a How-To Pillar Page
While we're using legal topics to describe effective pillar content strategies, let's look at this example from Boundless - a page on how to get a marriage-based green card. 
The content on the pillar page features an anchored table of contents below the fold that addresses the most important cluster topics focusing on timelines, eligibility, costs, forms and fees, and interview process details.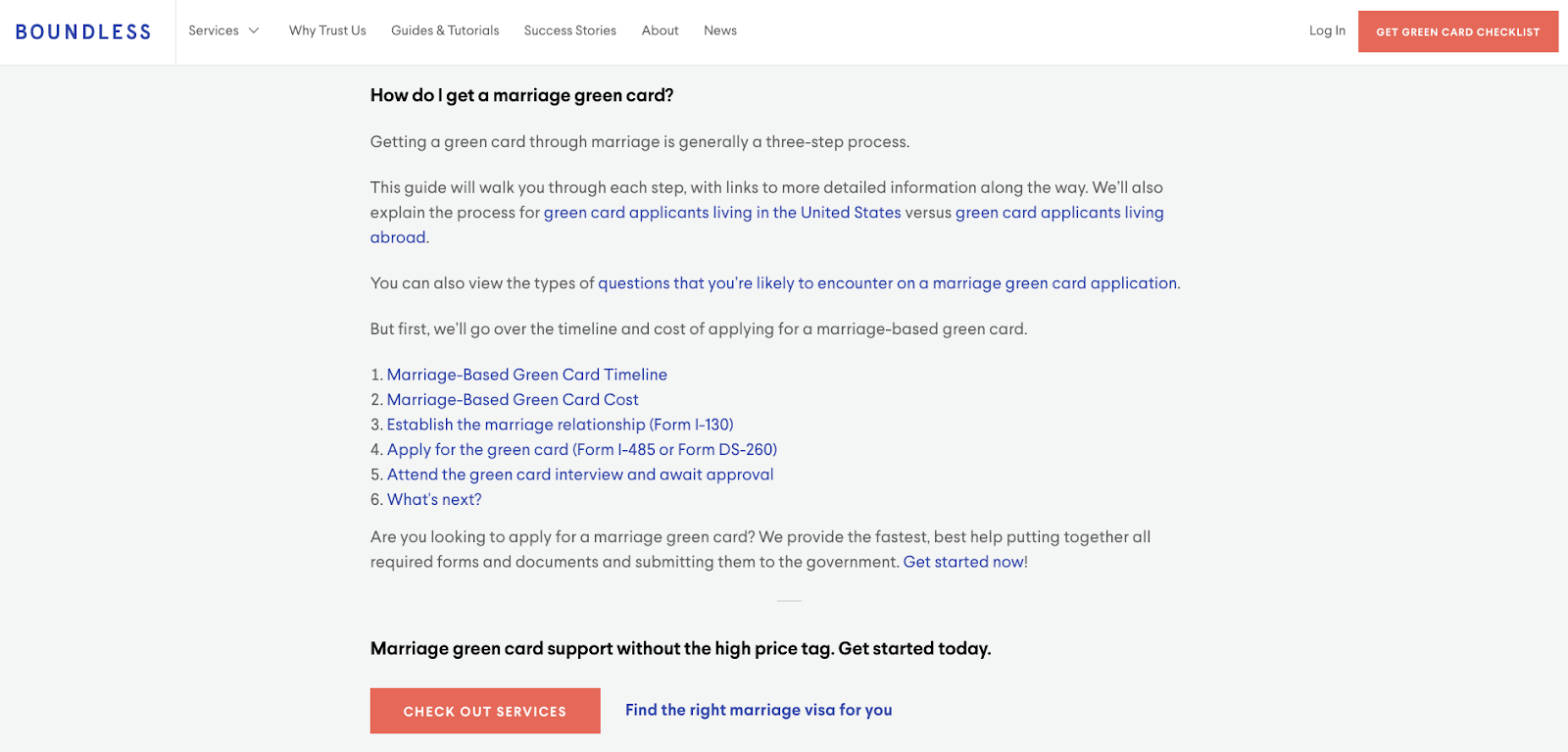 You can easily see the structure of the content cluster, with all important links gathered on the pillar page and every possible related question and subtopic covered by the company. All this creates a great experience for the user and sends positive signals to Google.
Note that the page also incorporates strong calls to action to encourage the reader to apply immediately.
It also includes diverse content such as recent reviews from Trustpilot, additional resources about marriage green cards, and even an interactive green card checklist quiz.
The page ranks on Google in both positions 1 and 2, beating out Wikipedia's page to boot!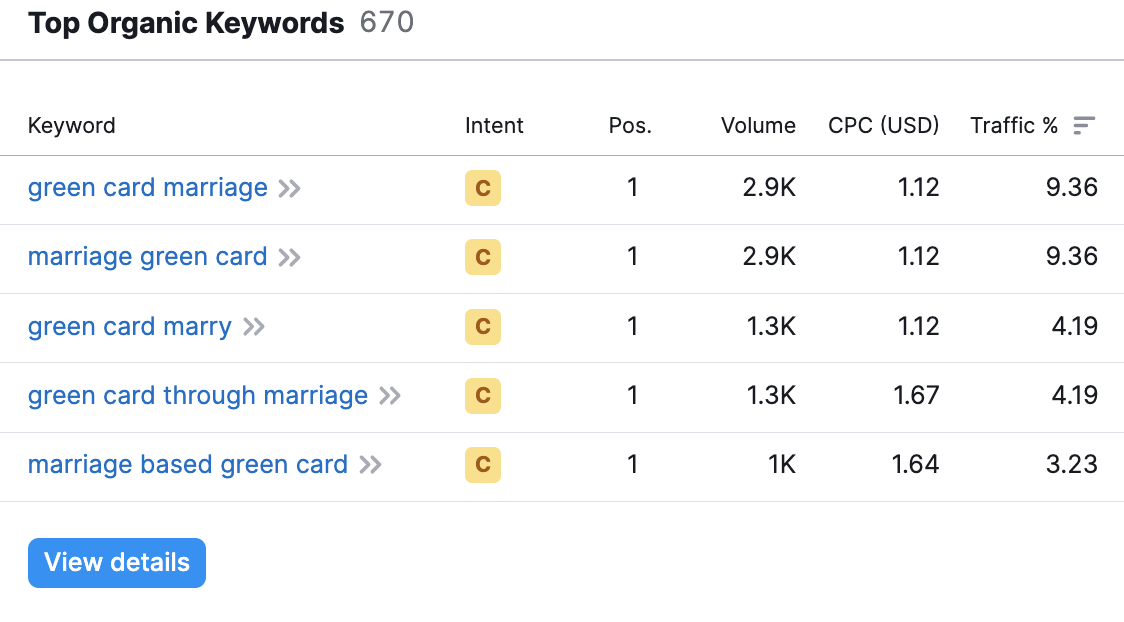 Now that we've looked at the three types of pillar pages with examples, let's get into a workflow for building one.
How Do You Develop a Pillar Content Strategy for a Website? 
As the great Sun Tzu famously said, "Tactics without strategy is the noise before defeat." 
While we aren't discussing the art of war here, the importance of strategic thinking in content creation is essential in achieving the desired outcome of any marketing effort. 
Here are the steps that should form the foundation for your content pillar strategy:
1. Identify Your Content Pillar's Topic and List Topics for Your Cluster Pages 
High-performing pillar pages tend to have two things in common:
They cover a topic that's interesting, relevant, and essential for their target audience
The keyword has a healthy search volume and ranking potential
Start with researching your audience. You can conduct interviews and send out customer surveys to identify their pain points. 
Examining customer questions and analyzing social media and community platforms can further paint the picture of your audience, and buyer personas can shed light on their online behaviors, demographics, and preferences. 
Next, identify the topic for your pillar page, and make sure it's substantial enough to build a hub around. 
Identify the Topic of Your Content Pillar 
Start with creating a list of high-level topics your audience is interested in. For example, if you are a law firm specializing in bankruptcy-related cases, you can start with creating content about questions and concerns your clients share the most.
If you'd like to make this process more data-driven and validate your topics, as well as find related ideas, use the Topic Research tool.
Let's use the example from earlier. Simply enter a high-level term (such as "bankruptcy") and let the tool generate dozens of subtopics and themes related to it.
You can filter the subtopics by Volume, Difficulty, and Topic Efficiency, which takes both search volume and ranking difficulty into account.

Now, choose topics that have the potential to generate traffic and look attainable for your website. It's also important that you assess their overall relevance to your audience and your brand story or product offering, as well as their potential to become an evergreen content piece.
Pro Tip: After you've selected your topic, it's time to work on the keyword research for your pillar page. Use the Keyword Magic Tool to help assess the primary keyword and find related ones.
For example, if you consider creating your pillar page about filing for bankruptcy, you have to find out whether the search volume and the keyword difficulty are optimal for your specific case.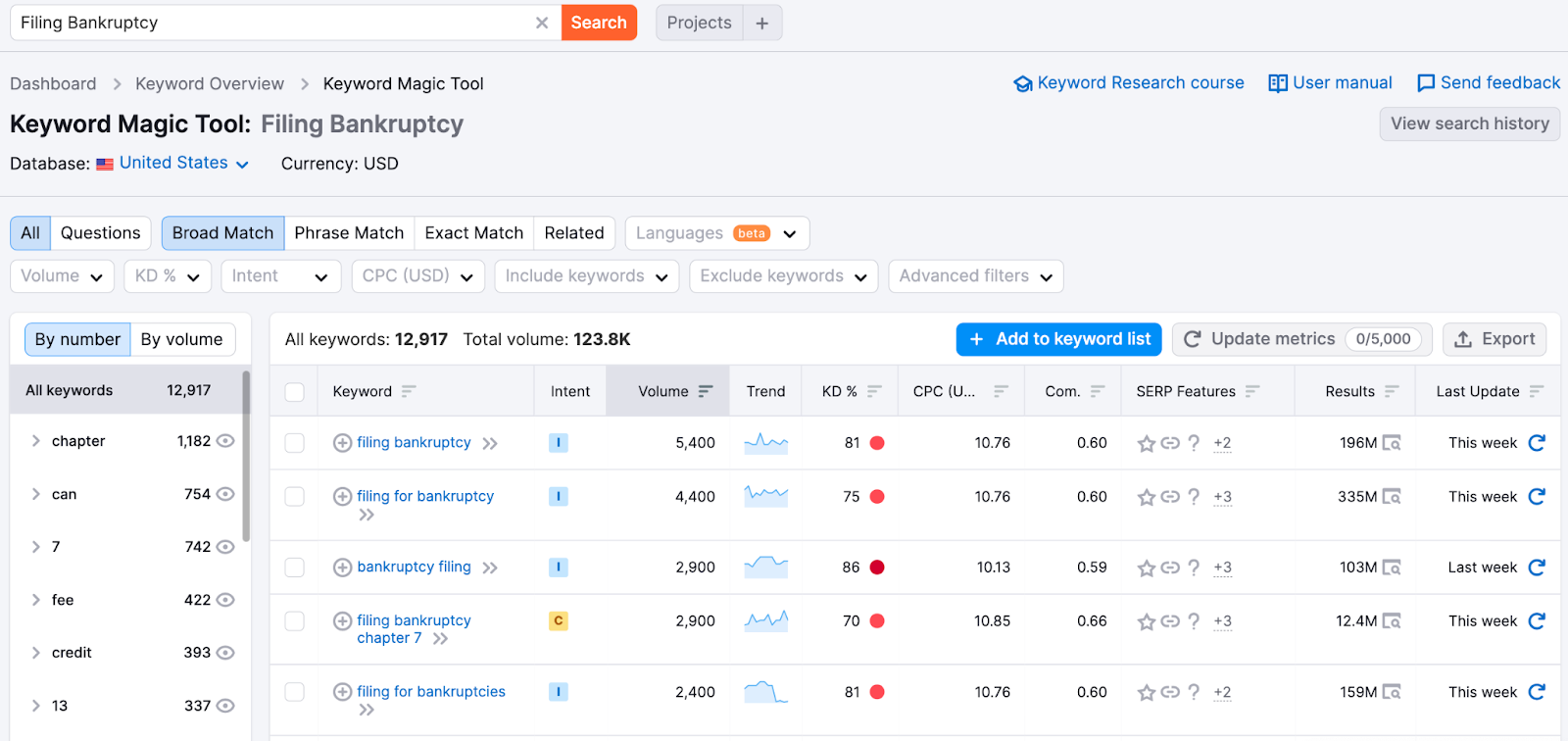 After you find a few appropriate seed keywords that support your chosen topics, find even more with Keyword Manager. 
First, enter your keywords. Then, click 'create list.' 

That's it—we'll group the keywords together for you.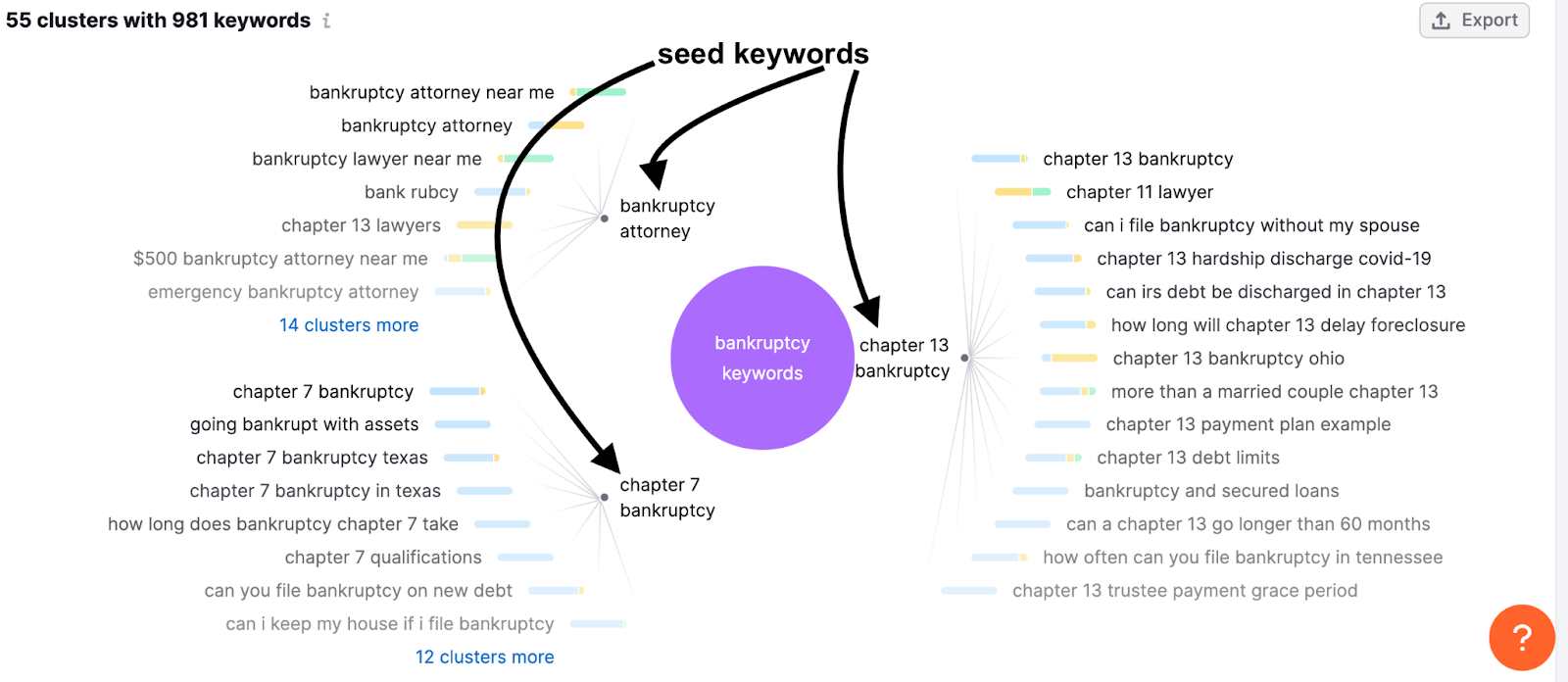 From here, you can organize more topics and subtopics for your content plan.

Create a List of Topics for Your Cluster Pages
Next, you'll need to construct the topics for your cluster pages. 
Let's say our bankruptcy law firm is creating a pillar content piece that serves as a "What Is" resource for their clients. They can create cluster content based on highly relevant questions such as:
What happens if someone files for bankruptcy?
How does bankruptcy work in the U.S.?
What are the benefits of declaring bankruptcy?
What assets can I keep if I go bankrupt?
Which debts can be discharged in a personal bankruptcy?
Can I declare bankruptcy because of student loans?
Go back to the Topic Research tool to explore the subtopics related to your future pillar page. 
For example, if one of the subtopics you've identified seems a good fit for becoming the hub's center, hover over it, click "Get ideas on this topic," and keep exploring.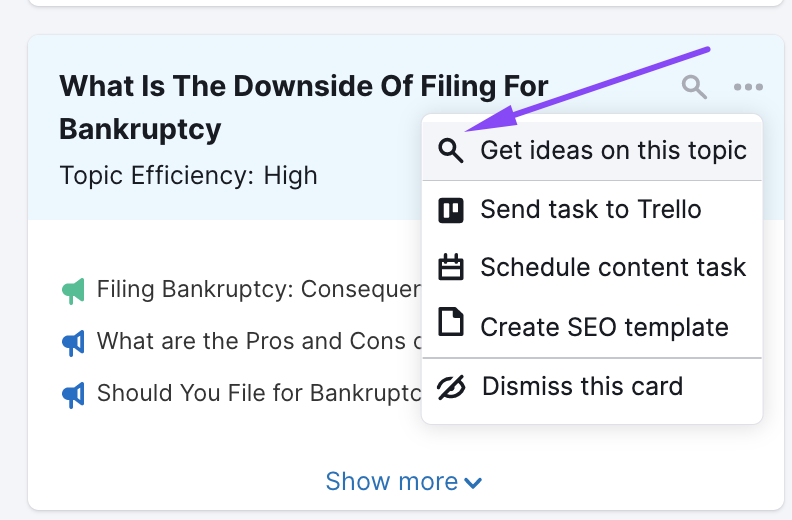 At this stage, you can start planning what format these subtopics will take—whether it's a news article, blog, quiz, infographic, e-books, video, or something else. 
After you've identified your subtopics, it's time to see if there's already low-hanging fruit to optimize.
2. Audit the Existing Content on Your Website
Now that you have your list, you'll want to perform a content audit on your website.
This helps you determine whether you already have existing pages that could be optimized for your pillar content strategy.
It also helps prevent creating any duplicate content or cannibalizing anything you've already published.
If you don't have any content yet, you may need to reverse-engineer this process. 
Many content strategies can begin with creating the pillar page before the supporting cluster articles; it depends on what you already have and what you'll need to create.
3. Take a Look at the Competition
Unless you're creating content about an entirely original topic, chances are you have competition vying for the same space. 
You'll want to do competitive content analysis to identify gaps, opportunities, and advantages for your own pillar content. 
One of the best ways to leapfrog the competition is to find areas where you can improve existing content. Topic gaps or thin pages can give you a headstart on creating something of value. 
Pro Tip: Download the Competitive Analysis Template, an actionable, step-by-step guide to conducting content analysis. It comes with an editable Google Sheets file to document, benchmark, and analyze competitor strategies to your advantage. 
Use it to performing the following workflow:
​​Analyze each of your competitor's key content strategy elements
Drive ideas and establish benchmarks for your own strategy
Summarize the key findings and come up with actionable insights
4. Create Your Content Pillar
Now that you've identified your main topic and your clusters and have found an opportunity to shine among your competitors—it's time to start creating the content!
Map Out the Structure of Your Pillar Page
The next step is to collect all possible questions your pillar page will strive to answer and use them to design the structure of the article. 
To do that, start by googling your target keywords and analyzing the content that ranks on page one. 
Make notes of the structure and formats of those pages, as well as the subsections and questions covered there.
You can also look at the "people also ask," "things to know," and "related searches" sections. 
For example: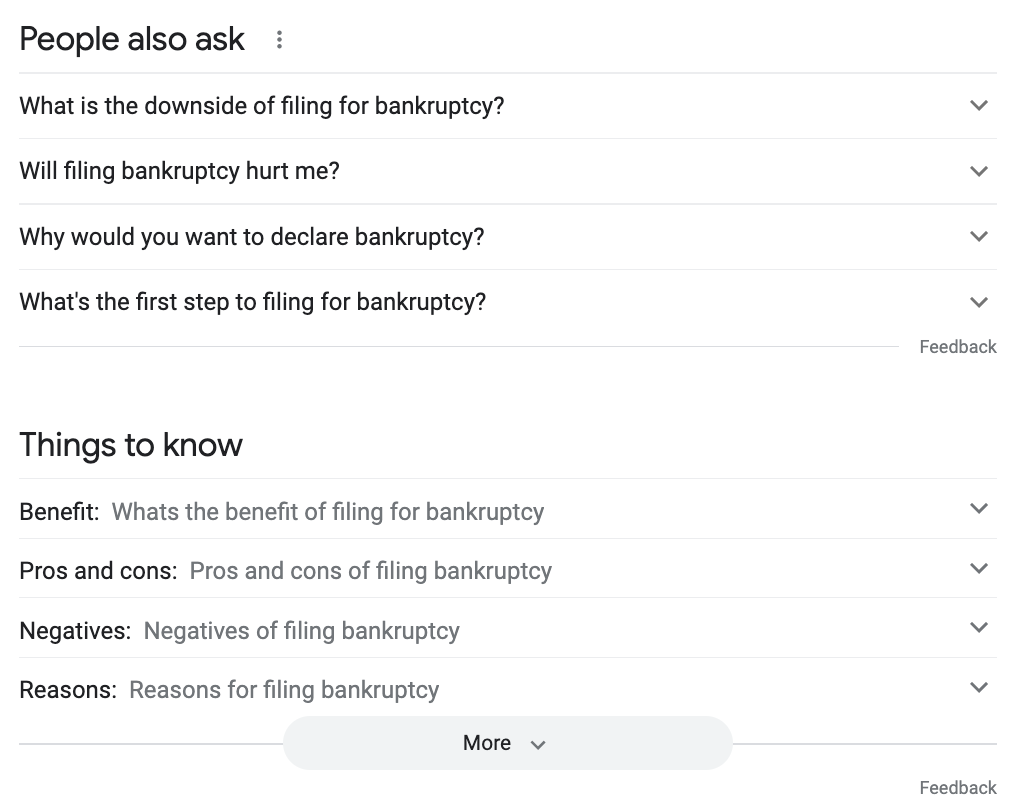 You can automate this step using AI content writing tools like ContentShake.
Select a content idea suggested by the tool or enter your own, and get a high-performing outline generated in an instant.
You'll also get suggestions on headlines, keywords, introductions, and other information to include in your article. 
ContentShake will also suggest the ideal length for your blog post and provide a list of target keywords.
After you've written the content and you're ready to go, it's time to cover the importance of interlinking, promotion, and distribution.
5. Interlink Your Pillar and Cluster Content
Interlinking your cluster content to your pillar page (and between cluster pages) is essential to your information architecture. 
To see this in action, check out Apple's pillar page dedicated to the iPhone. It covers all the main information, such as device specs and comparisons, pricing plans, and carrier services. 
It also links to cluster pages that cover specific questions that factor into the search intent—for example, articles that explain how to switch to an iPhone or how to qualify for a trade-in.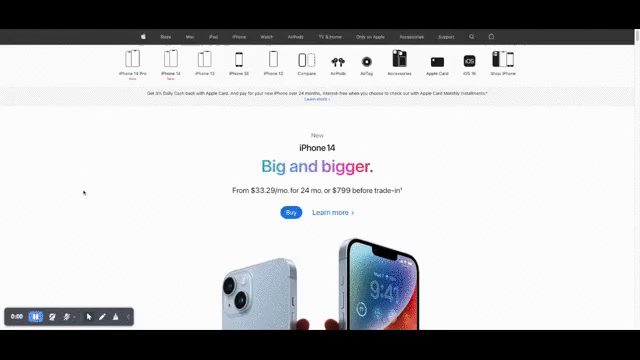 Apple's pillar page provides the user with all the information they need in one place, and the interlinking structure provides deeper context for search engines.
6. Distribute and Promote Your Pillar Content
As remarkable as your content may be, it won't benefit anyone if it can't be found. 
That's why having a content distribution plan should be a vital part of your content strategy. You wouldn't spend 50 hours creating your content and only share it once, right?
There are a number of channels and methods to both internally and externally promote your pillar content. Here are some of the first places you can begin to increase traffic to your content:
Social Media
Pillars and clusters give social media marketers a huge advantage in filling up their content calendars. Pillars are loaded with content that can be broken down and repurposed for your audience on social media. And if your content is based around an evergreen topic or idea, even better. 
Looking back at Boundless' guide to marriage-based green cards, they successfully break down key messages and facts from their pillar page, repurposing it to their social audience. 
Here's a piece of cluster content that was repurposed as a video post for Facebook: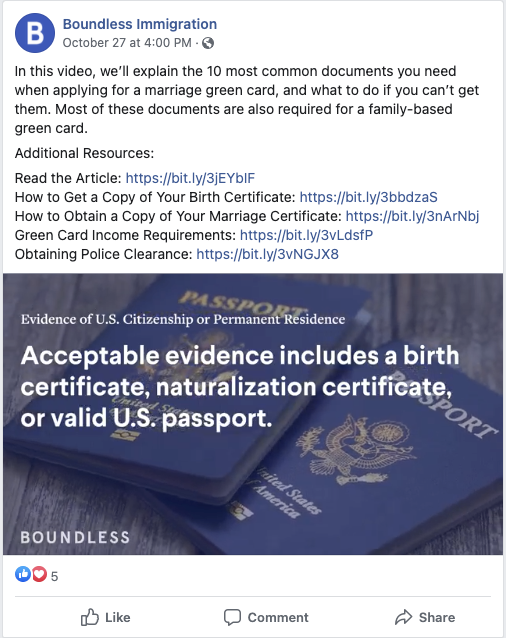 You can experiment with different copy, graphics, and calls-to-action to distribute and promote your content forever. If you have a budget for paid promotion, consider boosting your best-performing organic posts to reach new audiences and expand your universe.
Email Blasts
According to research from the Content Marketing Institute, 87% of B2B and 76% of B2C marketers are using email as an organic marketing vehicle. That makes it one of the most popular ways to distribute content to a qualified audience. 
Consider highlighting some cluster topics and creating multiple email newsletters to bring your email contacts back to your website.
Not only could it generate immediate leads, but it could also support your subject matter expertise and spark up traffic to your website.
Pitch to Influencers
Reach out to bloggers, thought leaders, and other relevant influencers who would be interested in sharing your content. Using the Backlink Gap Tool can help you identify linking opportunities based on your top competitors to develop an outreach plan. 
Don't exclusively pitch your pillar content as a package—identify specific cluster topics, pages, visuals, and other elements that could interest a backlink prospect.
As a rule of thumb, your pillar content has the highest potential of getting lots of backlinks since it covers the topic in-depth. 
You could also pitch an official press release and promote it with a content distribution or wire service to target specific audiences or geographies based on your business objectives.
Which Is Better: Evergreen or Timely Pillar Content? 
In a perfect world, your content marketing strategy should include a diversity of timely pieces as well as evergreen content. But what's best in this scenario? 
Pillar pages centered on evergreen content can perform especially well with both readers and search engines, provided you have enough high-quality cluster topics to support it.
For example, let's say you are a news publisher and, during your content audit, discover you already have dozens of articles that followed a historical event. 
Encyclopedia Britannica has done an exceptional job with its page on Hurricane Katrina. The body of the pillar contains an overview of the event supported by internal links to cluster topics found elsewhere on the website. 
From fast facts and photo galleries to video explainers, additional information, and top questions, this pillar page strategy is on point.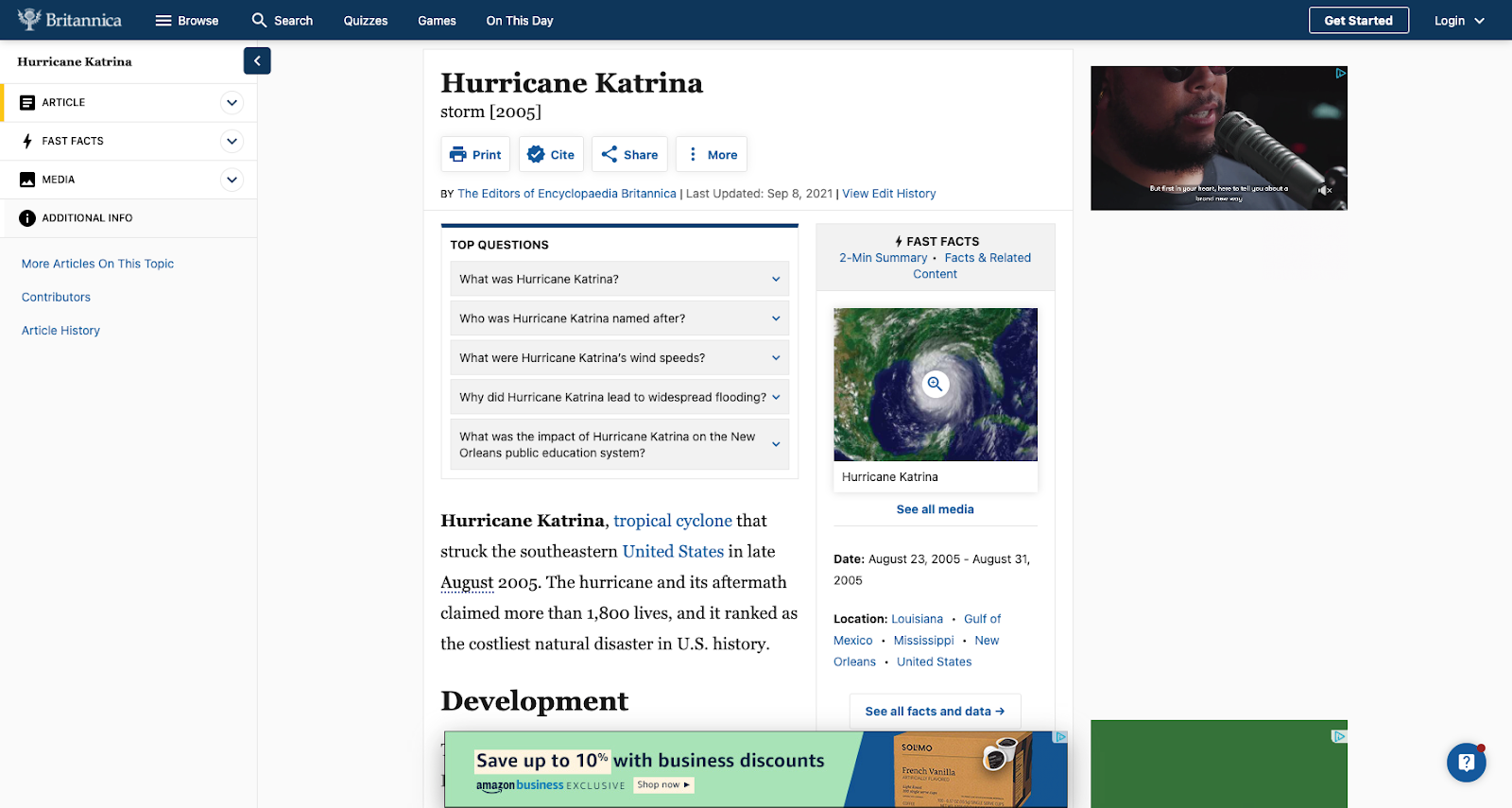 On the other hand, let's say you're a technology solution provider. Perhaps you've noted that customers are frequently requesting product or service updates. 
It may be an effective strategy to build an authoritative pillar page that contains both evergreen as well as timely content about new product features and releases.
This example from WordPress has an engaging pillar page that covers all matters of support with their product. By including various content pieces, blogs, and news updates, a user looking for support on their platform can easily find it.
Whether a WordPress user is looking for general support, installation information, or wants to read about the latest updates, they can get everything they need on this page alone. (Bonus user-experience points for the search bar feature above the fold!)
Elevate Your Brand with Content Pillars 
For content marketers, the pillar-cluster content model allows us to be more strategic and consider what readers truly want, and to create winning content that overrides the noise from the competition.
And just like the pillars of a building need to exhibit strength and good form, so does a content pillar strategy. It should serve a purpose to your audience while elevating your brand's subject matter expertise.
Ready to take action? Head to the Semrush Content Marketing Platform to get started on your next winning content strategy.