Before you start: if you're unfamiliar with the principles of statistical SEO split-testing and how SplitSignal works, we're suggesting you start here or request a demo of SplitSignal. 
---
First, we asked our Twitter followers to vote: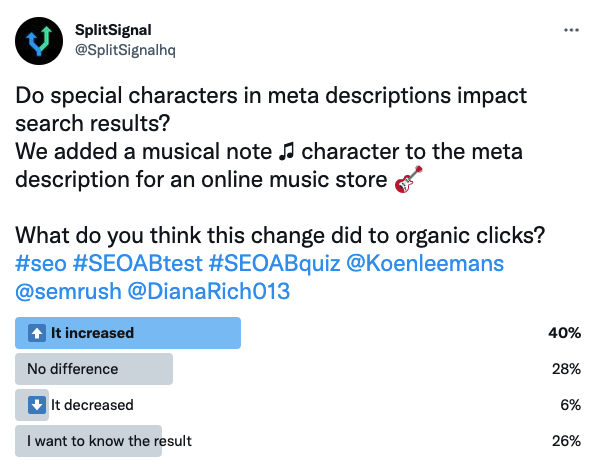 Here's what other SEO professionals have to share about this test:
Emily Lawrenson, SEO Content Writer at Qustodio:
In this case, it's not just characters that have been added. You've got higher numbers of headphones for them to choose from, and the text is slightly easier to read because of the separation of ideas from the musical note. So I would be inclined to guess an increase, but because of the overall change.
Trevor Stolber, Digital Marketer at STOLBER.com:
 
I would expect after to yield a positive result. It's very aligned with the theme of the site and the searcher.
Follow us on LinkedIn to share your thoughts on the next test.
The Case Study
Using special characters or emojis in page titles and meta descriptions always generates a lot of discussion within the SEO community. "Is it advisable to use them?", "Is it good or bad for your SEO performance?". Google also seems happy to get involved in this discussion. Recently, John Mueller has spoken out about the use of emojis and special characters. In summary, Google says you can use emojis and special characters on your pages, but it won't help or harm your SEO in any way. These comments naturally piqued our interest, as we've seen that emojis can definitely affect SEO performance.
We believe that anything displayed in your SERP snippet can potentially impact SEO performance, positively or negatively. When you're making changes to your SERP snippets, you're not just validating these changes for Google but also real users. Google once said that users are often the best judges of relevance, so if a user selects a particular search result, it is likely to be relevant, or at least more relevant than the alternatives presented. Within search, you always compete with other search results. If your answer is not what a user wants or expects, a user can simply click on a different search result.
Special characters, such as ♫ and ✓, are called Unicode characters. The Unicode character that we are testing is not an emoji and is intended to display only as a black and white glyph on most websites.
Unicode characters are a sequence of characters from the UTF-8 character set, defined by the Unicode standard. They can be used in HTML just like any other character. This means that you can add them to elements such as the meta description.
Google (and almost every other site) supports the UTF-8 character set and can therefore display emojis and special characters in their search results. In practice, however, not all are guaranteed to appear in the search results. 

For a large online music store, OrangeValley wanted to test if adding Unicode characters to the meta description would have a significant impact on organic traffic. 
The Hypothesis
We hypothesized that with this change, we would be able to stand out more and present a scannable and clear meta description, using the special characters to emphasize the USPs (unique selling points) of the website. 
In our opinion, the current meta descriptions can be difficult to scan easily. So for this test, we decided to split the meta descriptions into four sections; one call-to-action and three USPs, divided by the ♫ Unicode character.
The website in question had its category page meta descriptions set up like this: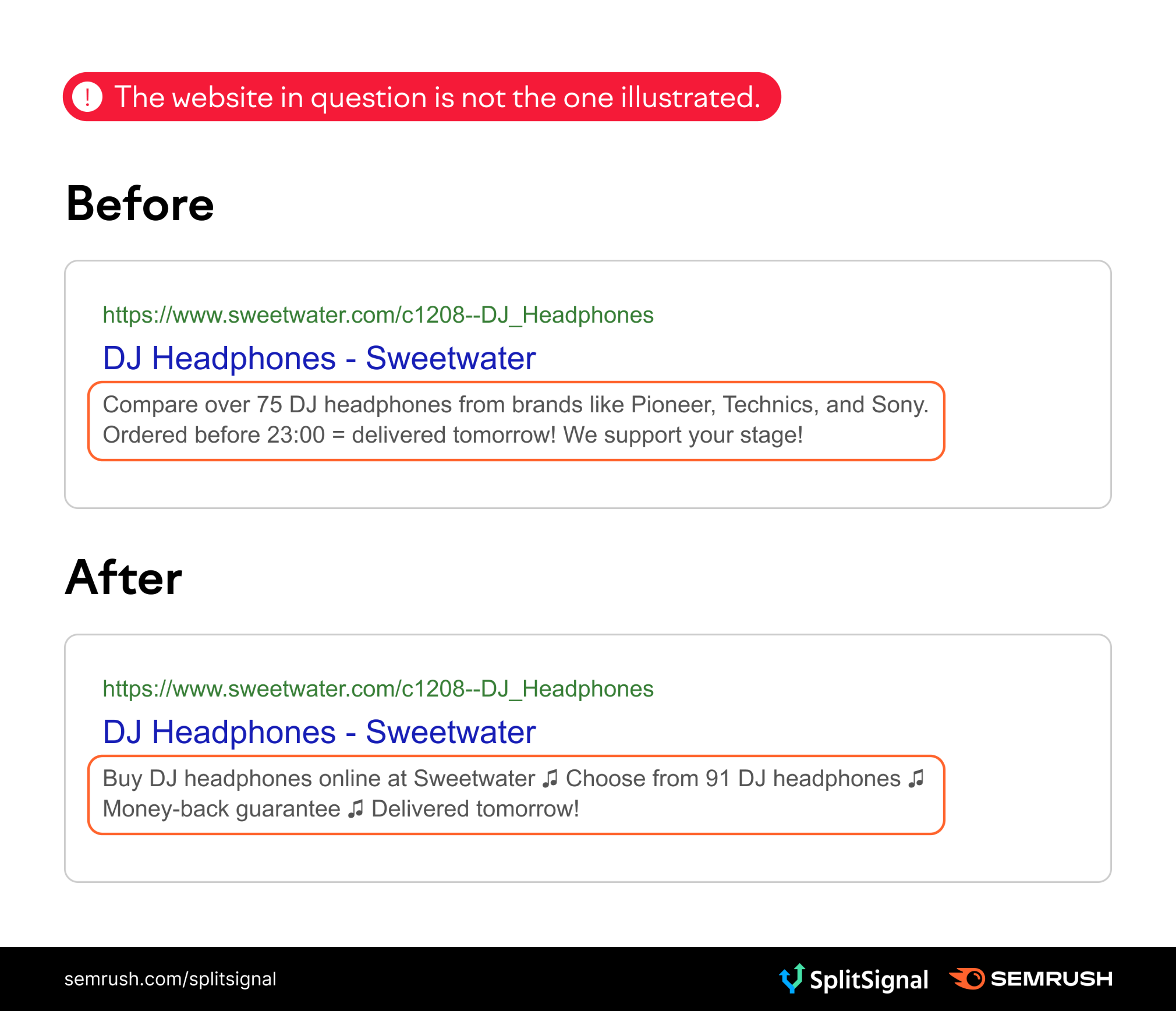 With this change, we have tried to stand out more and present a scannable and clear meta description to users.
The Test
We used SplitSignal to set up the test. Around 1,000 category pages were selected as either variant or control through stratified sampling. We kicked off the test and ran it for 21 days. We determined that Googlebot visited 97% of the tested pages.
The Results
How to Read SplitSignal Test Results?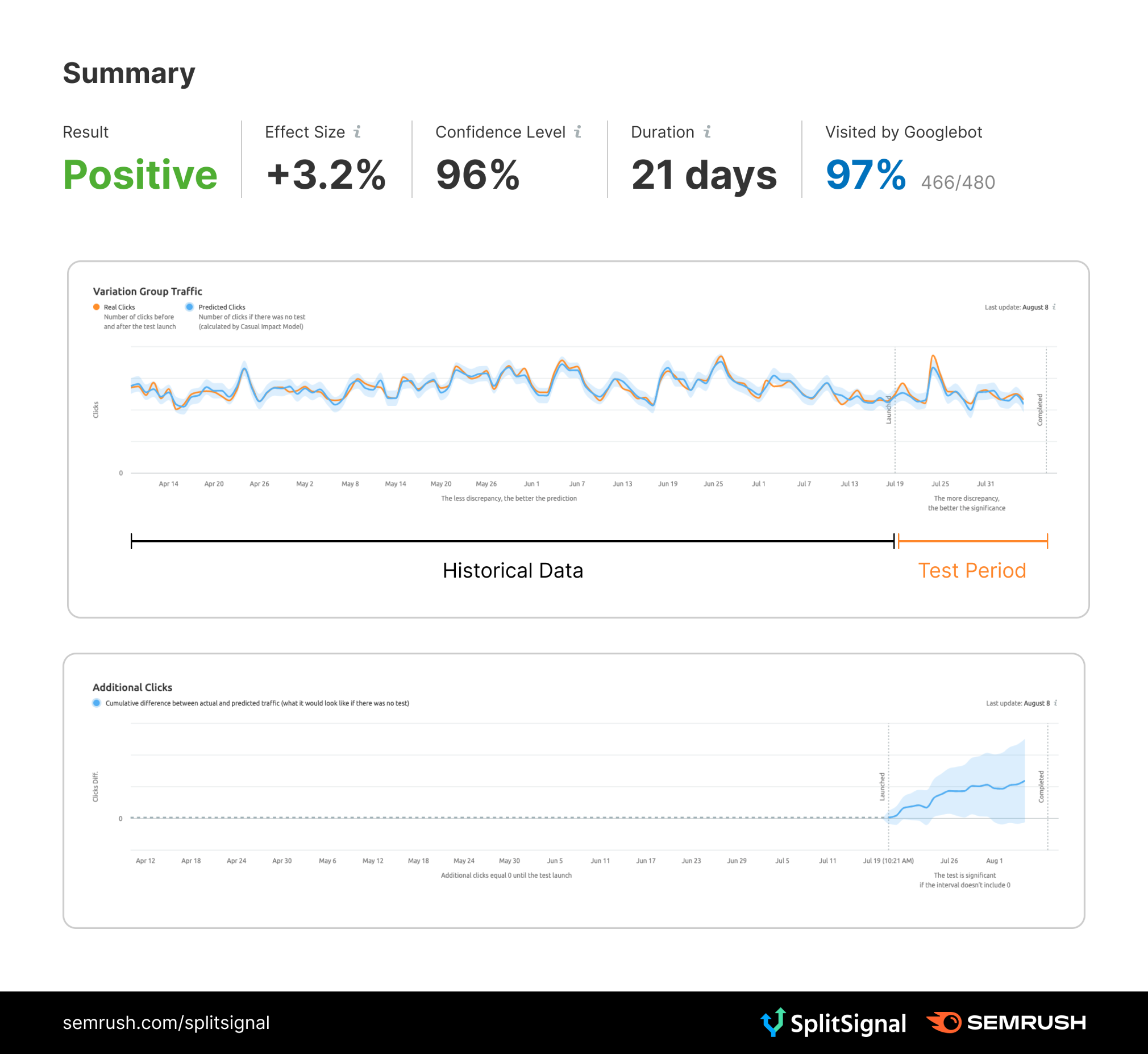 After 21 days of testing, we reviewed the results. We saw that the traffic to the tested pages performed better than the control group, which means the test is positive and statistically significant at the 95% level. The changes to the meta description resulted in a 3.4% increase in clicks to the tested pages.
Note that we are not comparing the actual control group pages to our tested pages. but rather a forecast based on historical data. The model predicts the counterfactual response that would have occurred had no intervention occurred. We compare this with the actual data. We use a set of control pages to give the model context for trends and external influences. If something else changes during our test (e.g., seasonality), the model will detect and consider it. By filtering these external factors, we gain insight into the true impact of an SEO change.
Why
Meta descriptions are written for users and can influence user behavior. As an SEO, you make changes not only to be favored by Google but also by real users. As mentioned, when a user selects a particular search result, it is likely to be relevant, or at least more relevant than the alternatives presented. When your SERP snippet is more relevant to a user, it can lead to organic growth and, ultimately, even better positioning (over time).
Data analysis shows that this test affected the click-through rate (CTR) on the pages tested. In this case, rankings and impressions remained stable compared to our modeled control group. The increase in clicks seems to be purely due to the behavior of Google users. 
The test had a strong hypothesis, and the resources needed to make this change are small. Taking these factors into account, we were very satisfied with the outcome. 
With SEO A/B testing, you want to ensure that the changes you make will yield positive results. We want to prevent organizations from wasting time, money, and energy on changes that ultimately make no or only a limited positive contribution. Testing allows us to move quickly and implement proven positive changes. 
Finding ways to stand out and be the most relevant answer to a search query is essential for optimal organic performance. Remember that something that works for one website may not work for another. The only way to know for sure is to test what works for you!