You and I have never actually met, and I've never seen your e-commerce store, but I guarantee you're losing money. Every day, a number of people who visit your online store abandon their carts before completing their purchase.
Want to know how many people are leaving?
The average abandonment rate is 68%, based on data compiled from 33 different studies on shopping cart abandonment.
That means for every 100 visitors to your store, 68 of them walk away.
Why Shoppers are Abandoning Carts
While every audience segment is different, a lot of consumers have somewhat similar buying habits and preferences in terms of who they give money to. They also share commonalities and frustrations over certain kinds of barriers to making a purchase.
According to data from Statista:
56% of consumers left due to unexpected costs (like extra shipping or taxes)

37% made no purchase because they were just browsing

36% found a better price after comparison-shopping

25% left because the navigation was too complicated

21% felt the process took too long

17% were concerned about security
And these are just some of the many reasons why your customers might be walking away.
Here are 10 tried-and-true ways to reduce cart abandonment and recapture those customers before they're long gone.
1. Increase Trust in the Buying Process
A customer shopping online puts a lot of faith in an e-retailer when they make a purchase. They're about to hand over their personal and financial information, and after more than 31.8 million consumers experienced credit card security breaches in 2014, consumers want more reassurance that their data is secure.
One study found that 61% of shoppers didn't complete a purchase because trust logos were missing.
The easiest way to improve trust in the buying process is to show your customer that their information is secure:
Have a valid SSL certificate. If it's out of date or improperly installed, your customers will see a warning message in their browser that the connection might not be secure

Show trust symbols on your site such as well-known security logos (Verisign, PayPal Verified)

2. Reduce Price Shock
One of the top reasons for cart abandonment is unexpected costs. This typically relates to shipping costs that show up only at the end of the checkout process.
To reduce sticker shock and cart abandonment due to price issues, make sure your shipping costs are transparent while the customer is browsing through your products. I recommend adding a shipping calculator before checkout to estimate shipping costs and minimize surprises later on.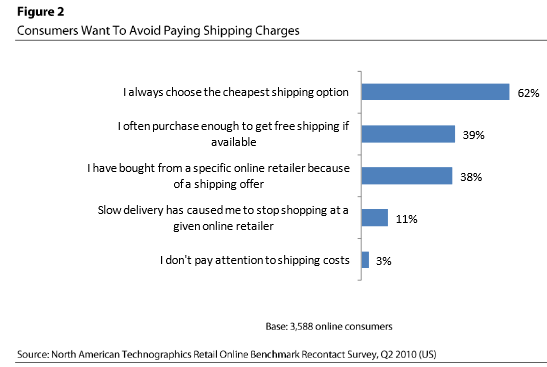 Another popular approach is to reduce shipping costs by offering free or discounted shipping based on the order value.
3. Use Cart Abandonment Emails
If someone abandons their cart at the end of the checkout, there's a good chance you've captured their email address. Set up an autoresponder email series to notify them immediately that they left items in their cart. Follow this up with 1 or 2 additional emails spread out over the next 24 hours.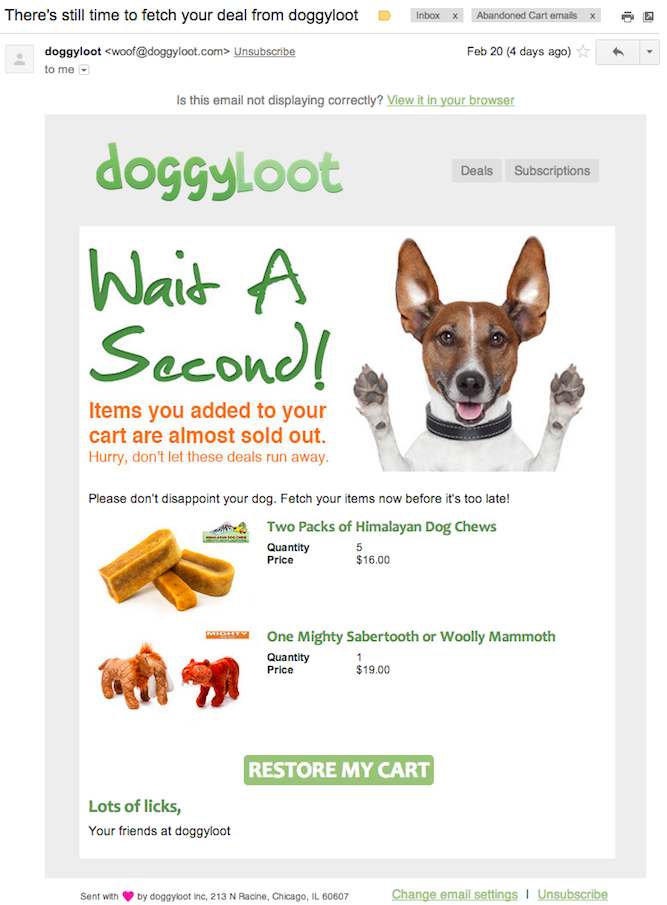 Show them the items they left in their cart with a call-to-action to return to your website and complete the process. If they don't, one of your future emails in the series can offer a discount to provoke a sale.
4. Provide a Guest Checkout Option
Don't force customers to create an account. This makes it feel like the buying process takes longer. Instead, offer a guest checkout option. All the information used to create an account will be gathered for shipping. At the end, you can offer to save their information for future orders.
5. Personal Outreach
Don't rely solely on autoresponders to try to save abandoned carts. When you get a notification of an abandoned cart, immediately reach out and personally ask them if there's anything you can do to help. You might discover they had a coupon code that didn't work, a problem with getting a card authorized or some other question.
If you can solve their problem yourself, they might return to complete the process and they'll appreciate that you took the time to help them.
6. Identify Funnel Leaks
Your Google Analytics offers terrific insight into the behaviors of your visitors. Rather than making assumptions about what is wrong or trying to test various conversion issues, examine the visitor flow and conversion pathways in Google Analytics.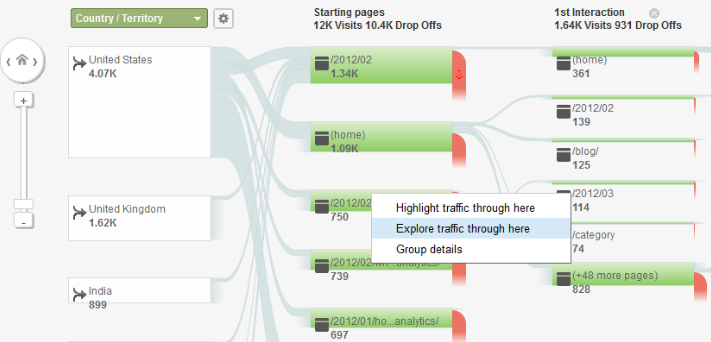 This will show you bottlenecks on product pages and the points where your traffic is dropping off before making it to the cart. From there, you can target those pages to see what improvements need to be made to improve the user experience.
7. Use Remarketing
Some abandonment can't be prevented, but you can still recover them with Facebook remarketing. A Facebook tracking pixel placed on your site can capture visitor behavior and store data while attaching a cookie to the visitor.
You can then create a Facebook ad campaign targeting custom audiences, such as those who visited your website but neglected to make a purchase. Present dynamic ads to those customers based on the products they viewed to try and win them back.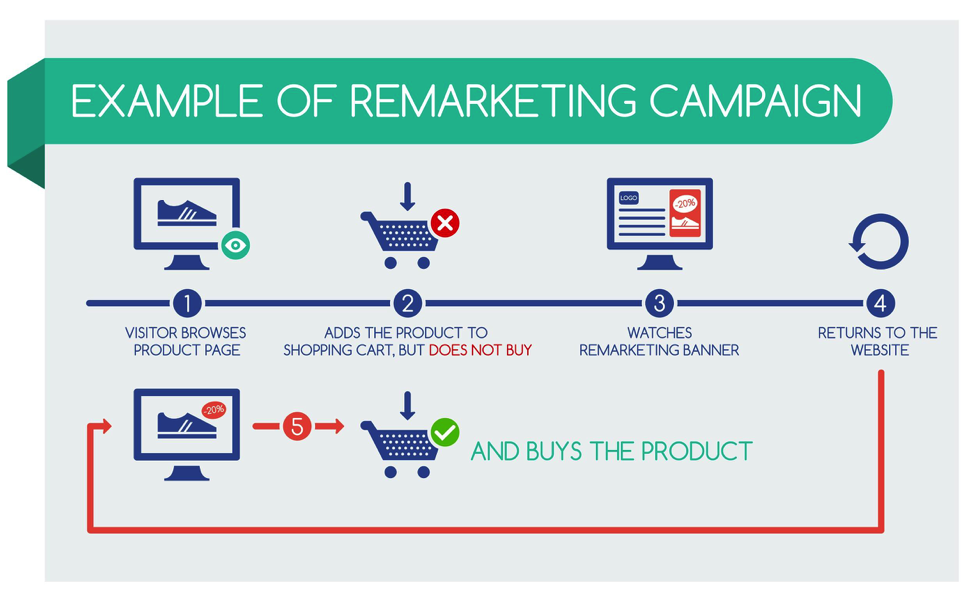 8. Simplify Navigation
The more clicks you put someone through, the more likely they are to leave before completing a purchase. This is evident by the 25% of people who abandon carts because of overly complex navigation.
Keep more of those customers by getting the number of clicks until checkout as close to three as possible:
Choose a product

Add to cart

Click "Checkout" button
Keep your site's navigation clean and simple by presenting categories that are easy to identify and organize the products in a way that makes selection easy: quick preview and "Add to Cart" instead of forcing them to visit lengthy product pages.
9. Tell a Better Visual Story
Your customers can't physically touch, pick up, and examine the products in your store. When people can't determine whether a product is a good fit for their wants and needs, they're less likely to make a purchase.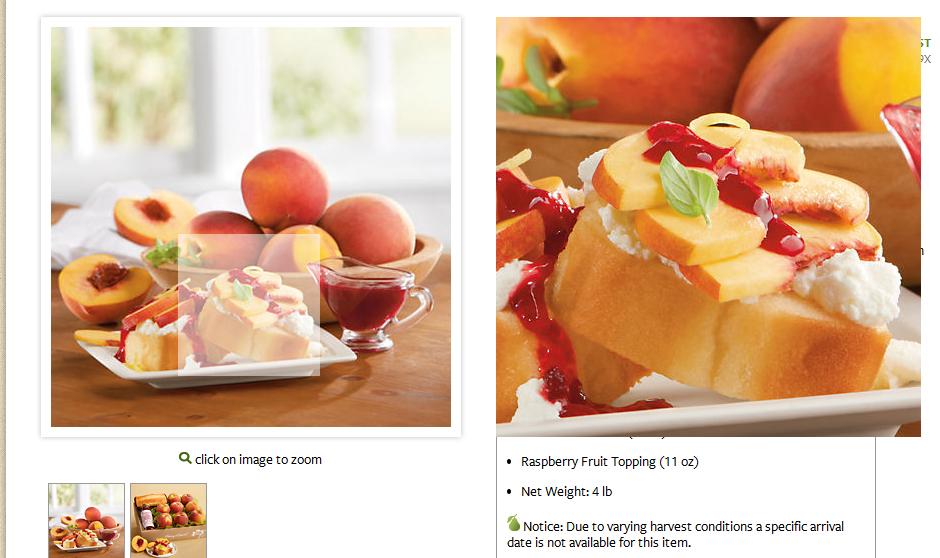 Take this as an opportunity to use better visuals to lift conversions:
Add multiple product photos from every angle

Use high-resolution images

Try to include images that tell a story about how the product will benefit the customer; use action images and show the product actively in use

Add videos to your product pages that support the value proposition and highlight the benefits
10. Add Social Proof
When customers are on the fence about making a purchase, the last thing they want to worry about is buyer's remorse. They don't want to regret spending their money. Social proof alleviates that concern by showcasing how your products have helped others.
You can add social proof to your site in a few different ways:
Follow up with customers and ask them to provide a product review

Feature reviews on product pages and list testimonials on other landing pages of your site

Add applications like Notify to your store to show customers who else is purchasing your products
What are some ways you've reduced cart abandonment in your online store? Share your tips with me in the comments below.